If you're sick of being constantly bitten by nasty mosquitoes in your own yard, my today's post is exactly what you need. Today, I'm going to elaborate on the best mosquito misting systems, their efficiency, performance, and maintenance specifics.
As a matter of fact, mosquito misting systems are rather underrated. We've all heard of misting devices for cooling your yard and patio during hot summer days. But the notion of a mosquito misting system is still unfamiliar to a lot of people. I'm here to let you in on this secret, for it may become your best answer to the 'how does a mosquito misting system work' question.



Top 5 Best Mosquito Misting Systems
1. Pynamite Cube PRO: the Best Mosquito Misting System
Specifications:
Item Weight: 90 Pounds
Item Dimensions LxWxH: 26 x 26 x 26 inches
30 NOZZLE KIT INCLUDES:30 45° nozzles
36 union tees
6 plugs
200 clamps with screws
450 feet of tubing – black or white
tube cutter
This comprehensive mosquito fogging system is both visually appealing and effective. The Cube PRO 30 Nozzle kit provides you with all the necessary components to eradicate mosquitoes, as well as spiders, flies, and other pesky critters. And yes, the machine really works. The unit is made of high-quality materials, therefore, it will definitely exceed your expectations in terms of its longevity.
Cube PRO system is capable of misting up to 80 nozzles with a powerful 300 psi pump. You can add an extra Zone Kit whenever you require more nozzles. With its automatic agitator and a digital controller, the Cube Pro is a one of a kind option for your backyard, as well as for barns, stables, and commercial properties. And it comes with a 3-year warranty from the U.S. manufacturer.
The installation manual is clear and straightforward. Set-up doesn't require any extra tools. In addition to all this, Pynamite boasts top of the line client service, providing its customers with free consultations even on weekends. With this amazing system, reclaiming and enjoying your yard is as easy as ABC. I strongly recommend this unit to anyone who has mosquito issues.
Pros:
Cons:

the system works better than you expect;
features two remote controls;
fast and easy set-up;
fantastic customer service;
manufactured in the U.S.

a bit on the expensive side.
2. SolaMist Mosquito Mister: a True Game Changer
No products found.
This wheel-equipped hunter green cylindrical home mosquito control system is 100% solar powered. As an alternative, you can opt for a battery charger when the sun doesn't shine. The installation is a piece of cake and takes no more than half an hour. The unit is a featherweight, which means you can easily move it around your yard or even take it with you for your camping trips.
The SolaMist system is 100% toxin-free, environmentally friendly, and, thus, safe for your pets and kids. The system comes with a mobile application. Upon installing it, you can run the machine right from your mobile device — I just love this level of convenience! Aside from mosquitos, the SolaMist machine will also help you get rid of wasps, ticks, fleas, and spiders.
Overall, the SolaMist system is created to be a solid alternative to the costly mosquito misting systems. It boasts excellent coverage and the ability to repel all sorts of flying bugs. With this baby, you can finally start enjoying your yard without being attacked by these nasty biting insects. It's definitely worth looking into.
Pros:
Cons:

easily maneuverable (has wheels);
assembly is a breeze;
compact and not too heavy;
energy-saving, eco-friendly, safe for kids and pets;
affordable price.

the system is not always entirely consistent when it doesn't stay in direct sunlight.
3. AMS-A-ROC55: Automatic Mosquito Misting System
No products found.
If you're looking to prevent pesky mosquitoes and other annoying bugs from invading your backyard space and attacking your outdoorsy family members, this mosquito misting system is a lifesaver. It doesn't look as sleek and compact as the previously reviewed units, but it's definitely sturdy, reliable, and made to last.
The system's 250 psi pump was expressly designed for the mosquito misting field, and it flaunts top-notch pesticide-friendly fluorocarbon seals and o-rings. The installation of the system is as easy as pie. Make sure you research its specs with laser-like focus prior to deciding to buy the unit. Overall, it's a solid machine that will solve your mosquito problem in a snap.
Pros:
Cons:

made of reliable materials;
sturdy and durable construction;
straightforward installation;
repels mosquitoes, flies, spiders, and other insects;
the excellent system at a fair price.

not the most elegant design, but gets the job done very well
4. Mistaway Gen 1.3 Drum Mosquito Misting System: Bugs Be Gone
No products found.
This automatic mosquito fogger is focused on drawing a water/pesticide substance out of a 55-gallon drum and atomizing it through a nozzle circuit to get rid of mosquitoes and other pesky pests. You can program the unit to mist up to 24 times per day, choosing the required time frame for each mist cycle.
Typically, the system is programmed for up to 3 mist cycles per day, with an up to one minute duration for each cycle. The system's capacity depends on the configuration of the nozzle circuit. It comes with a wind sensor which allows it to only work in non-windy environments.
Furthermore, the system features a leak detector, which prevents it from functioning as soon as pesticide leakage is detected. Also, the Mistaway Gen 1.3 Drum mosquito misting device allows you to mist two separate locations based on different time frames. That's what I call smart pest control!
Pros:
Cons:

features 30 nozzles;
comes with remote control;
features a leak detecting system;
comes with a wind sensor;
one-year warranty from the manufacturer.

installation is somewhat challenging and better left to the pros.
5. Innoo Tech Misting Cooling System: Versatile & Eco-Friendly
No products found.
This excellent misting cooling system boasts impressive versatility and flexibility. It's often used with mosquito control systems in particular. Despite the slightly vague user manual, the installation of the Inoo Tech system is very straightforward. No special tools or skills are required at all to set the thing up.
Made of solid materials, this device is 100% reliable and sturdy. Also, it's energy-saving and eco-friendly. What's even more exciting is that the manufacturer gives you a money-back guarantee in case you are not completely pleased with the system's performance. Therefore, opting for Inoo Tech is the best bang for your buck
Pros:
Cons:

well-made and sturdy;
environmentally-friendly;
good at both atomizing mosquito systems and cooling your favorite outdoor areas;
installation is really easy;
excellent product for the price.

the instruction sheet is somewhat vague.
6. Sector Mosquito Misting System Refill: Best Insecticide for Misting Systems
Specifications:
Active Ingredient: Permethrin 10% Piperonyl butoxide 10%
Item Volume: 64 oz
Item Weight: 4.59 Pounds
Item Dimensions LxWxH: 3.3 x 5.95 x 9.55 inches
Target pests: House flies, Gnats, Mosquitoes, Skipper flies, Wasps, Hornets, Black flies, Boxelder bugs, Angoumois Grain Moths, Tobacco Moths, Midges, No-see-ums, Adult Japanese Beetles, Eastern and Forest Tent Caterpillars, Mole Crickets, Chinch Bugs, Sod Webworms, Stable Flies, Horse Flies, Deer Flies, and over 70 more insect species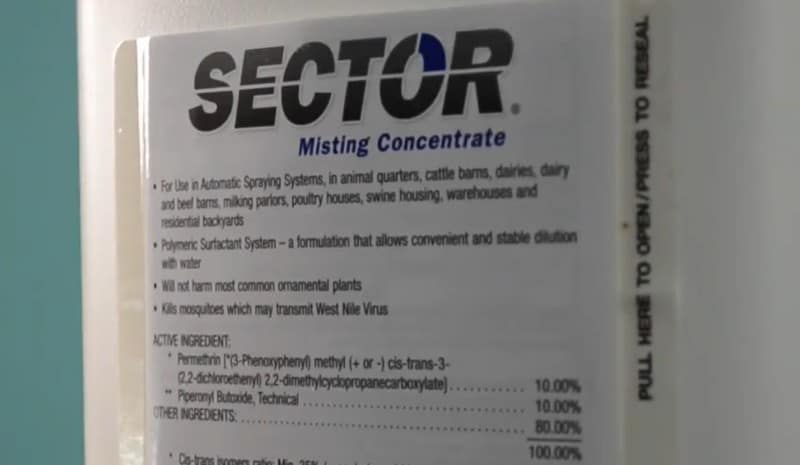 Sector Mosquito Misting System Refill is a liquid-based insecticide created expressly for misting systems. It will effectively assist you in eradicating such pests as mosquitoes, flies, no-see-ums, gnats, etc. The thing kills them pesky critters fast and easily.
What's important is that the Sector Mosquito Misting System refill is safe for most plants in your yard. One point to consider: this product may eradicate beneficial insects along with the pesky critters. Ouch. The truth is never pure and simple. Therefore, prior to purchasing this mosquito misting pump refill, compare the perks of using it against all the odds with the benefits of just leaving things as is in your mosquito-invaded yard.
Make sure you read the instructions prior to using the refill. You'll save yourself some cash by doing the refill under your own steam. This is definitely a great find at a fair price.
Pros:
Cons:

works like a charm;
easy to use;
reasonable price;
safe for your plants;
great for yard misting systems.

may kill beneficial insects in addition to mosquitoes.
Buyer's Guide
What Are Mosquito Misters?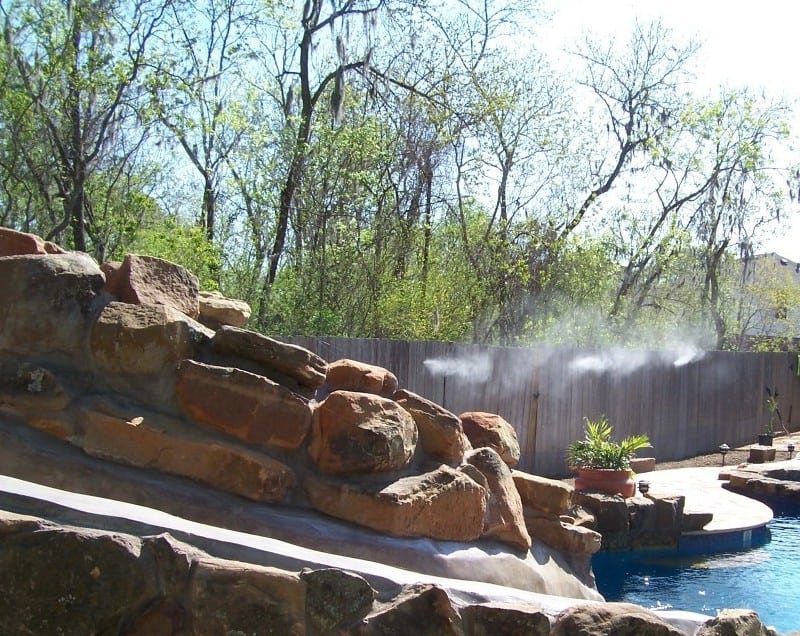 Mosquito misting systems (also referred to as mosquito misters or mosquito foggers) are application machines built for creating an insecticide-filled mist with the ultimate goal of repelling mosquitoes and other critters that endlessly bug you (pun intended).
Mosquito misters feature spray nozzles that are positioned near your home and attached to a source of insecticides. You can launch a mosquito fogger using a timer or a remote controller. If you set up and use your insect misting unit correctly, it can be pretty darn good at repelling and eradicating mosquitoes.
What's the Best Way to Use These Machines?
The majority of mosquito misters come with timers that give you the possibility to choose the exact time when your machine will launch. If you're not very much into 'interacting' with a mosquito mist, the timer will allow you to schedule mist spreading when no one's around.
For maximum effect, the machine should process at least 3 full spraying cycles a day, particularly when the biting invaders have the hungriest fun near your dwelling. Thus, launching the machine in the warm evening hours is a great idea.
Some mosquito misters also allow you to set the duration of their working cycle. If your mosquito issue is out of control, make sure you opt for the longest and most frequent spraying sessions right until you kill the annoying pests dead.
Portable Mosquito Misting System FAQ
Are Mosquito Misting Systems Safe?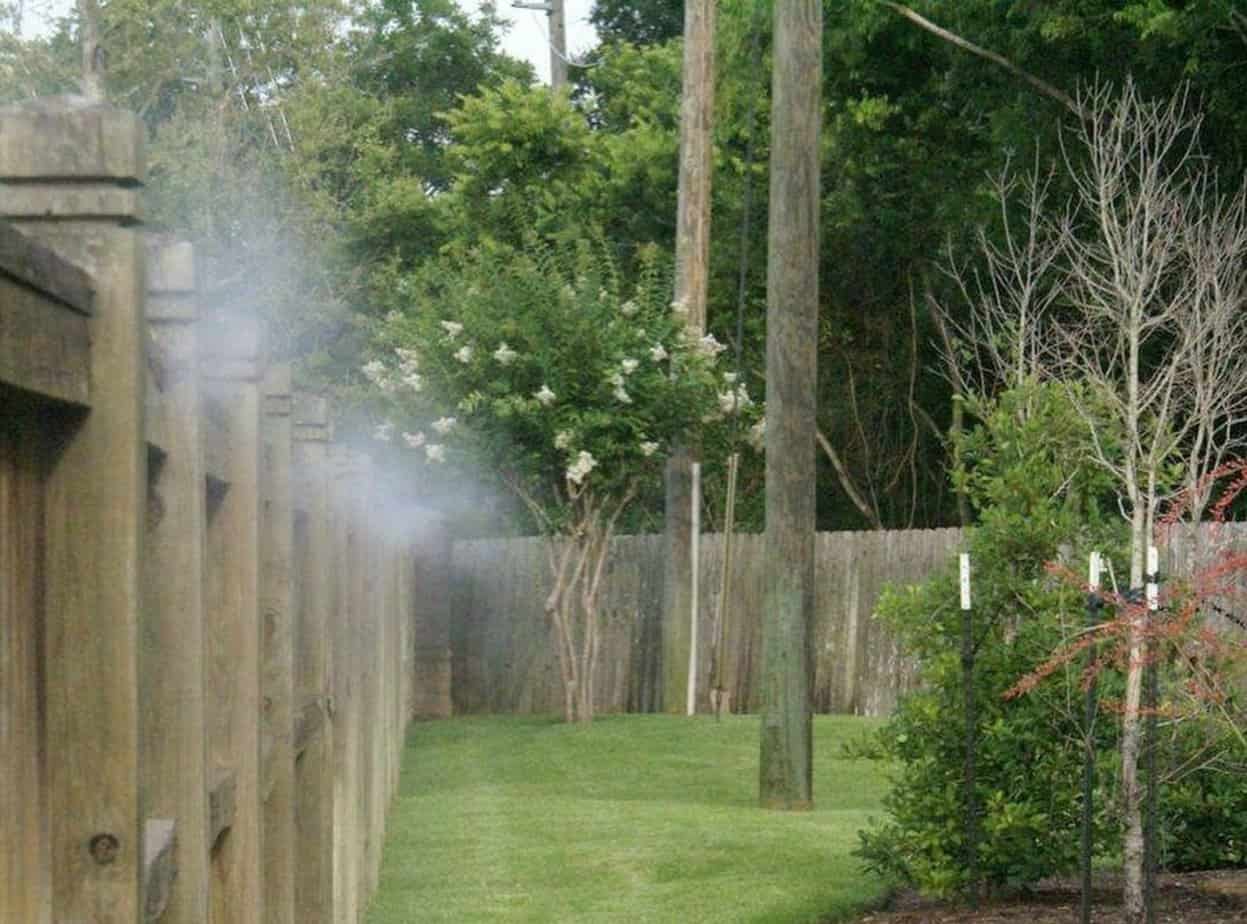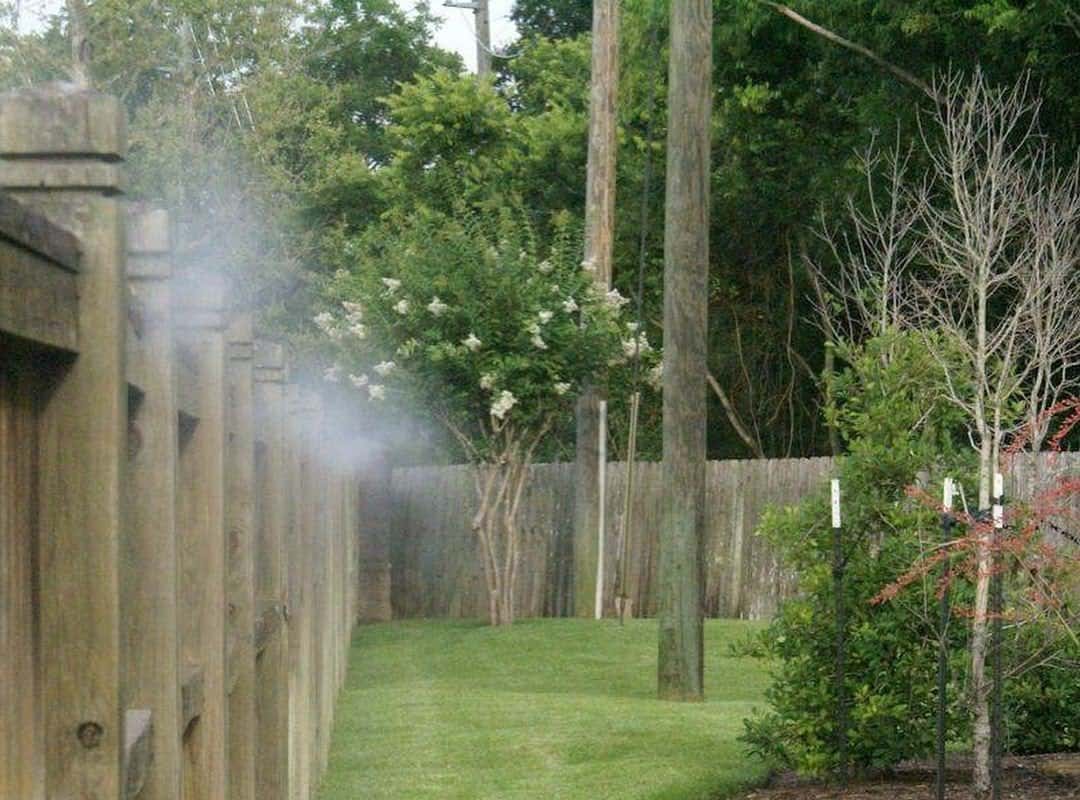 Yes. In accordance with the United States Environmental Protection Agency, they are safe around your dear ones and pets. There's not enough insecticide in the unit to do your pets or loved ones any harm. However, keep in mind that most mosquito misters may eradicate some beneficial bugs.
Are Misting Systems Effective in Controlling Mosquitos?
Yes, mosquito misting solutions get their job done very well — but make sure you opt for the right pesticide for them. With proper approach and installation, mosquito misters work like a charm. In case you have any questions regarding the performance of your mosquito mister, you're welcome to ask them in the comment box below. I'll answer them as soon as possible.
Related Post:
How to Install a Mosquito Misting System?
Here are a few useful tips on mosquito misting system set-up:
Always contact licensed and certified pest control experts that work in compliance with the state's registration demands;
Ensure that the installation team has adjusted the unit to work within the maximum daily limits indicated in the refill instructions;
Ensure that the nozzles are installed to focus on the required location and don't 'shoot' at the cooking or swimming pool area;
If you plan to put the system together yourself, don't forget to follow the instructions in the user manual.
How to Clean the Mosquito Misting System?
After a while, the nozzles of your misting machine will get all dusty and dirty. As a result, its performance will suffer and decline. Therefore, it is recommended to clean the nozzles occasionally in order to prevent clogging. To wash the machine's nozzles, take them off and put them in a solution made expressly for these purposes.
You can purchase it at DIY shops. Alternatively, you can buy washable misting nozzles. They're a lot easier to clean and put back into the system than the regular ones.



Ready to Get Your Personal Mosquito Mister System?
Now that you've read my mosquito mist system reviews, you can switch to the next step — purchasing your own solid mosquito mister, the one that will suit all your needs best. If you're on the fence about buying a certain mosquito mister, contact me via the comment box below. I will do my best to research the unit you're planning to buy and review it for you.
Perhaps, you're already using a high-quality mosquito fogger? You're welcome to share your opinion about it in the comment box below. Tell me all about the brand, the specs, the pros, and the cons of using it. I'm always looking forward to receiving feedback from you. Your two cents are the apple of my eye.
Don't forget to browse through my other posts where I cover ways to control mosquitoes and other pesky critters. See ya guys there!
References:
Mosquito Control Using Outdoor Automated Misting Systems (Oregon State University):
https://extension.oregonstate.edu/pests-diseases/insects/mosquito-control-using-outdoor-automated-misting-systems
Mosquitos (Michigan State University):
https://project.geo.msu.edu/geogmich/mosquitos.html
Why You Should Trust Pest Control Hacks?
We know that pests are nasty neighbors, and it can take months to eliminate them without the right approach. Our experts use their own experience to compile articles and guides that are introductory and informative. Our authors' opinions are independent and based on the results of practical testing of pest control tools. We do not notify manufacturers of testing of their products and do not receive payment from them for posting their items. Also, our texts are never submitted to company representatives for proofreading before placement. On the site, you will find exclusively objective ratings and reviews.