Hello, friends. How about the outdoor activities without the mosquitoes? I know that everyone likes this idea. If you have tried different sprays, candles, and other stuff and are still searching for the best way to protect yourself from mosquito, Thermacell repellents will help you.
These remedies are tested many times before they get into your house. The safe, fast-acting, easy-to-use formula will satisfy you. Mosquitoes can carry dangerous diseases and cause allergic reactions. That's why it is important to choose the device to protect you from them. It will be a pleasure for me to give you Thermacell reviews and tell more about what is a Thermacell.
Comprehensive Thermacell Reviews
Thermacell Patio Shield Mosquito Repellent – Fast-Acting Thermacell Mosquito Repellent
Thermacell is a worldwide renowned company producing mosquito control products and many other devices. The team really enjoys this work. New technologies are developing permanently. Thermacell tests its repellents at four continents with a different climate and insect's dispersal level. Professional attitude towards manufacturing allows creating high-level remedies.
The company has been working for only about twenty years, but it has already become one of the leaders of mosquito protection products around the world. An idea is simple. Apply the Thermacell repellent before you walk outdoors, and insects will fly away from you before even biting. More detailed information about the usage can be found in Thermacell patio shield reviews below.
Many people ask: "Does Thermacell work?" I'm sure that Patio Shield repellent will make your day outside more enjoyable. It creates a zone of 15 feet where you can spend your time peacefully. Repellent stops mosquitoes before they can bite you. It releases the chemicals that paralyze and kill insects.
An active ingredient is called allethrin. It is a common insecticide that is widely used in mosquito control products. The action of the Thermacell repellent is six-time more effective than 42 candles. The technology was tested in different conditions and proved to guarantee a 100% mosquito protection.
Price: around 20-25$ depending upon the design. You can choose from six colors: green, blue, white, red, brown and dark blue. The package consists of a patio shield repellent, fuel cartridge, and three repellent mats.
The repellent can be used every day and has no sell-by day. The only thing you need to replace is a fuel cartridge that lasts for 12 hours, and a mat that lasts for 4 hours. All the refills you can buy separately. The fuel repellent is used to heat the toxin.
When the blue mat turns white, that means there is no active ingredient left, and you need to replace a mat. The device has a small lamp that indicates when the protection zone is created.
Chemicals released by the repellent are absolutely safe for humans. You don't need to worry if you have small children. Even if they get close to the device, toxins won't harm them. But if you have cats, it is better to isolate them when using the repellent. Allethrin is toxic to these pets and can cause unpleasant reactions.
Pros:
Cons:

fast-acting;
eco-friendly;
does not cause the open flames;
safe for people.

you need to change mats frequently;
can be harmful to your pets.
Thermacell Cambridge Mosquito Repellent – Best Mosquito Repellent Device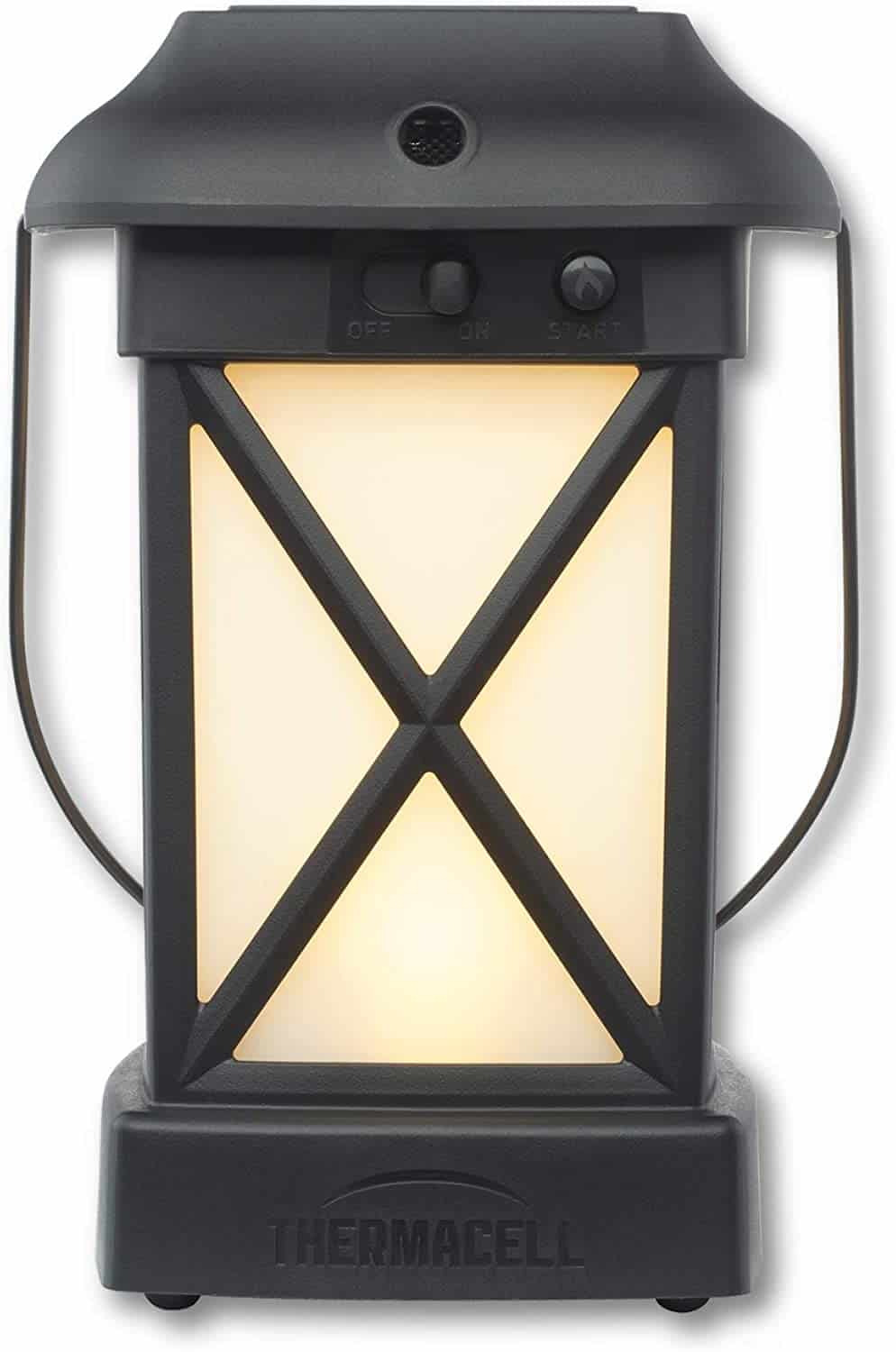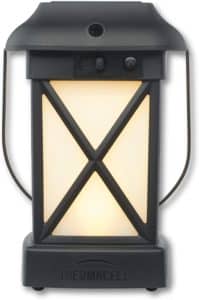 Cambridge mosquito repellent is an ideal supplement to your garden. You can place it on the table while you have dinner, on the lawn when you plant flowers, or take it with you while you are walking. A handle makes it easy to transfer. Repellent also works as a lantern for the garden, so that it will fit in your outdoor area perfectly.
An active ingredient is the same as in the repellent I have described above. Allethrin works great, creating the 15 x 15 feet zone that is completely free of mosquitoes. Insects can't even get close to you because the chemicals in the air paralyze their nervous system.
It happens in a few seconds, so you won't even notice the appearance of pests. The repellent has no scent and produces no noise. The device can work as a lantern or repellent or both at the same time. Evening activities will be two times more satisfying with it.
Price: starting from 40$ that includes one reusable repellent-lantern, one fuel cartridge, three pests mats with chemicals. All the refills are sold separately. There are patio, outdoor, and bronze lanterns if you would like to choose the particular type of lanterns.
The application of the Thermacell outdoors creates no mess or strong smell. Construction allows turning on the device by one click and enjoying time without the mosquitoes. Before the usage, you need to place the fuel repellent inside the lantern and put the blue mat on the top of it.
After four hours, change the mat. A little effort and no insect can harm you. In the afternoon, you can turn on only the repellent, and in the evening, the lantern can add some extra light to your garden.
Repellent produces the heat that safely activates chemicals. If your child finds the device to be a nice toy, it won't cause any problems. An active ingredient can be toxic to bees in some cases, which is a big plus. Other small insects like flies will also be affected. Chemicals are not safe to pests, thus, they protect you properly.
Pros:
Cons:

work as a repellent and lantern;
easy to transfer;
lasts for long;
harmless to people.
Thermacell MR150 Portable Mosquito Repeller – Ease-to-Use Portable Insect Repellent
MR150 Repellent is unique in its construction. Package includes one recoverable repellent that you can put in your pocket. Also, there is one fuel cartridge that lasts for 12 hours and three insect mats that lasts for 4 hours. The mosquito refills are sold separately.
The repellent creates a 15-ft free from mosquito zone for the whole day. Before the insect bites you, the chemicals stop it. The mode of action is simple – active ingredient allethrin paralyzes a pest and then kills it. Construction of the repellent does not create an unpleasant smell or skin reactions. It only releases the toxins in the air that protects you from the attack.
Price: around 22-25$ depending upon the design. It is available in six colors: olive, light grey, woodlands camo, brown, extra green, and pink. The repellent will not only make your outdoor activity safe but also will fill up your outfit.
Easy usage is another benefit of this product. It is portable and does not require a specific attitude. To start the working process, you need to place the fuel repellent inside the repellent handle. It produces a heat that activates chemicals. The next step is to slide a blue mat at the top of the construction. One mat lasts for four hours. When it turns white, you just need to place a new one.
The application of this remedy brings only satisfaction. It does not create any flames. You can buy additional mats and repellents and continue to use the same device. Thermacell repeller is ideal for outdoors activities like hunting, fishing, camping, etc. Barbeque with friends or family will be more pleasant with this product.
An active ingredient is safe for humans. But if you have cats, it is better to isolate them when using the repellent. Allethrin is toxic to these pets and can cause unpleasant reactions. If you have children, you don't need to worry. The thermacell bug repellent is harmless, even for the smallest babies.
It does not create an open fire, so it can't harm you in this way. The only thing you need to do for effective mosquito control is to change the mats when it is necessary.
Pros:
Cons:

easy-to-use;
portable;
long-lasting;
safe for children.

requires changing mats frequently.
How to Choose a Repellent?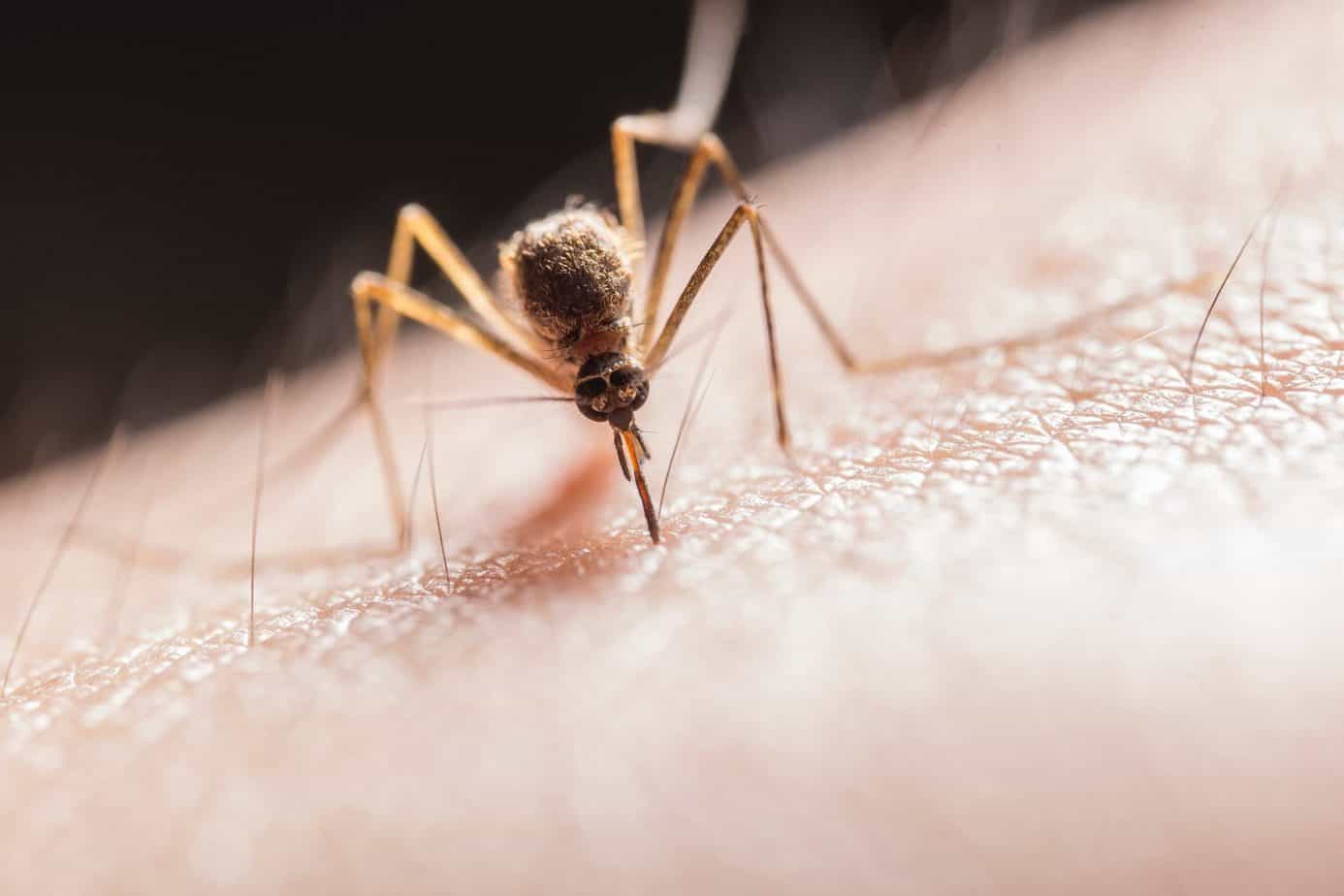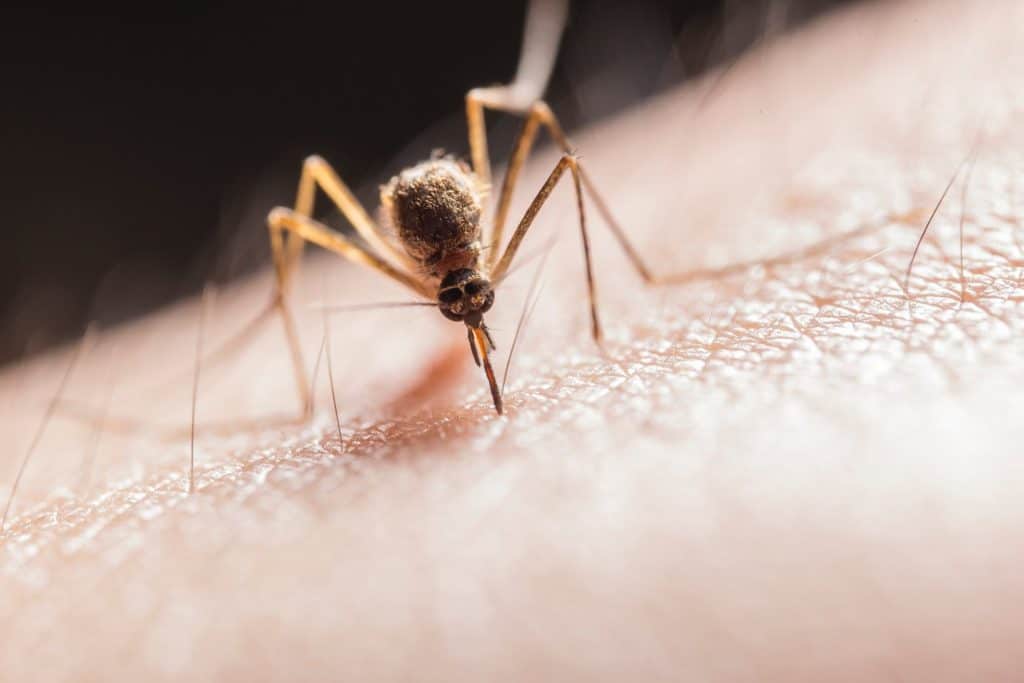 Thermacell repellents differ in size, color, and the type of area where you can apply them. Some of the repellents are portable, others are not. Some of them have the lantern. To choose the best variant for you, decide where you will use the repellent.
If you plan to go hunting, fishing or rest near the lake, it is better to buy the repellent, which is not so big and you can put it in your backpack. If you want to protect the garden area, you can choose a patio repellent. Whether you like to have dinner outside or look at the stars, the repellent-lantern will be a great choice for you.
Related Post: Best Mosquito Coils That Work
This is what I suggest due to my personal experience, but you should decide according to your preferences. You can apply different types of repellents at the same time. The plus is that you don't need to change the repellent handle. When you buy a repellent for the first time, it is better to put in cart some additional fuel repellents and mats. This will provide a longer usage.
How Does Thermacell Work?
The products I've described above have the same mode of action. They consist of three parts: repellent basis, fuel cartridge, and repellent mats. The basis is long-lasting, and you don't need to change it. You can buy fuel cartridges and mats separately. With every package of the remedy, you will get one fuel cartridge and three mats. This is for one day of usage.
To start the repellent application, you need to open the basis. It usually has a lid at the bottom of the construction. Then open a fuel cartridge and place it inside the repellent. Last step is to insert a mat on the top of the basis. When the repellent is ready, press a button and turn it on. Every device will have an orange glow that confirms the work of the repellent.
Related Post: Best Mosquito Foggers Reviewed
You should place it at the center of the treated area and wait for 15 minutes until a protection zone will be ready. Battery operated mosquito repellent will last for at least one month, and then you need to change it with a new one. Now you can be sure the mosquitoes won't disturb you.
FAQ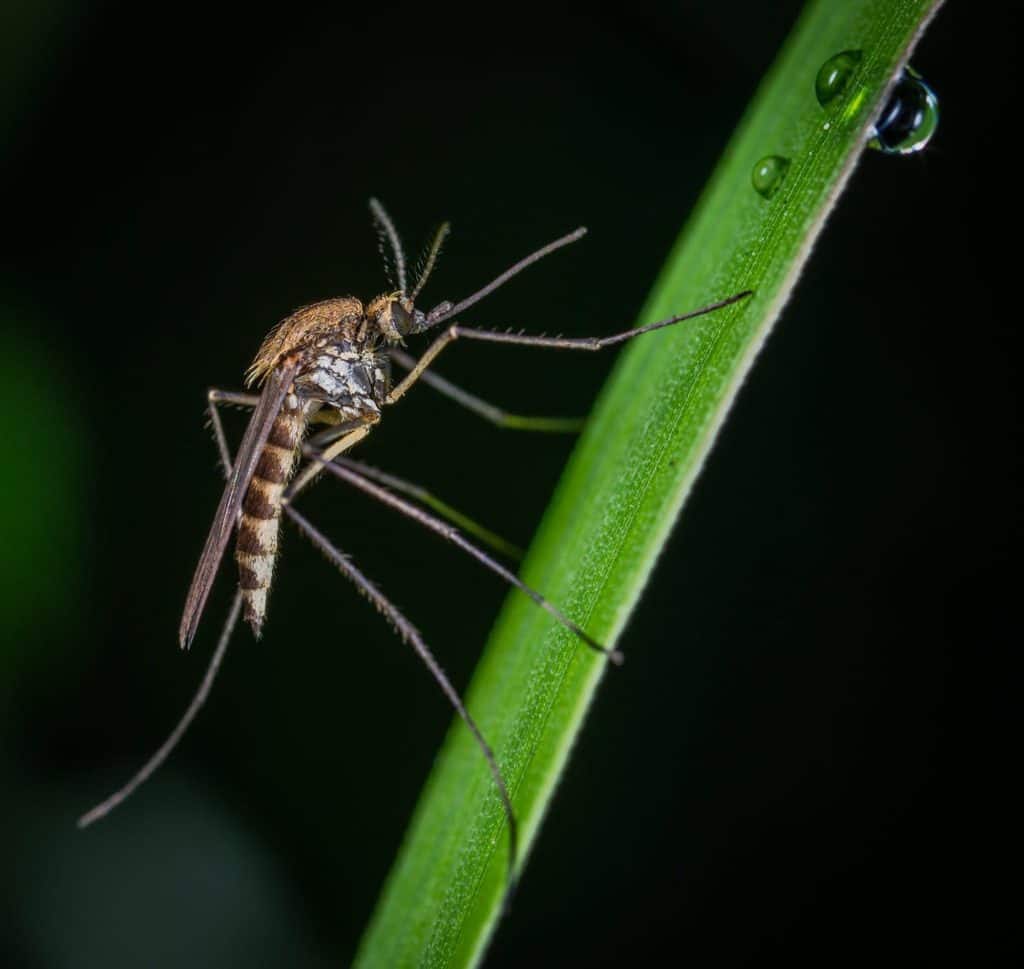 Is Thermacell Mosquito Repeller Safe?
Thermacell repellent is safe for you and your children. It may be toxic to cats or other small pets.
How to Start a Thermacell?
You need to place the fuel cartridge and a mat inside the repellent and turn it on. The protection zone will appear in 15 minutes. All these devices are included in a package.
Related Post: Most Effective Mosquito Killer Dunks for Stagnant Water
How Long Does a Thermacell Last?
You can change cartridges and mats as many times as you want. A cartridge lasts for 12 hours and a mat – for 4 hours.
How to Refill Thermacell Pads?
A: At the bottom of the basis, you will find a lid which you should open and place a fuel cartridge there. The mat should be placed at the top.
Key Takeaways
Thermacell repellents seem to be a great choice if you don't know how to fight mosquitoes. No more candles and sprays, only an easy formula to kill the insects. They last for long, have no smell, and make no flames. What could be better?
Fishing, hunting, camping, and other outdoor activities will be more pleasant with Thermacell. The proven technology will protect you from diseases and allergic reactions.
Now it is your time to try Thermacell yourself and leave a review. Have you used Thermacell repellents before? Do you consider them to be effective? I will be glad to see your comments!