If you had another pleasant evening spoiled by mosquitoes, this is a good reason to consider buying one of the best mosquito tents. Mosquito bite symptoms include itching, redness, and allergic reactions. Different types of these bloodsuckers can carry protozoal infections and bacterial, viral, or parasitic diseases, so it is essential to repel them. In this post, I reveal the intricacies of choosing noteworthy mosquito tents to help you feel safe outside.
Pros
Sun and rain protection, windproof
Premium Pick
Pros
Sun and rain protection, windproof
6 Best Mosquito Tents Reviewed
Since my family loves to spend time in the garden, we have an entire collection of mosquito tents. I have tried all the options described here, and I hope my experience will be useful for you.
1. Alvantor Screen Tent: Best Mosquito Tent Overall
I bought this tent last year, and it won over me right away. This is the best mosquito net tent I've ever tried. It has 8 sections and a roof. The construction is based on a durable fabric and fiberglass frame. The tent has 2 entrances with double zippers, a coat hook, 8 anchors, and struts. 8 elongated sandbags provided at the bottom of the tent ensure its stability in windy weather.
Among the pluses, I want to highlight an aesthetic, ergonomic design, large size, lightness, and compactness during storage and use. It is the lightest and most mobile tent on the entire list. The model comes with secure fittings and an additional hook. Due to its UV-50 index, the tent reliably protects you from ultraviolet radiation. There is also an optional 1-year warranty.
As for the shortcomings, I'd like to note that the tent is not water-resistant, so you are likely to get wet in the rain. The manufacturer expanded the model range recently, and now the tent is available in several colors and sizes.
Pros:
Cons:

Light and compact;
Stylish and ergonomic;
1-year warranty;
UV-50 protection;
Additional fittings
2. TAILGATERZ Screen House: Best Tent for Durability
I bought this tent 2 years ago and used it for picnics. This model has 4 dark, mesh walls, a fabric roof, and flooring. There are 2 doors with magnets, which is very convenient when you want to enter this screen house but hold something in your hands. Dogs can enter and exit on their own. The frame made of steel and fiberglass is located on the outside. There are additional ropes and bindings for extra stabilization in windy weather.
The tent is quite large, and you can easily place picnic furniture in it. Though magnetic doors are very convenient, sometimes insects can get into the cracks. I found it challenging to set up the tent alone and had to ask my friends for help, although it is quite light.
I was pleasantly surprised by the 10-year warranty coming with this item. The tent is in perfect condition so far. The producer has made no modifications or upgrades yet, although I wished the upper gap between the magnets were somewhat smaller.
Pros:
Cons:

Reliable;
Large and spacious;
10-year warranty;
Convenient magnetic doors;
Sun, rain, and wind protection.

Insects can enter the holes in doors and flooring.
Difficult to install by 1 person.
3. Coleman Screen House: Best User-Friendly Tent
I use this tent for relaxing on the beach and fishing. This tent has a simple construction that includes 4 mesh walls, poly-guard flooring, a roof, a telescoping outer frame, and braces for extra stability. There are 2 doors in the tent, each equipped with a double zipper.
It takes me 2 minutes to assemble the screen house, and the procedure is fast and comfortable. The tent is very light, only about 4,4 pounds, so it is convenient to store and transport it in a specialized wheeled case. This screen house also protects well from the sun rays and is stable in windy weather. Sometimes, it can get hot in the tent, which is perhaps the only discomfort I've managed to find.
Pros:
Cons:

1 person can install it quickly and easily;
Lightweight;
Sun and rain protection, windproof;
Comfortable entry and exit;
Stylish design, different sizes, and colors available.
4. EVEN NATURALS Net: Best Pop-Up Mosquito Tent for Sleep
I actively use this net at home, having installed it on the bed. There are several options for this pop-up mosquito net tent, round and square, which come in different sizes. It features 4 walls, a frame, and 2 entrances with two-way zippers. There is a mesh bottom below, which you can cut off if you want, and clamps for attaching the item to the mattress.
The mesh is very fine and fits the bed tightly, which provides reliable protection against the smallest mosquitoes and other insects. The frame is light, soft, and does not interfere when you sleep. I would prefer a little more space since I move in my sleep, though. I wished the construction were wider and taller.
Pros:
Cons:

Extra fine mesh;
Very easy and quick to install by 1 person;
Lightweight;
Stylish design, different sizes, and colors;
You can place it not only above the bed but in the garden or playground for kids.

Might seem a bit cramped at first.
5. YDYL Screen House: Best Versatile Mosquito Tent
This brand is better known for its vitamins, cosmetics, and dietary supplements. Surprisingly, they also have pretty decent mosquito tents. This model has 4 mosquito net walls and a frame of fiberglass and steel. There is 1 entrance with a zipper, 4 spacers, and additional clamps.
I bought this tent for my colleague as a gift. She is a big fan of picnics with her friends. The application range of this item varies, starting from camping to a shed for an outdoor kitchen or market.
The main advantage of this model is versatility. As I've mentioned, you can use it for various occasions. The cons include instability in windy weather and poor protection from the rain. The screen house does not have a bottom, so you have to install it on a flat surface and get prepared: Small insects can make their way below.
Pros:
Cons:

Extra fine mesh;
Versatile and lightweight;
Universal;
Well-ventilated;
Stylish design, different sizes, and colors.

I wish it were more stable.
6. AMMER Net: Best Mosquito Tent for Trips
The structure of this bed net is pretty standard: Light, flexible, and strong frame, thin mesh, and 2 doors with a double-sided zipper. Lace serves as decoration and looks pretty cute. I bought this net for my friend's child to protect him against mosquitoes.
The mesh is large and spacious, and there is a bottom for additional protection from insects. Convenient design allows you to easily and quickly install the net. The light weight is a nice bonus: The item weighs only 2,2 pounds, and you can take it with you on trips. The manufacturer increased the height of the mesh, providing users with even more space.
Pros:
Cons:

Easy to transport;
Very easy and quick to install by 1 person;
Lightweight;
Perfect for trips;
Comfortable entry and exit.

The material might be a little slippery.
Mosquito Tent Buyer's Guide
Now I'd like to talk more about what to expect from a mosquito tent and what to look for. What is the advantage of this device over repellents? Which difficulties can arise? Find the answers here.
Why you need a mosquito tent, pros, and cons
First, let's figure out the main purpose of a camping mosquito tent. Why can't you just enjoy the freedom of action with the mosquito repellent? This useful gadget brings a number of bonuses.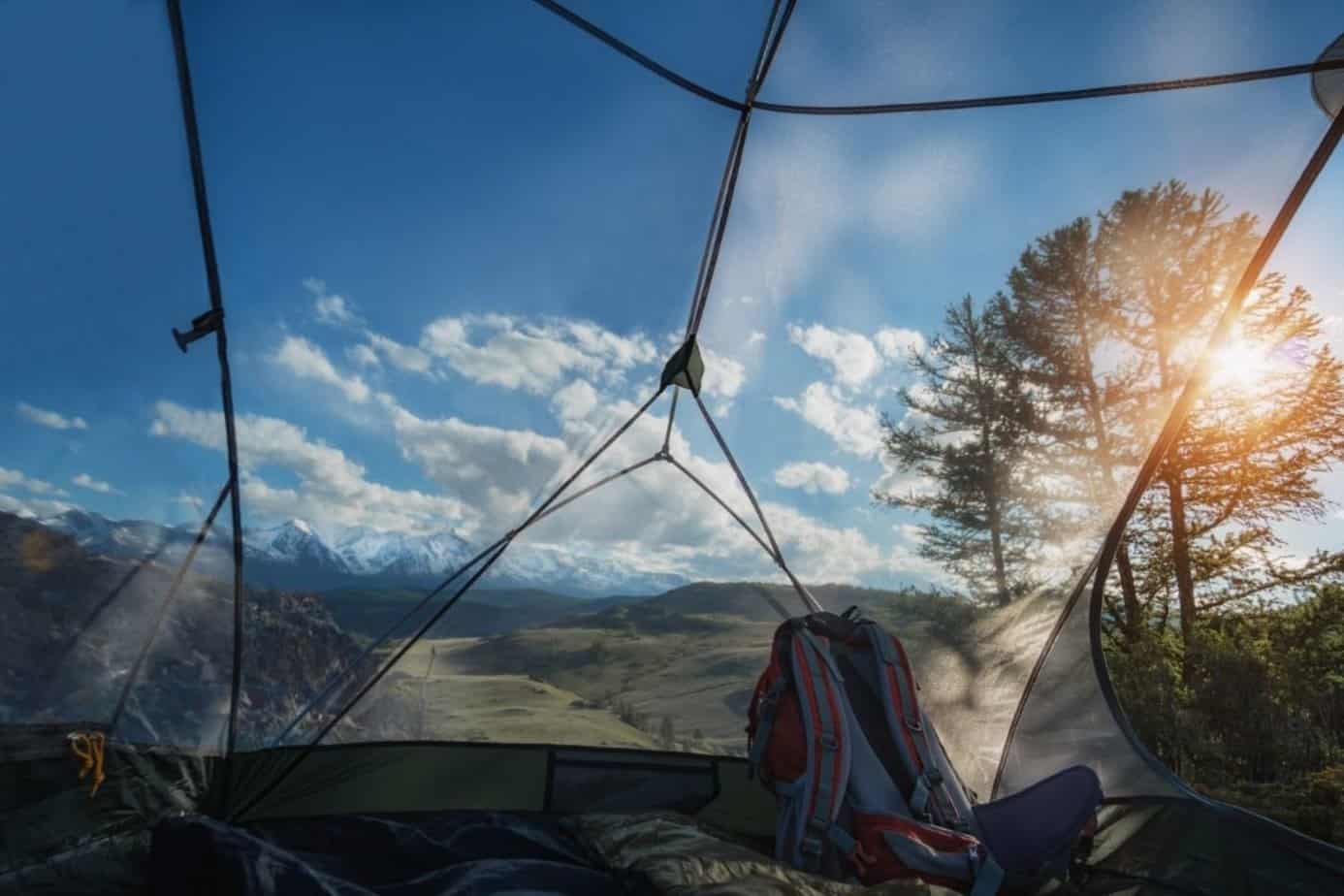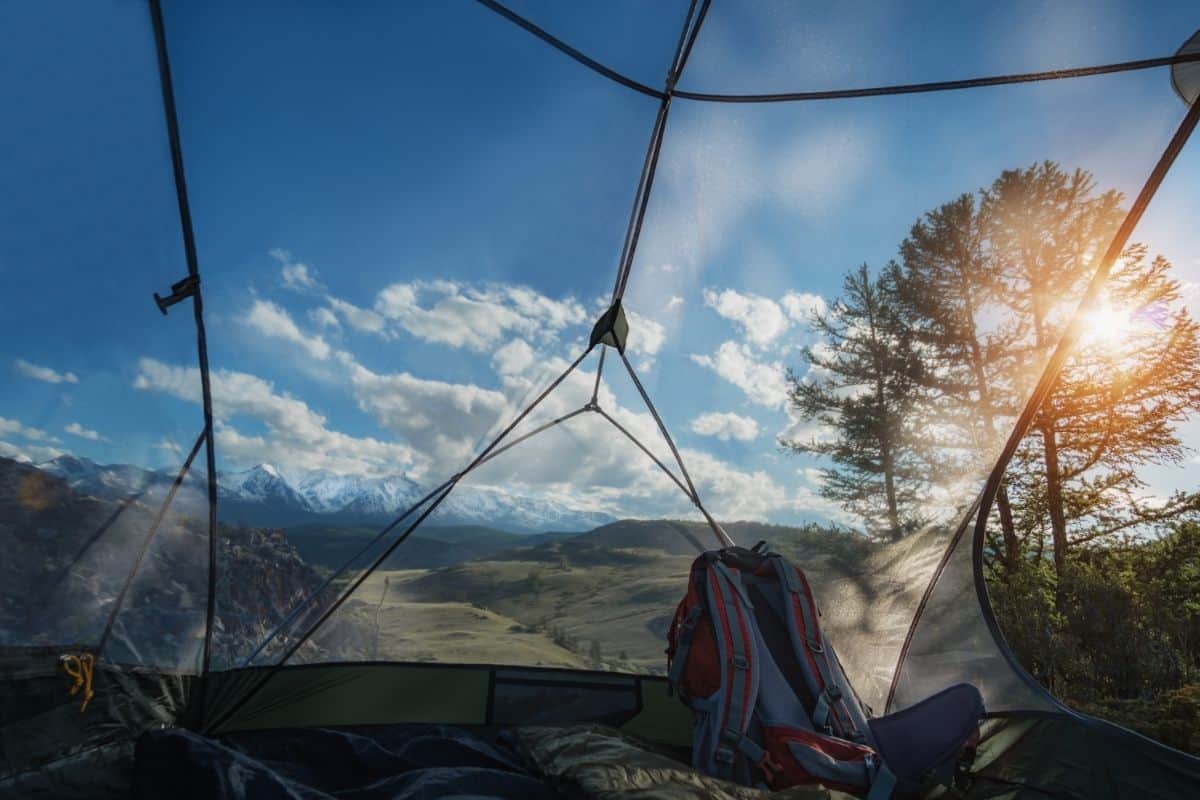 Advantages of mosquito tents
We all want to protect ourselves and our loved ones from mosquito bites. This is crucial when you are outside: In the yard, on a picnic, going fishing, or hiking. In some regions, the use of bed netting is vital due to a large number of insects or the potential diseases they can transmit. It is worth thinking about such protection in any place you stay for a long time or on the following occasions:
Outdoor cooking, parties with friends, fishing in the fresh air, or simply spending time outdoors. Here you can treat yourself to a cozy and insect-proof area. In such a situation, you obviously don't want to be distracted by applying special means or fighting against mosquitoes that attack you;
Not everyone can use repellents with a strong odor, be it chemicals, incense, or folk methods due to allergies, individual intolerance, or asthma. Such substances are also contraindicated for small children;
If there are little children in the house, you can arrange a play area for them in a tent with a mosquito net. This way, you can leave the child and not worry that mosquitoes will bite them. In my friend's family, it served as a kind of playpen, which the little ones did not leave. You will also be protected from the sun and rain. Not only mosquitoes but other insects and small animals will not get inside due to the smart design.
Disadvantages of mosquito netting
The benefits of a mosquito screen tent look impressive. However, there are a few drawbacks:
You will not always manage to use your awning due to too windy or rainy weather. Some models are not designed for these purposes;
It can get hot in the tent if it is poorly ventilated or the fabric warms up;
You are safe only in a limited space.
What to look for when buying a mosquito tent
Choosing the right awning can be real trouble. There are a few factors to consider to be satisfied with the purchase.
Material
It should be strong but pleasant enough. The mesh has to be very fine. There should be no visible signs of damage or break. The material that provides protection from the sun and rain will be a definite plus, but it should not be very hot inside the tent.
Accessories
All additional parts must be of high quality and reinforced in places of heavy wear. It is desirable to have more than one entrance and the function to close it both from the outside and from the inside. Stabilizers will greatly help in windy weather. An additional bottom will protect you against insects that can make their way from below.
Dimensions and measurements
Select the dimensions and measurements carefully. It is only logical that a small awning won't cover a large company, and a tall man will not feel comfortable in a small tent for a bed.
FAQ About Bets Mosquito Tents
Many questions may arise when choosing a suitable mosquito tent for your case. I have answered the most popular ones here.
What is the best material for mosquito netting?
There is no best material, but I have certain recommendations to share. The mesh should be finely woven, durable, pleasant to the touch, let fresh air in, and not heat up in the sun. It would be nice to buy a tent with water-repellent properties.
Can I use tulle as mosquito netting?
Yes, you can replace a mosquito net with a tulle. However, you need to consider that it does not pass through the air so well, so it will be hot inside. This material does not have water-repellent properties, so you will get wet in the rain.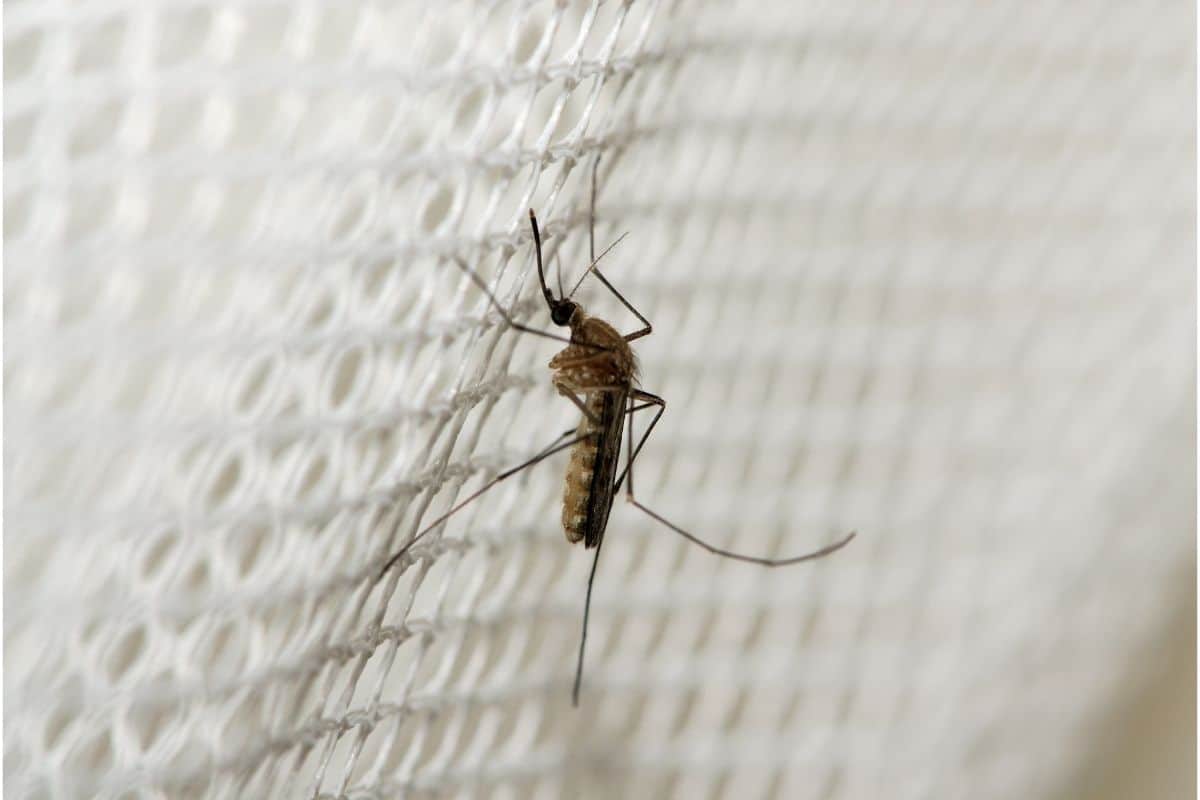 Can you iron mosquito netting?
I don't advise ironing a mosquito net. As a rule, manufacturers use synthetic materials that can be damaged by ironing. Most mosquito nets do not need to be ironed. They do not crumple so much and do not lose their functions due to the synthetic material.
How strong is a mosquito net?
The strength of the materials differs. This indicator depends on the thread and the weaving of the network. For bed tents, producers apply thin fabric that is pleasant to the touch. Street awnings are more stable, and their fabric can withstand several pounds per square meter.
Choose the Most Suitable Mosquito Tent
Yes, this is not an easy task, given how many factors you should take into account and the variety of features the manufacturers offer. When choosing, I was guided by the material the tent is made of, how comfortable it is to stay in it in different weather conditions, and how easy it is to install for one person.
Overall, I recommend the Avantor Screen Camping Tent. I've shared my recommendations and preferences here, but the final choice is yours. Tell me what else do you pay attention to when choosing a mosquito tent? Have you ever used one?
Why You Should Trust Pest Control Hacks?
We know that pests are nasty neighbors, and it can take months to eliminate them without the right approach. Our experts use their own experience to compile articles and guides that are introductory and informative. Our authors' opinions are independent and based on the results of practical testing of pest control tools. We do not notify manufacturers of testing of their products and do not receive payment from them for posting their items. Also, our texts are never submitted to company representatives for proofreading before placement. On the site, you will find exclusively objective ratings and reviews.