Tiny as they are, mosquitoes can be a true bane to us humans. Chances are high that you have had a nasty experience with these little bloodsuckers buzzing in your ears and covering your entire body with itchy, swollen bites.
Apart from being extremely annoying, these critters pose a danger to those allergic to mosquito bites, although systemic reactions are reportedly rare. Some of the species are also capable of spreading viruses of varying danger.
Dengue, yellow fever, and encephalitis are borne by the Aedes genus, presently found across the world, while Culex species carry the notorious West Nile virus, filariasis-causing parasites, and the Japanese encephalitis virus. Finally, Anopheles is the genus responsible for malaria outbreaks, mostly limited to tropical climates.
What makes mosquitoes so hateful is their ubiquity. There's a wide variety of species in most regions, all differing in feeding and residential habits, except all rely on their sense of smell to detect people. This is the science behind the use of essential oils to keep the pests away. Citronella candles are a widely used anti-mosquito solution based on this principle.
Read my citronella candle reviews below to find out whether it's a good option for you this season.
Top 5 Best Citronella Candles for Mosquitoes
1. Murphy's Naturals Mosquito Repellent Candle: Best Citronella Candles for Mosquitoes
There are two key phrases when it comes to describing what Murphy's Naturals makes, plant-based and responsibly sourced. This US-based company attaches huge importance to how earth-friendly its products are. It is also a member of the 1% for the Planet movement by investing part of its revenue in a global environmental initiative.
These citronella patio candles are made of a combination of beeswax and soybean oil and feature a number of essential oils apart from citronella as their active ingredients. No chemical pesticides or repellents are added to enhance the formula, which doesn't prevent the candle from actually doing its work.
Although as small as 266 ml, this product might last for up to 30 hours according to the label. It comes in a non-assuming metal container with a lid to make transportation easier. There's just one wick, which is pretty much enough if you consider the relatively small diameter.
Like most of the other candles, this one is only safe outdoors.
Pros:
Cons:

extremely effective;
great natural smell;
no DEET or other chemical pesticide added; a 100% natural formula;
responsibly sourced & funds an environment protection initiative.

not the most affordable option.
2. Cutter HG-65983 Citro Guard Citronella Candle: Eco-Friendly Candles that Keep Bugs Away
A brand of Spectrum Brands Holdings, a global company that offers a wide range of household products, Cutter has its focus on pest repellents for personal and outdoor use. Citro Guard is a natural formula based on real oil of citronella as the active ingredient (3%).
This candle comes in a large 0.5 L bucket container and is designed specifically to be used outdoors. The manufacturer emphasizes that you shouldn't burn it indoors or in enclosed areas such as porches or tents.
Apart from doing a good job of keeping the pest away, this product has a decent smell. Some people find the scent somewhat too intense. I do believe it's an inevitable evil, though, as it's essentially the smell that makes it work.
According to the label, the candle is most effective within 1 m. The good news is that you can combine several of these for maximum protection. This a long-lasting product that can be stored for years without losing its properties and offers about 30 hours of burning.
Citro Guard is worth considering if you are planning a patio party since it comes in a variety of bucket colors (solid, patterned, or metal!) to match your theme. One problem that I've found with the good-looking container is that it tends to get really hot over time.
Pros:
Cons:

highly effective;
30 h burning time;
looks good in your patio;
decent smell;
affordable price.

the container can get too hot to carry.
3. Repel Insect Repellent Citronella Candle, Triple Wick: Best Outdoor Citronella Candles for Mosquitoes
Just like Cutter above, Repel is a member of Spectrum Brand Holdings specializing in insect repellents. With a similar 3% citronella oil formula, this candle was designed with camping and other outdoor activities in mind. Hence, it guarantees a longer burning –40 hours and the no-waste three-wick system that features three separate wicks to make sure that the candle doesn't burn a hole down the middle.
This product comes in a green metal container that's almost 0.6 L big. No lid is included, which I have found to be a nuisance as you need to wrap the candle for transportation. Besides, the container is somewhat too thin and prone to bending.
You'll definitely sense the intense smell of citronella oil while burning this candle, but no harsh perfumes added. Sit within one meter from it if you want maximum protection against blood-sucking insects or enhance your anti-mosquito barrier by placing several candles like this around your territory.
Pros:
Cons:

highly effective;
you can use multiple candles to create perimeter protection;
extremely long-lasting (40 h burning time);
decent smell;
triple wick system prevents a hole from forming in the middle of the candle.

flimsy container that can get hot;
no lid for transportation.
4. Mosquito Guard Repellent Candle: Effective Natural Mosquito Candles
This product boasts an all-natural, plant-based formula with no chemical repellent added. Apart from citronella oil, its active ingredients include lemongrass, rosemary, peppermint, and cedarwoods oil that all make it a more potent anti-mosquito candle. The body of the candle consists of soybean oil and beeswax.
The item comes in a very convenient 350 ml tin container with a lid for transportation. I don't have much to say about the candle's design, but its smell is really noteworthy since the citronella note is balanced out by a bunch of other oils, creating a scent that doesn't overpower you.
Related Post: Best Tiki Torch Fuels for Mosquitoes.
Mosquito Guard Repellent Candle has 3 wicks that ensure a stable high flame but don't prevent a lot of wax from being wasted as a tunnel forms in the middle of the candle.
The label warns against using the product indoors and in enclosed spaces. You still have the option of combining 4 candles placed evenly around your territory for optimum protection.
Pros:
Cons:

extremely effective;
yu can use multiple candles to create perimeter protection;
nice, fresh smell;
no DEET or other chemical pesticide added; a 100% natural formula.

somewhat pricey;
mostly melts in the middle, so you throw away a lot of wax.
5. YIIA Citronella Candle Indoor/Outdoor: Best Indoor Citronella Candles
YIIA specializes entirely in scented candles that look lovely and fill your home with a nice smell. In the citronella series, the decorative function is combined effectively with powerful repellent potential.
These are soy wax candles, which means longer life and increased eco-friendliness since only plant-based material is used in the production. Although each item is only 100 ml big, it will last you about 25 hours. The container is a good-looking and practical Mason jar with a lid to keep the candle dry and clean. Besides, the candles come in a variety of colors.
I find the scent to be very pleasant and not overwhelming at all. Indoor mosquito repellent candles are less easy to find than outdoor options because this requires a very precise balance of safety and effectiveness. Yet, this product is naturally-based and works well to keep the bugs away.
Pros:
Cons:

quite effective;
excellent smell;
looks good;
safe to use indoors as well as outdoors;
25 h burning time.

comes in a glass container that's not the best option for transportation.
Buyer's Guide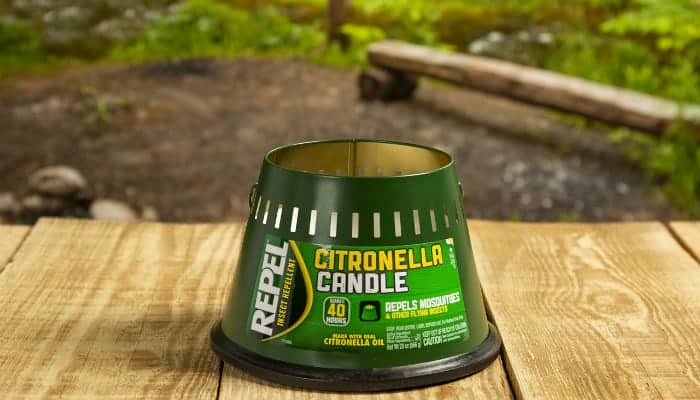 The market is full of citronella oil candles for different purposes, so you need to know what to consider if you find the idea of using candles to repel mosquitoes appealing. First of all, it's important that you understand the key principle behind such products.
What Are Citronella Candles?
A citronella candle is essentially a candle that releases oil of citronella vapors as it burns. The oil is made of certain varieties of grass and has a fresh, intense smell. Although widely used as an insect repellent, it's quite safe and can be found on the minimum risk pesticide list. In fact, it's often added to food as a flavoring.
How Do Citronella Candles Work?
Since mosquitoes find their targets by the smell of their breath, intense scents that attract them can cause a detour in the bloodsucker's route. This enables us to use fragrant candles to keep mosquitoes away rather than actually killing them. When an insect senses citronella oil, it simply has trouble locating its human victim.
Related Post: Best Mosquito Traps Reviewed.
How to Choose the Best Citronella Candles for Mosquitoes
First of all, pay attention to other ingredients included in the formula. The most effective citronella candles use a combination of citronella oil with other natural insect repellents like cedarwood and rosemary oil. These also add more subtle notes to the main ingredient's intense smell.
If you are looking for a one-size-fits-all solution that will work both for your patio and indoors, the best mosquito repellent candle for your purpose should be fit for use in enclosed spaces.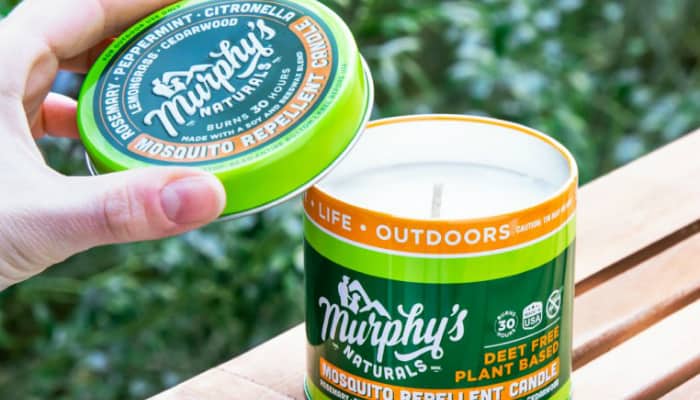 For those who are only interested in outdoor mosquito candles, container design is another thing to factor in. You'll probably want a lid to keep your candle clean and dry during transportation. A sturdy can or bucket will be a plus as flimsier structures tend to get bent on the way.
Longer burn time is also an advantage since mosquitoes will most probably plague you day and night. Candles that are made with soybean oil reportedly last longer than traditional paraffin. This is not the only advantage of soy box as it's cleaner with less soot and doesn't release known carcinogens as it burns. Besides, it's a more sustainable ingredient as it's 100% plant-based.
Related Post: Best Mosquito Repellent Sprays for Yard.
Finally, the best mosquito candle will have a balanced shape in which the diameter is not too big or, alternatively, a multiple-wick candle so that you aren't left with a hole in the middle and two-thirds of the wax remaining.
FAQ

Do Citronella Candles Really Work?
The short answer is yes, they do. Their range is pretty narrow, though, so it might be a good idea to put several around the perimeter for better protection. Consider formulas that are enhanced with insect repellent essential oils, too.
How to Make Homemade Mosquito Repellent Candle?
You'll need a container (an aluminum/steel can or even a glass jar will do), wax (chances are that you have some half-burned old candles waiting to be re-used, so feel free to scrape the contents out), wick material (cotton/twine), 30 ml citronella oil and a cup of palm/coconut oil per 0.5 L of wax.
Additional essential oils are welcome too. Use a double boiler to melt the wax, add the palm/coconut oil and your active ingredients. Stir until mixed, pour a little into your container with a wick inside.
Hold the wick so that it gets secured in the wax as it solidifies. Add the rest of the mix, keeping the wick from falling sideways. Let your candle cool down, and it's ready!
Related Post: Best Mosquito Killers Reviewed.
How to Place a Candle Properly?
Be sure to read the label for directions as to the distance at which it will work. If you're using multiple candles, follow the spacing instructions or, if none, distribute them uniformly around the perimeter. Use only heat-resistance surfaces that won't catch fire or melt.
Summary
Citronella candles are a safe and natural way of warding off whining bloodsuckers, whether it's indoors or outdoors. They don't offer impressive coverage but can be placed around the territory for enhanced protection. Essential plant oils added to the formula can make the candle more pleasant to the nose while also increasing its effect.
Last but not least, a fragrant citronella candle in a fancy jar is a good way to set up the mood for a cozy patio party with much fewer critters buzzing in your ear.
Related Post: 5 Best Mosquito Repellent Bracelets.
It seems like many people are prejudiced against citronella candles as "too natural" and believe them to be inferior to harsher chemicals like DEET. What's your opinion? Do you feel like plant-based formulas work worse? Be sure to share your experience in the comments section.
References:
How Mosquitoes Detect People (National Institutes of Health):
https://www.nih.gov/news-events/nih-research-matters/how-mosquitoes-detect-people
Insect Repellents Fact Sheet(National Pesticide Information Center, Oregon State University Extension Services):
http://npic.orst.edu/factsheets/repellents.html
Citronella General Fact Sheet(National Pesticide Information Center, Oregon State University Extension Services)
:http://npic.orst.edu/factsheets/citronellagen.html