It keeps the vampires away, though it's not made of silver. There is nothing mystical about this sort of bracelet: not blessed or consecrated, not charged with superpowers, it just works while on your arm, with quite natural limitations. However, these anti-mosquito wristbands do keep mosquitoes away, saving your skin and your blood.
Best Mosquito Repellent Bracelet
Best Mosquitoes Repellent Bands for Kids
It's not so easy and simple about these accessories, though. From the lifetime to expected efficiency, there is a lot about them worth knowing. Some researches on the topic are based on old models, proving that a DEET bracelet won't work.
Probably that's true, given that DEET is a contact sort of repellent. Although, all the models listed below are DEET-free and infused with different substances, mostly natural plant-based insect repellents recognized officially.
There is always a place for some doubt, and the most serious is the following. When you use citronella oil in, say, torches, the fire warms it up enough to evaporate enough of it to keep the insects away. But the bracelets are only warmed by human body temperature.
Will it be enough to make enough evaporation? And won't it harm the user? Researchers have been trying to answer these questions, as well as many others. And in mosquito repellent bracelet reviews below I'll check how much they succeeded.



Top 5 Best Mosquito Repellent Bracelets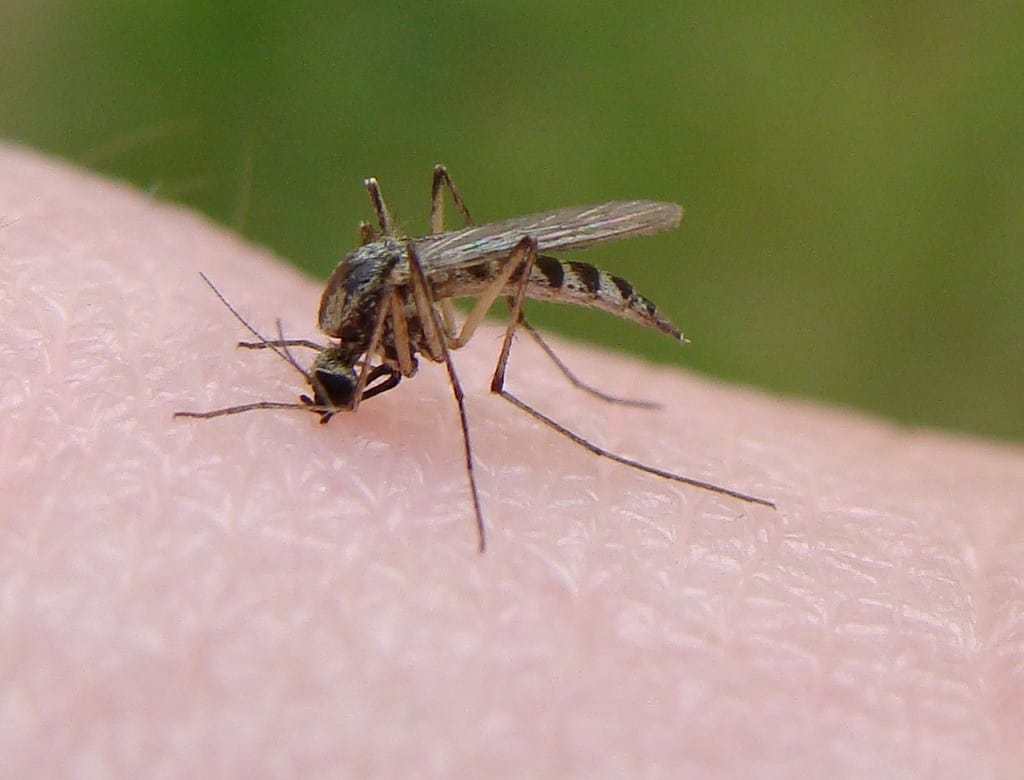 A little disclaimer I feel obliged to include. There is never a perfect model. Even the most praised items sometimes fail. They may produce an unpleasant smell, irritate the skin, or not repel insects at all. There is never a 100% success when it comes to compatibility with nature. So I compiled my own experience with that of others and considered other reviews I could read.
1. SB39001 Insect Repelling SuperBand: the Best Mosquito Repellent Bracelet
Specifications:
Non Toxic & Deet Free
One Size Fits All
Scent: Lemongrass, Peppermint, Chamomile, Cinnamon, Citronella
Item Weight: 15.2 Ounces
Package Dimensions LxWxH: 13.5 x 5.28 x 4.02 inches
Target Species: Mosquitoes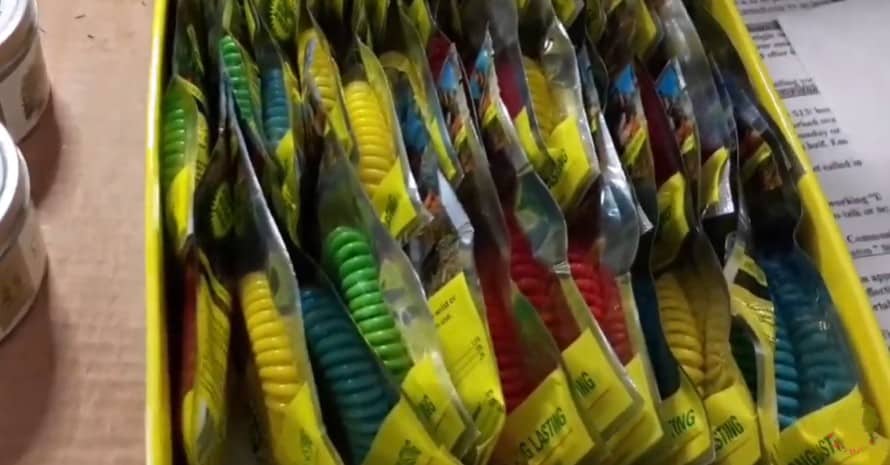 Superband (when it doesn't come to music) is a trademark by Evergreen Research, probably the leading company in the industry. This company is based in Colorado, and though its style sometimes fails it, reminding some Chinese basement production, in fact it's an American company. Its Disney-branded hand sanitizers are extremely popular in the quarantine time.
As for these bracelets, they are probably the best versatile offer around. The manufacturer uses three repellent oils – geraniols, lemongrass, and citronella. All of these are natural; it doesn't make them child safe by default, still it's safer than artificial chemicals. Artificial is the bracelet itself, but it's hypoallergenic and not supposed to irritate the skin. Even the allergic users mostly have nothing to complain about, though there are always exceptions.
An adult may need two of them – one on the wrist, another on the ankle. In this case, they are repelling mosquitoes more efficiently. Luckily, the pack has 50 of them, and the price for a single item is under $1, so it's easier to treat them like expendables they are. The expected lifetime of a bracelet is about 200 hours, sometimes less, but expecting more makes little sense. You better replace it each time you see it doesn't work as it used to.
Pros:
Cons:

neutral, with quite a tolerable smell;
hypoallergenic;
repels various species of insects;
one size for all;
reasonable price.

some insects aren't repelled by the bracelet.
2. Mosquito Guard Kids Repellent Bands/Bracelets: Best Mosquitoes Repellent Bands for Kids
Specifications:
Non Toxic & Deet Free
One Size Fits All
Scent: Lemongrass, Peppermint, Citronella
Item Weight: 4.97 Ounces
Item Dimensions LxWxH: 9 x 8 x 2 inches
Target Species: Mosquitoes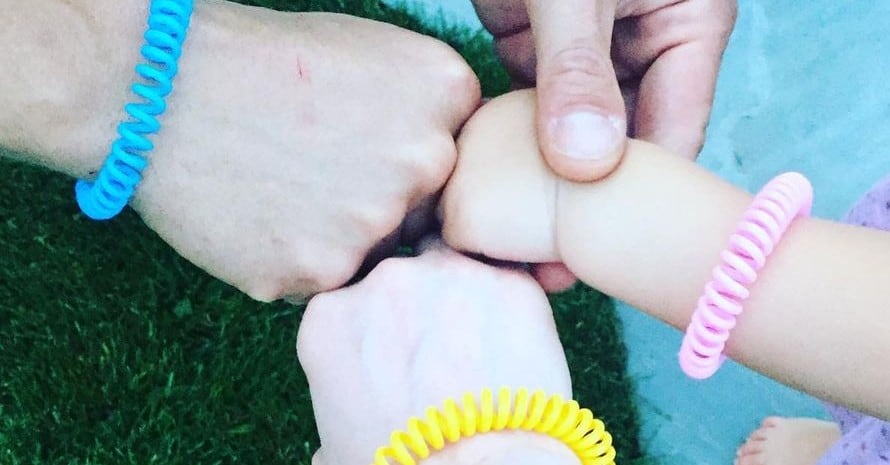 Not that the previous one looks dull. But this bracelet for mosquitoes is so outstanding that it's definitely will be loved by kids, especially by toddlers. Its color is bright orange, toyish and distinguishable, easy to find if a kid manages to lose it in the grass or in the sand. Kids are growing quickly, so one size solution matters like nowhere else.
It also utilizes the same three natural repellents: citronella, lemongrass, and geraniol. These are supposed to keep absolutely most insects away (while not all of them, so the adults shouldn't rely even on the best mosquito bracelet exclusively). It doesn't utilize potentially dangerous repellents like DEET (a spoiler: none of these does).
Hardly does a kid need to wear more than one mosquito repellent wristband, as it covers by its evaporation most of the area around. It's not prohibited to wear another on the foot, but it makes little sense (unless it's an accessory). Adults can wear them too, and they are flexible enough to wear around the neck along with those on the limbs.
Pros:
Cons:

safe and hypoallergenic;
one size solution;
natural repellents;
bright orange color;
affordable.

scent is strong sometimes;
it may take multiple bands to work efficiently.
3. Mosquito Guard Kids Repellent Bands/Bracelets: Perfect Mosquitoes Repellent Bands for Kids
No products found.
BuggyBands is quite an unknown name for the general public. Still, these bracelets are sold by Walmart, Ralphs, Homedepot, and other popular chains, so it shouldn't be that bad. Let's examine the product.
It's more than a regular citronella bracelet. Though it has this component along with the usual ingredients, the entire list includes also lemongrass, lavender, chamomile, tea, mugwort, mint, and eucalyptus essential oils. At least, its smell should feel great, and it does – in case you smell it at all.
Related Post: Most Effective Mosquito Killing Solutions.
It's a good option for a company or a big family, as these bands come in different colors within a pack. You won't confuse yours to someone else's if they differ so noticeably. If you need more than one (a popular practice for adults), you can have two of the same color – one for your wrist, and another one for your ankle.
The lifetime of this bracelet is said to be up to 240 hours. In fact, it can be shorter, especially if the bracelet has been exposed to sun or water, or its package has got broken. So you better watch its efficiency as you use it and replace the bracelet as soon as it starts to fail.
Pros:
Cons:

efficient against mosquitoes and other insects;
pleasant moderate smell;
colored bright and easily distinguishable;
fits both children and adults;
reasonable price.

one bracelet isn't enough for the efficient protection;
little information about the vendor;
some of these items don't work.
4. RADARCAN R-100 Plus Portable: the Best Electronic Mosquito Repellent Wristband
Specifications:
Hypoallergenic Silicone Wristband
Max. Coverage: 6 ft
Item Weight: 1.44 ounces
Item Dimensions LxWxH: 8.31 x 3.07 x 1.65 inches
Batteries: 1 Lithium Metal batteries required. (included)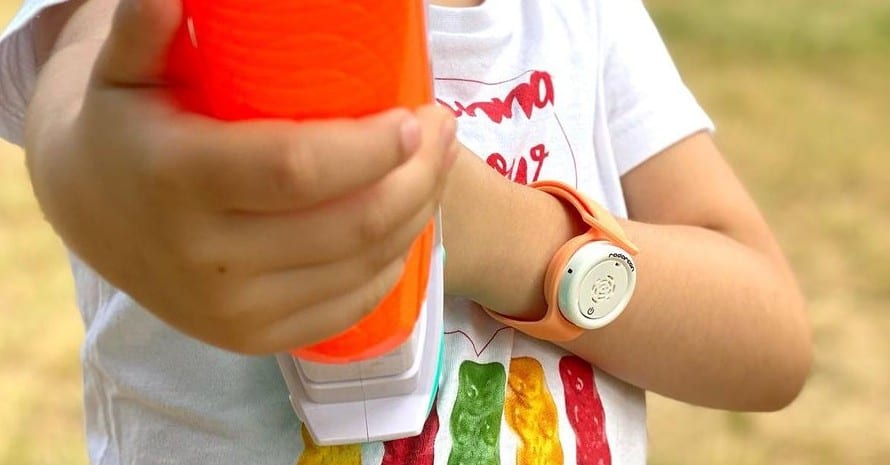 If you feel like all the bracelets above are not technological enough for 2020, here comes the good news. The one by Radarcan may not be the best natural mosquito repellent bracelet, but it's certainly the most technological.
Unlike others, it uses electronic rather than the chemical repelling methods. The sound it produces, virtually unheard by a human ear, is threatening to mosquitoes. The idea of sonic pest repellents has been popular for long, though in 2015 there hasn't been much success, but now there is, and R-100 Plus is among the first successful devices on the market. As the developers say, the device imitates a male mosquito, informing others (first of all females, the actual bloodsuckers, excuse me if you find this sexist) that there is nothing good to find here.
The device can be worn on your wrist with a hypoallergenic silicone band or hung at the table to spread its influence around. The wristband can't cover a large area, but a breakfast table for three or four persons is within its abilities. When indoors, you can just turn it off to save battery.
It is powered by lithium batteries that need to be replaced every 9-10 months. It would have been great to have a Fitbit with such a feature; hardly would it make the device more expensive. It would also make sense for outdoor activity when you take nothing but the tracker with you.
On the other hand, this combination would have been less flexible. Say, it wouldn't be that easy to hang it above the table to repel insects. Anyway, so far the only insects Fitbit (or other brands like Samsung) have to repel are bugs in their software. So if you like running outside, and this is the best option from your point of view, you'll have to wear it alongside with your activity tracker or smartwatch.
Pros:
Cons:

the most technologic device around;
long lifetime;
chemically neutral;
can be used for one or several persons;
the battery lasts for 10 months.

only meant to repel mosquitoes;
useless if broken or the battery runs out;
not waterproof.
5. Superband Premium Insect Repellent Bracelet: the Best Anti Mosquito Wristbands for the Whole Family
Specifications:
Non Toxic & Deet Free
One Size Fits All
Scent: Lemongrass, Peppermint, Chamomile, Cinnamon, Citronella
Item Weight: 0.48 Ounces
Item Dimensions LxWxH: 3.25 x 0.5 x 5.25 inches
Target Species: Mosquitoes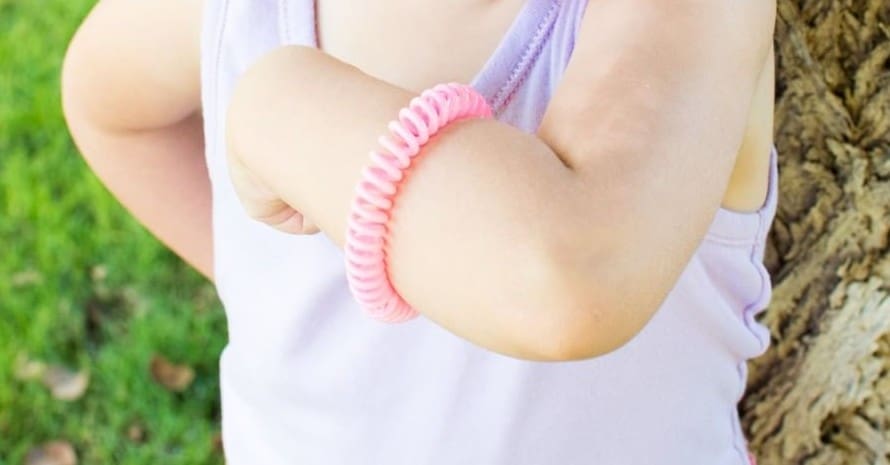 When planning a weekend out in the wild with your family, you cannot rely only on your ability to withstand natural disasters. Everyone should be taken care of. More than that: you need more mosquito repellent bands than the number of members in your family, in case someone loses theirs. And it should fit any size, just in case.
The family version of bracelets by Superband is made of polyethylene, less irritating than other materials used in the industry, and infused with oils of geraniol, lemongrass, and citronella. These natural smells don't irritate human noses either, but they are highly unpleasant to insects – mosquitoes, bugs, flies, bees, and others.
It all works, though, if the bracelet hasn't worn out already. The expected lifetime of this mosquito spell bracelet is about 250 hours, but sometimes, due to the leaky pack, or anything, these bracelets come already inactive. They might also be not an effective repellent for certain species. But generally, it's one of the best family options.
Pros:
Cons:

natural components used;
made of hypoallergenic polyethylene;
versatile size;
long lifetime;
jolly colors.

kids under 3 should be supervised by adults with these;
defective items happen.
Buyer's Guide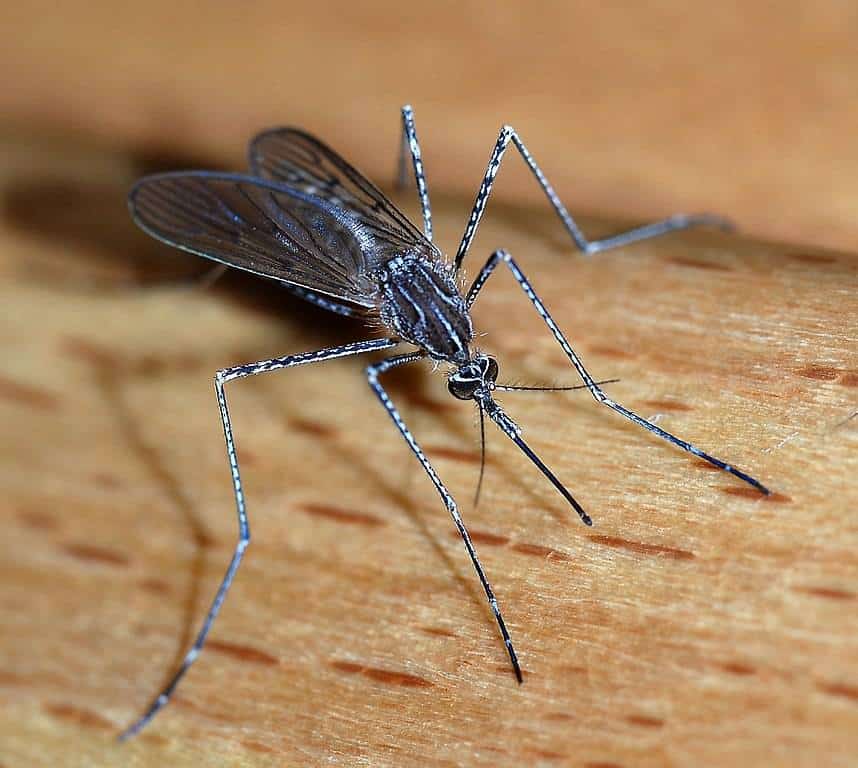 While it seems the difference between one insect repellent bracelet and another is little, there are still things to mind.
Vendor. The idea is popular, but the vendors are not all as thorough about it as they should be. There are often even fake items, imitating others in everything but functioning.
Design. It's simple: you either like it or not.
Features. It's strange to say that regarding something that simple. But, as you'll see below, some of them are rather gadgets than accessories.
Anyone can call their product "hypoallergenic", but, as FDA admits, it has no definition for this term. So you better rely on user reviews than on non-existent standards.
Digest with FAQ on Bracelets
If the article seems too long to read, here is the essential Q&A. If you want to get more information, you can read about certain models you may be mostly interested in.
Related Post: 5 Best Mosquito Misting Systems For Your Yard.
Do Mosquito Repellent Bracelets Work?
Yes, they do. But there are many limitations, including radius, lifetime, and exposure. It also depends on your expectations: they should be measured and not exceed what the bracelets are really made for.
Are Mosquito Repellent Bracelets Safe Around My Pets and Children?
Otherwise, they wouldn't be here. There are some limitations as well, but they are mostly about common sense.
How to Use Mosquito Repellent Bracelets?
Just wear them. The bracelet emits substances that are harmless for humans but noticeable (and heavily disliked!) for insects.
How to Keep the Band Effective?
Select the right model. And change it after it wears out.
How to make a mosquito repellent bracelet?
Alas, it's not the item for home handwork. Luckily, they are cheap, and if you invest into your vacations, this is just a minor part of it.
Like a Superhero: Protection on Your Wrist
Wearing even a top rated mosquito repellent bracelet does not replace other protection methods, though. This little thing protects some close area around you; but if you need a larger insect-free area, you better think about more powerful protection devices, like tiki torches charged with the right sort of fuel. But when you're on the go, and using sprays is not a way out, these bracelets are irreplaceable. Everywhere you go, mosquitoes will surely not follow you.
Have you tried any of these? Did they help you with the insects? Were there any side effects, like irritation or bad smell? And – last but not least – did it feel good? Share your experience in the comments, if you please.
References:
Plant-based insect repellents: a review of their efficacy, development and testing (US National Library of Medicine National Institutes of Health):
https://www.ncbi.nlm.nih.gov/pmc/articles/PMC3059459/
"Hypoallergenic" Cosmetics (U.S. Food & Drug Administration):
https://www.fda.gov/cosmetics/cosmetics-labeling-claims/hypoallergenic-cosmetics
Why You Should Trust Pest Control Hacks?
We know that pests are nasty neighbors, and it can take months to eliminate them without the right approach. Our experts use their own experience to compile articles and guides that are introductory and informative. Our authors' opinions are independent and based on the results of practical testing of pest control tools. We do not notify manufacturers of testing of their products and do not receive payment from them for posting their items. Also, our texts are never submitted to company representatives for proofreading before placement. On the site, you will find exclusively objective ratings and reviews.