Here they come as they see the light! You never expect this when you decide to spend the evening in your yard, having a tiki party with friends— in the light of those tiki torches on the bamboo sticks, making tiki cocktails with various juices and sorts of rum, playing Hawaiian and Samoan hot tunes.
But these little flying vampires notice you at the very moment you get outside. And now you have to hit your own skin with your own palms, trying to protect yourself. It's all in vain: mosquitoes just can't stand the sight of you having fun. Oh, these little party crashers!
Not only do the mosquitoes irritate with their zoom and appetite for blood. The worst thing about them is the diseases mosquitoes transmit. Even if you don't intend to stay in, you better care to stay safe.
Torches are designed to produce light; that's imminent. So it's not about the best tiki torches for mosquitoes: it's about the chemicals that repel them best. Some of them will still be attracted to you, but most insects will be kept away. So, the trouble is gone, let's have fun!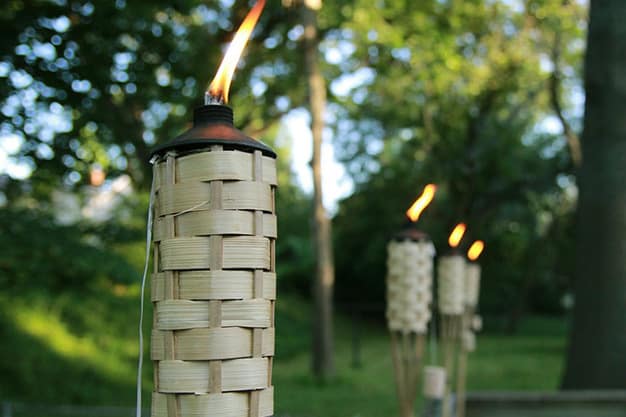 But before the party, you need to fill your torches with the right sort of fuel (and set it on fire in advance, so the smoke spreads). There is some consensus around natural repellents that are considered the best and used in the most popular sorts of tiki torch fuels. Let's find the optimal mosquito repellent torch fuel for you!
Top 5 Best Tiki Torch Fuel for Mosquitoes
Vendors understand it even better than we customers do. So there are many oils repelling insects. We are just to select the best tiki torch fuel for mosquitoes and load it. But there are no certain leaders: a lot depends on your personal preferences. What aromas do you like, if any? Do you spend evenings outside often? What's the area to repel the insects away from?
Related Post: Best Mosquito Misting Systems for Your Yard.
I have found several oils that do quite a good work on repelling mosquitos and making your rest way better. Some of them are aromatized, some have no smell but that of fire. They differ in price and effectiveness, but each of them keeps these little vampires away as if you were chasing bat-shaped creatures with a silver crucifix.
So these tiki torch fuel reviews are only useful for you if you want to make your partying-in-yard experience perfect. If you don't care about special features and detailed info that much, you can proceed to the price. But they are still worth a look.
1. Firefly Tiki Torch Fuel – Odorless Oil: The Best Tiki Torch Fuel for Mosquitoes
Firefly is the perfect name if you sell lamp fuels. The vendor is based in Sarasota, Florida, where outdoor parties are inevitable, with all the pros and cons of this sort of leisure. The company produces and sells various sorts of fuel, and we'll see more from it.
If you need just a mosquito tiki oil, this is the first option. This version is sold in one-gallon bottles for truly a reasonable price, and, compared to most rivals, it provides up to 30% longer burning. This means you won't have to recharge the torches that often, so you can relax and have fun with your guests. As for repelling properties, the oil is quite efficient, and it decreases the number of insolent insects to about 10%.
It produces no extra smell, just like it says on the tin. It's the perfect variant if you have a barbecue or a hookah party, where extra aromas would be superfluous. But if you like a more pleasant smell, you'd better opt for the next one.
Pros:
Cons:

neutral, with no extra smell;
produces little smoke;
repels about 90% insects;
compatible with various types of torches.

pretty basic (if you like specific smells).
2. Firefly Eucalyptus Clean Fuel Lamp Oil
Though the manufacturer is different this time, the quality is similar. Hyoola is known for its high-quality candles; no wonder its other burnable product is also praised. Though this oil resembles the previous in its properties, it feels quite differently due to its ingredients. Eucalyptus is a famous Australian endemic tree that has proved very usable due to oil produced from it. What we have to know is that eucalyptus is great for anti-mosquito tiki oil.
As for its properties, eucalyptus smell is pleasant and not irritating for most of us. Given that the oil doesn't produce much of it, you may call it neutral. At the same time, it lasts long, produces good fire. I hope you have your torches on high sticks around as they should be. Despite the fact that its smell is barely noticeable for humans – it deters insects quite well, including mosquitoes.
This fuel has its limitations, though. It works well for wicks not thicker than 3.6 mm (compare it to your old earphones 3.5 plugs to check whether it is thicker). It also has other limitations too numerous to mention here; better read the instruction and use it as suggested.
Pros:
Cons:

longer burning;
pleasant light smell;
usable child-proof package;
combines with oil dyes well;
instructions are sent to buyers by email.

a little more expensive than alternatives;
not suitable for thick wick torches;
eucalypt smell is not to everyone's liking.
3. Citronella Scented Lamp Oil, 32 Ounce – Best Citronella Oil for Tiki Torches
When speaking about citronella torches, we should acknowledge that it's the oil that makes it citron, not the construction of the torch itself. Citronella oil is a popular natural bug repellent for tiki torches, widely used due to its good aroma, simple production, and affordable price. Though it's considered a weaker tiki torch mosquito repellent than eucalyptus oil, it's still a good option.
This one by Ner Mitzvah, though, has more about it than a generic citronella oil. The very name of the manufacturer means "the lamp of the divine commandment." It's a Brooklyn-based manufacturer of Judaic ritual attributes – candles, wicks, chandeliers, lamp oil, etc. Naturally, the production is completely kosher.
At the same time, Ner Mitzvah offers quite secular goods, like this one. This oil for tiki torches is not natural lemongrass-made citronella, it's rather citronella-scented, but its insect repelling features are not affected. The odor is noticeable to the insects that feel it and try to avoid it, but it's completely ignored by human senses; thus, this oil is really safe to use indoors.
The price of it, anyway, is rather high. It's a quality product, plus being certified kosher also assumes extra costs.
Pros:
Cons:

eco-friendly;
clean burning, with no ash left;
odor can't be smelled by humans;
thick wicks supported, great for large parties;
100% kosher!

not natural citronella;
the price is rather high.
4. Hyoola Citronella Lamp Oil, 1 Gallon: Best Citronella Oil for Tiki Torches
Again, here comes a tiki torch oil by Hyoola. This time it's citronella-scented paraffin oil, with scent (as usual) light and pleasant for humans but terrifying for insects. Mosquitoes are supposed to fly away the very second they smell this oil; in fact, some exceptions make it to your table through the tiki torch insect repellent, but they are very few.
The oil itself is compatible with most tiki torches and wicks, regardless of their thickness. Whether you prefer a gallon or a 32-ounce pack: they are equally easy to handle, even though the former is heavier. It has a handle you can grip and hold it while refilling the torches.
On the other hand, while it is definitely doing a great job outdoors, it's reported to produce too much smoke indoors. Its insect-repelling efficiency may vary depending on weather conditions, season, and insect species. Generally, it's reported to work well.
The fire it produces is great for intimacy, weak and small, leaving the scene in the dark. For large parties, though, you'll need something more powerful, burning brighter unless its primary function is repelling mosquitoes, of course.
Pros:
Cons:

pleasant smell;
repels insects efficiently;
lasts longer than regular tiki torch oils;
easy to handle;
a special intimate type of fire.

the light is small and weak;
not for indoor use.
5. TIKI Brand Bitefighter Torch Fuel, 100 Ounces
You may have it by adding some cedar aroma into the air if you like the Oriental atmosphere along with these tiki things. And here it is. The brand named Tiki offers its version of citronella oil enriched with cedar.
This is the most prominent thing about this oil when compared to alternatives. Not that it does its repelling job better than others, I would say they all are on the one level. Flies are a harder target, but mosquitoes are kept away with the odor for sure. You need to light the torches up at least 30 minutes before the party begins, but so it goes with any other option.
As Tiki brand also sells torches and lamps, the oil is primarily made for compatibility with the native devices. On the other hand, with devices of other manufacturers, it proves its best qualities too. But buying it together with Tiki accessories is way more affordable. So if you're just making your first steps in the tiki design, you better try this, buying torches along with this fuel.
Pros:
Cons:

cedar and citronella aroma;
compatible with most tiki torches and lamps;
works at large distances;
it is often discounted.

not as efficient on flies;
the cedar aroma may be not what you prefer.
FAQ on Tiki Torches and Insects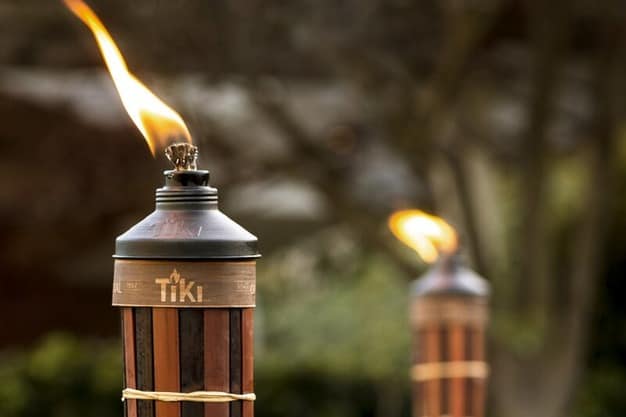 As you see, most of these fuels are different in their aroma. And when it comes to smell, no advisor is more reliable than your own nose. It depends, though, on the theme of your party. If there are barbecues, hookahs, other appreciated aromas around, you better opt for something neutral. If not, a pleasant aroma will only contribute. Insect repelling properties are not affected by that.
If your parties are frequent and fuel consumption does matter – to order the fuel less often, you better select the one that lasts longer. Otherwise, try purchasing the exact amount of fuel that is just enough for you to burn.
Can I Use Lamp Oil in a Tiki Torch?
Formally, there is no law prohibiting that. This oil is supposed to be good enough for both indoor and outdoor use. So why not try it? Special tiki torch fuels, though, are more affordable.
Do Tiki Torches Repel Mosquitoes?

Like any torches, they rather attract insects than repel them. It takes a special sort of oil to keep these invaders away, that's what we're talking about.
How to Make Citronella Oil for Tiki Torches?
If you don't want to buy readymade citronella oil for tiki torches, you can, in theory, squeeze some oil out of lemongrass leaves and stems. But you need to have, first, some lemongrass plants, second, the necessary equipment. On the other hand, you can take regular paraffin oil and aromatize it with citronella.
Related Post: 5 Best Mosquito Repelling Bracelets Reviewed.
How Do Tiki Torches Work?
In fact, they are similar to gasoline lamps, with a reservoir of oil and a wick. One end of the wick is resting in the oil, while the other is lit. The principle is common. What makes a tiki torch special is its Polynesian style.
How Many Tiki Torches Do I Need to Repel Mosquitos?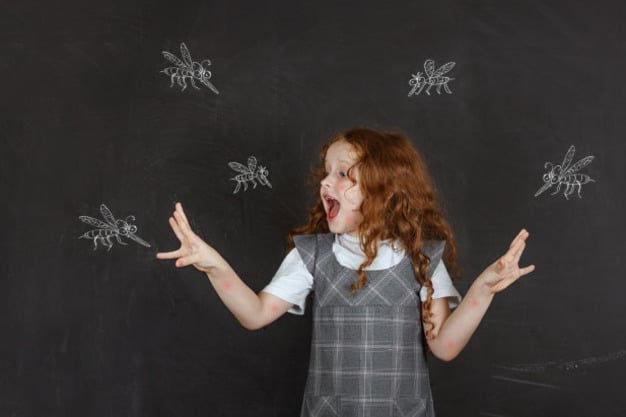 It depends on the area that you want to cover with them, as well as on winds and insect population density. You better care about your area being well-lit; in this case, the torches will produce enough repellent to keep the mosquito away. This is the best way of tiki torch mosquito control. The recommended minimum distance is 8-12 inches if you want your fires dense. As for the maximum, it can be 10-12 feet.
Final Words
If you've made it through this, hope that now you know a little bit more about insect-repelling oils for tiki torches. I am sure that after reading this article you will find the perfect fuel for your party! You may need to try at least two or three variants to compare and choose the one that suits your needs best! Stay tuned and share your thoughts regarding tiki torch fuel below!
References:
Mosquitoes and Disease (New York State Department of Health):
https://www.health.ny.gov/diseases/west_nile_virus/
Controlling and Repelling Mosquitoes (Government of the District of Columbia):
https://dchealth.dc.gov/service/Controlling-and-Repelling-Mosquitoes
Citronella General Fact Sheet (National Pesticide Information Center, Oregon State University Extension Services):
http://npic.orst.edu/factsheets/citronellagen.html