Flea infestation in dogs is a problem that always takes you by surprise. Regular bathing of your pet and cleaning the house is not enough for the effective prevention of these blood-sucking insects. Fleas may jump on your pet's fur from another passing by pet or when your dog walks in infested grass.
Even after getting on your dog, fleas can live undetected for a long time, exposing your pet to great dangers. I don't even mention dermatitis that may happen after the flea bites: your pets might develop pale gums from the blood loss, lose fur in infested areas and even become more susceptible to tapeworms because some species of tapeworms use fleas as the hosts.
So once you find fleas on your pet, you need to take urgent measures to control these pests. And if you are not a veterinarian who is well versed in flea treatment methods, then using a flea shampoo will be the easiest and the most right decision in your case.
Flea shampoo application almost doesn't differ from the usual bath you make for your dog, therefore, you do not need to have special skills for such a procedure.
But certified flea shampoos will greatly help at the initial stage of solving this problem, so the most important step here will be the right choice of the flea shampoo. Based on my experience and research, I can offer some useful ideas and top flea shampoos for dogs.
Top 7 Best Flea Shampoo for Dogs
When you are not familiar with the problem, it's difficult to choose the right solution for it immediately. That is why in this chapter I decided to give you some tips on what to pay attention to when you choose salvation for your four-legged friend and suggest you 7 ideas of the best flea shampoos for dogs.
1. Adams Plus – Best Anti Flea Shampoo for Dogs
First of all, I think that the Adams brand doesn't need any advertisement: their high-quality products and their being top vet's recommendation for the last 45 years is enough. Their high-quality flea and tick shampoo effectively help in fighting various pests, as it kills fleas, ticks, flea larvae, flea eggs, and lice just after the first application.
Besides killing pests, Adam's shampoo prevents flea development for almost a month due to containing an insect's growth regulator. At the same time, using this shampoo will help to make your pet's coat wonderful because of natural conditioners and extracts in the composition.
In particular, extracts of coconut and oatmeal with the addition of lanolin make your dog's coat soft, shiny, and manageable and aloe extract soothes sensitive skin.
For the best results, it's enough to use 1-2 tablespoons of shampoo, lather and rub the coat gently for 5 minutes and rinse with warm water.
Pros:
Cons:

kills fleas at any life cycle stage including flea larvae and eggs;
kills ticks and lice;
makes pet's coat shiny and soft;
suits well for sensitive skin;
safe for dogs and cats.

for adult pets only (older than 12 weeks).
2. Richard's Organic – Best Natural Flea Shampoo for Dogs
If you want to choose the safest organic shampoo, which at the same time will help to cope perfectly with fleas on your dog, I recommend paying attention to Richard's Organic flea and tick shampoo.
The safety of this product is explained by its 100% natural composition, which doesn't contain any artificial colors and fragrances, any harsh chemicals, any parabens, and sulfates and is soap-free. So this product might become your best flea shampoo for dogs with sensitive skin.
The active ingredients of Richard's Organics shampoo are:
Cinnamon oil;
Rosemary oil;
Cedarwood oil;
Peppermint oil;
Purified water;
Hydroxyethylcellulose;
Vitamin E.
Despite the mild and natural shampoo formula, it is actually merciless to pests. After the first application, Richard's Organic shampoo effectively kills fleas and removes ticks, and due to essential oils, it also perfectly repels mosquitoes.
In addition to the insecticidal effect and mild cleaning of your pet's hair, this product has another important function. Due to natural components, Richard's Organic flea and ticks shampoo perfectly soothes, softens and moisturizes inflamed, itchy skin, so that your pet will immediately feel relief after the bath.
Pros:
Cons:

100% natural components;
kills fleas and ticks;
repels mosquitoes;
removes itching and skin inflammation.

for dogs older 12 weeks old;
not safe for cats.
3. Sentry Flea and Tick Oatmeal Shampoo – Best Flea Shampoo for Puppies
Even one flea bite can cause scratching, and besides, pest infestations are usually not limited to one insect. For the delicate puppy skin, a flea bite is even more painful than for adult dogs, so I recommend Sentry flea and tick shampoo with oatmeal to solve this problem.
Adding this antioxidant with well known anti-inflammatory properties to the formula of puppy flea shampoo made this product a real relief for pets with flea infestation. Sentry's oatmeal shampoo perfectly soothes dry irritated skin, just as it does perfectly cope with its source: it effectively kills fleas.
Even more than that – this product also kills ticks, so it prevents your worries about your dog getting Lyme disease after a deer tick bite. Sentry flea and tick shampoo kills pests for up to 10 days after application, and in addition to that, greatly deodorizes, cleans and softens your dog's coat.
As it is with all the flea shampoos, it's easy to use, and the great fragrance of Hawaiian ginger will turn taking a bath with Sentry oatmeal shampoo into a pleasant event for you and your dog.
Pros:
Cons:

kills fleas for up to 10 days with 1 application;
kills deer ticks preventing Lyme disease;
soothes fast irritated skin;
works for dogs and puppies;
pleasant fragrance.
4. TropiClean Natural Flea & Tick Shampoo – Organic Flea Shampoo for Dogs
This product is completely safe for your pet as it doesn't contain pyrethrin and permethrin and other dangerous chemicals. Effective pests killing formula of shampoo is based on EPA-approved, most powerful flea and tick fighting natural ingredients like cedarwood oil, cinnamon oil, lemongrass oil, clove oil, and sesame oil.
Such a combination of essential oils makes TropiClean shampoo a powerful weapon to kill adult fleas and ticks, flea larvae, and eggs. It's also an ideal safe mosquito repellent. The effect stays for 7 days after the first bath.
This natural flea killing shampoo for dogs also contains cocoa, which becomes salvation for the irritating itchy skin of your pet. The product is soap-free, but still can create luxurious leather and leave your pet's coat shiny and soft with tender citrus aroma on it. Because of the natural formula, it's safe to use TropiClean Flea and Tick Shampoo even weekly.
Pros:
Cons:

organic formula based on essential oils;
breaks flea cycle killing adult fleas, larvae,
and eggs;
kills ticks;
repels mosquitoes;
soothes irritated skin.

not safe for cats;
only for adult dogs (older than 12 weeks).
5. Dog Flea Shampoo by Bayer Health Care – Advantage Treatment
Bayer makes great products for pets, and this shampoo is not an exception. It quickly kills fleas and ticks, working on contact, and has a tender pleasant scent. With it, the flea wash for dogs will become a pleasant procedure instead of a tedious need after forest walks.
Apply it on your pet's head and ears and lather, and then repeat the procedure with the neck, chest, middle and hindquarters, ending on legs.
Bayer recommends paying special attention to the base of the tail, as it's a place frequently by fleas. Fully lather your pet and let the shampoo remain for 5 minutes and then rinse thoroughly with warm water.
Make sure you keep shampoo out of the animal's eyes. Do not repeat treatment with Advantage Shampoo Flea and Tick more than once a week. The product can be used for dogs and puppies over 12 weeks old.
Pros:
Cons:

kills fleas and ticks;
high quality by Bayer;
pleasant fragrance.

can't be applied more often than once a week;
might be dangerous for cats.
6. Vet's Best Advanced Strength – Safe Flea Shampoo for Dogs
This product with certified natural oils was created for dogs and puppies older than 12 weeks. Plant-based formula of this shampoo is effective for killing fleas, flea larvae, flea eggs, and ticks on contact.
Besides this important function of removing pests, Vet's Best flea and tick shampoo cleans, strengthens, and deodorizes your pet's hair. You will enjoy light peppermint and rosemary fragrance on your pet's coat after the dog flea bath.
This shampoo is easy to lathe, but for better results, leave it for some time or massage your dog's coat for 5-10 minutes, but avoid contact with mouth, eyes, nose, and genitals. After that, rinse it thoroughly to remove dead ticks and fleas and dry your pet with a towel. To prevent the occurrence of fleas and ticks, this product is better to use all year round.
Pros:
Cons:

kills fleas at all stages of their life cycle;
made with 100% natural essential oils;
deodorizes pet's hair;
works for dogs and puppies.

for puppies older than 12 weeks old.
7. Triple Action from VET-KEM – A Multiple Solution for Pets
I called Triple Action Shampoo multiple solutions because only one bottle of the product can be used for curing flea infestation in all your pets. It works equally well for dogs, cats, puppies, and kittens 12 weeks of age and older.
This shampoo is unique in that it has several effects on your pet's hair:
Created with aloe, lanolin and coconut extract, it removes loose dandruff, scales, and dirt;
The insecticidal effective formula kills fleas and ticks, providing powerful pest's control;
It contains protein conditioners that restore luster to coat, leaving the hair of your pets soft and shining.
Important information: shake the bottle before using, apply 1 tablespoon of shampoo for every 5 lbs of pet's weight, lather in for 3 to 5 minutes avoiding eyes and mouth and then rinse thoroughly with warm water. Don't use it too often, no more than once a week.
Large packaging makes VET-KEM inexpensive and affordable to buy.
Pros:
Cons:

kills fleas and ticks;
makes the pet's coat soft and shiny;
removes dandruff, scales and dirt;
can be applied for cats, dogs, kittens and puppies;
big package makes it affordable.

can't be applied more often, then once a week.
You've Always Wondered but Were Afraid to Ask: Flea Shampoo FAQ
When you first do something that you've never done before, you wonder whether you do it right. So here I've tried to gather all the most frequently asked questions when facing the problem of flea infestations and the ways of its solution by using flea shampoos.
Does Flea Shampoo Work?
Yes, the active ingredients in these shampoos kill adult fleas and sometimes even larvae and flea eggs, so it can really help to solve the problem of flea infestation. Some of these products offer help in not only killing fleas but also getting rid of ticks and repelling mosquitoes.
How Does Flea Shampoo Work?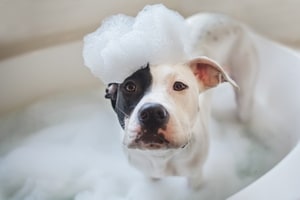 Flea shampoos may vary depending on active ingredients in them, so the process of eliminating fleas might be different as well:
Some chemicals in the shampoo ingredients might kill the flea on contact immediately;
Other active ingredients paralyze pests so you can effectively wash them out with lather;
There are also ingredients that create a barrier on the skin of your pet, so blood-sucking insects will die after contact with that barrier.
In any case, you need to understand that using flea shampoo won't give you a 100% guarantee on killing all fleas on your pet so it should be just a part of the flea control program, including the long term flea treatment later.
Related Post: Capstar Dog Flea Treatment Review: Is it Safe?
How Long Does Flea Shampoo Take to Work?
Flea shampoo works on contact, which means the process of killing fleas will start immediately in the bathing process. Actually, that is why in all the recommendations for a flea bath, you'll find important information that after lathering your pet, you should let the shampoo stay on the coat or rub your dog gently for 5 minutes, so the active insecticidal substance of the shampoo could spread over the coat and skin of the pet and begin to actively destroy the chitinous flea shell.
After you thoroughly rinse the shampoo off, most of the active substance is washed out with foam. But some manufacturers of flea shampoos offer products that leave small quantities of insecticide on the skin of the pet even after rinsing, so the process of killing pests continues for up to 10 days after the flea bath.
How Often Can I Bathe My Dog With Flea Shampoo?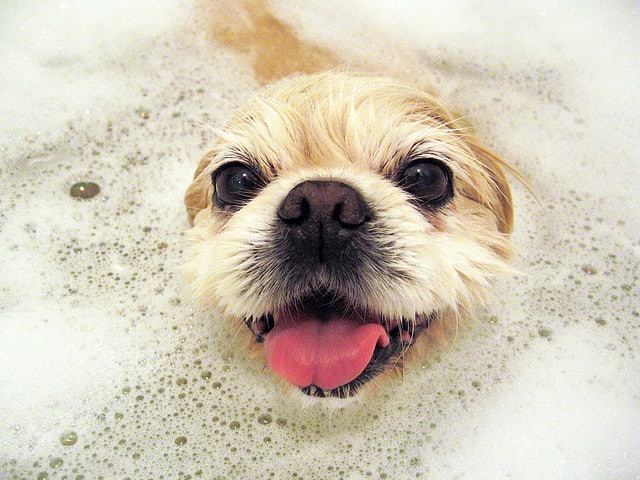 Although flea shampoos have a short-termed effect in eliminating pests, veterinarians don't recommend repeating such procedures too often. Harsh chemicals may irritate and dry out your dog's sensitive skin, so for along termed protection, you better choose some additional flea treatment.
Natural and organic flea shampoos are softer and don't dry out the skin so badly, but even they are not recommended to be used more than once a week.
Related Post: K9 Advantix Flea Killer For Dogs: Best on the Market?
Will Regular Shampoo Kill Fleas?
Fleas are afraid of any kind of bath, so even regular soup can partly help to get rid of these pests. The washing mechanism with ordinary soap and flea shampoo is the same, and for a good result, it is important to follow such rules:
You should start soaping from the top of the head and ears (but be careful not to get water in your pet's ears). If you begin lathering from the middle of the body, the fleas will move higher to escape the water and soup, and since the head of your dog is the most difficult part to soap thoroughly, it's better to start from it and make the pests moving down.
Сontinue lathering the body carefully getting down on legs and paws, then paying special attention to the tail.
If you use regular soap, the bath should continue for at least 10 minutes to get rid of the flea eggs, with a special flea shampoo the time will shorten to 3-5 minutes.
Rinse the animal's coat and skin thoroughly with warm water and dry with a towel, and then comb the coat well.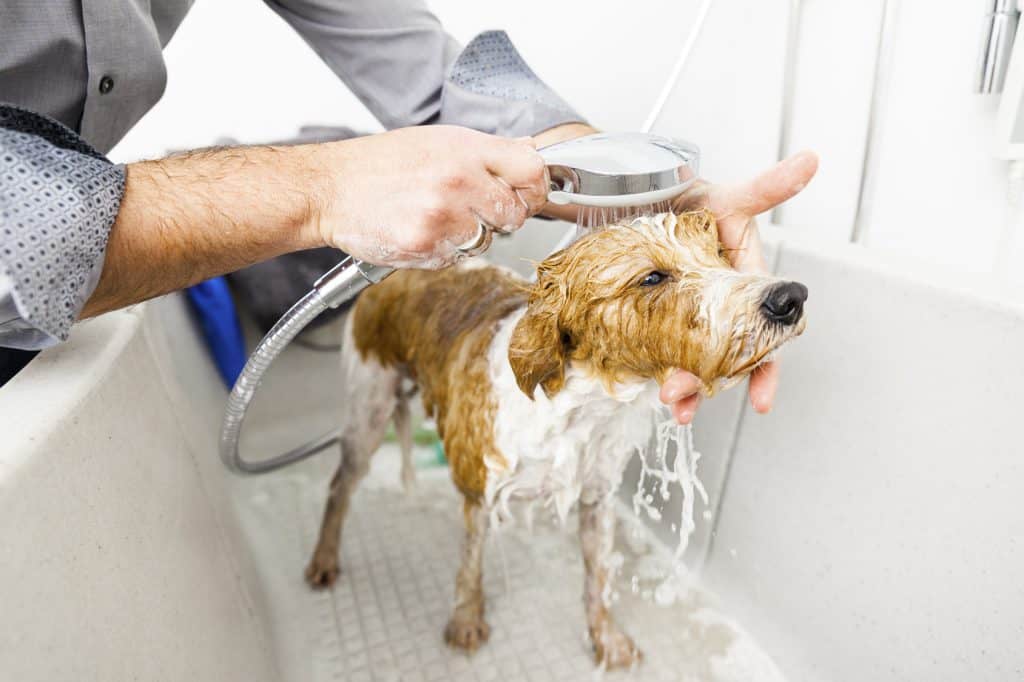 The main difference between a regular bath and the one with flea shampoo is that the latter will continue its killing effect on fleas for several days. And no less important thing is that most flea shampoos contain special conditioners and essential oils that help to soothe irritated skin after the flea bites.
The usual soap may dry out the skin even more, and that might bring additional discomfort to your pet. That is why I highly recommend using the specialized products suggested in this article above.
Related Post:
My Recommendations/Your Experience
If you were patient enough to get to this section, you already know that flea shampoo is like a first aid when you face the problem of flea infestation of your pet. It is a special medicated shampoo, which perfectly cleans your pet's coat along with effectively killing fleas, preventing their return, and sometimes even repelling mosquitoes.
From my dog flea shampoo reviews, you've noticed that some products also provide good care for an animal's skin. They can soothe and moisture irritated and inflamed skin after flea bites, giving your pet real relief after the bath.
But don't forget that it's only the beginning of a problem solution since flea shampoos provide treatment only for a couple of days after application and for long term protection, you need to add flea collars or topical solutions, which I already mentioned in my previous reviews.
Have you read it? What methods do you prefer in coping with a pest infestation? Do you find flea shampoos helpful? Feel free to share your experience, I'll be grateful.?
References:
Flea Bites (Jackie Anderson; Elizabeth Paterek National Center for Biotechnology Information, U.S. National Library of Medicine):
https://www.ncbi.nlm.nih.gov/books/NBK541118/
Pyrethrins General Fact Sheet (National Pesticide Information Center, Oregon State University Extension Services.):
http://npic.orst.edu/factsheets/pyrethrins.html
Permethirn General Fact Sheet (National Pesticide Information Center, Oregon State University Extension Services):
http://npic.orst.edu/factsheets/PermGen.html