Fleas transfer from one animal to another directly or indirectly, and they can be found on cats, dogs, and their owners all over the world. Fleas spread numerous diseases, the most common of which is murine typhus. It never comes without symptoms and can damage the liver, kidneys, heart, lungs, and brain, so it is vital to eliminate them on time.
Eufy S11 Cordless Stick Vacuum Cleaner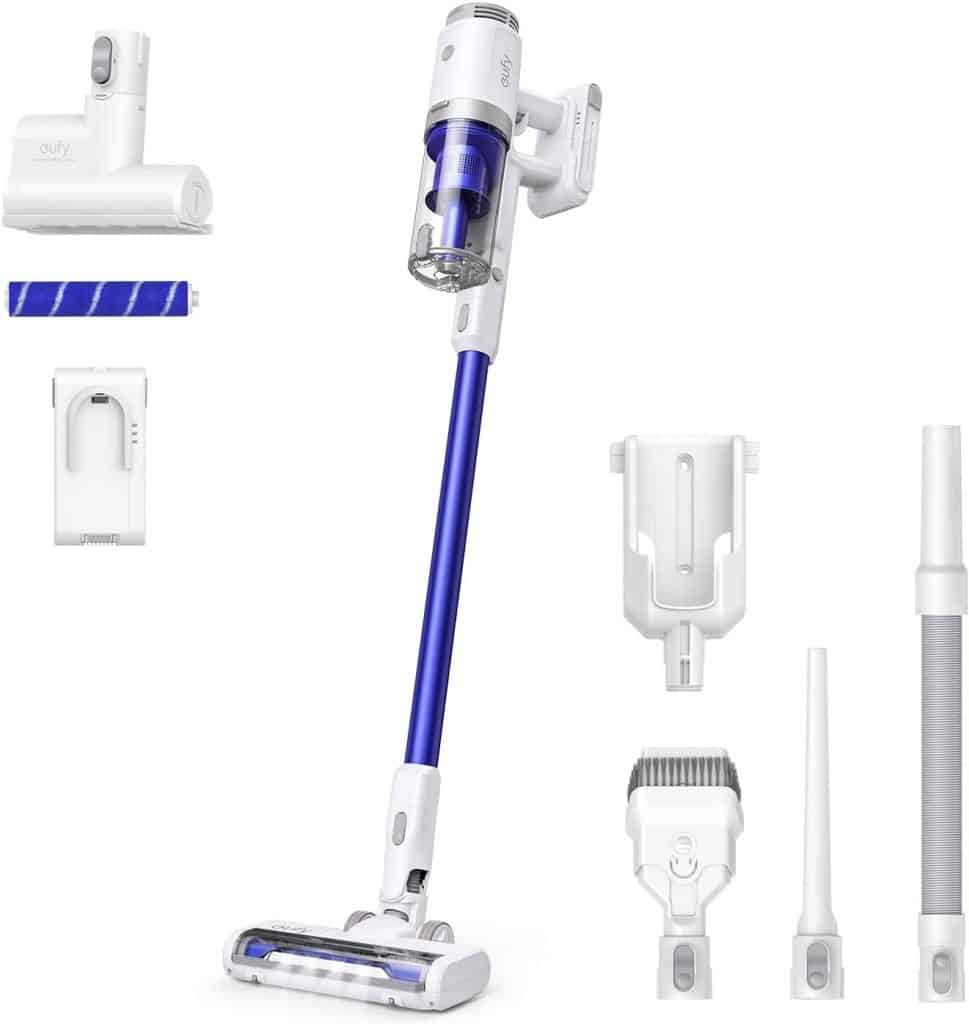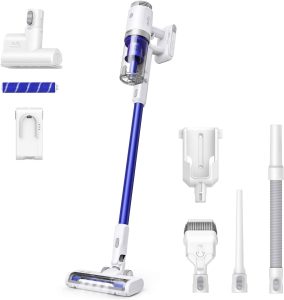 • Effortless Handling
• Swap-and-Go Battery
• One of the best vacuums for fleas
XL dirt cup allows less frequent emptying
Low wight + extra-large cup
XL dirt cup allows less frequent emptying
Low wight + extra-large cup
When your pet gets fleas, your home becomes a source of them, so you need proper cleaning to completely get rid of them. In this article, I review the best vacuums for fleas. I believe this approach is the most effective and takes the least time.
Top 5 Vacuums for Fleas
When choosing a vacuum cleaner, I advise paying attention to such characteristics as weight, size, and portability. Getting rid of fleas takes a lot of time and patience. You have to reach every gap and corner, so vacuum cleaners have to be comfortable and maneuverable.
If you are looking for a vacuum cleaner to fight fleas, consider its suction power: It should be similarly strong during the entire cleaning. You will find reviews with pros and cons on each of the named vacuum cleaners below.
1. Kenmore: Best Vacuum Cleaner for Pet Owners
Kenmore BU4020 combines all the features needed to be named a top pick. It is lightweight, maneuverable, and suits carpets, hard floors, and pet hair. The model has a flexible nozzle that transforms by pressing one button, thus this model is convenient for cleaning floors, stairs, and all hard-to-reach areas. I tested its maneuverability in premises full of furniture and learned that Kenmore worked properly in any conditions. I also found LED headlights very useful since they allowed me to see the area I cleaned in detail.
Picking up fleas demands strong air currents to unstick larvae and tear cocoons off the carpet fibers. Sometimes, you need to vacuum fleas from both sides of the carpet. Kenmore's design provides potent suction until the bag becomes full and needs to be emptied. Moreover, this model features strong HEPA filters that are also used in ventilation systems both indoors and in vehicles. All this means every surface is treated with equal accuracy.
Kenmore BU4020 provides cleanliness during use and even after finishing vacuuming. It features no-touch bag technology, which allows you to throw the bag into the bin without touching it. Even though fleas have no chance to get to the bag alive due to the high pressure, disposable bags are a big plus for people who don't trust the statistics and want to be 100% sure there is no single flea left in the house, either dead or alive.
Pros:
Cons:

Suits carpets, hard floors, and pet hair
No-touch bag technology
Strong HEPA filters
LED headlights

You should replace one-use bags, so it might be inconvenient to buy new ones from time to time
2. Hoover: Extra-Large Dirt Cup to Save Your Time
Hoover UH74110 is almost as good as Kenmore BU4020. It collects sweepings from carpets, tiles, parquet, and other types of hard floor. It also fits when you need to clean a piece of furniture, curtains, or any other fabric. Flea removal Hoover is multi-purpose.
Since it is intended to pick up bigger debris such as stubborn pet hair, the machine easily collects smaller rubbish too, showing the same capacity during the whole vacuuming. Hoover's model goes with 4 nozzles: pet turbo tool, crevice utensil, flexible dusting brush, and pivoting dusting brush. Such a set is life-saving when you need to clean the entire house since every attachment suits different surfaces and makes cleaning easier and faster.
Its main advantage is an extra-large bag, which is 2.5 liters. This feature makes the flea exterminator Hoover 3 pounds heavier than Kenmore BU4020, but it enables longer cleaning without a need to wash the dirt cup.
The transparent container is also a plus for me as I always can see how full it is and how soon I will need to empty it. Since you need to vacuum almost every corner of your home, you might also accidentally pick up small, hard items from the floor, so the transparent dirt cup is also very helpful in this case.
Pros:
Cons:

Fits any type of floor covering
Can be used for cleaning fabrics and soft furniture
A transparent dirt cup allows you to see how soon you will need to empty it
XL dirt cup allows less frequent emptying

Might be heavy due to the large dirt cup
3. Eureka: Safest Vacuum Cleaner for Hard Floors
I recommend Eureka NEU182B for hard floors since it has smooth wheels that ensure parquet or laminate won't sustain scratches or gouges. This vacuum cleaner can cope with carpets and fabrics too due to the dynamic motor and brush roll tool.
The brush digs deep into the carpet fibers to lift mud and hair, while the motor drags them inside the dirt cup. Besides the main nozzle, the package contains various attachments that fit cleaning cars, curtains, ceilings, or door frames. There is also an option of above-floor cleaning since a quick-release handle is connected to the stretch hose.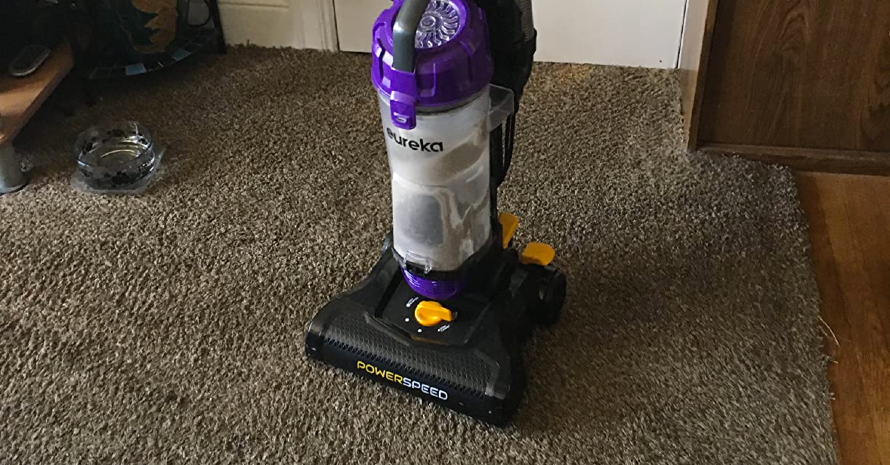 Eureka features an extra-large cup that can fit more dirt than an ordinary one and requires less frequent emptying. At the same time, it weighs less than any other vacuum cleaner on the list with similar construction: It is only 10 pounds. Low weight and agility are significant when you have to treat every corner and reach all hard-to-get areas carefully and regularly.
Pros:
Cons:

Smooth wheels that ensure parquet or laminate won't sustain scratches or gouges
Low wight + extra-large cup
Convenient above-floor cleaning

Less maneuverable than other models on the list
4. Dyson Ball: Cyclone Technology for Stable Suction
Dyson Ball is designed specifically for carpets. It is provided with radial root cyclone technology, which easily collects all types of dirt from microscopic dust to bigger debris and tears pet hair off the dense fabric fibers. Rides on a ball make this vacuum cleaner easy to move across the room and access all the corners, gaps, and areas under furniture.
Dyson ball keeps your hands clean as it features a removable container, which can be emptied by pushing one single button. When you vacuum fleas with a bagless vacuum, they go straight into the bin where the filter is placed. Such technology provides strong suction during the cleaning.
The package includes extra attachments for pet owners, such as a tangle-free turbine tool. It spins the hair over two wheels and passes it to the filters. Such construction allows to gather as much hair as possible and to avoid cleaning the attachment after finishing cleaning the house. My friend, who has two cats, claims this tool is a lifesaver for those with long-haired animals: It leaves no possibility for fleas to stay outside the dirt cup.
Pros:
Cons:

Radial root cyclone technology allows strong suction during all the cleaning
The package includes a tangle-free turbine tool designed for collecting pet hair

Might be too heavy for durable cleaning
5. LG CordZero: Cordless Vacuum Cleaner for Home and Car
LG CordZero stands out from this list as the only cordless vacuum cleaner. It works on two lithium-ion batteries and provides up to 80 minutes of uninterrupted performance. LG CordZero has a simple construction and low weight. It takes minimum space, so you can store it almost everywhere.
It weighs only about 5.5 pounds and causes less strain on the hands than other vacuum cleaners. LG CordZero has a comfortable handle and a small control panel, which allows you to switch the power levels and easily turn the vacuum on and off with the touch of a thumb.
On the other hand, lower weight means a smaller dirt cup. Compared to the previous vacuum cleaners, LG CordZero's container is much smaller and requires more frequent emptying. However, it might turn into an advantage.
LG CordZero has a telescopic wand, and together with a compact dirt cup, it makes this vacuum cleaner the most portable and universal among the others I have named. It is suitable for cleaning spacious premises and cluttered ones. I've used this model on soft furniture, curtains, doors, and ceiling. Due to its low weight and batteries, I also recommend this vacuum cleaner for keeping in the car.
Pros:
Cons:

It is cordless
Weighs only 5.5 pounds
Best for keeping in the car

Has a small dirt cup, so it requires more frequent emptying
How Does Flea Removal Hoover Work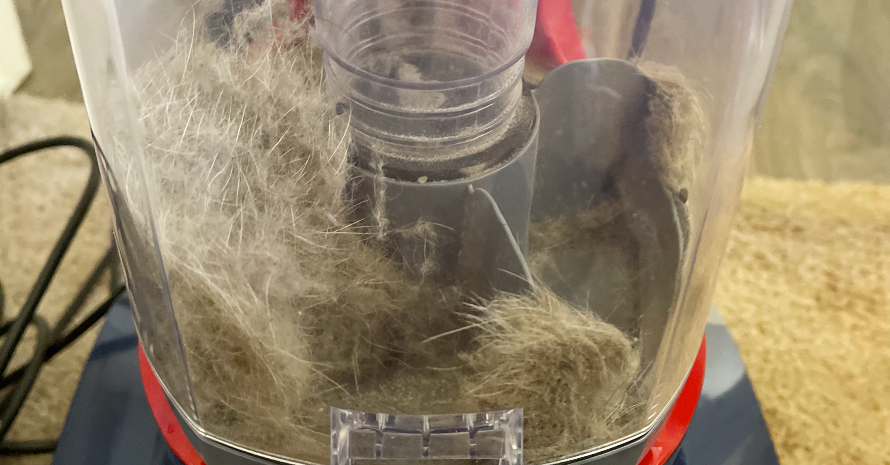 I think that vacuum cleaning is among the best means to eliminate fleas. It is safe and self-sufficient, which means you don't need to use any additional remedy to get the result. A vacuum cleaner removes adult fleas and flea eggs, their feed, and the debris they hide in. On the contrary, chemicals only poison insects, so you need to remove them additionally.
Why use a flea vacuum cleaner
There are different ways to get rid of fleas:
chemical (insecticides, folk recipes with vinegar, essential oils, etc.);
mechanical (vacuum cleaning and flea traps).
Insecticides are supposed to poison adult fleas, but they rarely affect eggs. You have to apply them several times in a row or combine them with other methods. A vacuum cleaner seems to be the best option since it collects all the fleas and eggs and even their dirt, which also can be the source of various infections. Unlike chemicals, you can use a vacuum cleaner on any surface without the risk of damaging it, and it is also safe for children and people with allergies.
Does vacuuming get rid of fleas?
Fleas pass four stages of development: an egg, larvae, a cocoon, and an adult flea. Every stage has its features; thus vacuum cleaning shows different levels of efficiency for each of them:
Eggs are the easiest to remove: They lay on the host for a couple of hours and then fall off. Depending on the carpets' density, vacuum cleaners can suck from about 30 to 90% of eggs;
Larvae are harder to suck since they hide from the light and get to the base of the carpet. When disturbed, they cling to the carpet to protect themselves, so you can vacuum only up to 50% of the larvae;
Larvae spin cocoons, which strands tightly attach to the carpet's fiber, and you can remove a bit more than 60%;
Adult fleas are easy to get in the vacuum cleaner, but on the other hand, they can be found anywhere, even on smooth surfaces.
How the vacuum cleaner helps to fight fleas
Vacuuming not only removes fleas but also prevents their return, which is why regular cleaning is so important. Depending on their stage of development and the surface you need to treat, a vacuum cleaner can remove from 30 to 90% of these parasites:
Larva feeds on adult flea excrement and organic matter such as food particles, or dead skin. A vacuum cleaner might not suck every larva, but it removes their food, so they starve to death;
Bigger debris such as pets' hair makes it easier for fleas to cling and hide; thus regular vacuum cleaning makes a carpet less suitable for living. In addition, a clean carpet is much easier to treat with sprays as they can penetrate its full thickness;
Shaking the fleas' substrate prevents the larva from creating a cocoon, so pupae grow without protection and can be sucked much easier than if they had a cocoon.
How often to vacuum for fleas
Eggs are the easiest stage to remove since they are neither sticky nor tied to the carpet fibers as larva and cocoon. After getting laid, it takes 2-3 days for flea eggs to hatch, so it's better to vacuum your carpets every other day to pick them up before they turn into larva.
Which vacuum cleaner is suitable for getting rid of fleas
The best handheld vacuum for fleas is the one that has strong suction power. It should also be portable and easy to handle. A variety of attachments is a plus as you will have to treat a lot of different surfaces. Kenmore BU4020 meets all the basic requirements, it also has such features as no-touch bag technology and HEPA filters.
What features to look for in a vacuum cleaner
An ordinary vacuum cleaner and a vacuum cleaner for fleas work in the same ways, but some models are designed specifically for pet owners and have extra features that make cleaning faster and easier:
The beater bar bristles are the main nozzle a vacuuming cleaner should have. It digs deep into the carpet and removes debris throughout its thickness;
The vacuum cleaner's effectiveness grows in direct proportion to its suction power;
Maneuverability is a key feature because larvae instinctively seek a dark place to hide and can be found in hard-to-reach places, for example, under the furniture;
Adult fleas and other stages can live on different surfaces that need different treatments. A variety of hose attachments are important.
Will Vacuuming Get Rid of Fleas?
Fleas are a kind of parasite that lives on cats, dogs, and humans. They appear in homes usually after pets contact an infected animal. Vacuuming is a proven method of getting rid of fleas, but you need to do it carefully and regularly to get the result. Ordinary vacuum cleaners rarely cope with this issue, so I advise you to look for something stronger, like Kenmore BU4020, which is designed for pet owners.
Have you already tried other methods of getting rid of fleas? What is crucial for you when choosing the method and the product? Please share your thoughts in the comments.
Also Read:
References:
Blue visible light can be used as insect killer, research shows (ZME Science – Mihai Andrei) https://www.zmescience.com/ecology/insects-light-13012014/
Study: Yes, Vacuums Kill Fleas (Andrea Thompson – Live Science Contributor) https://www.livescience.com/2156-study-vacuums-kill-fleas.html
Flea-borne (murine) typhus (U.S. Department of Health & Human Services) https://www.cdc.gov/typhus/murine/index.html
Why You Should Trust Pest Control Hacks?
We know that pests are nasty neighbors, and it can take months to eliminate them without the right approach. Our experts use their own experience to compile articles and guides that are introductory and informative. Our authors' opinions are independent and based on the results of practical testing of pest control tools. We do not notify manufacturers of testing of their products and do not receive payment from them for posting their items. Also, our texts are never submitted to company representatives for proofreading before placement. On the site, you will find exclusively objective ratings and reviews.