You think that a small flea found on your beloved pet will do no harm? Or you fancy that fleas live on stray animals only? This tiny creature can ruin both the pets and their owners' lives. How to get rid of fleas must be the question of the first urgency because fleas would not go away on their own accord.
To realize how dangerous they are, it is necessary to know several facts about these small blood-sucking insects:
The flea life cycle is from several weeks to 1.5 years. It depends on the temperature of the environment: the lower the temperature is, the longer a flea life cycleis;
A female insect is able to lay 500 flea eggs in 2 months, which get scattered all over its living environment: on the floor, in gaps, on carpets, pavements, and on the ground;
Flea larvae survival rate is 80-90%;
Flea larvae feed on waste, so they can survive without animals;
A flea can live half a year without food;
If the temperature drops, flea larvae moderate their activity but do not die;
Fleas can live not only on animals but inside buildings as well. When in need of food, they start searching for prey;
One dog can be home to 200-250 flea larvae;
Fleas can be the transmitters of various diseases (plague, viruses, infections, tapeworms).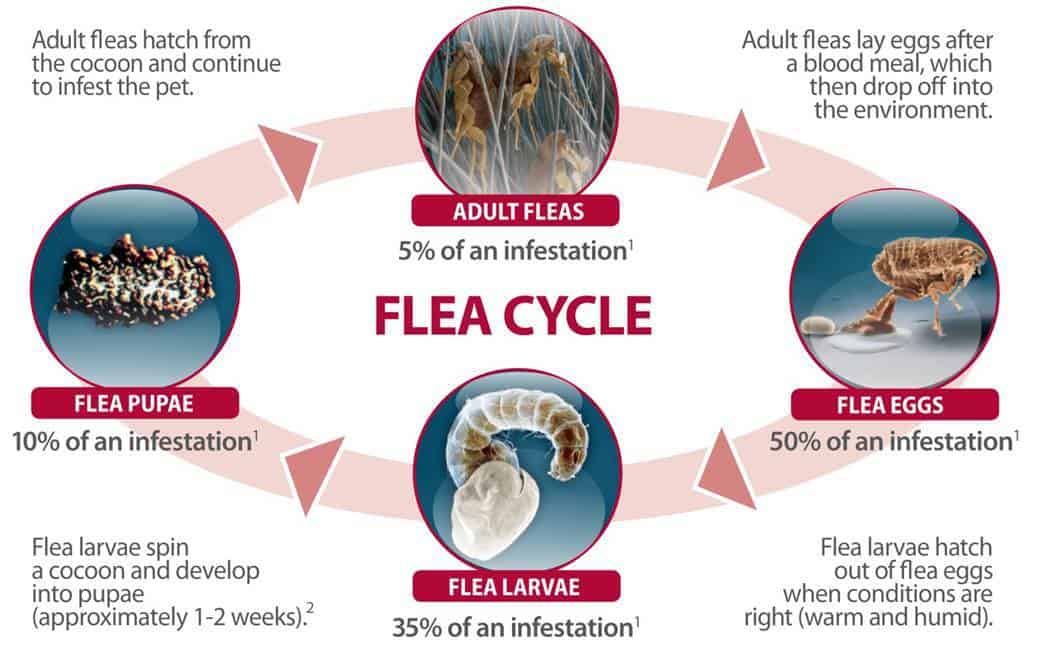 Hence, if you have found even a single flea on your pet, this is a wakeup call, and immediate action is necessary.
How to get rid of fleas on dogs
Have you noticed that your pet started itching and biting its hair out? Has your dog become nervous or does it scratch itself? Have a closer look at your pet, examine the skin, and pull the hair apart in the most delicate places – on the stomach, the neck, and in the armpits. Your dog is likely to have a flea infestation.
How to find out if a dog has a flea infestation?
It is quite easy to spot the presence of flea infestation. Pulling the dog's hair apart, you will notice white grains resembling salt. Those are flea eggs which will soon develop into a new generation of flea larvae. Instead of white grains, you can also spot black grains of a smaller size – flea dirt, a mix of flea waste product and blood meal.
When bathing the dog, flea larvae move to dry parts of the dog's body, including its head, and start jumping aside. In case of severe flea infestation, the dogs may lose hair. If you have spotted fleas on your pet, immediate action should be taken. Otherwise, flea larvae will reproduce quickly and will irritate the animal.
There are several ways of how to get rid of fleas on dogs.
Flea preventive measures
In order to avoid the flea infestation process, it is better to take regular preventive measures and follow several dog care rules.
Keep your home clean, use disinfectants, clean the dog's mat and toys. If you live in a detached house, do not let stray dogs on the premises.
Walk your dog on dedicated dog runs and avoid contacts with other dogs.
Examine your pets after walking in order to prevent the flea infestation.
How to get rid of fleas on cats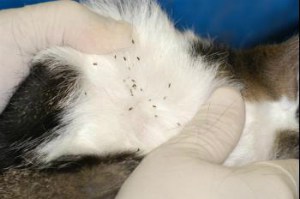 Unlike the majority of dogs, cats mostly stay at home and can sleep on sofas or in their owners' beds. Hence, owners can also experience flea bites on themselves. If you noticed that your cat has become nervous, scratches itself frequently, or uses its teeth to catch something in its hair, this is the first sign that you should examine the pet and, probably, start the flea treatment. In order to detect fleas on cats, you can comb the cat's hair on a sheet of white paper. Jumping insects will be clearly visible on paper.
There are several types of insecticides to get rid of fleas: drops, shampoos, sprays, collars, pills, injections. Before opting for a particular home remedy for fleas, it is necessary to study the instruction, learn about possible side effects, and take your pet's condition into consideration. The best way is to consult a veterinary and to study the working principle of such treatments.
Shampoos are the most intuitive and safest flea treatment for cats.There are cat hypoallergenic shampoos with herbal extracts.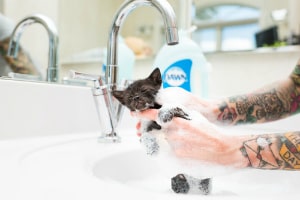 Drops are to be used on the shoulder so that the cat could not lick the substance. Flea treatment for cats in the form of drops have a long-lasting action; they get accumulated in the skin and provide efficient protection against blood-sucking insects. Flea killer drops must be used in strict compliance with the instruction which suggests weighing the cat and looking up the volume of the remedy in the weight table. It is forbidden to exceed the dosage since it may lead to intoxication. For applying the home remedy for fleas, pull the pet's hair apart and put the drops on the dry skin. After the completing flea treatment for cats, the owner should abstain from bathing the cat and should keep the pet away from adults and kids for 48 hours. Not all flea killer drops are suitable for pregnant and lactating cats or for kittens. This is always mentioned in the instruction.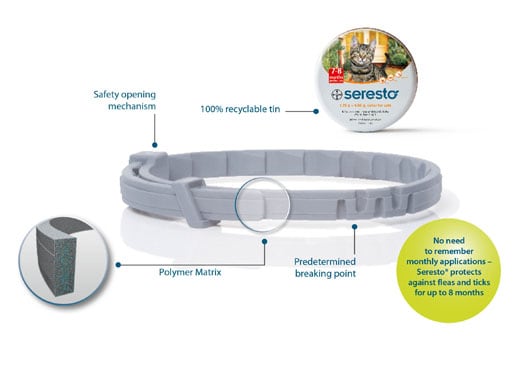 Flea killer pills are used if the cat has dermatitis which does not allow applying the remedy on the skin. Fleas die 20-30 minutes after the intake.
Injections are used only in case of severe flea infestation. The drug's action period of this flea treatment for cats is up to 6 months, but it has numerous side effects and contraindications. It is recommended to make flea injections in vet clinics rather than at home.
Sprays have quick action on fleas on cats. Yet, they are to be used in the open air or a highly ventilated room. 20 minutes after spraying, the cat should be combed and then bathed. An overdose of flea killer sprays is not allowed. Sprays can be used for treating the pet's environment, its mat, and the doormat.
Seresto flea collars are the most popular flea treatment for cats against fleas and ticks. They contain same insecticides as drops and sprays. These agents penetrate the skin and kill the parasites. Seresto flea collar is easy-to-use and has a long-lasting action (from 2 to 6 months). The only disadvantage of this flea treatment for cats is that it does not affect flea larvae and flea eggs. Besides, it is not recommended to use seresto flea collars together with other insecticides since this may cause an overdose.
The means for flea prevention
In order to avoid taking drastic actions, it is better to use a flea prevention.
Make sure your pet comes into contact with as few animals as possible and limit the time of its being in the street unleashed.
Disinfect the pet's environment, its mat, and toys.
Use flea prevention remedies.
How to get rid of fleas in the house
When fighting against fleas on cats and dogs, you should not forget about their living environment – your home. Ectoparasites must be repelled on all fronts. Even if you have neither cat nor dog, you can bring fleas on your shoes, or they can penetrate your home from the basement or the attic. Such places are always infested with insects that live on stray animals, rats, and mice.
How to tell if you have fleas at home
At first, you may fail to notice that your home has become a place for the flea infestation since they can live without food for a long time. Yet, as soon as they start looking for a prey, you will definitely feel their bites. A flea bites in several places at the same time, leaving red blisters on your skin and causing severe pain. The spot of the bite itches a lot.
What to do if you have spotted fleas at home
Shake out, wash, and iron all fabrics.
Apply a flea repellent on the walls to the height of 60-70 cm.
Shut all the windows and doors and treat the rooms with flea treatment for home chemicals (dichlorvos). 2-3 hours later air the rooms, vacuum them once again, and wipe all the surfaces with vinegar.
Wash all the carpets or have them dry-cleaned.
Armchairs and sofas should be thoroughly vacuumed.
Pillows, blankets, and mattresses should be steamed with a steam generator and then dried in the sun.
Repeat the cleaning in 7 days.
Apart from the rooms, all adjoining spaces should be cleaned – balconies, annexes, and the entrance. If you live in a detached house, you should also clean storerooms, outbuildings, and the area of several meters along the perimeter of the house.
Room disinfection methods
Chemical treatment is carried out with the use of dedicated substances – insecticides. A spray is the most efficient flea repellent if the contact with insects has already taken place. Chemical solutions are used for cleaning all the surfaces, including skirting boards and furniture, while powders are to be scattered in hard-to-reach places and gaps.
Traditional methods to get rid of fleas are based on using gum, lavender, and tea tree essential oils, or plants which are strong flea repellents due to their smell (peppermint, basil, wormwood, tansy, garlic, pinewood sawdust). These home remedies for fleas are safe, but at the same time, it is impossible to treat each hard-to-reach place.
Professional disinfestation to kill fleas requires inviting specialists and is used in case of a severe flea infestation when no domestic treatment helps. Most commonly professional disinfection is conducted in basements and entrances.
Mechanical way to get rid of fleas is based on pouring boiling water on the biggest congregations of insects. Such treatment may be used in housekeeping areas and basements.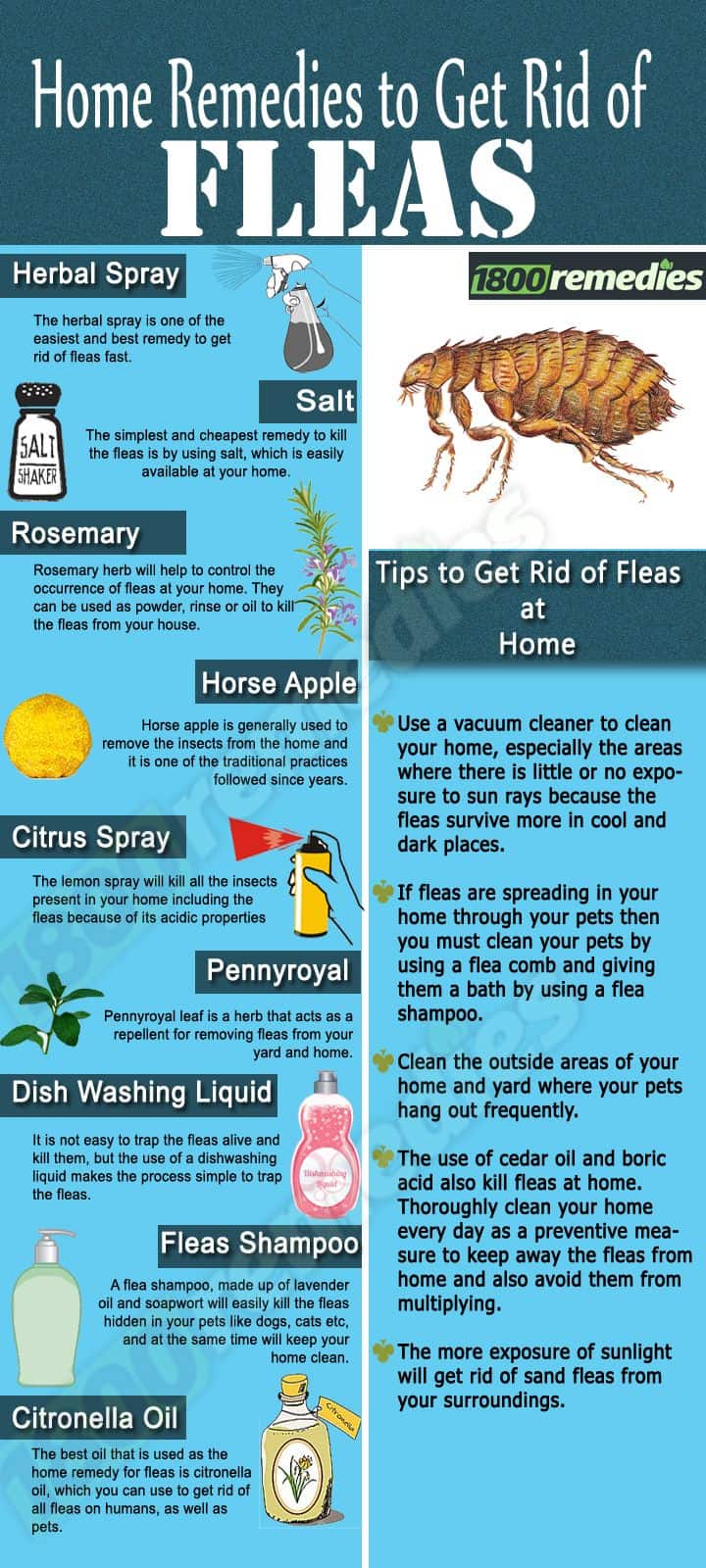 If you have noticed the first signs of the flea infestation on your pet, it is necessary to take immediate action. Choose the flea killer treatment carefully in each specific case, basing on the severity of flea infestation and particular features of the animal. Pay particular attention to pregnant and lactating females as well as to puppies – in such a case it is better to consult a veterinary or use traditional natural flea treatment.
Please follow and like us: