Bed bugs are one of the most challenging home insects to deal with. Even though they cannot fly, you will still have a lot of problems with them. First of all, they move really fast, and you cannot even notice how bugs from your room will hitchhike to the neighbor's house.
Secondly, their organisms can quickly become resistant to the vast majority of sprays and other poison types. Finally, bed bugs only feed on human blood; as such, they are always seeking a place where we are the most vulnerable. Therefore, our sleeping mattresses are their main target and the strongest desire.
Usually, bed bugs bite different parts of the body, such as fingers, legs, or face. When we are sleeping, most of us don't even feel that we became victims of bed bugs. People will only notice lots of small red spots on the body after waking up in the morning. By the way, it is very hard to spot a bed bug as it is truly tiny – only a couple of millimeters in size.
Pros
360 zipper closing feature.
So, what is the solution to the problem? How to prevent bed bugs from getting into your bed? One of the solutions can be buying a bed bug cover. How to choose the best one? How much does it cost? What are the pitfalls? In this guide, you will not only find answers to these questions, but you will also find out lots of useful information regarding bed bugs!



TOP 7 Best Bed Bug Mattress Covers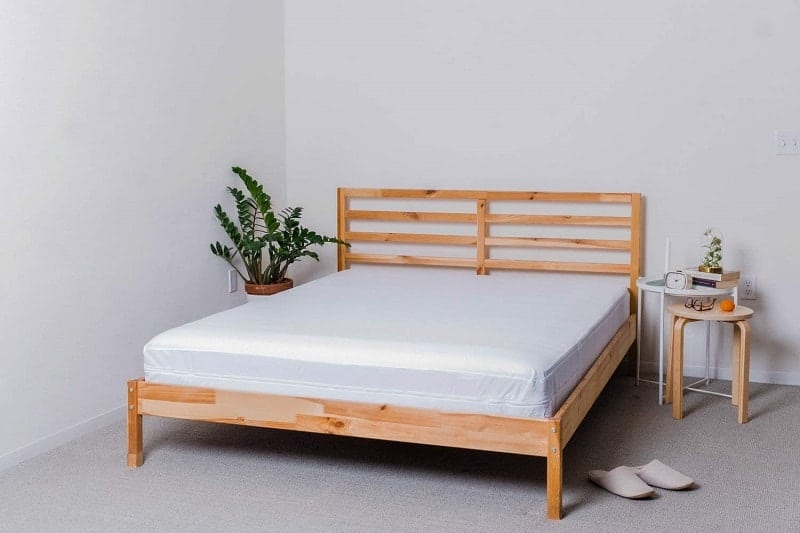 As you know, I am a professional entomologist who has been studying pests control for more than 25 years. I have already tested dozens of different bed bug control methods and hundreds of products. Today, I want to tell you about bed bug mattresses encasement. Surprisingly, even people, who have already faced the problem of bed bugs in their homes, have not heard about this approach.
Bed bug mattresses covers are an excellent method not only to combat bed bugs but also to prevent their occurrence. That is why I have prepared a comprehensive list of my favorite and most effective bed bug mattresses covers that are below.
1. TOP Pick Best Bed Bug Mattress Cover: HOSPITOLOGY PRODUCTS Sleep Defense System
Specifications:
Size: Queen 12″ Standard
Fabric Type: 12″-18″ Depth Mattress
Material: Polyester
Closure Type: Zipper
Water Resistance Level: Waterproof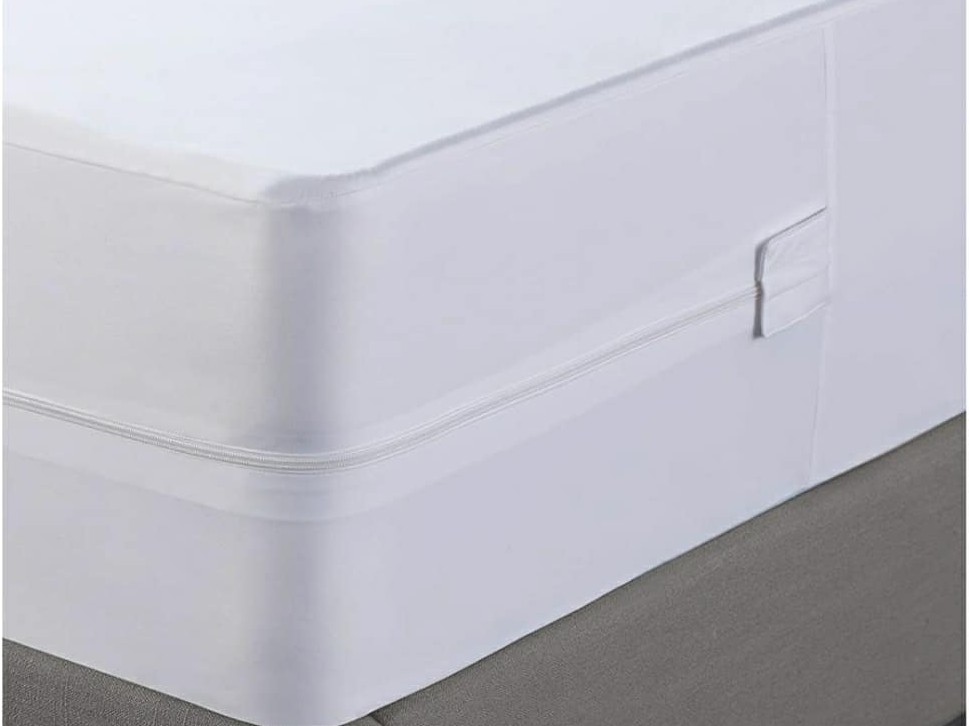 In fact, HOSPITOLOGY PRODUCTS Sleep Defense System is the best bed bug mattress cover I have ever used. HOSPITOLOGY, the system's manufacturer, produces only hypoallergenic bedding products. So, if you suffer from allergy, it may be the best option for purchasing. The company was established several years ago, and today, it is considered one of the most trusted manufacturers of bed sleeping products.
The mattress encasement is sold in various sizes and depths. It is made from polyester and manufactured in the USA, but the company has a large network of distributors, so do not worry about the delivery to your country or region. Due to the use of high-quality polyester knit fabric, the encasement is completely water-resistant and extra-soft at the same time.
In addition, this mattress cover can help to deal with different respiratory conditions, such as asthma. The mattress cover can be easily washed in the washing machine;the detailed instruction on the washing is attached to the product.
Pros:
Cons:

Hypoallergenic;
Waterproof barrier;
It can be washed in the machine.

The most popular sizes are sold out very fast.
2. Bed Bug Proof Mattress Cover: PlushDeluxe Premium Zippered Mattress Encasement
Specifications:
Size: Full
Fabric Type: Cotton
Material: 12″-15″ Deep
Closure Type: Zipper
Water Resistance Level: Waterproof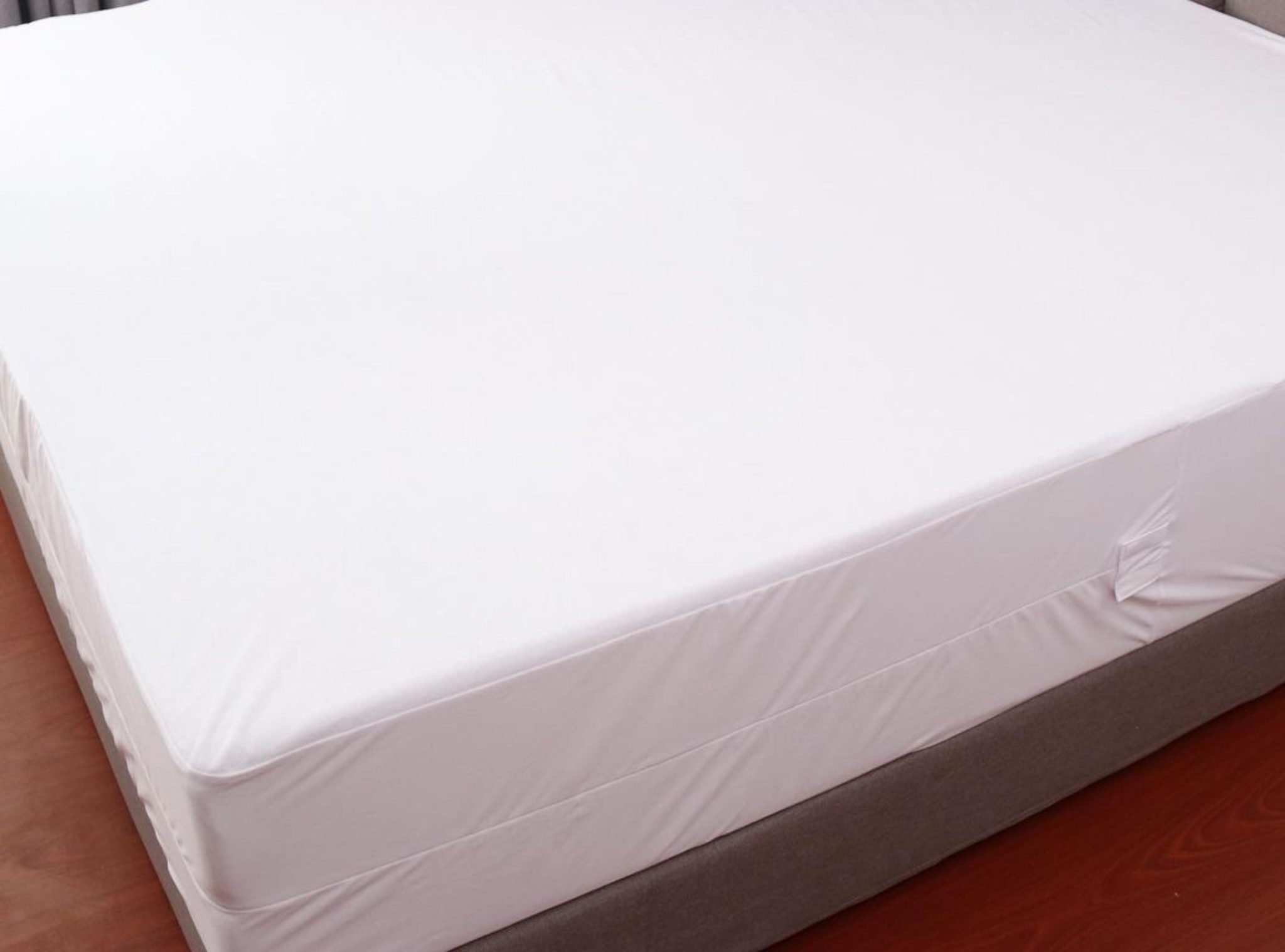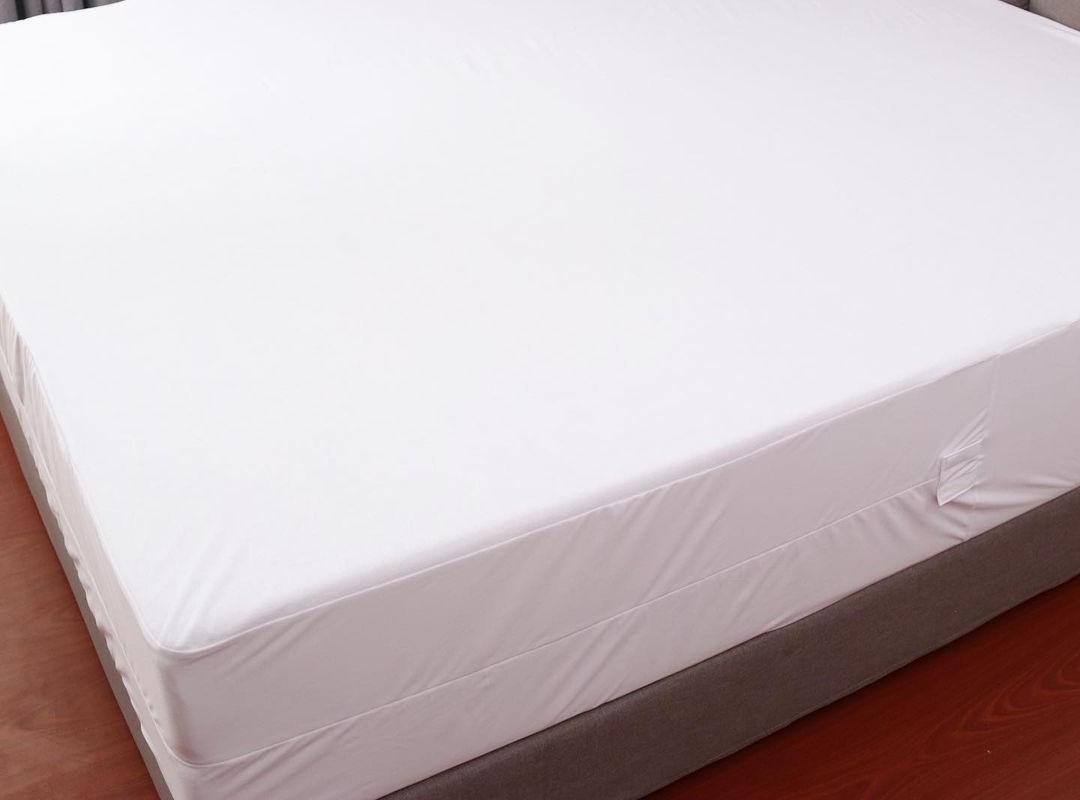 This Premium Zippered Mattress Encasement by PlushDeluxe is one of the best bed bug protectors. There is a tiny, almost invisible zipper with a secure velcro clap that can become your best friend in the fight against bed bugs. Moreover, the mattress cover is very soft and provides you with a comforting surface.
Similar to the Defense System by HOSPITOLOGY, the product is hypoallergenic and water-resistant. Also, it is very easy to clean and wash in the machine (requires low temperatures). PlushDeluxe offers a 10-year warranty that allows you to replace the mattress anytime.
PlushDeluxe is one of the most recognizable sleeping bed products manufacturers. You can easily find their mattresses covers or pillow protectors almost in all countries and regions. In their assortment, you can find the products that were recommended for people who have eczema or asthma; moreover, the vast majority of items have the protection not only from bed bugs but also from other insects or allergens. By the way, they have an affordable price policy.
Pros:
Cons:

10-year warranty;
Hypoallergenic;
Easy to clean;
Soft.

Sold in one color only;
It does not ship to all countries.
3. Lab Tested Mattress Cover to Prevent Bed Bugs: SafeRest Premium Zippered Mattress Encasement
Specifications:
Size: Queen
Noiseless
Material: Cotton
Closure Type: Zipper
Water Resistance Level: Waterproof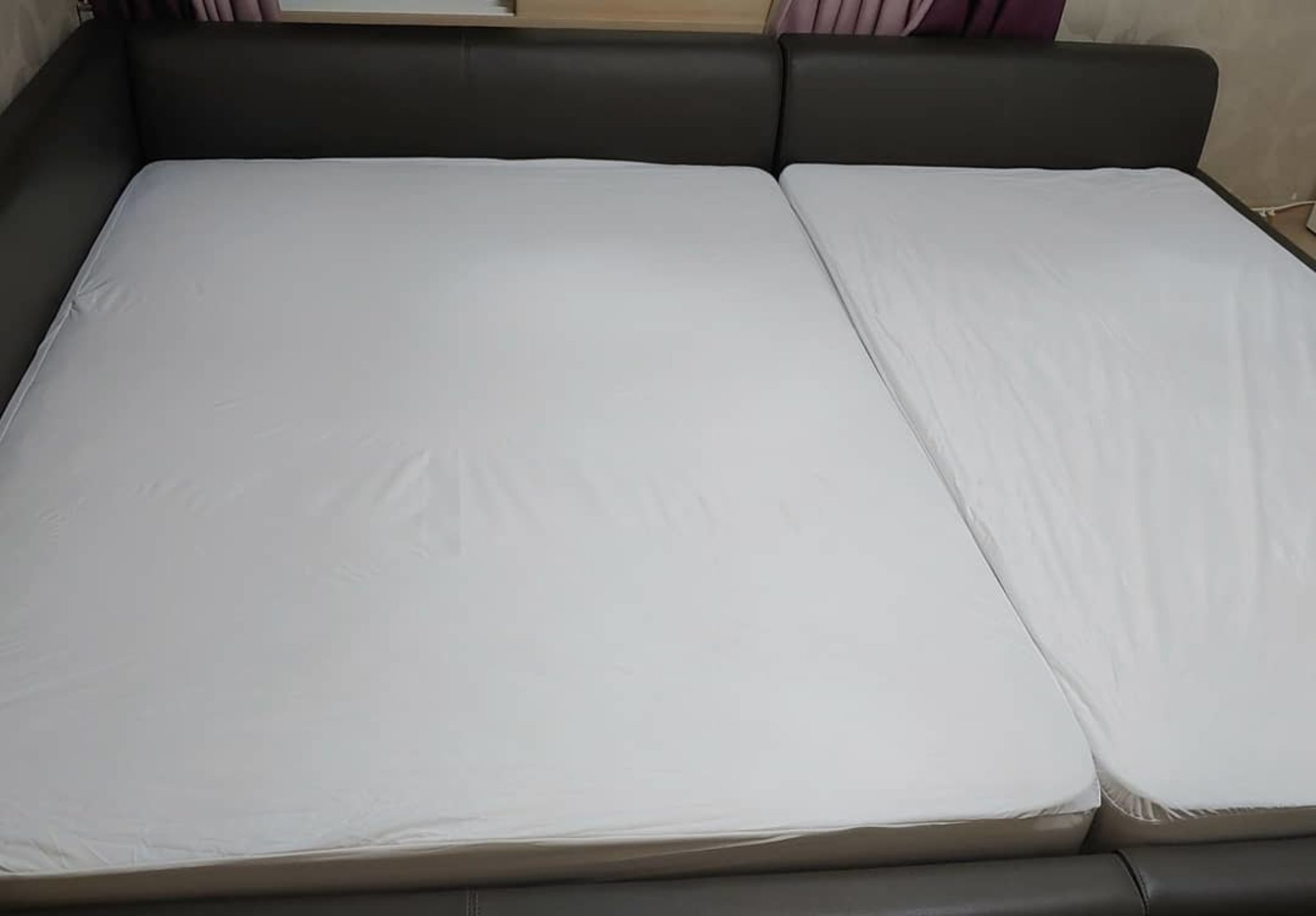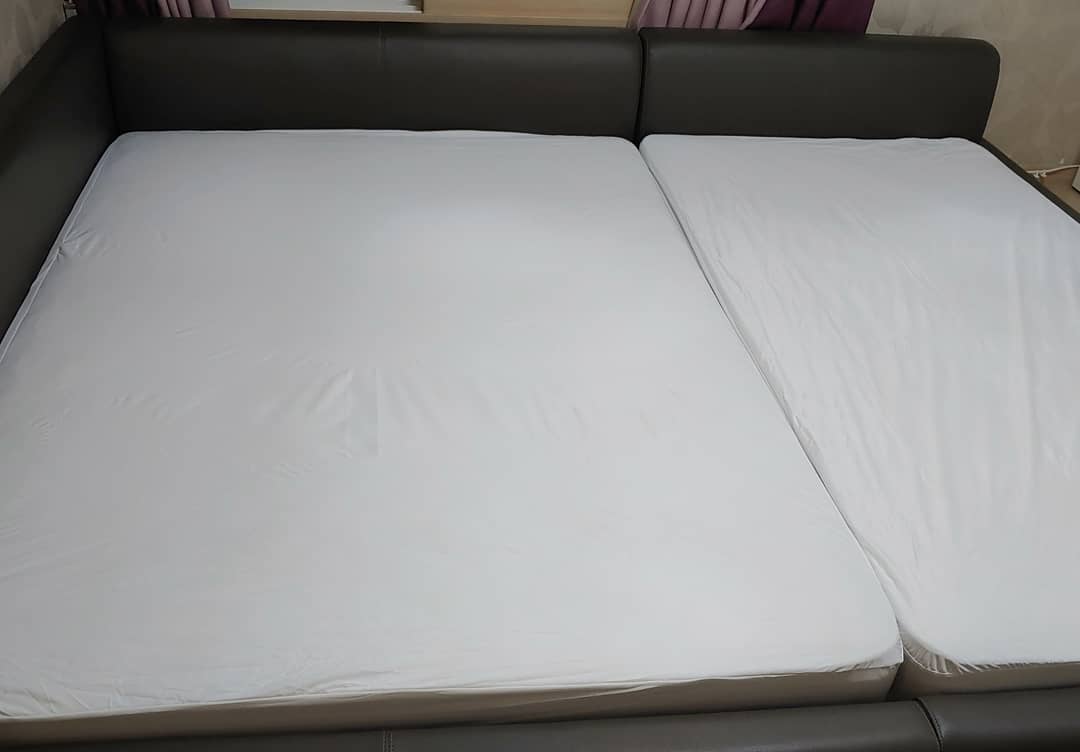 This SafeRest Premium Zippered Mattress Encasement is one of the most reliable bed covers. It is made from cotton and designed to block different potential allergens, fluids, dust mites and bed bugs. This anti bed bug mattress cover protects the mattress from all six sides.
Moreover, it has a 360 zipper closing option. Such an approach allows preventing accidental openings, for example, by children. The cotton used in SafeRest mattress covers is breathable and hypoallergenic.
SafeRest belongs to premium class brands that produce mattress protectors. Buying their products, you can be sure that the products are of a high quality, but the price is relatively high as well. The company has several years of experience on the market and provides every customer with a 10-year warranty no matter what item they buy. SafeRest is based in Florida, USA, but due to the wide distributor network, its products are sold around the world.
Pros:
Cons:

360 zipper closing feature;
Protects from all six sides;
High-quality materials.

Expensive;
It does not ship to all countries.
4. Best Waterproof Mattress Cover: Utopia Bedding Zippered Mattress Encasement
Specifications:
Size: Queen
Fabric Type: Polyester
Material: Polyester
Closure Type: Zipper
Water Resistance Level: Waterproof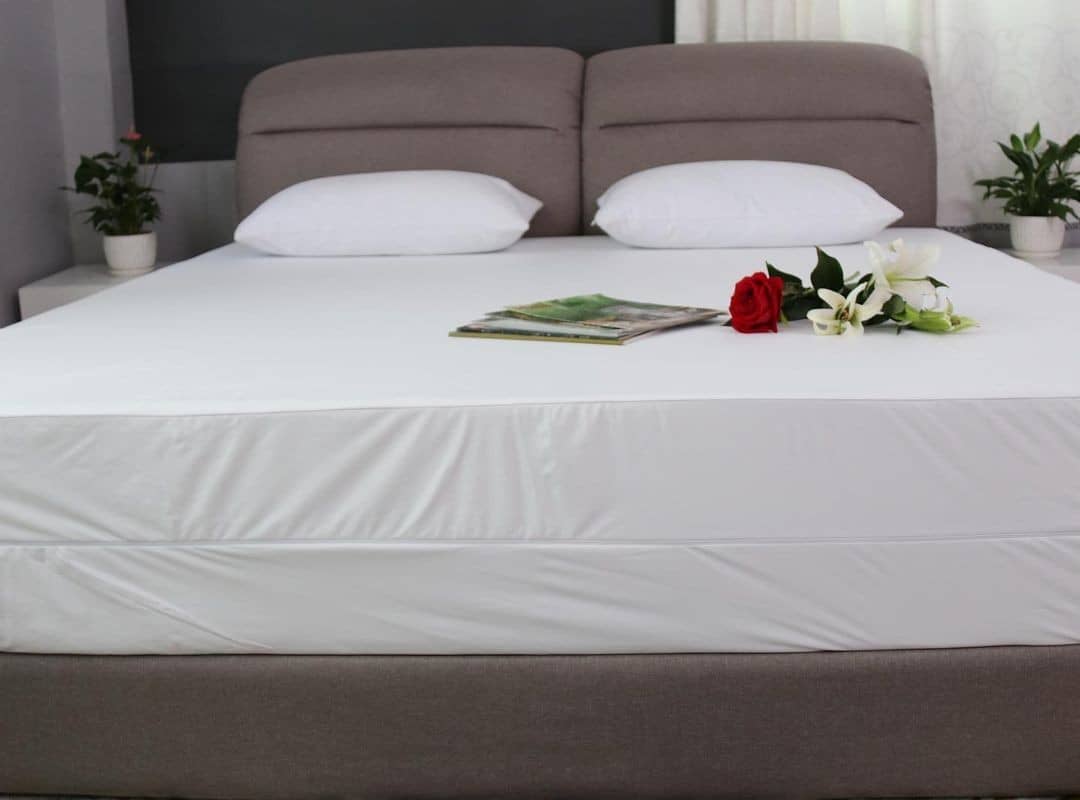 I like this mattress cover due to the fact that it usually has several options for buying. Moreover, the more items you buy, the bigger discount per one item you get. As such, it is the best option to buy if you want to cover the beds of all your family members. The available package quantity options are one package, two, or ten.
Also, it has six size options: Twin, Twin XL, Full, Queen, King, and California King. One of the disadvantages is that you can only buy the packages of one size. Similar to all previous items, this product has the following features:
Zipped guards;
Waterproof;
Easy care and washing.
In my opinion, it is one of the best water-resistant bed bug mattress encasements. It has an innovative TPU backing that protects the mattress from all six sides. In addition, this TPU backing is completely breathable and safe.
I think it is also important to say a couple of words about the manufacturer — Utopia Deals. This company is one of the largest producers of beds, kitchen appliances, and other home products. Utopia Deals officially operates in 11 countries and serves more than 15 000 customers every day.
Pros:
Cons:

Water-resistant;
Easy care;
Innovative TPU backing.

The company operates in 11 countries only;
Packages can only be bought in one size.
5. Bed Bug Cover for Allergic People: SureGuard Mattress Encasement
Specifications:
Size: Queen
Fabric Type: Premium Cotton Terry
Soft & Noiseless
Closure Type: Zipper
Water Resistance Level: Waterproof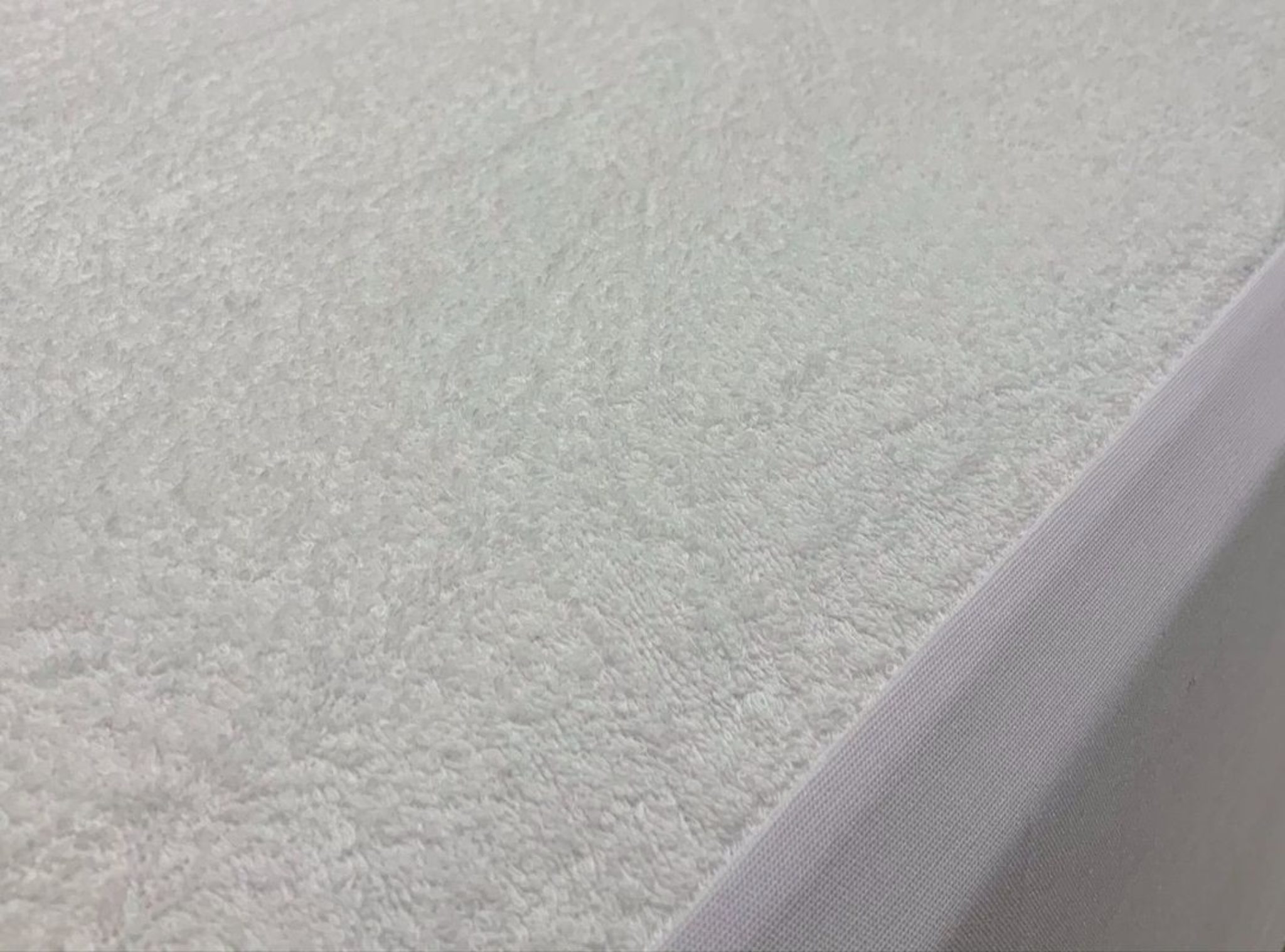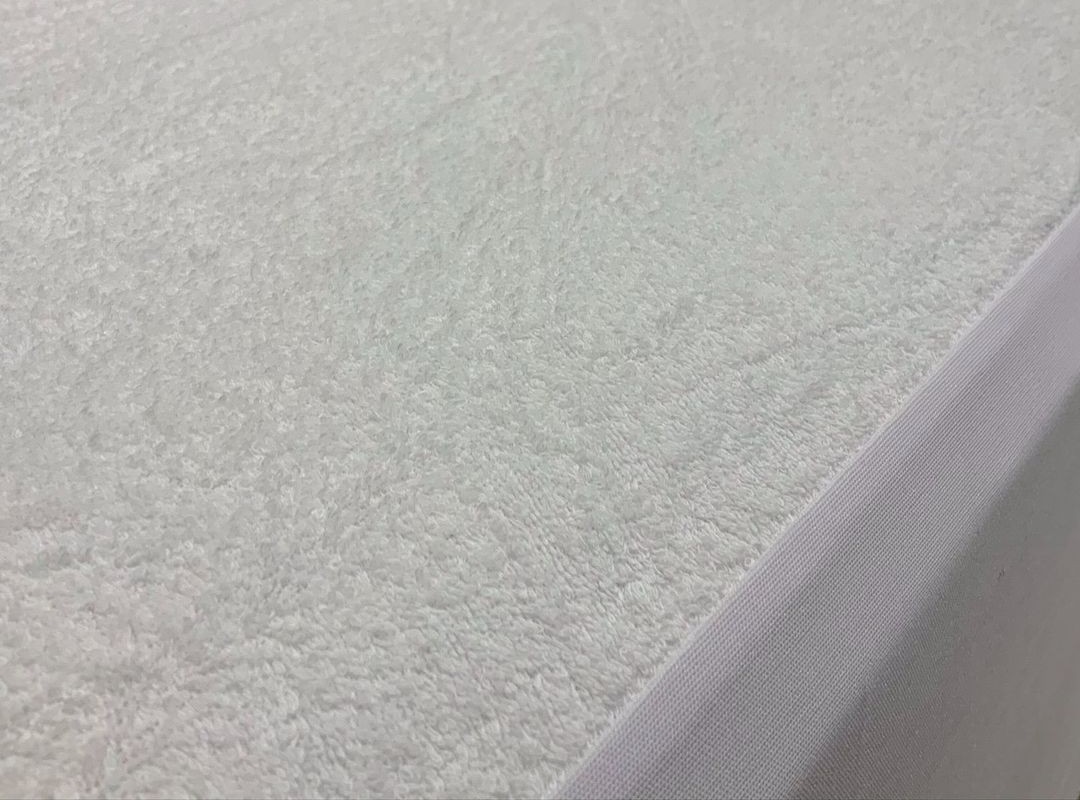 SureGuard is a company that specializes in pillow and mattress protectors. They produce only hypoallergenic and water-resistant products. This soft and noiseless best mattress cover for bed bugs is made from cotton. By the way, cotton is one of the best fabrics that is used for dress manufacturing. As such, you should not worry about allergic reactions.
The mattress cover not only blocks any allergens, dust mites, and bacteria your mattress can contain, it is also a good protector against bed bugs. This encasement has a thick layer of protection that bed bugs can not bite through. Therefore, you can sleep peacefully and soundly without worrying that in the morning you wake up with bites on your body.
It is super easy to clean and care about the mattress cover by SureGuard. Based on the preferable protection level, you can choose how often you need to wash it. If you want to protect yourself from bed bugs, it is recommended to keep the mattress cover on your mattress for about one year, so that bed bugs die from dehydration.
Pros:
Cons:

Provides reliable protection from the bed bugs;
100% Waterproof;
It is made of breathable fabrics;
Protects from allergens and dust mites.

Expensive;
The product is not shipped to all countries.
6. Best Pillow Encasement: SafeRest Premium Hypoallergenic Bed Bug Proof Zippered Waterproof Pillow Protector
Specifications:
Size: Standard
Fabric Type: Knitted Fabric
Material: Cotton
Closure Type: Zipper
Water Resistance Level: Waterproof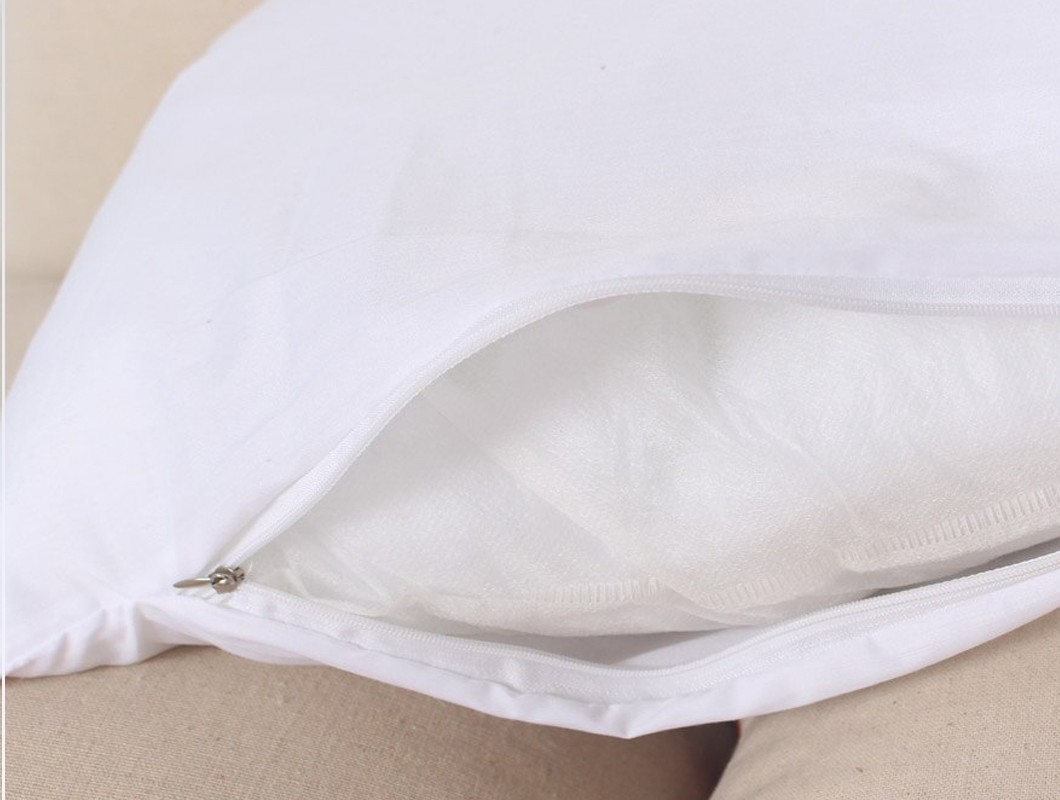 At the very beginning of my article, I wrote that bed bugs love to bite people's faces. That is why not only mattresses become their goal, but also pillows. By the way, feather pillows have the greatest risk of dust and bed bugs.
I mean that if you have noticed the bed bugs in your mattresses, most likely, these annoying insects are in your pillow too. So, be sure to buy the covers for both. Pillow covers is a topic for a separate article, and since we are talking only about mattresses covers now, I decided to put only two best pillow encasements on my list. The first one is a cover by SafeRest.
This pillow protector is hypoallergenic, so you can use it even for kids` pillows. The encasement is made of knitted fabric, cotton. Also, it has a water protector level and zipped design. In addition, you will get a 10-year warranty.
Pros:
Cons:

Hypoallergenic fabrics;
Water-resistant level;
Protection against bed bugs and bacteria.

Standard and Queen sizes are sold out very fast;
Quite expensive.
7. Pillow Encasement for Children: HOSPITOLOGY PRODUCTS Sleep Defense System — Zippered Pillow Encasement
Specifications:
Size: Standard
Contains no Vinyl, PVC, or Phthalates, or fabric treatments of any kind
Material: Polyester & Polyester Blend
Closure Type: Zipper
Water Resistance Level: Waterproof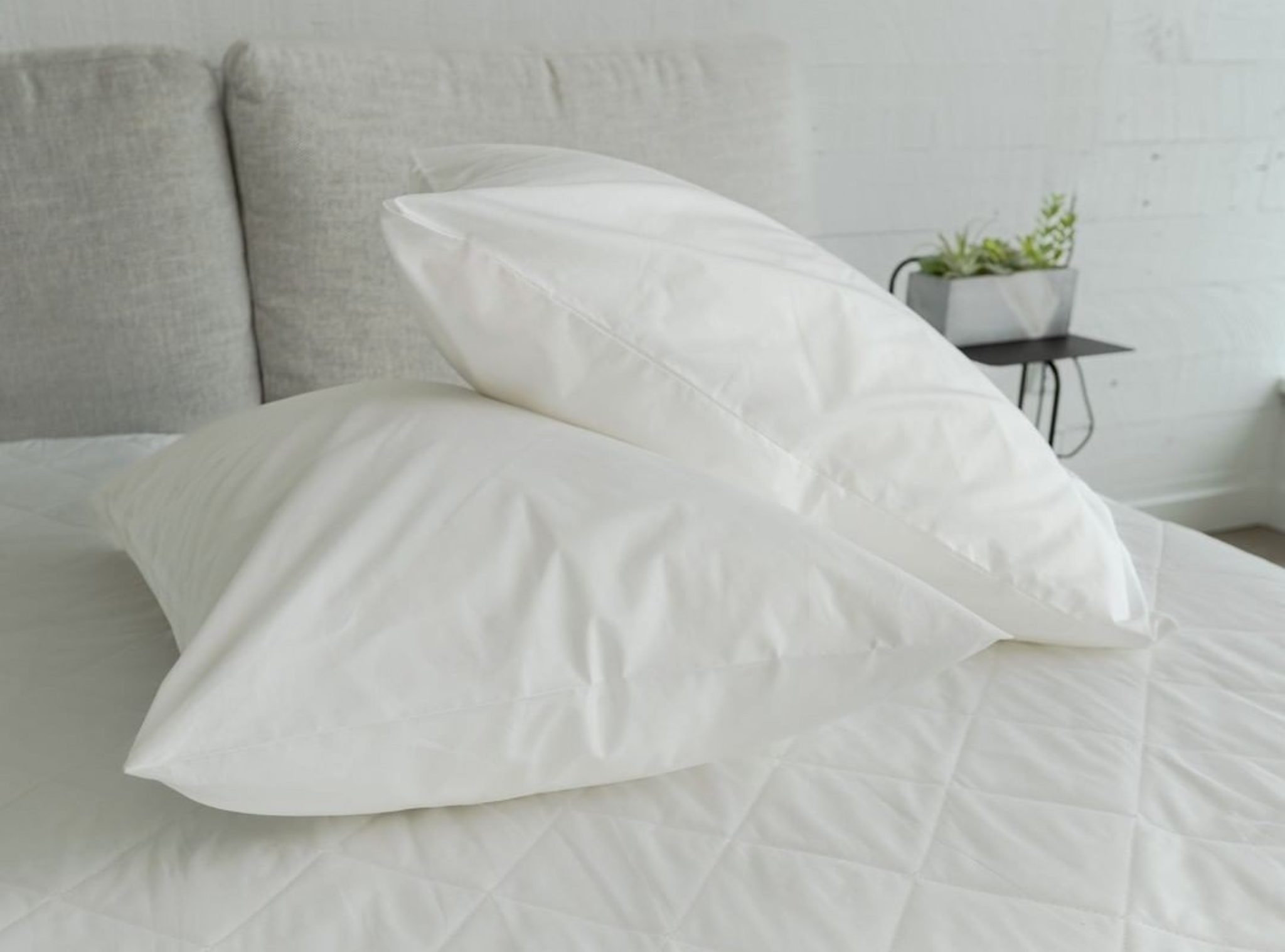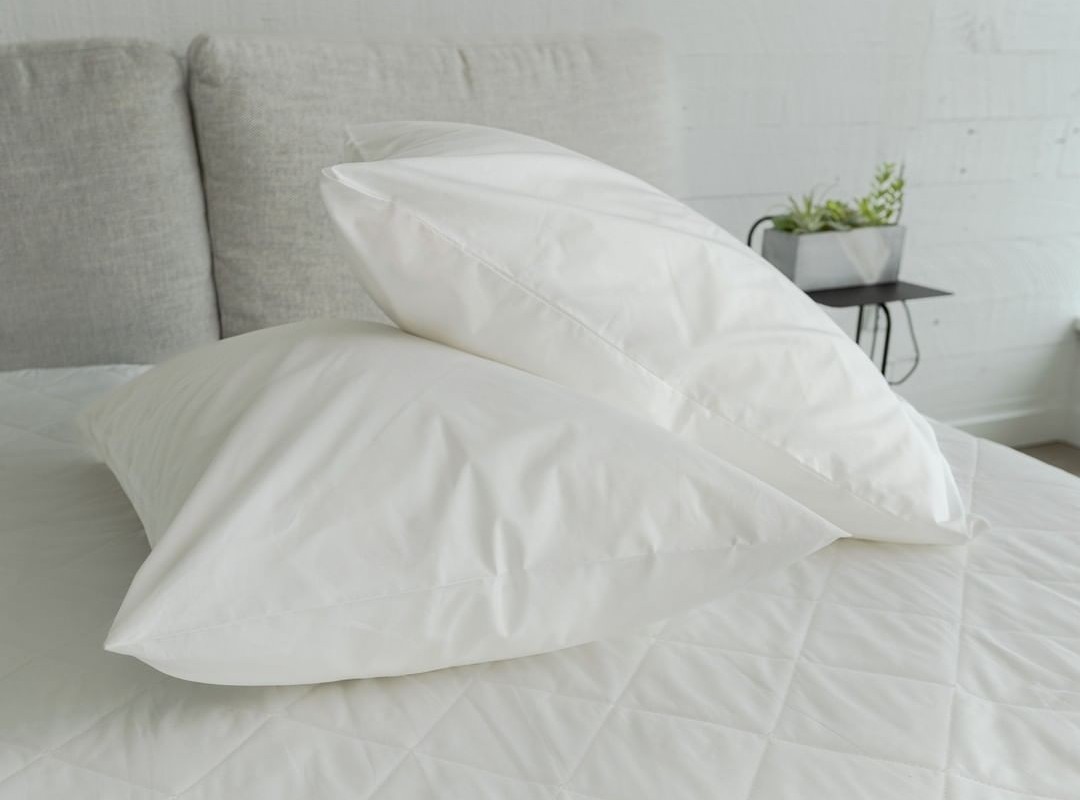 I have already mentioned the product by this company as the best bed bug mattress protector (the first one). Now, I want to discuss their pillow covers. The manufacturer uses only high-quality fabrics. Also, they have an additional waterproof level to prevent liquids from getting on the pillow. The cover is made from the extra-soft polyester that is completely breathable. The pillow encasement can be washed in the machine even at low temperatures.
I like the HOSPITOLOGY company because they always improve their products. The company has a research department that monitors the newest surveys in this field, the results of which can be implemented in HOSPITOLOGY products.
Also, they have their own department that tests new products and hypotheses. Buying mattress or pillow covers by HOSPITOLOGY, you can be sure of their quality and reliability. By the way, the fabrics that are used in the products' manufacture are completely hypoallergenic so you can buy them for kids.
Pros:
Cons:

High-quality materials;
Water-resistance;
Block various allergens that can be inside the pillow.

Difficult to buy as products are sold out quickly.
The Comprehensive Buyer's Guide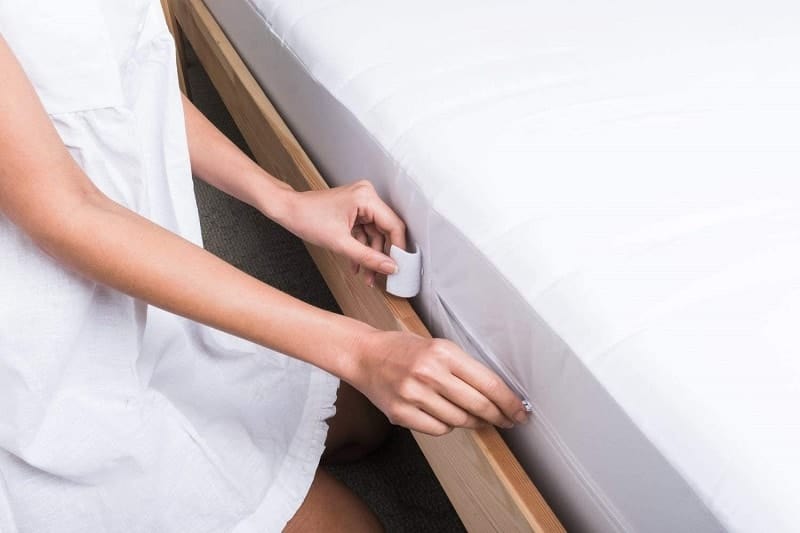 After I showed you my favorite and the most effective mattress and pillow covers, I want you to look closer at why you need this. I have already mentioned above, that only a few people think about purchasing the bed encasement when they face the problem of bed bugs.
So, let's figure out whether it is an effective way to get them out or is it just marketing? I propose to start with the signs that indicate the appearance of bed bugs in your house.
Related Post: 7 Best Bed Bug Steamers and Vacuums
Signs That You Have Bed Bugs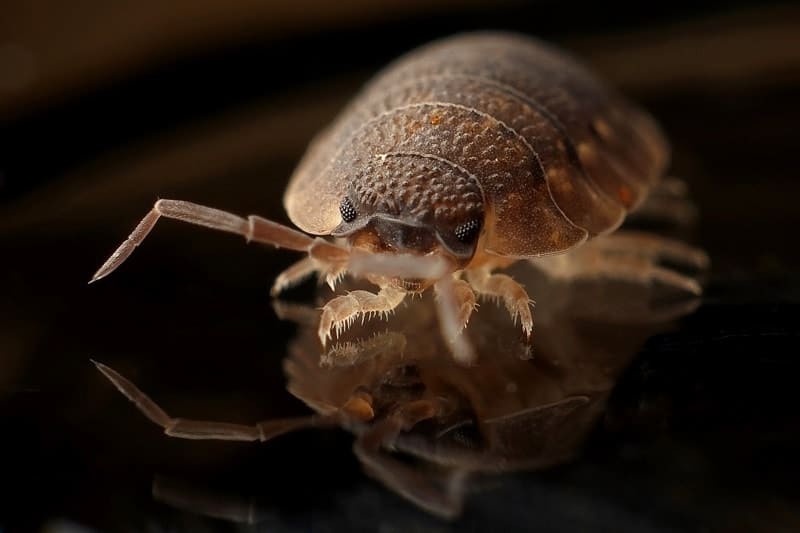 First of all, you need to remember that bed bugs do not spread diseases or infections. At least, until now – scientists did not discover such cases. The allergic reactions are also a rare symptom. Do you know that some people do not even have any noticeable signs of bed bug bites? But when the symptoms develop, usually, bites tend to look like small red dots with a dark spot at the center.
The bed bugs tend to live in large groups. Therefore, you will find multiple bites grouped together on your body. The most likely places are limbs (arms, legs) and face (more rarely). In addition, bed bugs can cause itchiness. In such cases, try not to scratch your bites, but put a cold compress on them. This will help relieve itching.
By the way, scratching your bites can become a cause of infection. The most popular is the infection of cellulitis. It is a skin bacteria that penetrate in your body with bites, scrapes, or cutes. If you notice the increase of redness, swelling, and inflammation, then go to the doctor immediately.
The bed bugs can feed on your blood within 5-10 minutes, then they go to a safe place for several years to digest the food and lay the eggs. So, if you notice a large number of bites on your body, most likely, that the next several nights, you will be without the new ones.
Related Post: Best Bed Bug Heaters For Home & Commercial Use
What Are Mattress Covers and How Do They Work Against Bed Bugs
Suppose, you have noticed the bed bugs` bites on your body. Now, the logical question is: "How to find bed bugs?" The answer is simple — inside the mattress, pillows, and in small holes. What can you do in situations like this? The most obvious answer is to buy special sprays, anti bed bugs powder, or even call pest control companies. But the solution to the problem may be the purchase of mattress covers. Let me explain how they work.
Most of us are familiar with various bed encasements. We usually buy them to protect the mattress or pillow from liquid or other types of pollution. The common mattress encasements do nothing to stop the infestation, but exclusively designed mattress covers can really help you with bed bugs. Moreover, it is a good way to prevent bug infestation. The distinctive characteristics of such encasements are:
Tightly-woven fabric, so bed bugs can not bite through it;
They cover all six sides of the mattress;
They have a zip.
In addition, such mattress encasements can protect your sleep not only from the bed bug bites but also from various potential allergens, bacteria, dust mites, and other bed insects. Most of the mattress covers are water-resistant, so nothing can penetrate inside the box. With such a protective level, bed bugs will die from exhaustion.
How to Pick a Mattress Encasement (What Features to Look For)
The bed bug mattress covers can be purchased for less than $20. But my advice is to look for more expensive options since they are more reliable and qualitative. Note that to get rid of bed bugs, you should not take the cover off for one year! Therefore, if you buy a low-quality encasement, you will face many problems.
So, what features do you need to pay attention to when choosing a mattress cover? I highlight the main four: the fabric from which it is made, the level of protection against water, the manufacturing company and reviews on various marketplaces. Let's look at each of them closer.
1. The material is the most important factor. Usually, the mattress covers are made from cotton or polyester. You should check if the fabric is breathable and hypoallergenic as at nights, we are the most vulnerable. The vast majority of high-qualitative encasements can even ease various respiratory conditions, such as asthma. They also serve as the reliable protective level against the dust.
2. The second factor is water-resistance. As I have mentioned above, it is very important because to get rid of all the bed bugs, you can not take off the cover for one year, even for washing purposes.
3. Next, the manufacturer. I recommend you to select the producers that are specialized in manufacturing bed products. The high-quality anti bed bug encasements require the constant conduct of various studies, experiments, and use of the latest technologies that are difficult to apply if the company does not specialize in this. Finally, I highly recommend you to read the bed bug mattress cover reviews on various marketplaces before purchasing it.
Related Post: Best Bed Bug Foggers Reviewed: Are They Better Than Sprays?
FAQ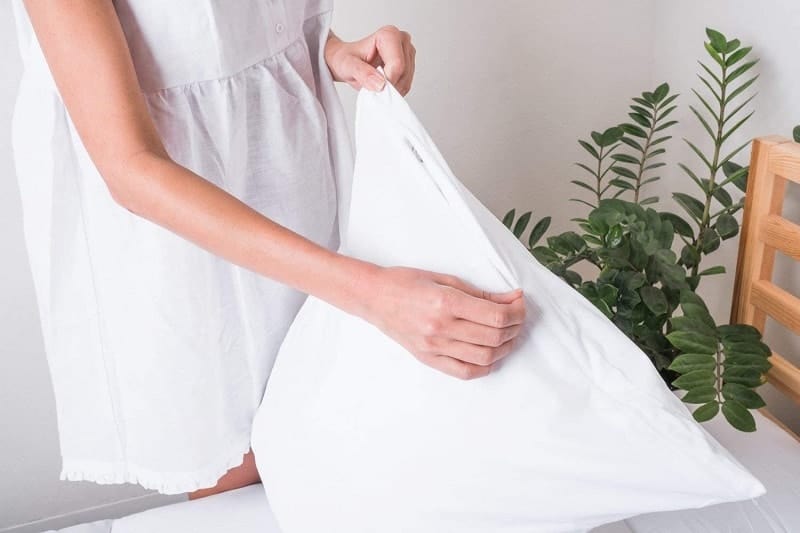 When I was preparing this article for you, I explored many forums and sites, read tons of questions and answers. II did it in order to find the most asked questions and topics about the bed bugs and mattress covers. So, in this bed bugs FAQs section, I want to provide the quick answers to them.
1. What Does a Bed Bug Look Like on Mattress?
The bed bugs are oval, small, brownish insects. The size of their bodies is only about several millimeters. By the way, it is one of the reasons why they move so fast and are one of the most difficult to remove insects. The bed bugs do not fly or jump, they prefer to hide in small and hard-to-reach places, for example, drawer joints or electrical appliances.
To find the bed bugs on the mattress, you need to look at the edges and under the mattress. If you notice small brown dots, you found them.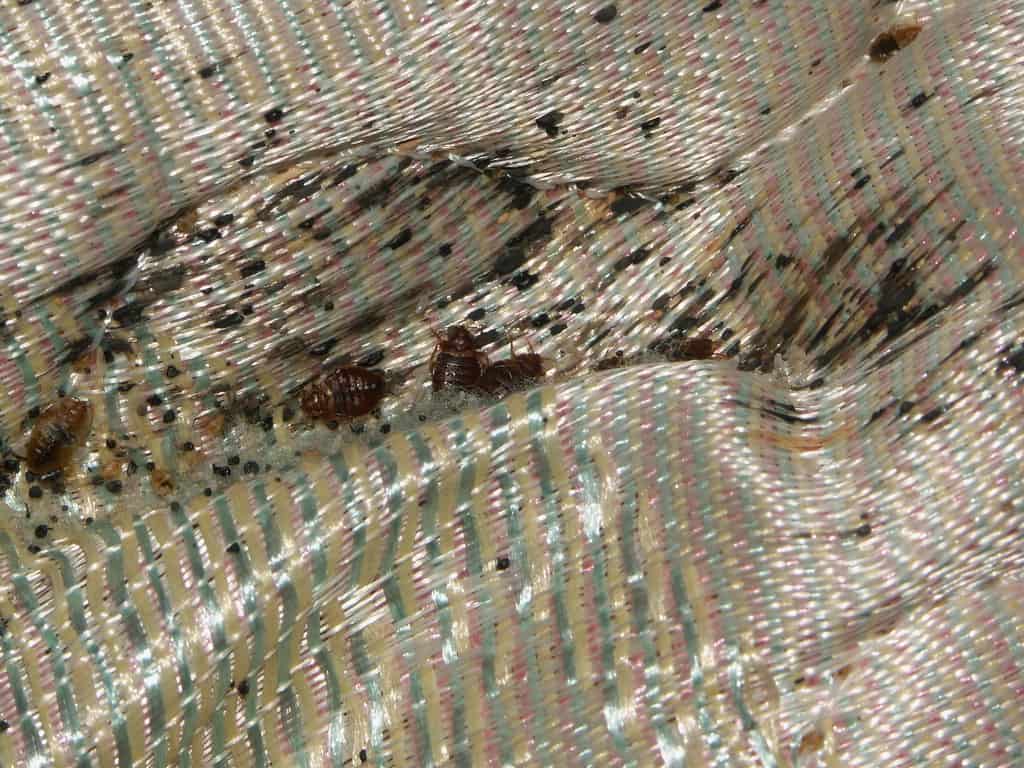 2. Do I Have to Throw My Mattress Away If I Have Bed Bugs?
Once people notice the bed bugs on the mattress, they usually just throw them away. But this is not a solution to the problem. Firstly, if they are on the mattresses, then, most likely, bugs are already in other parts of the bed. Secondly, one female can lay hundreds of eggs at a time, so even if you kill most of the bed bugs, this will not save you from them.
And finally, buying a new mattress is quite expensive, especially if in a week the bugs appear there again. My recommendation is to get rid of all bugs first and only then buy a new mattress.
Related Post: Most Effective Bed Bug Powders Reviewed
3. What Makes a Mattress Protector Bed Bug Proof?
Earlier, I wrote that the most important factor in choosing a mattress is the fabric from which it is made since it is the material that determines the quality of the mattress cover. The denser and more reliable the fabric is, the more confident you can be in the quality of the product. Also, pay attention to the zipper; it should be dense and not leave any gaps.



Conclusion: Do You Have Any Additional Questions to Ask?
That was quite a long guide about the bed bugs mattress covers. But now you know what the bed bugs mattress cover is, how the mattress encasement works, and how you can prevent your bed from infestation. Also, I hope that the information you've read was useful for you. If you still have some questions – do not be shy and ask them in the comment box below. I will answer them as soon as possible!
References:
Don't Let The Bed Bugs Bite [fact sheet] (University of New Hampshire Cooperative Extension):
https://extension.unh.edu/resource/dont-let-bed-bugs-bite-fact-sheet
How to Find Bed Bugs (U.S. Environmental Protection Agency):
https://www.epa.gov/bedbugs/how-find-bed-bugs
Bed Bugs FAQs (U.S. Department of Health & Human Services):
https://www.cdc.gov/parasites/bedbugs/faqs.html
Why You Should Trust Pest Control Hacks?
We know that pests are nasty neighbors, and it can take months to eliminate them without the right approach. Our experts use their own experience to compile articles and guides that are introductory and informative. Our authors' opinions are independent and based on the results of practical testing of pest control tools. We do not notify manufacturers of testing of their products and do not receive payment from them for posting their items. Also, our texts are never submitted to company representatives for proofreading before placement. On the site, you will find exclusively objective ratings and reviews.