As an entomologist-blogger, I have received numerous requests from the audience regarding effective elimination of bed bugs that have become one of the most problematic categories of urban pests.
Pros
Kills 99.9% of bacteria, viruses, mold, and pathogens.
Effectively helps people who are allergic to dust.
It can be used on all types of surfaces.
High-quality steam nozzle.
I have worked with an enormous number of cases connected with cleaning up the house from these parasites. It is essential to find do-it yourself control options for eliminating bed bugs that can be applied at home. After receiving so many questions about effective methods of solving this issue, I decided to make a detailed overview of the tools, techniques, and approaches that will help bed bugs leave your house as fast as possible.



Top 7 Best Steamers and Vacuums for Bed Bugs: a Comprehensive Overview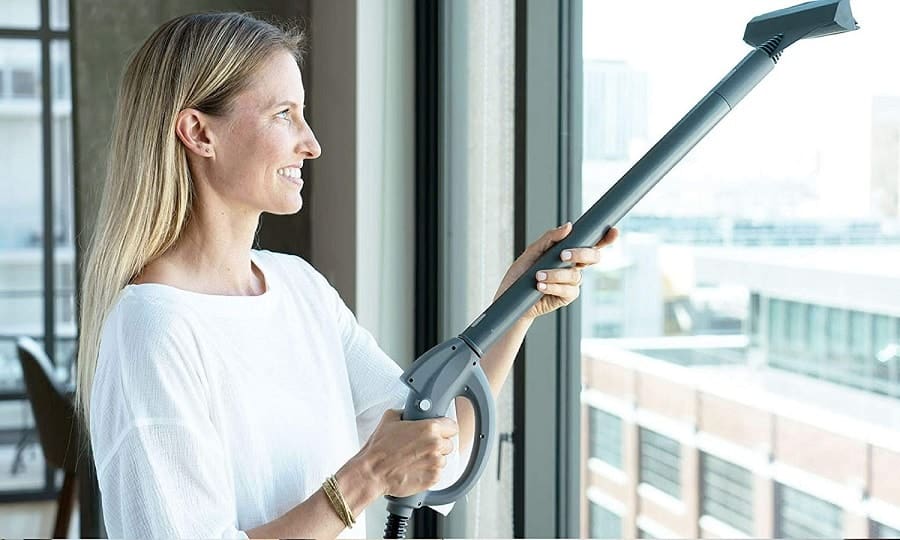 To cleanse your house from the bed bugs to main products that will help you do it yourself quickly and effectively are steamers and vacuums. But behind choosing and using steamers to control bed bugs, there is a set of tips that will help you do that effectively. To find a high heat steamer that will perfectly suit your case and budget, it is important to look through the best models on the market. The same refers to selecting the best bed bug vacuum to purify your residence. Let's look through the most reputable products.
1. Dupray Neat Steam Cleaner: High Heat Steamer for Home, Cars, Floors, and More
Specifications:
Color: White
Surface Recommendation: Home, Tile, Grout Cars, Floors, Windows, Furniture
2-year Limited Warranty
Item Weight: 9 pounds
Package Dimensions: 15.98 x 15.2 x 14.25 inches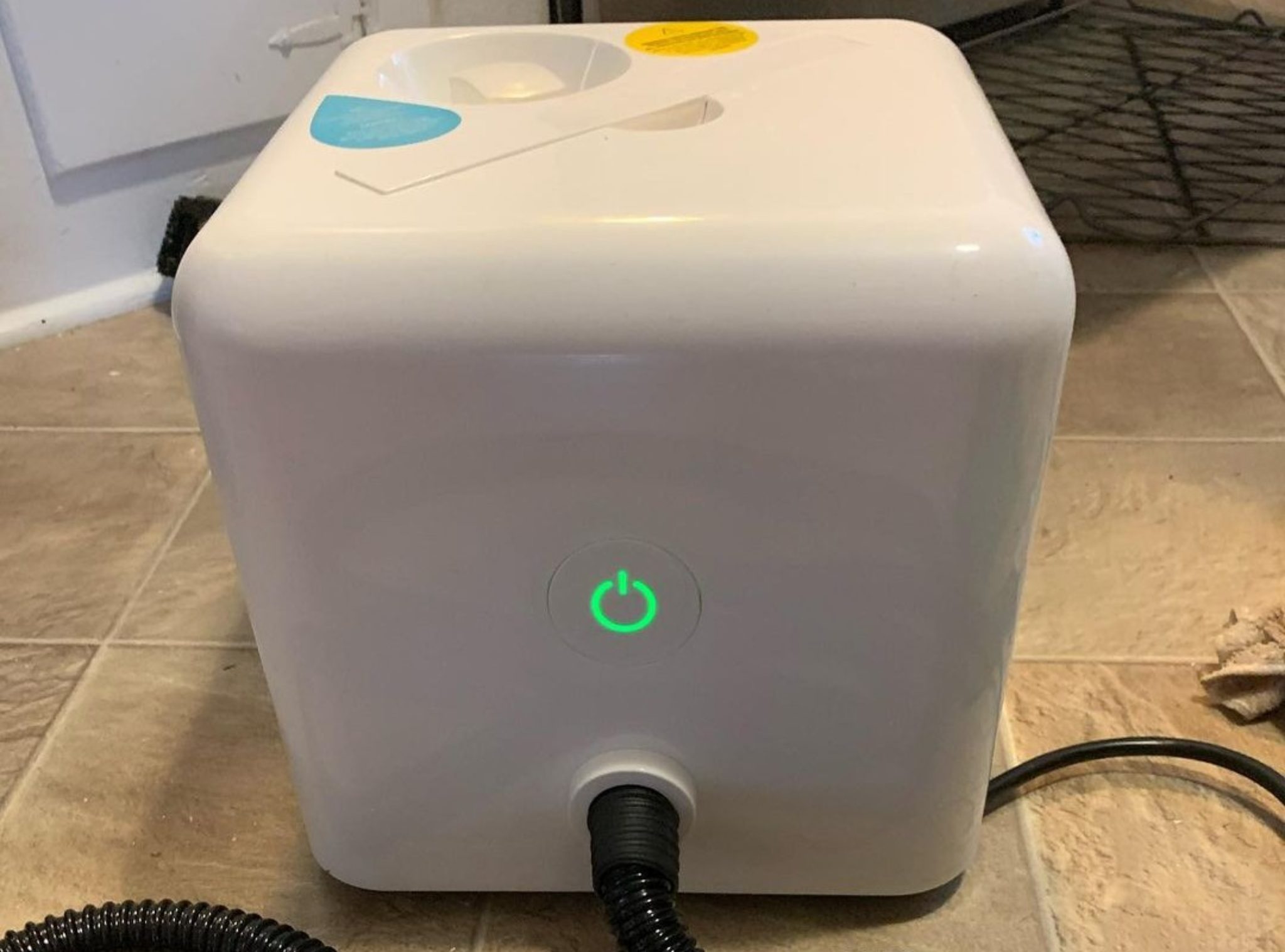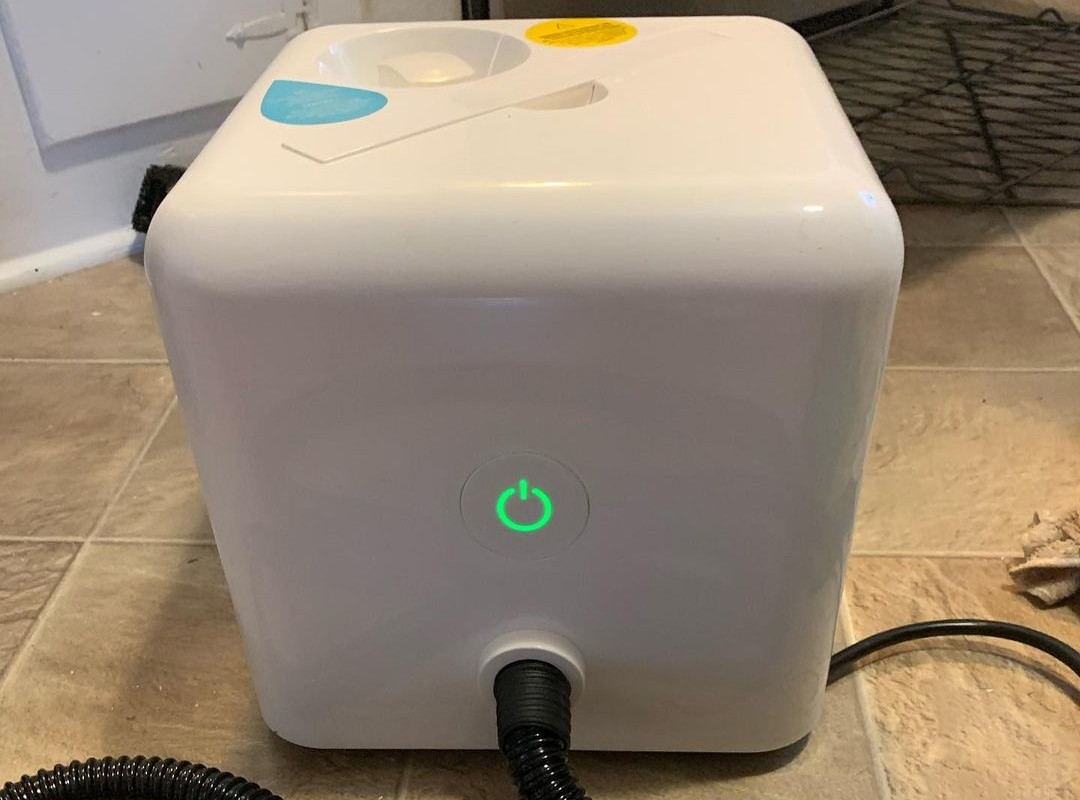 Dupray is an experienced steam cleaners provider that develops cleansing tools for commercial, home, and industrial use. The brand has two main product lines: steam cleaners and steam irons, with several key models for each sphere of implementation.
Dupray Neat steam cleaner is the best steamer for bed bugs for those who are looking for high-quality and all-in-one steamer. In goes with a 18-piece professional kit that includes wands to get in every nook and cranny. The steam cleaner can reach the temperature up to 275F (135C), while the minimum temperature to kill the bugs effectively starts from 160-180F (71-83C).
While killing the bugs, the Dupray Neat steam cleaner also eliminates 99.9% of bacteria, viruses, pathogens, and mold, completely fumigating your house without any professional assistance.
This steamer is safe for your health – it is chemical-free, cleaning your house from bed bugs without harming your family, pets, or plants. It uses ordinary tap water and doesn't require expensive fluids. Despite being high-powered, this steamer is lightweight and easily portable. It has smooth-rolling wheels, quickly getting anywhere you need with zero floor scratches. With a high level of effectiveness, quality, and usability, this is the best steam cleaner for bed bugs that I have ever tested.
Main characteristics:
Can work up to 50 minutes before filling up;
Great (1600 ml) tank capacity – pretty large for such steamer;
Extra long 6'6" adjusted steam hose;
Built-in funnel – a great feature that excludes any messes;
Retractable handle – it is easy to take the item anywhere you need;
ETL listed for USA and Canada – official certification is one of the best proofs of the steamers' quality;
Heating time – up to 7 mins.
Pros:
Cons:

Powerful seamer that can reach a temperature of 275°F;
No-chemical steaming;
Lightweight and easily portable;
Kills 99.9% of bacteria, viruses, mold, and pathogens.

Doesn't have water indicator to watch the time left for steaming;
You should wait for about 20 minutes for the steamer to be refilled.
2. Housmile Mattress Vacuum Cleaner: Best Vacuum for Bed Bugs with UV Light
Specifications:
Color: White, Black
Is Cordless: No
Special Feature: Portable
Item Weight: 5.19 pounds
Package Dimensions: 14 x 11 x 7 inches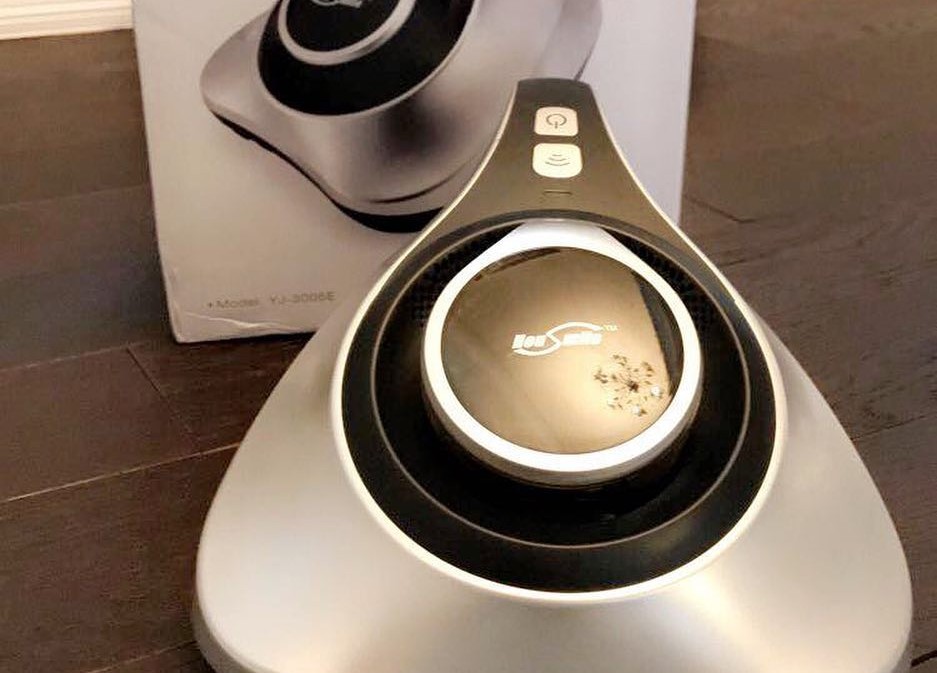 Housmile Electronics is a reliable US-based producer of household technological tools that combine pro-quality standards with a harmonious design that perfectly fits into any interior. Their set of products is broader than Duray's, but still limited enough to focus on the features of each item.
Housmile Anti-Bacterial UV Vacuum Cleaner is definitely the best vacuum cleaner for bed bugs I have reviewed. It is extremely powerful and has a HEPA filtration system that kills 99.8% of bacteria as small as 0.3 microns. Most importantly, this vacuum cleaner has an advanced UV light protection that is 20% higher as compared to other UV vacuum cleaners that allow to kill bed bugs, mites, microorganisms, and bacteria with 99.7% effectiveness.
This vacuum cleaner for bed bugs is a perfect solution for people that are allergic to dust and mites: it will remove all types of parasites and bacteria without extra products required. It is easily portable and simple to use: there are only two buttons present: on and off. You can easily use the cleaner around your house – it is lightweight and has a small handle.
Main characteristics:
HEPA filtration – advanced filtering that captures 99.8% of particles;
Double-rolling brush 6000 cycle/min – it gets all the dirt out and absorbs it effectively;
Activated carbon filtration – effectively blocks the pollution inside the vacuum cleaner;
UV tube sterilization – a powerful weapon against bacteria, mites, and bed bugs;
2000ml capacity dust box for longer use.
Pros:
Cons:

Washable filters – no need to buy new filters for every use: just wash the dirty filter and let it dry out;
Gets the dust mites and bed bugs out of the deep of the furniture and sucks them away;
Effectively helps people who are allergic to dust;
Is free of chemicals;
The item has a large capacity box.

Washable filters still have to be renewed periodically;
3. Pure Enrichment PureSteam XL Rolling Cleaner: Indoor and Outdoor High Heat Steamer
Specifications:
Power Source: AC
Surface Recommendation: Hard Floor, Upholstery, Carpet
Capacity: 1500 Milliliters
Wattage: 1500 Watt
Item Weight: 15.72 pounds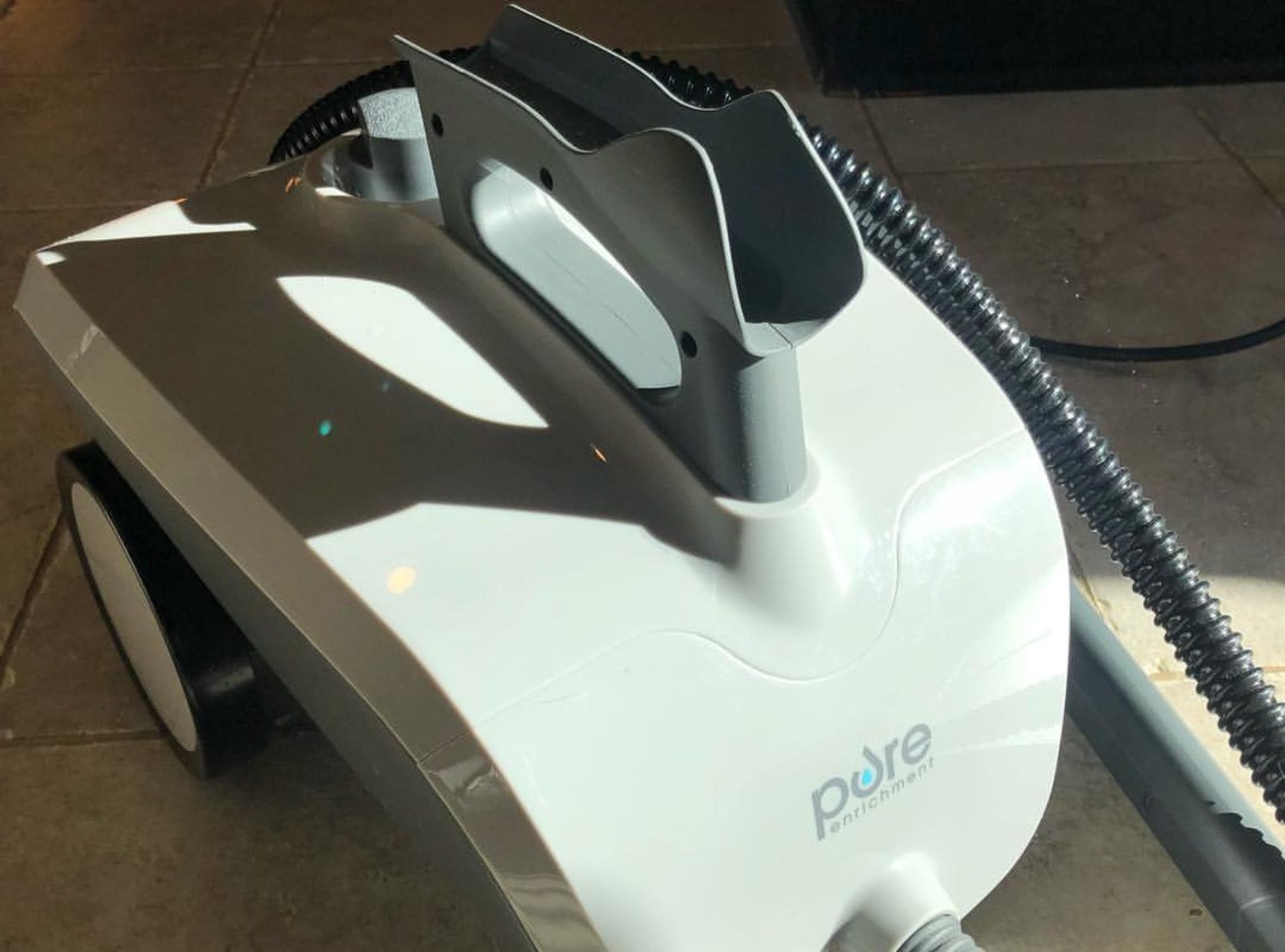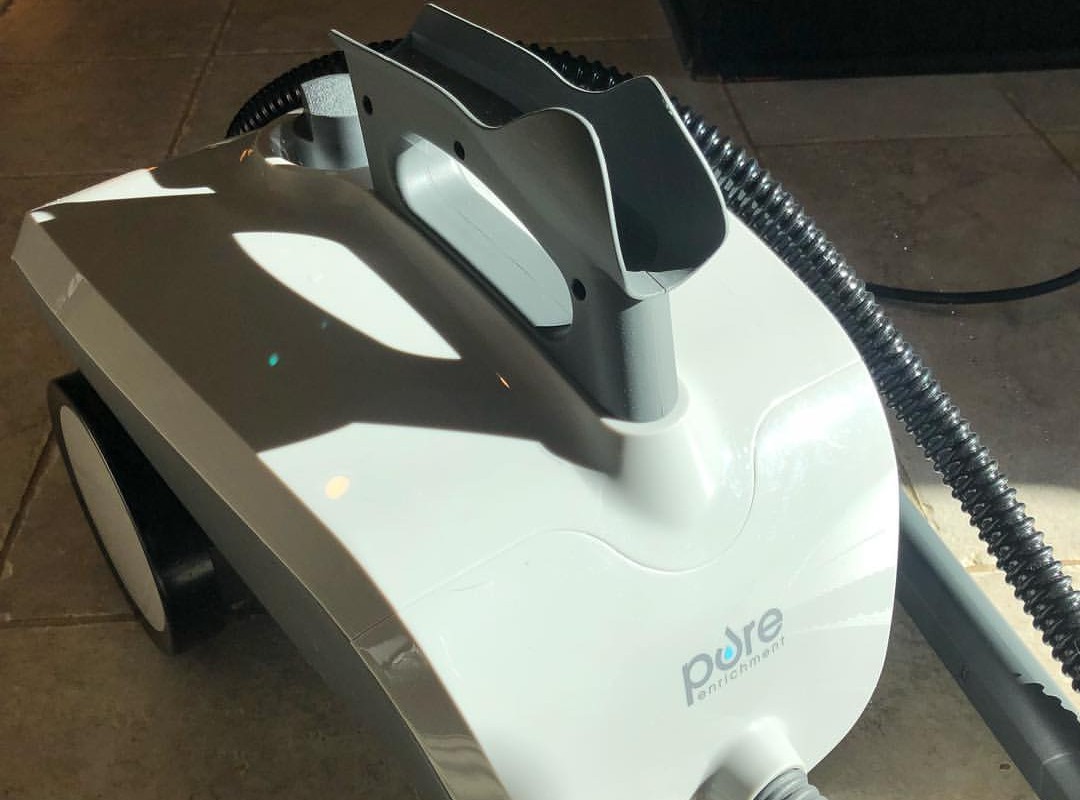 Pure Enrichment products are all developed to purify air and household, and are intended for health and personal care. Starting from the air purifier, this brand is currently producing a series of high-quality items for clean and healthy wellbeing.
PureSteam XL Rolling Cleaner is a universal household cleaning system for floors, windows, furniture, cars, and more. It is accompanied by an 18-piece set that includes all nozzles required to clean up all types of surfaces. Its 1.5-liter water boiler can produce hot pressurized stem for over 45 mins without recharging. Thus, it is possible to eliminate bed bugs without heavy chemical cleaning.
This commercial steamer for bed bugs is really useful: it has an extra-long power cord bed bug steamer wand to reach into any place in your house easier and without accidental stops. Reaching the temperature over 220 F, this bed bug steamer effectively kills bugs hidden on your mattress, sofas, furniture, carpets, and even floor and walls. Its high quality and effectiveness are supported by an official 5 years warranty from the manufacturer. This professional steam cleaner has an ETL mark, which means it meets all requirements of North American safety standards.
Main characteristics:
Heating-up time – 8 mins;
It has a 16-foot power cord and a 3-foot wand;
Improved water tank that might contain up to 1.5 liters of water;
45 mins of work non-stop;
Portable kit with 18 various nozzles for all types of cloth and surfaces.
Pros:
Cons:

Lightweight and easily portable;
Kills bed bugs, bacteria, and mold effectively;
It can be used on all types of surfaces.

Has to be linked to the socket – not autonomous;
Doesn't have auto shut-off.
4. Steamfast SF-370 Multipurpose Steam Cleaner for Bed Bugs
Specifications:
Color: White
15 Versatile Accessories
Surface Recommendation: Windows
Item Weight: 8.42 Pounds
Package Dimensions: 15.4 x 9.5 x 12 inches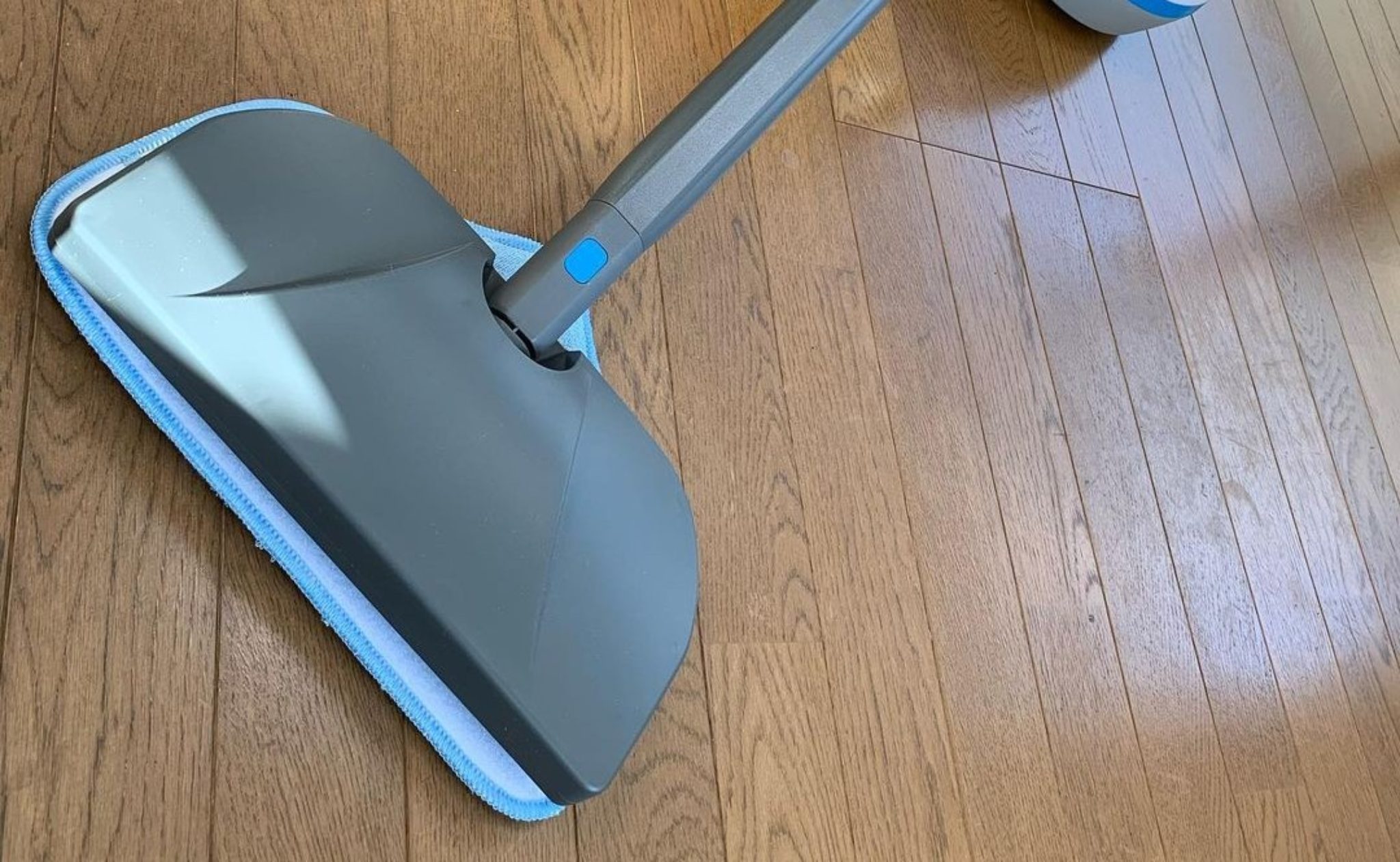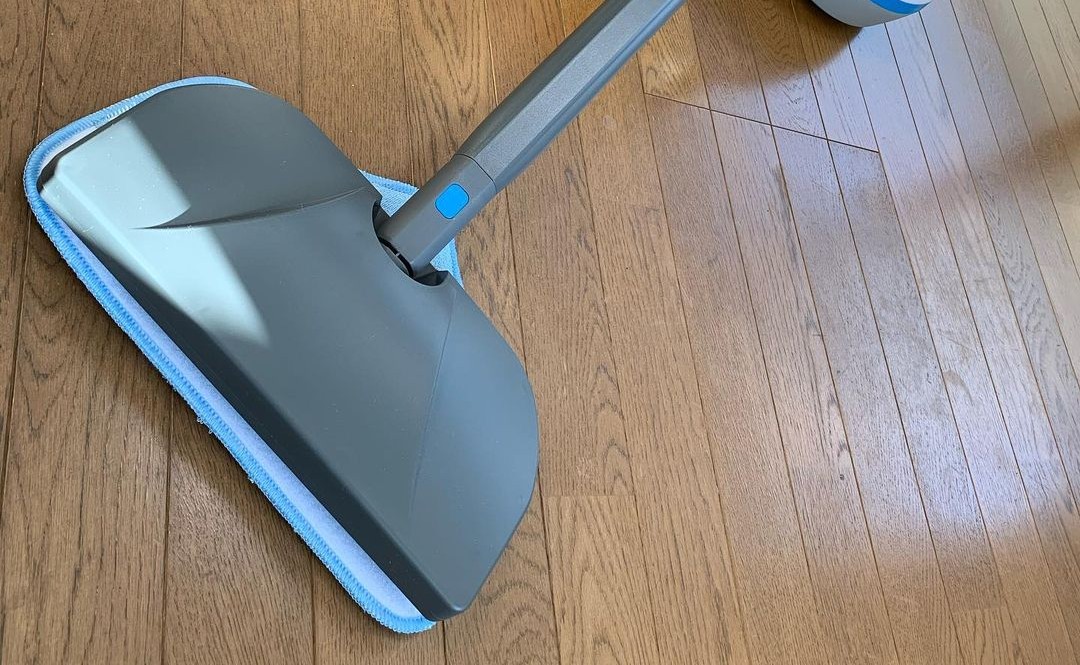 Steamfast is a US-based company producing high heat steamers for home use. The brand focuses on manufacturing professional-quality steamers that can be used throughout the house, including all surfaces and types of cloth, and won't cost like premium-level cleaning tools. Their product line is limited to steam cleaners, fabric steamers, steam humidifiers, and accessories.
Steamfast SF-370 steam cleaner is designed for comfortable use with its 15-foot power cord, integrated cord wrap, and 6. 5-foot hose that allows you to reach even the most complicated places in your house easily. This steamer has quiet and comfortable wheels and a useful handle, following you everywhere during the steam cleaning process. It has a 48-ounce water tank that heats up in 8 minutes, providing 45 minutes of effective steam cleaning.
This steam cleaner is also equipped with the accessories kit that includes 15 various nozzles and cloths for different surfaces. All mop pads are machine washable, while brushes can be quickly washed under the running water. The high temperature and pressure allow the steamer to kill bed bugs without harsh chemicals. The steamer has a steam status indicator that turns on when the steamer is ready for use – no need to double-check it or monitor the time every minute.
Main characteristics:
48-ounce water tank for the prolonged use;
Gets ready for steaming in 8 minutes and works for 45 mines without refilling;
Has an extended power cord (15 foot) and an adjustable hose;
Steam status indicator for comfortable timing;
15-items kit with nozzles for all surfaces;
Machine washable mop pads.
Pros:
Cons:

Effective tool against bed bugs;
Easy to use;
High-quality steam nozzle;
2 years official warranty.

No place to hide nozzles;
The hose could be longer.
5. Raycop Lite Vacuum Cleaner for Bed Bugs: Portable Vacuum with UV Light Sanitizing
Specifications:
Surface Recommendation: Fabric
Is Cordless: No
Form Factor: Handheld
Special Feature: Corded, HEPA Filter, Pulsating Pads, UV Light Santiziation, AllergenLock
Item Weight: 4.29 pounds
Package Dimensions: 11 x 14 x 6 inches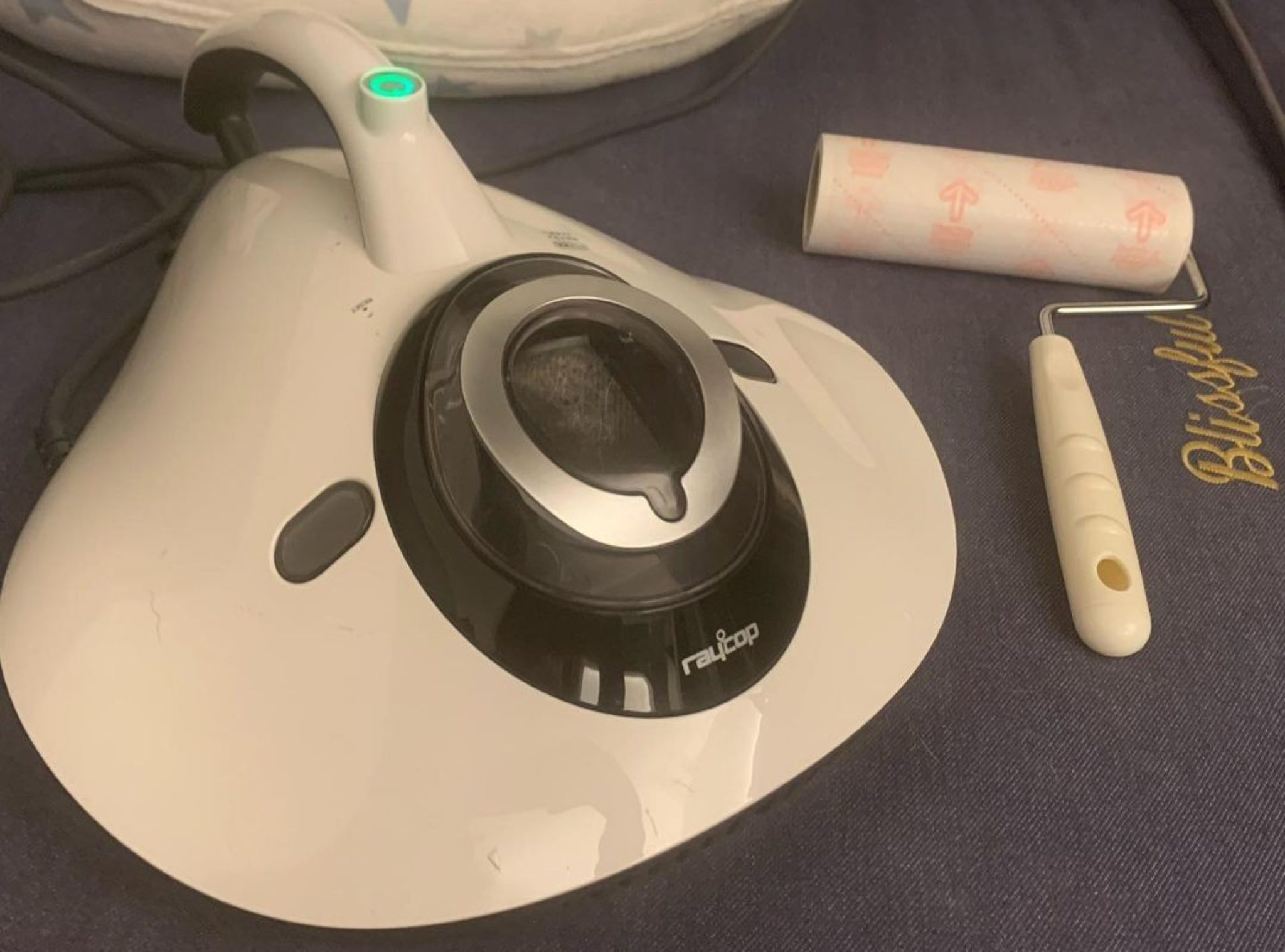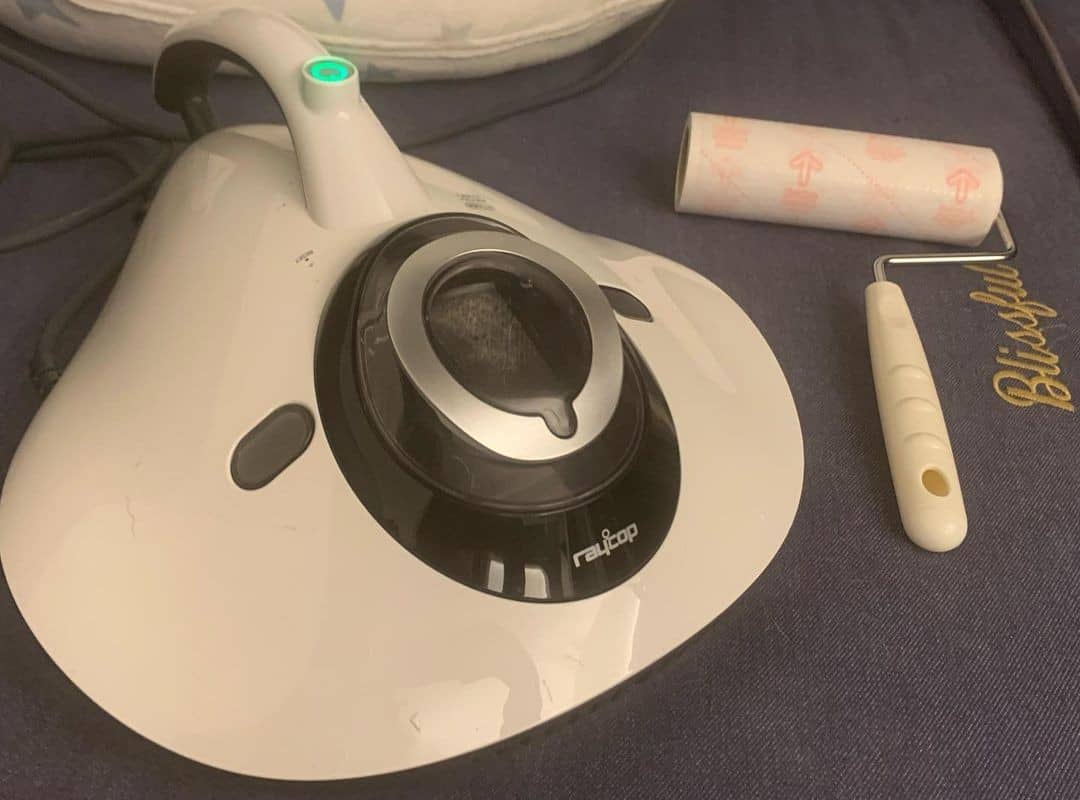 Raycop is an experienced producer of vacuums for household use. This brand is focused on developing the best cleaning equipment with the patented Rayclean technology that includes UV-C light, pulsation, HEPA clean air exhaust, and suction. Their product line is limited to cordless and handheld UV vacuums, which allows the manufacturer to focus on creating the most effective product.
Raycop light vacuum cleaner is the lightweight easily portable product with implemented patented RayClean technology that effectively removes bed bugs, dust mites, and 99.99% of bacteria. Bacteria are eliminated by UV light waves that require minimum exposure time to reach all types of bacteria on fabric surfaces. The vacuum cleaner has special pulsating pads with vibrations up to 5000 times per second that lift up dirt, mites, and bed bugs, removing them three times more effectively compared to common cleaners.
A great advantage of this vacuum cleaner is HEPA filter with a fine mesh that effectively traps all pollutants, dismantling 99.99% of bed bugs, dust mites, pet dander, and pollen that occupy the household surfaces. This cleaner helps in reducing allergens and irritations that affect your health and wellbeing.
Main characteristics:
The item weighs 4 pounds – it is an extra lightweight vacuum cleaner for bed bugs that can follow you anywhere;
HEPA filtrations system – collects and eliminates 99.99% of bacteria, mite, and bed bugs;
UV light paralyzes bed bugs and dust mites, killing harmful bacteria;
Pulsating pads – they effectively lift up and loosen particles;
Improved suction system – the product doesn't get trapped in the fabric.
Pros:
Cons:

Easily portable and lightweight;
UV light sanitizing system;
Removes allergens and pollutants;
Works with all types of surfaces;
Doesn't suck the cloth inside.

Is used only with the cord;
It can sound noisy when in use.
6. McCulloch MC1275 Steam Cleaner: High Heat Powerful Steamer
Specifications:
Color: Yellow, Black
Surface Recommendation: Floors, Tile, Windows
Wattage: 1500 Watt
Item Weight: 12 Pounds

Package Dimensions: 17.2 x 10.5 x 13.5 inches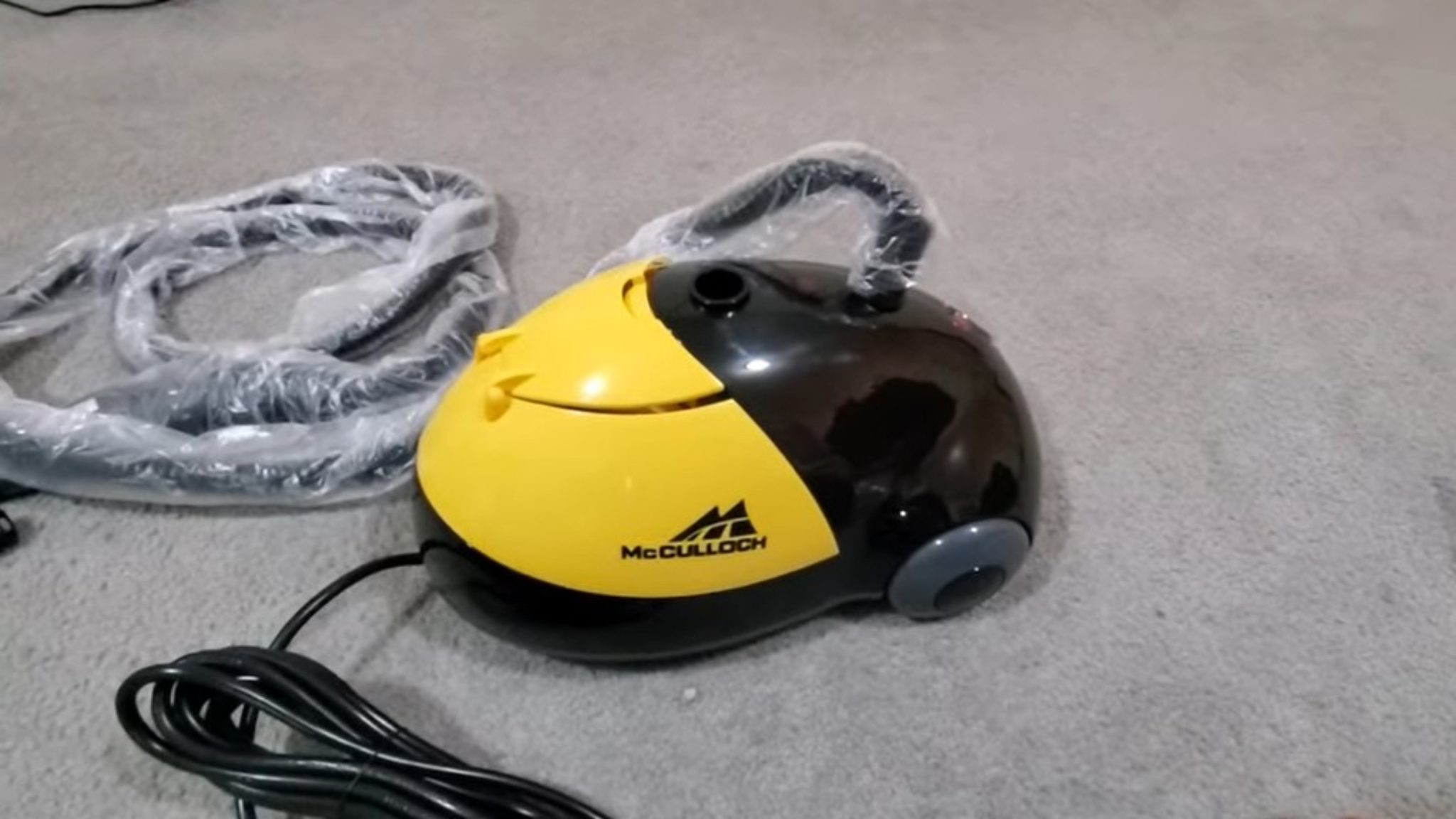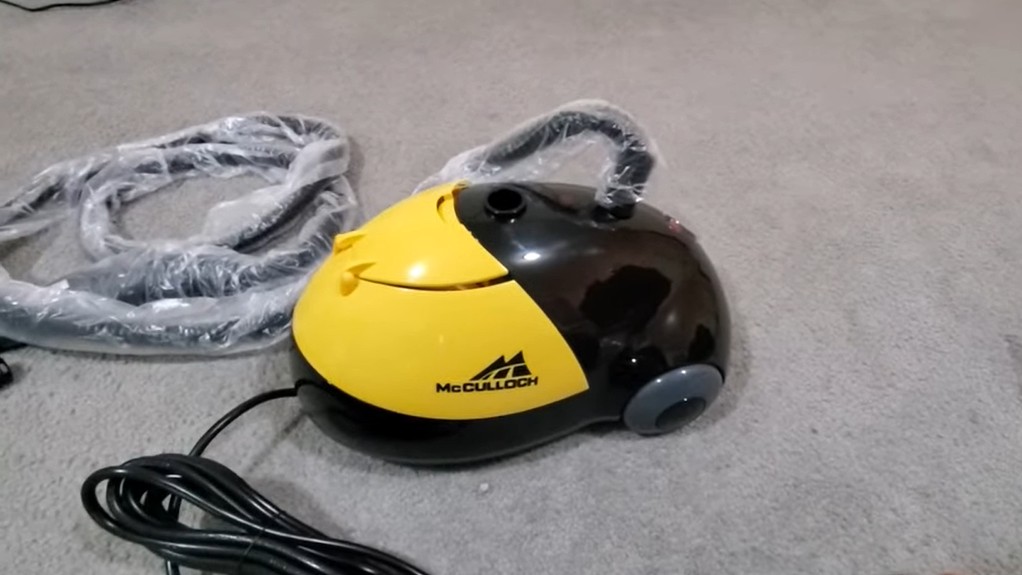 McCulloch is an experienced producer of professional equipment for workers. The brand has started from chainsaws and developed several other product lines that include grass trimmers, leaf blowers, robot lawnmowers, and steam cleaners that can be used for household care.
McCulloch MC1275 Steam Cleaner is a high-quality cleaning tool that can be applied for both professional and household use. This is one of the most popular steamers to kill bed bugs because of its high quality, ergonomic design, and chemical-free effective cleaning. It has an 18-item kit with all types of nozzles and pads that will help you effectively clean your house from bed bugs, mites, and bacteria. This cleaner is equipped for steam cleaning both inside and outside the house, working on all types of surfaces.
For non-chemical killing bed bugs with a steamer, McCulloch cleaner effectively eliminates all bugs and mites with hot steam 43 psi pressure. It can be applied on ceramics, sealed wood, cement, laminate floor, and more. 48-ounce water tank with a lockable steam trigger allows using the steam cleaner for 45 minutes. This device has an extra-long 9-foot hose and 15.7 power cord to reach all places in your house. Killing bed bugs with the steamer that heats up to 200F becomes easier because of its lightweight design – it weighs only 12 pounds and can be easily transported to the required place.
Main characteristics:
High steam rate – up to 33-37 g/min, and powerful steam pressure that can get up to 43 psi to remove the maximum amount of bugs, dust, and mites;
Power cord length is 15.7-foot – advanced construction that helps in cleaning up hidden parts and fabric of the furniture;
Extended steam hose: 9-foot long to help you reach the most distant places in your house;
A secure water tank that may accommodate 48 ounces of water;
Equipped with 18 steaming accessories.
Pros:
Cons:

Heating up time – 8 minutes;
Gets heated up to 200F;
Can be applied both indoors and outdoors;
Can be used on all types of surfaces.

Has to be left to cool down for 10 minutes before refilling;
Not the best design option.
7. Atrix VACBP1 HEPA Backpack Vacuum Cleaner for Bed Bugs: Best Backpack Vacuum Cleaner Model
Specifications:
Form Factor: Cannister
Surface Recommendation: Upholstery
Special Feature: HEPA filter
Wattage: 1400 Watt
Item Weight: 12 pounds
Package Dimensions: 20 x 12 x 9 inches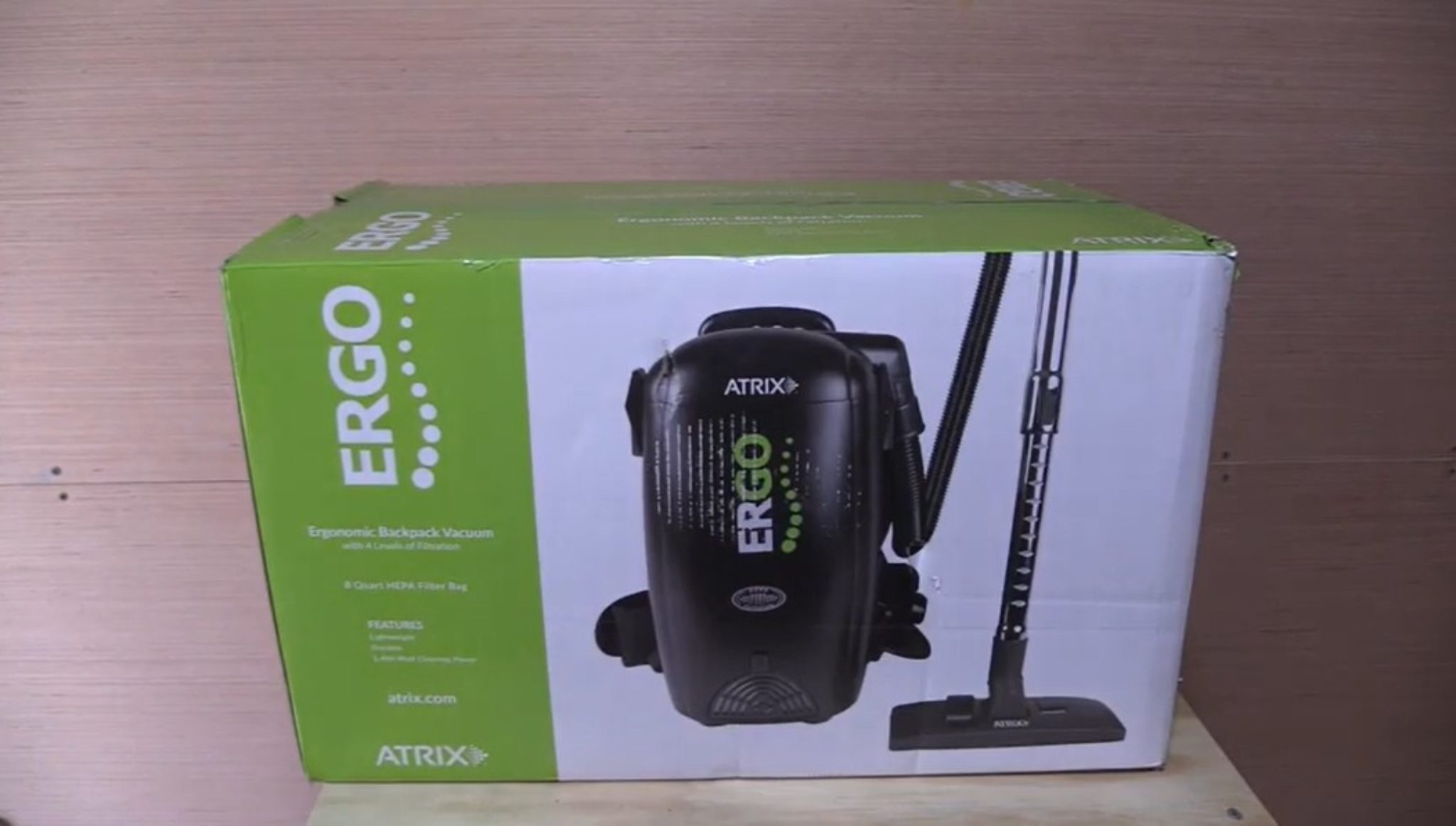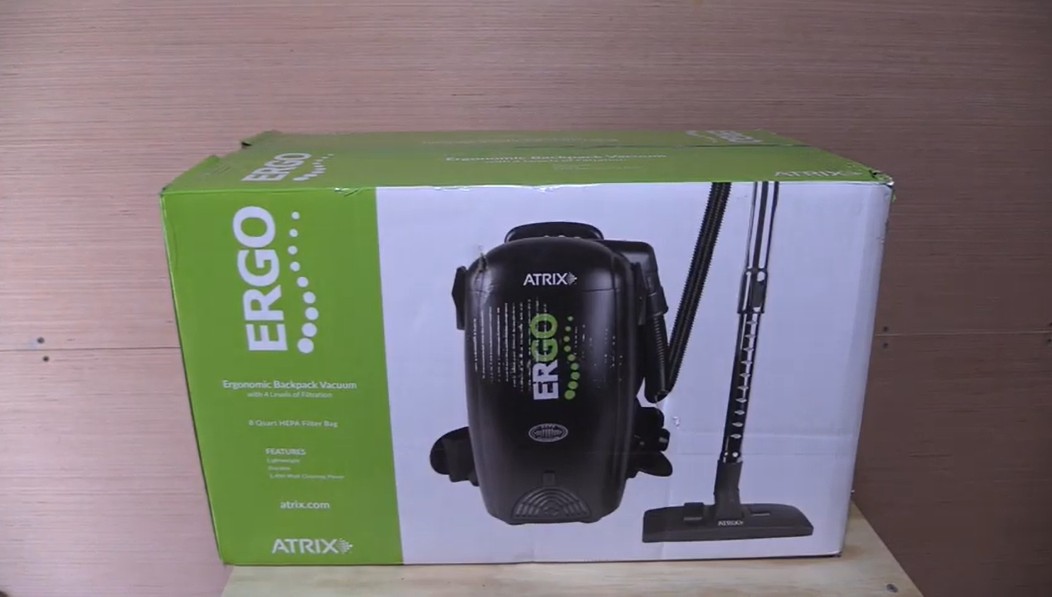 Atrix is an experienced pest control tool producer that creates professional-level vacuum cleaners. They can be easily used at home in case you need to eliminate bed bugs, dust mites, and germs from your furniture. The brand produces a developed set of vacuums, filters, and accessories for pest control, bacterial sanitizing, and air filtering.
Atrix ERGO backpack VACBP1 is an excellent choice for those who want to eliminate bed bugs with a vacuum cleaner that is both powerful and lightweight. This vacuum cleaner has a unique backpack design: no need to use handles, transporting the tool with you. It weighs 10.3 lbs and has a belt loop that fixes the cleaner comfortably on your back and stores all accessories.
This vacuum cleaner has an 8-Quart HEPA filter that safely captures all particles and bacteria. It can also be used as a blower, featuring 3 blower nozzles for comfortable work.
Main characteristics:
Useful backpack design – it is easier to use the cleaner throughout the house;
Powerful filter with 8-quart HEPA filtration system;
Applicable for outdoor use;
Effectively kills and collects bed bugs from all types of surfaces;
Has a belt loop to fix the cleaner and hold all accessories.
Pros:
Cons:

Useful backpack design;
Comfortable transportation;
Advanced filtration system;
Easily converted for use by right- or left-handed people.

Doesn't have a UV sanitizing system;
The suction can be too powerful to lift the cord from the floor comfortably.
Buyer's Guide: All Tips to Choose the Best Steamers and Vacuums for Bed Bugs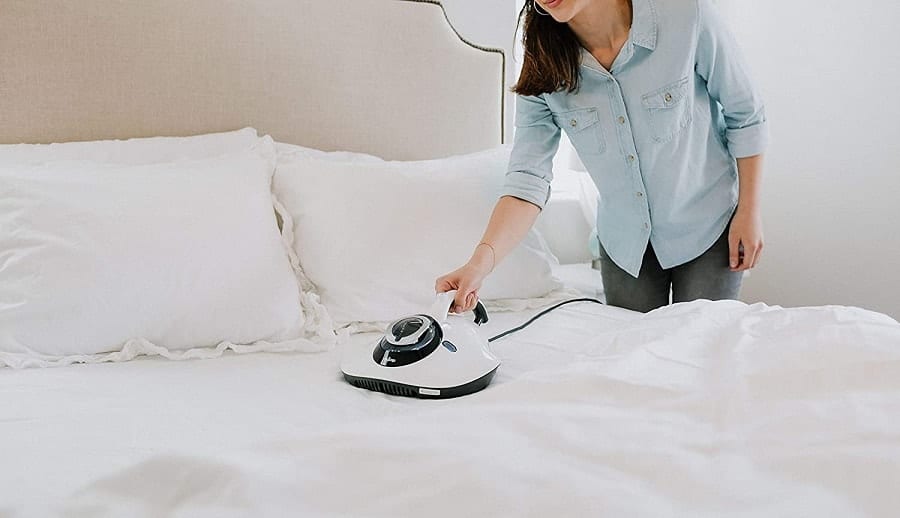 How to choose a vacuum cleaner for bed bugs? Does steam kill bed bugs effectively? What are the differences and tips for the usage of this device? Let's go through the most important facts about bed bugs management and prevention, which may help you clean the house from pests easier and in the shortest period of time.
There are two types of vacuum and steam cleaners: corded and handled cleaners. While the first items will work till a water tank or filter needs cleaning or refilling, the second type may require energy recharging. But they are more lightweight and easy-portable. If you are a supporter of easy cleaning – they are a perfect match. The corded cleaners might suit those people that require more powerful items and don't want to spend their time on battery recharging.
Related Post: Most Effective Bug Sprays Reviewed.
Steam cleaners help you kill bed bugs with high temperatures and can reach the most distanced places that you won't be able to clean up with a common cloth. It is better to choose the one with a vibration system that pulls the bugs up and those that can reach a higher temperature. For vacuum cleaners, it is better to choose more useful handled models that have a UV sanitizing system to effectively kill and slow the bed bugs.
Use your cleaner on the mattresses and sofas, getting to the most distant parts of the furniture. I recommend to apply it using the hose on the carpets, walls, and tables to find any bed bugs that may be present there.
FAQ Section about Vacuums and Steamers to Kill Bed Bugs
1. What Type of Steamer to Use for Bed Bugs?
I highly recommend choosing a high-quality powerful steamer with a minimum steaming temperature of 180F. Look for the item that has a long cord and hose to reach anywhere you need.
2. How Long to Steam Bed Bugs?
When steamed, bed bugs are killed pretty quickly, but to find as many of them as possible, you will need to steam your mattress several times. 30-45 minutes is more than enough for a double bed or a big sofa.
3. What Steam Temperature Kills Bed Bugs?
As I have already said, bed bugs are killed with 160-180F. Therefore, try to use a steam cleaner with high-temperature steam heating.
4. How to Get Bed Bugs out of Vacuum Cleaner?
Take out the filter and wash it thoroughly under the running water. I recommend you to apply washing chemicals for a better effect.



Summarizing the Review: Best Steamers and Vacuums for Bed Bugs in 2020
Working as a pest fighter, I have tested numerous steamers and vacuums that eliminate bed bugs from the household. Although there are various models with specific design, additional nozzles, and handles on the market, what really matters in terms of professional pest-fighting are the features like high-quality cleaning, sanitizing, and filtration. To help you clean your house from bed bugs by yourself, I have reviewed the best cleaners on the current market that show great results for a reasonable price. If you have already tried other models that have worked for you, please, leave the information about them in the comments.
Related Post: 5 Best Bed Bug Powders Reviewed.
When choosing your preferable device, I recommend you paying attention to such technical features as steam heating temperature, UV sanitizing system, and HEPA filtration. I also prefer the items that are easily portable, have long hose and cord. What do you think of the most important criteria related to the decision-making process? Do you prefer a steam or vacuum kind of cleaners to kill bed bugs? Share your thoughts in the comments below.
References:
Using Steamers to Control Bed Bugs (The University of Minnesota):
https://www.bedbugs.umn.edu/bed-bug-control-in-residences/steamers
Bed Bugs Management and Prevention (Karen Vail, Professor, and Pat Barnwell, Program Assistant III Entomology and Plant Pathology):
https://extension.tennessee.edu/publications/Documents/PB1763.pdf
Why You Should Trust Pest Control Hacks?
We know that pests are nasty neighbors, and it can take months to eliminate them without the right approach. Our experts use their own experience to compile articles and guides that are introductory and informative. Our authors' opinions are independent and based on the results of practical testing of pest control tools. We do not notify manufacturers of testing of their products and do not receive payment from them for posting their items. Also, our texts are never submitted to company representatives for proofreading before placement. On the site, you will find exclusively objective ratings and reviews.