Bed bugs are a common problem for many households worldwide as well as for hotels, motels, and similar facilities. I tried many methods and tools to fight them, but none of them were as effective as heaters for bed bugs.
In this article, I share my experience-based reviews of the best bed bug heaters that really deserve your attention. Here you will find devices capable of dealing with a small domestic infestation as well as with difficult cases in commercial facilities.
Pros
Kills 100% of bugs that hide within objects.
Three extension cords included by default.
Best Heater for Home Use
Pros
Kills 100% of bugs that hide within objects.
Pros
Three extension cords included by default.
Below the reviews, you can read a comprehensive guide into bug heaters that includes the explanation of this device, its main functions, and rules of the use. I also answer the most frequently asked questions about bed bug heater to make your research easier.
After reading, you will know everything about heaters and bed bugs and will be able to get rid of them successfully, independently from the complexity of the problem. Pick up the setup that meets your requirements the best and always follow bed bug heating rules to avoid reinfestation. You should learn bed bug control basics if you're new to the problem as well.



Top 5 Best Bed Bug Heaters on the Market
1. ZappBug Heater – My Favorite Portable Bed Bug Oven
Specifications:
Circuits Needed: 1
Treatment Time: 3-8 Hours
Includes: 1500-Watt Thermal Unit
Item Weight: 10 pounds
Item Dimensions: 43 x 22.75 x 24 inches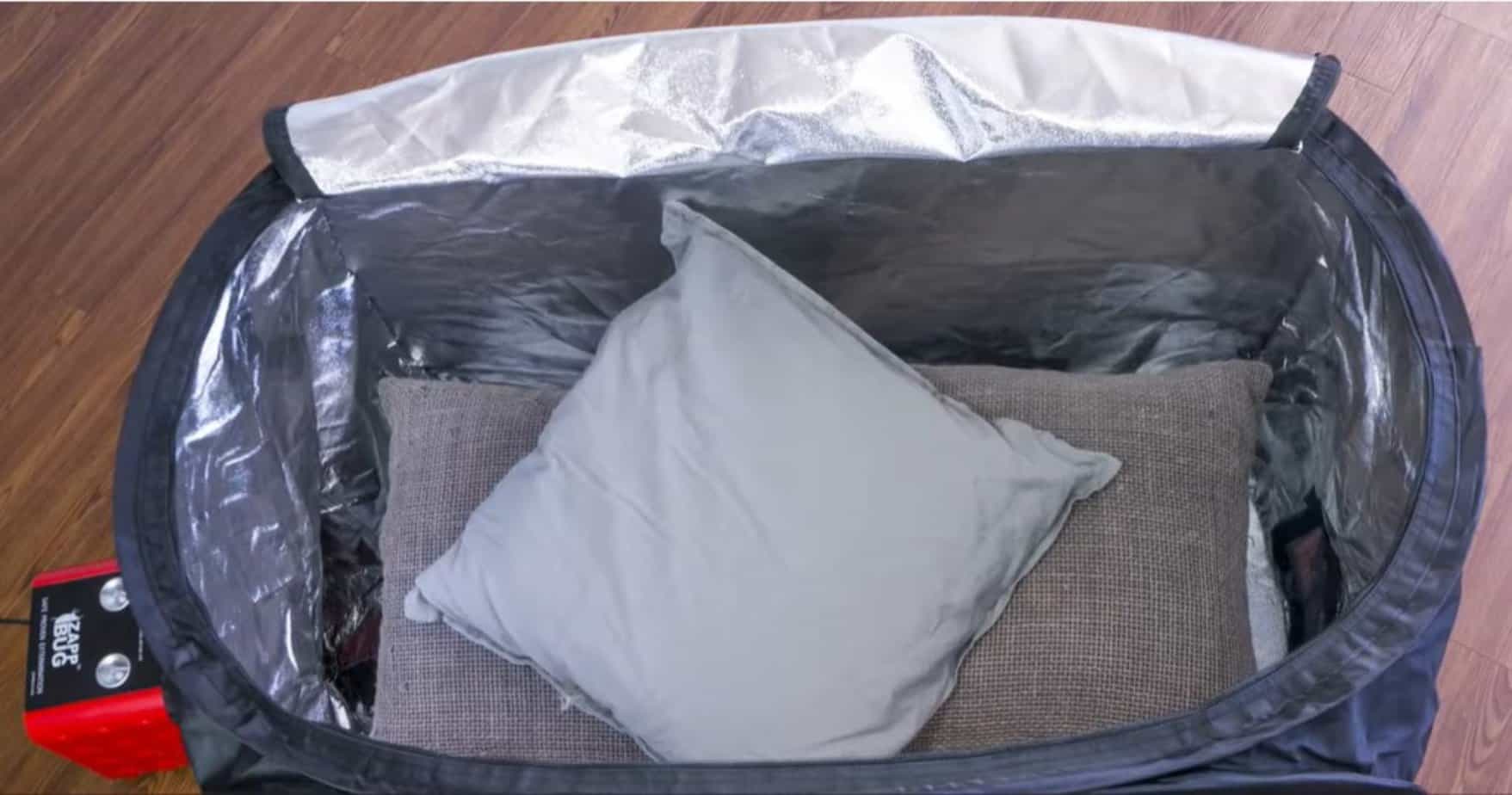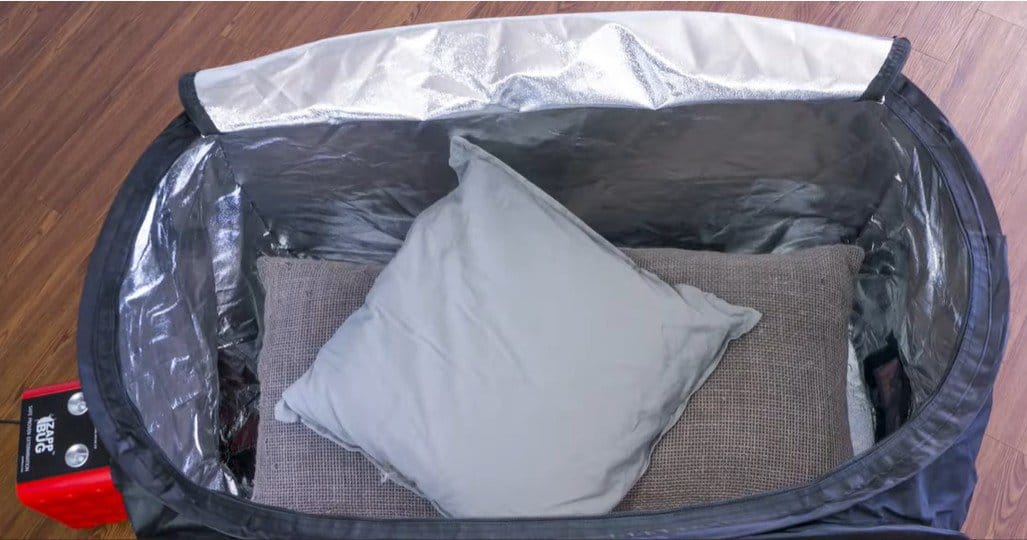 I've read multiple positive ZappBug Heater reviews, but I didn't believe that this tiny guy can deal with such strong survivors as bed bugs. This year I've finally ordered it to make a hard test. The results amazed me. This machine can really help you to get rid of bed bugs and their eggs that hide within books, sheets, papers, all types of clothes, electronics, and other belongings.
The small heat engine with a fan can heat the air within the softbox up to 155°F, which is more than enough to kill any bug and to preserve your papers, electronics, and clothes safe from overheating. The package comes with a remote electronic thermometer so that you can make sure that the temperature is high enough to kill pests.
It's a perfect solution for travelers who want to treat their clothes and luggage after long stays in hotels. You can use it in your garage to avoid letting the parasites in on your stuff. However, you should understand that ZappBug Heater is a device only for treating objects placed within a box where they stay close to each other. Always use the default 43 x 22.8 x 24-inch box that includes heat-preserving surfaces inside.
Unfortunately, it's impossible to use this kid for dealing with infestations in rooms as its heating element size is too small. Still, it's incredibly easy to set up without a companion, as well as to use, store, and carry around.
Pros:
Cons:

The most portable solution ever;
Surprisingly small price;
Easy to carry anywhere;
Kills 100% of bugs that hide within objects.

Not for treating large rooms.
2. The ZappBug Oven 2 – ZappBug Heater Evolution
Specifications:
Circuits Needed: 2
Treatment Time: 3-8 Hours
Includes: Two 1500-Watt programable
Item Weight: 21.5 pounds
Item Dimensions: 39 x 39 x 27 inches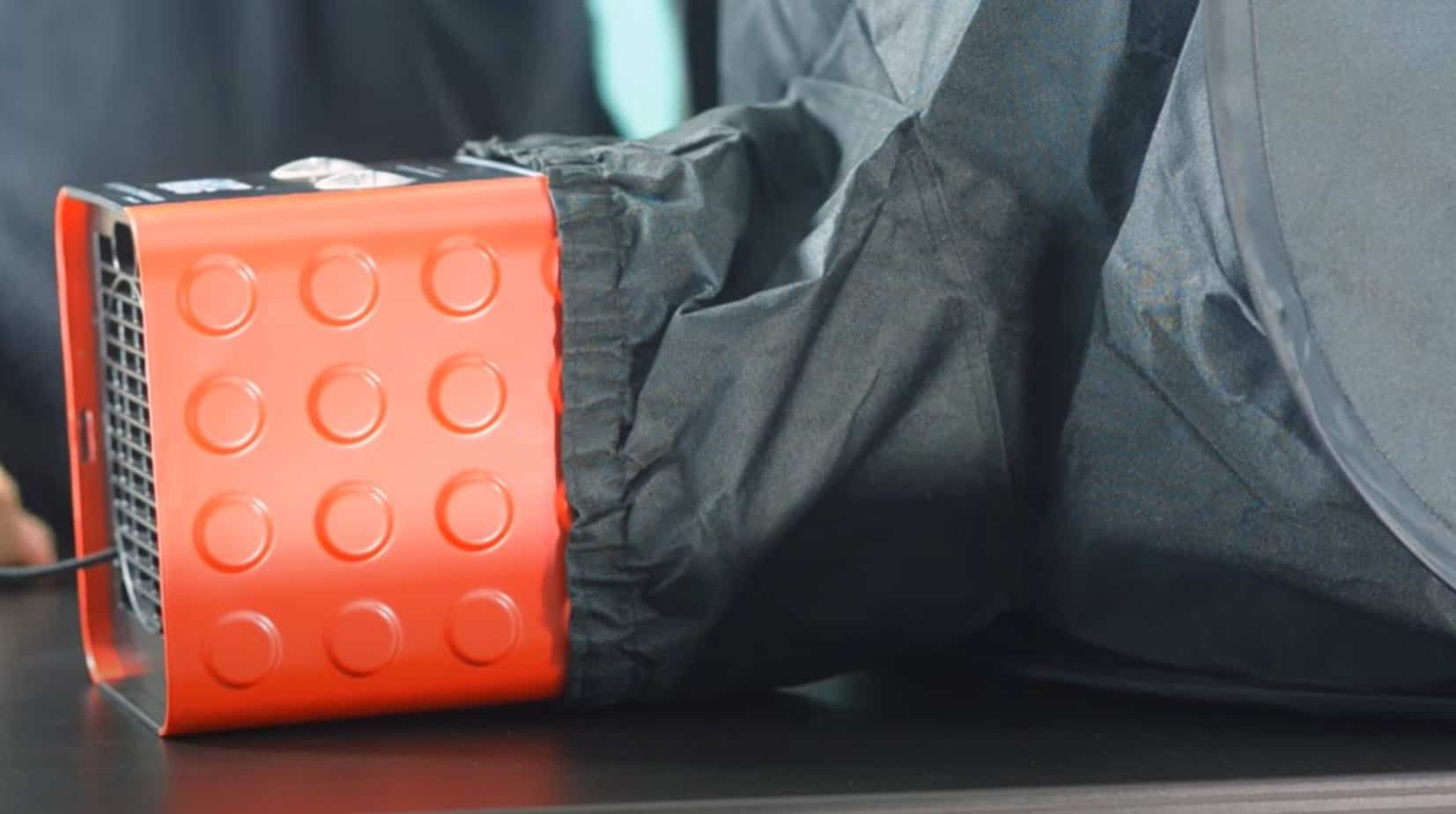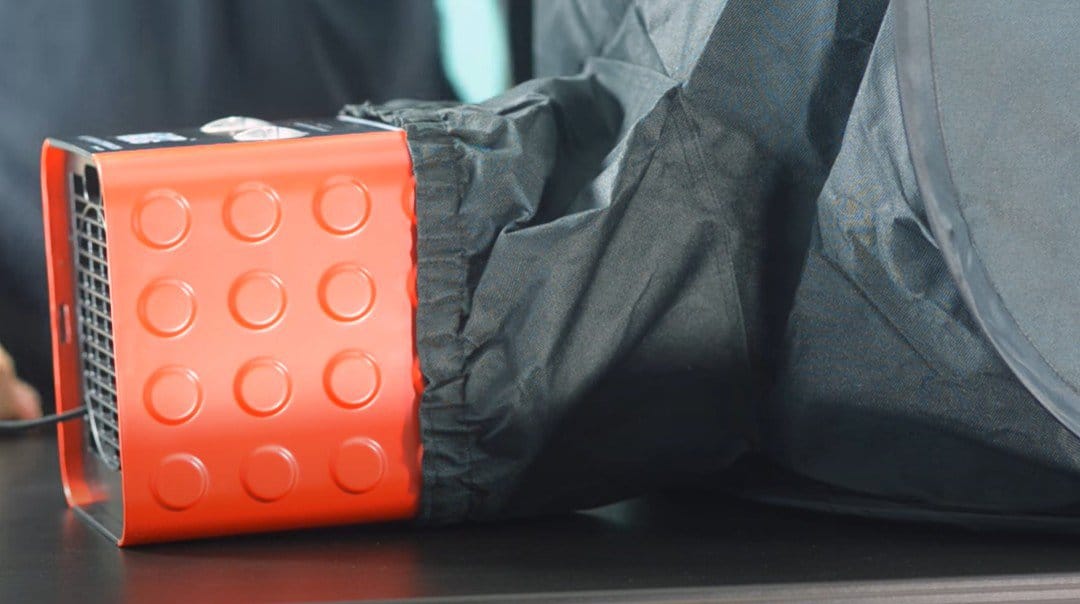 The ZappBug Oven 2 is an older brother of the previous device. It's nearly twice as big as the Heater and includes 2 heaters instead of 1. The size of the softbox is 39.5″ x 39.5″ x 28″ and lets you treat not only small electronics, papers, and clothes, but also larger objects, such as chairs, large travel bags, and other objects of the similar size.
The package comes with 2 thermal units that work independently from each other. It means that you have to consider buying it with an extra extension cable or set it up in a place with 2 outlets, 120 volts each. It also doubles the electricity consumption, which means that you should think twice as well.
Do you really have enough things to put inside for treatment? If so, this is one of the best electric bed bug heaters available on the market.
Still, it's not designed for heating up large rooms, so check out other options if you have a large infestation. You can also use this machine as a complement to a more powerful heating system. Even a large commercial heater can't get inside books that stand tight on shelves. You can't be too careful when you fight pests in your place as they can easily start the whole disaster again.
Pros:
Cons:

Large container capacity;
2 heating elements;
No toxic components;
Easy to set up alone;
Fast effect.

Requires 2 outlets or an extension cord as the heaters are separate.
3. ZappBug Room Bug Heat Treatment Chamber – Large Capacity Heater to Kill Bed Bugs
Specifications:
Circuits Needed: 4
Treatment Time: 3-8 Hours
Includes: Four 1500-Watt programable
Item Weight: 80 Pounds
Item Dimensions: 111 x 57.5 x 80 inches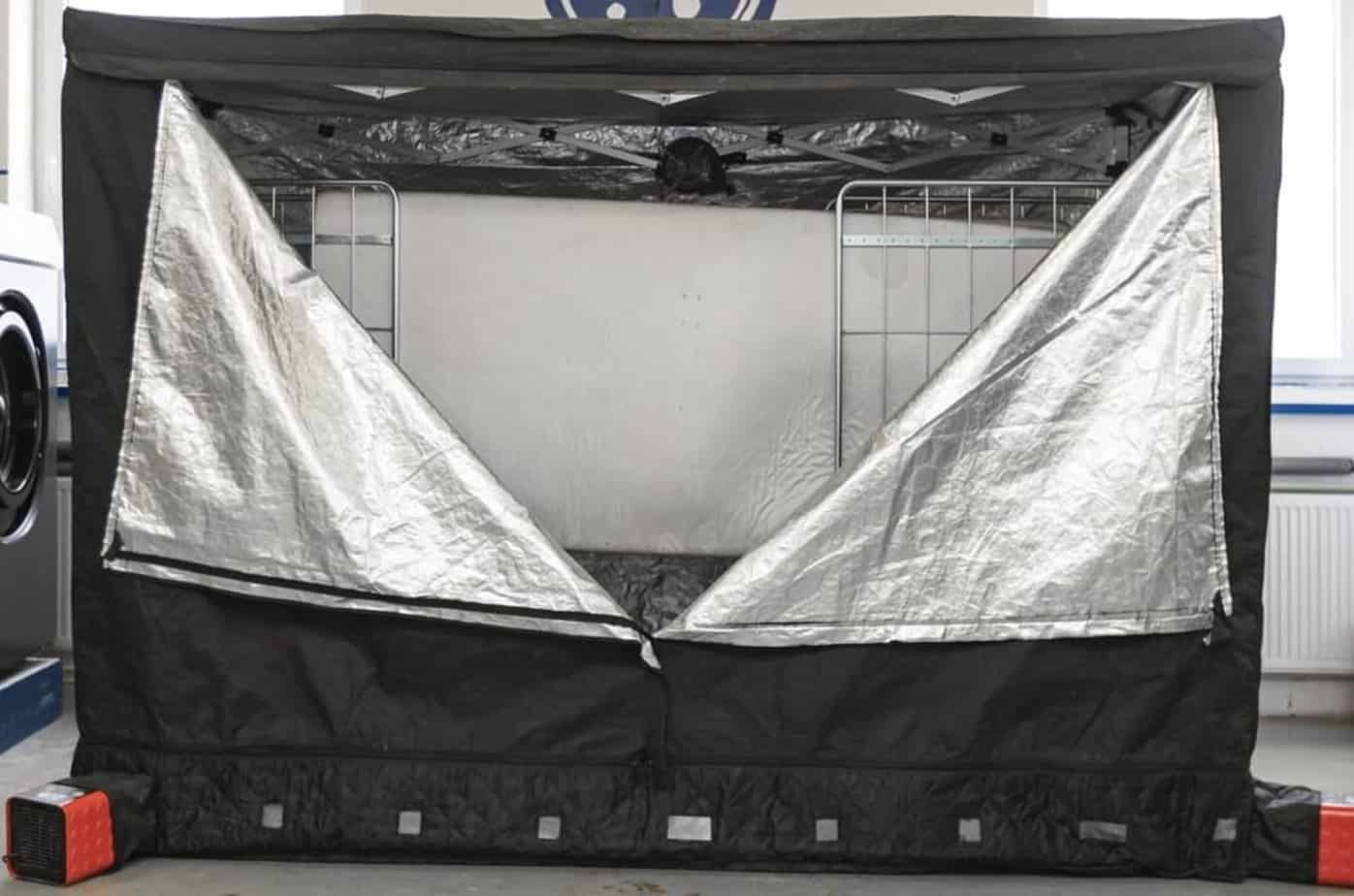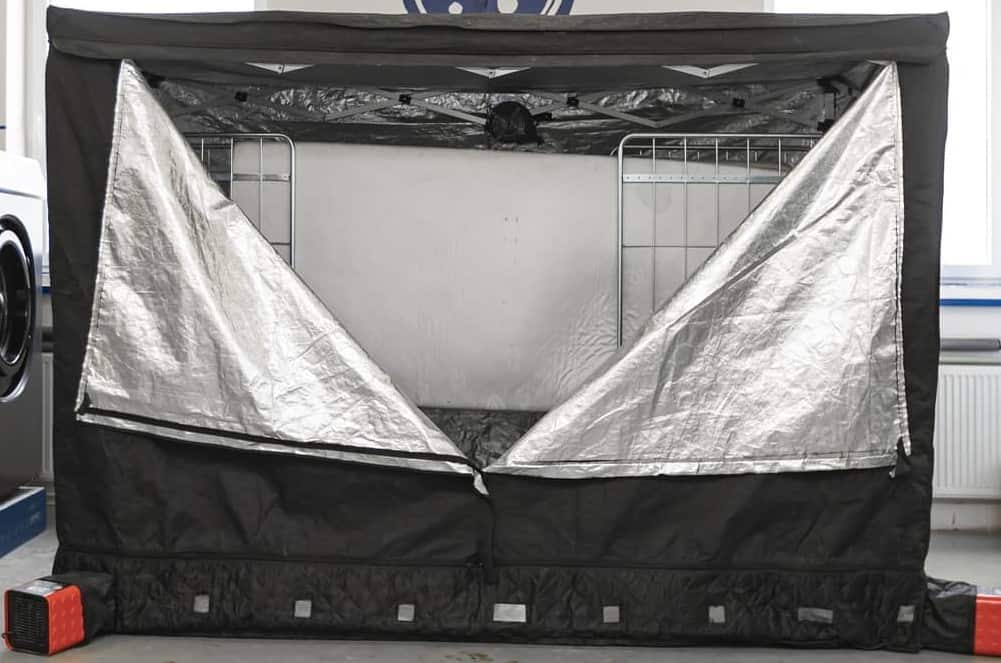 It's the third option by ZappBug that I cannot avoid is similar to the previous 2, but comes with a larger setup and as many as 4 heating elements. On the one side, it's an annoying feature as you have to manage cables to connect 4 120-volt heaters to provide the needed temperature for a huge 6.5 feet-by-9.25 feet-by-5 feet plastic chamber.
After several tests, I understood why engineers decided to use 4 engines. All of them are connected to opposite corners, which lets the air flow evenly and reach every gap. There's also an additional recirculation fan that you have to mount at the ceiling of the box to ensure even hot air circulation.
Despite a rather large amount of parts, it's easy to mount the chamber within 10-15 minutes, even if you can't ask someone for help. Using this chamber, you can treat medium furniture items, such as sofas and armchairs, cumbersome electronics like TVs, or multiple travel bags. You can easily push or roll items inside due to the foldable floor and walls. If you have multiple small objects for treatment, you can put them inside using shelves.
Prevsol Bed Bug Heater System by ZappBug is the biggest and the most effective portable bed bug heater. You can either use it at home or take along with a large commercial heater to treat furniture and other objects, while the main plant cares about the room, beds, and wardrobes.
Pros:
Cons:

Three extension cords included by default;
The tent is easy to set up;
Support blocks included;
Sturdy carrying bag.
Remote digital thermometer.

Four heating elements instead of one large.
4. Prevsol Bed Bug Heater System – Best Bed Bug Heater for Commercial Use
No products found.
Specifications:
Circuits Needed:
Treatment Time: urs
Includes:
Item Weight:
Item Dimensions:
This thermal unit by Prevsol combines the simplicity of use with high treatment efficiency. It can heat up a large room to 120°F in less than 40 minutes and can easily maintain the temperature long enough in an 800 square feet area. Of course, the electricity consumption is rather high, and the plugging setup is a bit complicated if you're a beginner, but there's nothing confusing for a professional.
Other benefits of the Prevsol's heater setup include 3 long power cords, conveniently isolated covers for water sprinklers, and a digital non-contact infrared thermometer. However, I don't quite understand why they decided to put this device instead of a remote thermometer.
It would be more convenient to seal the room and supervise the temperature from the outside. You should first ensure that the coldest point in the room is at least 120°F and seal the room after that.
Although the full setup is quite heavy, you can easily transport it to the place due to built-in wheels. Considering high mobility and coverage, it's a perfect bed bug heater solution for treating hotel rooms, small office spaces, apartments, large bedrooms, and other spaces. Prevsol Bed Bug Heater System will save you a lot of time and money. It's a powerful professional piece of professional equipment that can easily replace many cumbersome systems.
Pros:
Cons:

Powerful thermal unit can heat up to 140°F;
Safe temperature;
Covers large rooms;
Can deal with the problem in less than 8 hours;
Includes all the needed cords.

Complicated plugging system.
5. XPOWER X-35AR High Temp Axial Fan – Fan for Heaters That Reach 120 Degrees and More
Specifications:
Included Components: Cord
Mounting Type: Free Standing
Material: Plastic
Item Weight: 17.6 Pounds
Item Dimensions: 18.6 x 9.2 x 19.4 inches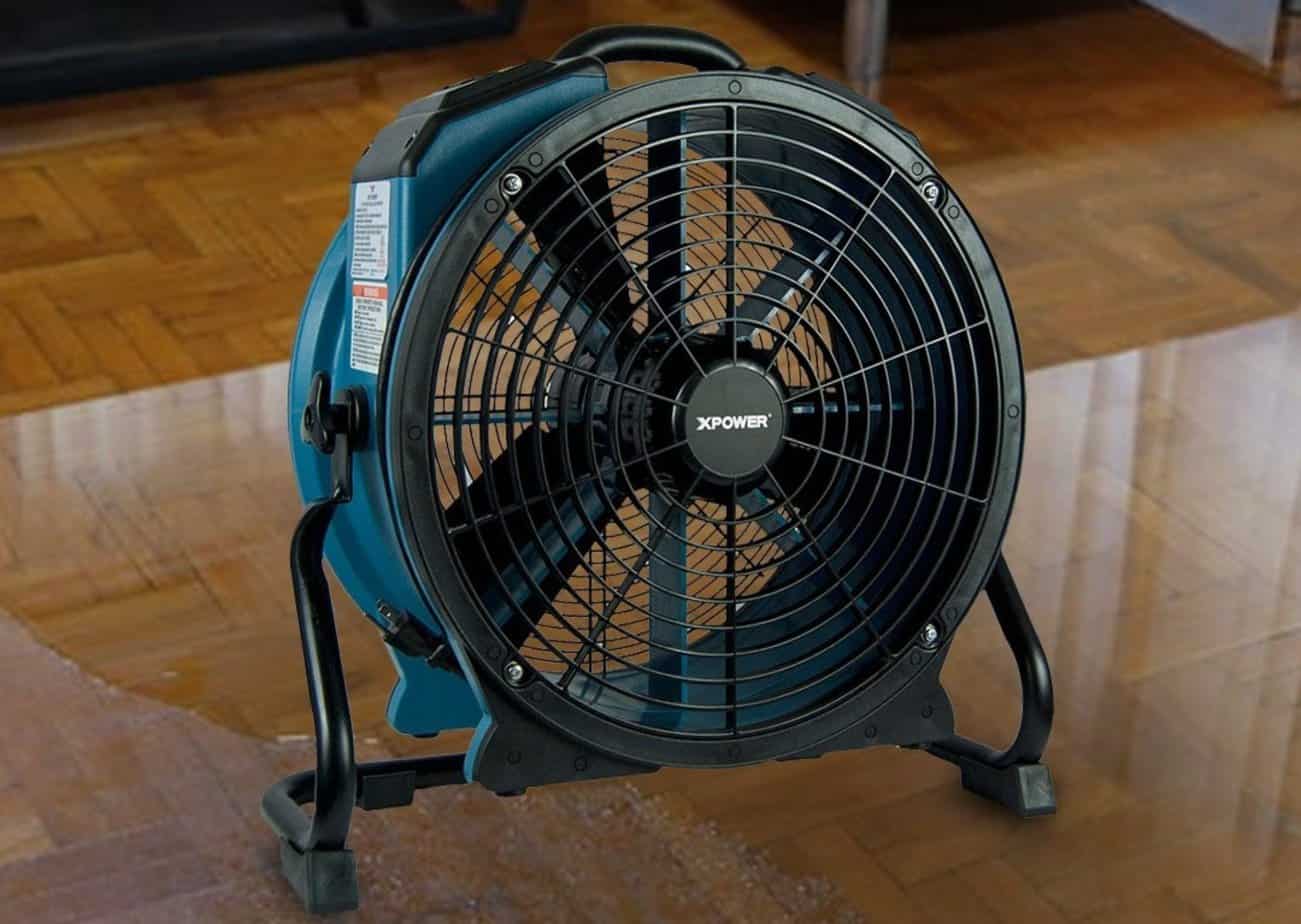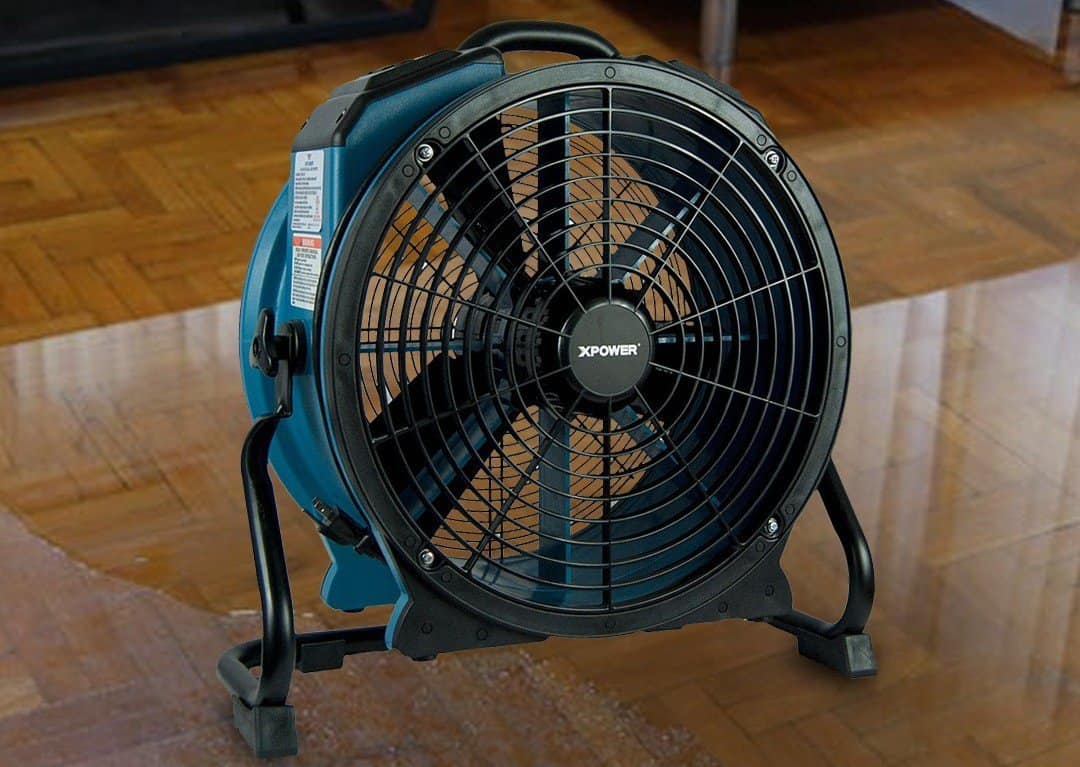 This fan doesn't include a heater, but it can be used to power up your commercial heater and help it to distribute hot air more evenly. It's made of light heat-resistant materials that can keep working in rooms heated to up to 180°F. Due to the simple stand that allows 360° rotation of the fan, you can adjust the fan to blow under any angle you need and penetrate hard-to-reach areas that are unreachable for small and medium solo units.
Despite the high rotation speed, this fan is very energy-efficient. One unit draws only 1.6 amps, which makes it a perfect add-on to any powerful thermal unit. I recommend you to use these fans in buildings with old wiring, to avoid overloading. You can lower energy consumption using a rotation speed controller.
If you add 3-4 of these fans into your commercial equipment, you can also extend your professional capabilities and use the heater to help people who restore their homes after floods. But its primary purpose is, of course, heat distribution in medium and large rooms that require broader coverage.
Pros:
Cons:

Effective hot air distribution;
Lowest energy consumption amongst competitors;
Relatively small price and discounts for packs of fans.
Lightweight design;
Heat resistant non-toxic materials.

Not useful against pests without a powerful heater.
What is a Bed Bug Heater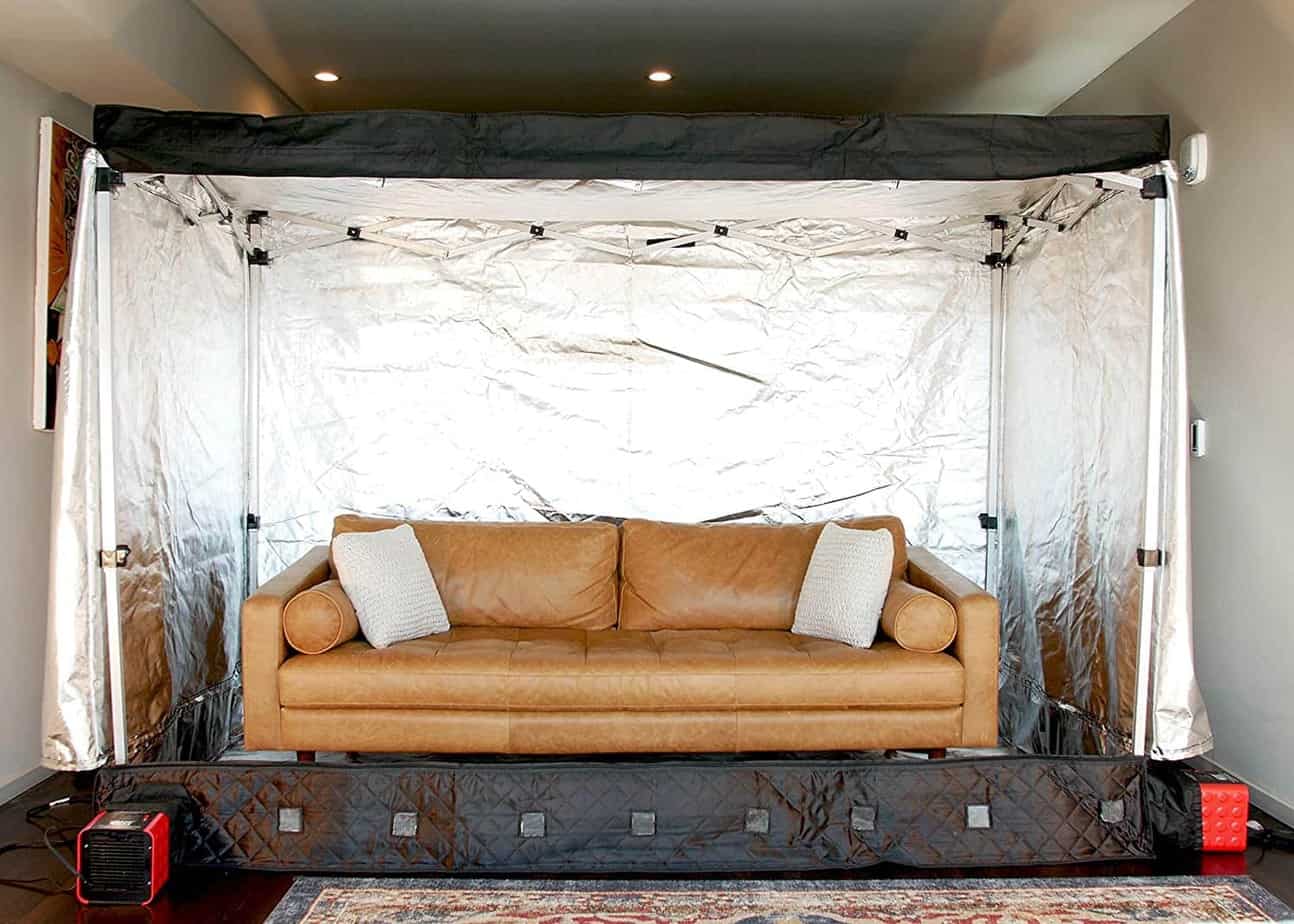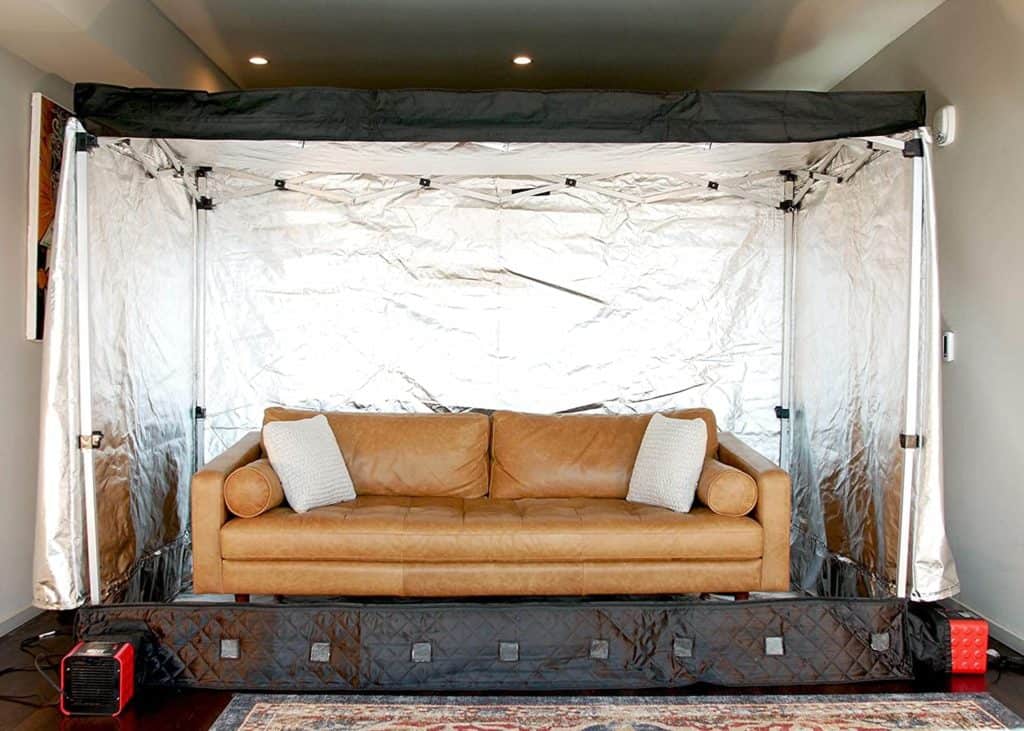 Bed bug heater is usually an electric device that consists of 3 main parts, such as a heating element, a fan, and a pipe (or a system of pipes) for direct hot air distribution. All parts of a bed bug body consist of protein, and it doesn't have any thermal protection to withstand high temperature. That's what makes heaters so effective against the parasite.
The thing is that protein cells heated to 45 degrees Celsius or more become unable to function properly and die because of heavy DNA disfunction. However, the minimum temperature of the procedure is 50 degrees, as the threshold can be different for young and adult bugs.
Heaters are a popular remedy because they let you kill pests faster than other methods. For example, using steamers is quite good against fleas and will take you hours of methodical work and loads of patience to solve the problem. It's also much safer than most bed bug pesticides as it doesn't require you to spray any chemicals. Another reason is the sustainability of bed bugs to chemicals.
Most pesticides cannot kill them completely as they learned how to get less damage, survive, and replicate to reach the initial number of specimens.
How to Use It
To use a heater properly, you have to get acquainted with the purpose of your particular model and know the maximal area it can cover alone. You should give preference to the one that can fill your infested room with hot air evenly. Next, you have to put it in the right place to ensure that hot air doesn't heat up just a single corner.
That's why I always take a heater and several fans to distribute the same amount of hot air around the entire area. Use corners and walls to reflect and divide streams and try to reach the most even convection possible. Even heaters that reach 120 degrees cannot guarantee that every corner is heated well enough if you don't apply additional fans.
Another important step is to move all nightstands and cupboards and wardrobes at least 1 step away from walls. Otherwise, you provide bugs with an opportunity to escape the heat. For a better effect, open all drawers and wardrobe doors to the air in and leave all clothes and laundry inside.
When the setup is ready, switch the heater and fans on and close the door. Ensure that all windows and ventilation are closed too. You can treat the vent system separately. Finally, don't let children, animals, and anyone else open doors while the procedure is in process.
What to Look for When Picking a Heater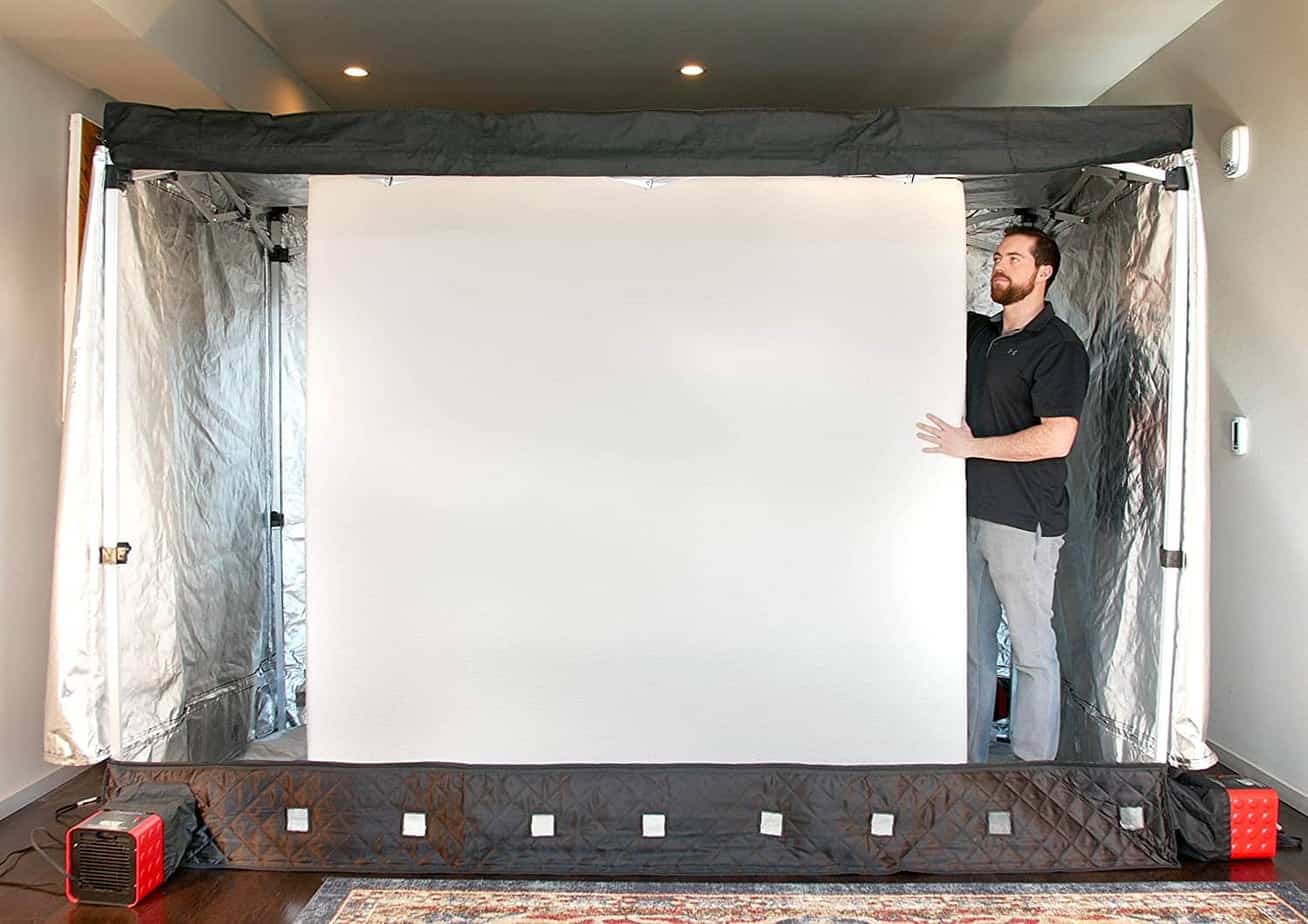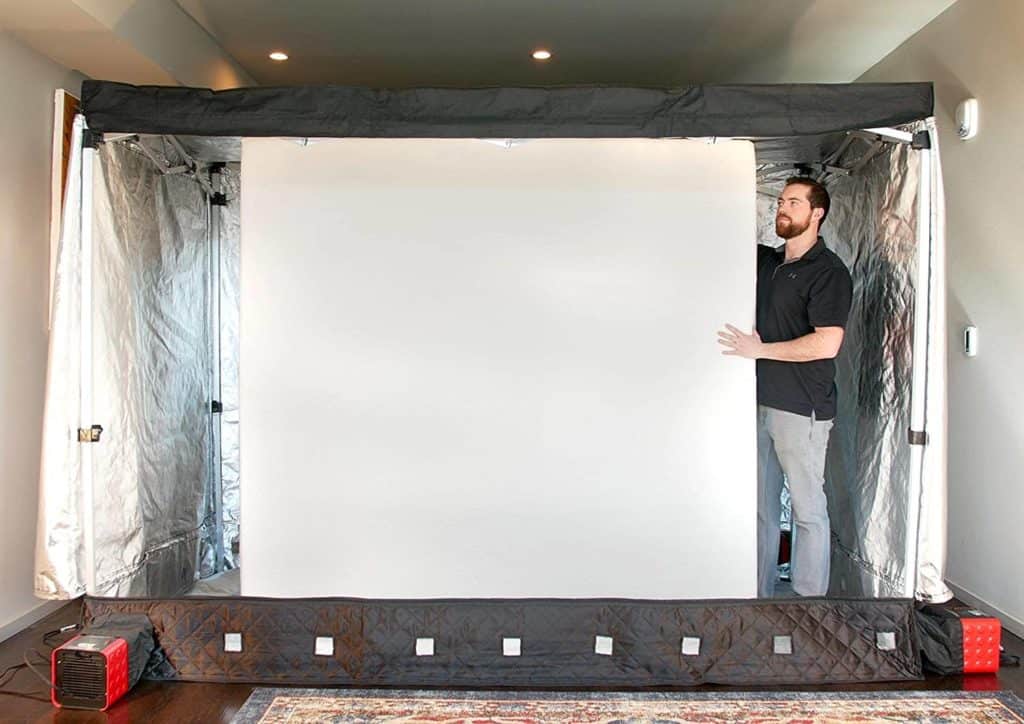 There are several types of bed bug heaters, but their main differences are usually size, ergonomics, maximal temperature, and the size of rooms they can cover. To make a deliberate choice, you have to divide the process into several steps.
First of all, you should measure your space. Every heater on the market has coverage limitations. If you are going to get a large one, you also have to ensure that your breakers can handle such a heating system. The math is simple here. You can't plug a 50 amp heater into a 15 amp outlet, but you can use a 30 amp setup with 30 and 50 amp outlets without problems.
Now you have to choose add-ons. Most heaters include built-in fans for moving air, but not all. Built-in fans may also appear not enough for effective room treatment, so think about purchasing or renting additional fans to cover large spaces. If you do, you may also need additional cords to extend the reach within a large room.
If you need a power distribution kit, choose the one that has the same voltage and amperage that your heater and fans have. Fortunately, all reliable heaters come with long suitable cords and connection instructions on YouTube.
Related Post: Hot Shot Bed Bug Fogger Review: Does It Work?
Where May Bed Bugs Hide
Bed bugs are the type of insects that are very well-adapted to surviving in immediate proximity to humans. But unlike cockroaches and rats, they really want to get under your skin, and your bed is the best place to attack you. Although it sounds easy to find them, it's actually not at all. Bed bugs can hide not only amongst your sheets but virtually inside anything.
First, they hop onto your clothes in a public place or a hotel, then jump off when you come home, and start breeding. If you don't stop the infestation on time, they can settle down in your books, any cracks in the wood, in electronics, toys, carpets, and, of course, your bed is the final destination.
It's very easy for them to hide there and survive for years until you apply the proper treatment. In early stages, a simple home bed bug heater will be enough. However, if the problem is harsh, you can't go without professional help.



FAQ
1. How much is a bed bug heater?
Small portable and home devices can cost from $250 to $450. Prices for more powerful setups fluctuate from $1500 to $4000. Large commercial heaters that are used for killing pests in multiple rooms at the same time cost around $30,000-$40,000.
2. How long does it take for a bed bug heater to kill bed bugs?
Everything depends on the temperature that your heater can provide. If it provides minimal 45-48°C, the successful treatment of an area will take around 90 minutes. However, I don't heat a room for less than 9 hours for a comprehensive result.
3. How hot it should be to kill bed bugs?
Pests exposed to 45°C (113°F) reach 100% mortality when they're heated for 90 minutes or more. The same time is required to kill 100% of eggs, but the temperature must be at least 48°C (118°F). You can raise the temperature if your particular heater module lets you do it.
However, it doesn't guarantee that you'll get rid of parasites notably faster. Though it will be a significant difference if you have to work in a commercial facility and process many rooms. It's also recommended to set the highest safe temperature to raise the chances to kill pests that hide deep.
Sleep Well
Now you have enough knowledge to select the best equipment based on my bed bug heater reviews and explanations. It's possible to solve problems of any difficulty if you follow the key principles unless you don't have time to deal with them on your own. If this is the case, I'd recommend you call a trusted professional.
Did my article solve your problem? Or maybe you want to add something and offer your own review of a heater? You're welcome to add value to the post in the comments section below. And don't forget to share the article with people you know, if they're facing a bed bug problem.
Why You Should Trust Pest Control Hacks?
We know that pests are nasty neighbors, and it can take months to eliminate them without the right approach. Our experts use their own experience to compile articles and guides that are introductory and informative. Our authors' opinions are independent and based on the results of practical testing of pest control tools. We do not notify manufacturers of testing of their products and do not receive payment from them for posting their items. Also, our texts are never submitted to company representatives for proofreading before placement. On the site, you will find exclusively objective ratings and reviews.