Today, I would like to talk about small, usually brownish, oval insects that I like to call "tiny vampires" — bed bugs. Despite the fact that bed bugs cannot fly, they are one of the most dangerous and annoying pests. Bed bugs are of small size and move very quickly. In addition, people that have ever faced them know that it is really hard to get bed bugs out of the house.
These insects can hide absolutely everywhere, starting from the suitcases and baseboards and ending with the small, hard-to-reach gorges between furniture. Bed bugs feed only on blood, so they live close to people.
As a rule, these insects only require about 5-10 minutes to engorge with blood, after which they hide for several days in a secluded place to digest food and lay eggs. By the way, one female lays hundreds of eggs at a time!
Bed bugs are carriers of many problems and inconveniences, they also can be a cause of different allergic reactions. This is why today I want to tell you about one of the most effective ways to deal with bed bugs — sprays. They can easily penetrate into various crevices and inaccessible places.
Also, we will talk with you about how to use these sprays correctly and whether they are harmless to people. I hope that my advice will be useful, and you will find the most effective bed bug spray. So, if you are interested in this topic, read on!



Top 7 Best Bed Bug Sprays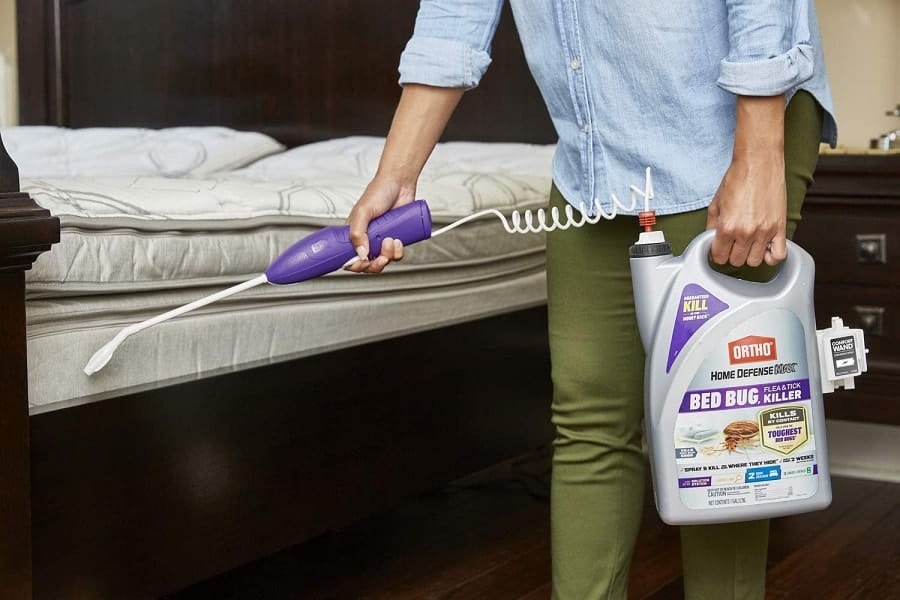 Before we continue, I want you to understand the principle of bed bug treatments. There are many ways to deal with bed bugs, ranging from folk remedies to chemical ones. I am committed to the second method, as I consider it more effective in combating these insects. There are several chemical methods:
Personally, I like sprays the most. And there are several reasons for this:
they can be used in the house;
one of the safest ways for people;
easy to buy.
Also, there is another, no less important factor. As I wrote above, bed bugs often like to hide in very narrow and inaccessible places. Let's be honest, for a human, it's almost impossible to get there. But, if you are armed with a spray, worry no more!
1. Best Bed Bug Spray: Bedlam Plus 17 oz
Specifications:
Item Volume: 17 oz
Item Form: Spray
Item Weight: 1.3 Pounds
Product Dimensions: 10.51 x 3.86 x 2.6 inches
Target pests: Bed Bugs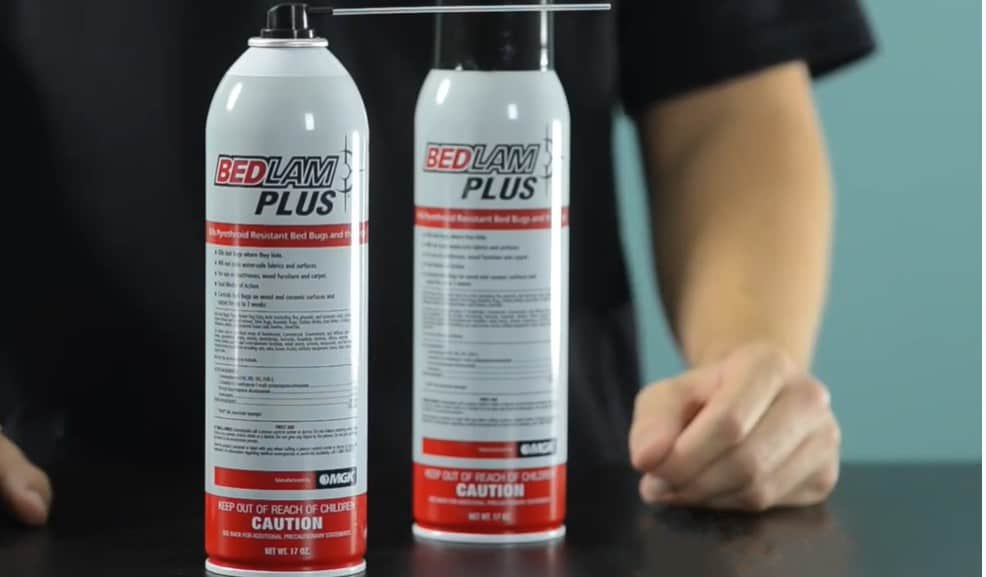 This is my favorite spray and the strongest bed bug killer that I have ever tested. Plus 17 oz spray is sold by Bedlam. Most probably, you have not heard about this brand before.
The company was established not so long ago, therefore, it does not have a large network of distributors or ads. When I first tried this spray, I was really skeptical about the result. But it definitely exceeded all my expectations!
Firstly, it is completely safe for all fabrics and materials for which water is safe. Secondly, you can use it with mattresses, carpets and wooden furniture. Thirdly, the spray contains 2 active ingredients to enhance the effect.
Although Bedlam claims that two weeks is enough to completely remove all bed bugs, in my case, I managed to do it in 10 days. And the first instant result was in a couple of days. Press the button below to check the availability and price of the most effective bed bug spray.
Pros:
Cons:

For use on various fabrics and other materials;
Two active ingredients;
Kills all bed bugs in the short term.

Due to high demand, it is often out of stock.
2. Professional Bed Bug Spray: Tempo Ultra SC
No products found.
Tempo is one of the most famous bug spray sellers with high-quality home tools and various insect repellents in their assortment. Several months ago, my friend recommended that I try Ultra SC. He works in the pest control company, so his recommendations are valuable for me.
As a rule, people ask such companies for help in the last turn, when none of the methods helped, because the house after disinfection becomes unsuitable for people for a couple of weeks. However, Ultra SC is one of the few professional tools that can be used in houses or flats where people live.
Tempo US Ultra is highly concentrated, therefore, it is recommended to ventilate the rooms very often while using it, and after spraying, you should go out for a couple of hours. The remedy is only sold in the big bottles, so the price is around $30. But for a professional spray, it is not too high.
Pros:
Cons:

Meant for professional use;
Can be used indoors and outdoors;
Manufactured by Bayer.

Not eco-friendly;
Small bottles are quickly sold out, so, as a rule, only large ones remain.
3. Best Natural Spray: Bed Bug Killer by EcoRider
Specifications:
Item Volume: 16 Fluid Ounces
Item Form: Spray
Item Weight: 1.2 Pounds
Product Dimensions: 3 x 4 x 10 inches
Target pests: Bed Bugs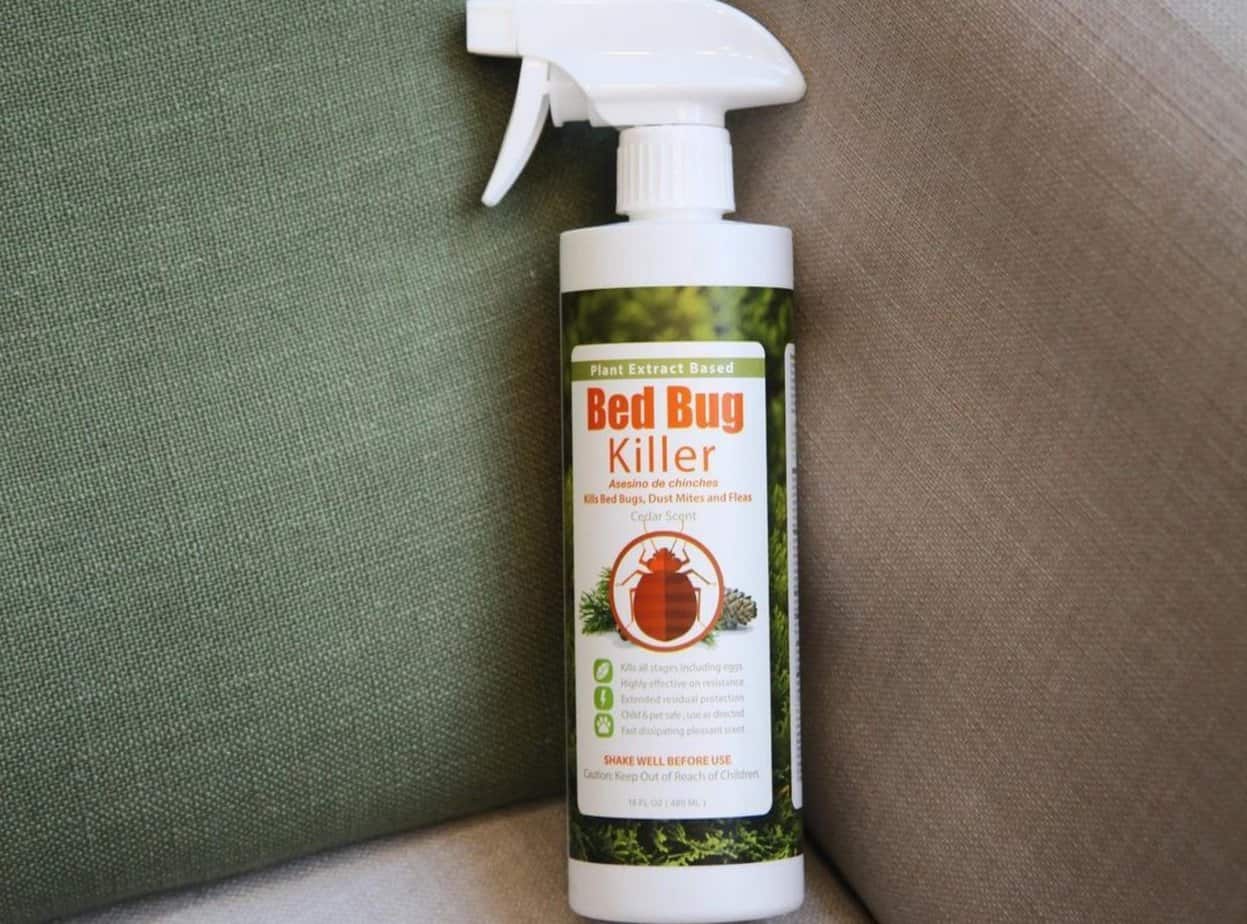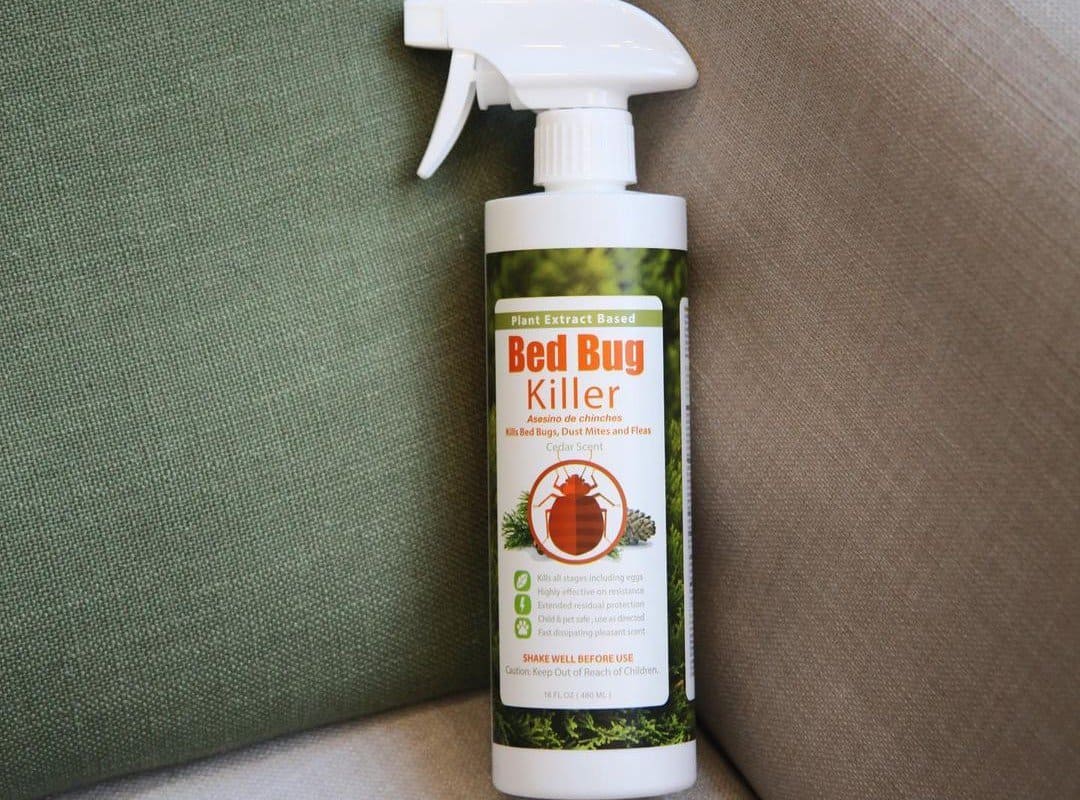 One of the cons I mentioned in Tempo Ultra SC reviews was it's not eco-friendliness. Because of this, it may seem that all sprays against bed bugs are dangerous for the environment. However, this is not at all true. BedBug Killer by EcoRider is completely non-toxic. There are numerous surveys that confirm this, among them:
experiments by several universities published in Journal of Economic Entomology;
USDA IR4 PHP Program;
recent research by Rutgers University.
If you have doubts or want to know more about the surveys that prove this spray's eco-friendly, you can google it. The Bed Bug Killer spray was manufactured by EcoRider, a large American company that specializes in products against various insects, such as bed bugs, ants, roaches, and mosquitos.
You can buy one bottle or a pack of them. Also, the size of the bottle also varies. Therefore, the price is very flexible and depends on these factors.
Pros:
Cons:

Manufactured by a well-known company in the field;
There are several buying options;
Eco-friendly.

The price is above average;
Not shipped to all countries.
4. Best Good Smell Spray: HARRIS Bed Bug Killer Spray
Specifications:
Item Volume: 128 Fluid Ounces
Scent: Unscented
Item Form: Spray
Item Weight: 1 pounds
Product Dimensions: 1 x 1 x 1 inches
Target pests: Bed Bugs
As a rule, all chemicals do not smell very nice. For some, this may not be important at all as the main thing is a result. However, if the smell of the product you purchase is important to you, I advise you to buy Bed Bug Killer. It is a completely odorless spray with a killing formula for the bed bugs.
Moreover, this remedy can kill not only mature insects but also their eggs. Remember, I mentioned above that one bed bug female can lay hundreds of eggs at a time?
Similar to Tempo Ultra SC, it is often sold in big-sized bottles. Bed Bug Killer spray by HARRIS is completely approved for use in homes with people and pets by the Environmental Protection Agency (EPA). By the way, the company often offers discounts. So, you can buy it at a very affordable price. For example, at the time of writing, the discount was 11%.
Pros:
Cons:

Can be used in homes with people and pets;
Odorless;
Frequent discounts.

Sold only in big bottles;
Quite expensive.
5. Spray to Get Rid of Bed Bugs Very Fast: PT Alpine Flea & Bed Bug Pressurized Insecticide
Specifications:
Item Volume: 20 Fluid Ounces
Item Form: Spray
Item Weight: 1.2 Pounds
Product Dimensions: 11.4 x 2.7 x 2.6 inches
Target pests: Bed Bugs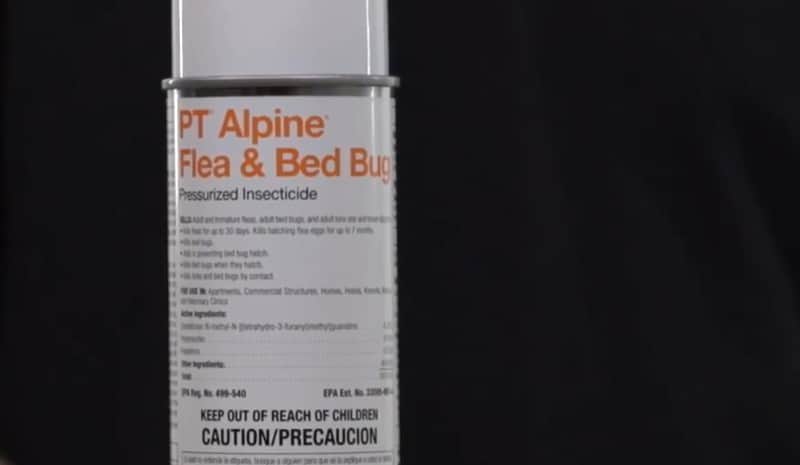 This spray is effective not only against bed bugs, it also kills other insects. As a rule, the causes for insects indoors infestation are very similar. Therefore, if you have ants or cockroaches, then it is more likely that after some time, other insects may appear.
PT Alpine Flea & Bed Bug Pressurized Insecticide helps you kill the existing bed bugs and prevent the appearance of new ones by killing their eggs.
Among the advantages, it is worth mentioning that the spray is completely safe for pets and people. Also, despite the small size of the bottle (only 20 ounces), this spray is quite enough for the territory of more than 2,500 square feet. PT Alpine Flea & Bed Bug Pressurized was manufactured by the German chemical company BASF SE.
By the way, it is the second largest chemical producer in the world. Hence, do not doubt the quality of PT Alpine Flea & Bed Bug Pressurized.
Pros:
Cons:

Manufactured by one of the largest chemical producers in the world;
High-quality;
Kills the bed bugs within several days.

No official warranty;
Sold out very quickly.
6. Great Bed Bug Killer Bundle & Commercial Bed Bug Spray: HARRIS Bed Bug Killer Value Bundle Kit
Specifications:
Scent: Unscented
Item Form: Gel, Spray, Powder
Item Weight: 15.8 ounces
Product Dimensions: 12.2 x 8.7 x 6.2 inches
Target pests: Bed Bugs
This is the last item on my list. At the beginning of the article, I wrote that there were different means of fighting against bed bugs. Among them, gels, sprays, powders, and traps. I also wrote that, in my opinion, the most effective way to kill the bed bugs and their eggs were sprays. But nothing prevents you from combining all the means to enhance the effect. That is why I added in my list the bundle kit that includes:
Liquid: Harris Resistant Bed Bug Killer, 32oz;
Aerosol: Harris Resistant Bed Bug Aerosol, 16oz;
Powder: Harris Bed Bug Silica Powder, 8oz;
Trap: Harris Bed Bug Glue Traps, 4 Pack.
The bundle kit was manufactured by an American company named Harris. It has more than 55 various products to kill the insects of various types: roaches, bed bugs, stink bugs, and even scorpions.
Pros:
Cons:

Four remedies in one kit;
High-quality;
Manufactured by the company specialized in insect killers.

A bit pricey;
Beware of the fakes.
7. The Remedy With Tons of Positive Bed Bug Spray Reviews: Ortho Home Defense Max Bed Bug
Specifications:
Item Volume: 1 gal
Item Form: Spray
Item Weight: 9.43 pounds
Product Dimensions: 4.88 x 8.95 x 12 inches
Target pests: Bed Bug, Flea, Tick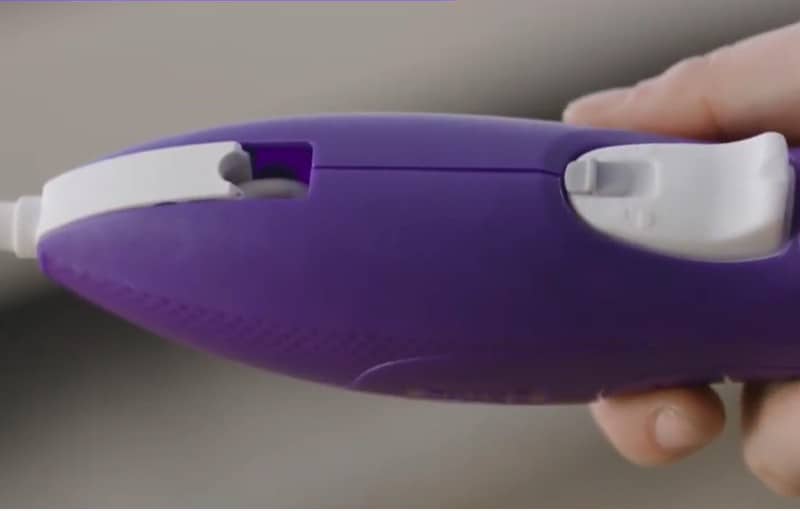 People often ask me how I find sprays for testing. The answer is very simple: usually, my friends who also study harmful insects advise me to try a particular product. The second source is various specialized magazines or sites. Very rarely, I decide to buy or test the spray after reading the reviews on the Internet or seeing nice packaging.
Amazing but it was the case with Ortho Home Defense Max Bed Bug. Before the purchase, I came across its reviews on various sites and forums several times in a row. People strongly advised it and named it the "most effective commercial bed bug spray". When I tried it, the result exceeded all expectations!
This spray kills bed bugs, their eggs, fleas, and ticks within a couple of days. You can even use this remedy as a spot treatment around bed frames and mattresses.
Ortho Home Defense Max Bed Bug is a concentrated spray. Due to this, it can kill even pyrethroid-resistant bed bugs. But, at the same time, the spray can also be harmful to sensitive people. Therefore, I highly advise you to go out for a couple of hours after spraying it indoors.
Pros:
Cons:

Highly concentrated for killing even the toughest bed bugs;
Affordable price;
Several options for buying.

Can be harmful to humans.
Buyer's Guide About Best Bed Bug Insecticide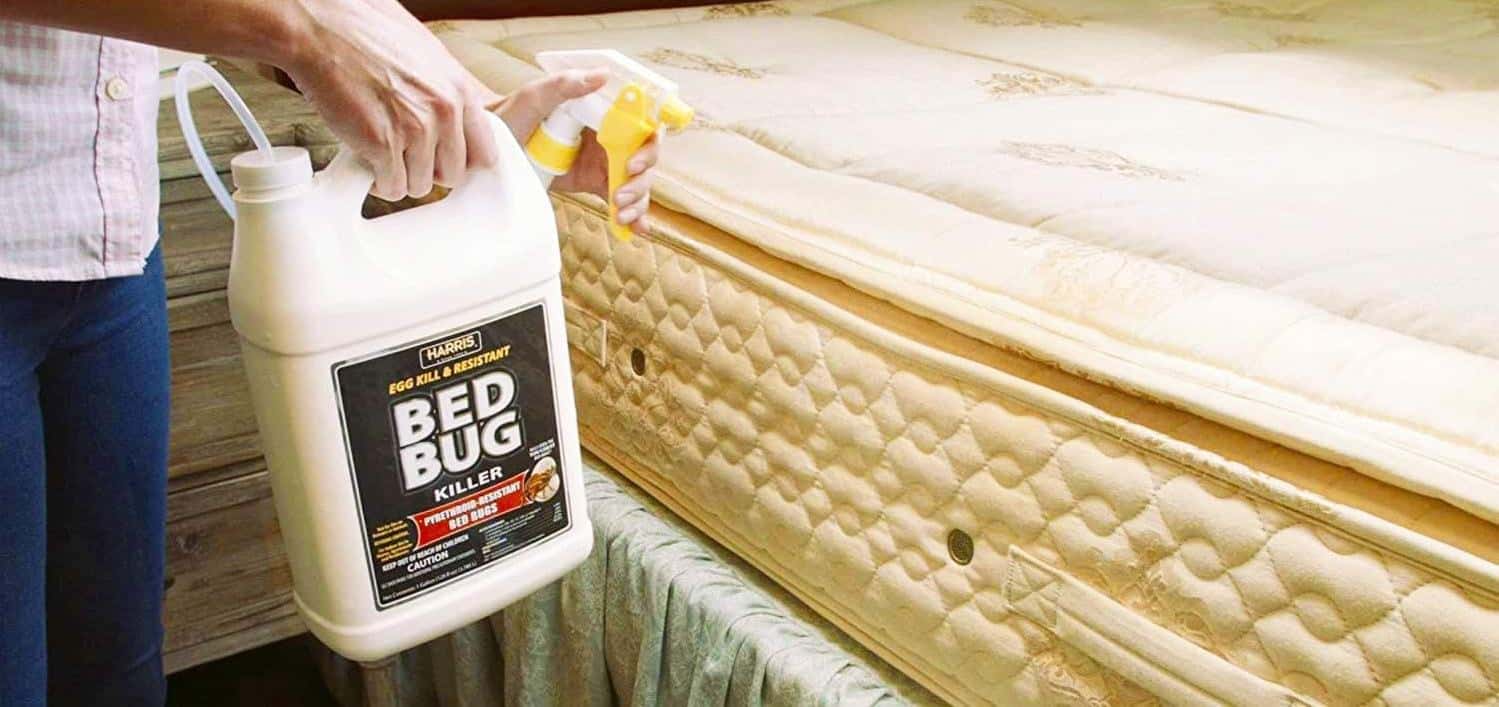 In this section, I want to dwell on the most common questions about bed bug sprays. Here you'll find the answers to several of them:
By the way, if you have a question, you can ask me in the comments box below.
How Do Bed Bug Sprays Work?
There are two types of sprays: chemical and natural. Note that even the natural and eco-friendly remedies contain chemical ingredients, but they are harmless to people and the environment. No matter the spray type you buy, the principles of its work are the same:
First, you need to spray the remedy on the bed and all other places where bugs can possibly hide like furniture (commonly, bed sprays work well on the mattresses and the wood);
Then you need to leave it for a couple of hours;
After that, clean the bed and make it. That's all. You can sleep there!
I highly advise you to spray the remedy not only on the bed but also across the room. Always remember that bed bugs move very fast! That's why, as soon as you spray the remedy on the bed, it will become a dangerous habitat for them and they may run to a safer place.
The spray contains substances that can kill the bed bugs during the inhalation. However, one breath is not enough for them. Therefore, I recommend you to ensure there is poison all over the room.
Related Post: EcoRaider Bed Bug Spray Review
What Are the Common Active Ingredients?
EPA has registered more than 300 various products that can be used against bed bugs, most of them are OK to use at home, but several items are only allowed to be used by a professional.
These seven pesticides chemical classes are the most used in the bed control management:
pyrethrins;
pyrethroids;
desiccants;
biochemicals;
pyrroles;
neonicotinoids;
insect growth regulators.
Let's look at each of them more closely. The first two pesticides, pyrethrin and pyrethroid, are completely natural and eco-friendly. Therefore, they are the most common compound that the indoor sprays contain. Desiccants work as the destroyers of the waxy, protective outer coating of the bed bugs. One of the benefits of using the desiccants is that insects cannot become resistant to them.
Cold pressed neem oil is the only biochemical pesticide that is allowed to be used in bed bug sprays, according to the EPA. By the way, this ingredient is also used in a variety of cosmetic remedies, such as shampoos. Similar to biochemical pesticides, the pyrroles have only one product that can be used in sprays against bed bugs — chlorfenapyr.
This chemical can disrupt certain functions in the insect's cells that cause their death. Neonicotinoids act on the nervous system of bed bugs, forcing it to work continuously. And insect growth regulators change the size of the mature insects.
Related Post: Bed Bug Bully Review: Is IT Effective Enough?



How to Use Bed Bug Sprays Correctly?
I know that most of my readers will most likely ask themselves: "Why did he include this question in this guide?" After all, everything is clear:
I need to open a bed bug spray;
spray it on the bed;
leave for a few hours;
and then rinse the mattress.
However, it is not as simple as it may seem. A lot of people make numerous unobvious mistakes at every step. That is why I decided to tell you in detail how to apply the spray against bed bugs on the bed. So, the process consists of three steps:
Step 1: First of all, you should evaluate the "scale of the disaster." After that, choose a spray you want to buy and do not forget to carefully read what area the spray can cover. After all, the last thing you need in this situation is to suddenly find out that you can spray only half of the room. Then count how much money you will spend for a spray. Sometimes it turns out that it is much cheaper to call the a pest control expert;
Step 2: Focus on spraying your bed and mattresses. Do not forget that bed bugs like to hide not only in the mattress but also in small gorges between furniture or baseboards. Moreover, after processing, most likely, the insects will quickly migrate from your bed to other parts of the room. Therefore, treat it thoroughly, take the time. Pay particular attention to the small holes and the spaces between the bed and the mattress;
Step 3: Now carefully monitor the situation. Although modern sprays kill bed bug eggs, it is still possible that you could miss some small gorge. Therefore, repeat Step 2 after a few days and throughout the month. If bed bugs still appear, then contact the experts.
Related Post: 7 Best Bed Bug Mattress Encasements
FAQ Section
Here I want to quickly answer the most common questions about bed bug sprays. Read carefully, as it may come in handy!
1. Are sprays effective against bed bugs?
In my opinion, sprays are the most convenient way to kill bed bugs at home. The reasons why I think so are already explained above. But answering this question, I prefer to say: "Yes, sprays are effective against bed bugs but there are some nuances''. First of all, insects become resistant to most sprays very fast. Secondly, sprays are most effective when you treat bed bugs directly.
2. Where to spray for bed bugs?
Bed bugs live in the mattresses and small gorges between it and the bed. Therefore, firstly, you need to spray the remedy on them. But based on my experience, I also highly recommend you to spray the remedy across the whole room, not only on the bed. The reason is that the insects will try to migrate from your bed to a safer place in the room.
3. How often to spray for bed bugs?
It depends on the situation. A lot of spray manufacturers say that their products kill all bed bugs in several days. But my strong advice is to monitor the situation to react very fast. And even after it seems to you that you killed all bed bugs, still continue to spray for a few more days. It will prevent new infestation.
4. How much do bed bug sprays cost?
There are a lot of factors that influence the price, starting from the type of pesticide included in the spray and ending with the brand. But from my experience, you can buy an effective bed bug spray for $20 – $30.
Related Post: 5 Best Bed Bug Heaters Reviewed.
Most Effective Bed Bug Treatment: Have You Chosen Yet?
In this article, I've tried to answer the most widespread questions related to bed bugs sprays. Now you know what are the main ingredients in the bed bugs sprays, how much they cost, are they really effective against bed bugs, and so on. I hope that the information will be useful and you find something new here. If you have some questions, please, ask me in the comments below. I will answer as soon as possible.
References:
Understanding Bed Bug Treatments (The University of Minnesota):
https://www.bedbugs.umn.edu/homeowners-and-tenants/understanding-treatments
Safety Issues in Controlling Bed Bugs (U.S. Environmental Protection Agency):
https://www.epa.gov/bedbugs/safety-issues-controlling-bed-bugs