Are you a fan of spiders? Probably not. Not only do these insects tend to infest all open spaces they can find, but they also can be dangerous for your health. If you've found a wolf spider nest on your property, you shouldn't worry too much because there is a means of getting rid of them once and for all.
In this article, I'd like to focus on these pests. Treating them is a little different from similar insect prevention methods and might require some preparations. So, follow me to learn how to get rid of wolf spiders for good.
How to Get Rid of Wolf Spiders
Determine the exact location of the nest. Spiders like dark and damp places with poor ventilation.
Choose a way to get rid of wolf spiders: traps, sprays, natural remedies.
Relocate your food provisions.
For prevention you can also use: traps, sprays and natural remedies.
Wolf Spiders: A Danger You Didn't Know Was About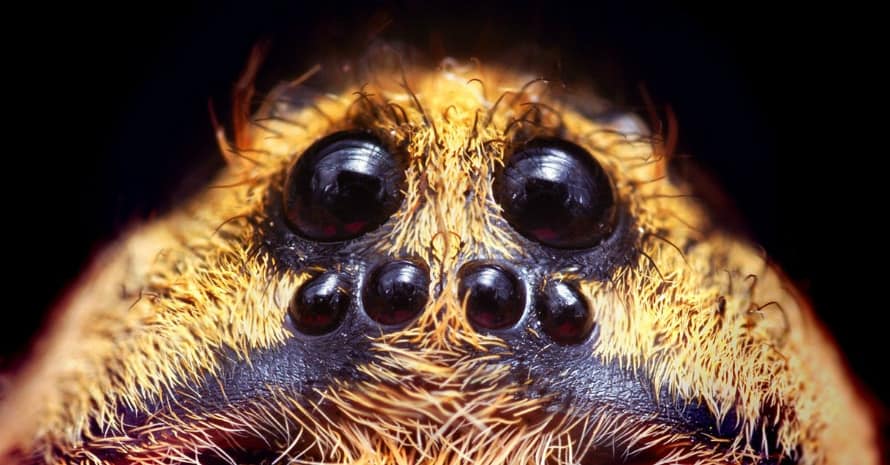 If you've ever seen a wolf spider, you're unlikely to mistake it for any other kind of Arachnid. So, before getting to know what the best means of dealing with the insect are, it's essential to have a better understanding of the species.
What are wolf spiders?
A wolf spider is a rather bigger kind of Arachnid, which is difficult to confuse with other insects. Their body is a little elongated with a rectangular cephalothorax (the back) and thin legs.
All the parts are covered in a short hair-like coat that gives them a grayish shade to provide a better disguise when in the grass. Just like regular representatives of their kind, they have 4 pairs of eyes that are located in a row one on top of another.
Another feature that distinguishes them is their mark. This crisscrossed insect has a lifespan of around one year or even less, depending on their diet, habitat, and sex. Males are known to live for shorter periods than females, whereas the latter can survive up to half a decade. Thanks to this, now you know how to identify a wolf spider.
Grass spider vs Wolf spider: What's similar and different?

These two brotherly creatures are often mistaken for one another. However, if you are aware of the main characteristics of each, finding out which one is crawling around shouldn't be too difficult.
First of all, take a look at the back, where the mark is. A grass spider has a mark, which is less distinct in its coloring and shape. On the other hand, the wolf one has a visual black-and-white back emblem. It normally starts from the spinneret and stretches all the way to the head without interruption.
Secondly, you can surely tell the difference between the two by their bite. How? Well, grass spiders rarely bite, whereas the wolves are always alert. If you've failed in killing a wolf spider, allegedly, and it has got to you, look at the bite. In case it's getting redder and is followed by pulsating pain, it's definitely the one.



What attracts wolf spiders in the house?
There is nothing special that wolf spiders find attractive apart from the spider's favorite triggers. First, they love the wetness and moisture. Just like other insects, these are extremely sensitive to water, and they find it essential for their metabolism, as well as the exoskeleton.
Second, they prefer the dark. If there are lots of wolf spiders in a house or barn, it's a sign that there is a risk of illumination. They avoid direct sunlight because of probable desiccation. Or because they have a better hideout there.
Third, the insects love solitude, and they will look for the most distant and unreachable spot in a room. It gives them a nice overview of possible dangers and a very comfortable spot for catching prey.
Can wolf spiders hurt you?
Yes, they can, but it's not that simple. They bite not that often and keep their venom reserves for life-and-death situations. When they do attack, they send the substance into the bloodstream, which can result in different side effects.
If you're affected by the venom, your wound will get reddish, whereas blood clotting speed will decrease. Later, the victim can experience vomiting reflexes, increased heart rate, vertigo, and other symptoms.
Where do wolf spiders hide?
The spiders tend to find a cozy, dark place with little to no sunlight. They prefer moist and badly ventilated spaces, like cupboards, drawers, beams, and so on. This helps them build a fortified nest, suitable for hunting and breeding.
How to get rid of wolf spiders?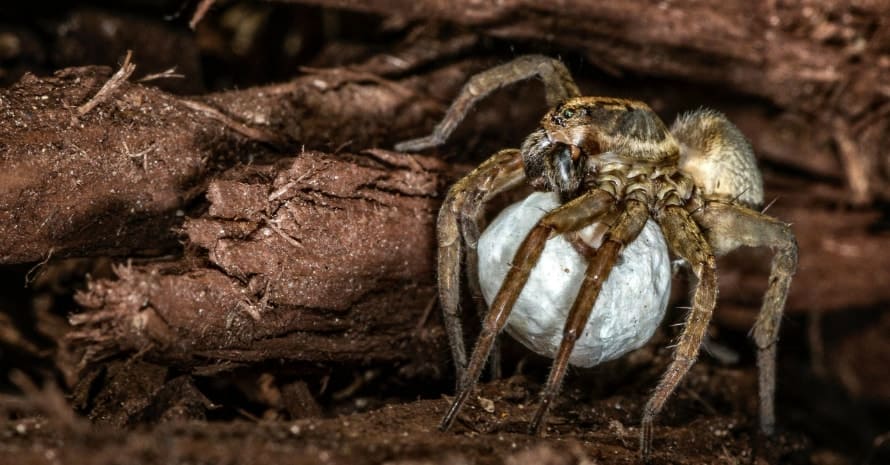 Step 1: Determine the exact location of the nest
This way, you can limit the use of chemicals and treatments to a single area without spreading them all over the place. Also, check old furniture or disposed couches in the yard, the insects may dwell there as well.
Step 2: Find the best way to get rid of wolf spiders to suit your case
You can choose between:
They are very useful in the early stages of an infestation. They capture both adult and young spiders, which prevents further breeding. Also, traps are extremely easy to utilize since they don't require any special equipment or experience;
Use them for a full-blown wolf spider control. Apply the substance to the infected areas, as well as surroundings, to expand the effect. But be cautious since this treatment can be somewhat toxic and shouldn't be used around pets and children.
When applied timely, natural remedies can save you a lot of time and effort. Citronella, peppermint, lemongrass, and many other essences work as a nice wolf spider repellent. However, they might not be the best option if the house is swamped by the pests.
Step 3: Relocate your food provisions
Because spiders are always in search of additional nutrition, they tend to inhabit areas close to food cupboards.
How to prevent wolf spiders?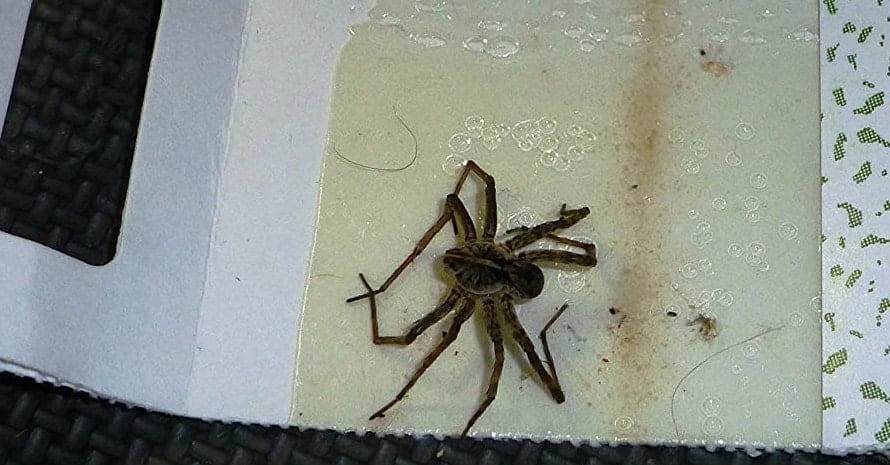 Before preventing an infestation, you should ensure that you have it so that you don't waste money and time on the treatments you don't know. Here are some signs:
An abundance of spider webs is a good place to start. If you have webs all over the place, especially in locked spaces, then you might have a problem.
Large numbers of migrating spiders. If you can see spiders crawling out to breathe some fresh air and hide back, then there can be even more of them.
Fly-free zone. In case you've noticed that all the flies have gone missing all of a sudden, then now you know the reason why.
Means of prevention
There is a whole array of treatments and approaches that can minimize or completely eradicate your wolf spider infestation. Let's consider some of them.
Best Wolf Spider Killer Spray
Traps
Modern, high-quality traps are designed to deal with various pests, including wolf spiders. They normally come in packs of 30-50 to serve as both a prevention and wolf spider extermination treatment. Easy to use and very promising, spider traps can come in handy in different situations.
How to use traps?
Take one out of the package. Make sure not to rip off the protective screen yet.
Peel off the screen, but make sure not to touch the glue.
Fold it as instructed in the booklet and place it near the spot where the spiders are at.
Keep it untouched for a couple of days until the trap is covered in insects.
Sprays
Spider killer sprays are great for situations when you're not completely sure where to find the spiders. It's effortless to apply and has a long-lasting effect. Also, it can be rather versatile and work on other insects. Spider foggers can also serve as an alternative, but I'd recommend using them in garages, sheds, and other industrial buildings.
How to use sprays?
Shake the bottle thoroughly to prevent sediments.
Take off the cap, pointing the bottle away from the face.
Keep a 6-foot distance between the sprayed area and the bottle.
Apply the solution to the area and around it.
Leave the windows open and vacate the room for at least 20 minutes.
Natural remedies
Natural oils and extracts can be useful for prevention treatments and as repellents. When utilized properly, they can clear the whole house from spiders. However, be sure to use sufficient amounts of oils and essences; otherwise, they might not be very effective.
How to use natural remedies?
Determine your best natural wolf spider killer (citronella, peppermint, cedar, etc.).
Apply it to the corners of each room, as well as spaces behind the cupboards, and baseboards.
There is no need to leave the room, but it's recommended to ventilate it.
Reapply the treatment every couple of days to maintain the effect.
Top 3 Best Wolf Spider Treatments
I've dealt with these pests before and know how frustrating it can be to browse the Internet, researching how to kill wolf spiders. To take a load off you, I'd like to recommend some treatments that I find extremely effective. Follow me!
1. Miss Muffet's Revenge — Best Wolf Spider Killer Spray for Versatility
Specifications:
Active Ingredient: Bifenthrin 0.5%
Item Form: Spray
Item Weight: 1 pounds
Product Dimensions LxWxH: 1 x 1 x 1 inches
Target Species: All Spiders except Black Widow and Brown Recluse
This treatment is perfect for being used both inside and outside the house. It is a 64-oz container of a solution that lasts for almost a year. The application is rather easy since there is a nice in-built spray handle that can be used for places difficult to reach by hand.
Not only does it help with wolf spider removal, but it also has a long-lasting prevention effect. The formula is based on Bifenthrin, which is a highly active pest control treatment. There are residues, and the odor is completely unnoticeable. Also, it's safer than regular solutions and doesn't harm vegetation.
Pros:
Cons:

simple application;
plant-friendly;
spray mode;
effective against different insects.

requires good room ventilation.
2. Traps Direct 45 Insect & Spider Traps — Best Wolf Spider Traps for Infestation Prevention
No products found.
If you're against liquid treatments, then traps are exactly what you need. This product is a superb anti-insect killer to get rid of wolf spiders in the basement or under the bed. It's rather easy to use and does no harm to the environment or people.
The traps are colored green to mingle with the surroundings and attract more pests. By folding the cardboard, you create an inescapable trap for wolf spiders that get stuck there and eventually die. It can be combined with other treatments to increase the killing chances.
Pros:
Cons:

safe and pet-friendly;
compact and portable;
odorless;
45 traps for longer use.
3. Syngenta 73654 Demand CS Insecticide — Best Professional Insecticide for Longevity
Specifications:
Active Ingredient: lambda-Cyhalothrin 9.7%
Item Form: Spray
Item Weight: 10 Ounces
Product Dimensions LxWxH: 3.5 x 1.8 x 5.8 inches
Target Species: Ants, Aphids, Bed Bugs, Beetles, Boxelder Bugs, Carpenter Bees, Carpet beetles, Centipedes, Chiggers, Chinch Bugs, Clover Mites, Cluster flies, Cockroaches, Crickets, Earwigs, Fleas, Flies, Grasshopper, Grubs, Gypsy Moth Larvae, Japanese Beetles, Midges, Millipedes, Mites, Mole Cricket, Mosquitoes, Scorpions, Silverfish, Spiders, Termites, Thrips, Ticks, Wasps, Whiteflies and others
In case you have a large-scale infestation and don't know how to keep wolf spiders away, try this one. It's designed to be an easy-to-spread solution that insects themselves scatter around while crawling. When used properly, the treatment can prevent breeding, protect the premises, and exterminate living spiders.
The treatment is a capsule-based substance that is applied to infected areas. When an insect consumes it, the capsules are stuck to the hairs and transported to other spiders. It's great for indoor use, especially for distant corners and heavy-to-move furniture.
Pros:
Cons:

active for 3 months;
no stains;
cold-resistant;
leaves no residues.

requires mixing with water.
FAQs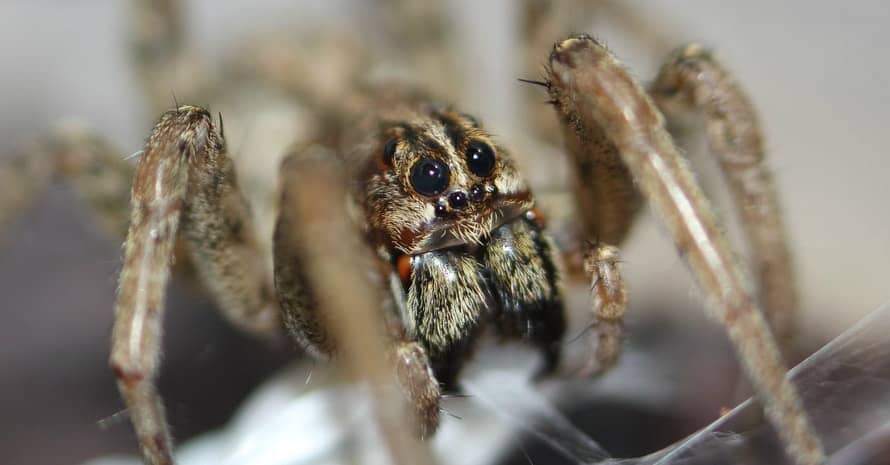 Here are some more answers about wolf spiders FYI.
Are wolf spiders fast?
Yes, they are. Interestingly, they are considered one of the swiftest spider species in the Arachnid world.
Do wolf spiders make webs?
Only some of them do. This species is so quick that it doesn't need to trap its victim; they can chase it instead.



Can a wolf spider kill you?
Wolf spider's bite isn't lethal to people, but it can cause irritation, inflammation, and even vertigo, thus requiring immediate treatment.
How big can a wolf spider get?
The biggest one can grow to around 1.4 inches, whereas a common spider grows up to only 0.7 of an inch.
Do wolf spiders jump at you?
Yes, they can do that. But they normally tend to avoid enemies that are larger.
Take Control of Wolf Spiders Before They Take Control of Your House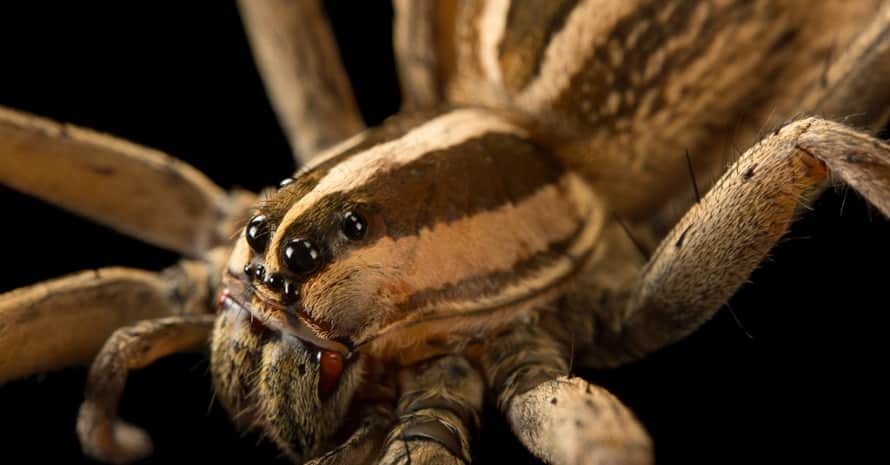 Wolf spiders can be a real pain if they infest your dwelling, garden, or barn. These creatures are rather resistant to regular insect treatments and won't go away by themselves. Don't think how to catch a wolf spider and show it mercy; it won't do the same for you. Just deal with it on the spot.
Anyway, hopefully, you've found something interesting in this article and become more aware of the issue. What's your experience with wolf spiders? Have you fought against them before? What treatments did you use? Share your story in the comments!
References:
Wolf Spider (Michigan State University):
https://www.canr.msu.edu/resources/wolf-spider
How to identify a wolf spider (Oregon State University):
https://extension.oregonstate.edu/pests-weeds-diseases/insects/how-identify-wolf-spider
Grass Spiders (PennState Extension):
https://extension.psu.edu/grass-spiders
Why You Should Trust Pest Control Hacks?
We know that pests are nasty neighbors, and it can take months to eliminate them without the right approach. Our experts use their own experience to compile articles and guides that are introductory and informative. Our authors' opinions are independent and based on the results of practical testing of pest control tools. We do not notify manufacturers of testing of their products and do not receive payment from them for posting their items. Also, our texts are never submitted to company representatives for proofreading before placement. On the site, you will find exclusively objective ratings and reviews.