People who are looking for spider defense spray have probably noticed the big amount of these little arthropods, crawling or hiding around the house or in the yard. While spiders cannot be called insects, we still may consider them as pests.
They rarely attack humans. Spiders prefer to "run away from the problem" unless it is pressed to the human's skin by something else. In this case, they can bite. Some people even have exotic spiders as their pets. As a professional entomologist, I hear numerous complaints about spiders around the house. This is why I gathered my top favorite sprays to help you.
Pros
Kills various species of spiders.
Best Spider Spray
Pros
Kills various species of spiders.
Top 5 Best Spider Sprays
While almost all of them are venomous, as they paralyze their prey, they feed on small insects. There are 47 600 various species of spiders, and only 30 of them are poisonous for humans. This list contains only the products I've checked personally. Pay attention to the pros and cons before you buy one of these sprays.



1. Onslaught FastCap Spider and Scorpion Insecticide – the Spider Spray with Immediate Action
FastCap Spider and Scorpion Insecticide by Onslaught is a compact pack of the helpful poison that immediately kills pests. It works well with both spiders and scorpions. Some customers claim this product was helpful with other pests, like cockroaches and yellow jackets, but I can't state this for sure.
This insecticide contains petroleum distillates, piperonyl butoxide, and esfenvalerate. All the ingredients are incredibly powerful. They kill arachnids in a few seconds. However, I strongly recommend you to keep this bottle out of reach of children and pets. The pack is savvy, and you can repeat the action numerous times. After that, just put it in a place unreachable for others.
Pros:
Cons:

contains powerful ingredients;
savvy pack;
immediate action;
kills spiders and scorpions;
you can use this spray everywhere across the house.

it must be kept away from children.
2. TERRO T2302 Spider Killer Aerosol Spray – the Best Spider Spray for Home
Specifications:
Item Form: Aerosol
Item Volume: 44 Fluid Ounces
Item Weight: 2.42 pounds
Number of Pieces:

2 spray bottles

Product Dimensions LxWxH: 5 x 2.5 x 9.5 inches
Target Species: Ants, Silverfish, Cockroaches, Scorpions, Ticks, Crickets, Centipedes, Asian Lady Beetles & Bedbugs, to name a few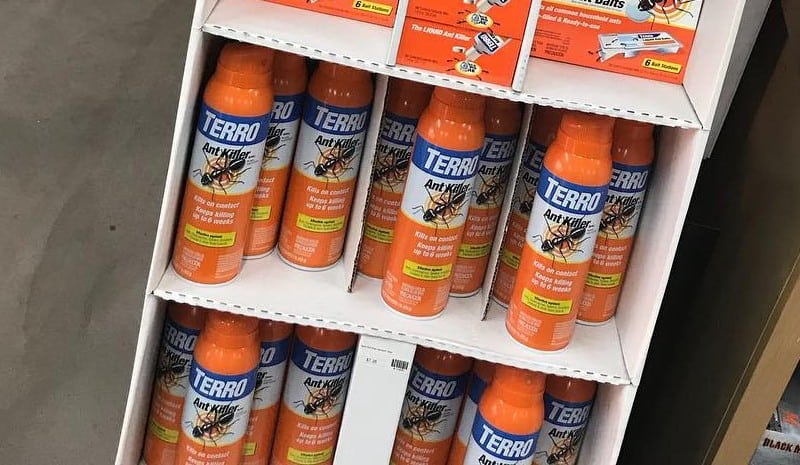 The T2302 Spider Killer Aerosol Spray by TERRO kills various types of these pests, from hobo spiders to brown recluse and black widows. It is also effective on scorpions, ants, cockroaches, and even bed bugs.
This spray contains powerful ingredients inside, which kills arachnids immediately. You may use it close to the nest of spiders or directly on them. If you don't know where the nest is, just spray the insecticide close to the place you've noticed spiders.
TERRO is a well-known developer of insecticides against ants and spiders. They provide numerous products for professionals from pest control. This spray can be used both indoors and outdoors. It has a long-lasting effect. The product comes in the light-weight aerosol spray bottle, which guarantees easy application.
Pros:
Cons:

powerful components;
kills various species of spiders;
offers long-lasting effect;
easy to apply;
affordable price.

it contains chemicals and must be kept away from children.
3. Mdxconcepts Organic Home Pest Control Spray – Spider Extermination Spray for Indoors and Outdoors
Organic Home Pest Control Spray by Mdxconcepts does not contain harmful chemicals, which may be crucial when it comes to spraying around the house with children or pets inside.
The pack does not have sprayers inside, so if you need one, you can buy it separately. This product kills not only spiders, but scorpions, and different insects like ants, mites, silverfish, and cockroaches.
Mdxconcepts provides goods for pest control companies and private citizens who want to get rid of pests without chemicals. There are no toxic ingredients inside, and you can easily apply it at home. This insecticide has a long-lasting effect, it not only kills spiders but keeps others pests out of the territory. Developer offers a 60-day money return in case you are not satisfied with the result.
Pros:
Cons:

easy to use;
organic compounds;
long-lasting effect;
the guarantee of money return;
family-friendly.

it costs more than similar insecticides with toxins.
4. Black Flag Spider & Scorpion Killer Aerosol Spray – the Best Spider Killer Spray with Long-Lasting Effect
Specifications:
Item Form: Aerosol
Item Volume: 16 Fluid Ounces
Item Weight: 15.41 pounds
Product Dimensions LxWxH: 10.88 x 8.25 x 10.44 inches
Target Species: Scorpions, Spiders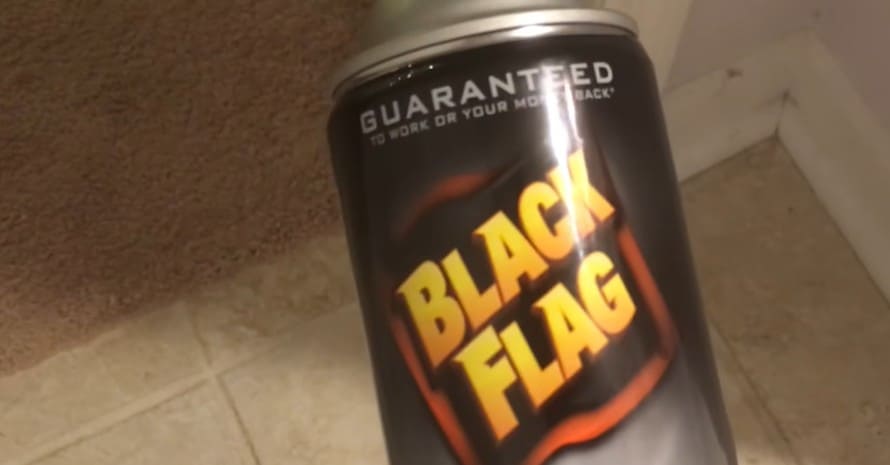 The Spider & Scorpion Killer Aerosol Spray by Black Flag helps to kill dangerous and poisonous spiders and scorpions. It paralyzes these creatures and exterminates them immediately. The product works splendidly on wolf spiders, brown recluse, and black widows, which are the most widespread species in the US.
It covers the 5 feet area at the same time. All you need is to go closer to the spiders' nest and spray everything around.
Black Flag offers the easy way to kill pests in your house and outside of it. Developers say it can kill eggs as well. I recommend you to use it on spider webs and nests. There is a money-back guarantee that allows you to receive the compensation if the spray does not work. The effect of the spray lasts for 16 weeks.
Pros:
Cons:

savvy deal;
long-lasting effect;
powerful components;
affordable price.
5. Miss Muffet's Revenge Spider Killer – Effective Spider Killer with Sprayer Attached
Specifications:
Active Ingredient: Bifenthrin 0.5%
Item Form: Spray
Item Weight: 1 pounds
Product Dimensions LxWxH: 1 x 1 x 1 inches
Target Species: All Spiders except Black Widow and Brown Recluse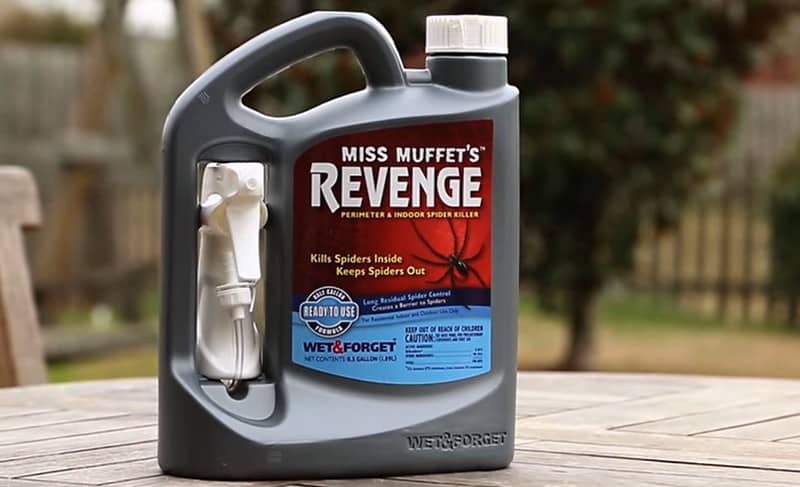 Miss Muffet's Revenge Spider Killer by Wet & Forget Company is a ready-to-use savvy pack of insecticide. It kills spiders both indoors and outdoors. Due to the powerful ingredients inside, they die immediately. There is a long-lasting effect for 12 months.
The substance of the insecticide is odorless. An attached sprayer makes the use of this product incredibly simple. You don't even need a ladder to get to the nest.
Pros:
Cons:

affordable price;
powerful ingredients;
1-year lasting effect;
sprayer is attached.

must be kept away from children.
Manual on Spiders and Sprays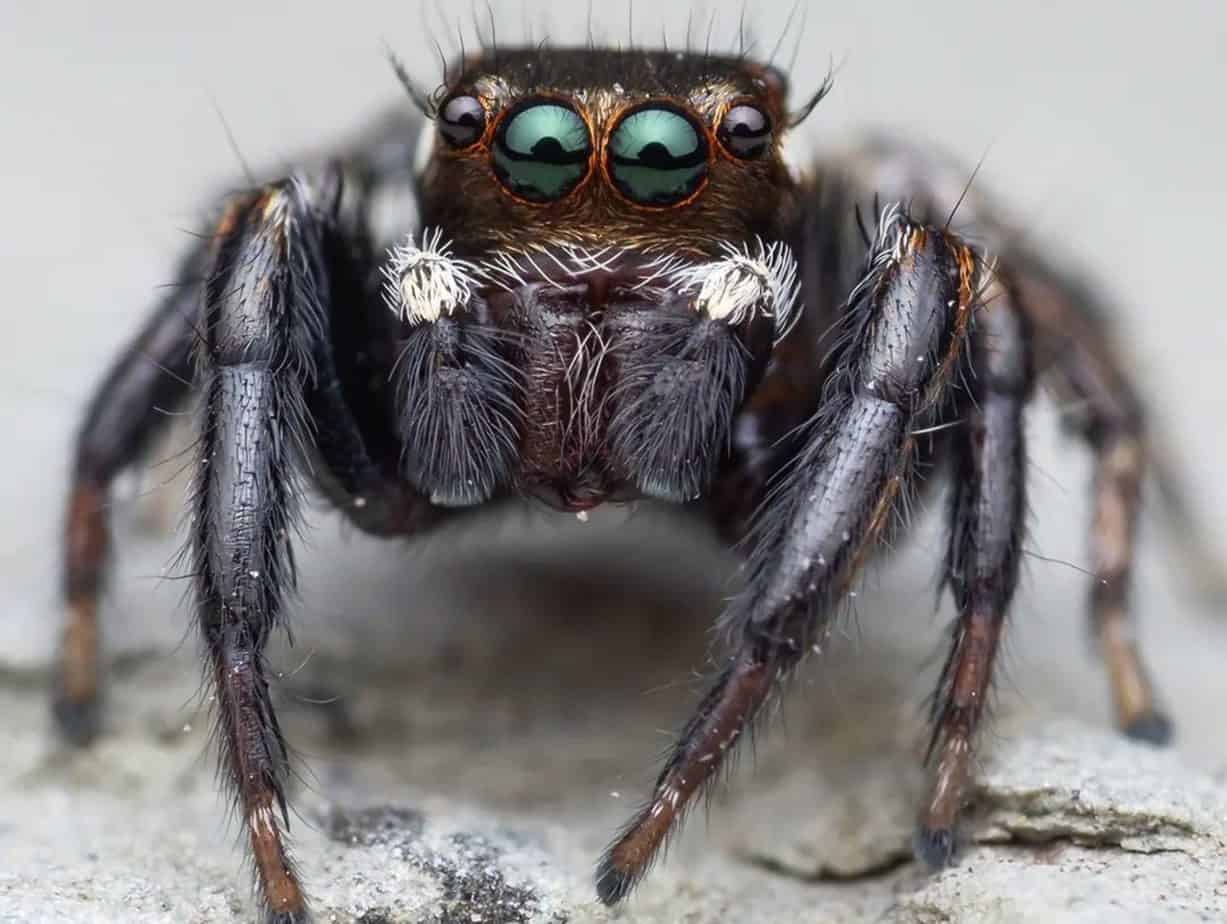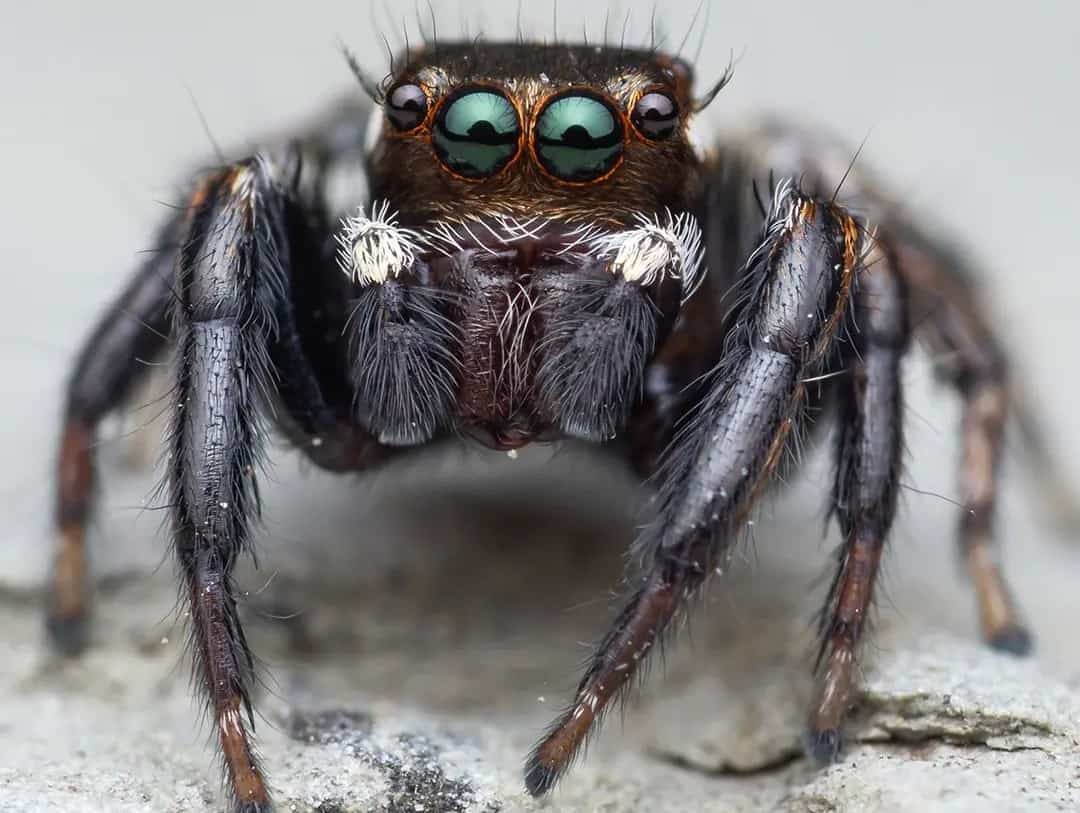 You cannot use any bug spray for spiders to get rid of the problem. There are too many options available on the market, and you have to find the one that suits you the most. These sprays can be divided into several groups:
Outdoors sprays, which can be used to kill arachnids in your yard, outside the house, or a barn. You will find the best outdoor spider spray options on the list. These sprays may have a strong odor;
Indoors sprays are odorless, usually chemical-free, and safe for families. You will need them to fight spiders inside the house. These sprays can be spread around the favorite spots of the pests, nets, or webs;
Mixed sprays are used at homes and outside of them. They are most wide-spread on the market, and considered to be the savviest;
Chemical insecticide spray for spiders can't be kept in the places easily reachable by children or pets. They contain chemicals as the main components are extremely effective. Yet, you have to use them carefully, wearing protective gloves and glasses to avoid skin irritation;
Natural insecticides contain oils that scare away or kill spiders. These products are family-friendly and can be used numerous times around the house.
Active Ingredients in Spider Sprays
Depending on the role of the spray, it may contain different ingredients. For example, the most widespread compound of all outdoors sprays is a pesticide that is sticky enough to be held on the surface for a long period of time. The outdoors sprays usually contain stronger insecticides, so they can't be washed away by rains or melted by the sun.
All pesticides in each spray for spiders outside are checked by EPA. They have to be approved by the official regulations and bio-degraded to 0 in 90 days since the moment they were applied. This means that almost all pesticides used for killing spiders must disappear in 3 months or so. The most popular ingredients:
How Do They Work?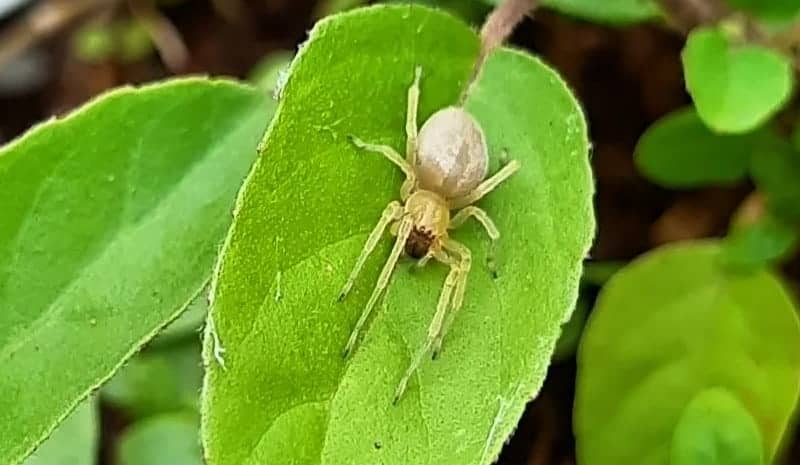 There are multiple types of sprays, as I have already told you. Depending on the product, it may either scare away spiders without giving them a chance to come back or kill them. Some of the most popular killing sprays paralyze these creatures, destroying their nervous system. Others may kill spiders from inside.
Tips on Using Sprays
You have to know how to use spider spray concentrate before you start. I recommend using insecticide in savvy bottles with sprayers attached for outdoors and light-weight sprays indoors. You may choose whether you want to use products with chemicals or not. If there are no sprayers, you can easily do them yourself or buy separately. My tips for you:
Always wear gloves, glasses, and long-sleeved clothes while spraying the insecticide, no matter if it is organic or not;
Check out for the nest of spiders. You may notice where they are coming from in a few hours, just by carefully observing them. If you don't have time, drip the water or other liquid substance on the floor, and check out for the traces. It is easy to see where they are leading to;
Clean your house at least once a week. Don't forget to remove the web. You have to show spiders they are no longer welcome in your house;
If you have an allergy to different scents, make sure the ingredients of the spray suit you. Pay attention to natural oils inside. The odor may be strong, especially if you decide to use the spray indoors;
Spray not only the nest, but the web, and the most favorite places of the arachnids. I also recommend spraying the doors and corners of the walls.
FAQ

What Time of Year Is Best to Spray for Spiders?
While many people mistakenly believe that the best time to use the spray is in summer, killing spiders when they are the most active, I think you need to do it in spring. Doing it in spring may give you numerous advantages.
For example, you can destroy the whole nest of spiders at the time when they are weak and outnumbered. This way, you will prevent more spiders from being born.
Related Post: Best Spider Traps That Catch
How Often to Spray for Spiders?
I recommend you spray your apartment at least once a year as a preventive measure. This will help you to get rid of all the pests in advance. If you face the real problem with spiders, you need to act immediately. Usually, sprays are effective during 2-3 months, depending on their quality, compounds, and the surface you apply to.
After that time, if they have not disappeared, repeat the procedure. If you are using organic remedies, you may apply them more often.
How Long Until Spider Spray Kills Spiders?
You don't have to wait for long till you see the results both indoors and outdoors. The sprays act quickly, no matter which compounds you pick, unless they are of poor quality.
However, I don't recommend using them. As for reliable sprays, the average time of waiting is between several days and a week. You can check out for spiders in the places where you have seen them previously.



What Type of Mask Should Use for Spider Spray?
I suggest you wearing a half-face respirator with two air vents on both sides of your nose. This respirator covers the mouth and nose. It does not suffocate you, allowing you to breathe easily. Yet, you have to avoid the fumes from the spray that may be harmful.
The first thing you need to do is to pick up the spray you want to use. After that, you need to read the active ingredients. If you like them, you can buy the product. Only after you purchase it, you can buy a protective mask, considering the compounds of the spray. Organic ingredients do not require extra protection, unlike chemicals.
What Spider Spray Is Best for Car?
If you have noticed spiders crawling in your car, it might be infested. The first thing I recommend you to do is to look closely for the nest since there is definitely the one. No need to hesitate!
These tiny creatures, even non-venomous ones, may still be huge destruction for the driver and cause road accidents. You have to take a spray with natural oils since you don't have much time to wait.
If you can use another car, just apply spray with chemicals. Repel it across the interior of the car. Wait for a week. You have to repeat the same procedure. I strongly recommend using odorless sprays or at least those which smell you like. Remember, this scent will be with you for the next couple of weeks.
Related Post: Best Spider Foggers Reviewed
Why Spiders Dwell in My Household?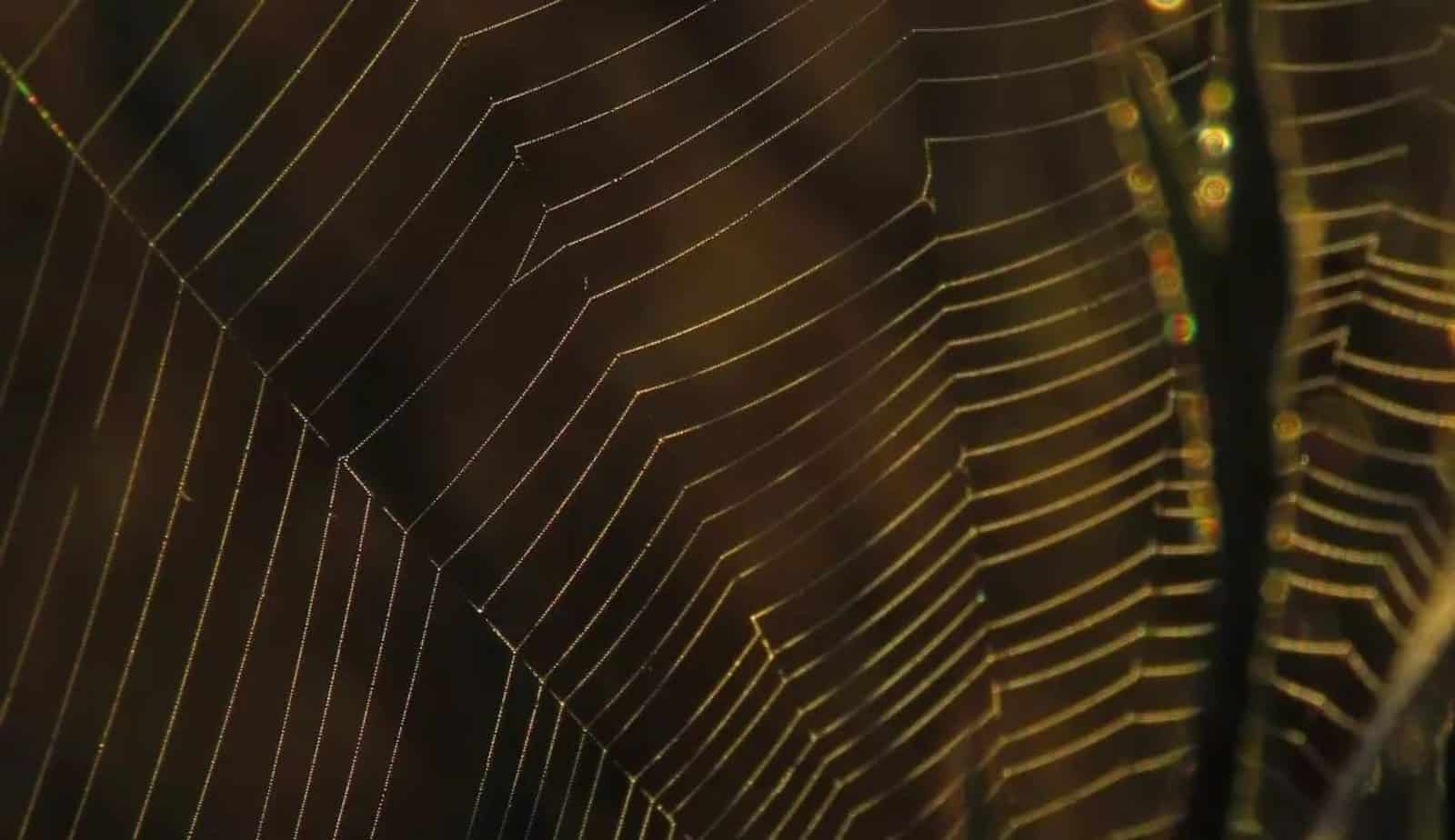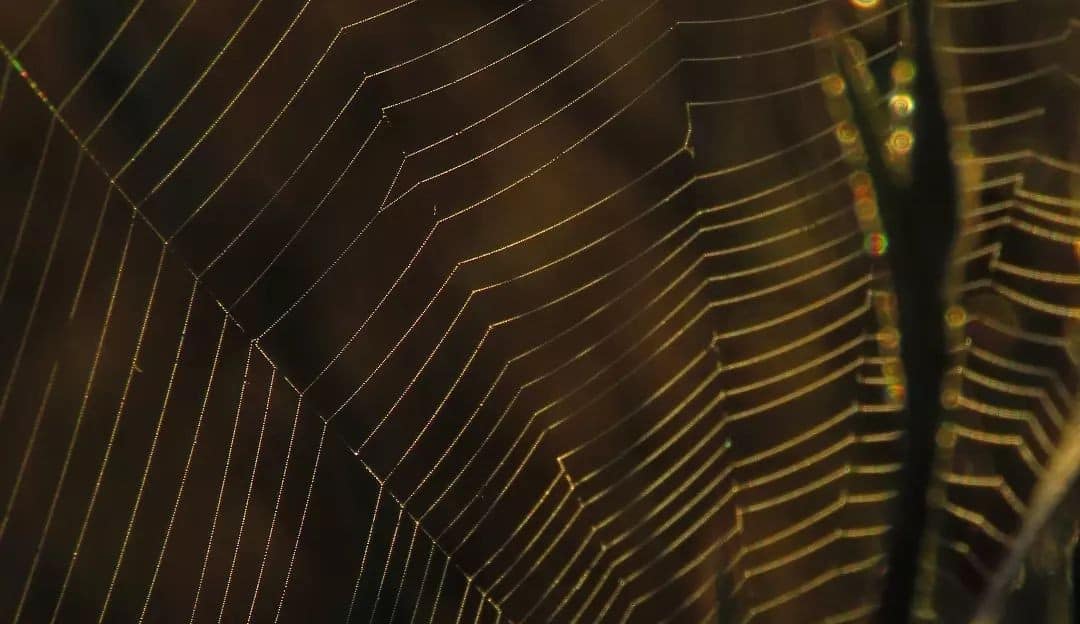 Many people do not even pay attention to spiders sharing the house with them. Some cultures believe spiders pick only the households where they can feel love inside. I am not particularly interested in how emotional spiders truly are, but I am sure that nobody can say for sure whether their home has spiders or not.
Usually, they are harmless and are ignored by people. Yet, some species are quite hard to ignore. Just a few of them are a threat to humans, but many of them can become a real menace in your household. The reasons why they appear:
Bouquet of flowers, fresh veggies, and fruits that you've brought from the outside;
Holes and cracks in walls;
The wind may bring them inside your house through the door or window;
Spiders can easily live in dark corners of the bathroom, attic, or basement.
Which Indoor Insecticide to Choose?
There are numerous sprays you can use indoors. I recommend picking those that contain special tags on them about the ability to be used indoors. Pesticides usually can be safely used around the people, especially modern ones, but not all. You have to read instructions and precautions of spiders repellents.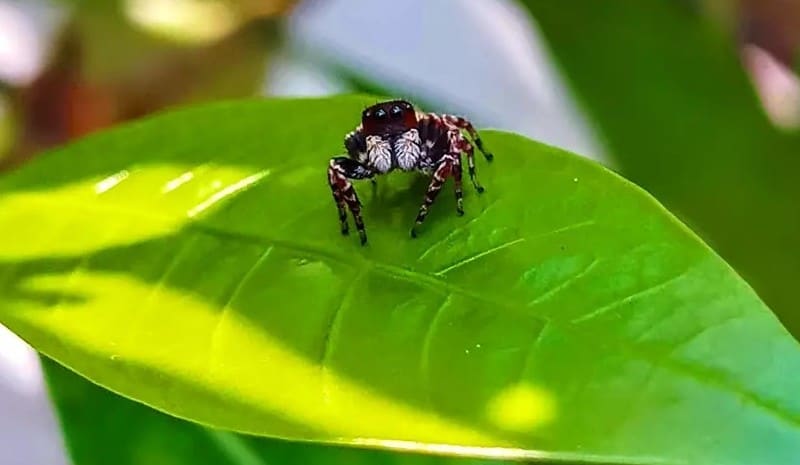 If you feel dizzy after inhaling the spray, you have to go outside immediately, take all your family outside, and open the windows. The good quality sprays do not cause redness of your eyes or irritation of your skin. If this happened, I recommend you rinse your eyes and skin with water. If it does not help, my advice is to call the doctor immediately.
When Is the Time to Call Pest Control?
Usually, you can deal with spiders yourself if you don't have arachnophobia. If you have it, you may ask your family or friends to help you. However, if you notice a suspiciously looking spider that you have never seen before, stay away from it.
There are numerous apps that can identify the species by the photo or description, so you may try it. If you think that the arachnid is venomous, you have to call pest control of your local area. Do not try to catch it yourself, as it may be dangerous.
If there are numerous spiders around your house, you may also call professionals who have experience in exterminating them.
The Most Helpful Spider Spray
I know that you want to get the remedy from all your problems and all the pests in one bottle. Unfortunately, I can narrow down the list only up to these 5 amazing sprays. They helped my clients and me in the past, and as far as you may see, they are still on demand. So which one of them to choose? It is up to you and totally depends on your preferences.
After you try them out, please share your impressions here, in the comments below. Tell me more – which spiders did you have? How did you fight with them?
References:
Biology and Control of Spiders, Scorpions, Centipedes and Millipedes (University of Arkansas System):
https://www.uaex.edu/publications/PDF/FSA-7018.pdf
What You Need to Know About Pesticides and Your Health (Michigan Department of Community Health Division of Environmental and Occupational Epidemiology):
https://www.michigan.gov/documents/mdch_Pesticide_Booklet_97200_7.pdf
Bifenthrin (National Pesticide Information Center, Oregon State University Extension Services):
http://npic.orst.edu/factsheets/bifgen.html
Deltamethrin (Johnson, M.; Luukinen, B.; Buhl, K.; Stone, D. 2010. Deltamethrin General Fact Sheet; National Pesticide Information Center, Oregon State University Extension Services):
http://npic.orst.edu/factsheets/DeltaGen.html
Common Spiders Found Around Homes and Buildings (Entomology at the University of Kentucky):
https://entomology.ca.uky.edu/ef622
Cypermethrin (Oregon State University and the U.S. Environmental Protection Agency):
http://npic.orst.edu/factsheets/cypermethrin.pdf
Why You Should Trust Pest Control Hacks?
We know that pests are nasty neighbors, and it can take months to eliminate them without the right approach. Our experts use their own experience to compile articles and guides that are introductory and informative. Our authors' opinions are independent and based on the results of practical testing of pest control tools. We do not notify manufacturers of testing of their products and do not receive payment from them for posting their items. Also, our texts are never submitted to company representatives for proofreading before placement. On the site, you will find exclusively objective ratings and reviews.