No matter how small spiders can be, they often scare people. Some of them can be poisonous, but they rarely bite people on purpose, as their target is other insects that can be in your house.
However, setting a couple of spider traps in your house is a good idea. The thing is, spiders are hunters, and they choose places where they can find and catch flies, fleas, etc. So if you notice a lot of web in your place, it is time to think about disinfestation.
Moreover, traps and other measures aimed at killing spiders can also work against other insects. In this article, I'll show you how you can clean and protect your home.
Pros
Foldable for kid and pet protection.
Recommended by kansas university.
Pros
Foldable for kid and pet protection.
Pros
Recommended by kansas university.
Searching for the Best Spider Traps: My Top 5


This is the most common way to treat your house and catch all spiders there. Read the reviews of 5 traps you can use for effective results.
1. My Personal Top Pick Spider Glue Trap: Trapper Monitor & Insect Trap
Specifications:
Color: White
Material: Cardboard
Number of Pieces: 90
Item Weight: 0.48 Pounds
Item Dimensions LxWxH: 9.15 x 8.4 x 0.6 inches
Target Species: Bed Bugs, Spiders, Cockroaches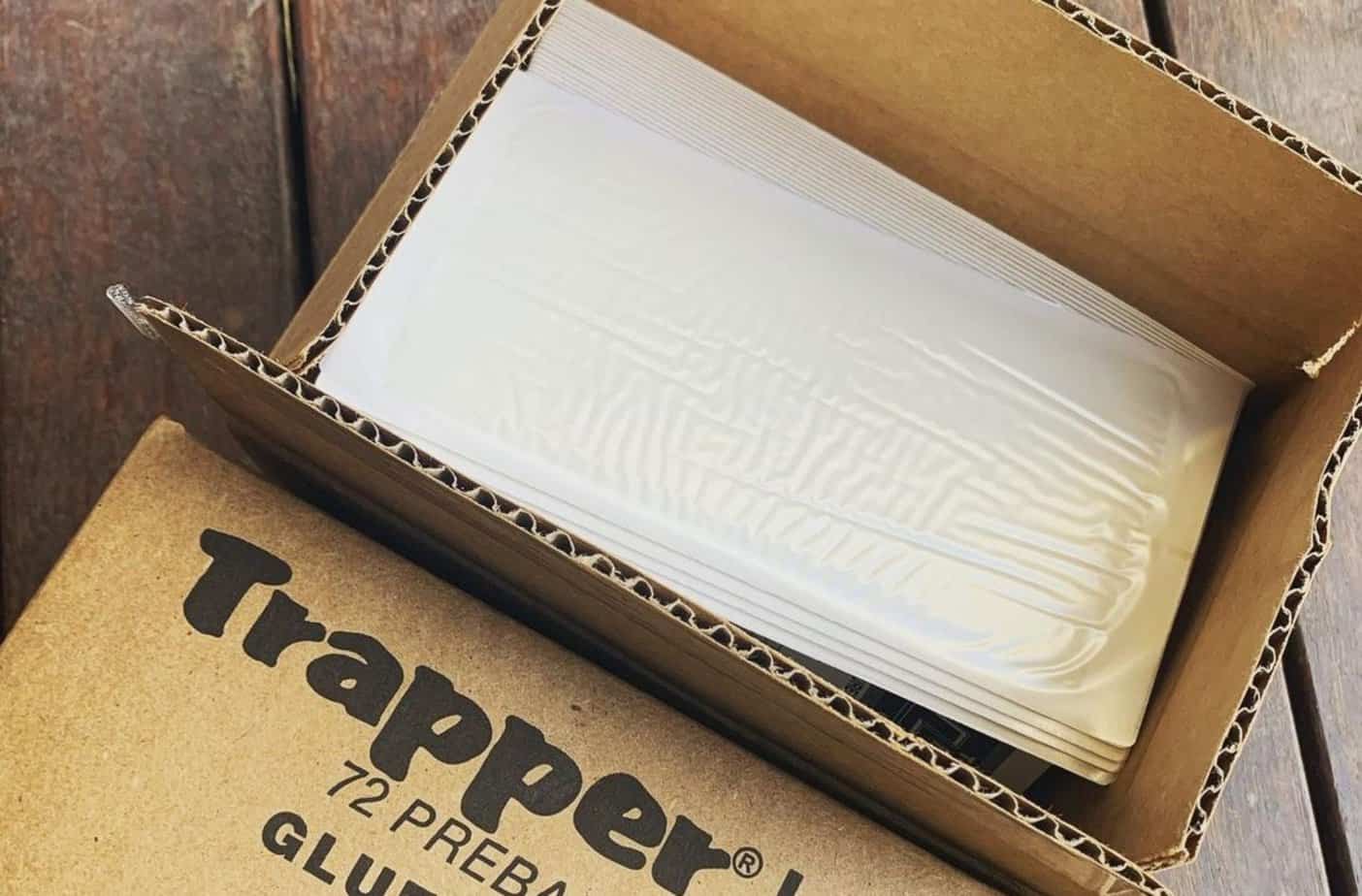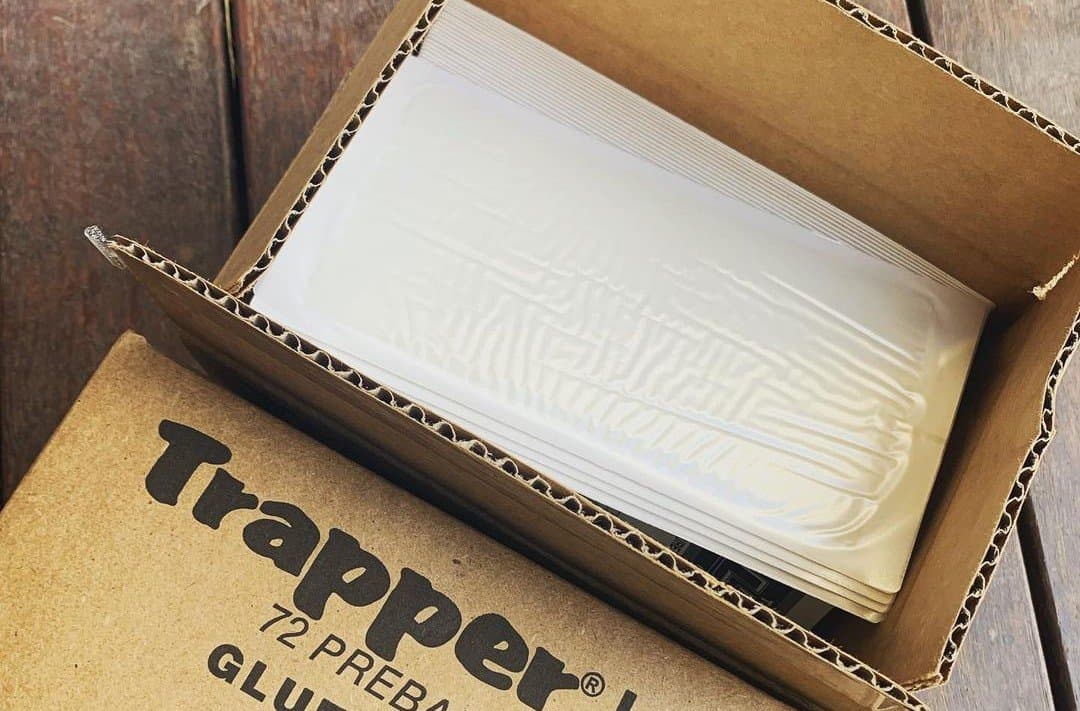 This is an effective solution for pest problems as it helps both to catch insects and monitor the level of infestation. These traps are non-toxic and safe for your home. They come in packages of 90 stripes, and you can divide them one by one, or in the size you need.
There is a place for writing where you can specify the date and the place of use, which is convenient for monitoring. These traps are made of cardboard so keep them away from water.
The backside is adhesive to keep the trap in place. However, it can be sticky to your hands. On the other hand, it means it will glue better to the surface and will stay there. I also do not recommend touching the inner side of the trap in order not to feel what spiders might feel. In addition, this sticky spider trap can catch other nasty insects like bed bugs or cockroaches.
Pros:
Cons:

non-toxic;
adhesive;
epa-registered;
variable size;
catches other insects.
2. Pesticide-Free Solution: TERRO Spider & Insect Trap
Specifications:
Color: White
Number of Pieces: 20
Item Weight: 10.5 ounces
Item Dimensions LxWxH: 4 x 3 x 3.25 inches
Target Species: Cockroach, Cricket, Ant, Spider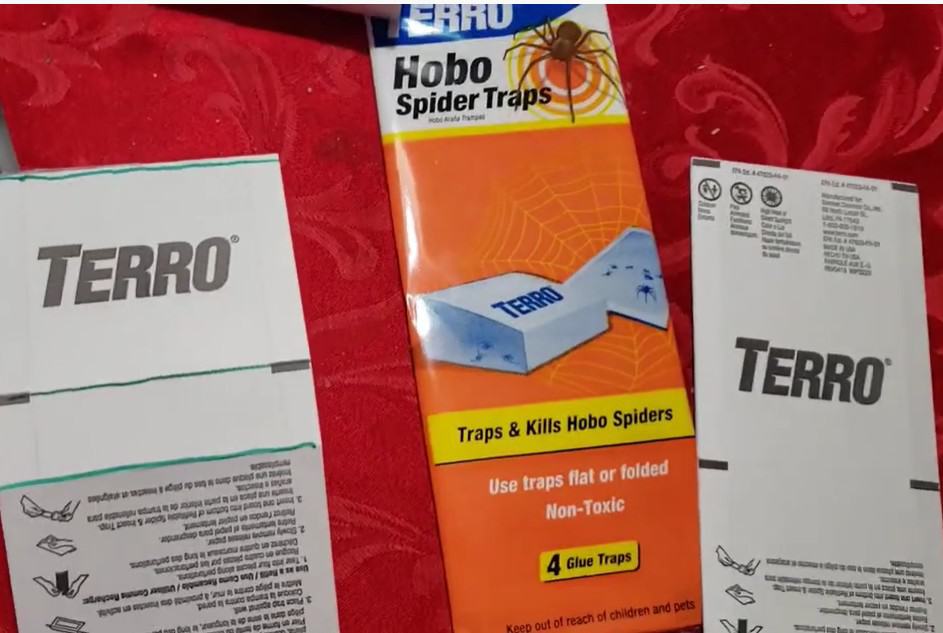 These spider traps from TERRO are effective against a set of crawling insects like ants, cockroaches, crickets, and so on. As they do not contain pesticides, their non-toxic nature makes them safe for home use.
They come in packages with four traps that are 4×10 in size. You can use them flat to increase the catching area. In addition, you can fold them in case you have kids or pets at home to prevent them from getting stuck.
Despite there are numerous spider species, usually people worry about the few but dangerous ones that include brown recluse, the hobo spider, and the black widow. And TERRO traps are claimed to be effective against them.
Among the drawbacks, I can name the fact there are only 12 traps in a pack. If you have a big house and want to protect every corner, you will need a bigger amount. Also, 12 are not enough for a regular spider "hunt". If this is your case, you will need a few packs.
Pros:
Cons:

non-toxic;
ready-to-use;
foldable for kid and pet protection;
works against other insects.

the small number of straps in one pack;
glue is hard to remove from the skin.
3. Non-Toxic Brown Recluse Spider Traps: Catchmaster Insect Trap
Specifications:
Color: White
Number of Pieces: 30
Item Weight: 7.3 ounces
Item Dimensions LxWxH: 9.92 x 7.64 x 0.47 inches
Target Species: Cockroach, Cricket, Spider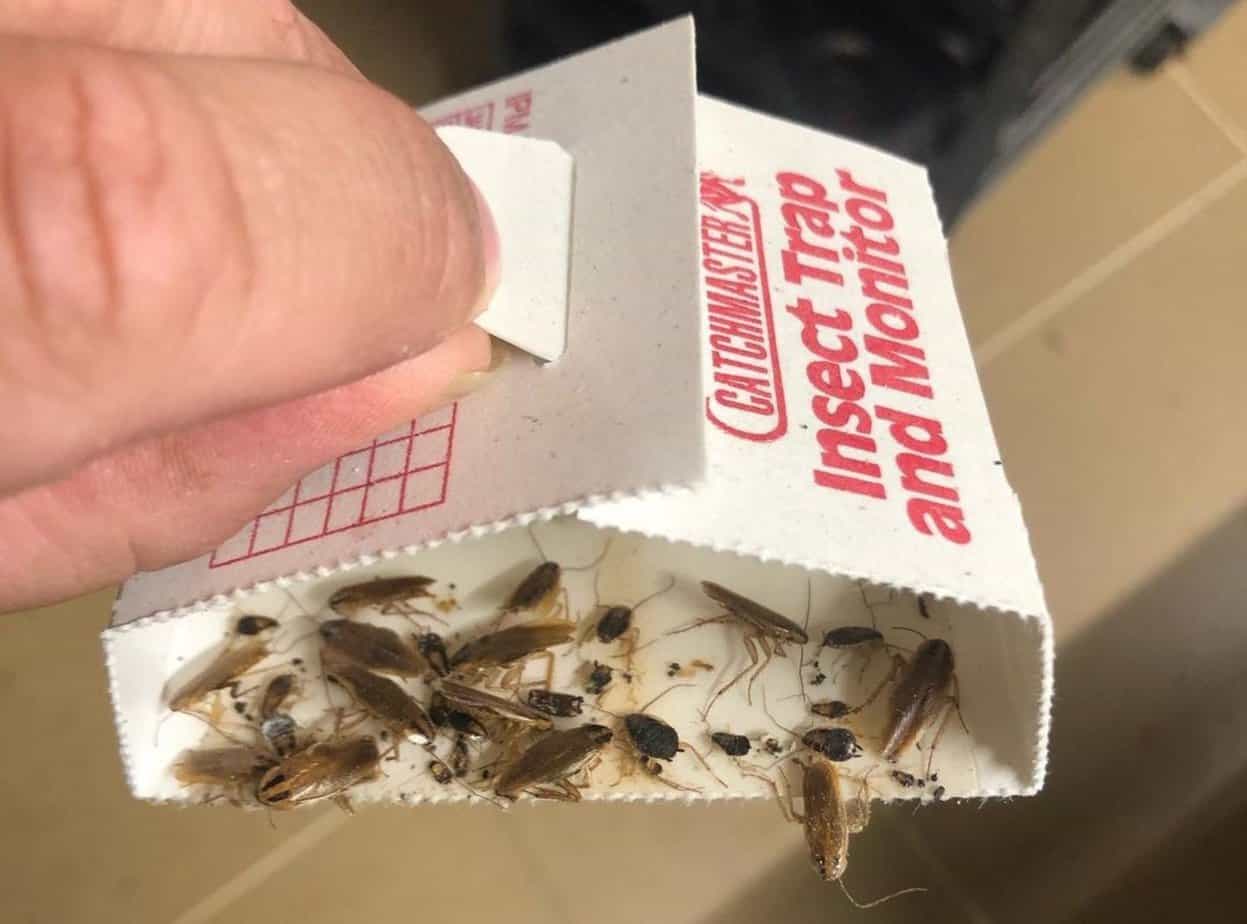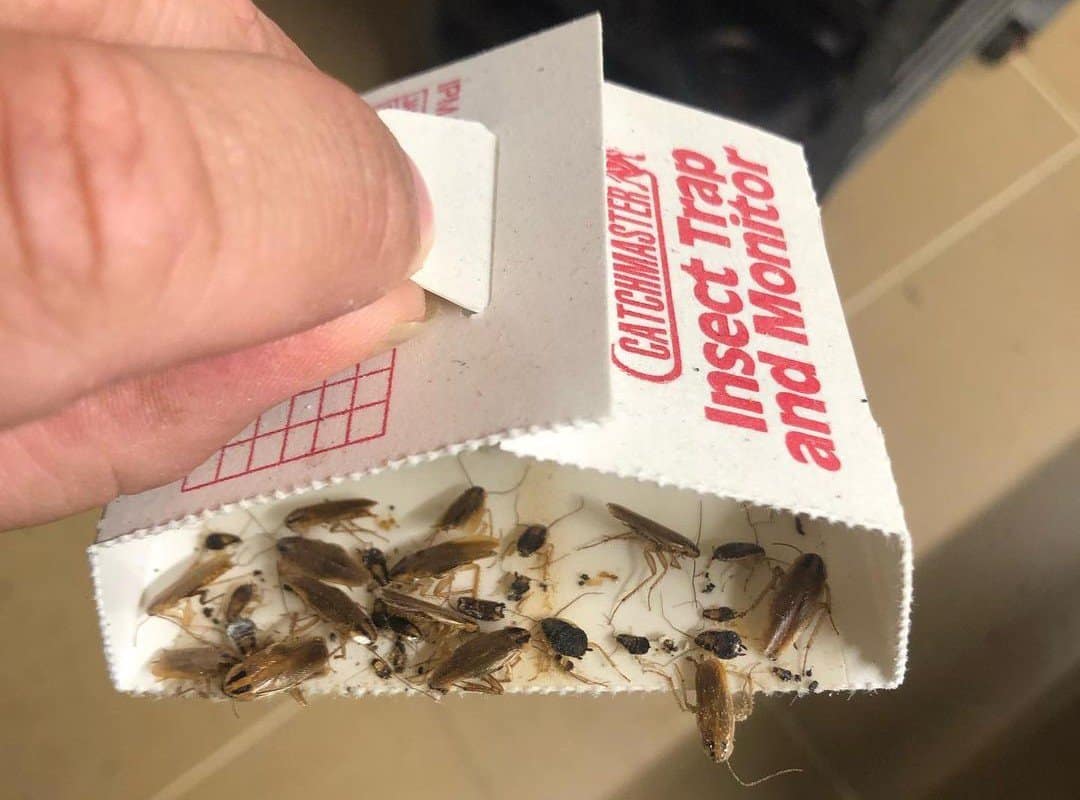 Catchmaster Insect Trap is a set of 30 brown recluse spider traps, each of which can be folded up. The manufacturer claims it is an affordable solution for you spider issues as you save on calling an exterminator.
Also, the fact that there are 30 small traps instead of selling a smaller number of bigger items in one pack is very convenient. You can place them around the house and secure more areas. Moreover, that is how you can monitor places in your house with high levels of infestation.
I like the fact that it is recommended by Kansas University for domestic use. Due to its non-toxic nature, the product can be used in places where it is not safe to use pesticides. It is also supposed to work against crickets and cockroaches.
However, there are some complaints these traps do not attract other types of spiders. Another common complaint is that the sticky layer is thin and does not cover the entire trap area.
Pros:
Cons:

recommended by Kansas university;
foldable.

small sticky area;
might not be effective against other spider species.
4. Pre-Baited Spider Trapper: JT Eaton Pest Catchers
Specifications:
Color: Yellow
Number of Pieces: 4
Item Weight: 0.42 Pounds
Item Dimensions LxWxH: 0.88 x 5.12 x 11 inches
Target Species: Cockroach, Cricket, Mouse, Rat, Snake, Spider
This indoor spider trap has the main advantage comparing to others – it works even in winter without losing its sticky properties. But the JT Eaton Pest Catchers have not only strong glue but also an attractant that allows catching more spiders and other insects. It is made in the USA, so this product will be suitable for those who want to support local manufacturers.
The thin shape allows placing it in narrow areas. However, it does not have any cover on the top, so make sure your kids or pets will not get into it. Also, with only 4 traps in a pack, it might be a bit overpriced.
Pros:
Cons:

works during cold seasons;
durable glue;
boosted with an attractant;
effective against a wide range of insects;
produced in the USA.

open construction;
a higher price as compared to similar products.
5. Foldable Indoor Spider Trap: ALAZCO Glue Traps
Specifications:
Material: Paper
Number of Pieces: 6
Item Weight: 4.8 ounces
Item Dimensions LxWxH: 7.75 x 5.25 x 0.85 inches
Target Species: Cockroach, Cricket, Fly, Moth, Mouse, Scorpion, Snake, Lizard, Spider, Silverfish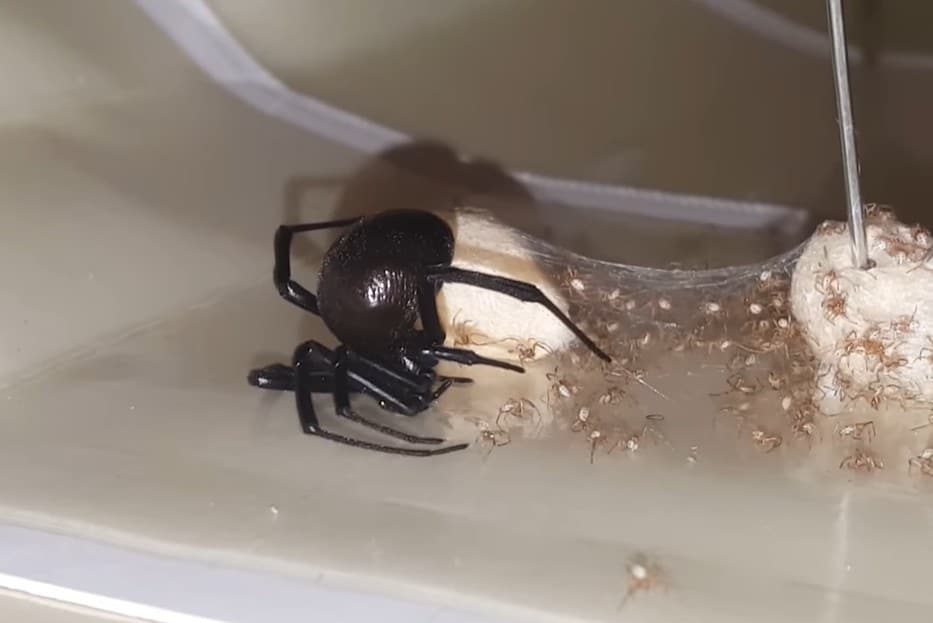 This is another non-toxic spider glue trap that is suitable for home use. It is safe for humans, so this is a solution for cases when you cannot apply chemical pesticides. Traps have a foldable construction, but you can make them flat as well depending on the target. They are easy to apply.
Traps are claimed to be effective against a wide range of insects and rodents due to their wide glue area. They are produced by the US manufacturer and come in packages of 6, 12, or 24 stripes. Among the complaints, I found out they were not as effective against rodents as it had been promised.
Pros:
Cons:

without toxic components;
foldable construction;
made in the usa;
selection of packages.

might not be effective against big rodents.
The Description of Spider Traps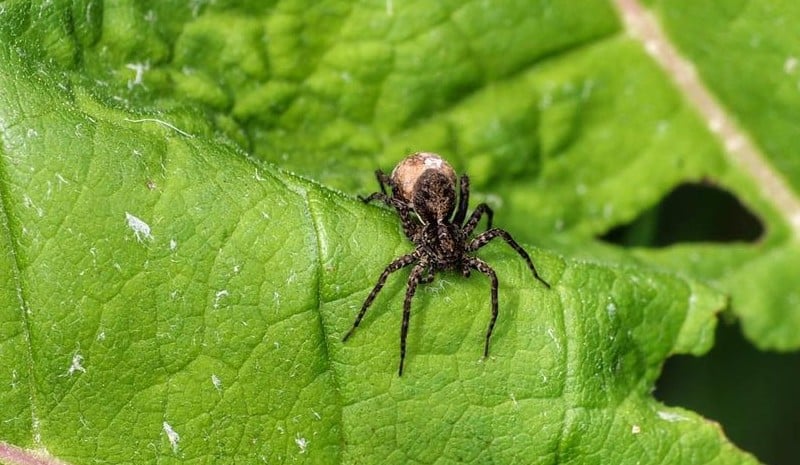 When it comes to spider traps, they all work on the same principle. It is a board or tube that is covered with a sticky layer to catch insects. They can be wooden, cardboard, or plastic. These traps are easy to apply as they usually come in ready-to-use form.
You just need to take them out of the package and put them in the required spot. Traps can be placed wherever you may notice spiders or other crawling pests. Some products add an attractant to the glue to lure more insects. How do spider traps work?
As soon as the target is caught, it remains there till death from hunger or thirst. There are no additional chemicals to kill the pests, so they die naturally.
Using traps is safe and eco-friendly. You do not have to apply harsh chemicals to fight pests. Spraying insecticides around the house can be harmful to your health, while with adhesive traps there are no chemicals in the air. This is also good for houses with children or pets.
The only caution, in this case, will be to look after your pets and kids and not to let them glue to the trap. However, many products have a foldable structure, covering the sticky area and preventing such cases.
Related Post: Best Spider Repellents: Top Natural & Chemical Picks
Recommendations for Trapping Spiders Better
The key to your success in hunting spiders is the right location. You need to know their paths to place the traps and catch those pests. Even if you cannot define the right spot, you can put a few insect traps for spiders in different parts of your house and monitor their activity.
In most cases, spiders prefer dark and quiet places. This can be a closet, the area between your bed and the wall, or behind another piece of furniture.
If you see only one or two spiders in a trap, this is probably the wrong spot, and you have to look for another place. But if you see a lot of spiders soon, you have to put your efforts into that area. Place as many glue boards as possible on the spiders' pathways. Some products have an adhesive back, so you can even stick them to the wall.
Another important aspect of trapping spiders is the detection of their food sources. Spiders' food is other insects, so to reduce the number of spiders in your house, you have to get rid of other pests.
This can be done by applying pest control measures or adding more sticky boards to catch not only spiders but flies, cockroaches, etc. If there is a bug stuck in the trap, it is the best bait for a spider.
Traps or Insecticide: What Is Better?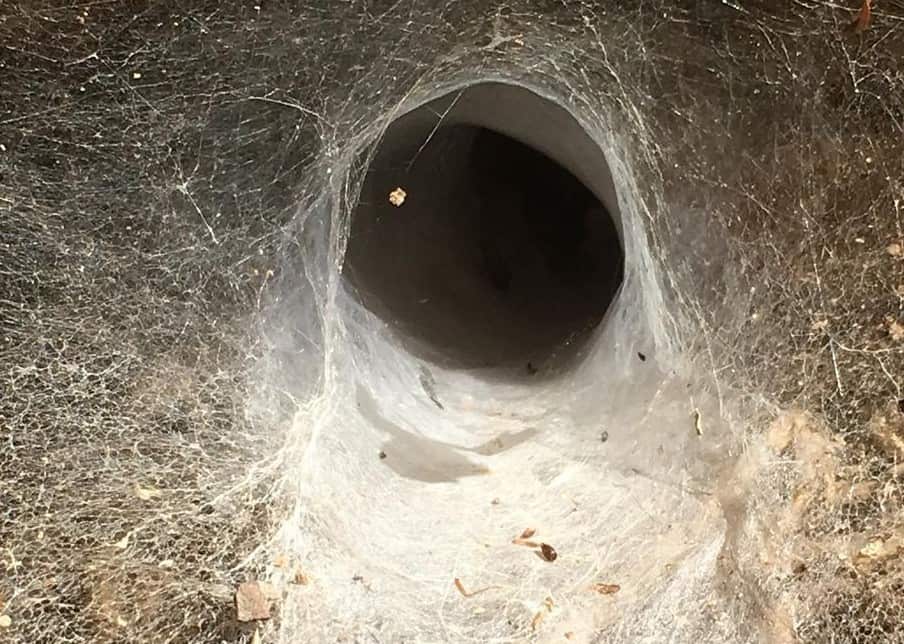 There are two views on fighting against spiders. Some people claim it is not enough just to place the traps around the house to kill all the spiders, thus they encourage using insecticides. However, others insist on using traps and exclude insecticides. Let's define the truth here.
When you experience a large scale of spider invasion, you have to use a comprehensive approach. Otherwise, all you will do during the day is catching spider beings. You can use some vacuuming, chemical treatment, or the help of the professional exterminator.
However, using pesticides, you have to know why they can be less effective than traps. Spiders have long legs, and their bodies do not tock the surface so the chemicals do not get on their bellies. Moreover, due to their habits, it is not likely spiders will "eat" pesticides from their legs. So the best way is the "contact kill" like traps, or a shoe, or a newspaper, etc.
However, you can treat cracks and other small hidden areas and holes where spiders can hide and are more likely to touch the infected surface. Also, there can be places where females lay their eggs. Spider sprays can also be good for creating barriers.
As you can see, both chemical and contact weapons can work when used properly. But I do not recommend using pesticides if there are few spiders in your house. This can be a measure of serious cases.
Related Post: Best Spider Foggers & Bombs Reviewed
Frequently Asked Questions
Where to Place Spider Traps?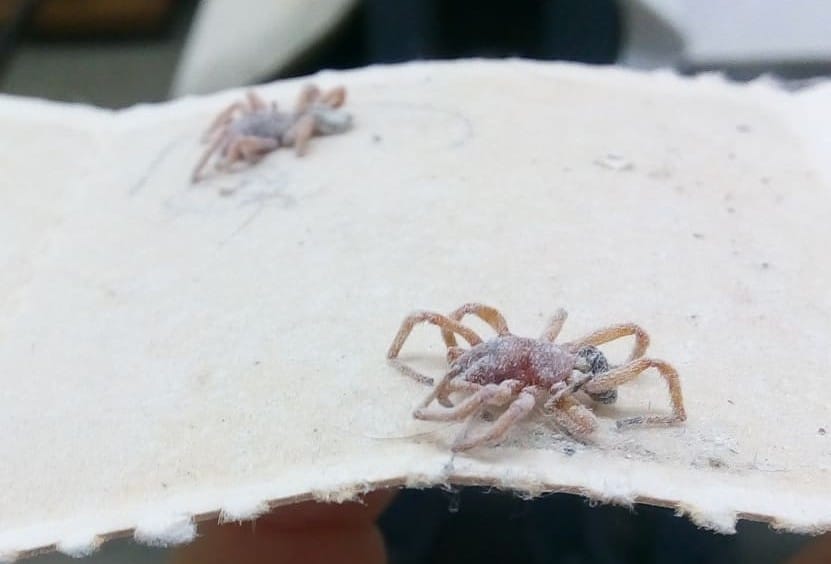 As I have said, spiders like dark and quiet places. You know your home better, so you can define where they would probably hang out. Usually, this can be a corner behind a piece of furniture, a wall corner behind the curtains, closets, cupboards, and holes or cracks in walls. You can also track spider activity with traps.
How to Set Spider Traps?
You will know how to trap a spider as soon as you get one. Usually, they come in a form of an adhesive board or a tube with a sticky surface. You need to place or stick the trap in the required place, and this is it. Also, traps can fold into boxes to protect the sticky area from pets, kids, and other factors.
How Often Should You Replace Spider Traps?
There is not a definite rule about how long you can use a trap. If there are a lot of spiders, the trap can be full soon, and you need to replace it then. When the trap is a preventive measure, it can remain sticky for up to three months. Some products have a space for writing the date and the location for easier monitoring.
How to Lure a Spider out of Hiding?
This is not an easy task, as spiders love hiding and spend most of their time resting on their secure web. But they can leave their comfort zone for hunting. Therefore, the only way to attract a spider is to "offer" it some food. It can be either a dead insect in the trap or a chemical attractant.



Trap Your Fears
Many people suffer from the fear of spiders, also known as arachnophobia. They cannot stand the idea there are crawling insects in their dwellings. Moreover, even if you do not have a phobia, it is not pleasant to have pests in the house with their web and dead flies in every corner. That is why setting a spider trapper could be a great solution.
Have you tried them already? Do you know any other methods of fighting against spiders? Share your experience in comments!
References:
Spiders (Illinois Department of Public Health):
https://www.dph.illinois.gov/topics-services/environmental-health-protection/structural-pest-control/spiders
How Do External Factors Relate To Arachnophobia? (Western Washington University):
https://wp.wwu.edu/arachnaphobia/
Why You Should Trust Pest Control Hacks?
We know that pests are nasty neighbors, and it can take months to eliminate them without the right approach. Our experts use their own experience to compile articles and guides that are introductory and informative. Our authors' opinions are independent and based on the results of practical testing of pest control tools. We do not notify manufacturers of testing of their products and do not receive payment from them for posting their items. Also, our texts are never submitted to company representatives for proofreading before placement. On the site, you will find exclusively objective ratings and reviews.