Dwelling
Once the weather starts to warm up in spring and the first snow begins to thaw, there appear the flies — one of the most annoying insects of all. And the first thing you may think of is how to get rid of flies.
Then you ask yourself, where do they come from right after the winter's cold? Why are house flies constantly trying to get into our homes? Why do they start biting at the end of the summer? Are they dangerous for a human?
So many questions are raised about these insects, notorious for being such a huge nuisance, that the expression "the fly in the ointment" appeared. So why are they so annoying, why do they keep pestering us and how to get rid of flies? To answer these questions, we need to learn more about them, what they prefer and how they live.
What Are Flies?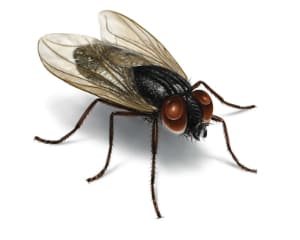 Flies are arthropods from the order Diptera. We know them, especially about the house flies, since the dawn of time, and they get their name from being the most widely spread flying insects on earth, found everywhere humans are.
How Do They Look?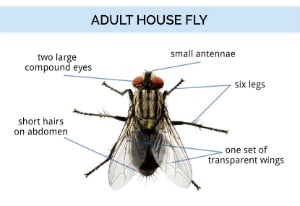 House flies bodies are gray, ranging in size from 0.08 inches to an inch, and consisting of head, thorax, and abdomen. Their wings are membranous and transparent. On the end of their three pairs of jointed legs are feet equipped with sharp claws and sticky pads. This allows flies to walk and climb on any surface, including ceilings and smooth vertical walls and glass.
The most unique thing about the house flies is their eyes. They occupy most of the head and consist of several thousand hexagonal lenses (also called ommatidia) that give them 360° field of view and allow to distinguish colors.
Where Are Flies Outdoors Found?
Flies outdoors can be found across all the continents except Antarctica. The oldest known fly, which lived 145 million years ago, has been discovered in China. This discovery indicates that these insects have existed on Earth for a very long time. They prefer to settle in close proximity to humans.
Gray (or house) fly is rarely found in the wild, preferring to live next to the humans and causing house flies infestation. They feed on our foodstuffs and waste, and cause us a lot of harm instead.
House flies do not travel long distances and live no more than 300 ft away from their birthplace.
Flies outdoors love the warmth and prefer temperatures of 70°F and above, with no more than 80% humidity. When temperatures fall below this point, flies hibernate until it's warm again. They can spend 5 to 6 months like this. That's why once the weather starts to warm up in spring, or sometimes even during winter with the heating switched on indoors, it is possible to see living flies outdoors.
Their eggs cannot survive temperatures below 45°F, while adults perish at sub-zero temperatures.
How Long Do House Flies Live?
The lifespan of a fly is very short. They can live for up to 2 months under favorable conditions and the absence of predators. However, the average lifespan of house flies is 10-20 days. These insects' natural enemies are birds and insectivorous animals, spiders and their webs, as well as humans armed with a rolled newspaper or a fly swatter.

How Do Flies Breed?
House flies are ready to breed mere 2-3 days after their birth. Then, they proceed to lay about 150 eggs at a time in spoiled or leftover food, garbage, and organic waste. Over its short lifespan, a fly can lay up to 3 thousand eggs. The eggs are tiny and invisible to the naked eye, but they gestate rapidly. It takes a day for larvae to emerge. Commonly known as maggots, they will increase their size by up to 800 times in a week.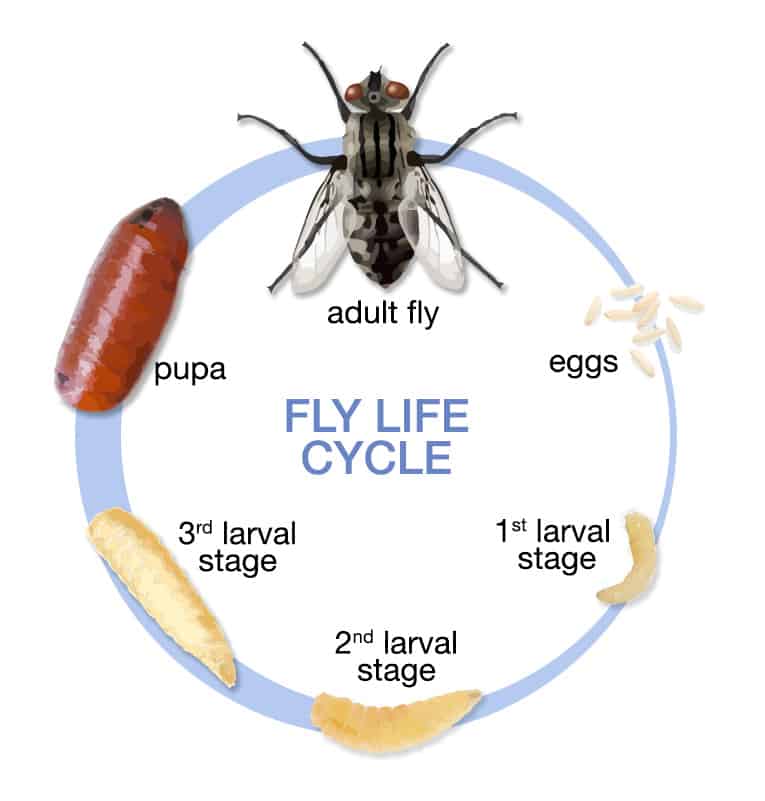 The maggot pupates and in a week transforms into an adult fly. All stages of development from egg to an adult take 12-14 days.
It crawls for the first 2-3 days of its life, waiting for its wings to grow stronger. At this point, the fly is ready to reproduce. Their reproductive capabilities are alarming because in a few days there could be an army of insects causing a house flies infestation.
What Do House Flies Eat
Flies are not the picky eaters and can feed on any organic food or waste. They prefer sweet liquid foods and can catch the smell of it over a great distance. But to eat solid food they first need to spit on it to soften the food with saliva, turning it into a liquid. Some species prefer one kind of food above all else (for example, Piophilidae, or cheese flies, breed only inside cheese).
Many people wonder why flies "rub their legs," and what does it mean to them. The fact is, flies do this to clean sticky pads on their feet of debris and dirt. After cleaning the front legs, flies wipe their eyes and head. Then they use hind legs to clean their wings.
Species of Flies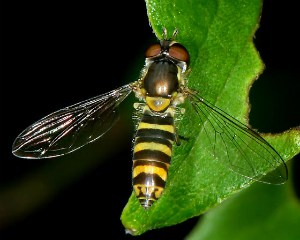 Over 3600 species of flies exist. They differ in their appearance and habitat:
House flies: these are the most common insects and they are causing a house flies infestation. They come from the steppes of Asia. House flies prefer to live close to humans and are found across all the continents.
Hoverfly (syrphidae): this insect has a yellow and black striped body, similar to a wasp. It feeds on nectar and is harmless for a human. This fly got its name because it is often seen hovering at flowers.
Blow fly has a distinct shining green body. It dwells near rotting flesh and waste and may carry bacteria and disease.

Blow fly

Drone fly is a large insect (up to 0.6 in) with dense hair covering its body. Its larvae can cause intestinal diseases if ingested by humans.

The tsetse fly is a very dangerous bloodsucking fly. It carries diseases that destroy immune and nervous systems and lead to death. These flies exist only in Africa.
Stable fly bears a close resemblance to a house fly. They migrate en masse from woodlands closer to cities, towns, and villages by the end of the summer and have a very painful bite. Many people think that these are regular house flies that began to bite. But that's not true: Stable fly is a separate fly subspecies.
Dung fly lays its eggs in animal dung only. It's rarely seen inside a human home.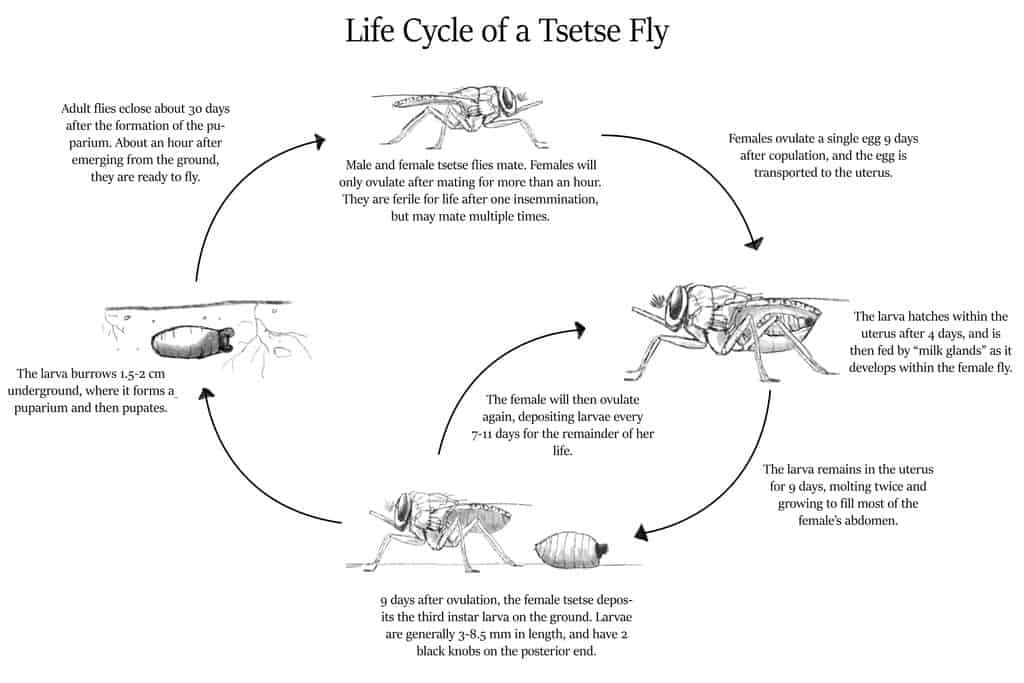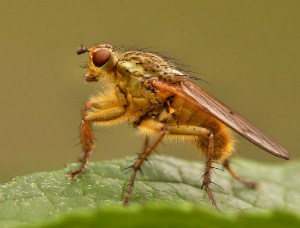 The most familiar kinds of flies to us are various subspecies of a house fly. Other kinds are far less common.
Are Flies Dangerous to Us?
Flies are not dangerous to humans directly: they don't bite and cause no allergic reactions. However, their behavior and habits cause a lot of trouble:
Flies can cause the most harm as carriers of disease-causing bacteria and infections. Their persistence in getting inside a house, searching for food and crawling all over it causes them to spread infections rapidly.
Larvae can infest any living organism — human or animal.
Crawling through filth and manure piles, flies outdoors pick up a variety of microorganisms, bacteria, and worms eggs with their legs. Flying from a garbage dump to your home, flies spread all of the above on your food, which may cause such diseases as cholera, dysentery, tuberculosis, and anthrax. That food becomes dangerous to eat.
In addition to spreading disease, house flies are simply annoying with their constant flying around and buzzing.
The only use they have is serving as food for birds and small animals.
How To Get Rid of Flies
There are a lot of ways to get rid of house flies. The simplest, manual methods are a fly swatter or a rolled newspaper with the help of which you can  kill flies. A big con of this method is the dirty stains on the walls. Another drawback is that house flies detect movement much faster and manage to fly away, so you'll have to "hunt" or a long time to kill flies. You shouldn't pick killed house flies by hand, but use a scoop with a broom or gloves instead.
When choosing insecticides to get rid of flies, you should pick killing flies chemicals containing permethrin and tetramethrin, and avoid those containing chemical elements that are toxic and dangerous to humans and pets, like phosphorus and chlorine.
To get rid of flies in nearby areas, compost pits or cesspools, you should call pest control specialists. They use a technique called fogging to cover the area with fog containing potent insecticides to kill flies. It gets into all nooks and crannies and kills not only flies but also larvae, ticks, and bugs.
When choosing a means to get rid of flies, consider the following:
the size of your house or yard;
how many flies are there (a few house flies getting into your room is not a reason to buy an expensive device to get rid of flies but for businesses dealing with food such devices killing flies are indispensable);
are there children or pets in the house (do not use strong insecticides to kill flies if there are any);
how much are you willing to pay for devices and chemicals to get rid of house flies;
Only after taking all of this into consideration can you purchase the right tool for getting rid of flies.
Preventive Measures
It is always easier to prevent a problem rather than try to get rid of flies afterward – you should keep this in mind and try to prevent pesky insects from entering your home.
House flies do not infest places with unfavorable conditions for them. That's why you should remember that these insects like and deny them of the opportunity to eat and reproduce at their leisure.
To prevent the house flies infestation, ruining your food and spreading infections, you should limit their access by any means necessary:
Install mosquito nets on windows.
Do not leave food, crumbs, fruit out in the open and accessible for insects. Timely remove the food from the table or cover it with lids, napkins, or gauze.
Keep garbage bin clean and its lid closed.
Keep the kitchen clean and tidy, timely wash dishes.
If you have a dumpster outside, keep it closed and clean.
Treat cesspits with chlorine at least once a month.
Use insect traps and adhesive tapes to get rid of house flies.
Use repellents and insecticides in case of large insect concentrations.
Remember that a single fly can quickly produce up to 3 thousands more. Then, before you even know it, there will be swarms of flies all around the house, spreading infections and diseases. The house flies infestation should be dealt with by any appropriate means. Preventive measures in the process of getting rid of flies should be taken in conjunction: cleaning up, keeping your house clean and tidy, and repelling and killing flies.
Please follow and like us: