Despite eco-trends, chemicals are still an indispensable part of our lives. Although the anti flies sprays are still quite popular and useful, alternative ways of disinfection are invading the market.
I want to share with you a story of Lorenzo Maggiore, an artist, surfer and inventor from L.A. In 2012, he received an "Official Patent of Invention" and released his first salt gun that works on ordinary kitchen salt, without any poisonous chemicals. Bug-A-Salt products are easy to use, light and safe. They look like water guns and might bring as much fun as a water fight.
Bug-A-Salt Review
Overall Score: 4.9/5. The product performs just as advertised.
In this salt gun review, you will find out what the latest versions of the product are, how a salt shotgun works and what is the best Bug-a-Salt product.
Bug-A-Salt 3.0 Review
Specifications:
Color: Black, Orange, Gray
Number of Pieces: 1
Item Weight: 2 Pounds
Product Dimensions: 21.75 x 7.5 x 2.75 inches
Target Species: Fly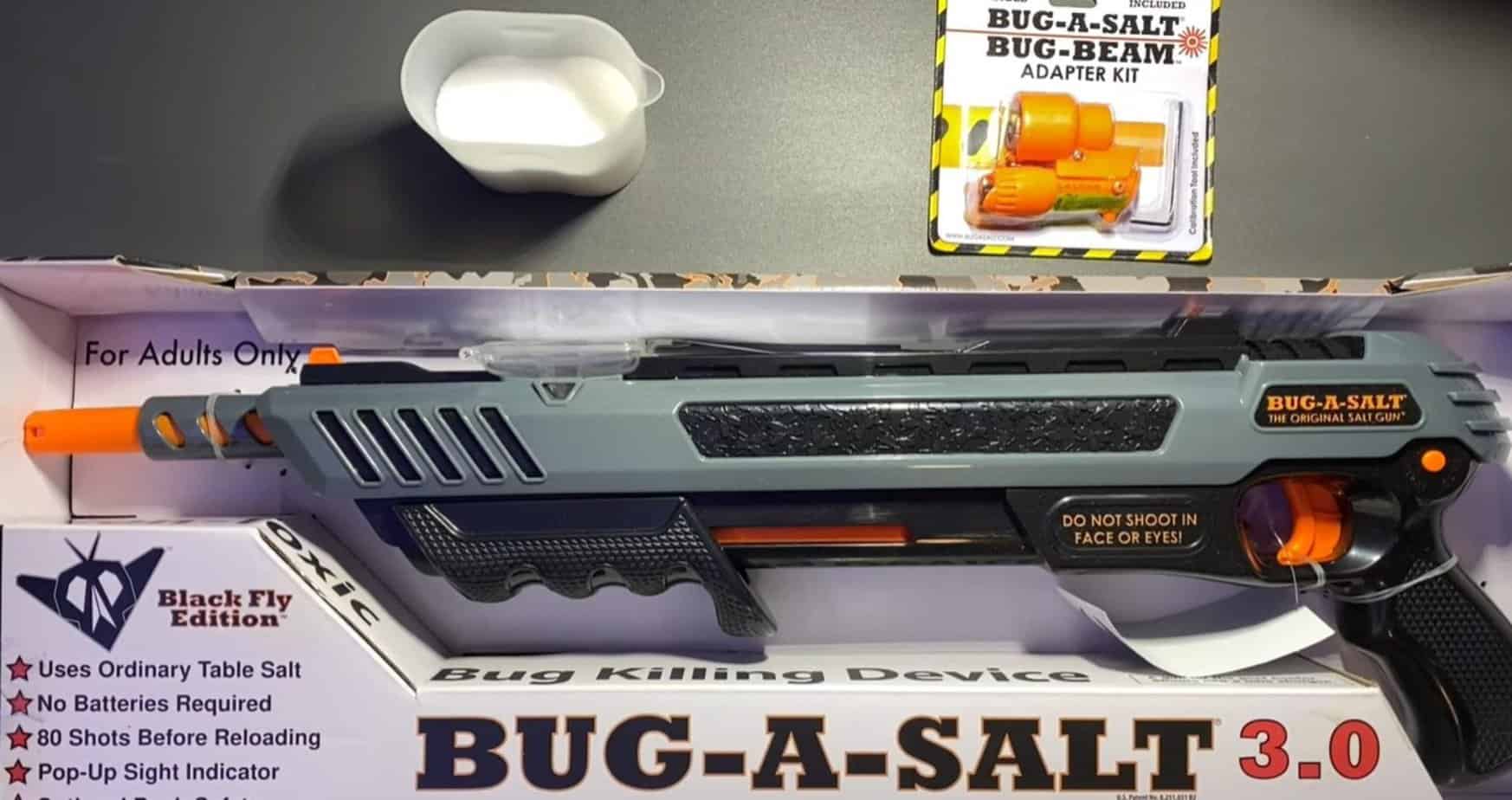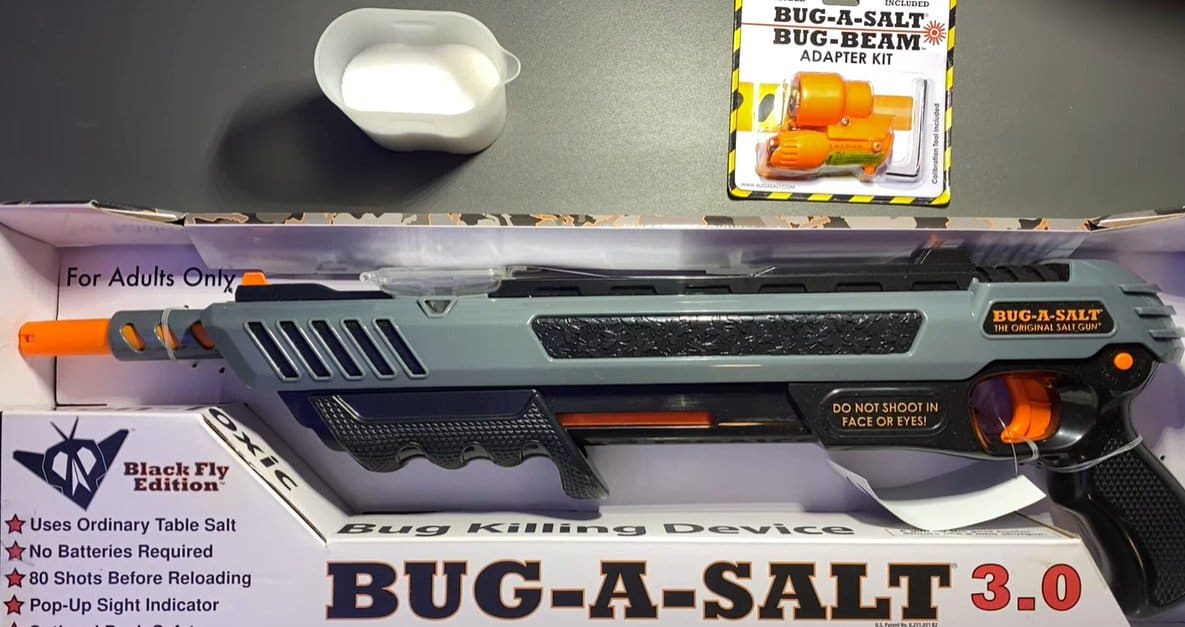 Bug-A-Salt 3.0 is a salt squirt gun. It underwent recent updates that made it fantastically productive. Due to a plastic construction, it's very light and comfortable to carry. It may remind a toy gun, but don't follow this illusion. It's a real weapon for disinfection.
Effectiveness
While testing Bug-A-Salt 3.0, I paid attention to its shot pattern. Salt holes are more accurately localized, which helps to kill the fly from the first shoot. Meanwhile, small flies may be splattered by a salt stream. Despite its power, this gun doesn't leave any marks on furniture.



Price
Although the price is a bit high, I have never heard any complaints about the gun's usefulness. The cost varies from 40 $ to 100 $ and depends on color, additional accessories (e.g. laser pointer), and the number of guns in a delivery pack.
Ease of Use
Usage is very simple and in many ways similar to a water gun.
First of all, take a pinch of kitchen salt;
Find a lift cap and fill up a box with salt. One dosage is enough for 80 shots;
Before shooting, unlock a pump handle by pushing it back and forward;
Push a safety button that is on the gun's handle;
The Bug-A-Salt 3.0 is ready to use.
It can make several fast shots in a row, but if you have struck a target the first time, it is better to lock the safety button.
For more successful hits, take aim through sight indicators on top of the gun. When you see a target through both indicators, gently push a trigger. The insect will fall down. Mind that some big bugs may need 2 shots in a row: first shot hits them down on their back, second kills them in the unprotected abdomen.
Safety
If you hit a mosquito above your dinner table, don't worry — you can still eat your food, it will simply get a bit more salted than before.
The Bug a Salt fly shooter is fatal for insects, but never try it on animals or humans. No matter what is happening, keep it away from your face and eyes. Don't forget that it's not a toy, it's a powerful weapon that should be treated like a real fire gun.
Pros:
Cons:

easy to use;
simple supplies with a kitchen salt;
comfortable to hold due to its size and weight;
could be used with a laser kit adapter.

not eco-friendly: made from plastic;
sometimes it makes insects explode, so it gets hard to clean them.
Bug-A-Salt 2.0 vs 3.0
Specifications:
Color: Yellow
Material: Plastic
Item Weight: 2.33 Pounds
Product Dimensions: 22.8 x 2.65 x 7.8 inches
Target Species:Cockroach, Fly, Moth, Mosquito, Spider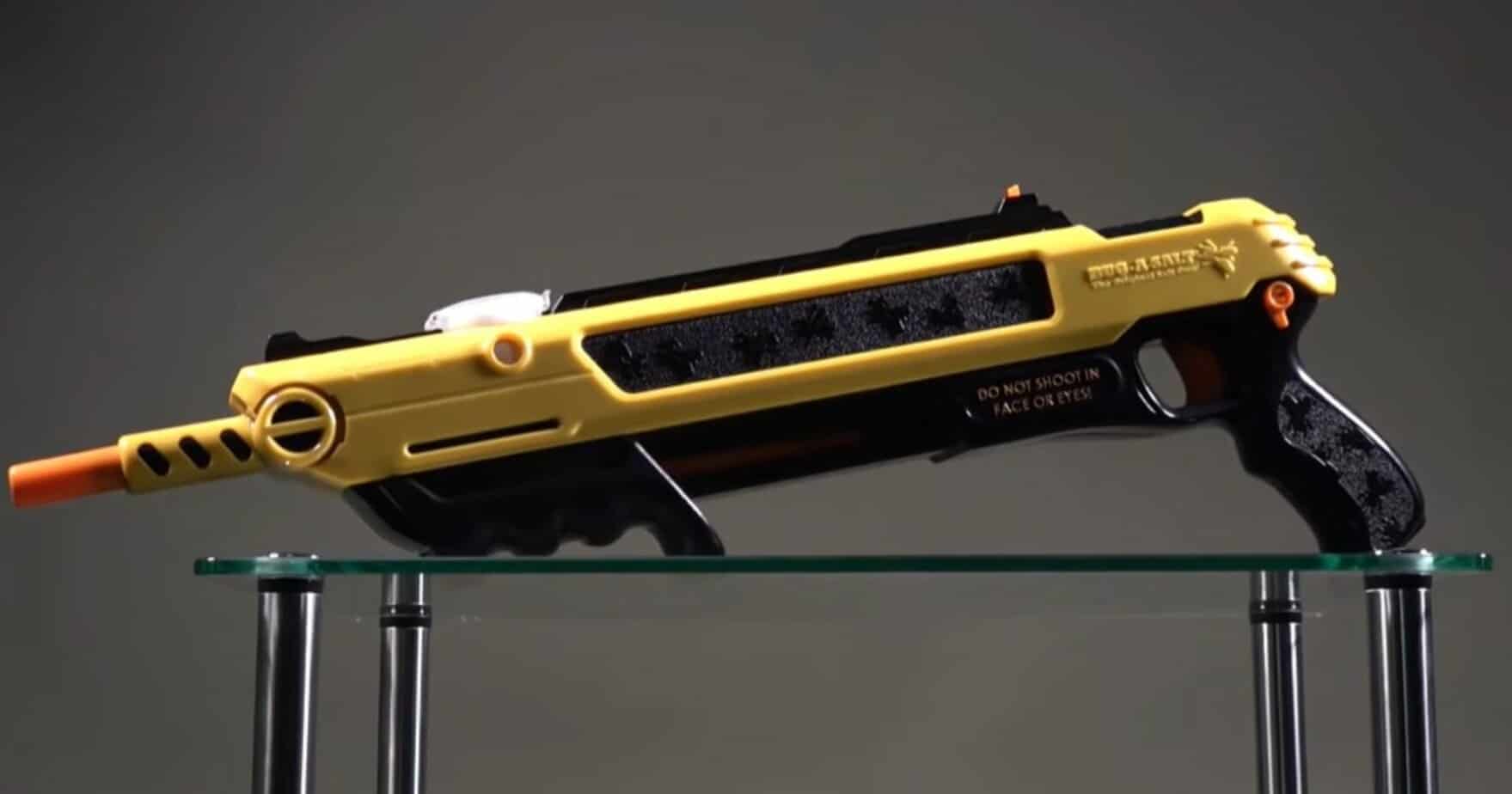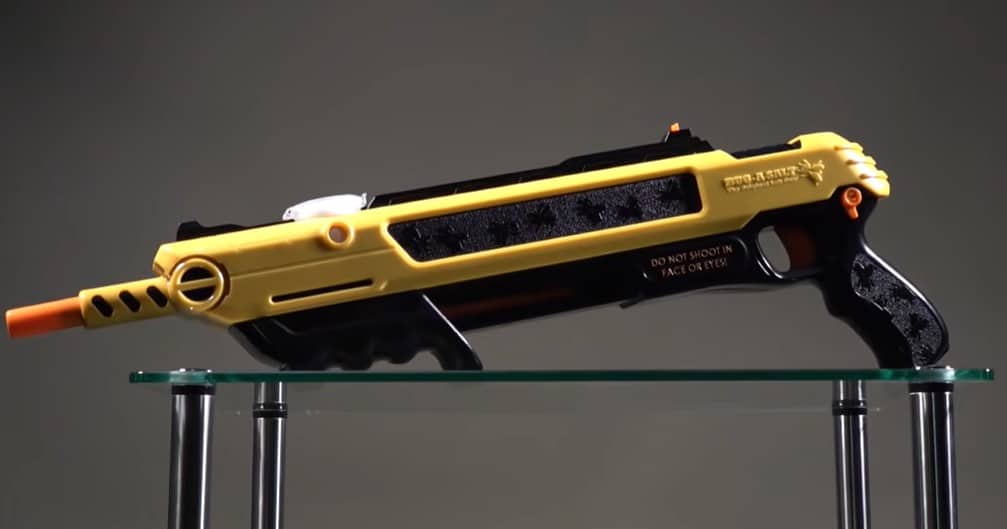 The difference between these two devices is in small, but prominent details. The 2.0 version was a revolutionary invention in disinfection. Lorenzo collected comments and reviews from all over the world.
He realized that customers need a smaller and faster gun. Thus, the updated 3.0 version is shorter, lighter, and stronger. The main difference lies in a shot controlling system — in the latest version you don't need to turn it off before every shot.
For me, such attention to the customers' needs raises the Bug-A-Salt company up high in any market ratings. Let's focus on the Bug-A-Salt 2.0 characteristics to understand why it is almost the best fly killing gun.
Effectiveness
It is a salt shooting fly gun. The gun power is so strong that it could easily kill a fly in motion. The strength of a shot is calibrated in a way that an insect won't blow apart. But sometimes one shot won't be enough for the lethal effect.
Price
The prices start from 39.95 $ and depend on different updates. I like it that the 2.0 version has 4 colors to choose, so every member of the family may have their personal weapon.
Ease of Use
Gun loading is pretty much the same as in the 3.0 version. The only difference is that you need to unlock the pump handle every time before shooting. It takes a few seconds, but they may be crucial for your target.
One loading is enough for more than 50 shots. These bullets use an ordinary kitchen salt or special High-Performance Salt. Mind that sea salt may be too moist and kosher salt is too big for the gun.
Safety
The contact with bits of salt will hurt neither humans nor animals. Nevertheless, don't forget that it is a fly killer gun. Do not point it to any living being!
Pros:
Cons:

easy to use;
available in various designs and colors;
3 feet is enough for an effective shot.

looks like a toy, so if you have children, keep the gun away from them;
not eco-friendly: made from plastic.
Bonus: Shortlist of leading advantages of the 3.0 version
Lighter and smaller;
More tender trigger;
Faster and stronger shots;
Direct and defined shot pattern;
One plump charge is enough for a series of shots;
New design.
Buyer's Guide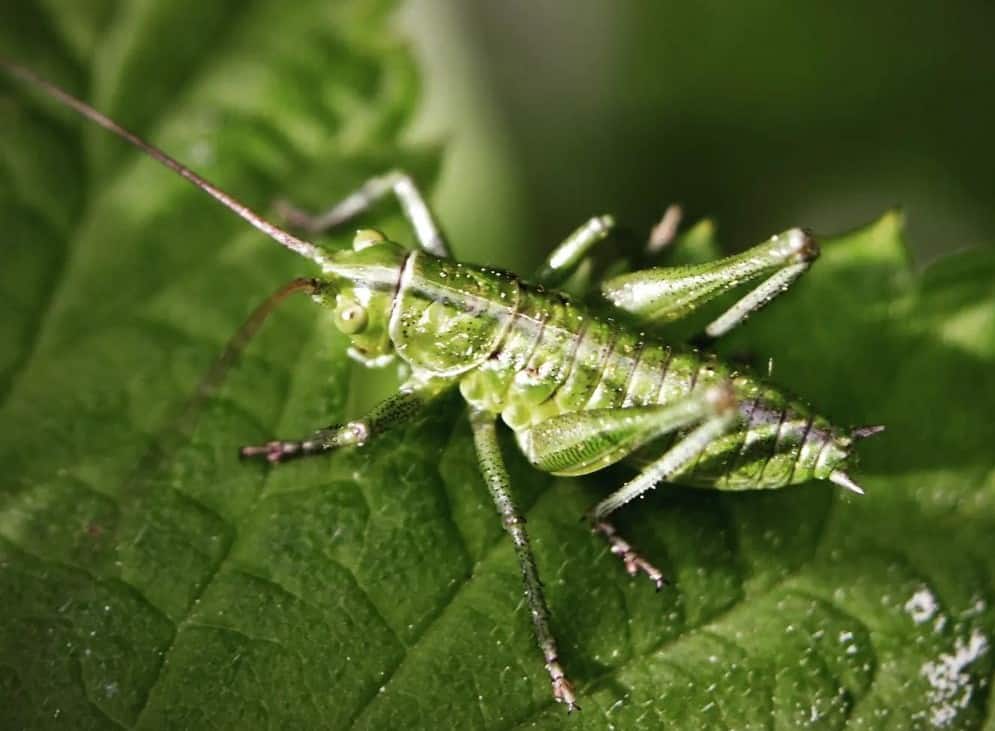 Fly control is necessary not only for farms but also for private homes. Don't expect that flies will vanish as magically as they appeared.
For successful disinfection and right product choice, follow these simple steps:
Pay attention to a type of insect while choosing the control product.
If we focus on flies, we can distinguish the most common types (listed from the biggest to smallest): house, stable, horn, and face fly. House, stable, and face flies are more responsive to sprays, while horn flies should be controlled by special minerals or feed supplements for cattle. Nevertheless, a salt shotgun perfectly deals with all types of flies, just like a trap.
Make a grand clear-out, including all corners and shelves tops.
Following the sanitation norms prevents any likable pest intrusion. If you are worried about your health and comfort, strictly follow the norms.
Find the places of flies concentration, areas suitable for egg-laying, and direct your disinfection actions around them. Control flies with a salt gun for flies. You can use it indoors and outdoors: in an apartment, garden or barn without worrying about furniture scratches or salt particles left on your food, as salt is harmless.
Combine different types of products.
Using only the spray may provoke allergies or diarrhea; their chemicals may harm your pets or children. You can save your house and health from pests only by combining and alternate toxic products with non-toxic, e.g. a fly killing gun.
If you are interested in non-chemical disinfection items, the best alternatives are salt gun fly swatter and flyshooter.
Electric Fly Swatter vs Bug-a-Salt
Specifications:
Material: Plastic
Number of Pieces: 2
Item Weight: 1.48 pounds
Product Dimensions: 17.52 x 10.04 x 2.17 inches
Target Species: Fly, Mosquito, Gnat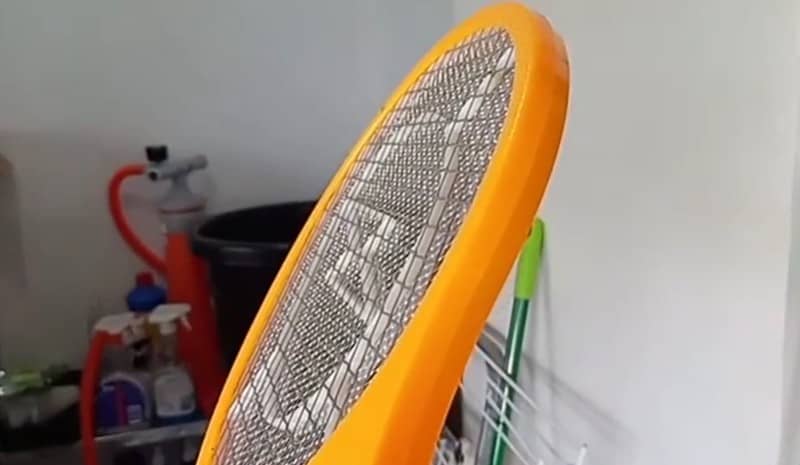 The Electric Swatter is a USB charging device that kills flying insects with a 4,000-Volt grid. It is similar to the racket and, just as a Bug-a-Salt, turns the disinfestation into a game. Just don't forget the salt gun fly swatter needs electricity. Nevertheless, it might be a good addition for Bug-a-Salt guns if you decided to organize a tourney in flies hunting.
Related Post: Best Electric Fly Swatters: Most Effective Picks
Bug-a-Salt vs Martin Paul Flyshooter
Specifications:
Color: Red
Number of Pieces: 1
Item Weight: 0.1 Pounds
Product Dimensions: 9 x 5.6 x 0.7 inches
Target Species: Fly
This spring-loaded device looks like a portable hand fan. While Bug-a-Salt products work from 3 feet distance, Martin Paul's string limits the attack distance to less than a foot. You can use the fly shooter in a car, in a garage or in a small room.
FAQ

How Far Does Bug-a-Salt Shoot?
It shoots ideally in 3 feet. Also, it reaches the target in 4 feet, but may need an extra final shot.
Does Salt Kill Bugs?
Yes, the salt kills bugs, cockroaches, spiders, mosquitoes, moles, slugs—almost all types of insects. That is why I advise you to use only one pest insecticide.
Related Post: How to Get Rid of Fruit Flies



How Much Salt does Bug-a-Salt Use?
Bug-a-Salt uses a pinch of salt for one shot. To hill up the barrel, you need approximately 30 grams of salt.
Does Bug-a-Salt Work with Sand?
No, it doesn't work neither with sand nor with flour or stones. Don't add anything except salt.
How to Clean Bug-a-Salt?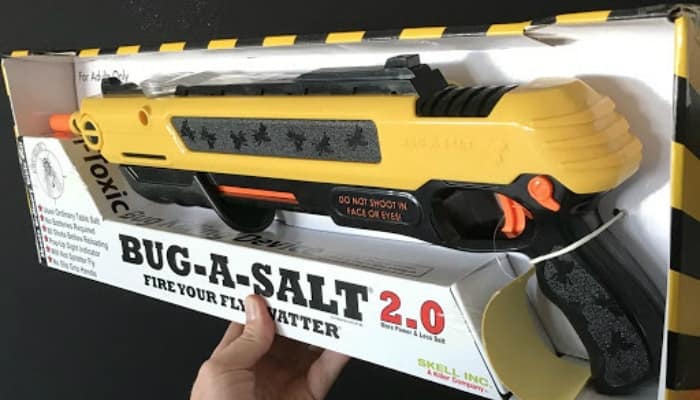 If your gun doesn't shoot with salt, pour hot water into the box to melt the sticky particles. Shake it for a few seconds and pour the water out. If you want to prolong the work of your gun, apply vaseline on the handle of the cocking mechanism.
How to Make Bug-a-Salt More Powerful?
Use a laser kit for better aim, High-Performance Salt or other accessories that are construed specifically for Bug-a-Salt products.
Bug-a-Salt Fly Shooter Will Save You from Pests and Pesticides
With a salt shotgun, you can have a real safari in your garden that might turn a disinfection process into a challenging game and gives you a lot of fun. Take a gun and some granulated table salt, and you are ready for an expedition! Concentrate on targets and don't worry about your air chemical level.
With Bug-a-Salt, you are protecting your home from insects and your body from toxins. Even though it can't guarantee that you get rid of insects forever, it guarantees that you will enjoy the game.
Meanwhile, would you like to take Bug-a-Salt 3.0 on a flies hunting? Have you tried using it? Share your game impressions.
Why You Should Trust Pest Control Hacks?
We know that pests are nasty neighbors, and it can take months to eliminate them without the right approach. Our experts use their own experience to compile articles and guides that are introductory and informative. Our authors' opinions are independent and based on the results of practical testing of pest control tools. We do not notify manufacturers of testing of their products and do not receive payment from them for posting their items. Also, our texts are never submitted to company representatives for proofreading before placement. On the site, you will find exclusively objective ratings and reviews.