Greetings, guys, and welcome back to my pest control blog. As we all know pesky insects are a real problem, especially in the summertime. They can bite you spreading various infections, can spoil your territory and cause other troubles. So, when you try to search for means to destroy them, you are stepping on the thin ice of bug zapper market which is full of irrelevant and ineffective tools.
Top Picks
In this article, I'll try to make you familiar with different types of insect killers and especially those ones which I consider as the best bug zappers. There will be no useless stuff on my list because I don't play games when it comes to annoying insects (God, seriously, what's the great hidden purpose of mosquitoes). Also, I have some homemade recipes of the best insect zapper for you.
But let's begin with a slice of theory. Throughout the existence of humanity, we have always been messing with disgusting insects. Just remember old Bible legend about roaches in Egypt: there is a theory that people have genetic fear of this particular bug and insects as a whole kind since then.
Truth or not, the real question is: what types of insect killers were invented to help us in this struggle? And are they really helpful?
Do Bug Zappers Work in Real Life?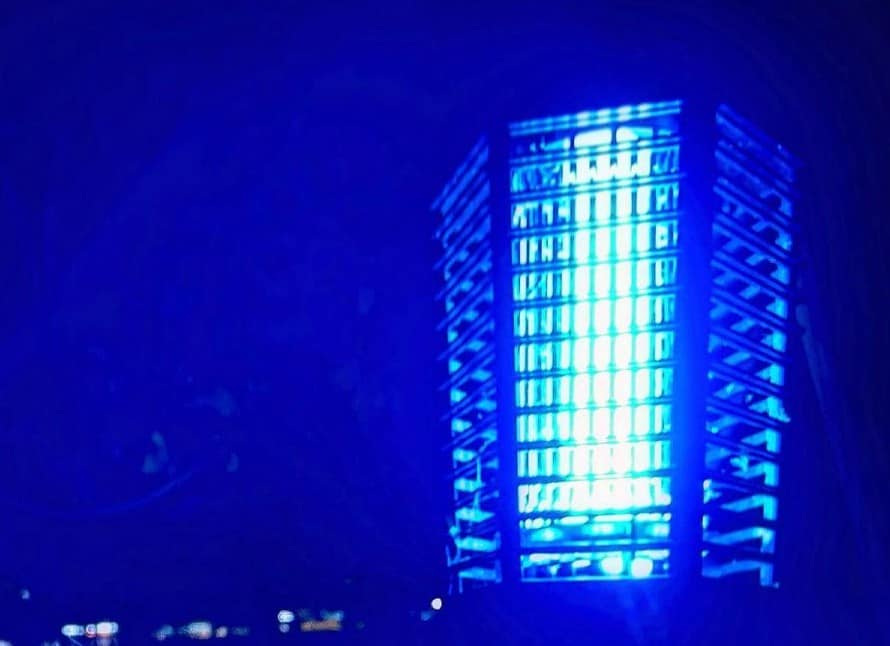 Before I try to answer the question of what is the best bug zapper, I have to bring some clarity in our discussion. I believe that there are a lot of readers who think the bug zappers are just another tool to make money selling broken gizmos.
And in some cases they are totally right: there is a huge number of nonfunctioning insect killers on the market. But the truth lies in the fact that there are still some worthy devices available, especially in the case of electric bug zappers.
In this article, I won't consider such things as sticky hanging tapes and burning mosquito coils because
A) They are not helpful against ALL insects;
B) They might not be useful at all in certain situations. When it comes to killing a bug, an electric zapper is the best tool to have.



How to Choose Perfect Zapper for Your Case?
So, I've figured out the most effective and all-purpose bug zappers. All bug zapper reviews have different classifications. but I have personally figured out the most convenient list for myself. All insect traps and killers can be divided by the next criteria:
Area of use: outdoor and indoor bug zappers. Some of my next examples are multipurpose, which means they can be used both outside and inside your house.
Principle of operation: some of the zappers have to be operated manually (like bug zapper racket); other work automatically (light bulb bug zapper, lantern).
Targeted type of insects: lanterns are better to get rid of house flies and other flying insects, while rackets can be used to kill any type of bug. Still, it is hard to kill small gnats with the racket, so lamps have their advantages as well.
In addition, these devices differ in price, manufacturer, and luring method. The vast majority of indoor bug zappers use ultraviolet light to attract insects, while some outdoor bug zappers need special ointment, which you have to apply manually.
There is also a separate type of mosquito bug zappers which technically is not even a trap. I'm talking about insect repellents which use ultrasonic sound to drive away pesky bugs. Do they work? The answer is quite ambiguous: the sound works for some insects, but I never saw how it dealt effectively with a huge amount of mosquitoes at night, for example. So I don't really see reasons to mention such tools as repellents.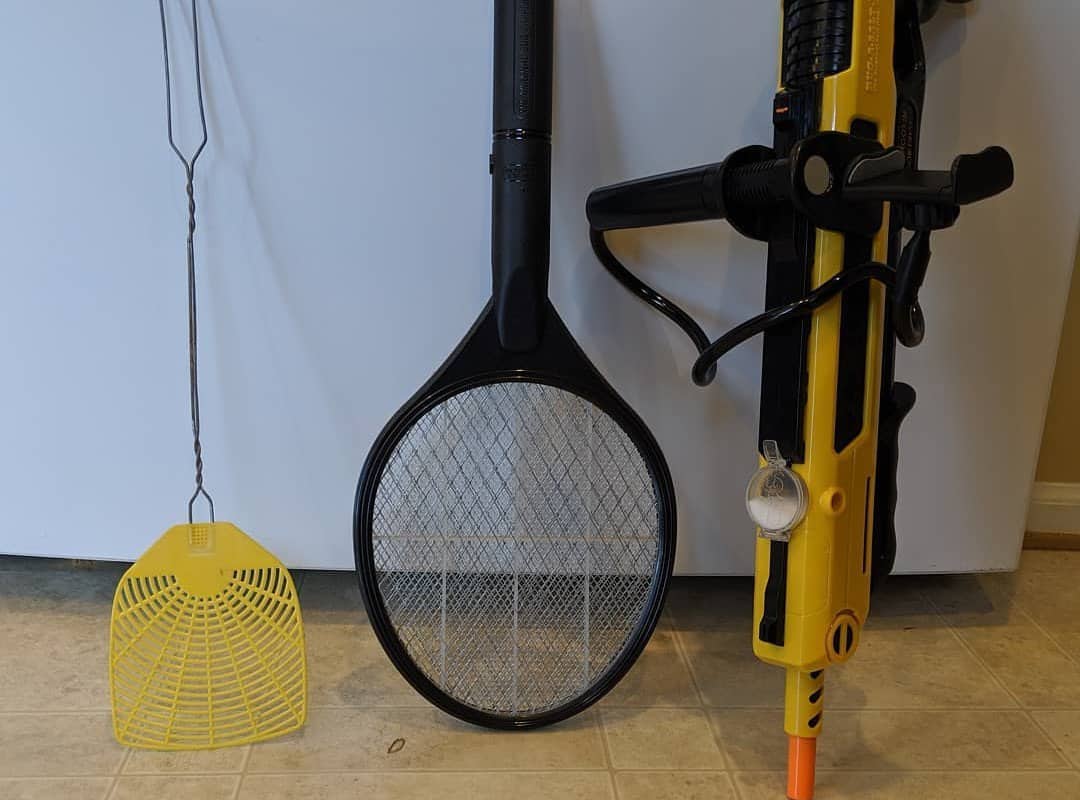 What Are Differences Between Racket Zappers and Lanterns?
In general, I agree with the vast majority of bug zapper reviews which name two main categories on the market: racket bug zappers and lamp insect killers. Both of these categories have their own pros and cons.
Racket bug zappers pros:
can be used as effective outdoor and indoor bug zappers;
they are cheaper than lanterns;
you don't have to change bulbs in the future.
Racket bug zappers have their cons as well:
it takes some sweat trying to swing down flying bugs;
the most part of racket zappers use batteries which costs additional money.
Lantern zapper pros:
operates automatically;
rechargeable in 90 % of cases;
most effective against flying insects.
Lantern zapper cons:
you have to change bulbs periodically;
not all of them can be as effective as an outdoor bug zapper.
Despite all of the above-mentioned flaws, I've tried to gather the most helpful tools on my list. They also have their pros and cons, but I can guarantee their effectiveness against various insects. Without any further introduction, meet my top 14 of the best insect zappers.
Top 15 of Best Bug Zappers
1. Flowtron FC-8800 Diplomat Fly Control Device
Specifications:
Coverage Area: 2000 sq. ft.
Black Light 120 Watts
Item Weight: 25.1 pounds
Item Dimensions LxWxH: 13 x 13 x 26.25 inches
Target Species: Fly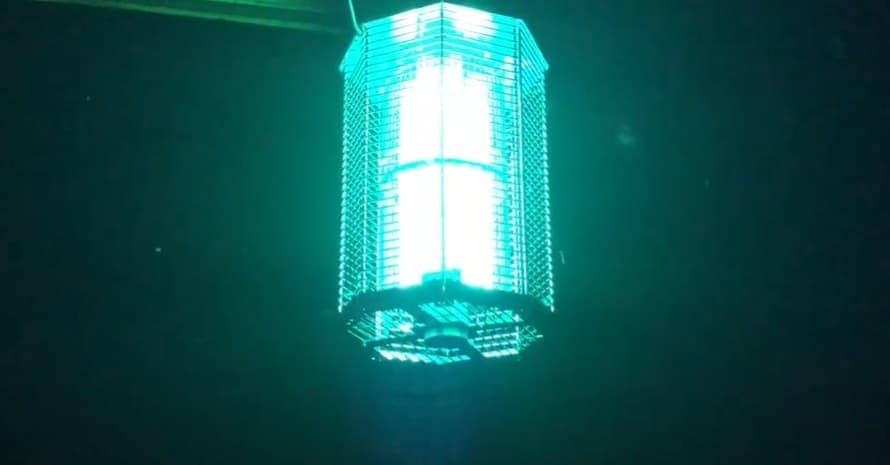 I personally recommend this zapper for effective outdoor use, especially on a massive scale. It produces enough power to cover the area of 2,000 square feet indoors and two acres outdoors. Its ultraviolet light attracts all kinds of insects. Flowtron light bulb bug zapper produces 5,600 volts of power executing each lured insect immediately.
The device's grid is made of chrome; plastic was used for other parts. Good thing that such a massive zapper (12″ x 12″ x 27″) has a protective mesh that covers an electrified circuit.
The only problem of this bug zapper lies in the need to sometimes replace used bulbs with the new ones. Also, this Flowtron bug zapper uses a cord to plug, which is not always convenient if you don't have sockets outdoors.
Pros:
Cons:

fully protected and harmless to touch;
very powerful;
great coverage.

you have to buy and replace bulbs from time to time.
you have to plug the device's cord to use it.
2. ZAP IT! Bug Zapper
Specifications:
Is Electric: Yes
Number of Pieces: 2
Item Weight: 1.7 pounds
Item Dimensions LxWxH: 17.17 x 13.5 x 1.97 inches
Target Species: Fly, Mosquito, Spider, Wasp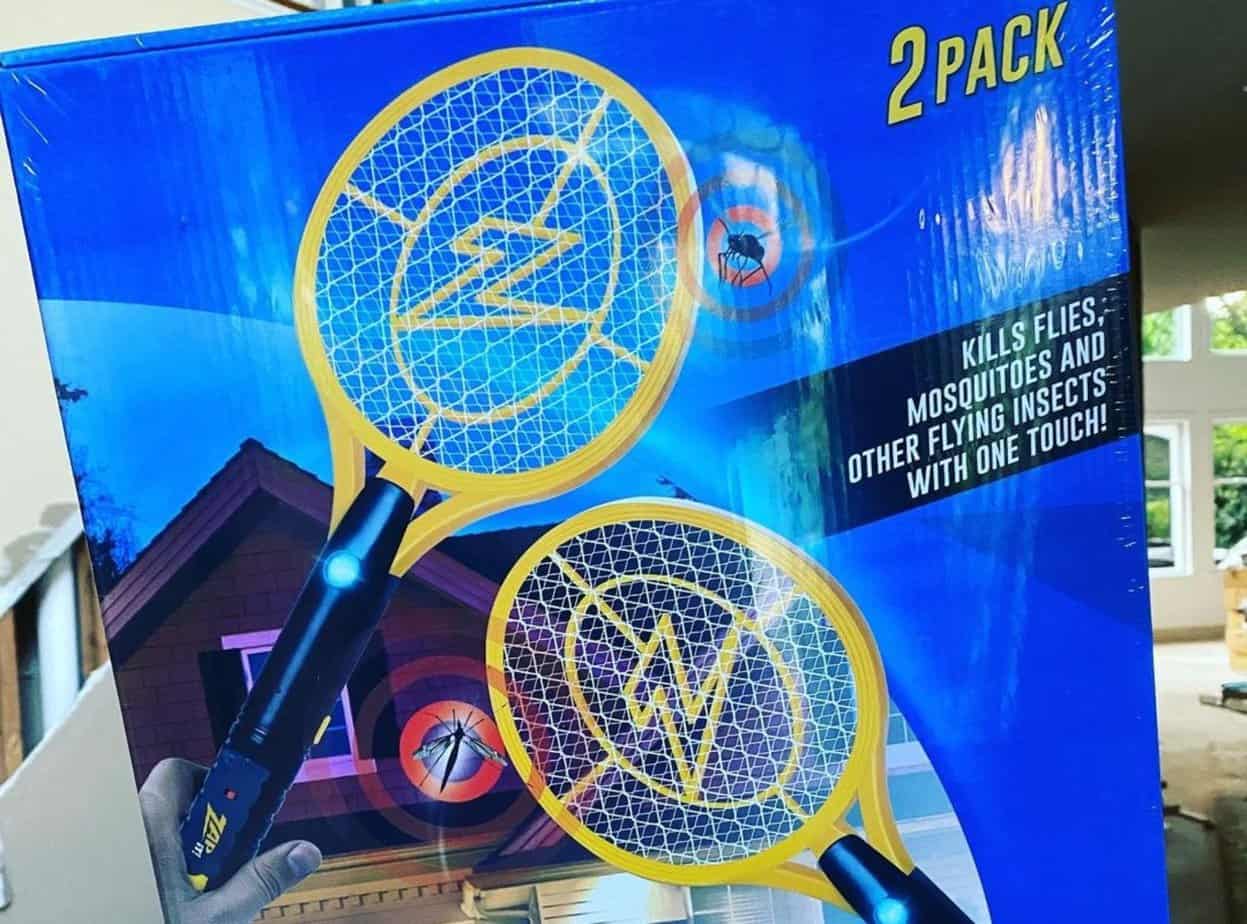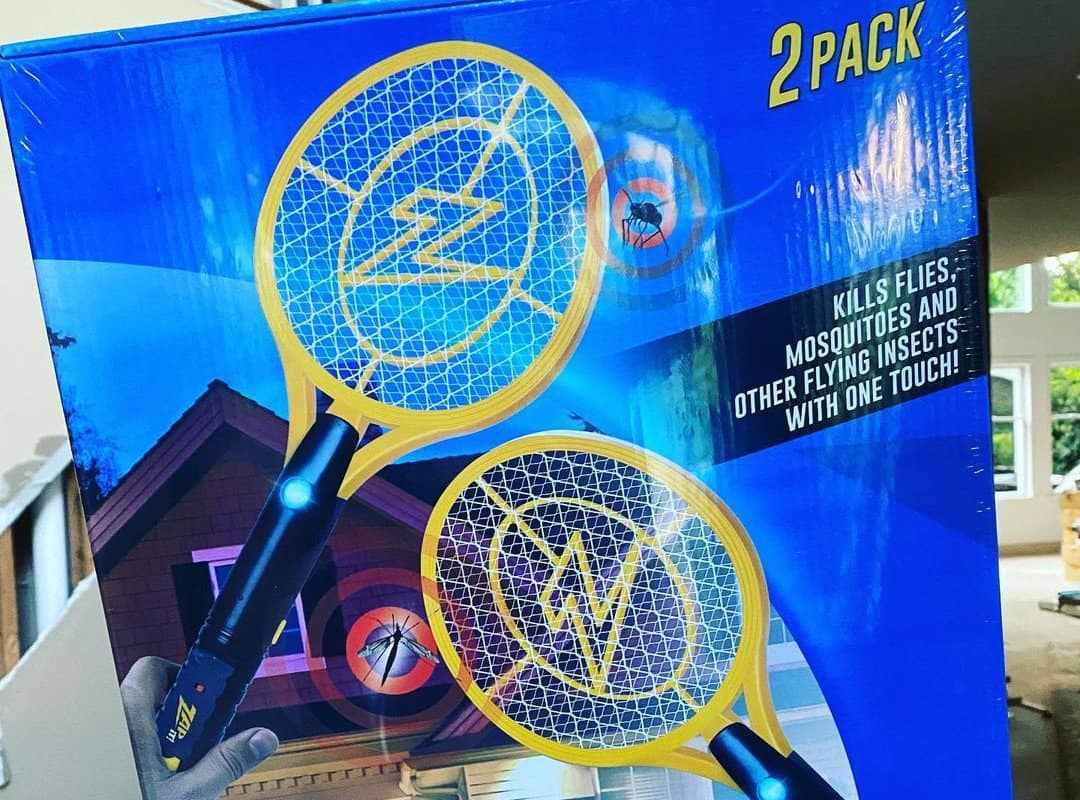 This bug zapper is made in the form of tennis racket which is quite unusual but effective. It also resembles good old fly swatters. To kill bugs, you have to manually swing the racket towards your targets. Just press the central button and electrify the circuit of the racket.
This device produces about 4,000-Volt which is totally enough to instantly kill some flies when they contact the electrified surface.
ZAP IT! manufacturers guarantee that it is absolutely safe for you and others to touch the racket due to a triple-layer safety mesh. However, I strongly recommend to use this device with carefulness: do not swing it towards people, do not let your kids play with it, and so on. If you are using it at night, you can activate the LED light to see your targets more clearly.
This bug zapper has a strong advantage: you get a lifetime guarantee on it. If something goes wrong, you can contact the manufacturer to get your replacement. I think that ZAP IT! can surely be listed among the best indoor bug zappers. However, it can be hard enough to hunt down every single mosquito in the open area.
Pros:
Cons:

USB rechargeable;
quite cheap;
life guarantee from the manufacturer.

swinging the racket is a hell of the process.
3. Crioxen Indoor Plug-in Bug Zapper: Small Yet Effective Fly Killer
The device is compatible with any 50-60Hz / 100-120V power outlet. One unit is sufficient for use in areas up to 300 square feet. It is not the highest for bug zappers, but good enough for a tool of this size. If you need to kill insects in several rooms at once, it is better to buy several devices. It is very quiet and has a night mode so that its bright light does not irritate you.
It uses an LED lamp that emits ultraviolet light to attract insects and an electric charge to kill them. As it kills on direct contact, it is indeed effective against many flying insects. It is non-toxic and safe for pets and humans. The upper grill reliably protects against accidental contact and electric shock. This product is easy to use: you just need to plug it into an outlet where you want it and press its power button. But it should be regularly cleaned of insects that accumulate in a special compartment. The item comes with a brush for easy cleaning of a grill from flies and mosquitoes.
Pros:
Cons:

compact design;
quiet;
eco-friendly;
a brush is included.

small coverage area;
cannot be used outdoors.
4. The Executioner Fly Swat Wasp Bug Mosquito Swatter Zapper
Specifications:
Requires 2 AA batteries (not included)
Material: Plastic
Item Weight: 4 ounces
Item Dimensions LxWxH: 20 x 7 x 1 inches
Target Species: Fly, Bug, Wasp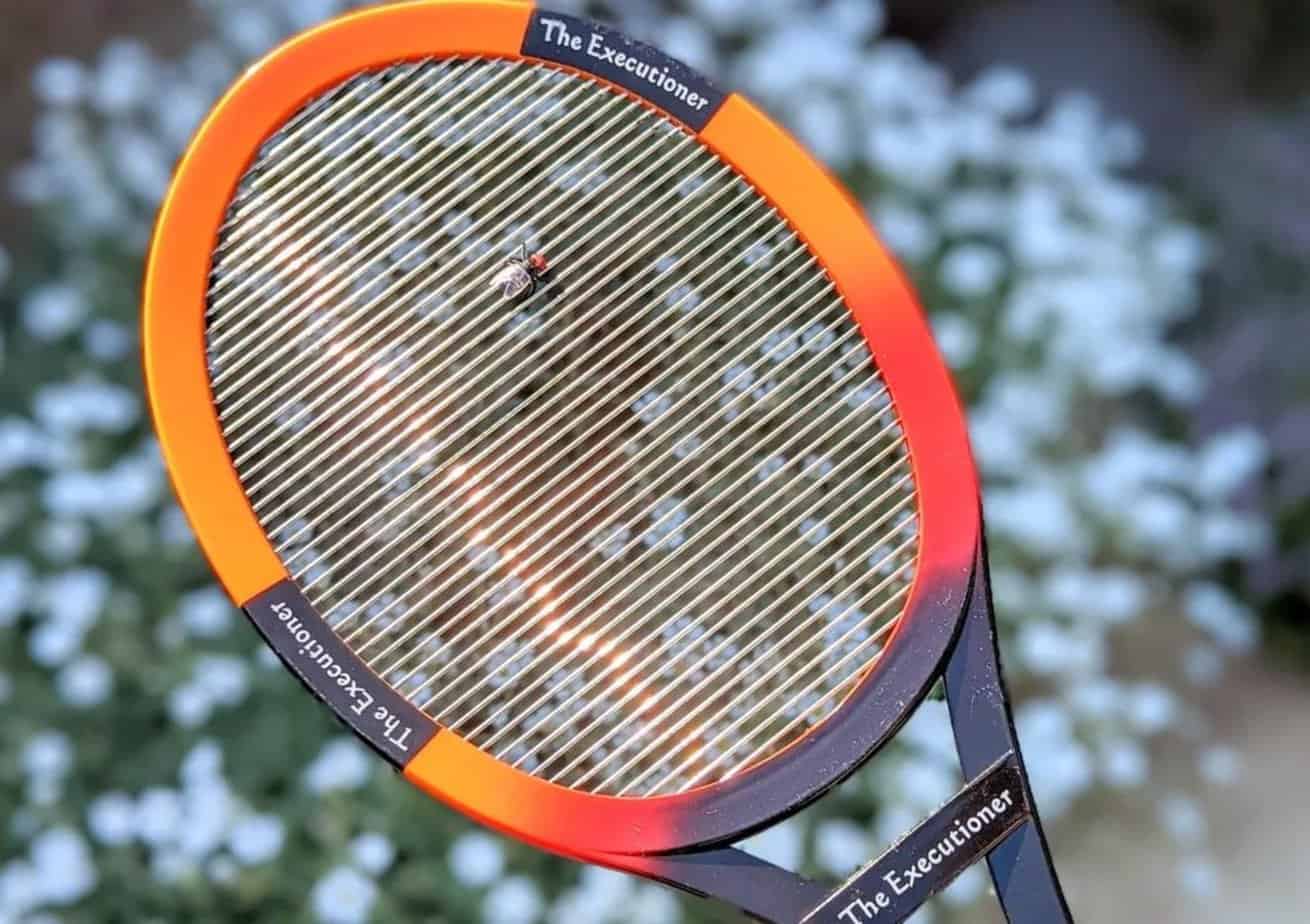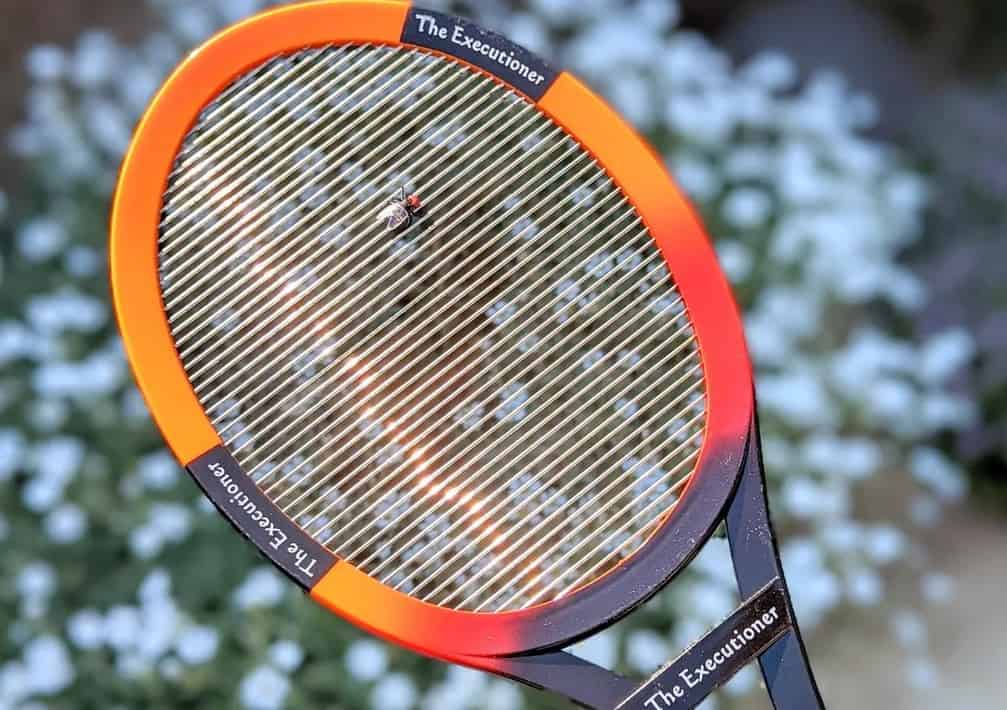 Another racket-type device on this list. It is made of ABS Plastic which shows quite good results in the long-term perspective. Actually, this electric bug zapper racket is distributed with a one-year full warranty and a bunch of promises of even longer successful use.
In practice, I think that such a device can last for a couple of years. It has a cheaper design compare to ZAP IT! zapper and it requires two AA batteries to operate.
The ZAP IT! model has a better working surface with a square mesh and additional protective layers, while Fly Swat model's surface is made with parallel bars without any additional protective mesh. However, The Executioner racket is four times longer (twenty inches) and has a bigger working surface. Similar in length ZAP IT! device will cost you additional ten bucks approximately, but for this money, you get two pieces!
Pros:
Cons:

very cheap;
1-year full warranty;
easy to use.

need batteries to work;
no protective mesh.
5. Black Flag Handheld Bug Zapper
Specifications:
Material: Plastic
Number of Pieces: 2
Item Weight: 10 ounces
Item Dimensions LxWxH: 0.05 x 8 x 17 inches
Target Species: Mosquitoes, Biting Flies, Spiders, Yellow Jackets, Wasps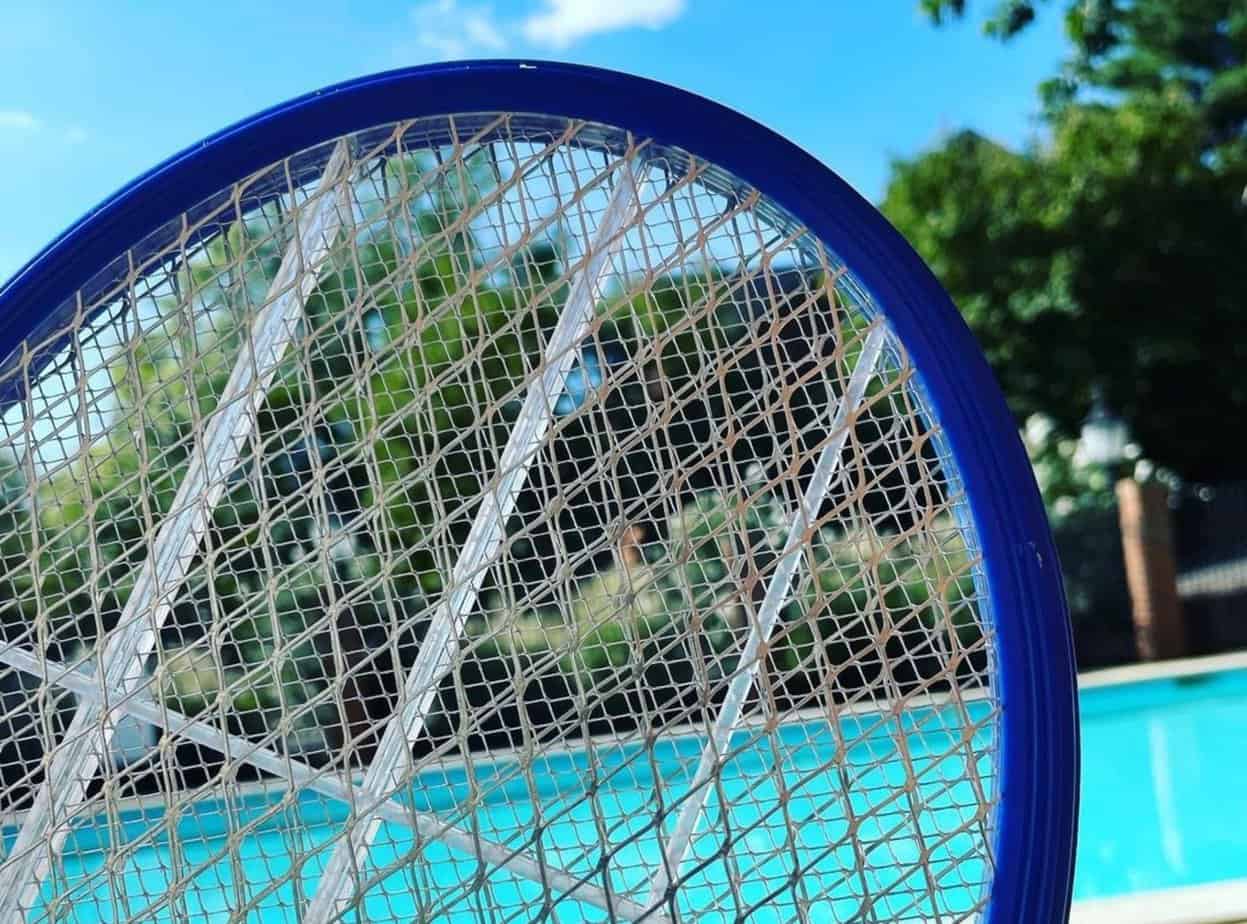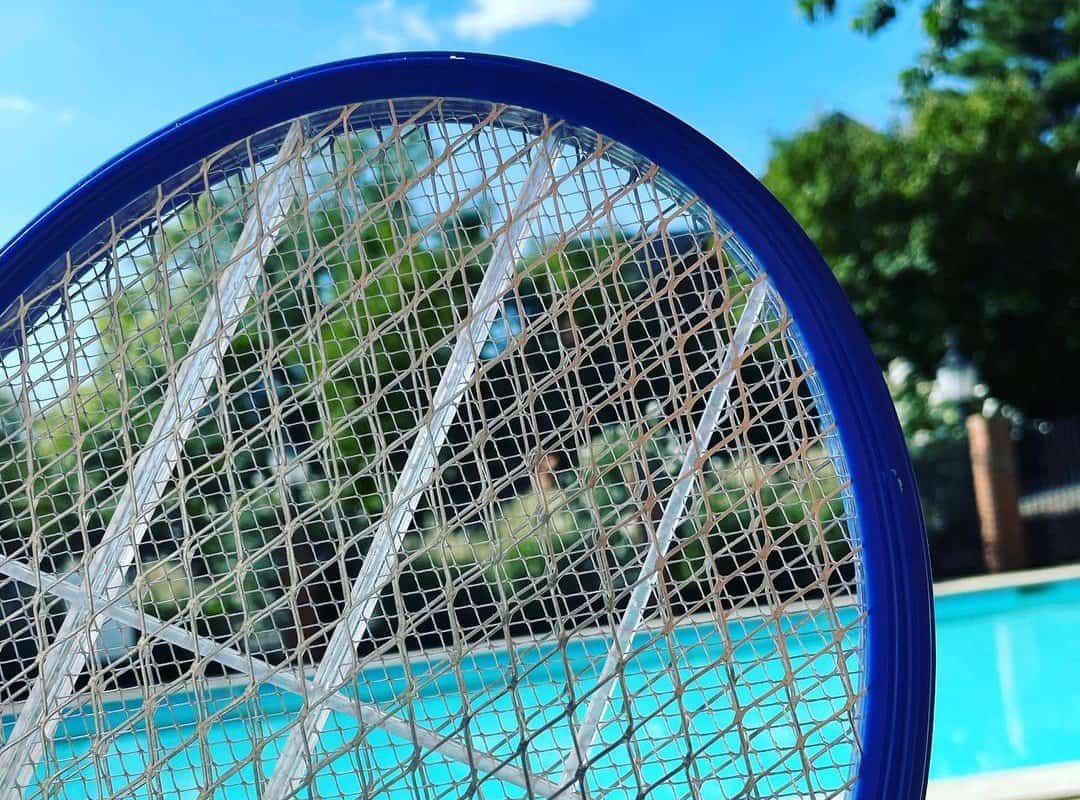 Black Flag Handheld Bug Zapper is seventeen inches in length. It produces about 2750 volts of pure electrical power spreading death and sorrow in the insect world. Like in the case of the previous model, Black Flag zapper also requires two AA batteries for functioning.
This device is better to use in terms of a closed environment, like houses. As I said earlier, it is quite hard to swing down each bug in the field, especially in the nighttime.
Black Flag has a similar surface with the ZAP IT!, AOWOTO and other racket-type models on this list: mesh is made in the form of squares, so there is no chance even for the smallest bugs to pass through the net without harm. But you can cause trauma to a person with this racket; try to use it cautiously. Kids can be interested in the racket, so you have to store it away from them.
Pros:
Cons:

need two AA batteries to operate;
no protective mesh.
6. Shootingstar Bug Zapper Mosquito Killer
Shootingstar Bug Zapper Mosquito Killer is one of the best devices for indoor and outdoor use. It is very compact and easy-to-use: just plug the zapper in and let it make its job. In this case, you don't have to physically operate the zapper: it automatically lures bugs in the electrified field using high-intensity UV light.
After the prey is collected, unplug your device and release remaining static electricity with a rubber-handled screwdriver. Then remove the cap and clean the surface with a sponge or brush (only dry cleaning, using water is restricted).
I don't think that this device is effective for a big area but it does a great job in the case of small gardens, kitchens, rooms, etc. It costs more than racket-type zappers, which is a fair deal considering that you actually don't have to sprint through armies of bugs swinging your zapper as a medieval warlord. A great advantage if your goal is to enjoy spending your time without worries and pesky insects.
Pros:
Cons:

USB rechargeable;
compact;
easy to set up.

you have to manually release remaining static electricity before cleaning.
7. Maxtrv Bug Zapper
No products found.
Another effective insect killer on this list. This zapper is made in the form of a street lantern, with protective plastic mesh. It also uses ultraviolet light to attract annoying bugs, just like in the case of our previous examples. In order to operate, it has to be plugged into the socket. Maxtrv Bug Zapper is very small (5.2 x 3.5 x 1.8 inches) so it can be used indoors as well.
Despite its tiny size, this bug zapper performs quite effectively. It can be used both indoors and outdoors, but it operates better in closed space. The thing is that this zapper relies on a light in order to lure bugs to their imminent death.
And when you use it outdoors, another lighting can attract flies as well, interfering with the device operation. Even when you use it inside your house, make sure that there are no other luminous things in the room. I personally think that this device is one of the best indoor bug zappers on this list.
Pros:
Cons:

the device has a protective mesh;
works from a socket, no need in buying batteries;
very compact.

it is not effective outdoors without additional bait.
8. 3500 Volt Electric Fly Swatter Mini Bug Zapper Outdoor
Specifications:
Material: Acrylonitrile Butadiene Styrene
Batteries: 2 AA batteries required (included)
Item Weight: 7.8 ounces
Item Dimensions LxWxH: 3.67 x 24.16 x 21.43 inches
Target Species: All Flying Insects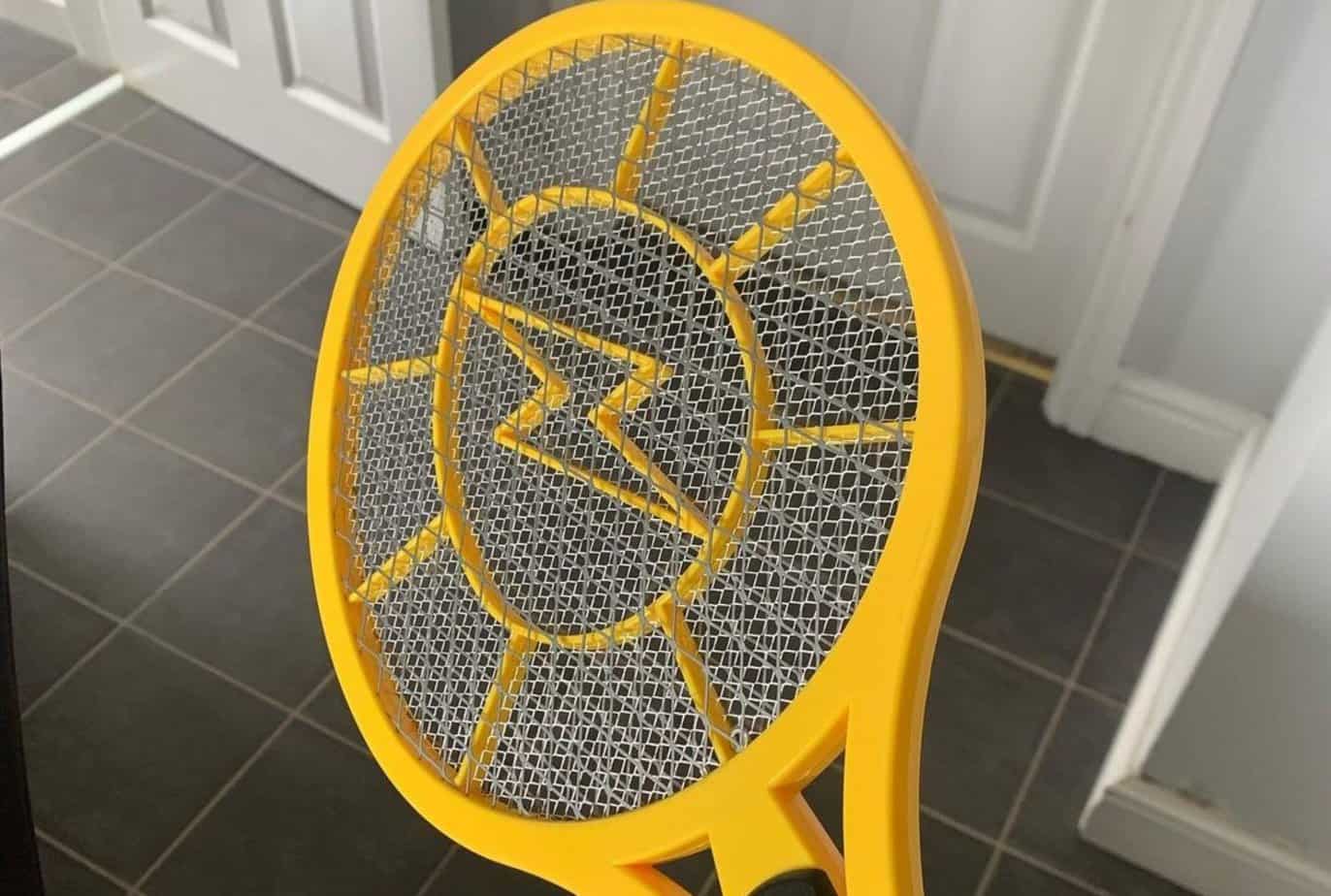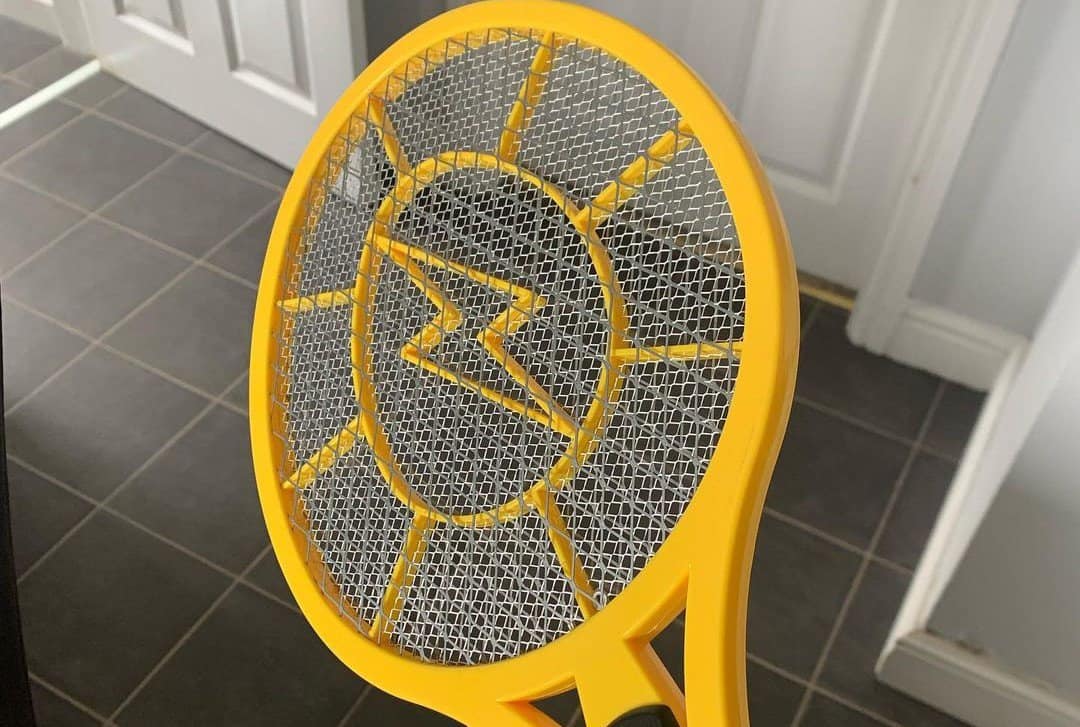 And again, the type of bug zapper for all the fans of Serena Williams. 3500 Volt Electric Fly Swatter Mini Bug Zapper is a great indoor/outdoor zapper which helps to beat down a huge variety of insects, like wasps, gnats, mosquitoes, ladybugs, bees, spiders, horse flies, and other annoying bugs.
To do so, press the central button while swinging in order to electrify the circuit. If you have a sharp eye, disgusting crawlers will not stand a chance against 3000 Volt strikes.
This racket has a triple-layer protective mesh so you don't have to worry about any accidental traumas during your bug hunt. It is very compact (approx. 14 inches in length) and easy-to-use. And what is even more important, the manufacturer company guarantees you a new free racket if you ever have trouble with yours. So, is this the best racket bug zapper? Maybe not, but it is certainly among the top ones.
Pros:
Cons:

the racket has very robust protective mesh;
quite cheap;
very compact.

swinging the racket, again.
9. Flowtron BK-40D Electronic Insect Killer, 1 Acre Coverage
Specifications:
Luring Range: 1 Acre
Total Power: 40 Watts
Item Weight: 4.84 pounds
Item Dimensions LxWxH: 9.7 x 9.7 x 16.5 inches
Target Species: All Flying Insects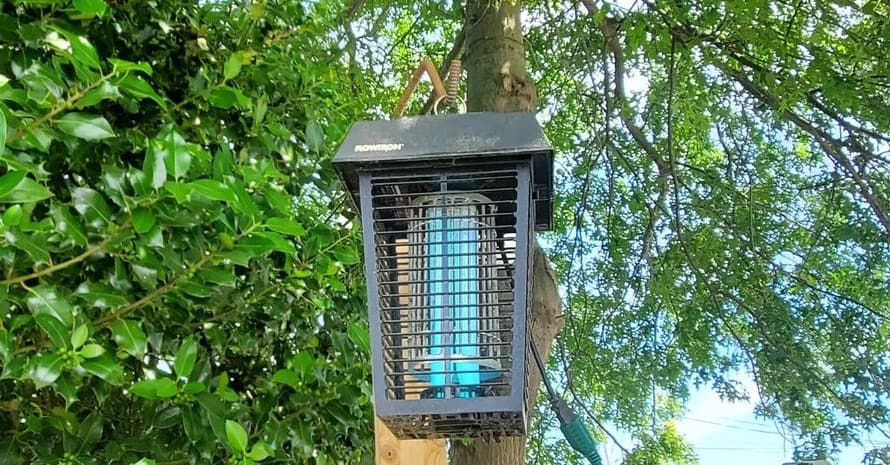 This lamp is a great outdoor bug zapper when it comes to high efficiency within a wide area. It uses a cord to power up and a bulb which produces the killing power. This bug zapper, made by Flowtron, can effectively lure and execute insects in the range of 1 acre! And you don't have to worry about touching the activated grid: it is fully protected by the special grate. So, you can freely use it in your backyard while your kids are playing nearby.
Flowtron outdoor bug zapper is distributed in bundles with free Octenol luring substance which effectively attracts bugs. It is not obligatory to buy additional attractant because the lamp itself uses UV light to pave the deadly way for insects.
Pros:
Cons:

no batteries required;
easy to clean;
huge working range.
the surface is protected from kids, pets and birds.

you have to change the bulb periodically.
10. Faicuk Portable Electric Racket
AOWOTO Portable Electric Racket is totally among the best racket-type portable bug zappers on the market. The power grid produces about 3000 Volts which brings instant death to bugs and flies. To use it, switch on and push the central button every time you want to swing the insects.
AOWOTO racket doesn't have a protective layer, so it is unsafe to touch the electrified grid. However, the racket carcass and handle are made of rubber, so you don't have to worry about shocking yourself while hunting insects.
AOWOTO Portable Electric Racket uses 2 AA batteries in order to operate. It is quite compact, so you can conveniently use it both indoors and outdoors. Just don't let your kids play with this electronic bug zapper racket because it can be traumatic for them.
AOWOTO guarantees its customers full money return within 30 days after the purchase if you are not satisfied with the racket.
Pros:
Cons:

easy to use;
very cheap;
30-day return option.

you have to buy additional batteries;
no protective layer.
11. ZALIK Bug Zapper Light Bulb, 2 in 1 Mosquito Killer Lamp
No products found.
Let's head back to the light bulb bug zapper devices. So, this type of insect killers is not separate mechanisms themselves. When buying Zalik Bug Zapper Light Bulb, you actually get a single bulb that can be plugged in the simple bulb socket. So you have to use your lamp or another device with such a socket if you want to turn the bulb on. Please, be aware of it.
The Zalik bulb itself has a very modern design. For example, you don't have to clean it manually: the bulb carcass is made in such a way that dead bugs slide from the surface independently. Another great thing about this zapper is that it has three separate lighting modes for different times of the day. Finally, the Zalik bulb has a protective layer so it is totally harmless to pets and humans even when it is activated.
Zalik Light Bulb Bug Zapper is a great tool for indoor use. It attracts bugs in a wide area with its UV lighting. And it is very compact: 6 x 3 inches. Basically, this device is among my favorite indoor bug zappers.
Pros:
Cons:

compact;
can work as a usual lamp;
can be conveniently plugged in the ordinary bulb socket.
has a protective layer.
12. Tregini Electric Fly Swatter
No products found.
Specifications:
Material: Plastic
Is Electric: Yes
Item Weight: 13.7 ounces
Item Dimensions LxWxH: 19.5 x 8.25 x 1 inches
Target Species: Fly, Mosquito, Gnat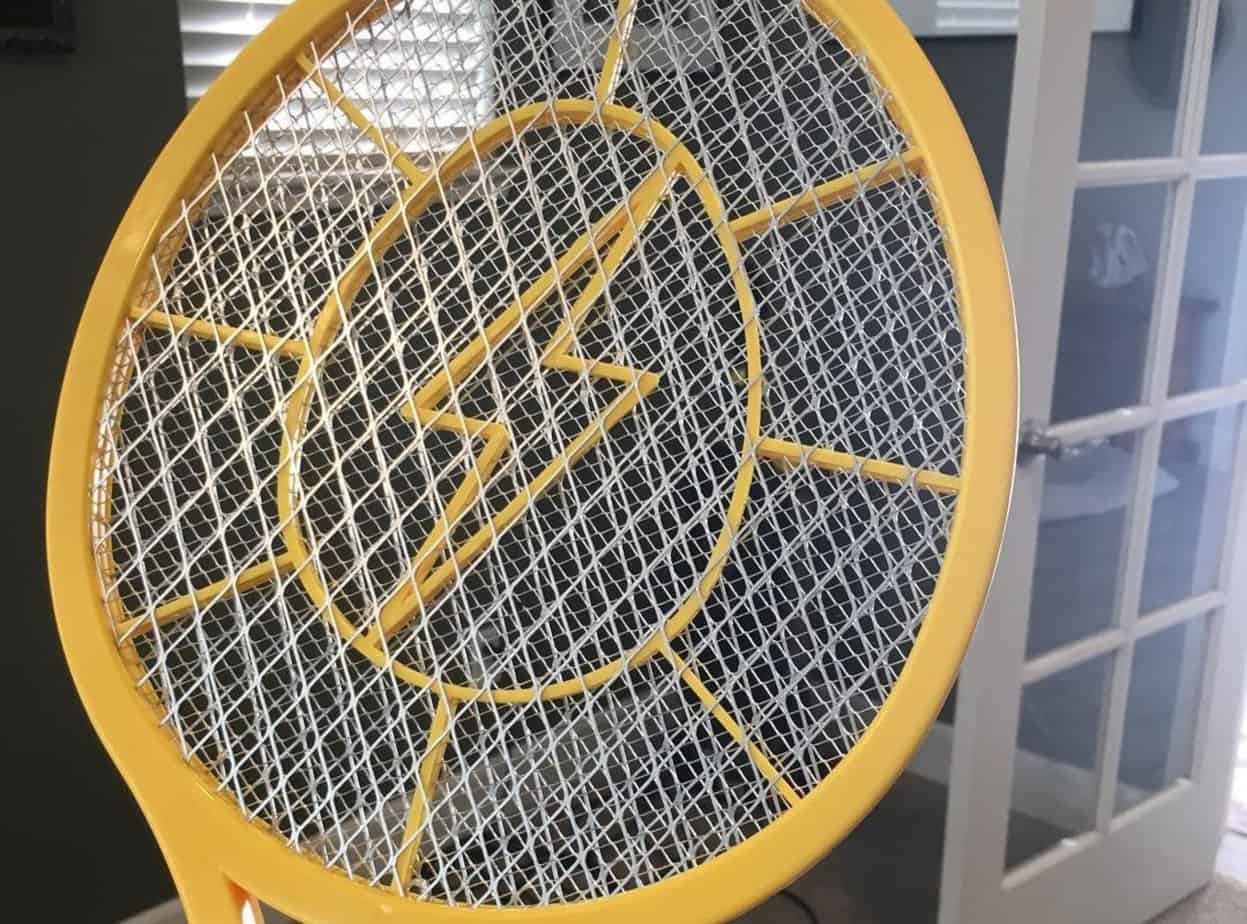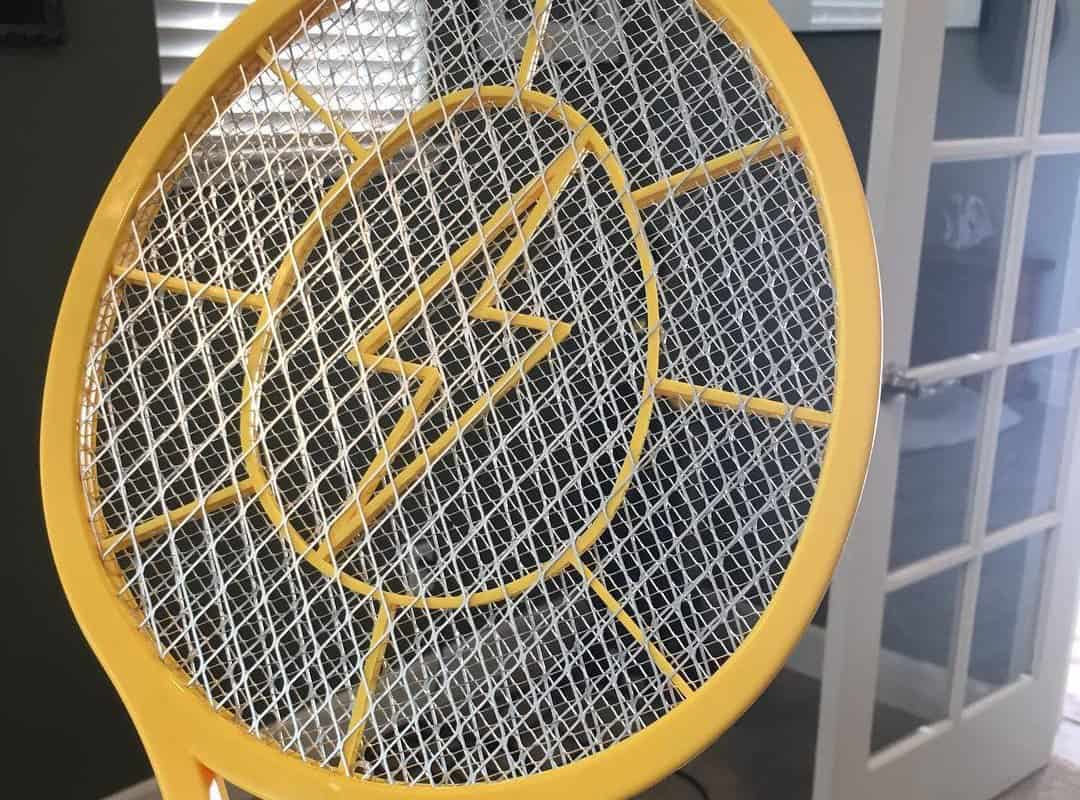 Tregini Electric Fly Swatter has to be used manually, so prepare your wrists for some flicking. Hit the switch and bring the 4000 Volts grid in action. You don't have to worry about shocking yourself or other innocent targets because the racket manufacturers provided their devices with three layers of protective mesh. In the case of night hunting, there is an LED lighting option so you can see your flying enemies more clearly.
This swatter can be recharged from the USB, which means you don't have to waste additional money buying new batteries. Tregini guarantees that buying their zapper solves the insect problem for a lifetime. I personally don't think that this statement is totally truthful, however, this is quite a robust indoor/outdoor zapper which can last for a long period of time.
Pros:
Cons:

three layers of protective mesh;
USB rechargeable;
4000 Volts of electric power;
longtime solution.

prepare for some swinging.
13. Zapout Camping Lantern Bug Zapper Tent Light
There is always a possibility to be creative, even in the case of zapper's manufacturing. The Zapout light bulb bug zapper proves my point better than any other product on this list. I love the way this lantern is designed. First of all, it is a portable rechargeable bug zapper with a 16 x 16-foot operating area.
It can be used as a simple lamp to light your camp. You can put it on the ground or hang it on the tree with the help of a hook built in the lantern carcass. And you don't have to worry about the rain: this camping bug zapper is 100 % waterproof so you can even wash it with water.
Portability is another key feature of this insect killer. It has a very compact size and small weight (0.44 pound). It can perform for 20 hours without the need of being recharged. I think that this lantern can be perfectly used not only while camping but in your backyard or even inside the house.
Pros:
Cons:

USB rechargeable;
the battery lasts for 20 hours;
very compact;
waterproof;
transportable.

it will not help against all mosquitoes around, especially if you are in the woods.
14. Aspectek Insect Zapper & Electric Indoor Insect Killer
Specifications:
Material: Plastic
Total Power: 20 Watts
Item Weight: 3.89 pounds
Item Dimensions LxWxH: 15.01 x 10.92 x 3.12 inches
Target Species: Mosquitoes, Flies, Moths, No-See-Ums, Gnats and other flying insects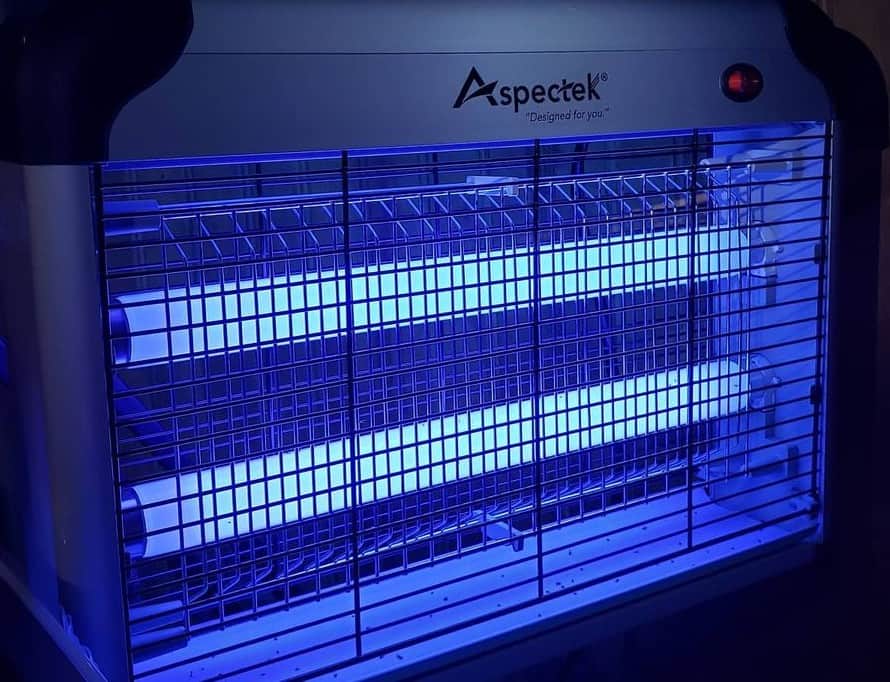 Aspectek Insect Zapper also has a stylish design that can easily combine with modern houses and apartments solutions. It is totally safe for any person or pet to touch it due to the protective grid. This Aspectek indoor bug zapper produces 2800 Volt of deadly electricity, attracting insects with two ultraviolet bulbs. Aspectek Insect Zapper can be hung on the wall with the chain or you can simply put it on any smooth surface (the chain is included in the set).
Aspectek Insect Zapper is quite simple in maintenance. You don't have to wash the electric surface itself: dead insects are collected on the removable plastic tray at the bottom of the device. You have to wash it serially. Note: before removing the tray, make sure that the device is switched off.
The zapper's battery life depends on the kill count, but on the average, it can last a couple of months without recharges. When the battery is done you can recharge it plugging the device in the standard socket.
Pros:
Cons:

stylish design;
aspectek indoor bug zapper is easy to clean;
rechargeable.

you have to buy and replace bulbs.
15. FVOAI Cordless Rechargeable Insect Zapper, Black
FVOAI Cordless Rechargeable Insect Zapper is a black UV insect trap which can easily attract mosquitoes or other insects. It is made of non-toxic and chemical free materials that are safe for human health and the environment. Effectively kills beetles, mosquitoes, flies, moths and other insects within 1500 square feet.
This zapper is easy to use: there's only one button to switch the device on/off. Also, it can be easily cleaned: there is a removable tray at the bottom of the lantern. The zapper manufacturer advice for effective use to position the lantern in the middle of the operating zone, but no more than 10-14 feet from human activity.
The rechargeable lithium battery can work for 3.5-4 hours. Basically, this is one of the best bug zappers on this list when it comes to outdoor use. And I also love the design of this insect killer which resembles old oil lanterns.
Pros:
Cons:

great design;
enormous coverage area (625 square feet);
easy to clean;
rechargeable.

works only for 3.5-4 hours.
So What Is the Best Bug Zapper Overall?
It's quite a tough question. Choosing the perfect device that suits you, just figure out your requirements. If you are dealing with a small number of insects, rackets should do the trick. But don't rely on them in the nighttime, when you are facing hordes of mosquitoes.
You might kill some, but it's not worth that effort. Instead of that, try to use automatic mosquito bug zapper. If you are a fan of camping, you might be interested in portable USB rechargeable zappers, while backyard owners should think about buying lantern insect killers.
Related Post: Bug-A-Salt Review: Does This Fly Gun Work as Advertised?
Homemade Bug Zapper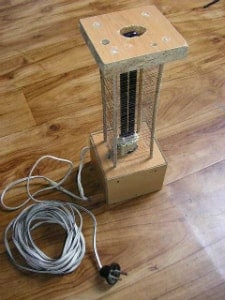 If you have at least a general knowledge of physics and electricity, you can try to make a homemade electronic bug zapper to get rid of mosquitoes. Believe it, the key principle of creating such a device is simple. But I still have to warn you that it can be dangerous to work with bare wires, so please, try my method only if you have experience in this area.
Okay, let's head back to the topic. You will need the following materials:
a thick carton bag (juice or milk package);
a wire with a large cross-section;
a small fan that can run on batteries;
pocket flashlight (suitable for small size light bulb);
scissors or knife;
gauze;
glue.
Here is the step by step guide for creating such a trap with your own hands:
Cut off the top and bottom of the package, and fasten the fan with a wire (the air flow should go down).
Cut a piece of gauze of round shape with a diameter of approx. 24 inches.
Glue the gauze to the bottom of the bag.
Make holes on the sides of the package (directly at the edges).
Thread the wire through the holes (as a result you should have an arcuate handle).
Fasten the light source to the wire.
Bend the wire in a loop (so that the resulting device can be conveniently placed somewhere).
Turn on the fan and flashlight.
Hang the trap in a suitable place (opposite the window, near the entrance to the house, etc.).
Now all that remains is to wait until the flies and mosquitoes begin to set their destination into the hand-made device, which will be attracted by the light emanating from it. Getting inside of it, they will be sucked by a fan and settle in a bag of gauze; then they will die. You can use different mosquito baits, like sweets or honey. There are also luring liquids available on the market, but if you are capable of making a homemade electric zapper for bugs, why not to use home products as well?
You can find other homemade bug zapper recipes on the Internet. Also, let me know if you have your own brilliant scheme for insect killer in the comments below.



Conclusion
Ending this article, I want to say a couple of words about insects themselves. There is a huge distinction between various bugs in a different environment. Even mosquitoes' behavior differs depending on the area and surrounding factors. For example, mosquitoes in a wild environment (especially near places with high humidity, like lakes, rivers, etc.) are big and tough.
They still can be killed by zappers, but their concentration in such places is very high, so you can bet that you would be bitten eventually. Another example: to get rid of ants in your home or garden, you rather have to use ant traps, because of the size and habits of this insect.
This is why you don't have to wonder why zappers are not 100% effective in the case of purely natural environment. But when it comes to home use or camping in dry places, things turn 180 degrees around.
For me, the best bug zapper is the one that actually works. You won't believe it, but there are tons of crap on the market that weren't designed to work from the very beginning. And if you are lucky to get some working zapper, don't be too happy: it still can be useless because it will not be attractive for bugs, or it will have some troubles with the electric grid, and so on.
This tool can even cause trauma through unintentional shocking strikes. Or it can even cause a fire in the building, so don't be lazy when choosing an insect zapper. I can't guarantee that my favorite devices mentioned in this article will fix all your problems with bugs, but they are robust enough not to cause you any trouble. Ah, and they do the job (a great advantage). Some of bug zapper reviews prefer to promote some useless crap which is not the case of this article.
Thanks for your attention. I'll be glad to hear about your ideas and experience connected with effective insect extermination.
References:
Bug zapper (Wikipedia):
https://en.wikipedia.org/wiki/Bug_zapper
Blacklight (Wikipedia):
https://en.wikipedia.org/wiki/Blacklight
How to Build a Portable Bug Zapper (By MrJentis in Circuits):
https://www.instructables.com/How-to-build-a-portable-bug-zapper/
Why You Should Trust Pest Control Hacks?
We know that pests are nasty neighbors, and it can take months to eliminate them without the right approach. Our experts use their own experience to compile articles and guides that are introductory and informative. Our authors' opinions are independent and based on the results of practical testing of pest control tools. We do not notify manufacturers of testing of their products and do not receive payment from them for posting their items. Also, our texts are never submitted to company representatives for proofreading before placement. On the site, you will find exclusively objective ratings and reviews.