Fruit flies are known to cause discomfort as they fly around. People identify them by the compact bodies. They usually congregate in places with a sweet aroma. Therefore, you will see them near the ripening fruit that you placed on your kitchen counter.
They are also common to be found in bottles that carry beverages with high sugar content. The thought of seeing them hovering around can be disturbing. Therefore, you need to know the best way to trap fruit flies effectively. They can easily contaminate your food if you leave it around.
Are you searching for the best fruit fly trap for bar, house, or office, but have no idea what to pick? I can help with that. I am an experienced entomologist by the name Nicholas Martin. Being a pest control professional with knowledge in agricultural and urban pests, I know how these products work.



The Best Fruit Fly Traps to Purchase
Whether you need the best fruit fly trap indoor or outdoors, you can rely on this review to know what really works. Below are the best brands, their features, description for the way they work, pros and cons.
1. RESCUE Indoor Non-Toxic Reusable Fruit Fly Trap – Best Prefilled Trap
Specifications:
Material: Plastic
Number of Pieces: 2
Item Weight: 0.35 Pounds
Item Dimensions LxWxH: 5.38 x 9.25 x 2.33 inches
Target Species: Fruit Fly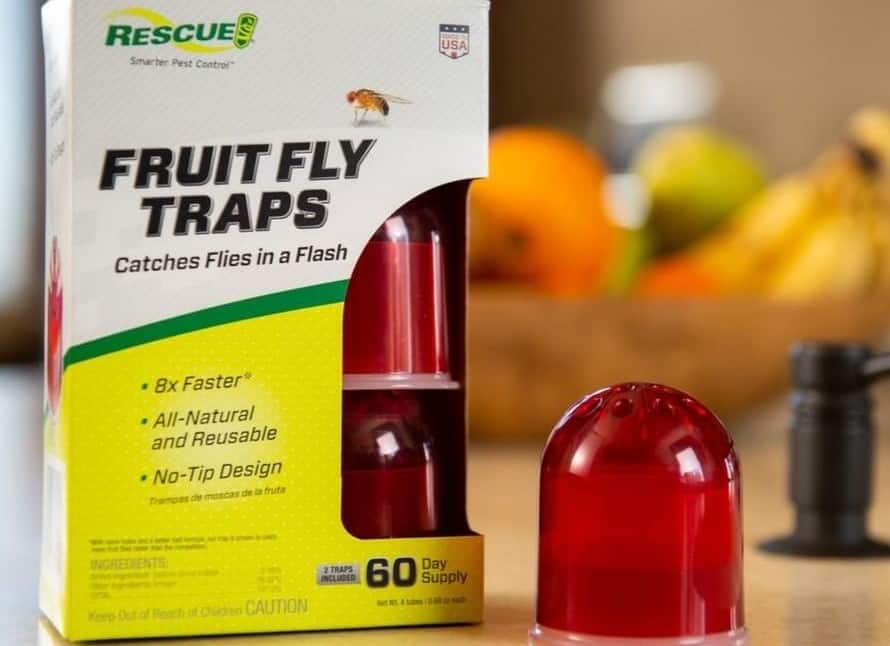 As soon as you mention the word 'Rescue' concerning fruit fly traps, people are aware of what you are talking about. This is because the brand is well-known on the market, as the manufacturer has the reputation of selling effective fly traps.
The product is designed with a food-based lure solution. With that, you are assured of the safety of the product. If fruit flies breed near your food, fruits, or vegetables, this brand would be the ultimate solution. The trap eliminates them fast, making your space more habitable. Moreover, it catches these flies 8 times faster than the other fly traps. Therefore, purchasing this product provides the results you need. It is considered the best trap for fruit flies.
Pros:
Cons:

emits a sweet scent making it suitable for an indoor environment;
has no poisonous chemicals;
the lure solution lasts long (2 months).

to some people, the trap design may be unattractive.
2. KATCHY Indoor Insect Trap: the Best Fruit Fly Bait – Best Child/Pet Safe Trap
Specifications:
Style: Automatic
Material: Plastic
Item Weight: 1.41 pounds
Item Dimensions LxWxH: 5 x 5.5 x 9 inches
Target Species: Fly, Fruit Fly, Mosquito, Gnat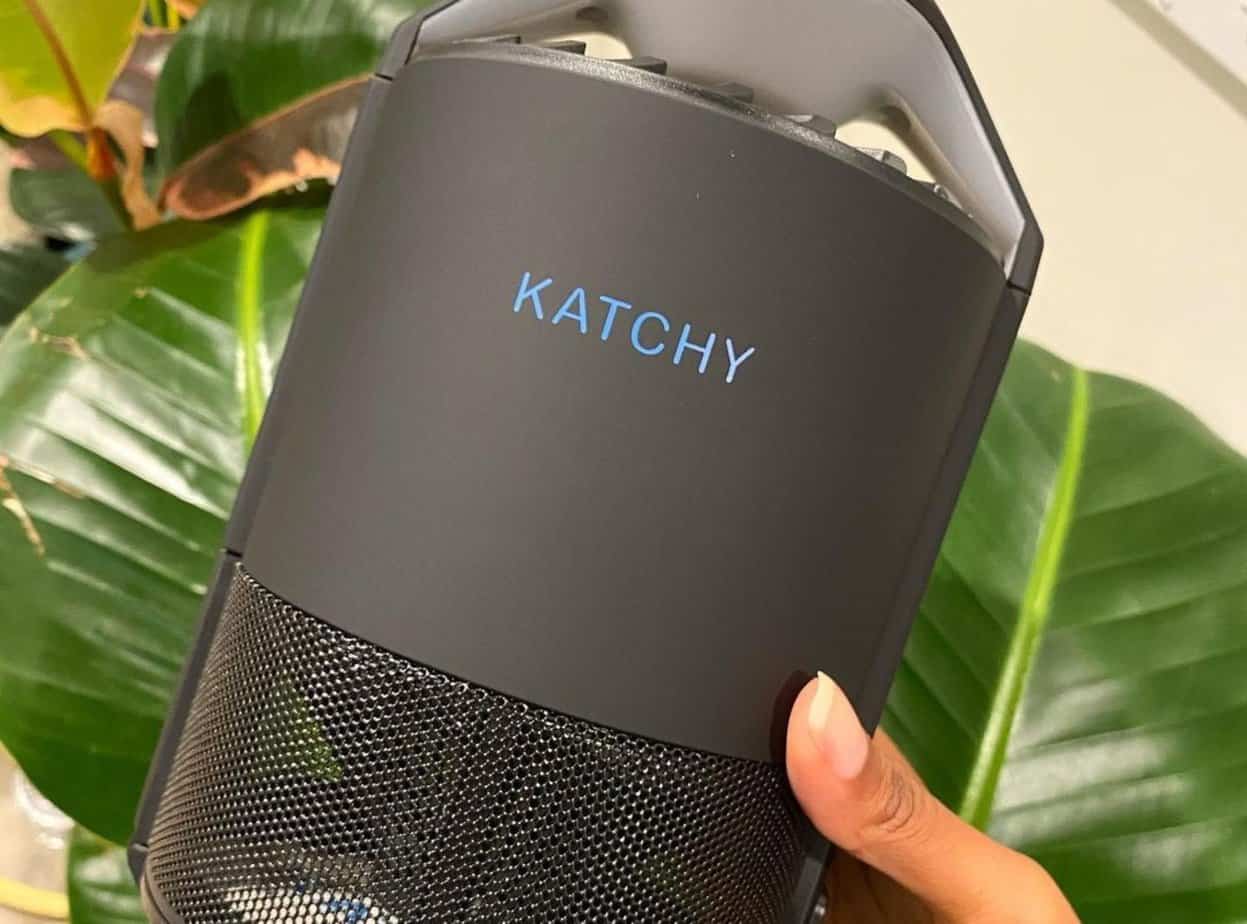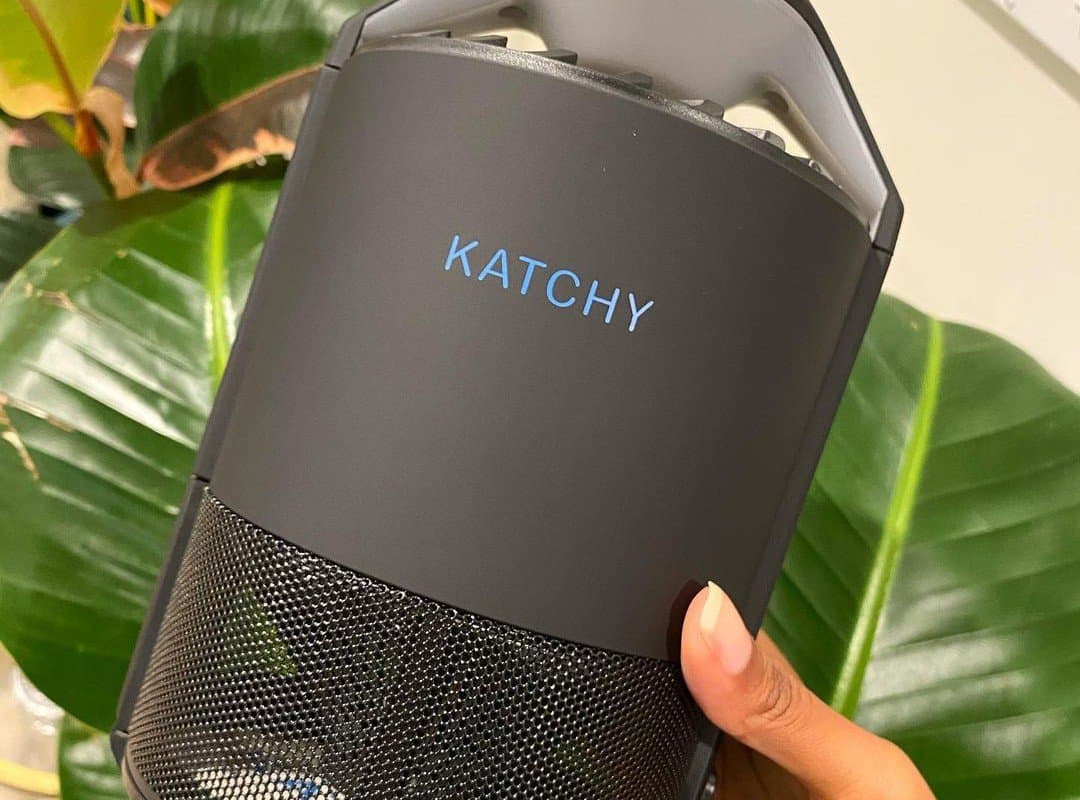 Are you looking for something unique in a bid to deal with the fruit flies? Then this trap is what you should buy. Unlike the other glue traps, this brand uses UV light as a way to bring the fruit flies closer. As soon as the flies approach the light, they are attracted to a fan. The insects are pulled to a board made of glue and get trapped. There is no way for the flies to escape after they have been captured.
This fruit fly trap is very powerful when it comes to handling the flies. Is it safe to use? Yes. You can use it even if you have kids or pets without harming any of them. Therefore, this is a trap that you can purchase without second thoughts when it comes to safety. Moreover, it is odorless, and you have the freedom to place it at the position of your choice.
There are several places you can place this fruit fly trap at home to ensure you get maximum results from it. These places are: the bedroom, area around the garage, or the kitchen. It can also be used in the office.
The unit is made of a fan that needs to be operated. Adjusting it to your wall socket makes it function. Alternatively, you can use a power bank to operate it. A USB source of power can also work out.
The wavelength of the UV light ranges between 360 nm and 390 nm. One of these traps can work effectively within an area of around 330 sq. feet. Additionally, the company offers you a 1-year refund in case the trap is ineffective.
As a buyer, you have freedom when using this product. For instance, there is an "Automatic" mode that you can set so that the trap only goes on when the flies appear. With that mode, the trap only works when needed.
Pros:
Cons:

effective in the elimination of fruit flies as it uses a fan;
two modes to choose, manual and automatic;
has many glue pads.

may be less effective for gnats.
3. RSVP Endurance Fruit Fly Trap – Best Design for Regular Use
Specifications:
Color: Dishwasher Safe
Material: Stainless Steel
Item Weight: 0.08 Pounds
Item Dimensions LxWxH: 3.25 x 3.25 x 2.5 inches
Target Species: Fruit Fly
Have fruit flies become a bother to you, and you are looking for a way to finally eliminate them completely? This is the best bait for a fruit fly trap to help you keep these insects away from your space. Apart from the trap being pretty, it is easy to use. All you need to do is to add a mixture of vinegar in a cup. The flies will be attracted to the cup and will enter through the perforations.
The product is safe for use. To ensure that it functions properly, place it near your fruits to be certain there are no insects around them. Empty and refill the can periodically to enhance its effectiveness.
The trap is beautifully designed and works effectively. No one will notice that you are using it if you do not tell them. It is also made of stainless steel which makes it durable. Within no time, the kitchen flies, such as house flies or gnats, and the fruit flies are eliminated. Therefore, you have the surety that you are using an effective trap. It also comes with clear directions on how to use it. This fruit fly trap is a great option.
Pros:
Cons:

can effectively deal with many insect types;
affordable;
beautifully designed;
safe and easy to use.

you have to refill it frequently to be effective.
4. Trappify Sticky Fruit Fly and Gnat Trap Yellow Sticky Bug Trap – Best Outdoor Sticky Trap
Specifications:
Material: Plastic
Number of pieces: 25
Item Weight: 0.19 Pounds
Item Dimensions LxWxH: 5.2 x 3.3 x 0.1 inches
Target Species: Fly, Fruit Fly, Mosquito, White Fly, Gnat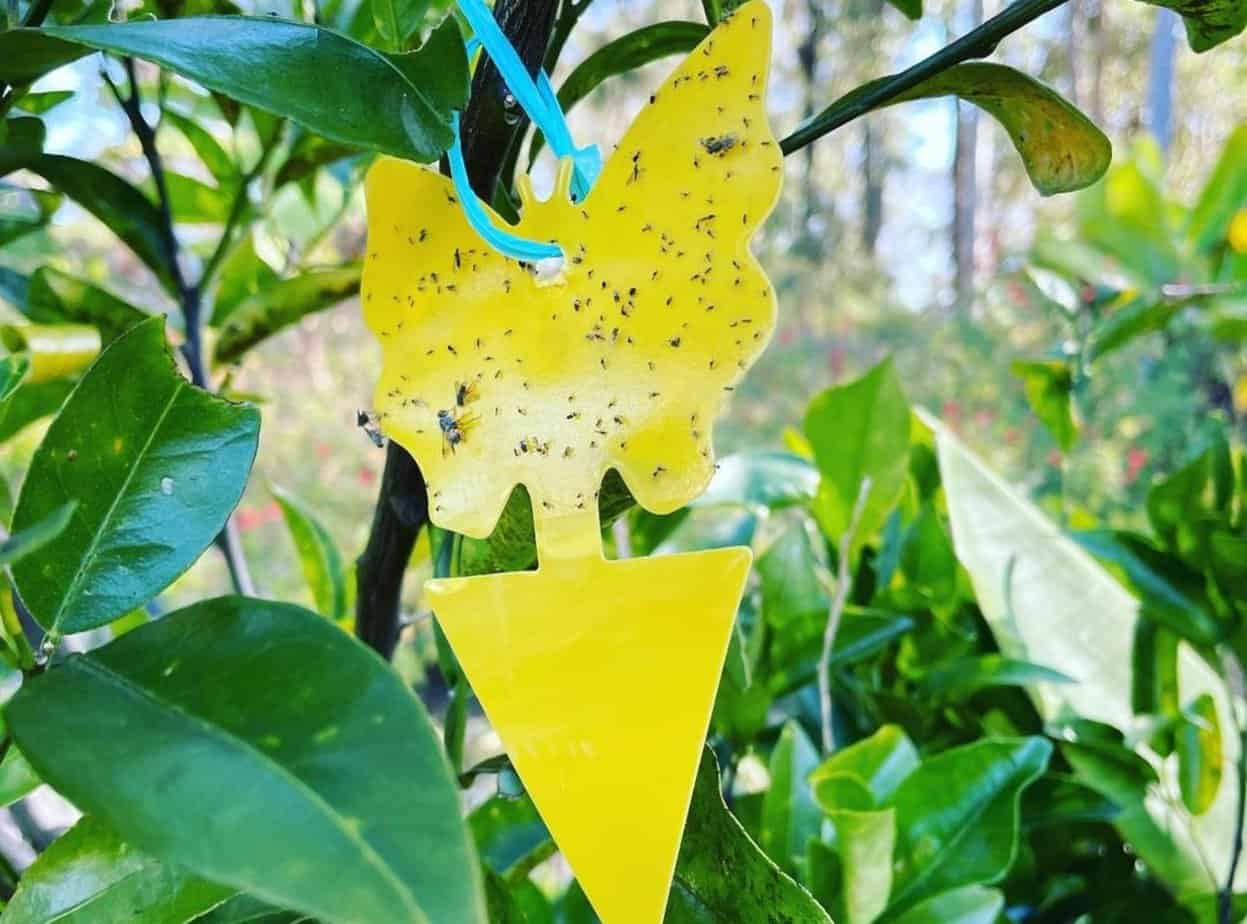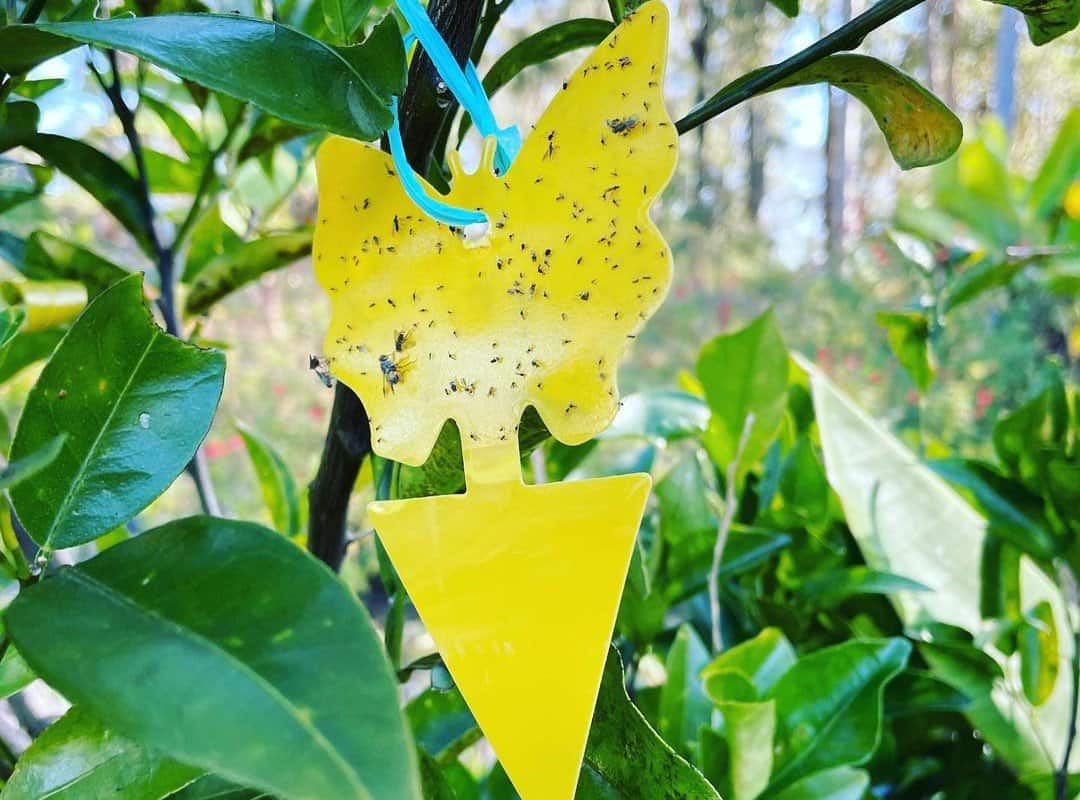 This is the product you should purchase if you are looking for convenience and safety. It is sold with 25 disposable glue traps. The product is effective for different insects, including fruit flies, gnats, whiteflies and mosquitoes. Purchasing it is cost-effective as you deal with several insects by using one product.
The effectiveness of the traps is determined by the number of products you use. Using many is more effective than using a few. The best fruit fly trap is used by placing in strategic locations. Many users select places such as gardens, kitchen tops, and counters as well as near a houseplant. You should not worry about how to place the trap because it has a hook. The hook enables you to conveniently hang the trap on the chosen location, including walls and other areas.
Do you intend to catch larger insects? You should not worry when you have this trap. This brand uses extra-strong adhesive material that can capture these significant insects effectively. Moreover, the fruit fly killer is designed elegantly. Whether you want to use this trap in an indoor or outdoor location, it is possible.
Is it safe to use the product in any place? Yes. Whether you have a child or a pet, you can still use the trap without the worries of negative effects. The trap is 100% safe and usable in any place of your choice.
There are upgraded versions of the trap that are even better. For instance, they are resistant to UV light and water. As such, you can use it in an open location. Consequently, they can trap these pests for long without their effectiveness wearing out.
Pros:
Cons:

effective for a variety of insects;
more flies can be trapped thanks to a double-sided design;
made of strong adhesive material which is effective for flies.

the glue can easily stick to your hand.
5. Indoor Plug-in Bug Zapper – 3.5 W / 110v – Best Fruit Fly Zapper
No products found.
If bugs have become a nuisance for you, this zapper can help. With this product, you are guaranteed protection in your home, office environment, or any other location that matters to you. You do not have a reason to tolerate annoying insects anymore. It effectively works for many insects such as gnats, mosquitoes, and fruit flies.
Have you been wondering how to catch fruit flies? Purchase this brand's product for the best results. This zapper is designed with UV light capability and is meant for indoor use. I can attest that it is highly effective since I have purchased and used it. It covers an area of approximately 20 sq. meters indoors environment.
Are you worried about the safety of product use? The portable trap has environment-friendly features such as being odorless, noiseless and effective. Therefore, you can use it even if you have pets and children within your space.
It is easy to use. You only need to plug it in and switch on the power button. While switched on, it can work all-year-round without any issues. That ensures you enjoy convenience and peace of mind as you use it.
If you want to see other bug zappers, check out my review of the best bug zappers available on the market.
Pros:
Cons:

effective in eliminating the insects;
safe to use;
easy to set up.

may only be effective within an indoor environment.
6. Green Gobbler Fruit Fly Goodbye Gel Drain Treatment – Best Drain Fly Killer
Specifications:
Contains: Natural Citronella Oil
Item Form: Gel
Item Weight: 2 pounds
Item Dimensions LxWxH: 3.25 x 3.25 x 10 inches
Target Species: Fruit Fly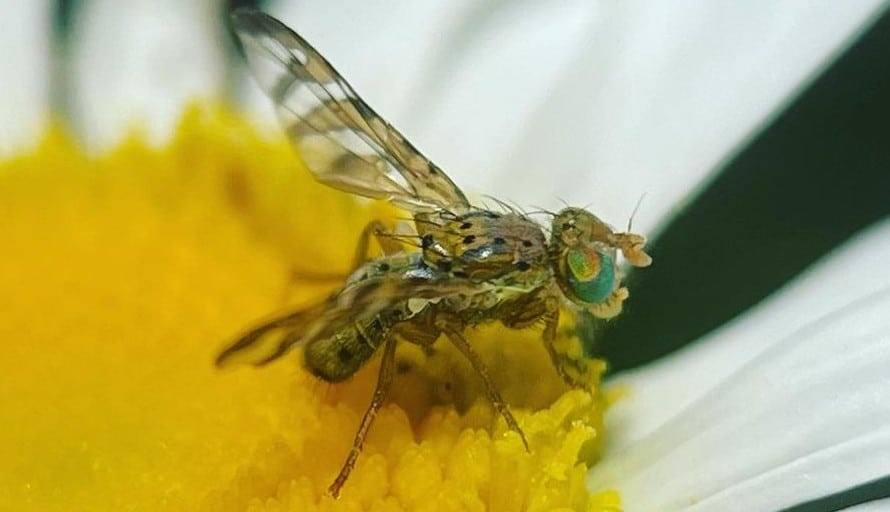 Fruit and drain flies can be annoying when there is an outbreak in your house or office space. You should get rid of them if you want to live peacefully. People often ask how to get rid of drain flies with no fuss. Green Gobbler Fruit Fly Killer is what you need when it comes to drain fly infestation. The main ingredient in the product is called citronella — a repellent that occurs naturally and is found in lemongrass leaves. Apart from killing the flies, the treatment destroys the laid eggs.
Where can the product be used? It is ideal for your home space, hotels, restaurants, and any other places with fruit flies. Thus, you can use it anywhere.
There are several precautions you need to take to make the product work effectively. You should first identify what is causing the infestation within your space and work on it. It is also crucial to remove stagnant water from the area. The best thing about this particular treatment is that it prevents re-infestation when used in the right way.
| | |
| --- | --- |
| Pros: | Cons: |
| | it is relatively expensive. |
7. Fruit Fly BarPro: the Ultimate Fruit Fly Trap – Best for Outdoor Rubbish Cans
Specifications:
4 Month Protection
Material: Plastic
Item Weight: 0.04 Pounds
Item Dimensions LxWxH: 3.5 x 0.5 x 8.75 inches
Target Species: Fruit Fly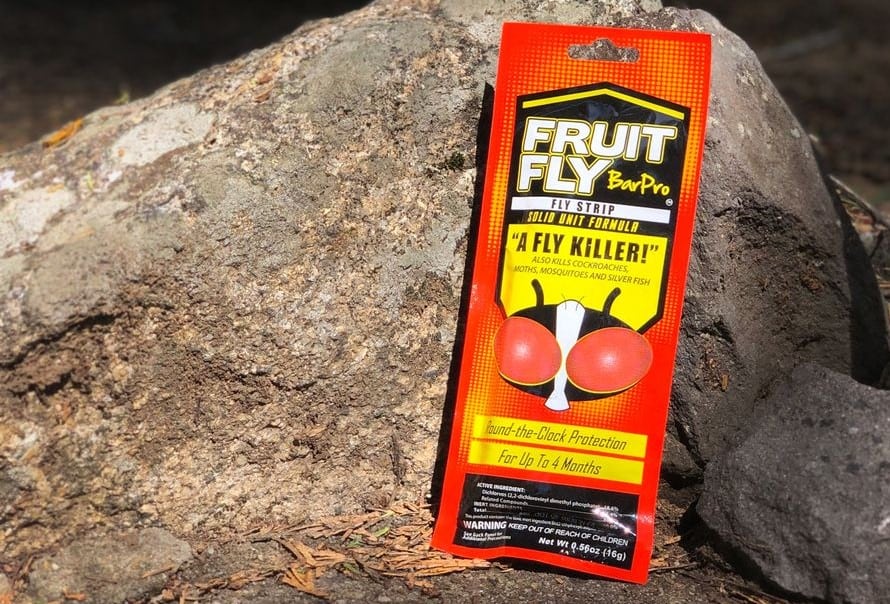 Voracious flies should not make your life difficult when you can easily eliminate them using BarPro. The product keeps your home safe from these insects. It is a good alternative for those who have been struggling with the sprays made of chemicals or those who do not like the sticky traps. Buyers love it because of safety, cleanliness while using it, and being odorless. That makes it a good trap to use.
It uses vapor technology. In addition to the fruit flies, it can also effectively eliminate other insects, including stubborn cockroaches, scary spider mites, beetles, and mosquitoes, among others. Therefore, you only pay money once and have all the benefits of the best fruit fly killer.
What makes this brand better than others? Its trap is made of a special strip that enables it to function the same way as air fresheners. The formula that is contained in the plastic strip becomes effective with exposure to air. Vapor is released periodically. Through diffusion, the vapors protect your home all the time. The effect of the product can last up to four months.
Moreover, the trap is easy to use. It has a large hook used for hanging the trap strip over the needed area. The vapor is effectively released up to a 200-feet area. Therefore, it reaches the flies no matter where they are hiding. Apart from eliminating the flies that are currently in your home, the product prevents infestations that may come in the future.
There are many locations to place the strip, like garages and places near the trash cans. The precaution is that you should not use it in a place with food or where people stay for long periods. That's why I advise this product only as an effective treatment for outside use. As the buyer, you have the freedom to purchase a one-pack, a five-pack, or a ten-pack.
Pros:
Cons:

can eliminate many types of insects, including moths;
uses smart vapor technology;
acts fast;
works for a long time (4 months).

restricted to use in specific areas.
As a Buyer, Which Options Do You Have?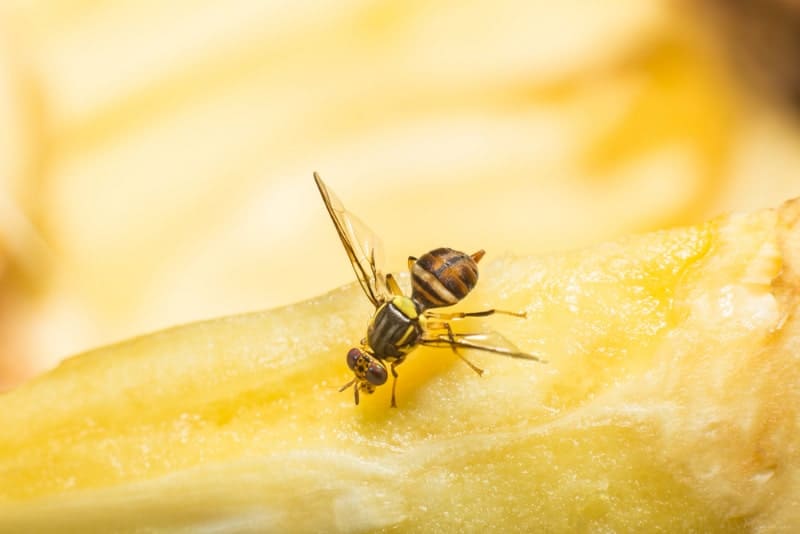 Although some of these insects may not bite, they can be a cause of disturbance to you. That is why you need an effective fruit fly catcher. You should know that the fruit flies are mostly found near vegetables, fruits and in grocery stores. Dealing with them is essential if you want to live peacefully.
The products that I have discussed above are effective in trapping fruit flies. They prevent the trapped flies from escaping. However, their level of effectiveness varies depending on the specificity of the infestation. There are various options when you need to buy these products:
The traps in this category are small. They are most effective when used in flower pots. As the insects crawl around, they can get stuck in the tapes. After a while, your space can be free from these annoying insects.
The products use vinegar or other food-based lures. Apart from eliminating the fruit flies, they also work well for other insects around your home. The brands in this category are designed stylishly, which makes them attractive to the buyers.
Wondering how to trap fruit flies in a house or any other place? This type of trap simplifies everything. Being a UV device, it eliminates flying insects and all the other microbes. They are designed with a sticky sheet inside them. The sheet is meant to collect the microbes that are in the room.
Related Post: Best Electric Fly Swatters Reviewed.



FAQ Section
What To Put In A Fruit Fly Trap?
The main goal of such traps is to eliminate the spread of insects around food. That is why they contain chemicals that smell like food, such as vegetables, fruits, bread, but are poisonous to insects.
How Do Fruit Fly Traps Work?
Fruit flies are really attracted by the food smells. That is why smelling it, they fly in and sit in a trap. Here is where fly traps start to work. Some traps use UV light to kill fruit flies, some use vinegar, and so on. Anyway, insects die very quickly after they eat or smell poison.
Closing Remarks
Your choice should be based on what suits your purpose the most. You should not pick a product that is not made to solve your specific problem. The best fruit fly trap to buy is one that is effective, affordable, and safe. From the reviews above, you may have noticed that most of the products are safe to use in different environments. Noteworthy, some are only effective when used in an indoor environment; others can be used outdoors, while some suit any place. It is good to pick one that suits your particular needs.
Have you bought the disposable fruit fly traps before? What was your experience with them? Do you think they are more effective than DIY remedies? Give your response by leaving a comment below.
References:
How to Identify a Fruit Fly (Hannah Madans doityourself):
https://www.doityourself.com/stry/how-to-identify-a-fruit-fly
Fruit Flies (by Michael F. Potter, Extension Entomologist University of Kentucky College of Agriculture):
https://entomology.ca.uky.edu/ef621
Oil of Citronella (Oregon State University and the U.S. Environmental Protection Agency):
http://npic.orst.edu/factsheets/citronellagen.html
An Introduction to Drosophila melanogaster (The Berg Lab Drosophila University of Washington):
https://depts.washington.edu/cberglab/wordpress/outreach/an-introduction-to-fruit-flies/
Why You Should Trust Pest Control Hacks?
We know that pests are nasty neighbors, and it can take months to eliminate them without the right approach. Our experts use their own experience to compile articles and guides that are introductory and informative. Our authors' opinions are independent and based on the results of practical testing of pest control tools. We do not notify manufacturers of testing of their products and do not receive payment from them for posting their items. Also, our texts are never submitted to company representatives for proofreading before placement. On the site, you will find exclusively objective ratings and reviews.