Have you ever found yourself swarmed by flies, especially in the warmer seasons? These winged insects can be rather nasty, colonizing bedrooms, kitchens, and even backyards. Though they are believed to cause nothing more but a minor annoyance, they can be not only irritating but also dangerous. Even the simplest fruit fly can be a transmitter of allergens, dirt, and diseases.
Since not everyone is ready to equip their household with repellents and fly traps, there is another solution. You can always employ good old heavy-duty fly swatters. Since the invention of the fly swatter, they have been known to provide great results.



Top 5 Best Fly Swatter Products for Home, Backyard, and Camping
When you think of a swatter, you probably imagine a shabby plastic or wooden pedal-like utility, like the one your grandma used to have. However, modern insect precautions have gone far beyond that. Nowadays, there is a whole array of modified and automatic fly control measures to guarantee protection and efficiency.
The market is full of potentially good products, and it can be difficult to make up your mind. Thus, I've prepared some detailed fly sweater reviews to help you see that this old-school remedy is still kicking.
1. ZAP IT! Rechargeable Fly Swatter — Best Electric Fly Swatter
Specifications:
Is Electric: Yes
Number of Pieces: 2
Item Weight: 1.7 pounds
Item Dimensions LxWxH: 17.17 x 13.5 x 1.97 inches
Target Species: Fly, Mosquito, Spider, Wasp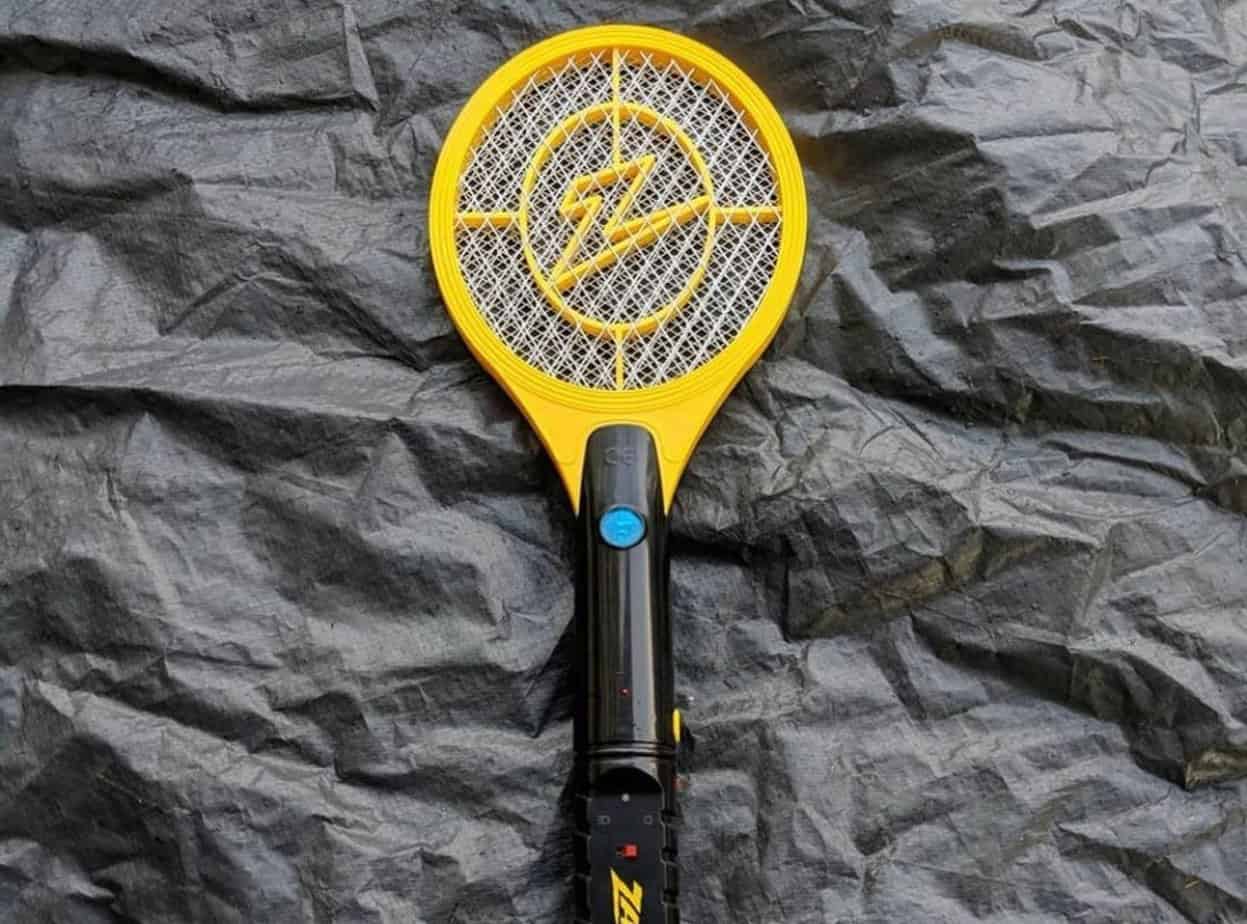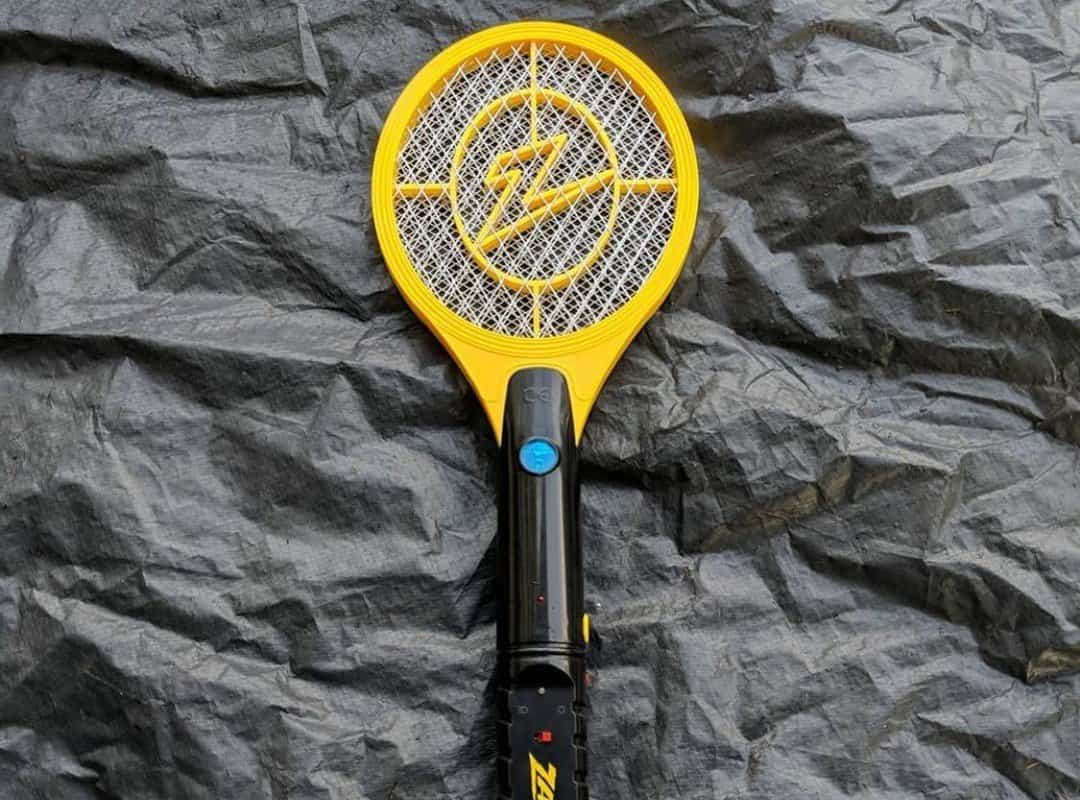 If you're looking for an all-purpose swatter, take a look at this one with a ton of benefits. The product is an electrified fly treatment for fly infestation prevention and treatment. As simple as it gets, it can secure your house from the annoying insects.
The swatter is an item you can use at home or take along on road and camping trips. It's very compact and doesn't take much space. Weighing around 1.5lbs with roughly 6.5 inches in length, it can be kept in a vehicle or carried in the backpack. It's equipped with lights to facilitate insect detection and is easily controlled with the switches on the handle.
Embedded with a whole set of modern features, this high-quality fly swatter can come in handy even in the most swarmed areas. To initiate its operation, simply activate the on-handle switch. This will enable electricity conduction throughout the mesh and make the item much more effective than any other ordinary swatter. It's extremely safe to use and requires only a few-hour battery charge.
Pros:
Cons:

completely automatic;
equipped with lights for better detection;
lightweight;
no assembly is needed.
2. Enoz Sergeant Swat — Best Heavy-Duty Fly Swatter
Specifications:
Material: Plastic
Number of Pieces: 3
Item Weight: 0.6 Pounds
Item Dimensions LxWxH: 17 x 10 x 2 inches
Target Species: Cockroach, Cricket, Fly, Moth, Bee, Mosquito, Hornet, Wasp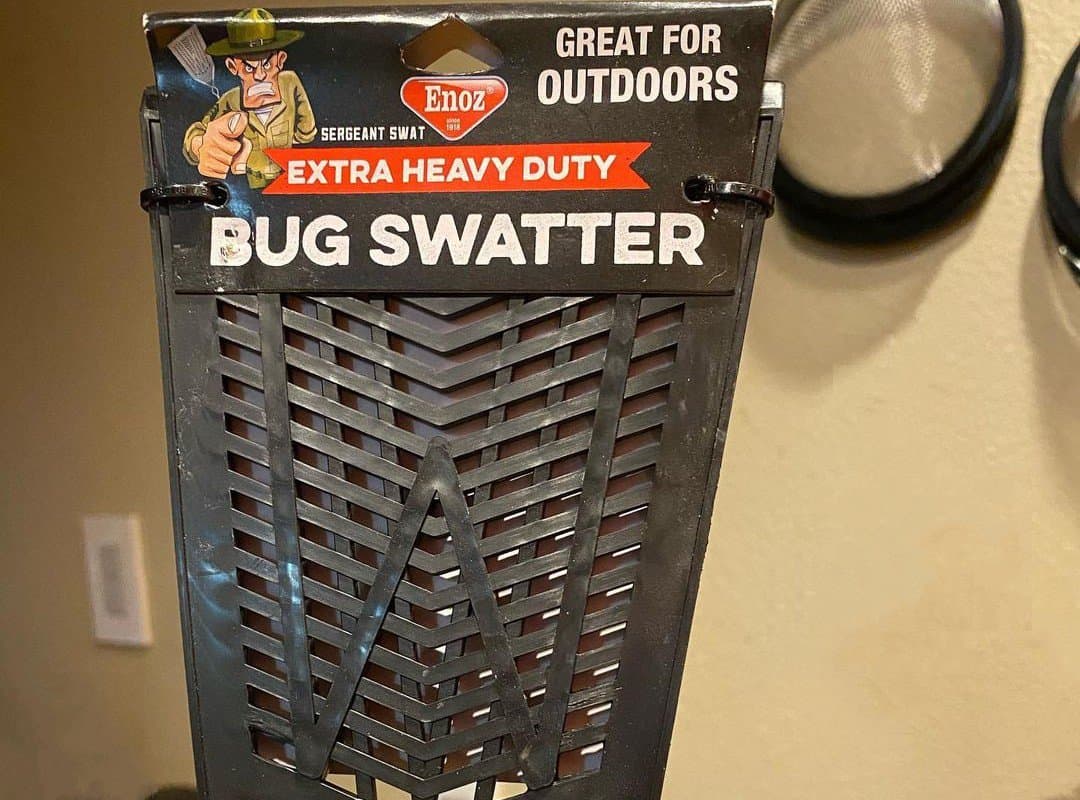 For those of you preferring more classical utilities, this option can be just a match. No hi-tech features but still as effective as it gets, the product can be a nice complement to your travelings. With its sturdy handle and hardened mesh, it will serve you longer than ever.
To ensure longevity and no excepted service period, the handle is metal-infused and completely polished for more comfortable holding. Though the mesh is still made of plastic, it's hardened and, therefore, can cause much stronger hits. Also, the mesh has well-designed gaps inside for better aerodynamics.
It provides the swatter with swifter moves, which are less noticeable to flies and other insects. Unlike similar wire mesh fly swatters, this one can be a little too tough. Make sure to use it outdoors or far from fragile things. Because every hit is three times harder than that of a regular swatter, it can scuff, chip, or even break the plastic, glass, and softwood objects.
Pros:
Cons:

comfortable to handle;
sturdy and long-lasting;
extremely swift;
great length.
3. Smart Swatter — Best Plastic Fly Swatter
Specifications:
Material: Plastic
Number of Pieces: 2
Item Weight: 1.58 ounces
Item Dimensions LxWxH: 17.9 x 4 x 0.1 inches
Target Species: Fly, Bee, Mosquito, Spider, Wasp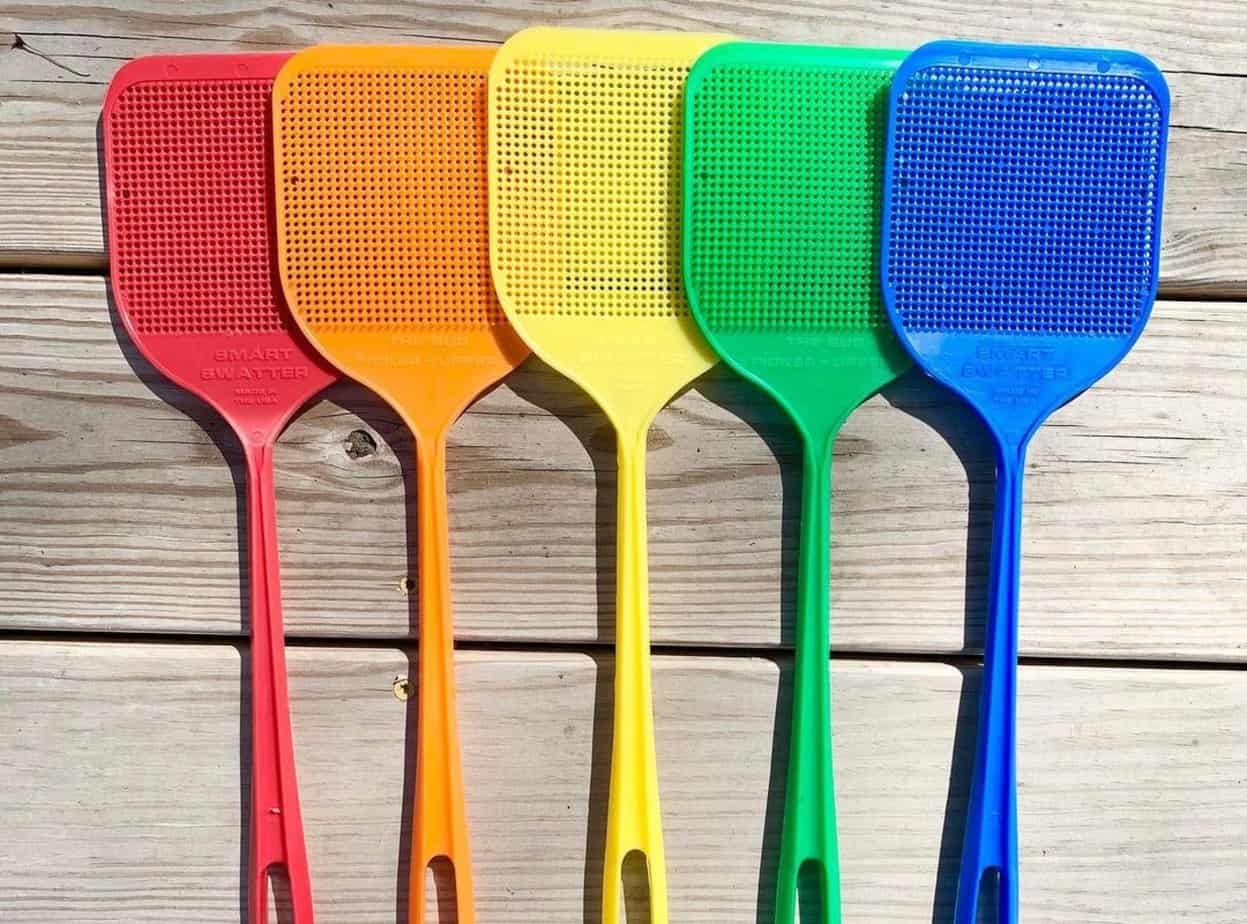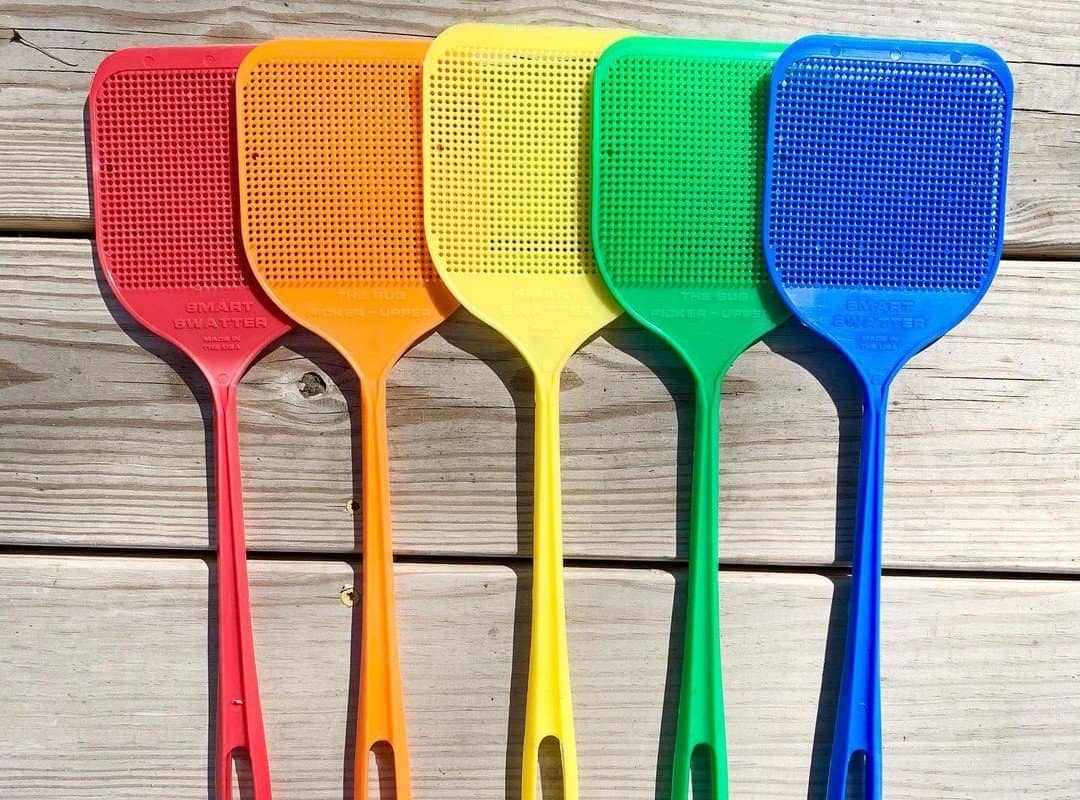 Though even the best electric fly swatter or that made of metal offers lots of benefits, you shouldn't discard simple, soft plastic options like this one. It provides you with flexibility, an unlimited service period, and time-proven results. All of this comes for a very reasonable price.
The utility is around 18 inches long. This facilitates a nice, all-covering swipe without having to reach out or stand on the tips of your toes. The weightless handle offers a nice grip so that you don't have to clench too tightly. When using the swatter, the plastic design allows for bending and flexing, increasing durability and sturdiness.
With the mesh, covered in tiny microfibers, this sticky fly swatter not only kills but also catches flies. After eliminating a target, flip the product to damp the flies. Also, it's possible to cover the mesh with glue-like substances to enhance stickiness even more.
Pros:
Cons:

flexible;
both for in and outdoor use;
cheap;
variety of colors.
4. PrimeHomeProducts — Best Leather Fly Swatter
Specifications:
Material: Leather
Number of Pieces: 1
Item Weight: 2.89 ounces
Item Dimensions LxWxH: 18 x 4 x 0.5 inches
Target Species: Cockroach, Fly, Bee, Mosquito, Cicada, Hornet, Wasp
In case you're all about zero-waste products, you will most probably appreciate this rather environmentally friendly swatter. Made without using any plastic chemicals, the item is extremely safe and has no downsides for the environment. Also, its organic composition makes it rather water-resistant compared to similar products.
The mesh area is a pure, organic leather pad, which is made for durability and strength of each hit. It's well-fixed on the handle with rotatable screws to provide a wider swing that can cover more insects at the same time.
Let alone the zero-waste benefits, this is truly the best fly swatter for indoor use thanks to the flexibility of the leather pad. Now, you don't have to worry about damaging fragile objects with accidental hits since the swatter eliminates flies yet doesn't chip or break large objects. Moreover, it can be used for all kinds of insects, including roaches, gnats, and even bees.
Pros:
Cons:

Eco-friendly;
changeable handle;
wider swing;
suitable for different pests.
5. Amish Valley Handcrafted Swatter — Best Fly Swatter for Longevity
Specifications:
Material: Leather
Number of Pieces: 1
Item Weight: 3.2 ounces
Item Dimensions LxWxH: 18 x 4 x 0.25 inches
Target Species: Fly
To provide sturdiness but preserve benefits for the environment, you can acquire this Amish Handcrafted swatter. It's extremely lightweight though it still offers a great array of upsides. Also, if you're picky, suit yourself by choosing between different leather color textures.
Manufactured in the US, the product is very simple in its design and easy to fix should anything unfortunate happen. The pad is pure, natural leather, which is known for its softness and longevity. When hitting a target, it doesn't fold regardless of the applied force. Instead, it wraps a surface nicely, preventing soft and plywood from denting, and plastic from cracking.
The pad of this leather fly swatter is vented. This technology helps improve the product's speed and air resistance. As a result, your swatter hits a fly more rapidly, eliminating its chances of dashing or flying away.
Pros:
Cons:

Stylish design;
Wire handle for durability;
Sufficient length;
Easy repair.
Buyer's Guide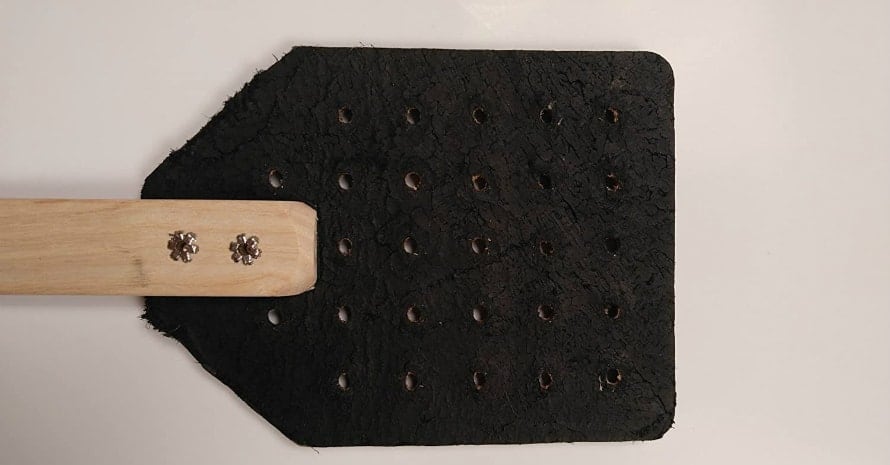 Yes, there is an entire myriad of good-quality swatters. They range from cheap to expensive options, infused with metal or made from plastic. All of them can be useful for your endless fight against flies. But some products can be a little excessive in their characteristics, while others can lack some important features.
How to pick the best fly swatter?
Let's take a look at some basics to be fully aware of which is the right choice for you.
Material
All the swatters vary depending on the core material used in their production. The most common base for such a product is plastic. A well-manufactured plastic fly swatter is normally suitable for indoor use since it's extremely flexible and soft. It doesn't cause much damage when hitting wood, glass, or other plastic objects.
Another alternative is leather or latex. Organic and natural, such swatters can be a great substitute for people who are rather concerned about the environment and don't want to have anything to do with plastic. Also, it provides longevity and durability since leather itself is great for withstanding various pressures.
On the other hand, if you want to utilize a swatter for your backyard or farm, you might need something sturdier. Metal, especially steel swatters, are considered heavy-duty and easily go through years and years of use. They are perfect for fly control for horses and other cattle, especially against horse flies, which can be very agile and hard to aim at.
Length
To choose the right dimensions, you're going to need to consider your height. Normally, longer swatters are a fit for shorter people since they can reach out to further spots without extending their arms excessively. Consequently, taller people will find it more comfortable to use shorter utilities for a better balance.
How do fly swatters work?
Well, it's quite easy. A swatter is a long-handled utility for facilitating your hits on flies and other pests. Normally, such an item has vents and holes on the pad, creating a mesh. It helps the swatter move faster, reaching a fly earlier than it manages to escape.
FAQs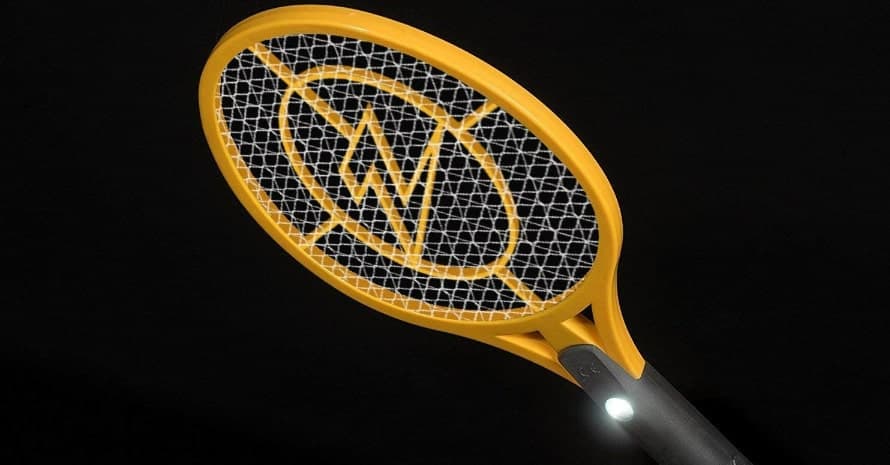 Obviously, you might still have some questions left, so let me elaborate more on the topic.
Are fly swatters effective?
Yes, swatters have been around for much longer than other treatments. They have always saved the day since they are swift, easy to use, and completely harmless.
Is electric swatter safe around kids?
Normally, yes. Electric appliances like this have a very subtle electric supply. It's enough to disable an insect but far from sufficiency to work the same way on humans. However, it's better to keep children away from any kind of electric appliances, right?
How to make an electric swatter more powerful?
As a rule, electric swatters are meant to be powerful enough against flies; no modifications are needed. To amplify the power, you could change the batteries to more capable ones and rewire the circuits to conduct higher voltage. But mind that your swatter might turn into a full-blown taser.



Be the Swatter Old or New, It Will Still Work for You
Using modern fly repellents and deterrents can be a marvelous yet temporary solution to the fly problem. But a good old swatter is always at hand and ready to work it out for you on the spot. Easy to carry, completely safe for children and animals, and, most importantly, 100% effective when hitting accurately, a swatter is a treatment proven by time.
All in all, I hope that my article has shed some light on how effective and even high-tech swatters can be. What kind of swatter do you use? Do you think that an aluminum handle can be as sturdy as a steel one? What's your perspective on electric swatters? I'm looking forward to hearing from you in the comments box down below!
Why You Should Trust Pest Control Hacks?
We know that pests are nasty neighbors, and it can take months to eliminate them without the right approach. Our experts use their own experience to compile articles and guides that are introductory and informative. Our authors' opinions are independent and based on the results of practical testing of pest control tools. We do not notify manufacturers of testing of their products and do not receive payment from them for posting their items. Also, our texts are never submitted to company representatives for proofreading before placement. On the site, you will find exclusively objective ratings and reviews.