Spending time in parks, gardens, forests in summer, or spring is just marvelous. The entire family can enjoy the smell of flowers and trees, as well as the cool breeze near the lakes or rivers. But these areas are favorites of some insects too.
You should apply the best bug spray for kids to protect your family from potential consequences. The right treatment will help prevent bites, which can cause itching and allergic reactions, without mentioning spreading some dangerous viruses. That is why you should find the treatment that will repel the insects and be safe for the sensitive skin of a child.
Pros
Long-lasting 14-hour effect.
Effective against a wide range of insects.
Top Pick
Pros
Long-lasting 14-hour effect.
Pros
Effective against a wide range of insects.
Best Bug Spray for Kids Reviews: Top 5 Products
You can find numerous repellent options online. However, not every product is the right choice for your kid. Also, you should consider the specifications, precautions, and recommendations for applying. Below there is a list of products, which are worth your attention. I hope my reviews will be helpful for you while picking the right treatment.
1. 20% Picaridin: Best Insect Repellent for Kids from Sawyer Products
Let's start with my top pick 20% Picaridin repellent from Sawyer Products. This manufacturer is known for providing the best solutions against pests and insects. And their skin treatment is effective as well. Its active ingredient Picaridin is known as one of the safest and odorless options for repelling insects.
The product is great against mosquitoes, ticks, and other biting insects, which can harm your kid. After applying, the repelling effect lasts for up to 14 hours. Against biting flies, chiggers, or gnats, it is effective for up to 8 hours. However, you need to reapply the treatment after swimming, or if you have been caught by the rain. Its formula is safe for tender skin and allowed to use on kids.
Also, the product will not leave any residue, so it is safe for your clothes, equipment, and accessories as well.
The product comes in a wide range of bottle sizes and various forms. If you think about buying this best insect repellent for kids and the entire family, consider choosing the lotion. This form is claimed to be the most convenient and effective, according to the Sawyer Products users. But the spray can be applied to clothing as well, which ensures better protection.
Pros:
Cons:

long-lasting 14-hour effect;
safe and effective;
no odor;
can be used on kids' skin;
does not harm clothing or accessories.

customers admit that the spray form of treatment is less convenient.
2. Lemon Eucalyptus Repellent: Kid Friendly Bug Spray from Repel
This pump spray from Repel is a convenient option for short-time walks and everyday use. A small size means an affordable price. You can buy one bottle to test whether this product suits your needs and expectations.
The form of spray might not offer the longest protection, but it is easy to apply in any conditions, even on the go. The average time the repellent offers its highest protection level is 6 hours. After this, you need to apply the treatment again.
This spray can be used for protecting kids because it is based on natural components and has a DEET-free formula. The repelling properties are ensured by the natural essential oils of the lemon eucalyptus. It provides effective repelling action against flies, mosquitos and some other bugs. The remarkable feature here is that despite the spray contains oily ingredients, it is not greasy and leaves no residue on skin or clothes.
Sure, this natural bug repellent for kids has some advantages. But keep in mind that the smell of lemon and eucalyptus oils might be too strong for sensitive kids' noses. Moreover, the odor might cause allergies or asthma attacks. Consider this before applying this solution to your child.
Pros:
Cons:

affordable price;
deet-free product;
based on natural oils;
effective for up to 6 hours;
does not leave a residue.

the odor might be too strong for some people.
3. Full-Body Protection: Natural Bug Repellent for Kids from California Baby
California Baby manufacturer offers its natural product for repelling insects from your kids. This spray is designed to fit the peculiarities of sensitive infant skin, ensuring decent protection at the same time. But this treatment can work for adults as well. Eventually, you receive the universal spray for the entire family, convenient to take on walks or short trips.
The formula of this product is DEET-free and does not contain any other harsh chemicals, which can harm a child's skin. The repelling effect is ensured by the set of natural essential oils of citronella, lemongrass, and cedar. Thanks to the variety of active ingredients, this spray works well against mosquitoes, ticks, flies, and other biting insects. In the form of a spray, the treatment can be applied on clothes as well for an extra barrier for bugs.
If you are looking for a kid safe bug spray, you can take a look at this product as well. It contains no harsh chemicals, but its smell might last longer than you wish. Some customers complain that it cannot be washed off for a long time. This might cause some inconvenience for you and your child. Another drawback is that you constantly need to reapply the solution to maintain the essential protection level.
Pros:
Cons:

effective against a wide range of insects;
can be used on skin and clothes;
deet-free formula;
natural active ingredients;
works for adults as well.

the smell is hard to wash off the skin;
should be applied often.
4. Versatile Kid Safe Bug Spray from Bug Soother
One more solution against bugs is from the Bug Soother manufacturer. This is a versatile spray treatment, which works well for kids, adults, and even pets. You can apply it directly on the skin or clothes for wider coverage.
The manufacturer ensures that the all-natural formula is effective against a wide range of insects like gnats, fleas, flies, mosquitoes, etc. The spray is DEET-free and contains no other chemicals, which may harm your kid. The active ingredients are natural oils. The spray is tender to the skin thanks to the components like purified water, glycerin, castor oil, and vitamin E. The pleasant smell is ensured by the vanilla extract, which repels insects as well.
The spray comes in bottles of various sizes, and you can find the one that suits your needs and the number of members in your family to protect.
Even though this is a kid friendly bug spray, the protection time is short compared to similar products. Also, among complaints, I have found out that some bottles might leak even before you start using them.
Pros:
Cons:

non-toxic formula;
pleasant smell;
effective against a wide range of insects;
natural ingredients;
versatility.

sometimes there is a problem with leaking containers;
short-term protection.
5. Sunblock and Bug Spray for Babies from Avon Skin so Soft
Looking for a smart summer solution for outdoor walks? Avon in its Skin so Soft product line presents 2-in-1 spray, which works as both a bug repellent and a sunblock treatment. There is no need to buy and apply two different spays, as soon as you decide to use this one.
The repellent feature is provided by the effective anti-bug formula without DEET. The spray has a pretty distinctive scent. But the dermatologist's testing has shown its hypoallergenic nature. That is why it is allowed to use this spray for protecting the child's skin. After applying the treatment may feel greasy, but it dries out quickly and then your skin becomes clean and smooth.
However, I have noticed numerous complaints about leaking bottles. Also, in some cases, people received this bug spray for babies without pumps. Make sure the seller provides you with a complete and proper set.
Pros:
Cons:

2-in-1 action;
deet-free formula;
water-resistant;
dermatologist-tested and hypoallergenic;
left no residue when dried out.

leaking problems;
might come without pumps.
Buyer's Guide on Best Bug Sprays for Children
If you decide to do your own research, you will need more information about protection from bugs you can use for children. In this section, I want to share my general knowledge about insect sprays and how to use them correctly.
How do bug sprays work?
In most cases, when you use the bug spray on your skin, you apply the repelling treatment. So, the effect is not killing but repelling, preventing bugs sitting on your skin, and biting. Usually, the spray has the smell, which is very unpleasant for insects. Some of them conceal the smell of your body, which attracts bugs and mosquitoes.
Most insects sense the carbon dioxide your body produces, and they consider your skin as a source of food. But the best combination is both masking and repelling properties. Such sprays make you invisible to the hunting insects and keep them away.
When choosing the bug spray for toddler, make sure it does not contain any harsh chemical components or strong odor, which may cause allergic reactions.
What is the difference between adult and children's bug spray?
Any type of insect repellent treatment has the same purpose – to keep bugs away from your skin and prevent bites. Both kids and adults require this type of protection when the spring/summer season comes. However, some parents wonder whether they can use any bug treatment for protecting their kids. And they are right to look for an answer. Not all adult treatments can be used for children.
Some of the products might contain dangerous chemicals, like DEET or Picaridin, which may be harmful to susceptible organisms. That is why most of the insect repellents for toddlers are made of natural ingredients. However, DEET or Picaridin solutions are known as the most effective options for repelling bugs.
You can use them for protecting kids too, but mind the concentration of these chemicals in the chosen spray. It is better to look for products with no more than 5-10% of DEET or 20% of Picaridin. While for adults, the 30% DEET solution can be harmless.
Usually, "family" products contain the medium amount of such active ingredients. That is why for infants, I would recommend buying the spray or lotion with the lowest concentration.
What are common active ingredients in bug spray for toddler use and are they safe for kids?
Sprays against bugs have various formulas. Some of them are based on chemical components, which repel the insects, while other solutions use natural ingredients, which keep bugs from bugging your kids. Also, solutions can contain additional repelling, protective, or aromatizing ingredients. But the list of common active ingredients is pretty short:
A lot of insect repellents for babies are based on natural plant components. The best option in this case is the essential oil of lemongrass or the lemon eucalyptus. It can be organic or synthesized in the laboratory. The smell of these plants is very unpleasant for insects, so they prefer to avoid the treated area. At the same time, your skin and nose do not have to absorb harsh chemicals.
Essential oils are considered to be a safe option. But it is recommended to make sure your kid does not have any allergies or can endure the aroma. Also, the oil of lemon eucalyptus is not recommended for children younger than 3 years old.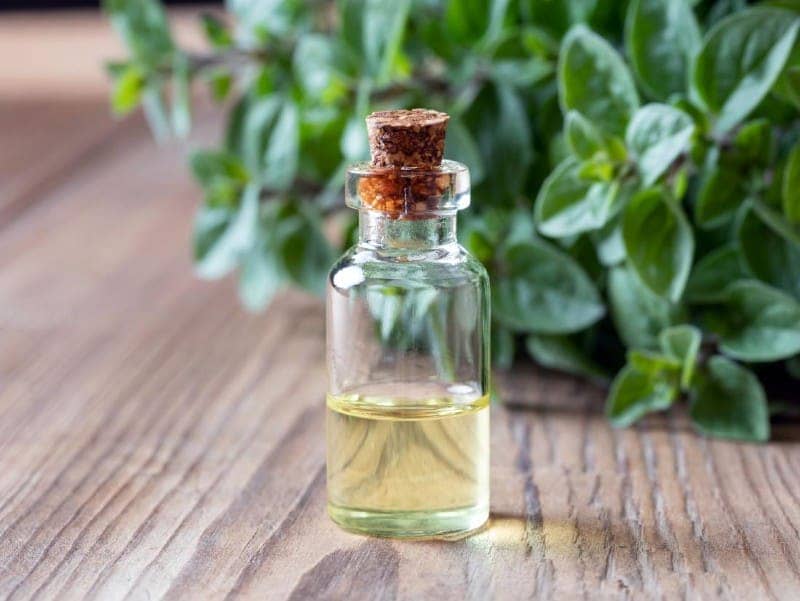 This ingredient is one of the most frequently used chemicals in repellent production. If you are fine with using such components, then feel free to look for one of the most effective protection from insects. For kids, the concentration of DEET should be no more than 10%, but you will have to apply the treatment more often.
Another popular chemical in insect repellents is Picaridin. As well as DEET, the level of safety for kids is defined by its proportion in the spray. It is considered to be based on the peculiarities of babies younger than 2 months, but I recommend checking the label and the instructions first.
This component is used in combination with other active ingredients. Usually, this chemical is added to the sprays with sunscreen properties, which you need to apply more often.
You can find the babies insect repellent in any convenient form. Repellent solutions come not only in sprays, but also in lotions, balms, and even wipes.
How to apply insect repellents for toddlers correctly?
Here are some recommendations for using bug and mosquito repellents for protecting kids:
American pediatricians do not recommend applying any solutions on the baby's skin if they are younger than 2 months. For protecting infants of this age, use strollers with mesh or nets.
Do not allow kids less than 10 years old applying repellent on their own. Adults should apply the lotion on the skin. However, if this is a spray, and there is no need to rub the treated skin with hands, then the kid may apply the repellent.
Treat only the exposed areas of skin. You can also apply the spray repellent on clothing.
Avoid treating the skin on kids' hands, near the mouth, or around wounded areas (this may cause allergic reaction or irritation).
Try not to apply the repellent indoors; use it in the ventilated area.
Be aware of the level of effectiveness of the chosen solution. Study the instruction to know how often the product should be used and what precautions you should make.
Before buying the children's bug spray, check its content to make sure it is completely safe for your kid.
FAQ About Kid Friendly Bug Spray
Here is the additional info you might need to know about the repellent solution for children.
What is Picaridin in bug spray?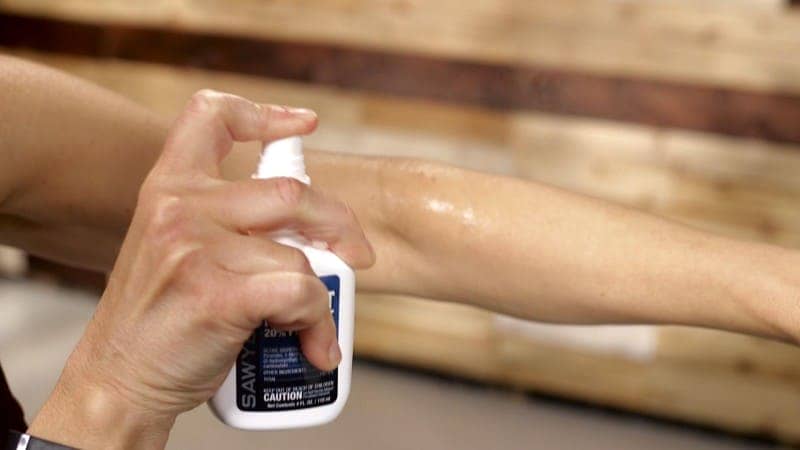 This is the chemical ingredients that plays the repellent role in the anti-bug treatment. It is a synthetic version of the repellent contained in the peppers. It is effective in keeping bugs, mosquitoes, and other insects away without killing them. Picaridin is safe for adults, but it is not recommended for kids under 2 months.
What is DEET in bug spray?
This is another chemical component that is considered one of the most effective anti-bug constituents in the repellent solutions. It can be applied to skin or clothing. It is also safe for adults, but it is not recommended for kids under 2 months.
How much DEET should be in bug spray for kids?
Being a harsh chemical, DEET might be harmful to kids' organisms in large doses. That is why the concentration of this component in the repellent solution should be no more than 30%. However, it is better to apply 5-10% DEET-based mosquito repellent for kids.
How long is insect repellent good for?
As a rule, sprays and other bug and mosquito repellents preserve their properties for up to 18-36 months. However, manufacturers recommend using the product for no more than 2 years. Also, in some cases, the solution might lose its properties faster when opened.
Dependable Protection with the Best Bug Spray for Kids
Now you have enough information to define what treatment will suit you and your family. It is up to you whether to use chemical or natural products. Also, consider the age of the kid as well as the conditions you are going to spend time in. If possible, try to protect your child's skin with clothing and apply sprays only on the limited skin areas. And for sure, you should choose the best bug spray for toddlers out of the list of my recommendations.
What bug spray do you prefer to use to protect your kids? What was the best and the worst solution? Share your experience in the comments.
References:
Insect Repellent Safety (NYC Health):
https://www1.nyc.gov/site/doh/health/health-topics/insect-repellent-safety.page
Summer: 7 Ways to Keep Bugs From Bugging Your Kids (U.S Department of Education):
https://www2.ed.gov/free/features/summer-7.html
Are you using mosquito repellent incorrectly? (Queensland Government):
https://www.health.qld.gov.au/news-events/news/how-to-use-mosquito-repellent-properly
Therapeutic Insights DEET-based insect repellents: safety implications for children and pregnant and lactating women (US National Library of Medicine National Institutes of Health):
https://www.ncbi.nlm.nih.gov/pmc/articles/PMC167123/
Mosquito Repellents (Commonwealth of Massachusetts):
https://www.mass.gov/service-details/mosquito-repellents