I'm sure you know that unpleasant feeling when you want to hang out with your friends in the backyard, but then mosquitoes come, and your party is over. When sprays stop working, it's time to choose the best bug zapper for mosquitoes. You can use it without worries – such products don't contain chemicals.




However, some manufacturers can produce low-quality attractants that may be dangerous. So, I have prepared top-rated mosquito zappers to help you avoid toxic killers. You need to be sure you will be protected from mosquitoes because they can carry diverse diseases, so I recommend you to choose a zapper responsibly.
Pros
Effective against various bugs.
Top Pick
Pros
Effective against various bugs.
Top 5 Best Mosquito Zappers: Detailed Reviews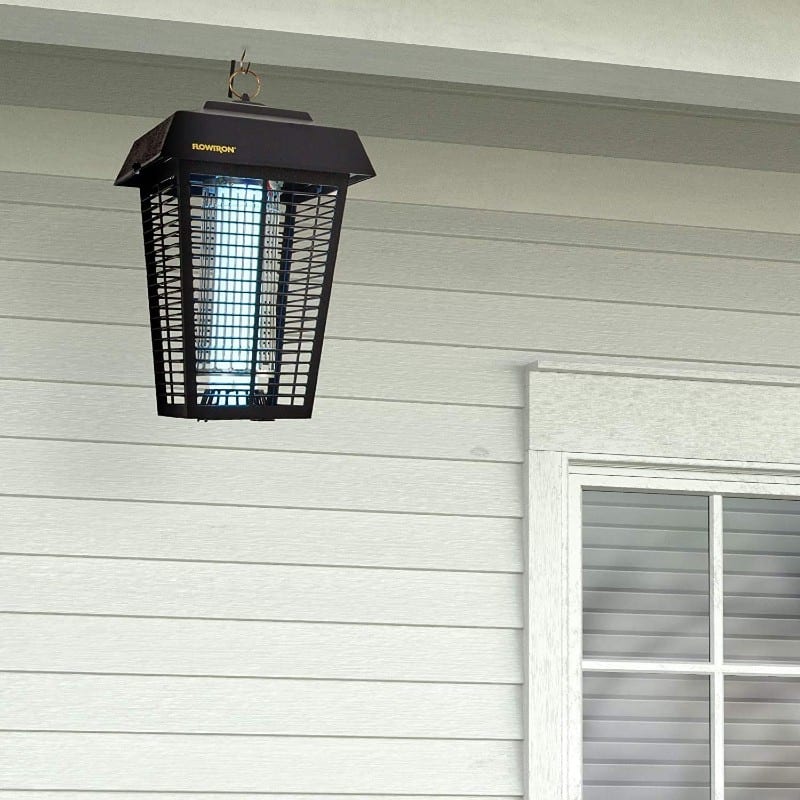 This list consists of the products that I have tested by myself or got many good reviews on them. I'm ready to tell you more about these powerful zappers.
1. Flowtron Electronic Insect Killer – Best Outdoor Mosquito Zapper
Specifications:
Luring Range: 1 Acre
Total Power: 80 Watts
Item Weight: 8 pounds
Item Dimensions LxWxH: 11 x 11 x 18.5 inches
Target Species: All Flying Insects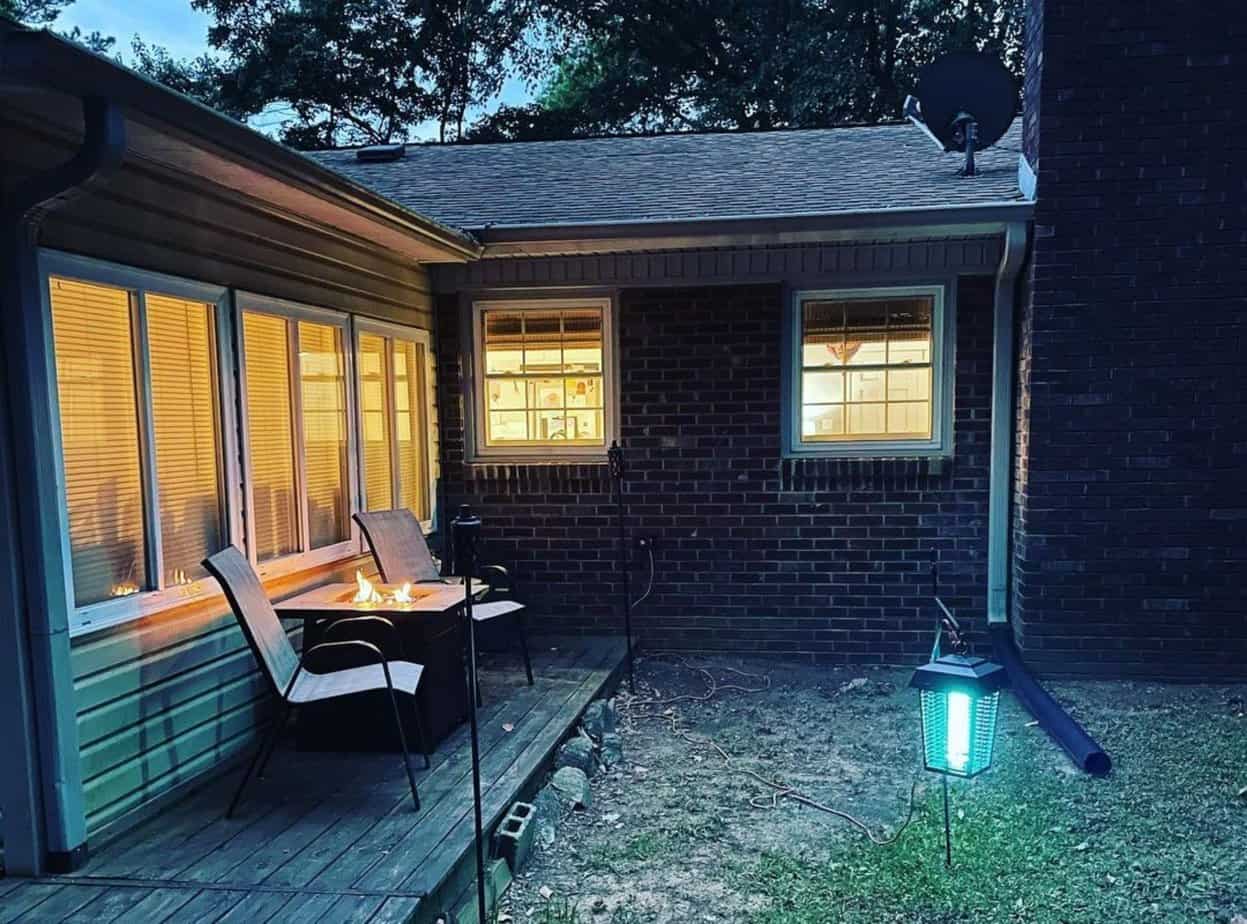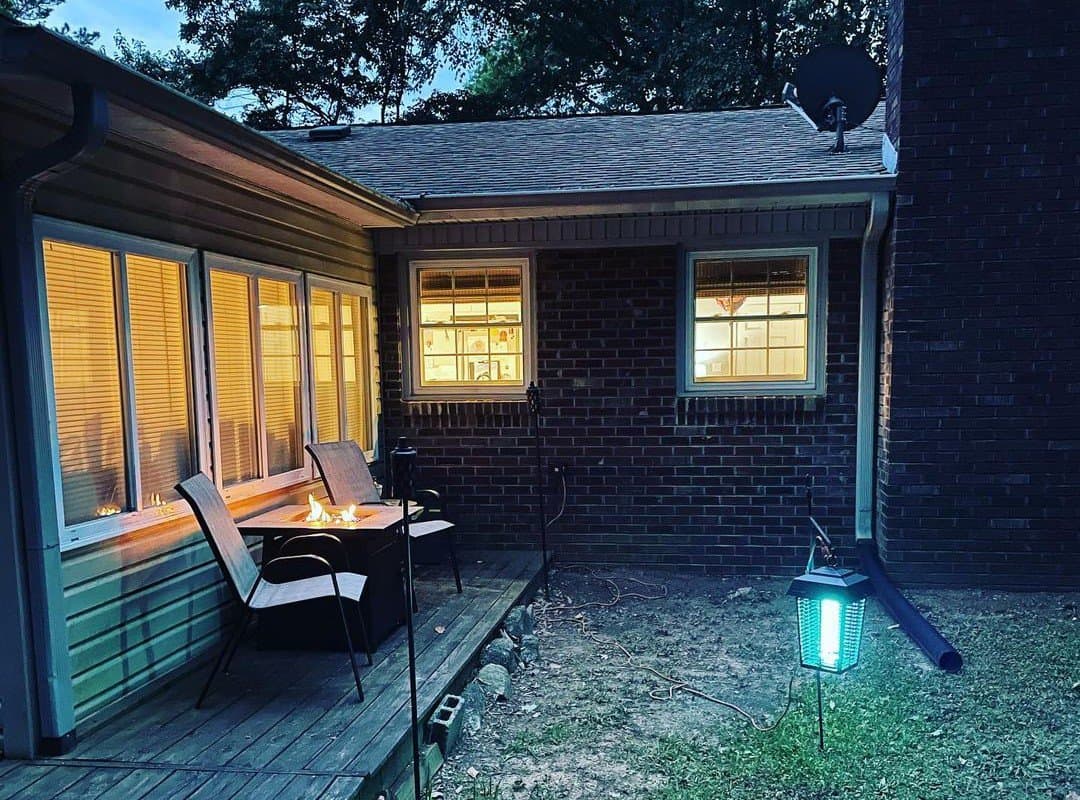 Flowtron is a great example of a company that has become a leader in producing outdoor products from modest beginnings. It was known as the automobile radio manufacturer for a long period of time. Amazingly, this family company ended up creating electronic insect-killing devices. I'm sure – it took a lot of effort. But now, they are one of the best mosquito zappers' providers.
The zapper consists of the grid and a bulb. Such a construction doesn't have any chemicals inside and won't damage the environment. Besides, the zapper is completely safe for humans. You can hang it outside near your house, and it will attract insects to the bulb – they will just fall to the ground and be naturally absorbed by it. For the best work, the killer has a small amount of Octenol attractant that only creates an odor for mosquitoes.
A grid is the main part of the zapper. It is powered by a high voltage transformer and protected by the grid that isn't connected to the electricity for your safety. The construction is polycarbonate that means the grid won't rust, fade, or crack. It is waterproof and rugged, so you should not be afraid to leave it outside during the rain or even thunderstorm.
Inside the grid, there is a high-intensity ultraviolet bulb. It attracts mosquitoes to the grid by the light and warmth. Also, there is a lantern that doubles the lighting and will be a perfect decoration for your house. You can easily replace the bulb. It doesn't require any additional instruments. A bulb operates for pennies a day but helps you preventing mosquito-borne disease.
Pros:
Cons:

no chemicals;
won't rust, crack, or fade;
waterproof;
has a high-intensity bulb;
easy to replace.
2. Gloue Bug Zapper Light Bulb – Best Indoor Mosquito Zapper
No products found.
Gloue started its work only about four years ago but has become a well-known provider of diverse electrical goods. Their assortment begins with toys and ends with insect killers. A company guarantees the high quality of its every item. Also, they strive to create low price products to meet the needs of any customer.
Mosquitoes can be very annoying as well as other insects. Gloue provides an innovative LED blue-violet band that effectively fights not only mosquitoes but also flies, moths, and many others. It emits the wavelength that can attract insects day and dark from long distances. Mosquitoes won't appear in your house, no way.
When a mosquito flies right to the bulb, it faces the charged metal grid. It is high powered electrically, so the pest can't get through it. This zapper can kill a limitless amount of mosquitoes. It is stable for all-weather conditions and won't get damaged easily. Also, you can change a bulb in a few steps when the old one has burnt out.
This zapper has three modes. The first one is a standard light and bug zapper mode. You can turn the only one of these two if you want. If you switch the mode that includes only lighting, it can be a great lantern in wintertime when there are not so many insects.
You don't need to clean up the mosquito zapper because it has a slope design that makes mosquitoes slip off automatically. The product kills insects with no chemicals. So, say goodbye to the messy poisons and mosquito sprays. It is safe for you and your pets, and you can hang the item in your kitchen or outside – it will work perfectly.
Pros:
Cons:

protects you from different insects;
attracts mosquitoes from long distances;
high-powered grid;
can be used inside and outside;
eco-friendly.
3. Flowtron Diplomat – Best Electronic Mosquito Killer for Huge Coverage
Specifications:
Coverage Area: 2000 sq. ft.
Black Light 120 Watts
Item Weight: 25.1 pounds
Item Dimensions LxWxH: 13 x 13 x 26.25 inches
Target Species: Fly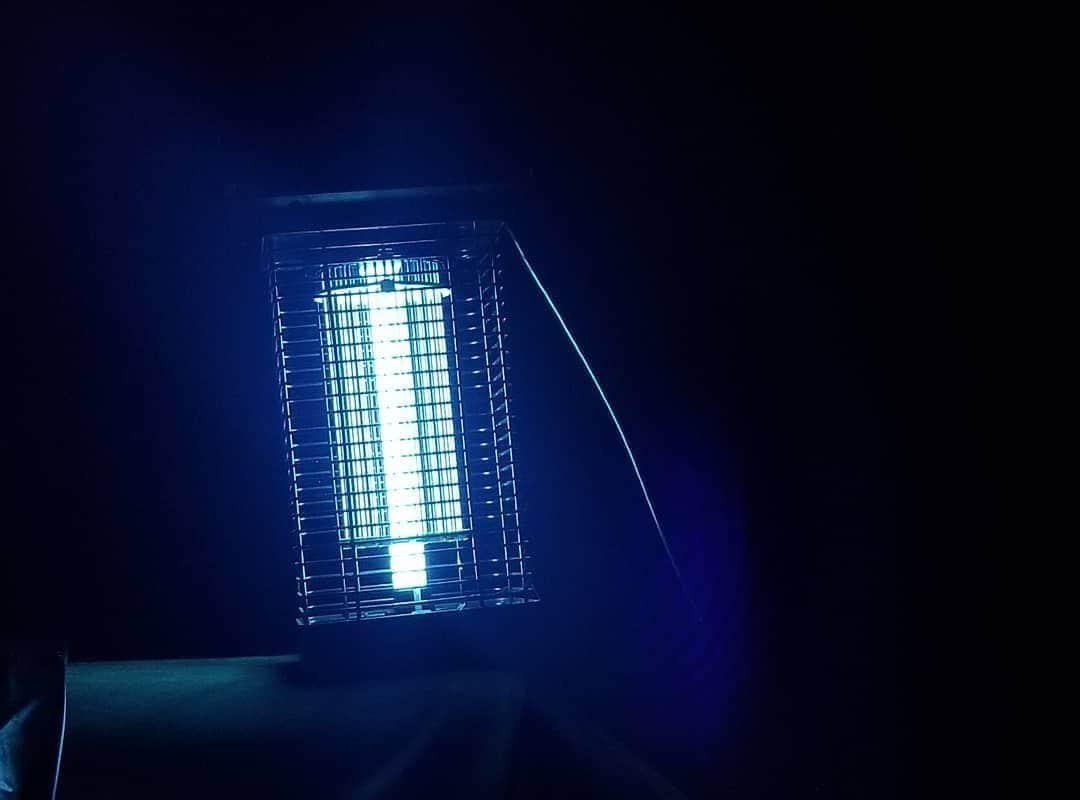 If you have a large area or house, this zapper will suit you the most. It protects up to 2 acres outdoor from flying insects. You may use it indoors too, and it will cover 1200 sqft. That means mosquitoes will feel the warmth from a bulb in this area and see the light if there are no barriers.
I think this zapper is convenient because you can set it vertically and horizontally – it will work great in both cases. You should choose the position depending on which height you hang a zapper and where. If you need to place it outside high above the ground, you better set it vertically. In case you want to protect the indoor area that is not very high, you can set it horizontally.
This zapper has a bulb that attracts mostly flying insects. It uses the UV lights that don't need much power, so you can turn a zapper for the whole night with no worries. Also, it has a glo-panel, glow-tube reflector that increases the attractiveness. The grid is chrome plated and is covered with the high-impact plastic, which protects you from electricity. You can remove the collection tray to clean it easily.
Pros:
Cons:

covers large area;
can be used indoors and outdoors;
has a reflector that increases attractiveness.

plastic construction (not very strong).
4. LiBa Bug Zapper – Great Indoor Mosquito Zapper
Specifications:
Material: Plastic
Number of Pieces: 2
Powerful: 2800V Grid
Item Dimensions LxWxH: 35 x 38 x 37 inches
Target Species: Fly, Bee, Mosquito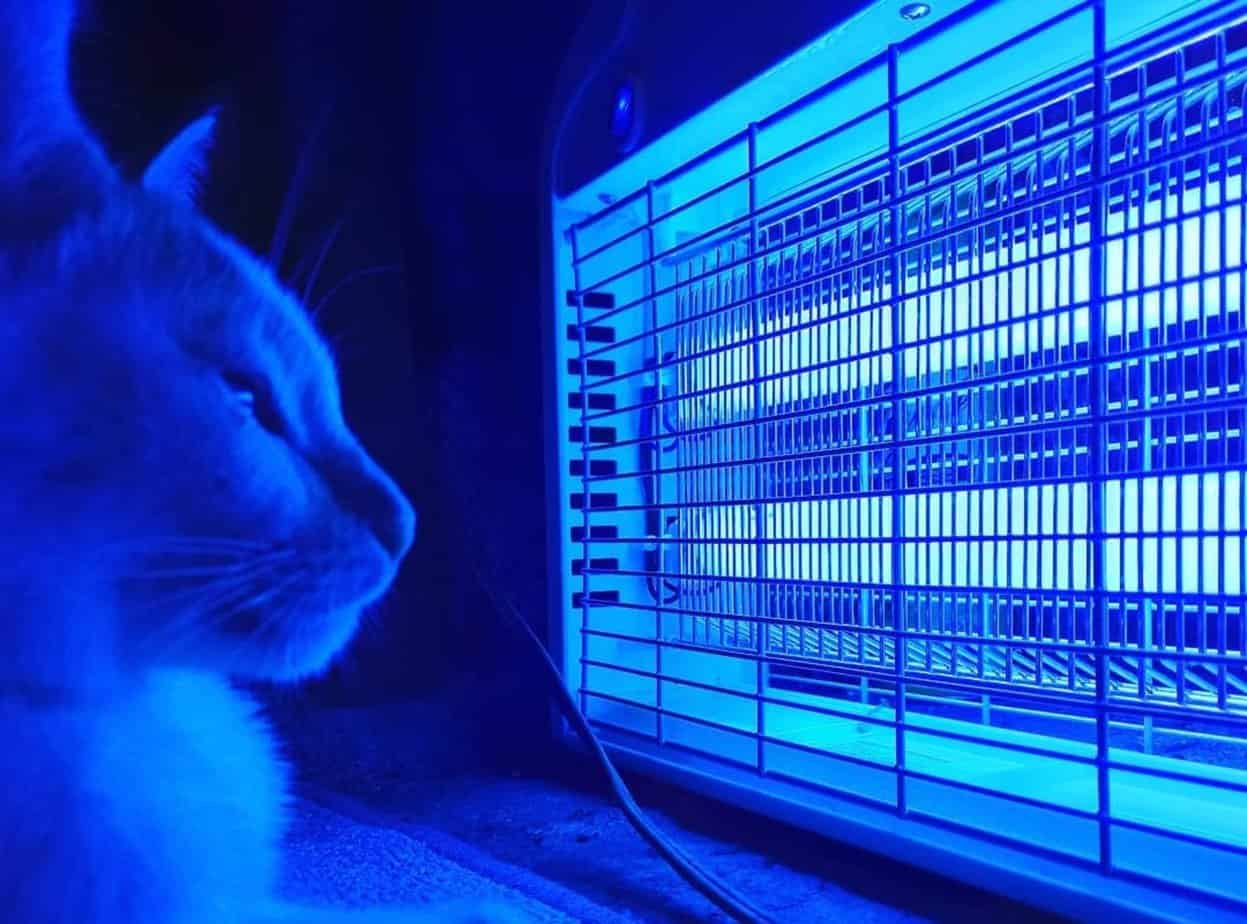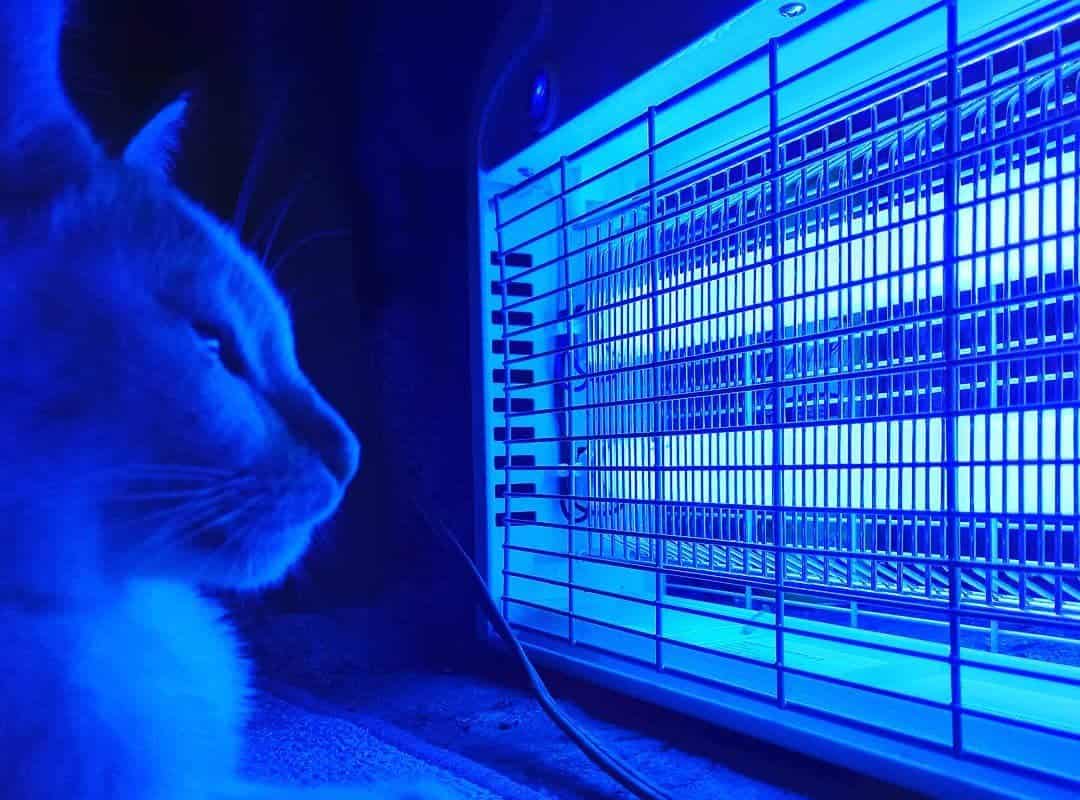 This bug zapper is used specifically indoor. Many mosquito killers are not safe for indoor usage, but mosquitoes appear everywhere, so Liba created this one. You can set it in kitchens and hospitals, in your bedroom and workplace, etc. The item is absolutely safe.
As you can use it in your home, a zapper is chemical-free and won't cause any allergies to your pets and children as sprays can do. And it is more effective than poisons. A human doesn't react to the light that a bulb emits, but for mosquitoes, it is a natural viewing wavelength.
To protect yourself from mosquitoes, you should think like a mosquito and choose a zapper with the light mosquitoes like. They can't get to the lighting too close. When they fly to the zapper, a grid kills them instantly.
Liba indoor mosquito killer is one of the most powerful mosquito zappers you may find on the market. It has two bulbs and a large grid around them. It attracts not only mosquitoes but a wide range of other insects. A zapper is compact and easy to install. You can clean it as much as you need – the collection tray is removable and can be washed. Besides, you will get two free replacement bulbs.
Pros:
Cons:

safe for humans and pests;
odorless;
powerful grid;
has two bulbs for the highest attraction;
removable collection tray.
5. ZAP IT! Rechargeable Bug Zapper – Handheld Electric Mosquito Zapper
Specifications:
Is Electric: Yes
Number of Pieces: 2
Item Weight: 1.7 pounds
Item Dimensions LxWxH: 17.17 x 13.5 x 1.97 inches
Target Species: Fly, Mosquito, Spider, Wasp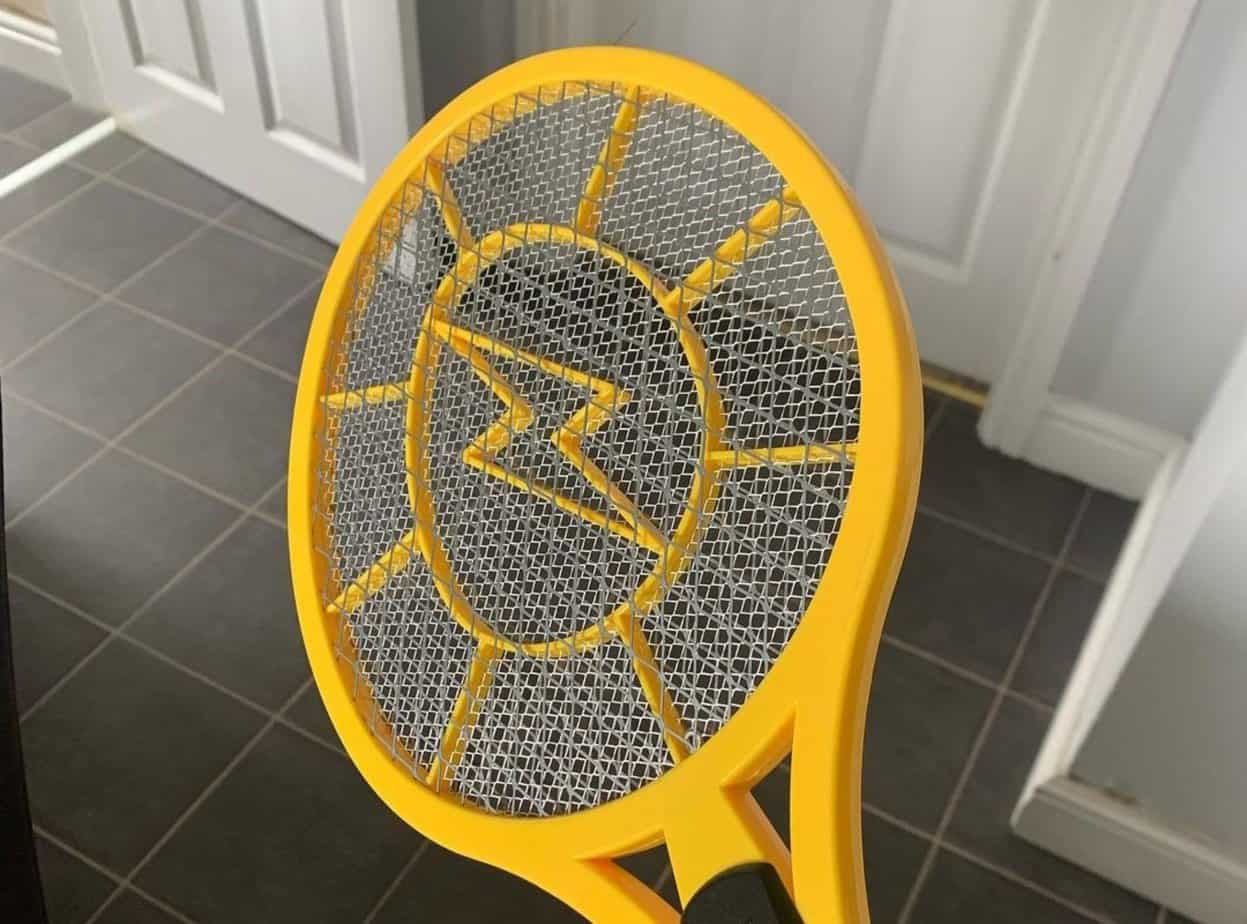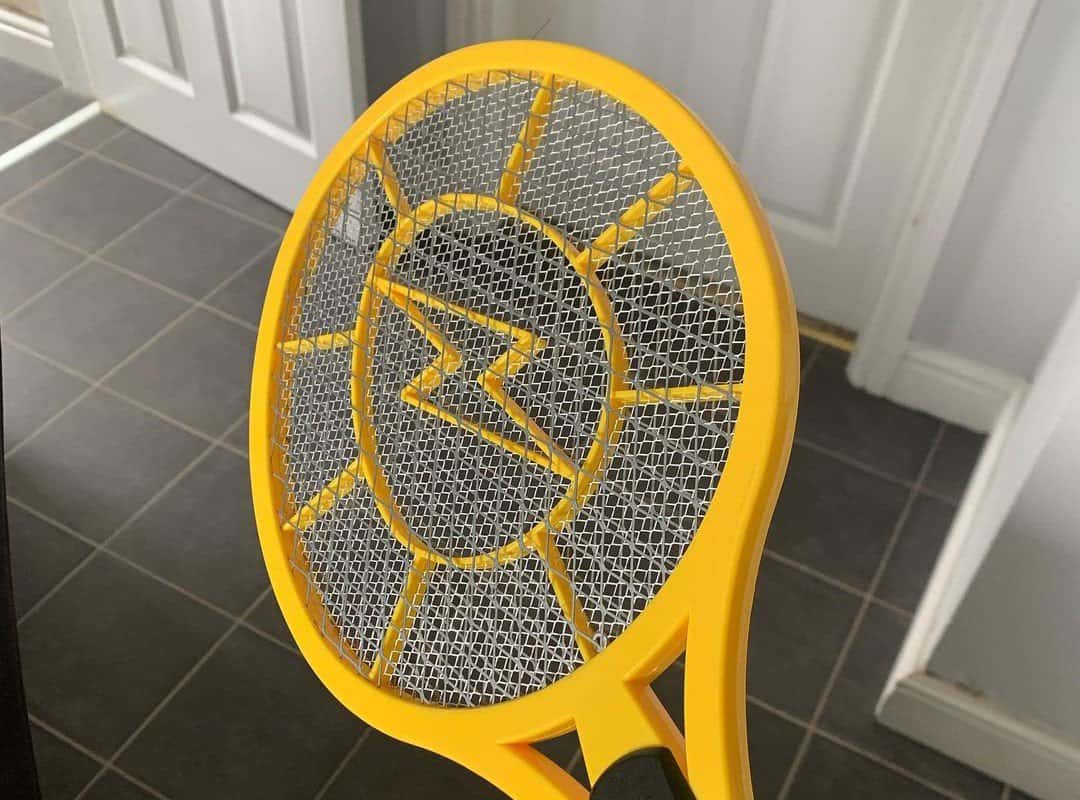 If you're searching for a zapper that you can take for a vacation, this one is ideal for you. It can work on battery for hours, and then you can charge it with a USB device. The zapper is highly powerful – it kills mosquitoes in seconds. Of course, you can use it to fight any other insect.
You can use this zapper everywhere at any time because it has a bright LED light, which you can activate at night. It allows you to see where the mosquitoes are, and it also attracts them more. Don't worry if you accidentally touch the zapper. It has a safety mesh, which you can activate and use a killer with no worries.
Pros:
Cons:

compact zapper that can be used everywhere;
fights a wide range of insects;
safe for humans;
has a led light.

you should operate it with your hands.
How to Choose the Best Bug Zapper?
There are diverse zapper models, and they all work perfectly. You should consider what light the manufacturer uses. It should have a specific wavelength (365-420nm). Choose a zapper that has a metal body – a plastic one can appear not durable.
You should also consider that some zappers are made for outdoor usage, but some are only for indoor applications. Some models can be used both: outside and inside. But I recommend you not to choose them – only in case you need a zapper that works everywhere for sure.
Are zappers effective against mosquitoes?
From my experience, zappers are several times more effective than sprays or most of the mosquito repellents like candles or coils. It's because the light attracts mosquitoes the most. Besides, the electrical grid doesn't give a chance for insects to stay alive. So, are mosquito zappers effective? Yes, of course.
How to kill mosquitoes using bug zappers correctly?
Mosquito zappers don't require a specific attitude. You just need to place them inside or outside and turn them to power. Don't forget to change a bulb in some time. And also, you should clean the collection tray if you can.
The Most Common Questions About Bug Zappers
Before applying the mosquito zappers, you should know some specifics they have. So here you will find them.
Are bug zappers safe to use indoors?
It depends on the type of a zapper. Some models can be used only outside when a big amount of mosquito killers are used both indoor and outdoor. Usually, the manufacturer will mention if you can use this zapper indoors.
What is the best place to put an electronic mosquito zapper?
If you use a zapper outdoor, you better place it near the front door. The best height is about two meters above the ground. It will be safe for you and your pets. If you want to set a zapper inside your home, you should place it near the window.
Mosquitoes will react quicker to the light if they see it right when approaching your house. Of course, you should observe where mosquitoes like to fly the most, and this may be a suitable place for a zapper.
How to attract mosquitoes to bug zapper?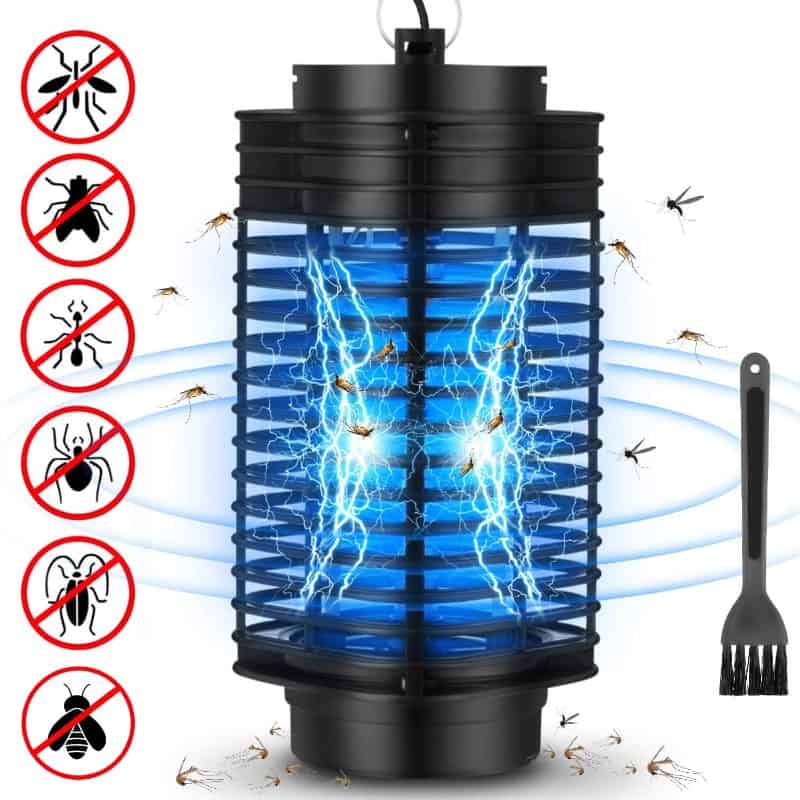 People ask me frequently: are mosquitoes attracted to bug zappers, or should I attract them by myself? Usually, you don't need to do any specific actions – a zapper has a bulb that attracts the insects. It works great because it has that wavelength, which is natural for mosquitoes. Also, they can detect it at long distances.
However, you can buy additional chemical attractants. They are safe for you and the environment, so you can set them safely. But I think it's not needed. Zappers will do all the work by themselves.
How to test a bug zapper?
If you want to make sure that a zapper works properly, you should turn it on and listen if it makes a sound. That will indicate the electricity flow. Then you can turn it off and listen if the sound disappears. You may also check if the light is right, but you need the protective goggles.
But when you choose online, you can't do this. So, I recommend you to choose from the top 5 products I have described – they work properly.



Say Goodbye to Mosquitoes
Finally, you can get a calm life with the best mosquito zapper. You just need to turn the item and watch how it copes with a huge insect amount. The procedure is straightforward and requires no additional efforts. Besides, such zappers usually fight all other flying pests.
You can find a product for indoor and outdoor usage, a small and a large one – anything you want! My mosquito zapper reviews should help you with that.
Remember that you need to have reliable protection from mosquitoes and mosquito-borne diseases. How do you usually get rid of mosquitoes? Do you apply zappers? Do you have other recommendations on their usage? Please, leave your thoughts in the comments below.
References:
Mosquitoes and Mosquito-Borne Diseases (Karen Poh PennState Extension):
https://extension.psu.edu/mosquitoes-and-mosquito-borne-diseases
Preventing mosquito-borne disease (Massachusetts Institute of Technology ):
https://news.mit.edu/2014/preventing-mosquito-borne-disease
Why You Should Trust Pest Control Hacks?
We know that pests are nasty neighbors, and it can take months to eliminate them without the right approach. Our experts use their own experience to compile articles and guides that are introductory and informative. Our authors' opinions are independent and based on the results of practical testing of pest control tools. We do not notify manufacturers of testing of their products and do not receive payment from them for posting their items. Also, our texts are never submitted to company representatives for proofreading before placement. On the site, you will find exclusively objective ratings and reviews.