What do you think a trip to the tropics and country camping have in common? That's right, mosquitoes! They can find even the smallest unprotected area of ​​the skin, and the consequences of their bites can sometimes lead to a hospital bed.
Besides the fact that these insects are quite annoying and the sounds they make can keep you from falling asleep for hours, there is another problem. Mosquitoes carry a massive variety of infections. These are different viral fevers and even malaria. Also, mosquito bites are simply unpleasant, as they cause itching and burning. They may also cause an allergic reaction.
Here I have the best mosquito coil reviews. Such a tool helps you to protect your skin from bites and the dangers which mosquitoes carry.
Pros
Active for up to 7 hours.
Pros
Active for up to 7 hours.
Top 5 Best Mosquito Coils
For those who want to know what is a mosquito coil, I'm glad to tell you that it's a simple and effective insect repellent. It's ideal for situations when you are outdoors, for example, on a hike or in the garden. It is convenient to use when there are no sources of electricity nearby.



The spiral has a wood flour base impregnated with different substances for mosquitoes repelling. It's very easy-to-use: remove and divide the spirals, carefully bend the stand on a metal mosquito coil holder and tightly fix the coil on it (there is a slot), ignite the end of the spiral and blow out the flame.
Gradually, the spiral will smolder, releasing substances that repel mosquitoes. The process is accompanied by the release of toxic substances into the air. These substances are safe for both humans and pets. Besides, the coils often have a fresh odor.
1. OFF! Mosquito Coil Patio & Deck – Mosquito Spiral for Your Patio Safety
Specifications:
1 Coil Protect An Area Up To 10 ft x 10 ft
Number of Pieces: 6
Item Weight: 0.16 ounces
Item Dimensions LxWxH: 9.6 x 5.4 x 7.3 inches
Target Species: Mosquitoes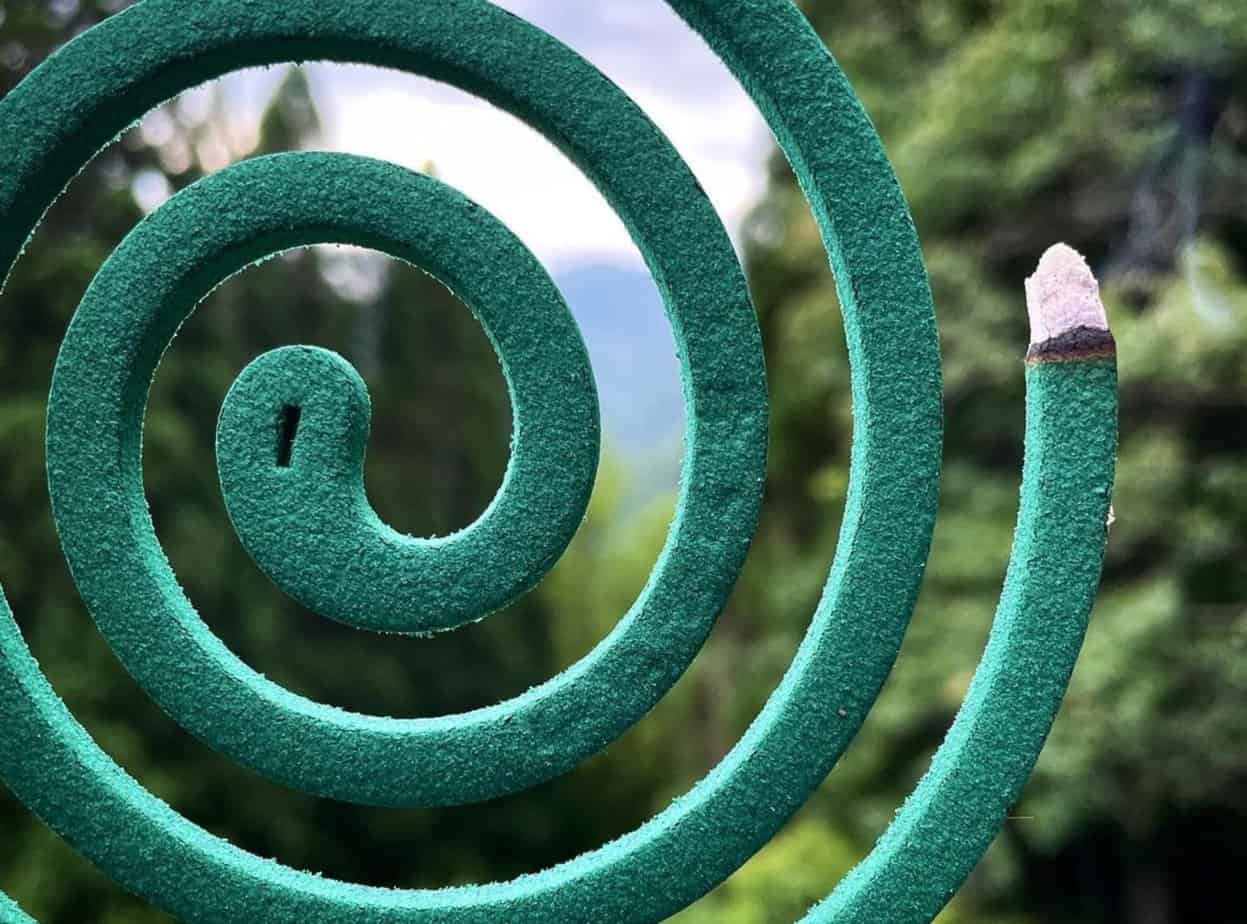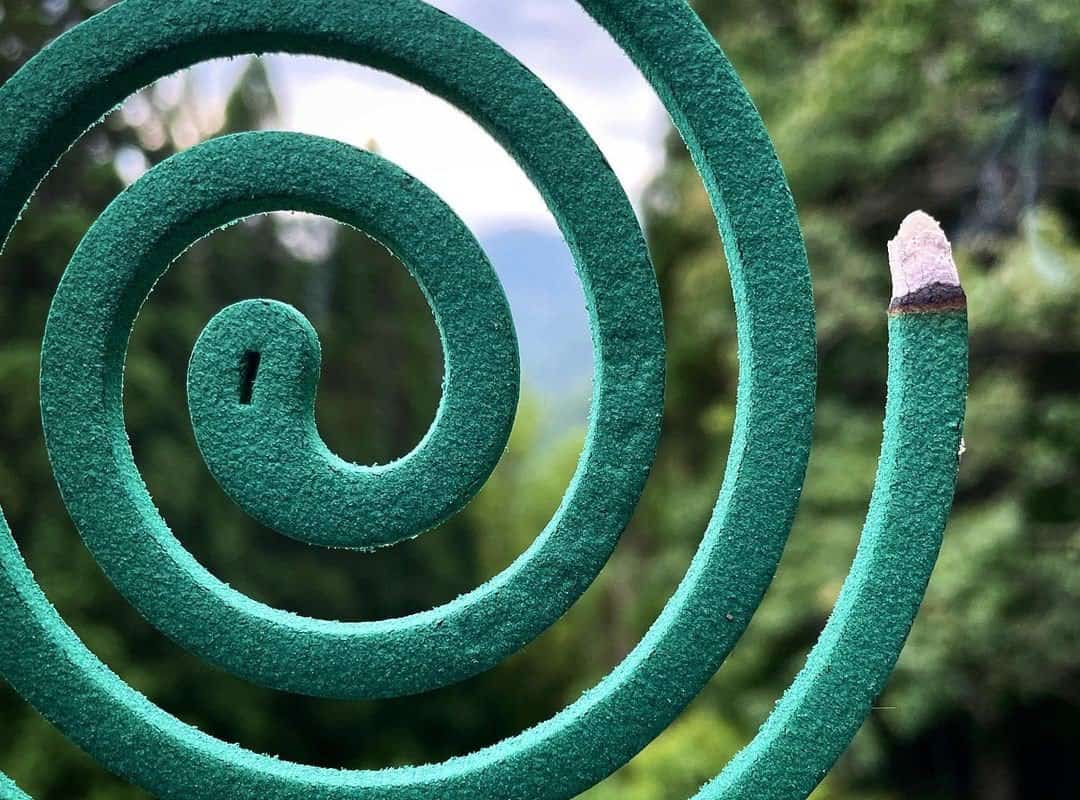 This mosquito coil keeps the insects at a distance. Such kind of tools often scares away not only the mosquitoes but also people who use them. It's all about their irritating smell. Furthermore, the smoke also can irritate your respiratory system and cause an allergic reaction.
However, Off ​Deck & Patio has a quite pleasant fresh odor. It's also safe for all family members, including pets and little kids. There are six refills with 10X10 ft protection—every coil works for 4 hours.
It's your perfect solution for mosquito protection if you want to spend time in the terrace, yard, or garden. The tool is 100% effective in protecting you while you're having dinner with your family, reading a book, or enjoying a cup of coffee in the fresh air.
Pros:
Cons:

safe for pets and kids;
doesn't irritate respiratory system;
fresh odor.

it works only for 4 hours.
2. W4W Mosquito Repellent Coils – For All Types of Open Areas
Specifications:
1 Coil Protect An Area Up To 10 ft x 10 ft
Contains: 12 Coils & 6 Coil Stands
Item Weight: 6.1 ounces
Item Dimensions LxWxH: 4.5 x 6 x 1.5 inches
Target Species: Mosquitoes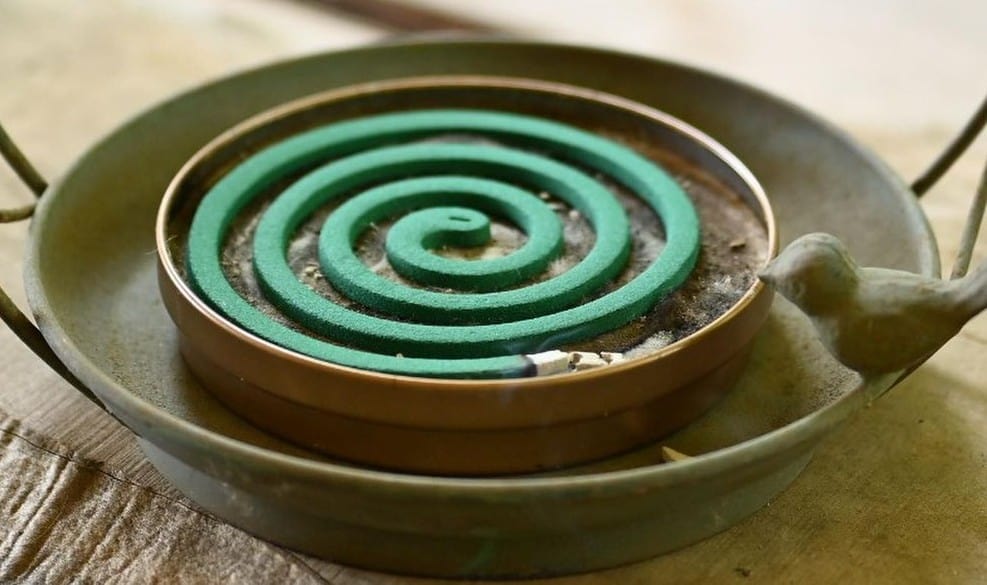 This citronella coil also suits for outdoors use. You can use the spiral on the backyards, gardens, in the pool area, and other places where the mosquitoes ruin your entertainment.
W4W Mosquito Repellent Coil saves you from bites and irritating sounds during 5-7 hours. The coil should be used in the areas with no breeze. The pack contains 12 spirals so you can cover a large area and get more extended protection. One coil protects up to 10 ft.
This item is also easy-to-use because the kit includes the holder. All you have to do is to fix the spiral and leave it to smolder.
Pros:
Cons:

covers large area;
works for up to 7 hours.

the place of use should be windless.
3. PIC Mosquito Repellent Coils – Mosquito Incense Coil From Highly Experienced Brand
Specifications:
Each coil burns for 5-7 hours
Number of Pieces: 4
Item Weight: 15.5 ounces
Item Dimensions LxWxH: 8.35 x 6.06 x 3.35 inches
Target Species: Mosquitoes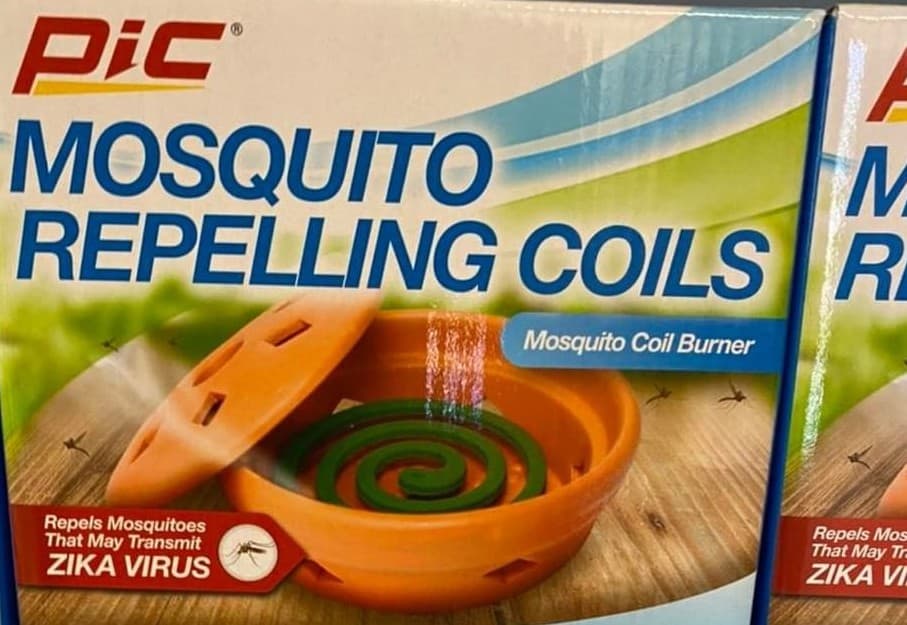 PIC is a brand that produces goods for fighting different kinds of insects, including mosquitoes. The brand is over 50 years old and provides customers with items that reduce the number of insects in houses and outdoors.
Use this mosquito coil indoors only. The coil is D-trans-allethrin-based and works for 5-7 hours. This spiral has a specific odor that is safe for people and pets but can attract other small insects. It also can be blown off if it's windy outside, so you should use it in windless areas. The pack includes a holder and four coils.
Pros:
Cons:

active for up to 7 hours;
suitable for different open areas;
covers large area.

can attract small insects;
relatively expensive.
4. W4W Citronella Mosquito Repellent Coil – Eco-friendly and Safe
Specifications:
1 Coil Protect An Area Up To 10 ft x 10 ft
Contains: 12 Coils & 6 Coil Stands
Item Weight: 7.2 ounces
Item Dimensions LxWxH: 4.5 x 4 x 1.5 inches
Target Species: Mosquitoes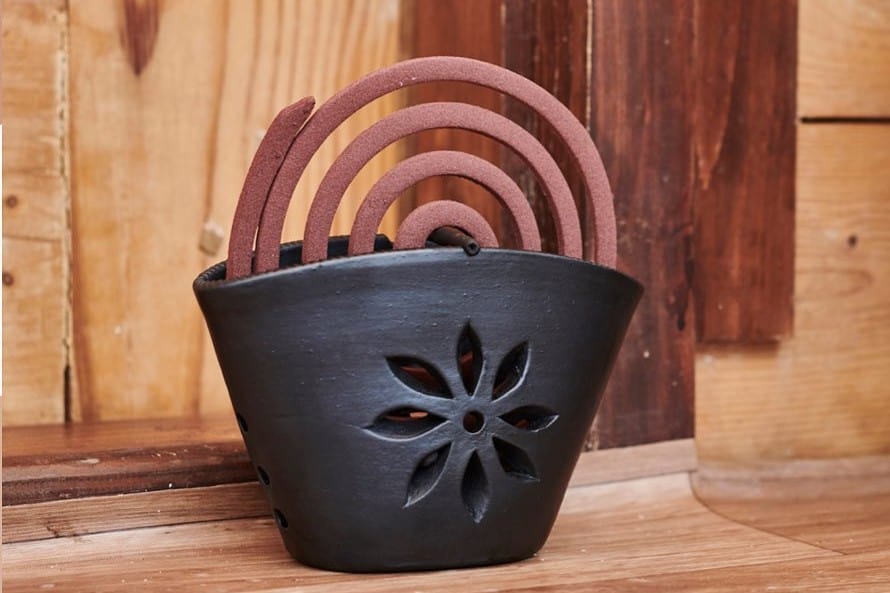 Citronella Mosquito Repellent Coils is one more mosquito punk that effectively protects your comfort while you're outdoors. The US Environmental Protection Agency approves these coils. So you can use them without worrying about your and your family's health.
Lots of coils are based upon chemical substances, and this spiral contains only natural oil. Citronella has a strong odor that repels mosquitos and other flying insects. When the spiral is burning, citronella oil becomes vapor, which is quickly dissolved and destroyed by bacteria. That means the smoke doesn't settle in the lungs and does not harm humans or pets. This mosquito coil burner can be used outdoors or in venues with a high level of ventilation.
Pros:
Cons:

suitable for some venues;
affordable price;
eco-friendly.
5. OFF! Mosquito Coils – Explore – The Best Mosquito Coil for Hiking
No products found.
This coil is ideal for picnics, hiking, and other outdoor activities. Explore works for 4 hours. Unlike the other coils, it's useful in any kind of weather. There is a case that protects the coil from wind, rain, and the effects of other natural phenomena. The pack also includes three reusable trays, three coils, and a water-resistant bag. You can make a triangle around your campsite.
As for indoor use, the coil is not intended for it. The spiral has a non-natural composition, so you have to check for elements that may cause you to be allergic. It can leave a strong unpleasant smell.
Pros:
Cons:

reusable trays;
affordable price;
water-resistant case.
Buyer's Guide
The mosquito coil is one of the few effective insect repellents for fishing, camping, picnic out of town, or in your own garden. In a word, wherever there are difficulties with electricity, the spirals save your comfort. You can undoubtedly use special creams, sprays, and aerosols, but if you do not want to apply them to your skin or clothes, then acquiring a spiral is almost always the best solution.
How to Use a Mosquito Coil
The majority of coils are the same in use. You have to start with unpacking, carefully so as not to break the spiral, especially if you unpack the citronella coil. Separate the connected spirals. The kit usually contains a few discs of two twisted spirals. Bend a rack of a holder, which is included.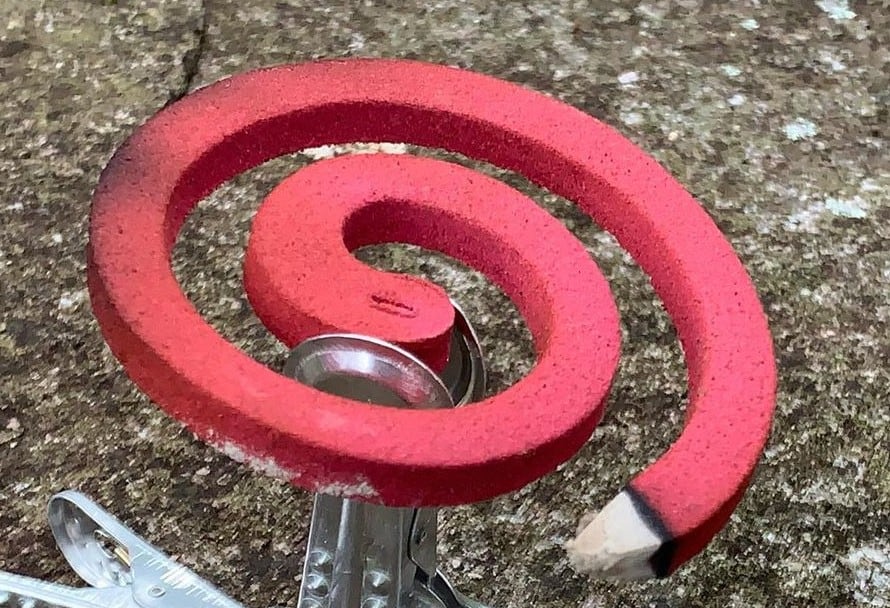 However, for fastening, you can use a nail, wire, or hang a spiral edge. The main thing is that from the smoldering end, nothing could catch fire. You have to place the fixed spiral on the refractory surface (old saucer, ashtray, or at least a brick). Set fire to the tip, then extinguish so that the coil smolders.
Don't forget to wash your hands after installation. Please pay attention to the instructions from the package: there you can find individual conditions for using the product.
How Safe Is the Mosquito Coil
For warm-blooded animals and humans, the insecticides are practically harmless, but they are very toxic for insects and fish (including aquarium). So if you're worried about your health and your pets, you can use super eco-friendly citronella coils.
Choosing the repellent, you have to forget about the principle "the more caustic smell from a smoldering spiral there is, the better it works". It doesn't work in this case. Pregnant, lactating mothers, children under three years old should better refrain from using mosquito coils. As a parent, you have to keep packs out of the reach of children. In addition, before igniting the spiral, you should install it in an area where it will not be accessible to the child or pet.
Related Post: Most Effective Mosquito Killers Reviewed.
Theory
The mosquito coil is insecticide-soaked wood flour. When the ignited spiral smolders, along with smoke, poisons are released that have a detrimental effect on mosquitoes. Although mosquito coils are produced by entirely different brands, at different prices, and in different countries, the main insecticides used are allethrin, d-trans-allethrin, and esbiothrin and citronella oil.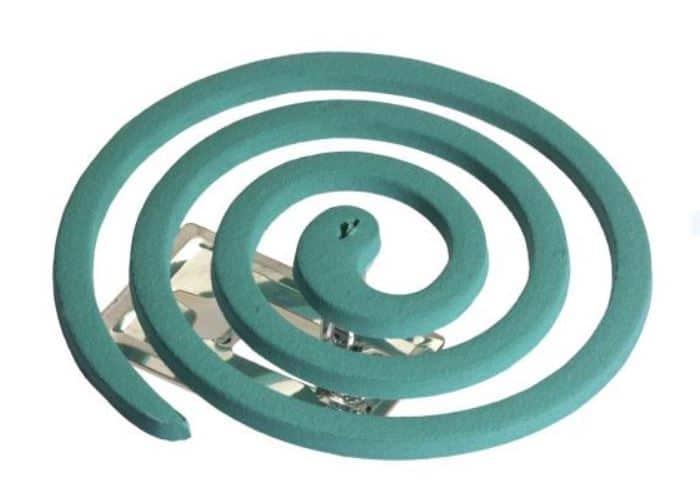 Where to Put
In the open air, put the coil about a meter away from the windward side. The smoke of the spiral from mosquitoes will fumigate you. If there's a group of people, then put several coils along the perimeter at once. If you decide to install it in a room, for example, in a country house, then open all the windows, set fire to the tip of the spiral, and leave the room for 30 minutes.
Then close the windows with a mosquito net, and ventilate the room for half an hour. If the room has an aquarium, then turn off the aeration mode and cover it with a solid material.
FAQ
Do Mosquito Coils Work?
Mosquito coils are effective in restraining mosquitoes and reducing mosquito bites. Smoke or steam contains substances that are harmful to insects. They are used outdoors to spend time in the garden, yard, patio, pool area, or during picnics and hiking in comfortable conditions.
How Long Does Mosquito Coil Last?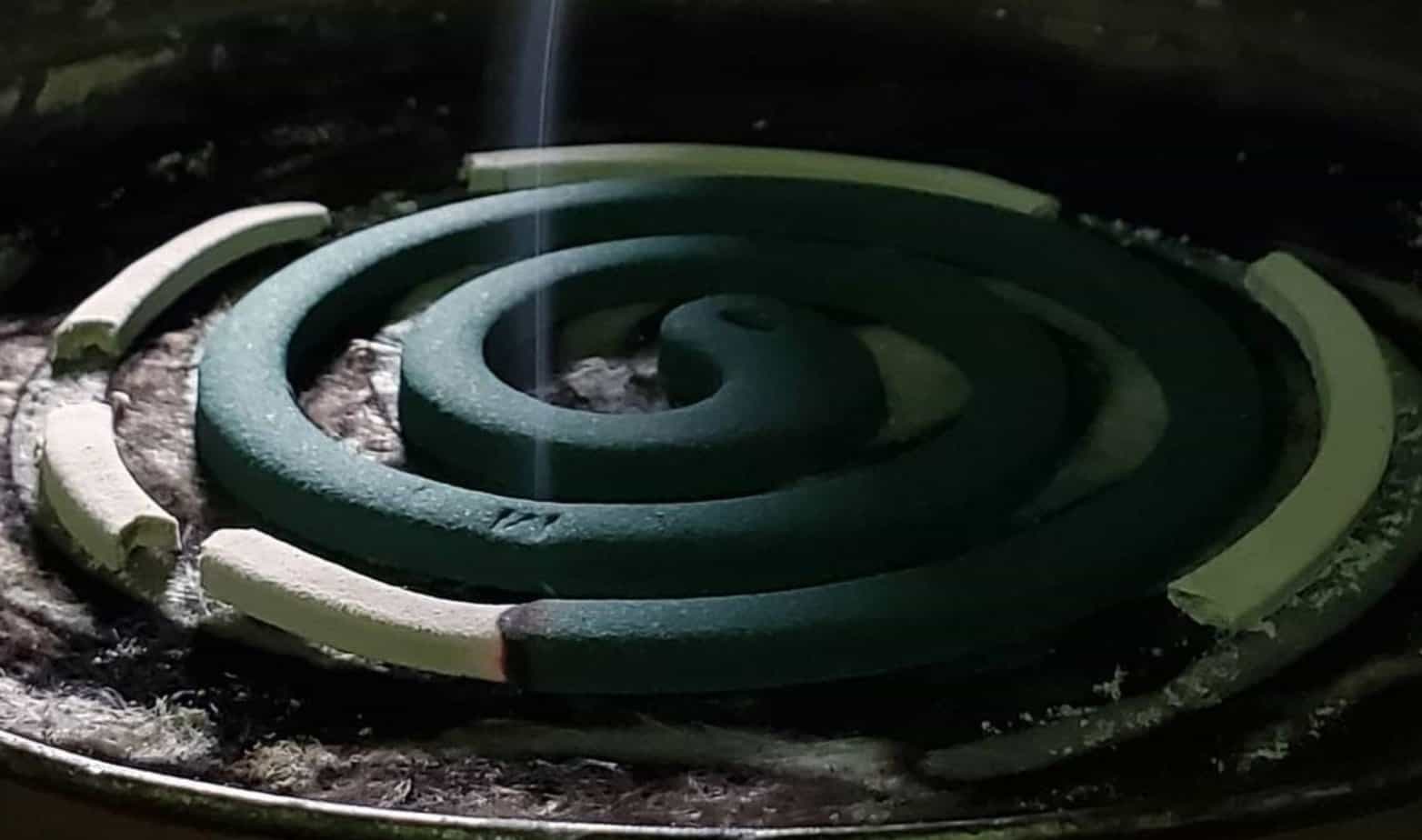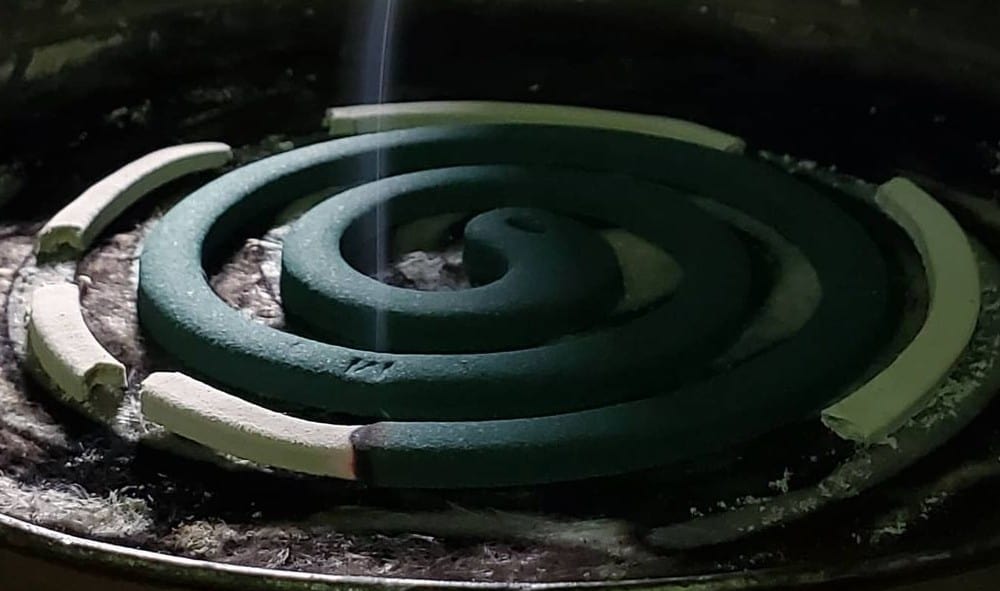 The mosquito coils from different brands have different efficiency times. A typical coil works for 4-7 hours. Some spirals can work for up to 12 hours, this time depends on the size of the spiral itself. You can use the spiral several times if you put it out.
Where to Put Mosquito Coil?
The spiral should be installed on a special holder. As for the place itself, it should be calm and a few fits from you. Since the coil leaves ash after use, there should be a platform under it that can be included in the pack, or you can pick it up yourself from kitchen or garden utensils.
How to Put out a Mosquito Coil?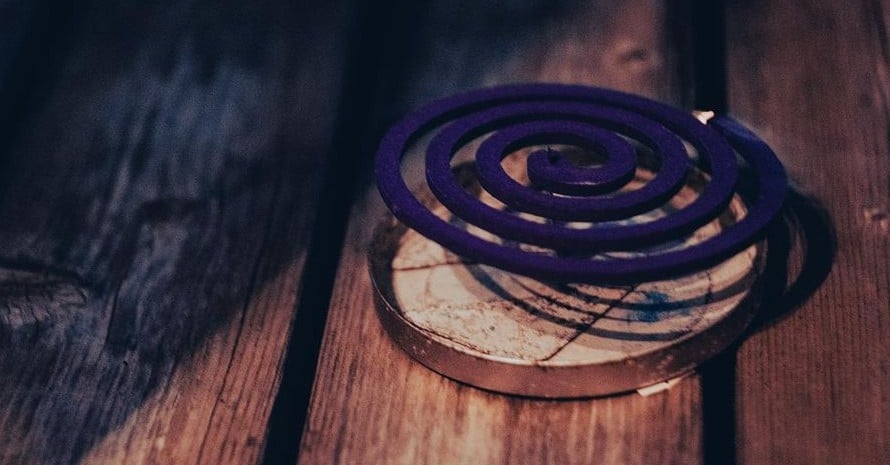 An open fire is extinguished after a few seconds. The smoldering tip of the spiral begins its work. To put the coil out, you have to break off its smoldering tip or sprinkle it with water gently.
Feel Comfortable Outdoors
Mosquito coils are used outdoors typically, sometimes indoor use is allowed. This device helps you to stay safe outdoors and feel comfortable without irritating noise or bites. Many manufacturers produce fumigators, but the principle of work is the same. The principle of action, the mechanism of influence, the rules of application are identical. If you deal with a large number of mosquitoes, you can combine the spiral with other repellents like aerosols and sprays.
Spirals of different manufacturers have a similar shape, slightly different in size and color. It's easy to guess how the coil works. During the smoldering, toxic substances or oil vapors are released into the air. The smoke heightens the effect of the chemical substances, the smell of which scare the insects away.




How do you fight against flying insects? What is the most effective mosquito coil you have used? You are welcome to share your thoughts on the topic and tell about your experience.
References:
Citronella General Fact Sheet (National Pesticide Information Center, Oregon State University Extension Services):
http://npic.orst.edu/factsheets/citronellagen.html
[(1R)-2-Methyl-4-oxo-3-prop-2-enylcyclopent-2-en-1-yl] (3R)-2,2-dimethyl-3-(2-methylprop-1-enyl)cyclopropane-1-carboxylate (National Library of Medicine National Center for Biotechnology Information):
https://pubchem.ncbi.nlm.nih.gov/compound/D-trans-Allethrin
Prevent Mosquito Bites (Cornell Cooperative Extension Cortland County):
http://cortland.cce.cornell.edu/environment/prevent-mosquito-bites
Why You Should Trust Pest Control Hacks?
We know that pests are nasty neighbors, and it can take months to eliminate them without the right approach. Our experts use their own experience to compile articles and guides that are introductory and informative. Our authors' opinions are independent and based on the results of practical testing of pest control tools. We do not notify manufacturers of testing of their products and do not receive payment from them for posting their items. Also, our texts are never submitted to company representatives for proofreading before placement. On the site, you will find exclusively objective ratings and reviews.