Have you ever noticed that it is hard to breathe at home? Do you often sneeze or have a stuffy nose? Dry cough is irritating your throat? But it does not seem to be a common cold. What may cause such symptoms?
These are dust mites that are invisible to the naked eye. They are present almost in every home.
For years, you may treat ailments and visit doctors, but never suspect that the root cause of all troubles lies in your home, in your favorite soft slippers, in a warm blanket and even in a pillow!
In this article I will tell you how to find the signs of dust mites in your house and how to get rid of dust mites. While reading you will also wonder, do I have dust mites? And you will also find the answer to this question.
1. What are dust mites?
Dust mites are synanthropic organisms, that means they live near and benefit from humans. Can you see dust mites with the human eye? No. It is only possible to see them with a 30x-40x magnification microscope. There are about 150 types of these arachnids in the world.
2. Signs of dust mites in the house
It is impossible to visually detect the presence of dust mites. You may live with them for years not knowing about it. Dust mites themselves are harmless, but the products of their vital activity like the remains of molting and excrements can cause severe allergies and exacerbate bronchial asthma.
The following symptoms should put on your guard; they can verify the presence of dust mites in your house:
nasal congestion, frequent sneezing, nasal discharge (with no signs of a cold);
eye redness and irritation, conjunctivitis, lacrimation;
shortness of breath, breathing difficulty, suffocation;
skin redness and irritation, rashes, hives;
inflammatory processes in the nasal mucosa.
3. Why are dust mites harmful?
According to statistics, about 80% of patients with bronchial asthma are allergic to dust mites. And in large cities, every fourth resident has an allergic reaction to dust mites. Large amounts of paper are accumulating in offices. This is a favorable environment for dust mites. A person inhales dust with mites both at work and at home. All this has a negative effect on well-being.
If you do not fight with dust mites, they will quickly multiply and exceed the permissible harmless amount. And this will lead to inflammatory processes, as well as to seborrheic dermatitis, acne, eczema. The human body becomes weakened, because every day more than half of the immune system`s resources are spent to neutralize the effects of this dust.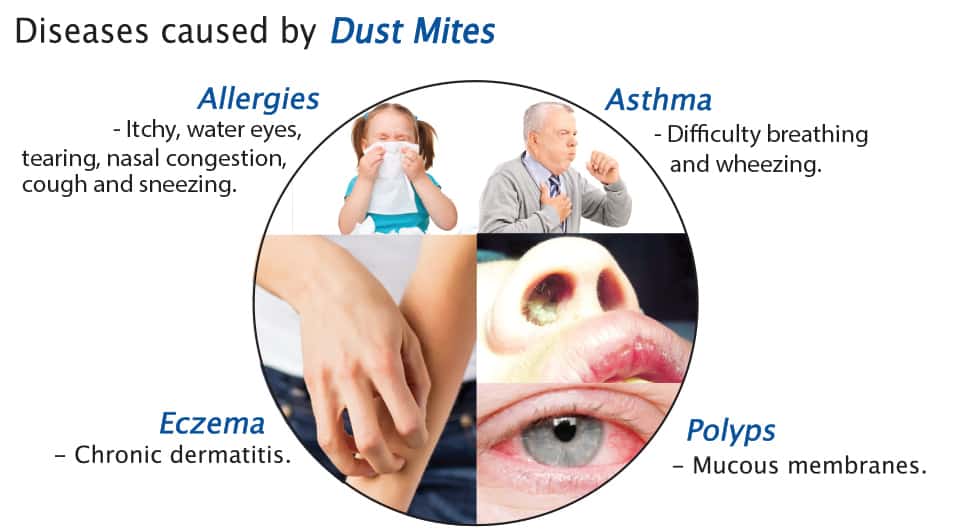 4. How to get rid of dust mites
5. How to prevent the occurrence of dust mites
The fight against parasites is complicated by the fact that they cannot be seen. And how to deal with something you do not see? Therefore, the prevention of the appearance and reproduction of dust mites should be constantly carried out.
If you follow certain rules, you can succeed in killing dust mites and exclude the occurrence of this invisible enemy. These rules are not complex and are based on the characteristics of the life of dust mites. If you create unsuitable conditions for their existence , the parasites will disappear.
How to create unsuitable conditions and to get rid of dust mites?
Dust mites require warmth, high humidity, dust and food to survive. Therefore, to get rid of dust mites use the following methods .
Minimum carpets.
Easily washable smooth floor.
Upholstered furniture with easily washable upholstery (leather, artificial leather).
Replace feather and down pillows.
Get rid of soft toys or wash them more often.
Replace heavy curtains with blinds or easily washable fabrics.
Books and baubles should not be kept on open shelves.
Do not store things under the bed or on the closet (they are not protected from dust).
Do not keep your computer in the bedroom (dust accumulates quickly, and it is difficult to get rid of it).
Dry your bed clothes outdoors, iron them with a hot iron and store them in a dry place.
Pack all unnecessary things in sealed bags.
Use a respirator or gauze dressing when cleaning.
How to get rid of dust mites naturally?
Plants may also contribute to fighting the dust mites. Plant flowers with large leaves or a great number of small leaves. Such plants collect dust and fight against microbes and mites.
The flowers like chlorophytum, chamaedorea (bamboo palm), ficus, geranium, and peace lily can help prevent dust allergies.
Even if you have no symptoms of dust mites allergy , this does not mean that you have no dust mites in your house. They live everywhere, but for now their number does not exceed the norm. To get rid of dust mites we must try to restrain their reproduction and keep  the house clean.
Preventing the appearance of parasites is much easier than dealing with them. Maintenance of cleanliness, regular wet cleaning, and proper hygiene – these simple rules will protect your house from dust mites.
Please follow and like us: