Mosquitoes are no more than half an inch length, but a couple of these tiny insects can turn your restful sleep into a nightmare. It is imperative to control them, and not only because of the unpleasant itching and allergic reaction after their bites. Mosquitoes carry many dangerous diseases, including malaria, hepatitis, yellow fever, and encephalitis (about 50 health problems in total).
So that you can protect yourself from these annoying insects in your house or apartment, I made the top 5 indoor mosquito killer reviews. This article also provides a handy guide on how to choose the right remedy and prevent these insects from reappearing.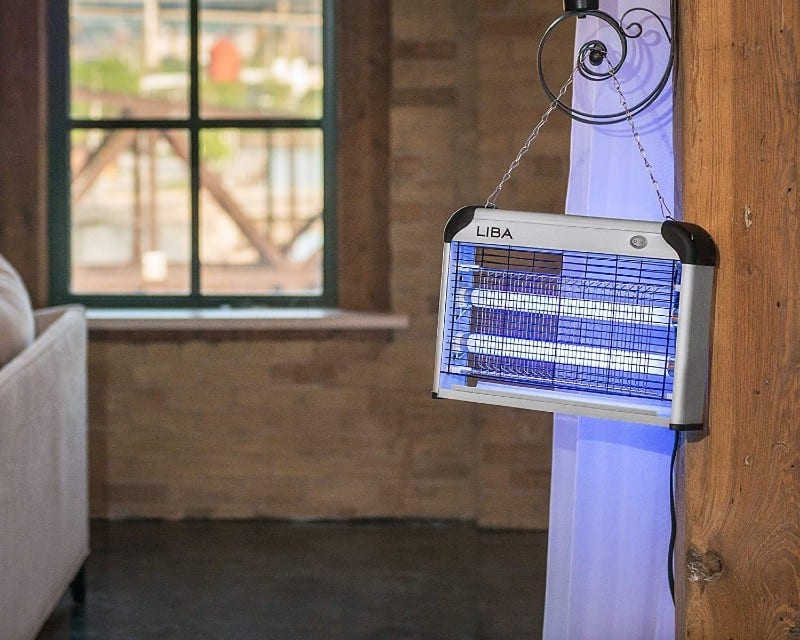 Although mosquitoes are an important part of the food chain and may even be beneficial to nature, humans and pets are better off staying away from them. In this section, I have collected reviews of the most effective yet safe tools to help you get rid of them.
Top 5 Best Indoor Mosquito Killers
1. LiBa Bug Zapper — The Best Electronic Mosquito Killer
Specifications:
Style: Bug Zapper + 2 Bulbs
Material: Metal
Item Weight: 4.2 Pounds
Item Dimensions LxWxH: 3 x 10.5 x 15 inches
Target Species: all kinds of flying insect
If you need a product that will save you from all flying insects, you should pay attention to LiBa Bug Zapper Electric Indoor Insect Killer. It attracts bugs using UV lamps, which shine quite brightly at night. The insects that have flown into the light sit on the grid, which kills them with an electric discharge.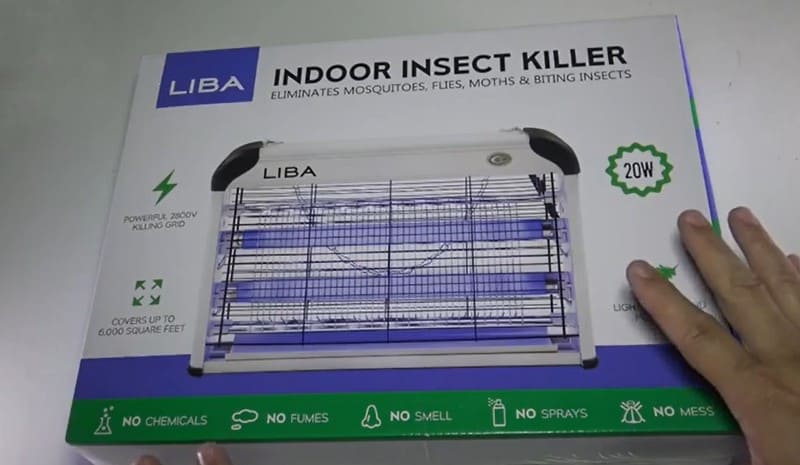 This device does not have a fan that would prevent insects from flying away. Therefore, there is a possibility that even mosquitoes flying up close can survive.
The product is quite large: it weighs 4.04 pounds and measures 3×10.5×15 inches. Besides, it operates from an outlet, which means it is not very portable. Bulbs need to be changed periodically; it's convenient that the manufacturer offers two replaceable ones in the kit.
Pros:
Cons:

kills insects of any size;
almost noiseless;
safe for humans and pets.

kills only on direct contact;
works better at night.


2. Kaocomo Bug Zapper Light Bulb — Affordable Mosquito Killer Lamp
Specifications:
Material: Plastic, Metal
Is Electric: Yes
Item Weight: 3.84 ounces
Item Dimensions LxWxH: 6.38 x 3.39 x 3.15 inches
Target Species: Fly, Mosquito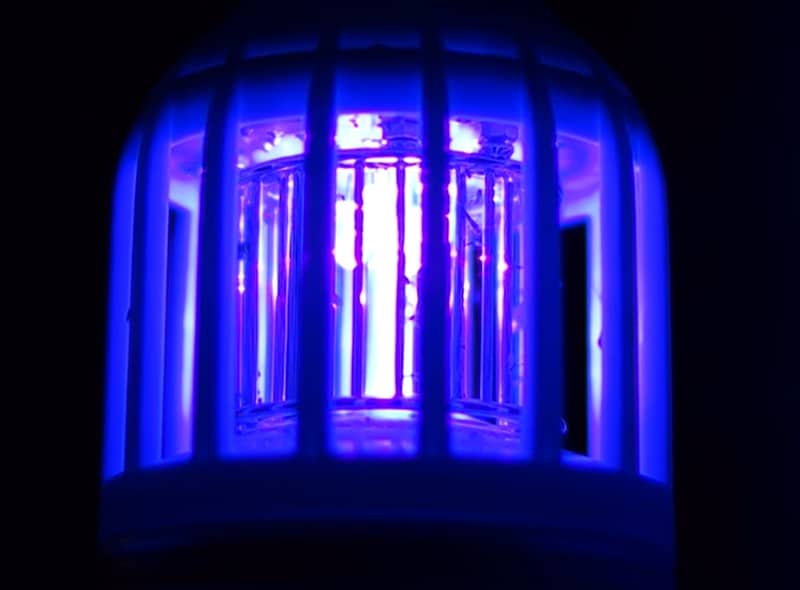 The Kaocomo Bug Zapper Light Bulb combines the functions of an insect killer and a LED light bulb. It can operate in three light modes: bright, slight, or completely off. The mosquito zapper is always enabled.
Like the previous model, it kills mosquitoes with an electric shock when they land on the trap, attracted by ultraviolet light. The extra bright light will help you attract more insects, although some can survive if they don't fly inside the unit.
The device is shaped like a large light bulb that can be screwed into any standard socket. It measures 6.38 x 3.39 x 3.15 inches and weighs 3.84 ounces. If you wish, you can even use it on the patio if it doesn't rain. This ultraviolet lamp can work for 5000 hours, and after this period, the device will have to be changed entirely.
Pros:
Cons:

chemical-free;
compact size;
energy-saving.

short service life;
does not kill all attracted insects.
3. KATCHY Indoor Insect Trap — The Best Indoor Mosquito Trap
Specifications:
Style: Automatic
Material: Plastic
Item Weight: 1.39 pounds
Item Dimensions LxWxH: 5 x 5.5 x 9.1 inches
Target Species: Fly, Mosquito, Gnat
The incredibly stylish KATCHY Indoor Insect Trap is suitable for catching small insects, including mosquitoes. This device is much more efficient than simple bug zappers. It has ultraviolet lamps that attract insects and a fan that sucks them in. And for greater reliability, there are adhesive plates at the bottom so that mosquitoes would not get out of the trap alive.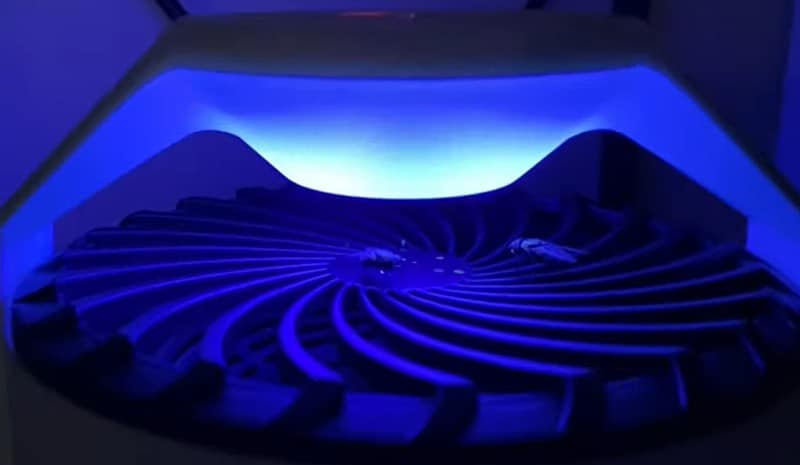 The plates are easy to remove and replace with new ones when they are full of insects. Since the work of this device is based on UV light, it copes better with the task at night. Despite the fan, it is fairly quiet and won't bother you while sleeping. It is a very compact trap (5.5×5.5×9.1 inches and weighs 1.46 pounds); it is convenient to take it with you on trips, as it works with a USB cable.
Pros:
Cons:

three-stage protection;
portable;
stylish design.

does not kill large insects;
effective in small areas.
4. BRISON Ultrasonic Pest Repeller — The Best Indoor Mosquito Repellent
Specifications:
Is Electric: Yes
Number of Pieces: 2
Item Weight: 4.8 ounces
Package Dimensions LxWxH: 6.7 x 2.7 x 2.1 inches
Target Species: Cockroach, Mouse, Rat, Mosquito, Lizard, Cat, Spider
BRISON Ultrasonic Pest Repeller is a universal device against most pests. Unlike previous products, it is more humane and does not kill them, but only scares them away. While it is effective even in large rooms, it is worth remembering that upholstered furniture absorbs ultrasound. Therefore, for maximum effect, you should remove unnecessary items from the room.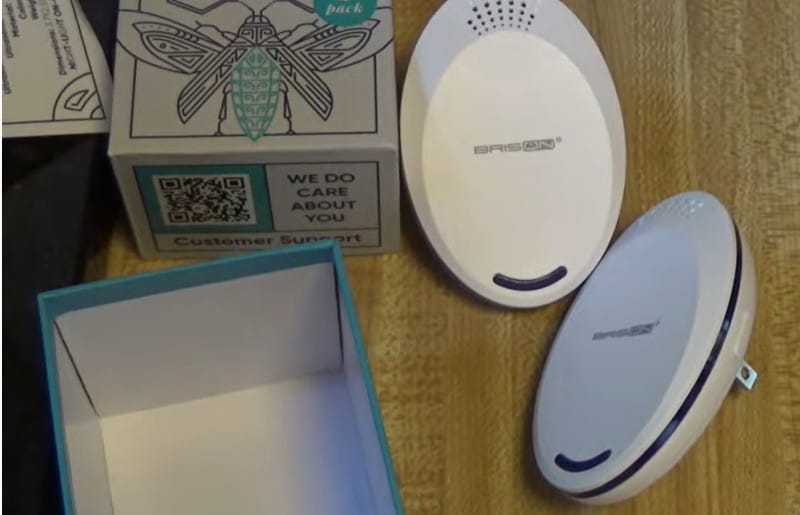 The repeller does not give immediate results. It will take about 3-4 weeks to understand if it really does the job. It is absolutely safe for humans and pets since their ears are not susceptible to ultrasonic frequencies. The device is outlet-powered. With its compact dimensions (6.7×2.7×2.1 inches) and lightweight (4.8 ounces), you can plug it in wherever you like.
Pros:
Cons:

large coverage;
eco-friendly;
silent.

the result is noticeable after a while;
walls and furniture absorb ultrasound.
5. ZAP IT! Bug Zapper Racket — Rechargeable Indoor Electric Mosquito Killer
Specifications:
Material: Plastic
Is Electric: Yes
Number of Pieces: 2
Item Weight: 1.52 pounds
Package Dimensions LxWxH: 17.44 x 10.12 x 1.97 inches
Target Species: Fly, Mosquito, Gnat
Instead of a usual fly swatter, you can now destroy flying insects with ZAP IT! Bug Zapper Racket. It runs on a battery (up to 24 hours), rechargeable using a USB cable. Just turn on the device and aim at mosquitoes. When in contact with an electrified mesh, insects will die from electric shock. The effectiveness of it directly depends on your accuracy. But it's a great way to have fun competitions with your friends.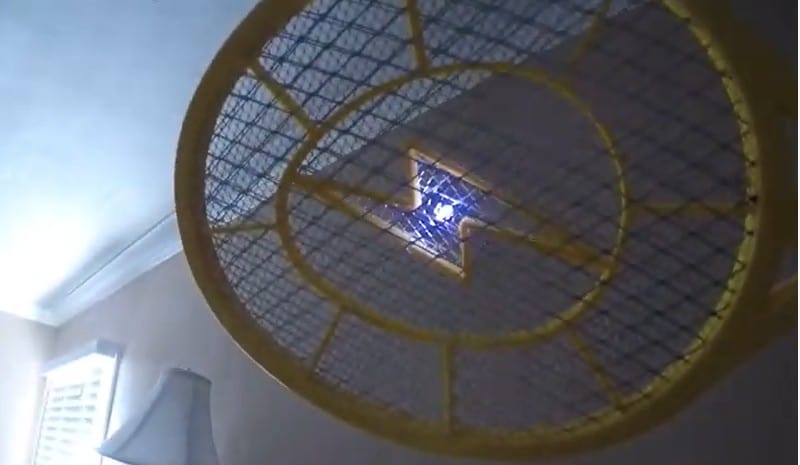 It is a very compact (6.3×16.5 inches) and lightweight (1.2 pounds) tool that you can take with you on a trip or hike. It is safe for pets and humans, as the device has a multi-layer mesh to protect you from electric shock. Remember, it shouldn't be left switched on unattended, which means that when you sleep, it will not protect you from mosquitoes.
Pros:
Cons:

compact size;
long battery life;
adds fun to your party.

hand-held type;
poor design.
Indoor Mosquito Control Products Buyer's Guide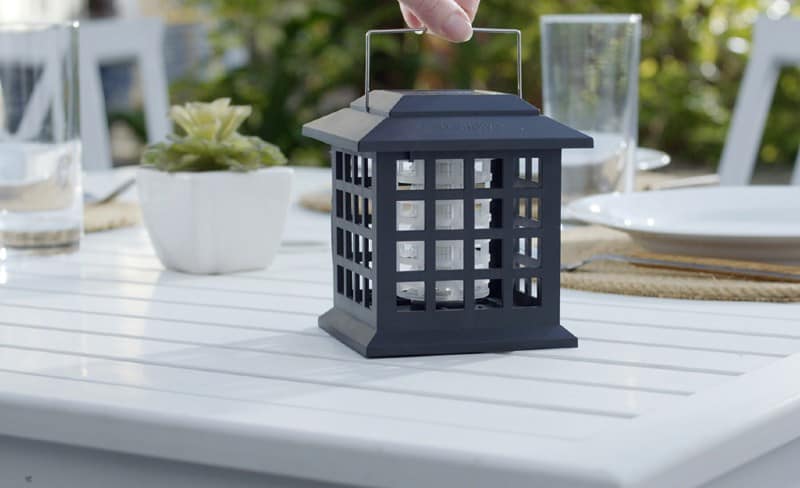 Mosquitoes are really tiny creatures, and it is nearly impossible to stop all of them from getting into your house. Sooner or later, you still have to think about some ways to control them. I do not recommend using products such as aerosols, for example.
The chemicals they contain are harmful to the environment and have a short-term effect. Besides, manufacturers of such products recommend closing windows and doors while processing a room, which can negatively affect your well-being.
That is why, in my opinion, the safest and most reliable ways to protect against mosquitoes are various devices. Among them, I would highlight the following categories:
Electric lamps and bug zappers
They use UV light to attract mosquitoes and electricity to kill them when they sit on a grid. Some models also have different baits installed. However, not all insects that fly into the light are equally harmful. Unfortunately, such devices kill useful bugs too. Therefore, I recommend using them only if you have no problem with other insects.
UV traps
Such tools have multi-stage protection. UV light attracts mosquitoes and other small insects, a fan pulls them into a trap, and sticky tape at the bottom prevents them from escaping. After some time, the insects die inside. These devices are best used in small spaces and placed near the area where insects can accumulate.
Repellents
It is the most humane way to get rid of annoying insects. Do not forget that even the smallest creature has its place in the ecosystem, so mosquitoes should not be eliminated. The effect of ultrasonic repellents is not immediately noticeable. It usually takes about a month to get rid of insects. A liquid or tablet mosquito repellent for inside the house is usually compact and immediately repels mosquitoes, but has shorter lifespans.
How to kill mosquitoes indoors?
My experience with fighting insects has shown that it is always better to use several methods at once. Choose two or more different ways to kill mosquitoes more effectively. Remember that these insects are more active at night. During the daytime, they prefer to sit in secluded dark places, such as closets or under a bed.
These places can be treated with something like an indoor mosquito killer spray. If you live in a house, check the basements for places where they could make a nest. If water accumulates somewhere, stop the leak and treat the area with insecticide against the larvae.
What methods cannot be used indoors?
It is best not to use insecticidal foggers or mists in residential areas. When deposited on furniture and other surfaces, active ingredients (e.g., pyrethrin) can cause an allergic reaction and adversely affect people's and pets' health. And some mixtures may even be flammable.
Besides, in my opinion, the targeted application of sprays will be more effective in the fight against insects. Fog sprayed in the middle of the room can't penetrate narrow gaps between furniture and cracks in walls.



How to prevent mosquitoes from getting indoors?
Start with checking doors and windows; make sure they are tightly closed as mosquitoes can get inside even through the smallest hole. Install safety nets or, if you already have them, inspect them for holes and tears.
Whenever possible, use an air conditioner and do not leave windows and doors open. Near your house, plant healthy plants with the smell unpleasant for mosquitoes, such as citronella or marigold.
Make sure there is no standing water in your yard where mosquitoes can lay their eggs. Remember that taking preventive action is easier than getting rid of mosquitoes indoors.
FAQs About Mosquito Killers
Since literally, every person has come across mosquitoes at least once in their lives, there are tons of questions about how to get rid of them. In this section, I have collected answers to the most popular ones.
What mosquito killers cannot be used indoors?
In dwellings, experts recommend using mild products or safety devices that will not harm humans and pets. Simultaneously, all means for protecting against mosquitoes outdoors are more powerful, have a high concentration of active substances (anvil, permethrin, malathion, etc.), and can be toxic. Do not use mosquito traps that use carbon dioxide emitters (like Mosquito Magnet) as bait at home.
What attracts mosquitoes indoors?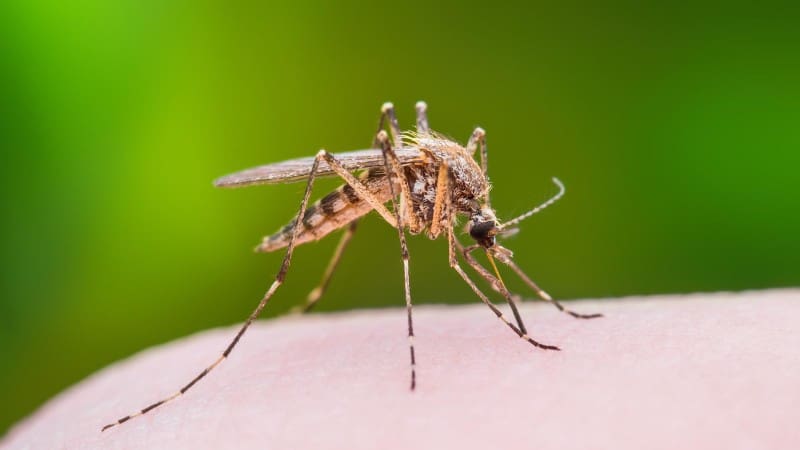 Mosquitoes use smell to detect warm-blooded creatures. They fly to their body heat, sweat smell, and the carbon dioxide they breathe out. All these mosquitoes can feel 150 feet away. The reason they fly to our houses lies in search of food. And if there is standing water somewhere nearby, they can even lay eggs.
Do bug zappers kill mosquitoes indoors?
The effectiveness of bug zappers is still controversial. The fact is that such devices are really capable of killing a huge variety of insects, but not all of them will be blood-sucking mosquitoes.
Moreover, some insects can be useful. UV light does not attract mosquitoes as much as the heat and odor of a human body. That is why there are baits with pheromones or carbon dioxide in many modern models.
How does mosquito killer lamp work?
Typically, these lamps combine two types of lighting: normal/daytime and ultraviolet. They screw into standard sockets and attract insects with their light. When a mosquito flies close enough, it dies from an electric shock.
Most lamps are designed so that dead insects do not fall inside cases, but fall out. Such devices are convenient because they are compact, and, if necessary, their location can be easily changed.
How effective is electric mosquito killer?
Since electric mosquito killers come in different types and designs, the efficiency is different. As I wrote above, bug zappers do a good job of killing many insects, but not all mosquitoes flock to their UV light.
If a fan is installed in them, it can suck insects so that such tools will cope with the work better. The effectiveness of electric rackets literally depends on how well you swing the racket.
Kill Mosquitoes Effectively
Don't underestimate mosquitoes, and just wait for their active season to end. Even if you don't think there are dangerous species in your area, it's always better to take preventive measures.
And if mosquitoes do appear in your house, use my reviews and buyer's guide to find the right mosquito killer for inside. And do not forget the recommendation about using an integrated approach for mosquito control.
How do you deal with mosquitoes indoors? Which device do you find most useful? Feel free to ask your questions in the comments below.
References:
Success in Mosquito Control: An Integrated Approach (United States Environmental Protection Agency):
https://www.epa.gov/mosquitocontrol/success-mosquito-control-integrated-approach
Mosquitoes Use Smell to See Their Hosts (Caltech California Institute of Technology):
https://www.caltech.edu/about/news/mosquitoes-use-smell-see-their-hosts-47338
Why mosquitoes should not be eliminated (Purdue University):
https://www.purdue.edu/newsroom/releases/2017/Q3/why-mosquitoes-should-not-be-eliminated.html
Why You Should Trust Pest Control Hacks?
We know that pests are nasty neighbors, and it can take months to eliminate them without the right approach. Our experts use their own experience to compile articles and guides that are introductory and informative. Our authors' opinions are independent and based on the results of practical testing of pest control tools. We do not notify manufacturers of testing of their products and do not receive payment from them for posting their items. Also, our texts are never submitted to company representatives for proofreading before placement. On the site, you will find exclusively objective ratings and reviews.