Hi! All my life I've been fighting urban and agricultural pests. Although the vast majority of orders relate to insects, I also receive many requests on how to catch chipmunks and prevent further attacks in the future.
In this article, I want to tell you everything about the best chipmunk trap models available on the market and explain why trapping chipmunks is the best control method. I combined reviews with practical advice to make the content as useful as possible. As a bonus, I reply to the most frequently asked questions of my readers and customers.
Top 6 Best Chipmunk Traps
Below are reviews of 6 traps that I regularly use and recommend to my clients. Each of them proved to be highly efficient and provides the highest value-for-money.
1. Kensizer Small Animal Humane Live Cage – Best Humane Chipmunk Live Trap
This live cage is the best classic solution that I've ever tested. It features a simple mechanism that shuts down the box when the pest reaches the bait on a trigger plate. Due to the highly responsive trigger, the system works perfectly well even on careful animals that try to steal the bait without pressing the trigger.
The cage design lets you avoid long setting up. You can adjust the whole thing in less than a minute without instructions. If not, the manufacturer will send you a video tutorial.
The aluminum mesh is sturdy enough to resist rodents' bites so that you can reuse it numerous times in a row. If you catch something stronger than rodents, and they break the mesh, the company will replace the product. The only disadvantage is the absence of 2-door models by the brand.
Pros:
Cons:

smooth mechanism;
replacement warranty;
easy to set up;
sturdy aluminum mesh;
available in 2 sizes.
2. Intruder 16525 the Better Rodentrap – Best Snap Trap
This simple plastic device is the cheapest on my list, but it works surprisingly well. To activate the mechanism, you have to press the small lever until you hear the click. There's a small trigger plate inside that releases the strong spring that shuts the snap on rodent's head, leaving no chances for it to escape.
The item is made of non-absorbent plastic that doesn't damage critters' skin and ensures bloodless and odorless catches. Just push the lever to release the catch and dispose of it.
The drawback of the plastic system is that it can break quite easily if you use it frequently. That's why I don't recommend the item to professionals who need an extra durable solution. If you need it to fight the infestation on your land, be sure to get the needed result.
Pros:
Cons:

bloodless process;
the easiest setup;
extremely cheap item;
non-absorbent plastic and stainless steel.

may shut down accidentally.
3. Rugged Ranch the Chipmunkinator – Great for Multiple Catch
Chipmunkinator is a professional solution that lets you catch up to 20 pests at once. I know that it sounds impossible for such a small construction, but it really is.
The mesh container has 2 one-way doors that let rodents in and make it impossible for them to escape. Using the release door on top, you can easily let them get out, when you take them far enough from your area. In addition, no setup and assembly are required!
Pros:
Cons:

lets you catch up to 20 pests at once.
easy to release critters;
the mesh is impossible to break with teeth;
2-door system.

it's hard for animals to move inside this cage.
4. Rolling Log Mouse Trap – Clever Chipmunk Bucket Trap
Although this tool looks like a piece of metal, it's incredibly effective against all types of rodents. You just have to adjust it on a bucket, so that it could rotate easily. It's also necessary to make the top of the bucket easily accessible using wooden bars. Critters climb up the bars to reach the magnet, and when they step on the rolling log, they fall down into the bucket filled with a small amount of water.
The log is much lighter that a small mouse, so it always works without denial. This item is cheap and lets you catch as many rodents as a bucket can contain. I recommend it to both professionals and household owners. It's 100% safe for any animal, and you don't have to learn how to adjust complicated mechanisms to set it up.
The safety rules are the same as usual – don't leave the catch inside for too long in order not to let animals suffer from stress too much and release them only on legal lands.
Pros:
Cons:

100% secure for animals;
elementary setup;
provides multiple catch;
humane remedy;
cheap solution.

no bucket and wood bars in the package.
5. Victor M240-3A Electronic Rat Trap – Leader of Electronic Chipmunk Traps
This item is highly effective against rodents, but there are several nuances that you should consider before setting it up. First of all, make sure that there are no animals that can get inside instead of chipmunks or rats. If there are squirrels and other small non-pest animals in your area, you should consider a more humane item.
Victor M240-3A is equipped with an electro shocker that kills with high voltage. That's why you must use it very carefully. I recommend to place it on attics, roofs, and in basements, away from children, pets, and other innocents.
You should also remove carcasses as soon as possible not to attract predators and clean the device for the next victim. This item is very controversial and even scandalous, but I can't deny it's high efficiency against rodents. Use it wisely, and you will succeed.
Pros:
Cons:

impossible to escape;
powered with 6 batteries;
one-click setup;
many kills on a single charge.

not humane;
dangerous for small pets and non-pest critters.
6. FABU Walk the Plank Mouse Trap – Self-Rechargeable Humane Chipmunk Trap
This item works similar to the rolling log, but you can install it on a container of any size. The plank is made of eco-friendly materials, including wood and acrylic. The rechargeable level mechanism works very simply. You have to mount it on a bucket or any other container and put a bait on the edge of the plank.
When the target goes for it, the plank drops it down into the container. The magnet on another side of the plank recharges it immediately, so it's always ready to catch the next creature. It's totally safe for your pets and children as it's designed only for small pests.
The manufacturer provides a full money-back guarantee so that you can return your package anytime if you're not satisfied with the result. However, it's an unlikely scenario. I haven't got any problems with this item at all. The only minus of the wooden construction is that you can't place it outside if it's raining as the wood may soak rainwater and expand.
Pros:
Cons:

safe for pets;
self-recharging mechanism;
provides an unlimited number of catches;
natural materials;
full refund guarantee.

may soak water if you place it outside.
Buyer's Guide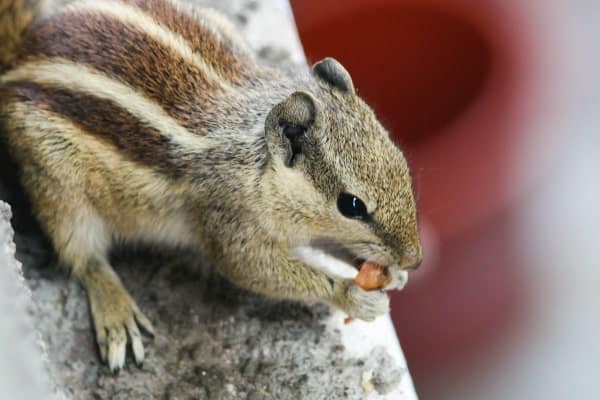 Choosing the right trap type, you should consider the size of your problem, your budget, and your attitude to trapping chipmunks in a humane way. Usually, the cheapest option is bucket traps, while electronic devices are the most expensive.
The difference in price tags isn't very notable when you need to catch 1-2 pests, but if you need multiple catches, you'd prefer to save and buy several cheaper options instead of one expensive.
Cage-type chipmunk live trap is the most popular as it shows the highest catch rate. Still, I'm convinced that other trap types have lower rates because they're used less frequently. I've tested many snap and bucket traps along with classic cages, and the final results were always different. The fact is that rodents always come to taste the bait, so a properly adjusted mechanism will always do its job.
How to Trap Chipmunks: Tips for Successful Trapping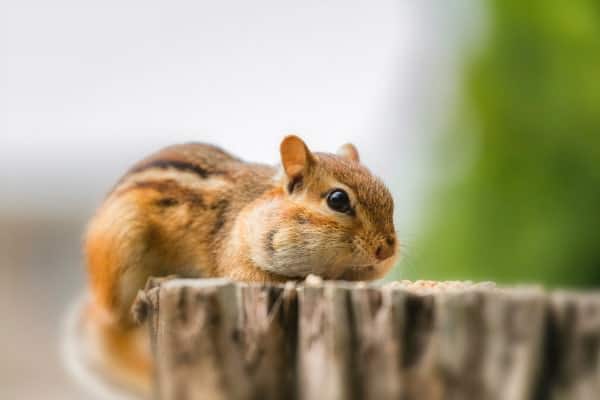 After choosing the right trap type, you have to learn how to trap and determine trap placement. It must be installed in the place of the highest chipmunk activity. These small animals are very shy, so they usually hide in secure places. You should look for them below structures in your yard, below bushes and trees, in sheds and attics, near fences and burrows.
If you notice that chipmunks travel along fences and walls, you should place a two-door trap on their way. It's one of the fastest ways to intercept rodents if it's possible to see their favorite paths. If you use a 1-door trap, it must be placed at the end of a path, while the 2-door cage must be located in the middle of it with both doors open.
Related Post: Best Chipmunk Repellents & Deterrents
The rules for placing bucket and snap traps are pretty much the same. You should locate them in places that look secure for pests and fix a tasty magnet on the trigger plate. I usually use unshelled peanuts or peanut butter. The second option has a stronger smell, which makes pests leave their burrows earlier, but they can also attract ants.
Be ready that setting up a trap can take a while as the parts of your particular model may require thorough balancing. To make sure that everything works right, you should test the mechanism using a stick or any other object that has size and weight similar to a chipmunk.
Even the best chipmunk trap requires proper setup, so always follow the unique instructions to achieve the wanted result. When the animals are trapped, carry traps gently and relocate them at least 5 miles away from your place. Before doing it, you should check if your local laws permit relocation. If you use lethal devices, dispose of carcasses carefully.
Using Traps vs Using Poison
In fact, there are 6 common chipmunk control methods. Traps and poisoning are the most popular of them. However, poisoning is not considered a humane remedy against infestations as it's always lethal. Traps aren't always safe for rodents too, but you can always choose the type that won't harm pests and will let you set them free in the wild.
Poisons can also be harmful to other animals and your pets if they take a remedy by accident. Although pest poisoning is legal in most states, I recommend you to choose traps to avoid unwanted effects on the population.
FAQ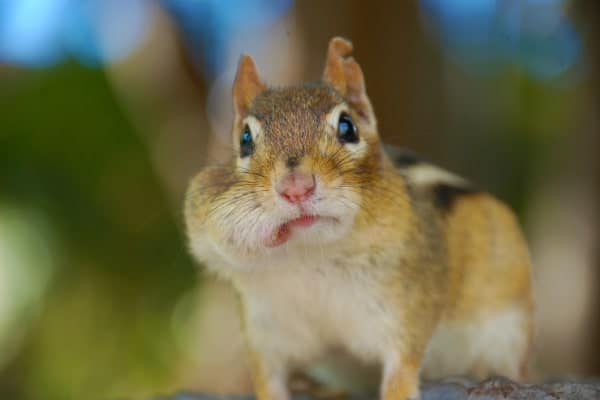 Can I Use Mouse Traps for Chipmunks?
My experience proves that mouse and rat traps can be very effective against chipmunks as well. However, such solutions as a chipmunk bucket trap may require you to use bigger buckets that you need for mice. The reason is this type of rodent has stronger legs that let it jump high enough to get out of average buckets without difficulties.
How to Trap a Chipmunk Without Killing It?
The most humane way to trap chipmunks is to use one and two-door traps or bucket traps. In both cases, you have to relocate trapped animals as soon as possible as they can't live long in stressful conditions without food. Take them to a forest and let go.
What Bait to Use to Trap Chipmunks?
The best baits for chipmunks are sunflower seeds, peanut butter, unroasted peanuts, cereal, prune pits, corn, and popcorn. To boost the efficiency of the bait, you should place it not only inside the trap but near it as well. This way, the smell will spread better. But don't put too many goodies outside to keep the pests hungry and curious enough to get inside.
How Long Can Chipmunks Be Left in a Trap?
Using both humane and lethal chipmunk traps, you should take rodents out as soon as possible. If you leave a chipmunk in a humane chipmunk trap for too long, it will become anxious and can die of dehydration and starvation. In the second case, you must dispose of dead pests not to attract predators and to avoid the rotting smell from traps located inside buildings.
How to Remove Chipmunk from a Trap?
If you use cage-type traps, you can simply open one of the doors to let the animal get out. The same works with buckets. I also recommend you to wear gloves to protect your hands from bites. Sometimes it's necessary to take scared animals out manually, so it's an important rule to follow.
Attention and Patience
Now you know how to choose the most effective bait and how to trap chipmunks. However, you should also be very attentive as these rodents are extremely clever when it comes to their safety. By choosing the right decoy from my list, you make the first step to preventing the infestation successfully.
Don't hesitate to make sure that pests don't start breeding around your place. If you see a chipmunk in your yard from February to April and from June to August, you must get rid of it as fast as possible as these are typical breeding seasons for most types of chipmunks.
If you have any questions after reading, you're welcome to ask me in the comments. Have you already chosen any trap type? Did it help you to solve the problem? Share your experience with me and other readers below!
References:
Chipmunks (PennState Extension):
https://extension.psu.edu/chipmunks
How to Trap Chipmunks (Kansas State University):
https://www.johnson.k-state.edu/natural-resources/agent-articles/nuisance-wildlife/how-to-trap-chipmunks.html
Chipmunk Control (The University of Georgia):
https://extension.uga.edu/publications/detail.html?number=C910&title=Chipmunk%20Control