Raccoons are frequent visitors to residential areas where trash is abundant and — well, nutritious. Despite being initially native to North America, these sweet-looking animals are also present in a number of European countries these days. They have become notorious for their annoying guest habits, ravaging people's gardens, and rummaging through trash cans in search of food.
Apart from being extremely messy, the furry visitors can pose a threat to their human hosts and their pets. Whenever a raccoon feels like you are treating it, it will get aggressive, probably trying to bite and scratch you. Like many wild animals, coons spread rabies, a highly deadly viral disease.
Pros
You can get your money back if you find the item ineffective (which is unlikely).
Biodegradable and eco-friendly.
Best Natural Raccoon Repellent
Pros
You can get your money back if you find the item ineffective (which is unlikely).
Best Granular Raccoon Repellent
Pros
Biodegradable and eco-friendly.
Here are my raccoon repellent reviews in case your property has attracted too many furry visitors.
Top 5 Best Raccoon Repellents & Deterrents
1. All Natural Rodent Repellent Spray by Colton's Natural: Best Natural Raccoon Repellent Spray
Specifications:
Scent: Peppermint
Item Form: Spray
Item Weight: 2.25 pounds
Product Dimensions LxWxH: 11.22 x 5.79 x 3.82 inches
Target Pests: Raccoons, Squirrels, Mice, Rabbits, Gophers, Skunks
Colton's Natural is a US-based pest control product brand that focuses on finding plant-based alternatives to the conventional chemicals that most people use to keep their home and yards pest-free. Every item included in the range is completely safe for humans, including kids, and pets.
This small animal repellent spray targets raccoons, squirrels, skunks, and other common troublemakers. Its key active ingredient is peppermint oil, which isn't dangerous or harmful at all but simply doesn't smell good to the pests. It's also safe to use around pets, children, and even nursing mothers.
You can use the product both indoors and outdoors, spraying it liberally on dry surfaces for better absorption. The manufacturer doesn't promise instant effect. Instead, the coon might come to visit you a couple more times, but it'll soon realize that it's time to find another place to eat.
What I like about this all-natural spray is that it's a really effective coon repellent. Besides, it smells nice to us humans (thankfully, we don't have half of the smelling ability that some animals possess).
Pros:
Cons:

pet and kid safe;
humane;
extremely effective;
smells good;
you can get your money back if you find the item ineffective (which is unlikely).


2. Clever Sprouts Dog Cat Repellent: Best Ultrasonic Raccoon Repellent
No products found.
This ultrasonic animal deterrent features a passive infrared sensor to detect approaching dogs, cats, foxes, and more. As soon as a stray or wild animal comes near it, the sensor triggers a built-in speaker to produce a tone that's inaudible to humans but prevents the furry creature from getting closer.
This is an eco-friendly and humane solution that's absolutely safe to use near children (although your pets might react to the signal too). It also features a solar battery, making it a green and budget-saving option.
The repellent has a simple weatherproof design that is easy to install. You can combine several of these items in your property as it has a detection radius of about 8 to 9 meters. The only problem I faced while using this product is that the sensor can be triggered by swinging branches when the weather's extremely windy.
Pros:
Cons:

safe for animals and humans;
humane;
quite effective in repelling raccoons;
environmentally friendly, solar-powered battery;
affordable price.

can be triggered by a strong wind.
3. Bonide (BND2362) Repels-All Animal Repellent: Best Granular Raccoon Repellent
Specifications:
Active Ingredients: Putrescent whole egg solids – 1.12%, Cloves – 0.54%, Garlic Oil – 0.03%
Use at the rate of 1 pound per 500 sq. ft.
Item Form: Granules
Product Dimensions LxWxH: 1 x 1 x 1 inches
Target Pests: Armadillos, Beavers, Birds, Crows, Chipmunks, Deer, Groundhogs, Porcupines, Rabbits, Raccoons, Rats, Skunks, Shrews and Squirrels
Bonide Products, Inc. is a long-established US company that celebrated its 90th anniversary in 2016. It offers an extensive range of pest control products for indoors as well as outdoors, attaching special importance to garden and law protection.
Repels-All is a granular formulation designed to repel raccoons, skunks, squirrels, mice, and other common species. It has a natural formula consisting of egg solids and garlic oil, and I must admit that it has a very intense, unpleasant smell that stays for some time.
The granules are easy to place — you just sprinkle them across the perimeter and add a little water if no rain is expected. According to the label, this product is safe to use in children's play areas and near pets. However, some cats and dogs might be deterred by the smell, too. This is a long-lasting solution that will keep your grounds coon-free for up to 60 days unless it's raining heavily.
Pros:
Cons:

safe for pets and kids;
humane;
effective;
biodegradable and eco-friendly;
easy to use and long-lasting.

harsh smell that might deter pets.
4. Repels-All Animal Repellent Concentrate: a Humane Yet Effective Coon Repellent That Will Last
Specifications:
Active Ingredients: Putrescent Whole Egg Solids, Garlic Oil
Lasts up to 2 months per application
Pack of 1(pack may vary)
Item Weight: 2.33 pounds
Product Dimensions LxWxH: 0.4 x 0.19 x 0.81 inches
Target Pests: Deer, Rabbits, Squirrels, Chipmunks, Dogs, Cats, Raccoons, Porcupines, Armadillos, Birds, Rats, Mice, Beaver, Ground hogs, Skunks, Voles, Moles and Shrews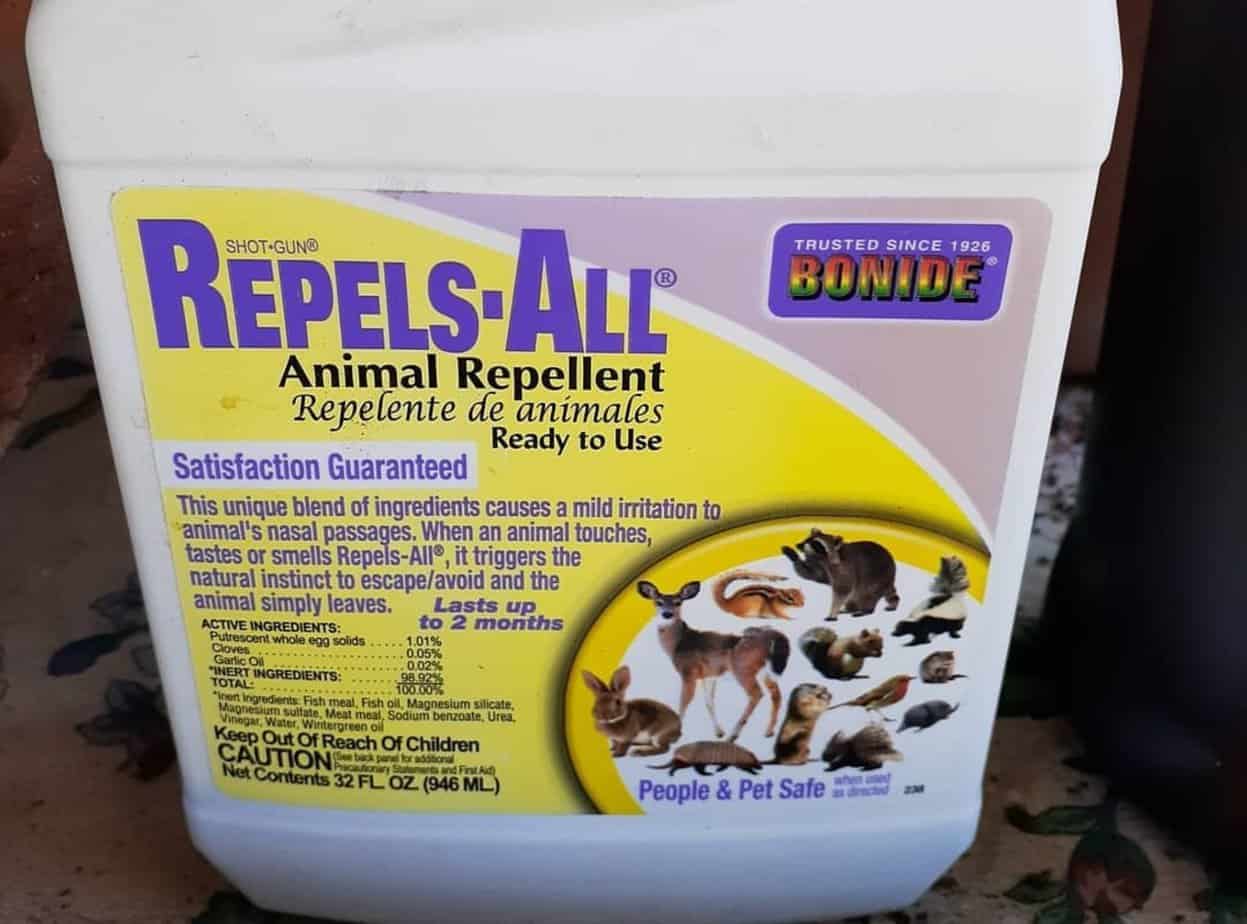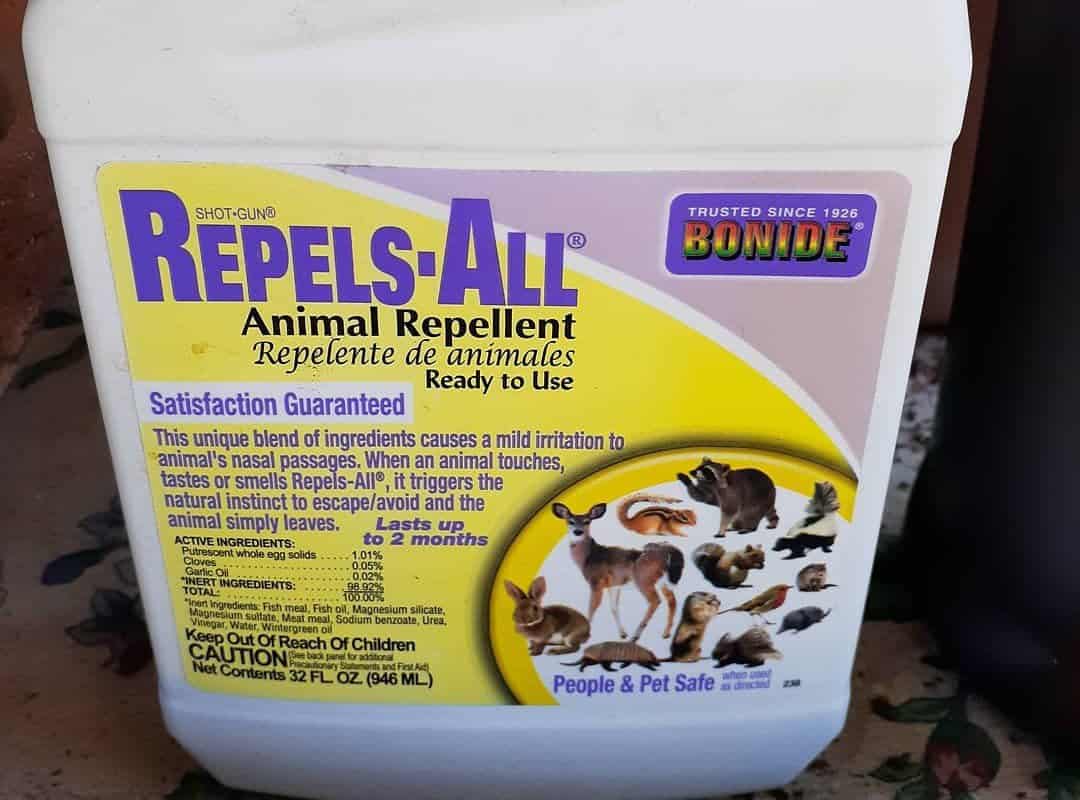 This is another product by Bonide, based on similar ingredients but formulated into a liquid concentrate that you can use to prepare spray as needed. Just like the previous item, it relies on irritating smell (and taste) to chase away a broad range of animals without harming their health.
Repels-All Animal Repellent Concentrate comes in two sizes, including a money-saving 3.8 L bottle. Before spraying, mix 1 volume of the concentrate with 7 volumes of water. You can use a sprayer or a spray bottle for application. It should be noted, however, that the resulting liquid tends to clog the sprayer.
As is the case with many smell-based products used to deter nuisance animals, this concentrate can also repel your pets. It does smell intensely for some time, but I couldn't sense the odor as soon as the liquid dried.
Although you can use the resulting spray to keep raccoons away from your vegetable garden, avoid applying it to the plants directly. Instead, use it around the patch. Each application is expected to last for about two months.
Pros:
Cons:

safe for pets and kids;
humane
effective;
biodegradable and eco-friendly;
long-lasting.

requires mixing;
may clog the sprayer.
5. Nite Guard Solar NG-001 Predator Control Light: an Effective Night-Time Raccoon Deterrent
Specifications:
Weatherproof
Mother Earth Friendly. Safe for People, Pets & Livestock
Item Weight: 3.2 ounces
Product Dimensions LxWxH: 2.5 x 2.2 x 1.2 inches
Target Pests: All Animals That Hunt or Feed at Night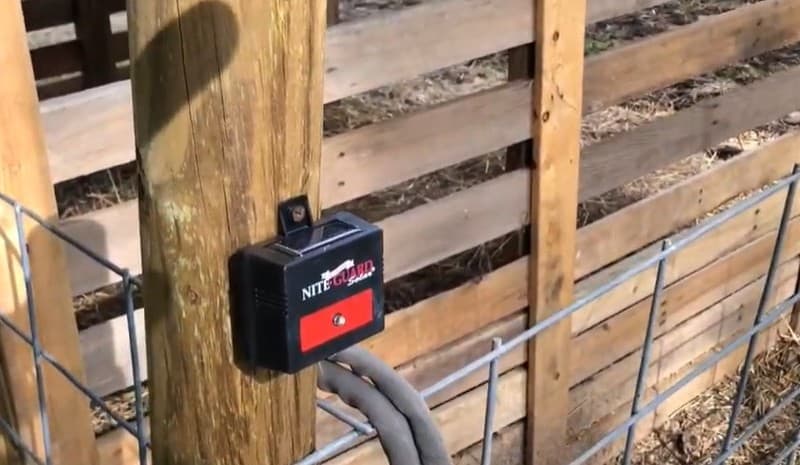 Nite Guard, LLC is a family-owned business based in the United States that focuses on keeping predators off your ground after dark. What Nite Guard Solar does is simply flash a red light, which animals perceive as a threat. The mechanism is not triggered by a sensor; the flashing goes on throughout the night, turning off automatically at dawn. This electronic raccoon deterrent is completely safe for humans as well as animals, including the ones it's meant to repel.
The product comes in a small black weatherproof casing which looks much like a security camera, thus potentially deterring human intruders, too.
Two basic mount options are available, cluster and perimeter since a single control light would only work in one direction. The manufacturer emphasizes that Nite Guard Solar can be used to keep your poultry and livestock safe from nocturnal predators. Using electronic raccoon deterrents in the garden is also a good idea since they have the nasty habit of uprooting plants.
Although they are nocturnal animals, raccoons can be active during the day if they need extra forage. This means that the control light alone might prove inadequate if raccoon infestation is massive in your area. However, it works perfectly well at night, which will solve the problem for most users.
Pros:
Cons:

safe for pets and kids;
humane
effective;
eco-friendly & solar-powered;
an affordable and long-lasting solution.

doesn't work during the day.
Buyer's Guide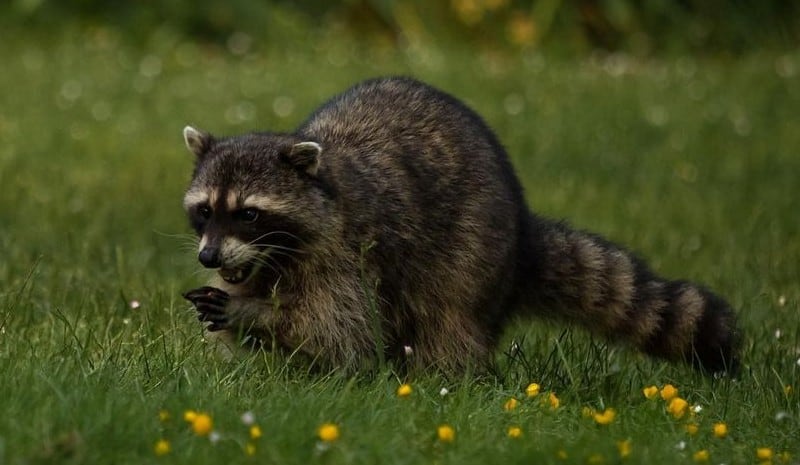 As you have probably noticed, approaches to raccoon control differ greatly. The range is so wide that it might be confusing if you are new to the issue. That's why I'm offering you a guide on how to repel raccoons in a safe and humane way. This section doesn't cover control methods such as fencing and raccoon traps since they don't fall in the repellent category. Instead, we'll focus on the many things that coons find annoying and/or menacing and thus try to avoid.
There's a broad scope of products on the market that deter furry visitors due to their pungent smell and, sometimes, taste. Common flavors include hot peppers like cayenne and jalapeno, onions, peppermint oil, and cloves. These are widely used to produce natural, non-toxic deterrents.
They aren't supposed to harm the guest except by causing mild irritation of its air passages and preventing it from feeling at home in our property. Whatever ingredients you prefer, the mix can be formulated into a spray, powder, or, less commonly, granules.
Mothballs are another odorous product that might repel a raccoon, but they can be extremely toxic and aren't recommended if you have children or pets that can ingest them.
As an alternative, ammonia can be used as an effective DIY solution as it smells very much like urine. Despite their messy habits, raccoons are clean animals and are generally suspicious of human and animal discharge. However, ammonia is a toxic substance that can have immediate health effects when ingested or inhaled in large amounts, so using it to repel raccoons requires certain precautions. The good thing is that it's extremely cheap.
For those who aren't ready for the strong smell that most repellents emit, electronic repellents can be a preferable solution. These include two major categories, ultrasonic noise generators, and blinking lights. The former usually rely on motion sensors to detect an animal approaching and then generate a tone that most humans can't hear but raccoons dread.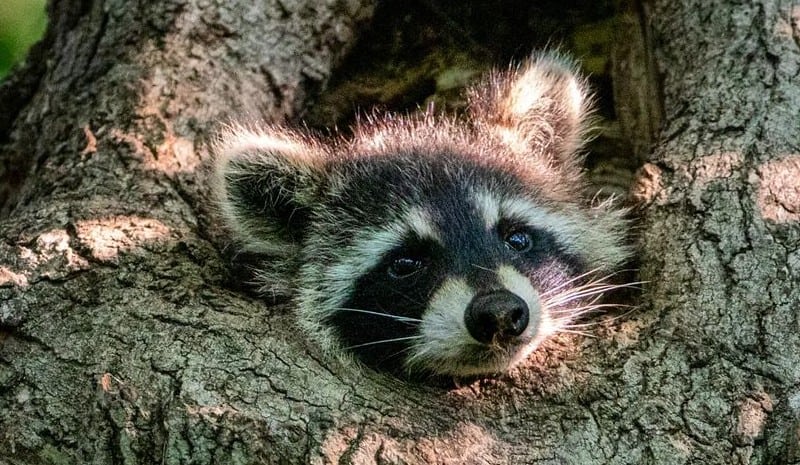 The latter category is much smaller. The intuition behind it is that most nocturnal animals don't want to be watched doing whatever they do, and red blinking light makes them feel like they've been caught in the act. Such devices are chiefly automatic and make sense only in the dark.
It's true, however, that most raccoons won't come to ravage your garden in broad daylight, so this can be an effective option provided that you purchase enough devices to ensure all-round protection.
Motion-triggered sprinklers are another way to deter raccoons without doing too much harm. They also have a built-in motion sensor that works 24/7 as is completely automatic. One downside is that it most probably will react to people as well. It might also be a good idea to use several sprinklers in larger yards.
Related Post: Best Raccoon Baits Reviewed
If you are looking for a gadget to keep away the furry bandits, make sure the model you're considering is fit for your climate. The housing has to be waterproof to withstand rain and snow. Another factor to take into account is that some motion sensors can be triggered for no good reason when the weather is windy. I also recommend choosing a solar-powered model over conventional batteries since it's eco-friendlier and zero maintenance.
FAQ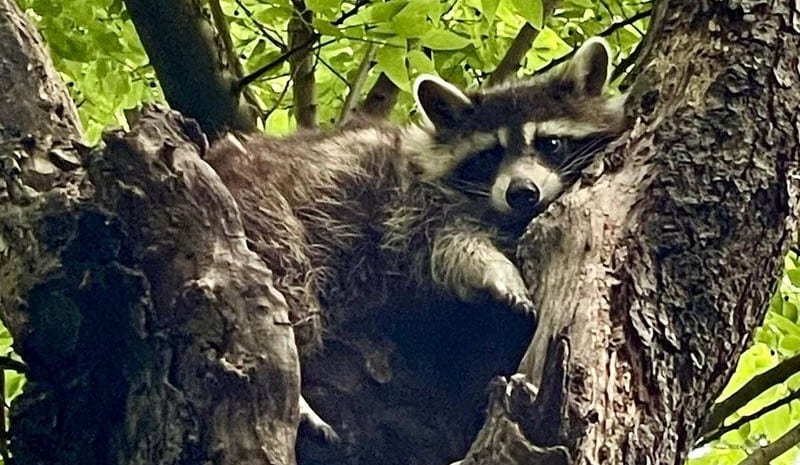 What Scent do Will Keep Raccoons Away?
Capsaicin (made from chili peppers), essential oils like citronella, clove, and peppermint as well as garlic are known to get on raccoons' nerves. They also hate the smell of urine, which you can imitate by using ammonia (see below) or actually bring about if you can get a predator's urine.
How to Repel Raccoons with Ammonia?
You will need ammonia (look for it on the web or at a home hardware store) and some rags. Soak the rags in ammonia, then place them near your trash can and in other places frequented by coons. You'll need to repeat the procedure in some time when the rags dry.
What Is a Natural Deterrent for Raccoons?
Natural repellents can be plant-based with pepper extracts and essential oils. Other options include predator urine and ammonia. Besides, raccoons are known to be deterred by loud music or noise, although chances are high that your neighbors won't like it either.
Do Mothballs Keep Raccoons Away?
They do, but mothballs are clearly not the best raccoon deterrent since the effect is not really reliable. More importantly, mothballs usually contain naphthalene and, therefore, are toxic if ingested (consider this in case you have little kids or pets in your home). Inhaling naphthalene isn't healthy either, which brings about the dilemma with mothballs: they are either harmful or ineffective.



Raccoon Control Takeaways
There are three key options when it comes to keeping raccoons away without harming them: offensive smells, blinking light, and motion-triggered devices like sprinklers and ultrasound deterrents.
When shopping for electronic raccoon repellent, make sure you purchase enough to provide full coverage of your property as one sprinkler/speaker is rarely enough. These solutions are usually safe for humans of all ages as well as pets.
Smell-based deterrents are usually affordable and easy to use. However, most odors that repel raccoons also appear repulsive to people and their pets. This is especially true with urine and ammonia, while essential oils are generally less overpowering.
What methods of raccoon control have you tried so far? Did they work?
References:
Raccoons (Agriculture and Natural Resources, University of California):
http://ipm.ucanr.edu/PMG/PESTNOTES/pn74116.html
Why You Should Trust Pest Control Hacks?
We know that pests are nasty neighbors, and it can take months to eliminate them without the right approach. Our experts use their own experience to compile articles and guides that are introductory and informative. Our authors' opinions are independent and based on the results of practical testing of pest control tools. We do not notify manufacturers of testing of their products and do not receive payment from them for posting their items. Also, our texts are never submitted to company representatives for proofreading before placement. On the site, you will find exclusively objective ratings and reviews.