Fleas tend to go unnoticed unless your cat is scratching more than usual or you're getting some itchy bites too. Tiny as they are, the jumping specks can cause a lot of trouble. When they come to reside in your pet's fur, they bring about itching and anxiety.
Moreover, bloodsuckers can carry larvae of a dangerous tapeworm, Dipylidium caninum. A cat that swallows an infected flea while grooming might thus catch the parasite. A number of diseases are transmitted through flea bites, too.
Among the external parasites that pester our feline pets, fleas are the most common. This means you'll probably face the problem sooner or later, so be prepared to fight off the infestation with the market's best flea bath for cats. Below, you'll find a list of 6 best products to guide your choice.



Top 6 Flea Control Shampoos for Cats
1. Adams Plus Flea & Tick Shampoo with Precor®: The Best Cat Flea Shampoo
Specifications:
Item Form: Cream
Scent: Coconut
Item Volume: 24 Fluid Ounces
Item Weight: 1.6 Pounds
Item Dimensions: 3.16 x 3.16 x 8.1 inches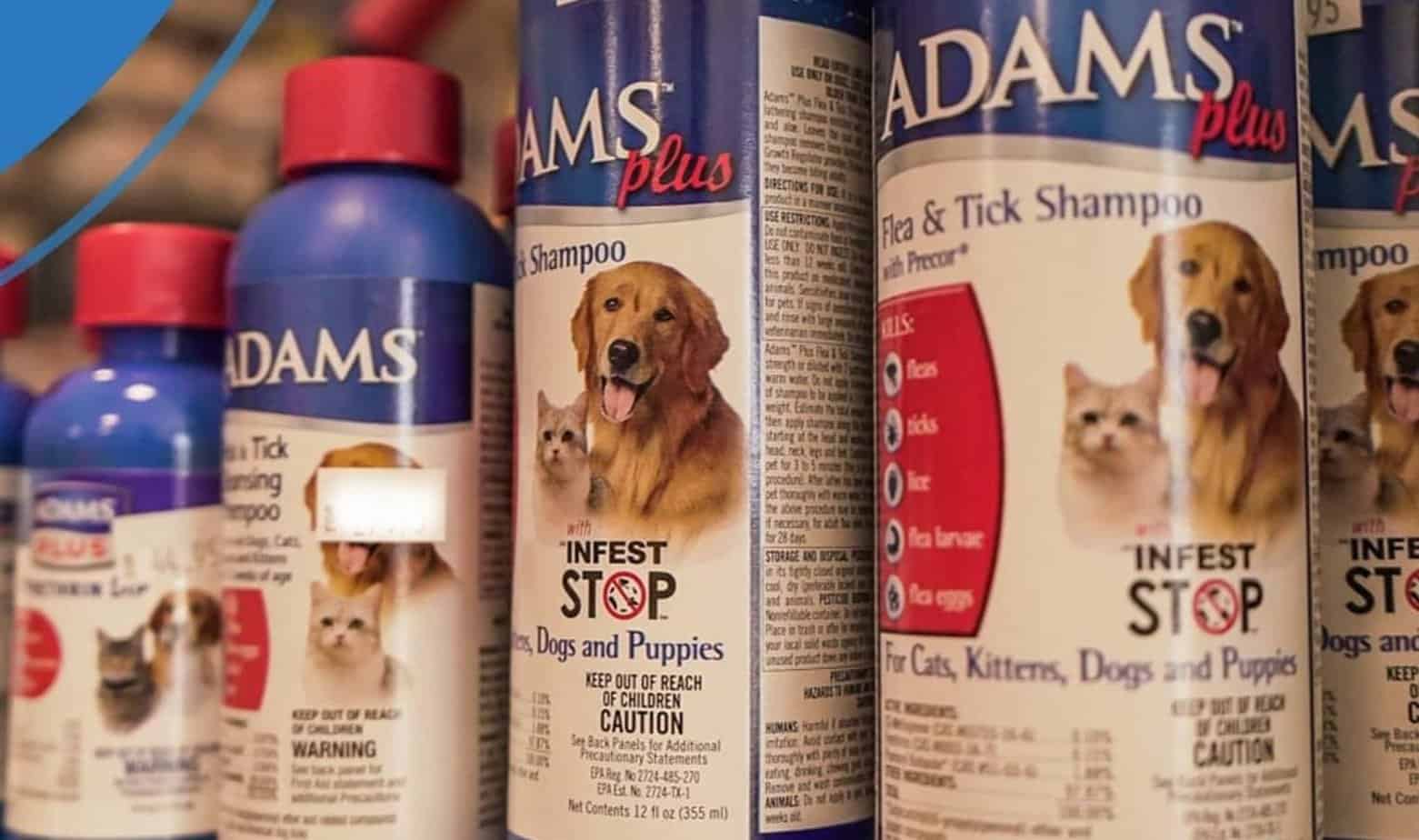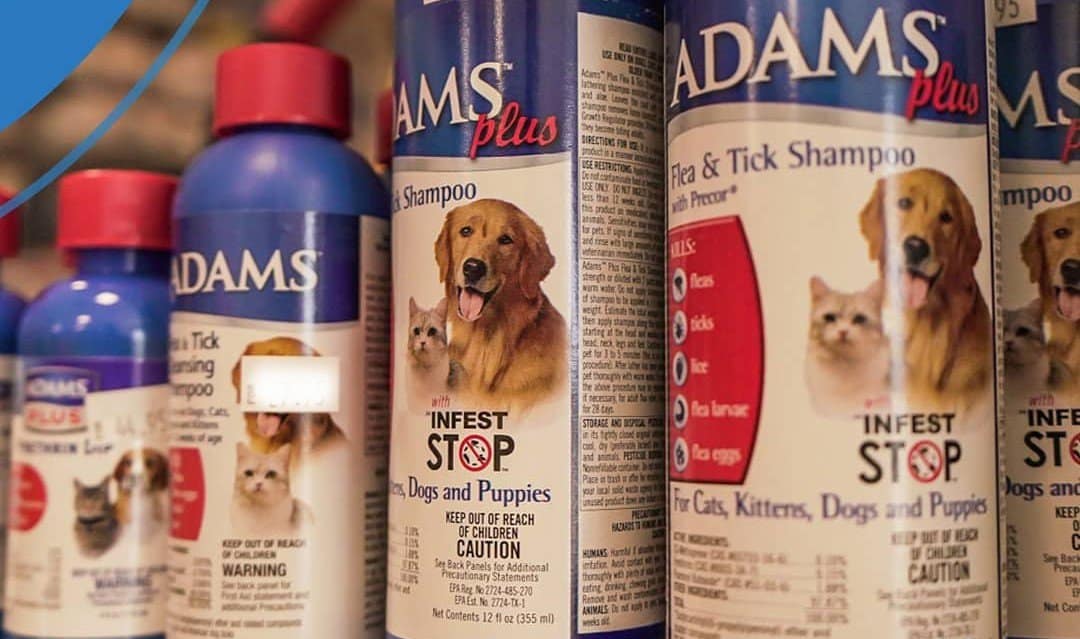 Adams is a well-established line of pet care products sold since 1975. The company offers a wide range of anti-parasite products, in particular flea and tick treatments for cats and dogs.
Adams Plus Flea & Tick Shampoo with Precor® is essentially a flea bath boosted with an insect growth regulator that breaks the parasite's life cycle by preventing further hatching for 4 weeks after use. This is a truly strong, medicated cat shampoo that also kills flea larvae and, as a bonus, has been found to relieve dandruff.
It is safe to use on kittens at least 12 weeks old as well as adult cats. The formula is based on a combination of piperonyl butoxide with pyrethrins, organic compounds that occur in chrysanthemum flowers and are widely used as insecticides.
The shampoo comes in a 24-oz bottle, which is clear enough to deliver a number of cat flea baths, complete with a pump to facilitate dispensing. It also features a soothing formula with oatmeal, aloe, coconut extract, and lanolin.
This is a welcome addition to sensitive skin. The formulation is ready-to-use, the only inconvenience being that it takes 5 minutes to kill the fleas and larvae populating your pet's fur.
Pros:
Cons:

highly effective in killing fleas;
breaks flea life cycle by killing larvae and preventing eggs from hatching over up to 28 days;
lathers well;
fresh smell;
special sensitive skin treatment;
easy-to-use bottle design.

you MUST wear gloves while using it;
causes eye irritation, so be sure to avoid eye contact;
only safe for kittens of 12 weeks and older.
2. Natural Chemistry's Natural Flea Shampoo for Cats & Kittens: Best Flea Shampoo for Kittens
Specifications:
Active Ingredient: Clove oil
Item Volume: 16.9 Fluid Ounces
Item Weight: 1.2 Pounds
Item Dimensions: 2.5 x 2.5 x 8.5 inches
Target pests: Fleas, Ticks, Black Flies & Mosquitoes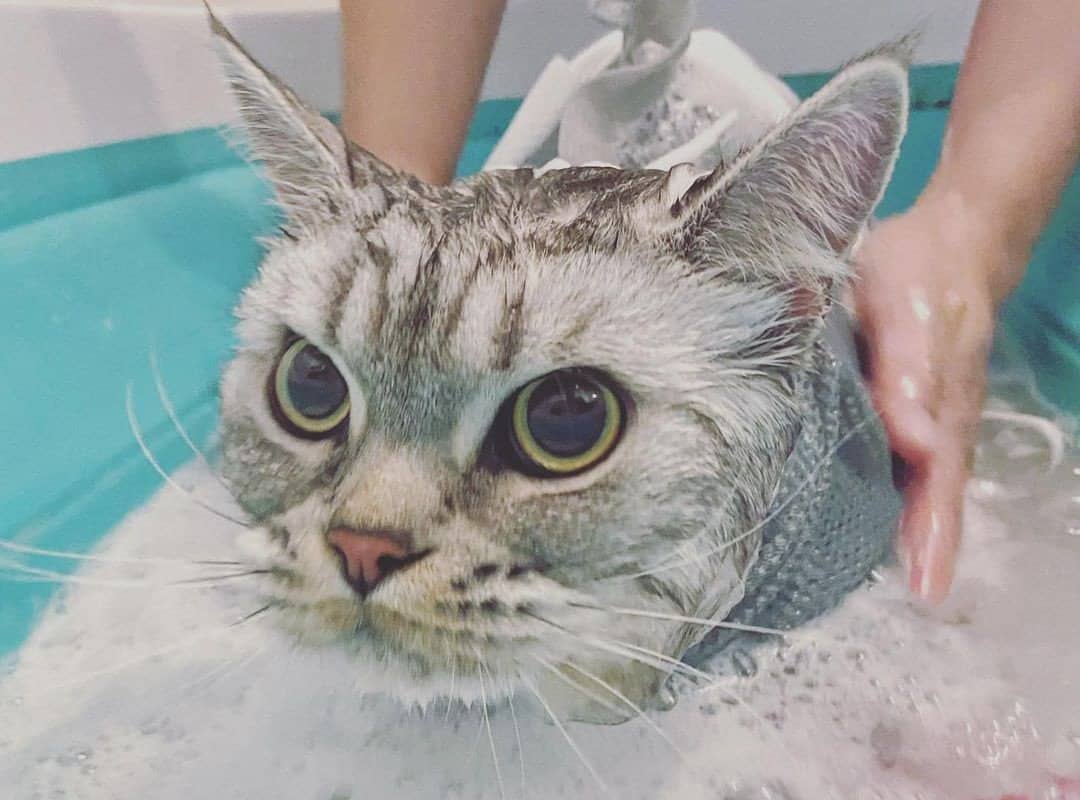 As its name clearly suggests, the manufacturer focuses on naturally-based products.
The shampoo is thus a good choice for those suspicious of harsh chemical formulas. It combines botanical ingredients such as cinnamon, clove, and cedarwood oil that act in synergy to kill existing fleas and prevent re-infestation for up to a week.
Remarkably, the product has a pyrethrin-free formula. Pyrethrins are naturally occurring compounds with insecticidal properties that may affect our nervous system when released into the environment.
Natural Flea Shampoo for Cats & Kittens comes ready-to-use in a 16.9 oz bottle. It can be used to bathe a cat or kitten of any age, which is a considerable advantage for owners of younger pets. However, the manufacturer emphasizes that body temperature must be monitored for newborn kittens.
Besides, it's advisable to consult a vet before treating a pet that young. This product has an interesting, catchy smell that stays on the fur for a long time. Although undoubtedly natural, some people might find it too harsh.
Pros:
Cons:

effective in killing fleas;
prevents further infestation for up to 7 days;
safe for kittens (any age);
natural smell;
natural formula;
pyrethrin-free.
3. SENTRY PurrScriptions Flea and Tick Shampoo for Cats: A Fragrant Flea Wash for Cats
Specifications:
Age Range Description: Kittens
Scent: Coconut, Fresh
Item Volume: 12 Fluid Ounces
Item Weight: 0.7 Pounds
Item Dimensions: 1.69 x 2.69 x 7.4 inches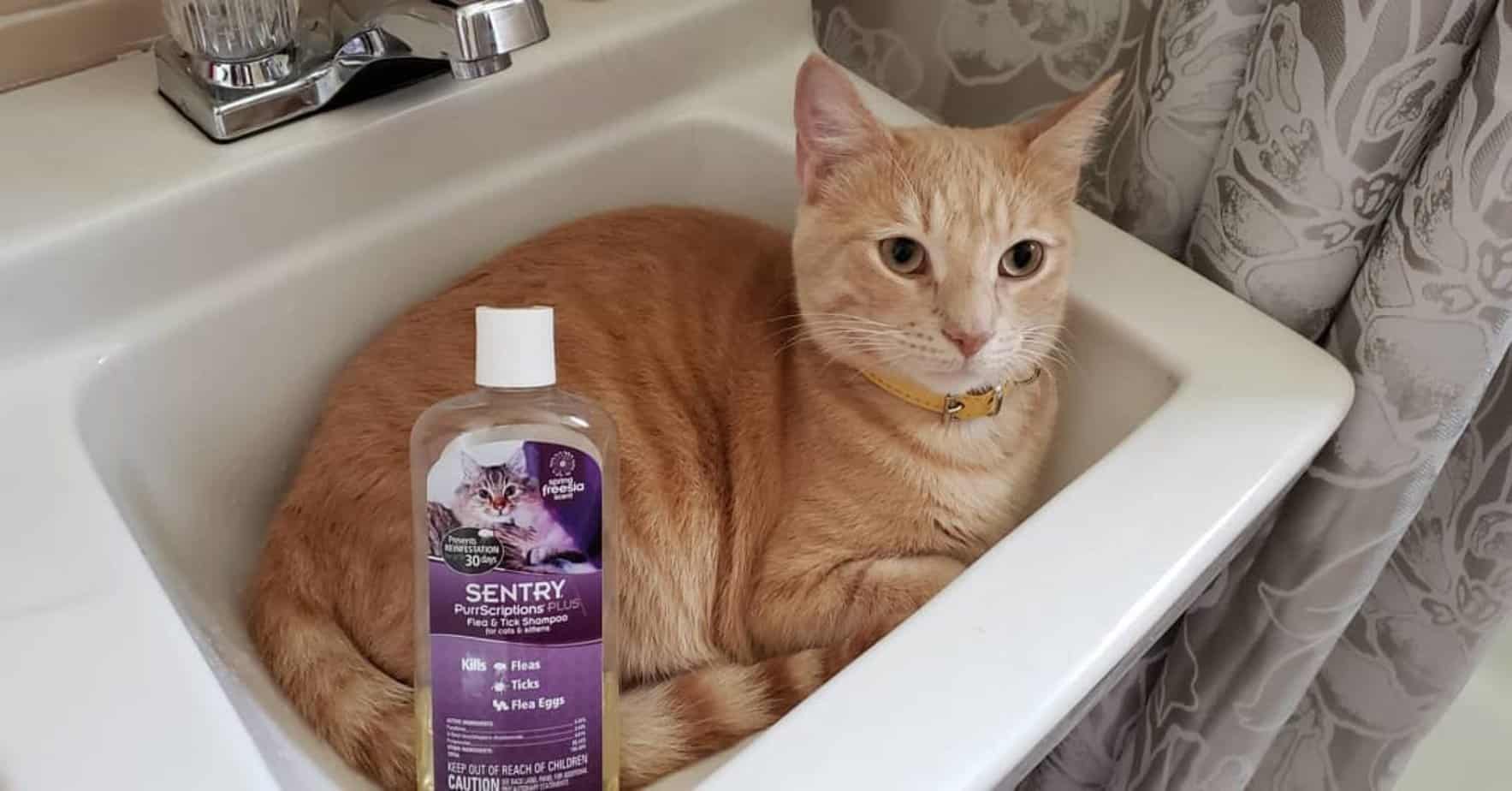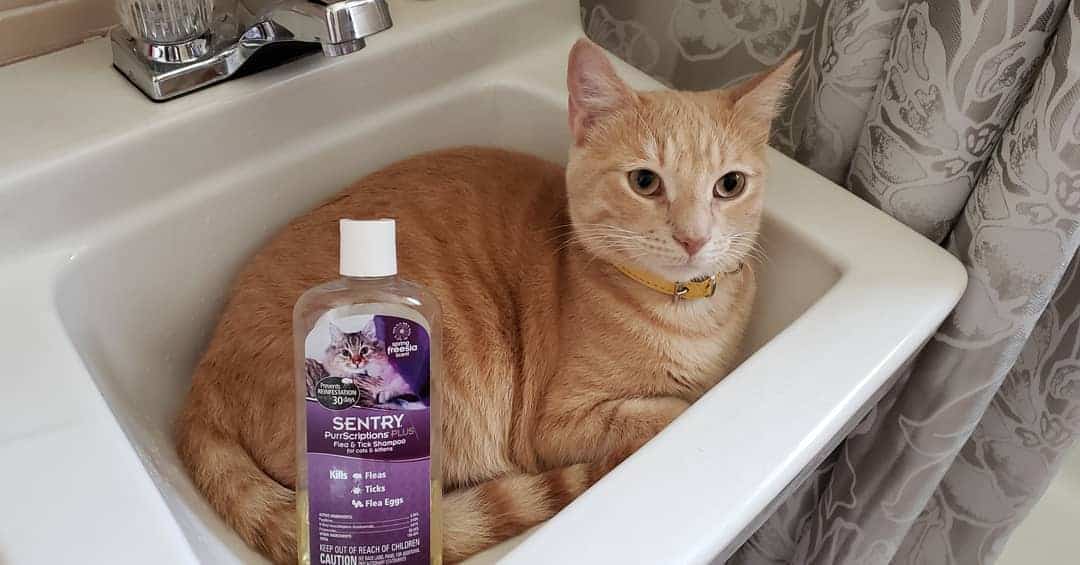 This shampoo contains coconut conditioners that are good for a feline coat, making it shiny and more groom able. It also has a sweet coconut berry scent, which I found quite appealing.
Just like the above-mentioned solutions, PurrScriptions Flea and Tick Shampoo for Cats is a ready-to-use treatment, meaning you don't need to mix it on your own. All you do is lather the wet animal and rinse its coat with warm water. However, the manufacturer suggests that you leave it on for four to five minutes for better effect.
This can, of course, be a challenge with a cat that's clearly not willing to bathe. The manufacturer makes no claims about the shampoo's ability to prevent further infestation — a major disadvantage for those who own several pets, making it difficult to contain the epidemic.
According to the label, you need to wait for at least two weeks before re-applying the product. This product is only safe for kittens at least 12 weeks of age.
Pros:
Cons:

effective flea killer;
sweet coconut berry smell;
improves grooming ability and coat luster.

no potential for prevention;
only safe for kittens of 12 weeks and older.
4. Vet's Best Advanced Strength Flea + Tick Cat Shampoo: The Best Natural Flea Shampoo for Cats
Vet's Best uses a scientific approach to combine botanical ingredients into reliable and healthy formulations. Founded by a professional veterinarian, the company's been on the market for over 35 years and offers a number of plant-based pet care products.
Advanced Strength Flea + Tick Cat Shampoo is a blend of certified natural clove and cottonseed oil, the rest being inert ingredients. Although pyrethrin-free, the formula is not to be used on kittens under 12 weeks of age.
Naturally-based as it is, it still lathers easily, producing a strong herbal smell that will linger on your feline friend's coat.
I find that this flea killer does well in most cases. Yet, it might fail when the infestation is massive, leaving some of the pests alive in the fur. Unlike most kinds of flea wash for cats, this treatment can be re-applied as necessary as long as you don't use it more than twice a day.
Pros:
Cons:

lathers well, easy to rinse;
deodorizes;
can be re-applied after a short interval.

not the most effective treatment for massive infestations;
only safe for kittens of 12 weeks and older.
5. Vet's Best Flea and Tick Waterless Bath Foam for Cats: Best Dry Flea Shampoo for Cats
This is another product by Vet's Best, a company specializing in natural pet care formulas, that can read your furry companion of fleas.
It features plant-based active ingredients such as eugenol and peppermint oil, combined with sodium lauryl sulfate, or SLS, a widely used detergent which also increases the lathering ability of the mix. The drawback here is that SLS can cause skin irritation unless rinsed off promptly (which is clearly not the case with dry shampoo). The manufacturer recommends doing a test spot 60 minutes before actual treatment to see if any signs of sensitivity appear.
Since Vet's Best Flea and Tick Waterless Bath Foam for Cats does not require rinsing, you'll probably find it easier to use than traditional shampoos (unless your cat is a bath lover). The waterless formulation is time-saving — all you do is sparingly apply the foam to your pet's coat, avoiding sensitive areas such as the eyes, nose, mouth, and genitals. Make sure to let the mix dry on the fur before the animal begins to groom itself!
The foam comes in 5- and 8-ounce bottles with a pump for easier dispensing. If you don't like strong chemical smells, you'll appreciate the fact that this waterless flea shampoo for cats contains no added perfumes. It leaves an intense clove smell, however, that tends to linger.
This is an efficient flea killer that also destroys eggs but doesn't promise any prevention, which might be a nuisance for those living in high flea risk areas. According to the label, this flea treatment is only safe for cats 12 weeks and older.
Pros:
Cons:

no bathing needed;
deodorizes;
no added perfumes;
plant-based formula.

no potential for prevention;
only safe for kittens of 12 weeks and older;
you need to keep your cat from grooming itself until the foam has dried.
6. Zodiac Pet Products Flea and Tick Shampoo: An Affordable Yet Powerful Flea Killing Shampoo for Cats
No products found.
Specifications:
Active Ingredients: Pyrethrins 0.05% Piperonyl Butoxide 0.50%
Scent: Coconut
Item Volume: 18 fl. oz.
Item Weight: 1.13 Pounds
Item Dimensions: 2.61 x 2.61 x 7.94 inches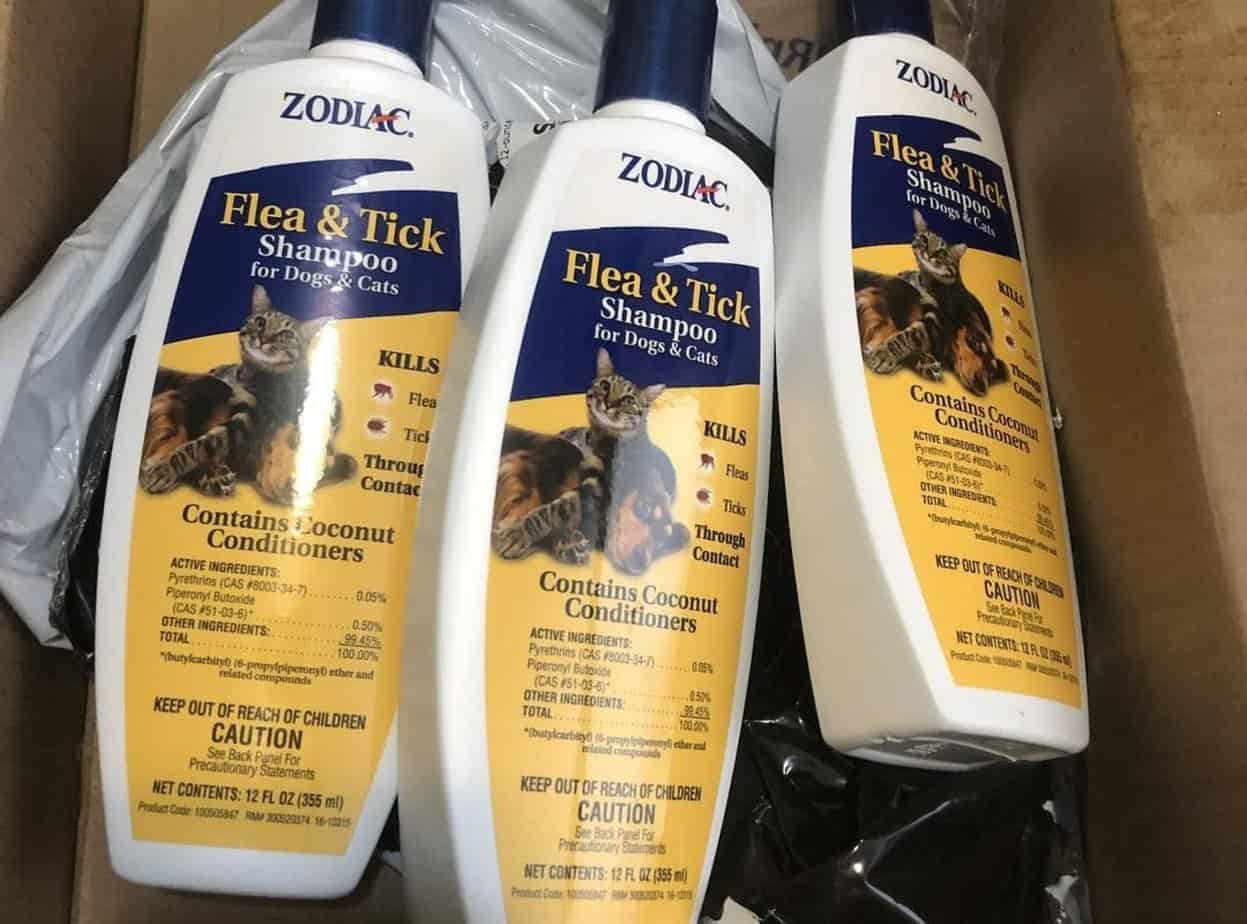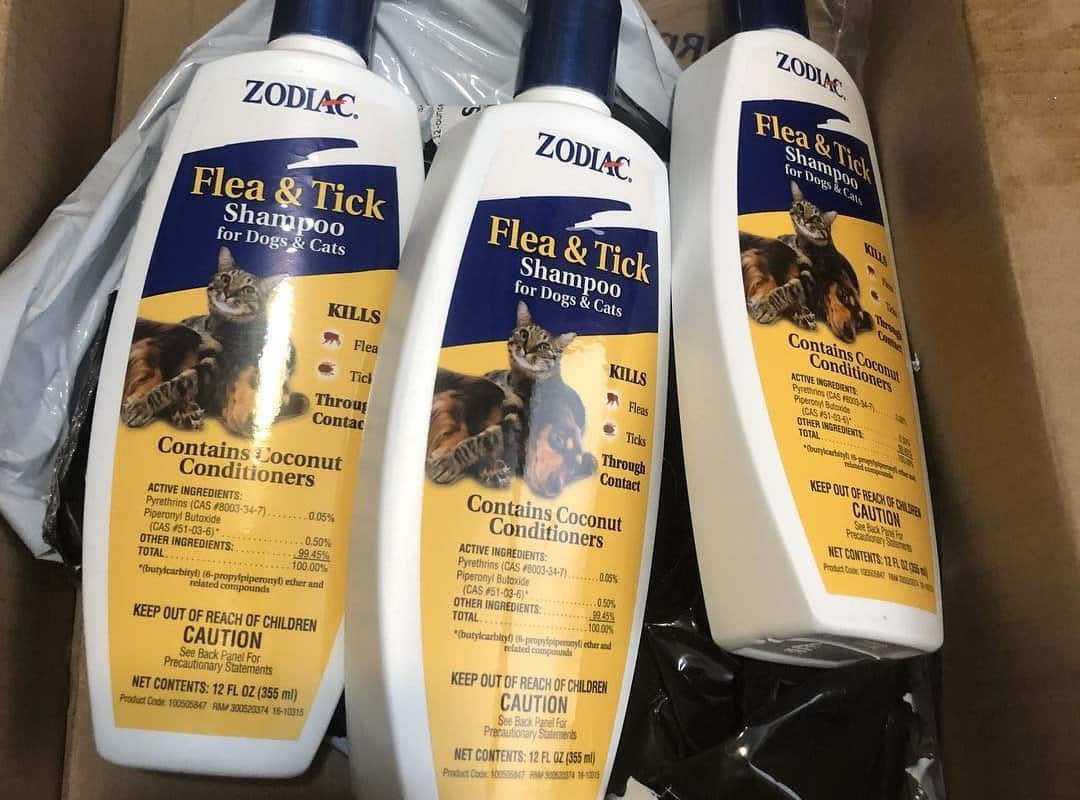 Zodiac specializes in anti-flea products for cats and dogs as well as pest control for homes and gardens. Their Flea and Tick Shampoo features an effective formula based on piperonyl butoxide, combined with pyrethrins for increased insecticidal potential.
This is an alcohol-free formulation enriched with coconut conditioners that make feline fur softer and more groom able without irritating the pet's sensitive skin. Like most flea killing shampoos for cats, this product is ready-to-use and comes in 12- and 18-ounce plastic bottles.
The label says that you need about 1 1/3 tablespoon of the shampoo per 5 lb of the pet's weight, meaning that even the smaller size will last if you only have one cat to treat. It's also quite affordable compared to other options on the list.
The shampoo can be applied as often as once a week if needed to control reappearing fleas since it doesn't kill larvae or prevent egg hatching. However, frequent bathing can be uncomfortable if your pet's skin is sensitive and prone to dryness.
Zodiac recommends pairing the flea bath with bedding and/or home treatment using appropriate products, which is sound advice given the fact that these parasites tend to spend most of their time off the host. This product makes a safe kittens flea bath provided that your pet is at least 12 weeks old.
Pros:
Cons:

effective flea killer;
conditioners for soft fur;
affordable price + bigger bottle is available.

no potential for prevention;
only kills adult fleas;
only safe for kittens of 12 weeks and older.
Buyer's Guide
So, what is the best flea shampoo for cats? The answer depends on a number of factors. There's a wide range of products available on the market nowadays that differ in use and scope as well as price.
The first aspect to consider is your pet's age. Most shampoos are only safe for cats that are at least 12 weeks old. If you're looking for a kitten flea shampoo to bathe a younger feline, pay attention to plant-based formulations that are declared to be safe for any age.
Prevention is another important factor as frequent bathing can be both stressful and bad for your cat's skin, so you might appreciate larvae-killing formulas or those that contain an insect growth regulator like Precor®. What such products do is break the fleas' life cycle, minimizing the chance for the pests to return in the nearest future.
Related Post: Advantage II for Cats Reviewed: Does It Work?
Remember, however, that any pesticide has the potential to cause sensitivity reactions and irritation, so follow the manufacturer's directions regarding hand protection and pre-use testing. As an alternative, you can bathe your cats on a regular basis to control returning fleas provided that the manufacturer doesn't recommend against it.
Most labels specify the maximum acceptable bathing frequency to avoid toxicity and irritation.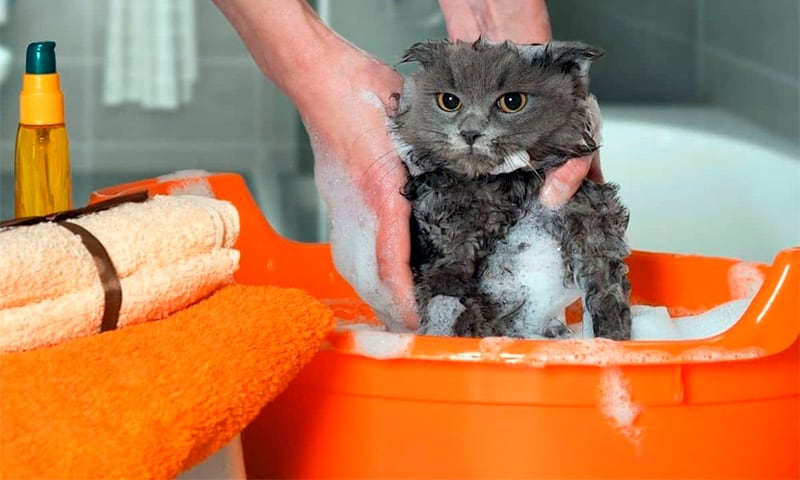 Dry skin may be a source of considerable discomfort for your pet. Thus, combining anti-parasite treatment with coat care can be a good idea. If you feel like a hair-softening formula might be a welcome bonus, look for products that feature natural-based conditioners. It's general practice to use coconut oil or extract to add luster and grooming ability to feline coats.
Waterless flea shampoo for cats will be a welcome solution for those whose furry friends tend to act out at the sight of water. A no-rinse formula can indeed spare you and your cat a lot of time and stress.
One drawback here is that you have to keep an eye on the patient until the product has dried completely since felines tend to lick things off their coat, which is of course not at all healthy.
Finally, the smell can be either a bonus or a punishment depending on the perfume ingredients and/or essential oils included in the formulation. Tastes do differ, but my suggestion is to look for either naturally scented plant-based products with mint, cloves, or cinnamon if this is the kind of smell that appeals to you or choose one with a sweet fragrance that can muffle the harsh pesticide odor.
Most flea shampoos have an intense scent that will linger for some time, so this is something to pay attention to if you have a sensitive nose.
FAQ
Can You Use Flea Shampoo for Dogs on Cats?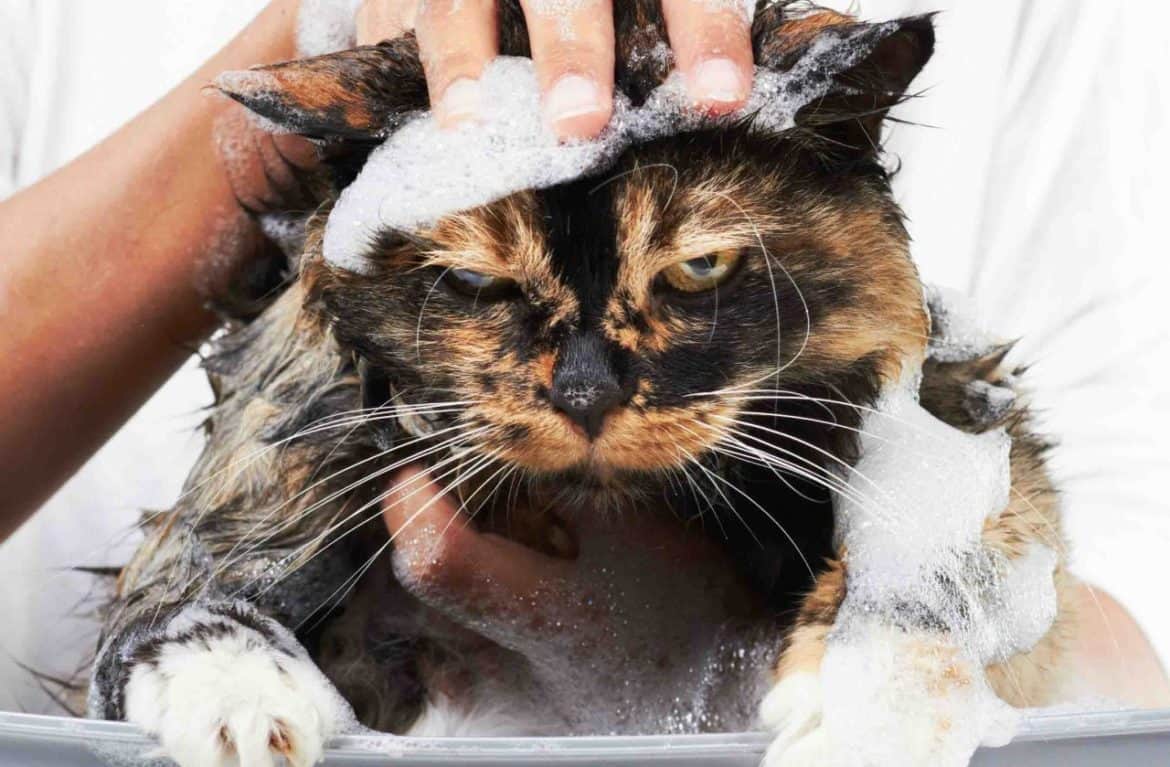 No, you can't. Some pesticides that can be used for controlling fleas on dogs can be toxic to cats (and vice versa). That is, if you are looking for a safe flea shampoo for cats, choose one that has "for cats" written on its label or a product designed for both felines and canines.
How to Give a Cat a Flea Bath?
Waterless products don't need to be rinsed off; you just massage them into the animal's coat and let them dry. With traditional shampoo, however, you need to first wet the cat's fur and then apply the product to its whole body, avoiding sensitive areas like around the eyes.
Some manufacturers specify that you should start with the head. It's usually recommended to leave the lather on for several minutes.
Does Shampoo Kill Fleas?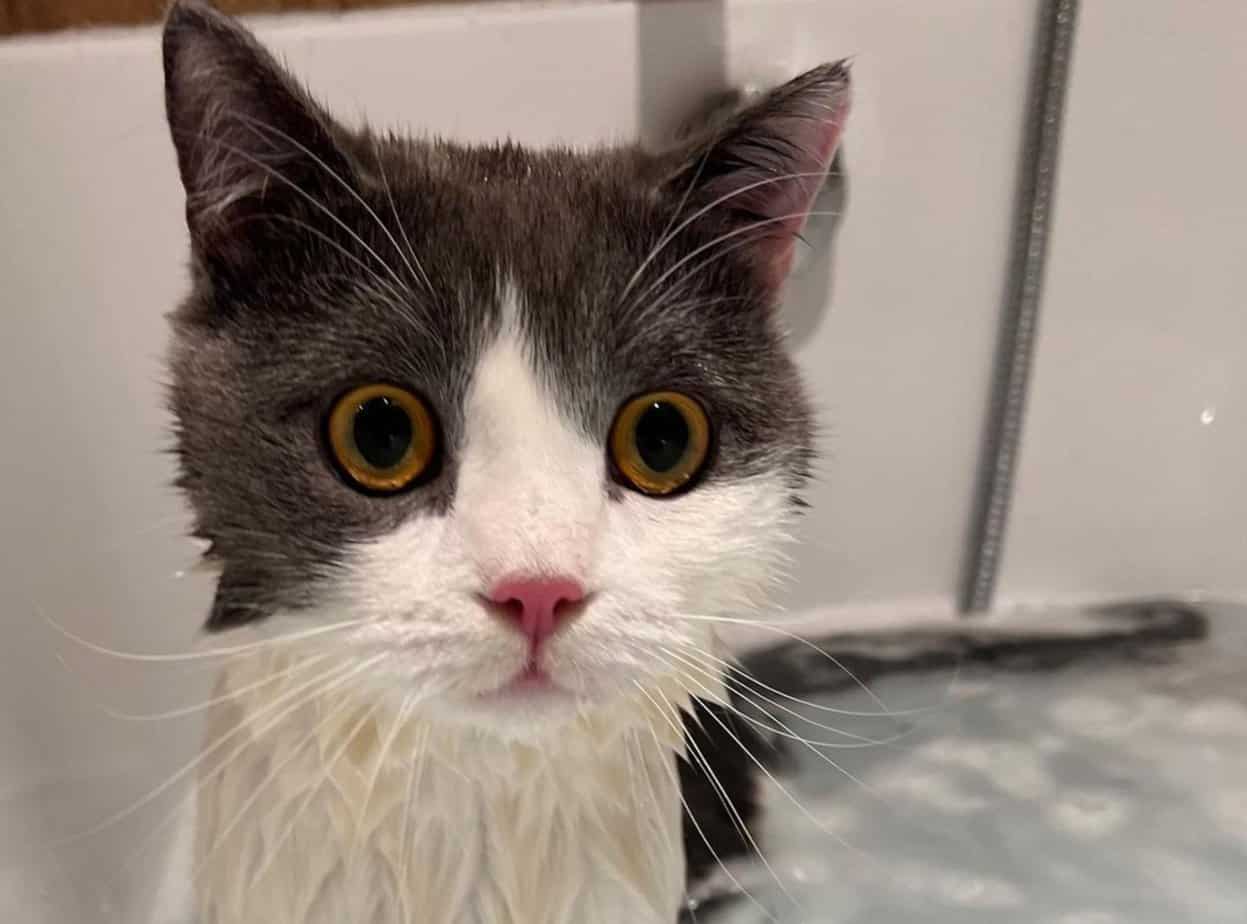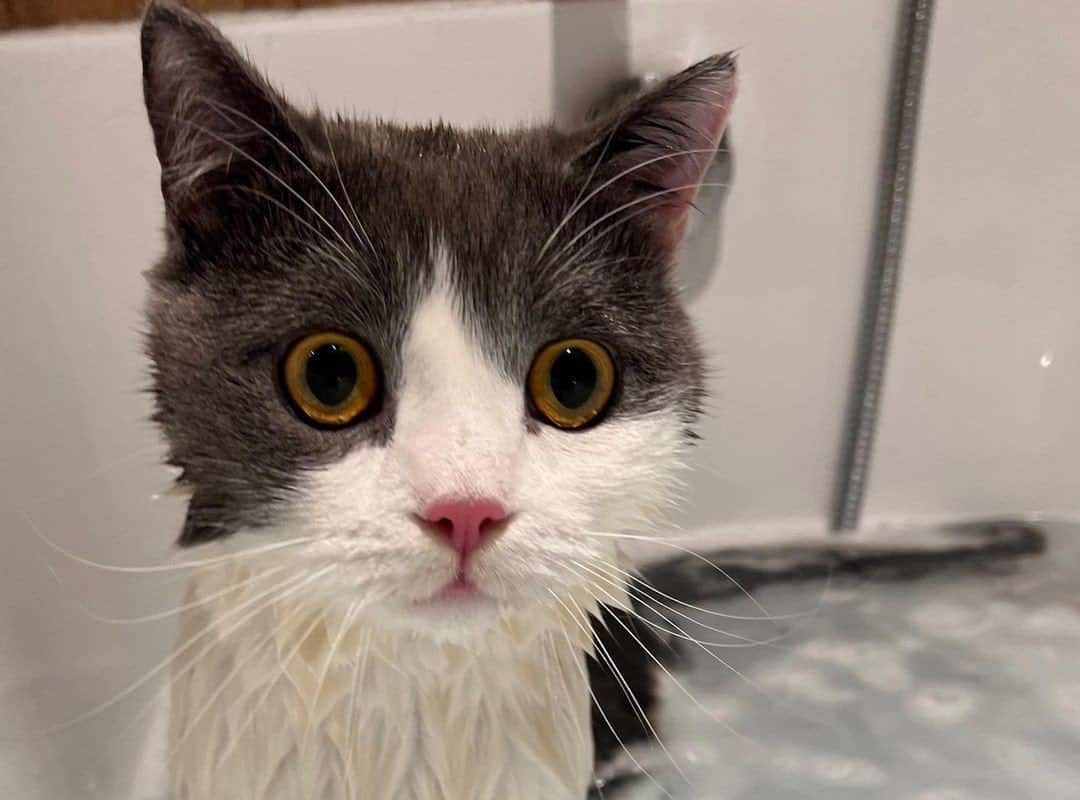 Yes, it does. Most shampoos kill adult fleas, while others are also active against larvae (which is a great advantage since it's the only way to break the parasite's life cycle).
How Often Can You Give a Cat a Flea Bath?
This depends on your product of choice. Be sure to read the labels for directions as formulas differ ineffectiveness and potential toxicity. As a rule, shampoos that have a combination of piperonyl butoxide and pyrethrins as their active ingredients can be reapplied after a week or two following initial treatment, while some plant-based products may be used on a daily basis.
Related Post: What Are the Best Flea Collars For Cats?
When Is It Safe to Give a Kitten a Flea Bath?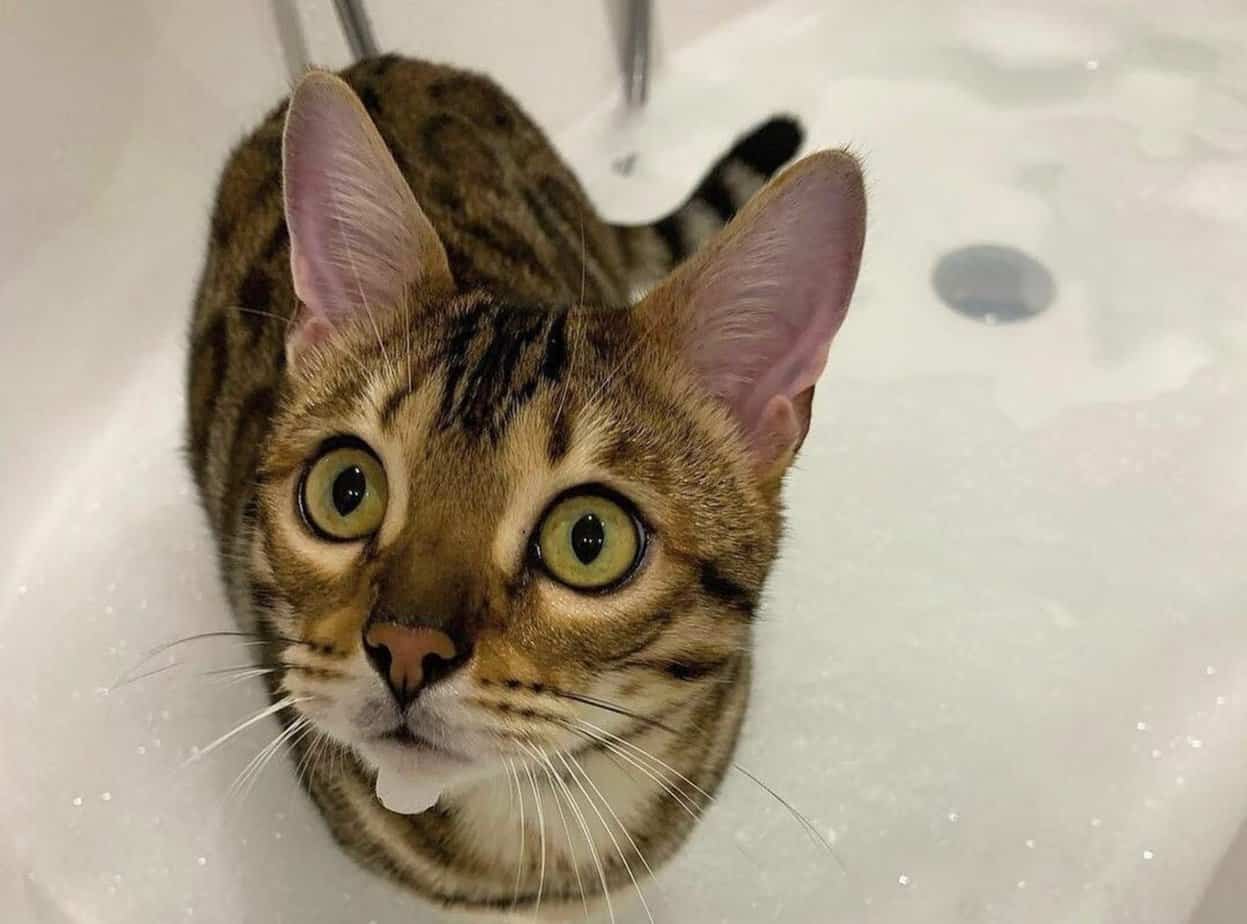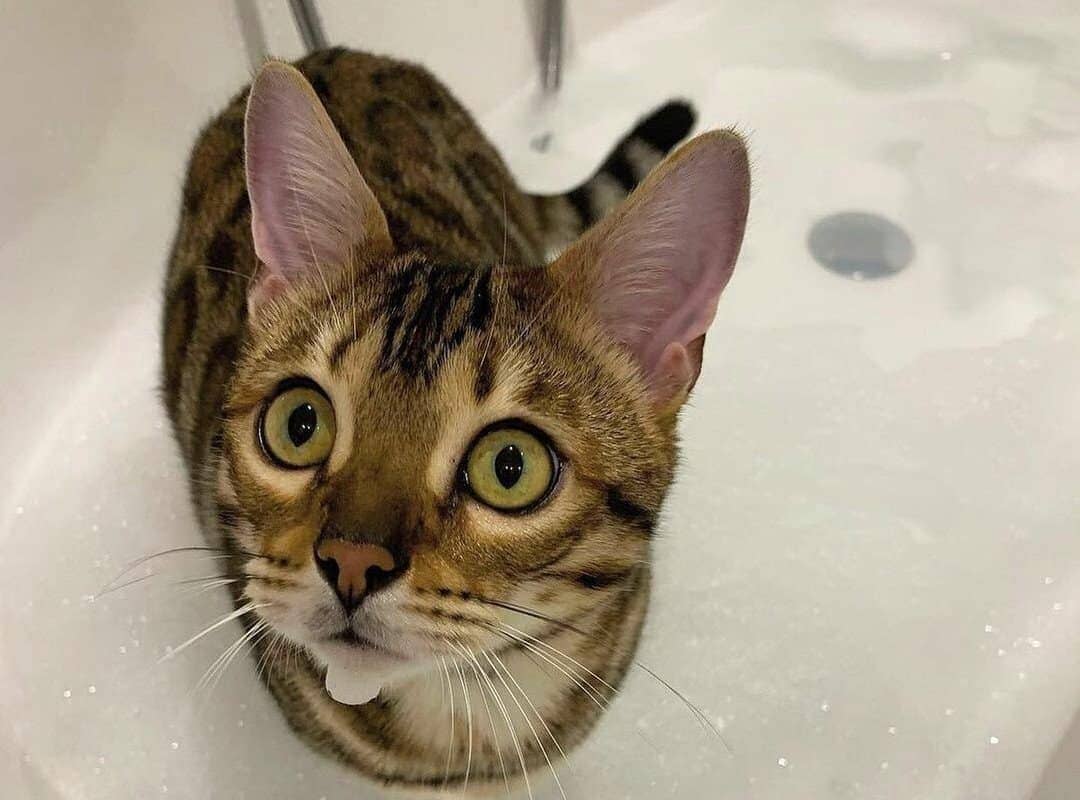 Most flea shampoos are only safe for cats 12 weeks of age or older. However, there's a number of kitten products on the market that can even be used to treat new-born animals. Always check the label to make sure the treatment you've chosen is safe for your young feline.
Related Post: Best Flea Shampoos for Dogs.
Takeaways
Flea shampoo can be an effective means of parasite control as long as you find the product that best fits your pet.
Today's market offers a broad choice. Factors to be taken into account include the cat's age, risk of repeated infestation, skin and coat condition, and the product's prevention potential.
Since bathing is usually a stressful experience for both the owner and the pet, it's worth choosing a product that's easy to use. Apart from traditional shampoos, dry formulations can be a convenient solution. Pleasant smell and silky fur might be a bonus, too.




Do you find it a challenge to give your cat a flea bath? If so, what's the most stressful part?
References:
Public Health Statements (Agency for Toxic Substances and Disease Registry):
https://wwwn.cdc.gov/TSP/PHS/PHSLanding.aspx
Human and Environmental Toxicity of Sodium Lauryl Sulfate (SLS): Evidence for Safe Use in Household Cleaning Products (US National Library of Medicine National Institutes of Health):
https://www.ncbi.nlm.nih.gov/pmc/articles/PMC4651417/
Controlling Fleas and Ticks on Your Pet (United States Environmental Protection Agency): https://www.epa.gov/pets/controlling-fleas-and-ticks-your-pet
Why You Should Trust Pest Control Hacks?
We know that pests are nasty neighbors, and it can take months to eliminate them without the right approach. Our experts use their own experience to compile articles and guides that are introductory and informative. Our authors' opinions are independent and based on the results of practical testing of pest control tools. We do not notify manufacturers of testing of their products and do not receive payment from them for posting their items. Also, our texts are never submitted to company representatives for proofreading before placement. On the site, you will find exclusively objective ratings and reviews.