You may frequently vacuum your house and check your cats or dogs for fleas regularly. However, even by doing so, you can't guarantee that your pets won't be attacked by these insects someday. Since cats and dogs like staying out in the yard that is the key source of getting fleas in their fur, you may find yourself wanting to deal with these tiny insects in your yard for good.
If you decide to get rid of these species around your house, you need to get the best flea killers for a yard. It may be challenging to choose the right treatment right away because of the variety of solutions available on the market. With my vast experience in pest control, let me help you to choose the best option by reviewing the most working flea killer products.
So, if you were looking for means to terminate these insects from your outdoor areas, you've come to the right place. In this article, you will find reviews of the top seven products that will help you to kill fleas in the yard.
The Best Seven Best Flea Killers for Yard
No products found.
If you want to get rid of fleas around your home, then the best decision is terminating them for good. If you don't eliminate these pests from your area and just drive them out for some time, they will always get back to your place, attacking your pets and getting inside your house. Thus, get through these seven reviews of products for yard flea control that I profoundly recommend.
1. Control Solutions Inc. 36.8 % Permethrin – The Best Flea and Tick Yard Spray
No products found.
If you are wondering how to treat yard for fleas as soon as possible because you're dealing with a serious pest problem, then you should get yourself this insecticide. It is definitely the best spray for terminating these pests because it contains an active ingredient that is effective in eliminating fleas and other parasites.
Also, this Control Solutions product is among the most preferred options used by pest control experts because of its long-enduring activity, as well as easy application.
The active element of this treatment is Permethrin. It is an artificial pyrethroid that kills pests on contact. You need to sprinkle all contaminated places or probable hiding areas with this Control Solutions treatment properly. It will ensure you terminate not only the adult insects but also their larvae, thus, cleaning your yard from these species.
This item contains 32 fluid oz of pesticide and can be applied to different areas, including branches, bushes, grass, or any other place where these pests can hide. What I like about this insecticide is that it can eliminate many other pest species. What is more, it can be used in both households and workplace areas, as well as recreational areas, including fields.
This product was made to provide quick, efficient, and lasting results. Also, it is cost-effective since one bottle of this Control Solutions treatment translates into a 20-gallon solution that is enough to cover a lawn of any size.
The only thing I don't like about this insecticide is that it is highly hazardous to cats and, per contact, can result in severe allergic reactions. Once you treat your yard with this solution, don't let your cat play outside for a day or two.
Pros:
Cons:

Can kill over seventy-five pest types;
Works for both industrial workspaces and households;
Affordable;
Provides quick, efficient, and lasting results.

Extremely hazardous to cats.
2. Wondercide Natural Yard Spray – Best Natural Flea and Tick Yard Treatment
If you're looking to terminate fleas but do not want any exposure to dangerous chemicals to your family members or pets in your household, then you should get this natural pesticide. It consists of natural ingredients that work great against fleas, as well as other pests, while still being safe for people and mammals. The main active component of this solution is cedar oil, making it a powerful flea repellent for yard and ultimate pest killer.
Cedar oil allows terminating adult fleas, as well as affecting their larvae. You can apply this product to your yard, bushes, plants, as well as any other places where you suspect fleas are hiding. If you have a serious infestation in your area, apply this Wondercide solution at least two times in ten days, and once monthly or every one-and-a-half months for lasting control. To use this item, simply attach the container to a hose and spray your yard with this natural treatment.
What I especially like about this option is that it doesn't have any toxic chemicals, artificial scents, colors, or pesticides. So, it is safe for your little ones, pets, bees, etc. Besides, you can step on the treated area without worrying about skin reactions. Also, you don't have to wait for the mixture to dry to enjoy your yard.
This product is easy to use. You need to mix the needed amount of treatment inside the applicator, filling it to the brim with the instructed amount of water. Then, use the mixture for spraying the yard.
You may spot a couple of negative flea and tick yard treatment reviews on this Wondercide natural solution with customers saying that it isn't as effective on fleas as indicated on the label. However, it is essential to understand that a safe, natural solution won't provide instant and overwhelming results as it is with insecticides. However, in the long term, it will prove its efficacy and remain safe for people and animals around.
Pros:
Cons:

Can be used even for extremely large yards;
Completely safe for kids and pets;
Easy to apply;
Natural treatment.

Not the most effective option among the reviewed products.
3. Control Solutions IGR Concentrate – Best Flea Treatment for Yard for Mixing with Permethrin
Once you mix this IGR concentrate with Permethrin, you will get the best flea spray for yard for getting rid of these insects forever. This mixture won't become less effective even after getting exposed to sunlight for up to two weeks. It makes it practical for both sunny and shaded areas of your lawn.
This small 110 ml container can be used up to 42,000 square meters. To clear your yard from fleas, apply roughly 7 ml of the pre-mixed solution for every 1000 cubic feet. Moreover, the solution can be applied both indoors and outdoors as ULV/fog or space spray. You can even spray it in places where you store, process, prepare, and serve food if you spot too many fleas inside your house.
This pesticide is made with Pyriproxyfen as the active ingredient that is safe for pets. Besides, the effect of this product lasts for long, up to seven months. So, it will keep terminating fleas for seven months after application in case some species get to your area from other territories. Besides, this Control Solutions IGR Concentrate allows getting rid of many other pests, including crickets, mosquitoes, roaches, beetles, and flies.
Pros:
Cons:

The effect lasts for seven months;
Effective even after continuous exposure to sunlight;
Safe for pets;
Allows getting rid of many types of pets.

Hazardous for birds, squirrels, and other mammals until dries out completely dry.
4. Vet's Best Flea and Tick Spray – Flea and Tick Lawn Spray That Offers the Best Value
If you're in search of a yard spray for fleas with the best value, then you should get this Vet's Best flea and tick spray. It is made of natural essential oils instead of chemical insecticides. These oils have elements that allow terminating fleas for good.
The components of this spray block adrenaline and octopamine in these pests, causing issues in their nervous systems that lead to their death. However, this Vet's Best solution will not work on pests forever, as these creatures are capable of building up counteraction to even the most potent and toxic insecticides. Still, this product is environmental-friendly and can help you to get rid of fleas in your yard for many months for sure.
Since cats are mostly allergic to essential oils, you can mix the treatment with water, this way, slightly changing the concentration of ingredients and making it safe for your pets, too. What I love about this solution is that it's easy to use and comes with a refill pack. So, a 96-ounce bottle of Vet's Best concentrate will be enough to mix for three 32-ounce spray containers.
Also, this treatment is natural, making it environmentally safe, as well as not hazardous to kids and dogs. Nevertheless, the components may cause allergies in some people, so be careful when applying it, especially for the first time.
Note that this solution allows getting rid of pests upon direct contact, so you need to spray it over your yard attentively. However, you will have to apply it several times, especially if you mix the concentrate with water, to ensure effective results.
Pros:
Cons:

Value for money;
All-natural, thus, safe for the environment;
Safe for kids and pets;
Easy to apply.

Needs several applications to be effective;
May cause allergies in some people.
5. Black Flag Flea & Tick Killer Yard Treatment Spray – Great Flea Killer for Yard of Large Size
It is a widely-known flea killer spray used by house owners all over the country dealing with flea infestations. The Black Flag treatment spray contains Permethrin, and as we already know, it is a powerful pesticide that terminates fleas. The effect of this product lasts for long, killing pests for up to thirty days after application.
However, the substance is hazardous for cats, so you need not let your pet outside until the solution dries out so that your cat won't access the treated surface. The spray is easy to use, and all you need to do is mount a hose to the bottle. With this Black Flag spray, you can cover a big area in a short span.
This 32 oz container can work on up to 5000 sq. ft. To achieve its maximum effectiveness, make sure to spray it on all surfaces that are infested with fleas, including your yard, porch, potted plants, as well as other vegetation.
To sum up, what I love about this solution is that it allows covering even large areas quickly and works for long. If you have a really large yard, it is your best bet.
Pros:
Cons:

Can cover a large area;
Has a lasting performance;
Easy to use.

May cause allergies in some people;
Hazardous to cats.
6. Spectracide Triazicide Insect Killer Concentrate – A Powerful Flea Insecticide for Yard for All Pests
This concentrate is made to deal with many types of pests, whether in the garden, lawn, or yard. The Spectracide formula allows terminating insects that are even below ground, leaving them with no place to hide. Mix the concentrate with water in a tank sprayer, and you're good to go.
You can spray this solution on nut and fruit trees, vegetables, shrubs, trees, flowers, and roses safely. Besides, this formula is non-staining. However, make sure to check the instructions, as there are guidelines for particular vegetables.
They include the recommended intervals between treating and how many days to wait before harvesting.
This product allows getting rid of over 250 pest species in your yard upon contact. To achieve the best results, apply this concentrate once you spot fleas outside your house before their population increases.
Pros:
Cons:

Kills over 250 types of pests;
Affordable;
Easy to use;
Non-staining.

Needs several applications.
7. Ortho Flea Killer – The Best Outdoor Flea Killer in Granules
This flea and pest killer is a great option for house owners that prefer granules to spray solutions. You can apply this treatment on your yard, lawn, vegetable gardens, etc. Make sure to put gloves on before spreading the product over your area. Once you apply it over your yard, water the treated area to make the solution start working.
The ten-pound packet will cover an area of up to 10,000 square feet, while a twenty-pound pack will be enough for larger yards. This product will provide ninety days of protection for you, your family, and pets by killing spiders, ticks, fleas, ants, chinch bugs, mole crickets, cutworms, and sod webworms outside your home.
It will also eliminate nymphs, eggs, larvae, disrupting the entire life cycle of these pests. So, it prevents these species from getting inside your home and creates a pest barrier in minutes.
I like that this product is effective, easy to spread, and lasts for long. Also, it also has a nice scent.
Besides, you can get your money back if the product does not meet your expectations. Although I have tried this Ortho treatment several times and was extremely satisfied with its results, some of my friends stated that this solution damaged their flowers and vegetables after the application. So, if you want to get rid of fleas in your garden, check out one of the all-natural products mentioned above.
Pros:
Cons:

Easy to spread;
Can cover a large area;
You can get a refund if it doesn't work;
The effect lasts for ninety days.

Not as effective as the previous options;
Hazardous to grass, flowers, and other plants.
Buyer's Guide on Flea Killing Products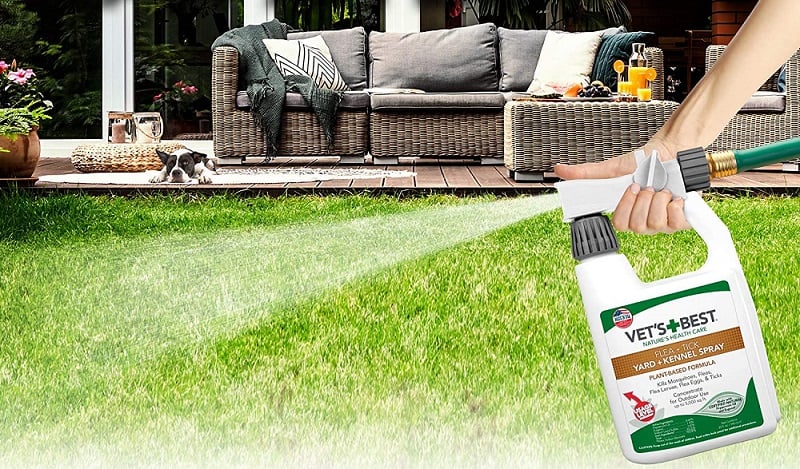 Now that I have covered the top seven flea killers on the market, you know what to look for in such products. Still, there are some factors that you need to understand before making a purchase. Let's take a look at the main features one needs to pay attention to while choosing a solution to terminate fleas in their yards.
Factors to Consider While Purchasing a Flea Killing Product
Purchasing a flea killer is not an easy task, but the information below will help you to make the best choice. The right treatment for your area depends on several factors, including the form of the product, the size of your yard, whether it's safe for your pets, among others. Let's take a look at them in detail.
Usage and Duration
Flea killing products come in several forms, such as granules, concentrates, sprays, etc. Some solutions only repel fleas or affect adult species, while others terminate insects in all life cycles, preventing them from developing and reproducing. The products that can help you to get rid of adult species together with their larvae are always pricier.
That's why it is important to go through the label of the chosen option carefully to select the treatment that will provide the desired results.
Another factor to consider is the ease of use of the chosen product. Most such treatments come with spray applicator. Besides, you need to check how long the effect after the application lasts. The longer, the better. Most options continue to work for up to a month, and cheap ones can get washed out by the rain.
What's more, it is vital to consider where the selected treatment can be applied. Make sure that you can use it on as many surfaces as possible. The allowed areas should include shrubs, flowers, gardens, vegetation, lawns, etc. This way, after the application, you will ensure that the biggest part outside your home is treated. Moreover, some products can be applied even indoors, so take it into account.
Coverage
Can a spray work for large yards or only small ones? For a small area, I recommend you to get a spray with a lower capacity. However, for bigger territories, you will have to either purchase a concentrate product or apply the solution several times to achieve the desired results. Besides, some products have the approximate coverage specified on their labels.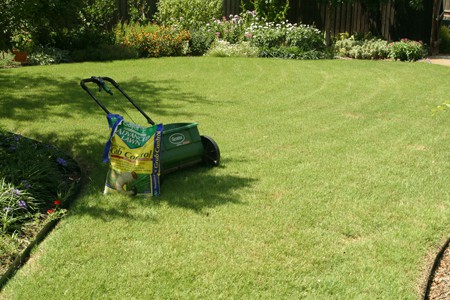 Ingredients
It is essential to check whether the product is made of chemical or natural components. Solutions with natural ingredients are usually non-toxic to kids, pets, as well as the environment. However, they are not as effective as chemical pesticides.
Flea sprays that contain chemical components tend to be more powerful. While not all such products are non-toxic for pets, especially cats, there are a few safe ones, too. However, you need to check the instructions carefully when opting for a chemical solution. It is not only for safety factors but also to ensure that you apply the product correctly.
Pets
It is vital to consider whether or not the particular solution is safe for usage around your pets. Carefully read through the components, as well as warning labels. While some sprays are made of natural ingredients, others contain harmful chemicals.
So, some solutions are safe to spray with pets around, while with others, you will have to apply the treatment and let it dry before letting your pets play outside. So, make sure to consider all of these factors before purchasing any product to terminate fleas in your yard.
FAQ
Below are my answers to the most common questions on flea killing solutions. I hope that this information will help you to sum up all the knowledge gained on this matter.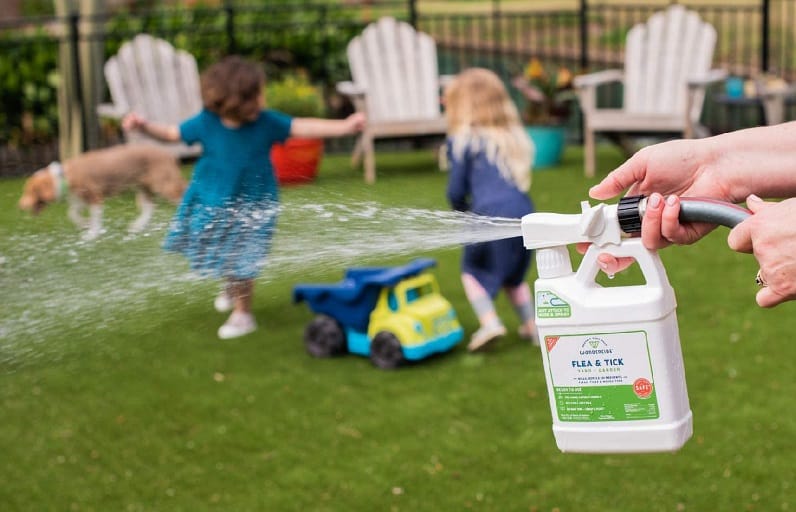 What Can I Use to Kill Fleas in My Yard?
There are several ways to terminate fleas around your house. The two main methods include chemical flea killers, such as using sprays, as discussed in this review. I find it the most working way to eliminate these species around your property.
Alternatively, you can opt for some natural homemade remedies to apply around your home. However, be ready that they won't be as effective as special flea control products. Here are some natural options you can try to get rid of this species around your house.
Related Post: How to Get Rid of Sand Fleas.
Diatomaceous Earth (DE)
It contains silica shards used to slice through the waxy exoskeleton of the flea, leading to the dehydration of their bodies and the eventual death of all the adult pests and their larvae. While handling this product, make sure to put on gloves to prevent your hands from drying.
Sprinkle food-grade DE on your pets' beds, as well as furniture. Let the product settle and leave it for seventy-two hours. Finally, thoroughly vacuum all your surfaces to eliminate pests and remains of diatomaceous earth.
Related Post: 7 Best Flea Foggers (aka Bombs) Reviewed
Dawn Dish Soap
This non-chemical solution can also be used to eliminate fleas. It destroys their exoskeletons, therefore, killing them. Soap works by breaking the waxy part inside the breathing system of an insect, letting moisture enter, leading to asphyxiation. Besides, this product lowers the surface tension of water. Thus, it causes fleas to be immersed in water after they sink, working as a surfactant.
Fine Salt
Fine salt will terminate fleas since it is well-grounded. Spread the salt on the intended places, as well as other contaminated areas, including your carpets and furniture. Spray it with water and let it sit for a maximum of two days, and fine salt should terminate fleas. As the saltwater keeps drying, it absorbs the moisture from the surroundings, thus, terminating insects by desiccating them upon contact.
Nematodes
These tiny, wormlike insects live in the soil, being a safe, natural way of terminating fleas in contaminated areas. Nematodes can help you to get rid even of flea larvae, and they are particularly sold for eliminating pests in yards. Simply mix these creatures with water and sprinkle the solution over your lawn.
How Long Does It Take Flea Yard Spray to Work?
After you apply a high-quality flea killer, most adult fleas will be dead within one to three days. However, the products that contain all-natural ingredients may take up to seven days and several applications to work out.
Always check the labels of the selected treatments to choose the right option for your needs. Also, such products differ in the longevity of their effects, so keep it in mind, too.
What Do I Do If I Put Flea and Tick Spray on My Yard and It Rains?
Usually, light rain will barely have an effect on the efficiency of flea killing products. However, in case there is a heavy downpour, there is a very high likelihood that the contents will be washed out, reducing the effectiveness of the treatment. Thus, you will have to apply the solution again.
It also depends on how long after the treatment the rain pours. If the product has already settled in the soil for a day, and it rains heavily, it will probably still be effective.
Besides, there are weather-proof solutions available on the market. It means that they can't be washed out by rain or affected by directed sunlight, so you won't have to worry about the weather at all.
Final Thoughts
In this article, I have discussed the best flea killers for yards on the market. Now, it should be much easier for you to choose the product to eliminate pests in your area. Besides, here, you could find answers to some of the commonly asked questions on flea control products, as well as factors to note when selecting such treatments.
My top pick is Control Solutions Inc. 36.8 % Permethrin insecticide. It is the best option for dealing with fleas, as it terminates both adult species and their larvae. However, all of the products reviewed here proved to deliver great results in eliminating these insects.
Have you used any of the solutions mentioned above? If yes, which one worked best for you, and how long did the effect last? If you have some questions or need advice on the flea treatments for your lawn, leave your comment below, and I will be happy to answer you.
References:
Permethirn General Fact Sheet (National Pesticide Information Center, Oregon State University Extension Services):
http://npic.orst.edu/factsheets/PermGen.html
Flea Control and Prevention (by Michael F. Potter, Extension Entomologist University of Kentucky College of Agriculture):
https://entomology.ca.uky.edu/ef602
Chemical and Nonchemical Management of FLEAS(University of Tennessee Institute of Agriculture, U.S. Department of Agriculture):
https://extension.tennessee.edu/publications/Documents/PB1596.pdf