Are you tired of dealing with pesky fleas in your home? Unfortunately, getting rid of them won't be easy. Fleas can thrive in warm areas such as carpets and furniture, making it easy to miss some spots. And even worse, flea eggs can take a while to hatch, so you need to be vigilant and use flea foggers that kill eggs to ensure complete eradication.
As a pet owner, it's crucial to pay attention to red flags such as excessive scratching or blood on your pet's fur. This is a telltale sign that not only is your pet suffering but your home is also infested.
With so many pest and parasite control products on the market, it can be overwhelming to choose the right one. That's why I've put together a list of the most effective flea bombs and foggers, as well as answers to common questions about controlling fleas. My goal is to help you make an informed decision and find the best product to rid your home of these pesky parasites.
Top 5 Most Effective Flea Bombs and Floggers
I've done the research for you and compiled a list of top-performing brands with in-depth reviews. Not only will you gain a better understanding of each product's strengths and weaknesses, but you'll also be able to make an informed decision with ease.
1. Precor Plus Flogger IGR – Best Flea Fogger for Home
Specifications:
Active Ingredients: Methorprene 0.09%; Permethrin 0.58%
Item Form: Spray
Scent: Unscented
Item Weight: 0.35 Pounds
Product Dimensions: 6 x 2 x 1.9 inches; 5.6 Ounces
Target Species: Fleas and their hatching eggs
Looking for the most effective solution to eliminating fleas in your home? Look no further than Precor Plus! Made with powerful permethrin, it not only kills adult fleas on contact but also targets immature larvae before they can mature into biting adults.
The secret to its success is the inclusion of Precor IGR molecules, which penetrate deep into the hiding spots where fleas love to lurk, such as carpets, pet bedding, and even floor cracks. This ensures that every last adult flea and larvae are eradicated.
For even better results, use it in combination with Precor 2000 Plus Aerosol. Say goodbye to pesky fleas for good with Precor Plus.
Get the ultimate value for your money with our powerful flea fogger! One can of Precor IGR can cover a massive 375 square feet, making it perfect for large areas. Plus, its long-lasting formula works for up to 7 months, ensuring flea-free living for half a year. For optimal results, be sure to read the usage instructions and follow them closely for the best results.
Pros:
Cons:

Controls pests for up to 7 months;
No bad smell that remains after use;
No stains on your carpet or furniture;
Kills fleas even before they mature.

Can be resisted by some pests.
2. Hot Shot Fogger with Odor Neutralizer – Best Budget Flea Bomb for House
Specifications:
Item Form: Spray
Contains: six 2-ounce cans
Item Weight: 1.68 pounds
Product Dimensions: 4.37 x 6.44 x 5.25 inches
Target Species: Ants (except Fire Ants), Black Carpet Beetles, Brown Dog Ticks, Crickets, Earwigs, Firebrats, Fleas, Gnats, Houseflies, Mosquitoes, Palmetto Bugs, Pillbugs, Rice Weevils, Roaches, Saw Toothed Grain Beetles, Silverfish, Small Flying Moths, Spiders, Waterbugs
This highly effective solution targets a wide range of critters, including ticks, beetles, and fleas. Its potent formula is designed to deliver immediate results on contact and even reaches pests in their hiding spots.
With its ability to penetrate even the smallest cracks, this smooth mist ensures that no pest is safe from its wrath. Experience enormous results with just one spray, and enjoy a pest-free environment once again.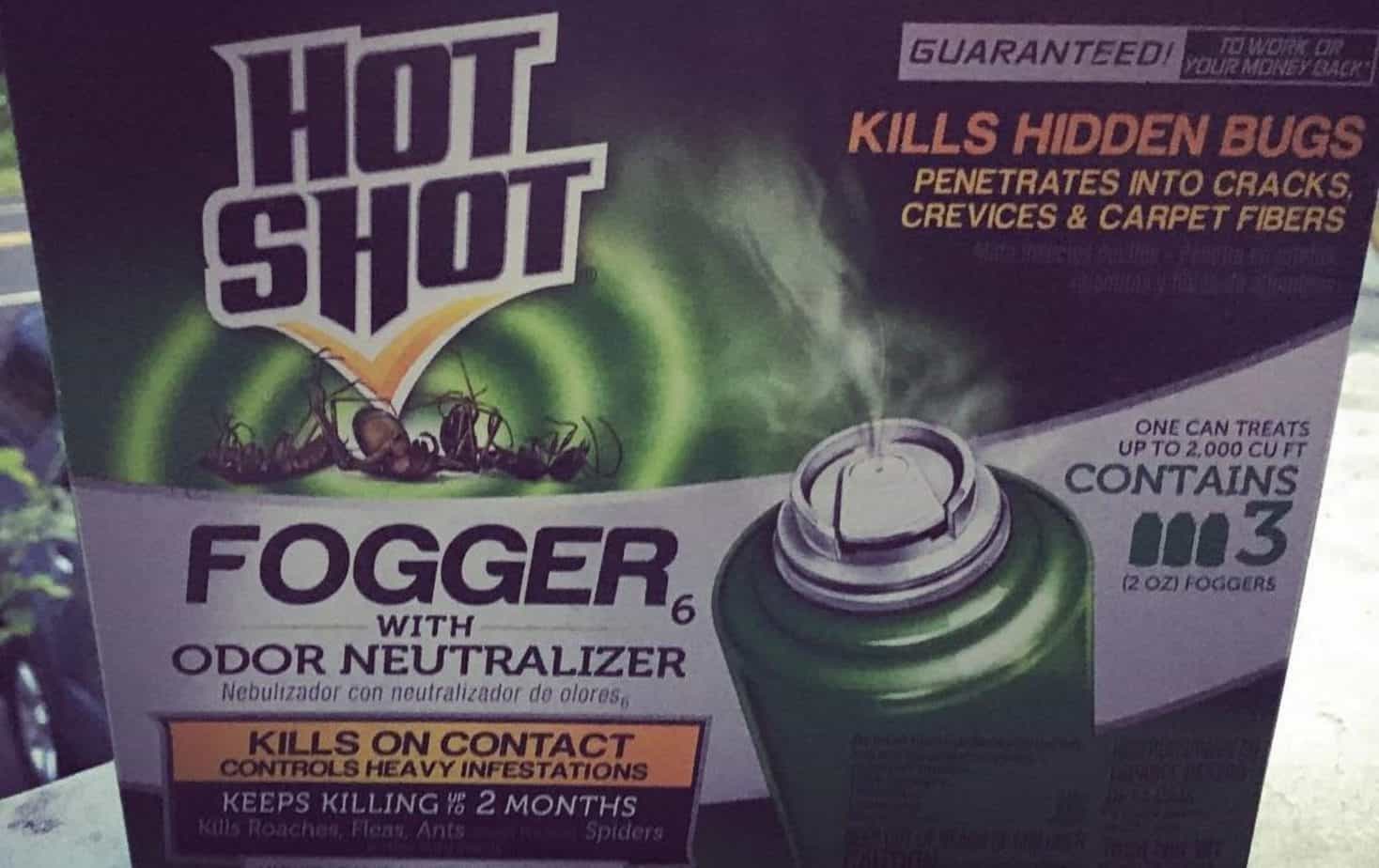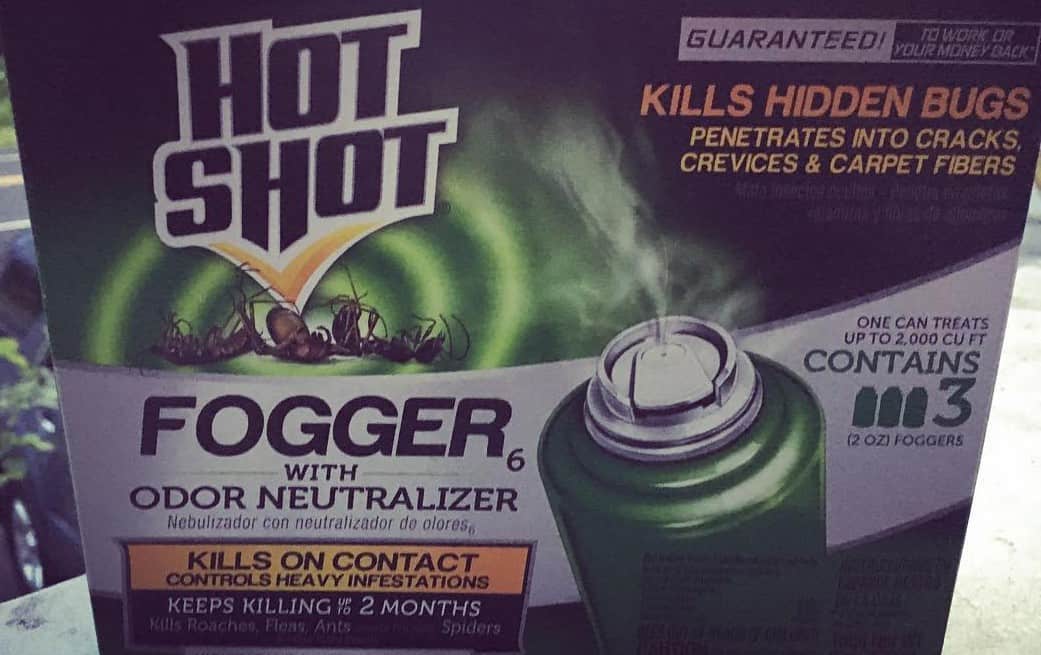 Not only does it prevent infestation for up to 2 months, but it's also versatile enough to tackle a variety of pests in your home. And, with just one can, you'll save money while keeping your pets and home safe from parasites.
Plus, our formula is specially designed to leave behind no lingering odors, unlike traditional pesticides. Simply follow the manufacturer's instructions for best results, and wait 2 hours before re-entering your home after spraying.
Pros:
Cons:

No bad smell;
Kills a variety of pests;
No stains if used according to instructions;
Acts on the fleas on contact.

Pest prevention period takes a shorter time compared to other pesticides.


3. Advantage Household Fogger – Flea Fogger That Kills Eggs
Specifications:
Active Ingredients: Pyrethrins (0.05%)
Item Form: Aerosol
Item Weight: 11.36 Ounces
Product Dimensions: 1.87 x 4.75 x 5.38 inches
Target Species: Fleas, Ticks, Cockroaches, Water Bugs, Flies, and other labeled pests
Say goodbye to pesky fleas with our powerful household fogger! Not only does it effectively kill adult fleas, larvae, and eggs, it also continues to control fleas inside your home for up to seven months. Plus, it's not just for fleas – this versatile pesticide also eliminates a variety of other insects, including beetles, cockroaches, ticks, and more.
Easily take control of infestations with our convenient package, which includes two cans perfect for indoor use. One canister can cover up to 2000 cubic feet of indoor space. And after use, simply vacate the home for 2 hours, and wash any bedding or clothing that may have come into contact with the fogger to ensure maximum safety. Say goodbye to flea infestations and hello to peace of mind with our household fogger.
Pros:
Cons:

Deals with a variety of pests;
Prevents infestation up to 7 months;
Kills adult fleas and the eggs before they are hatched.

Can cause allergic reactions if absorbed through the skin.
4. Vet Kem Siphotrol Plus – Best Bombs to Kill Fleas in Large Areas
Specifications:
Item Form: Aerosol
Number of pieces: 3
Item Weight: 9 Ounces
Product Dimensions: 6.5 x 2.25 x 5.75 inches
Target Species: Adult Fleas and Ticks
This pesticide is a product of Vet Kem and is capable of killing both ticks and fleas. It is made up of permethrin, which works together with methoprene to eradicate ticks and fleas. Methoprene is responsible for regulating the growth of pests. That's why it stops the larvae from infestation and from growing into an adult flea.
The permethrin ingredient is responsible for killing the adult flea because it is a synthetic chemical that acts as a neurotoxin and is very harsh to the adult fleas. One can of the Siphotrol flea fogger is enough for an area measuring 6000 sq. ft. It's approximately the whole house.
Usually, the stages of growth of a flea include egg, larva, pupa, and finally, an adult. The pesticide interferes with this growth and ensures the fleas do not multiply to a level at which it will be difficult to control. Since this pesticide regulates the development of fleas, it will be impossible for them to lay more eggs, which will hatch to more fleas. In this way, the product regulates the infestation of fleas in your home.
It can prevent pest infestation for more than six months, and thus, it should be an option when you are considering which type of pesticide to buy. Although it leaves stains and odor, you can't ignore its effectiveness in eradicating fleas.
Pros:
Cons:

6 months of parasite prevention;
Can be used on cats and dogs;
Prevents growth of the larvae;
One can is sufficient for a large area.
5. Harris 12 Week Indoor Insect Fogger – Flea Foggers That Work to Kill Diverse Pests
Specifications:
Active Ingredients: Cypermethrin (0.515%)
Long Residual: for up to 12 weeks
Number of pieces: 3
Item Weight: 13.1 ounces
Product Dimensions: 1 x 1 x 1 inches
Target Species: Roaches, Fleas, Ticks, Mosquitos, Spiders & more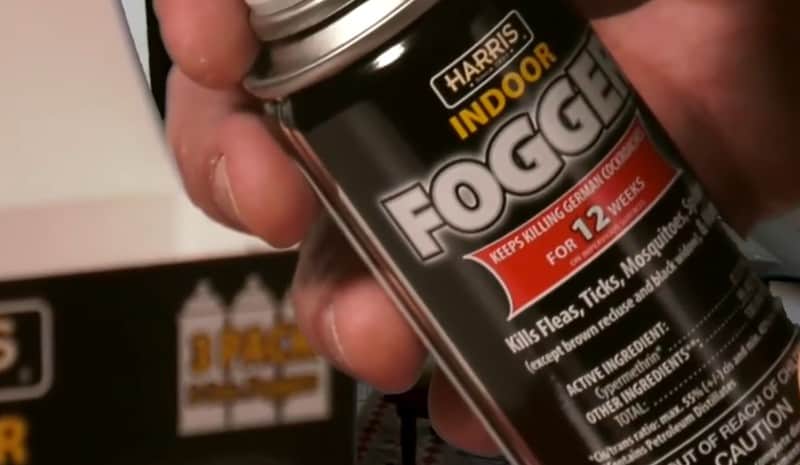 This product is a good option to control the infestation inside the house. It penetrates deeply into small cracks and holes where the fleas are hiding.
Additionally, it can be used to eradicate various pests, including bed bugs and ticks fleas. After spraying, the insecticide will continue to prevent infestation of the fleas for 12 weeks. The package contains 3 packs of insect foggers that is enough for a large area that has been infested.
Each pack can be used to treat 2000 cubic feet area. Therefore, the whole package covers 6000 cubic feet, so you get good value for your money. Before you proceed to spray the house, you should cover or remove utensils and food to avoid poisoning.
Pros:
Cons:

Lasts after spraying for 12 weeks;
Comes in 3 packs;
Penetrates small openings to kill the pests;
Effective for a variety of pests.

Cannot be used in open areas.
Factors You Should Consider When Buying Flea Bombs or Foggers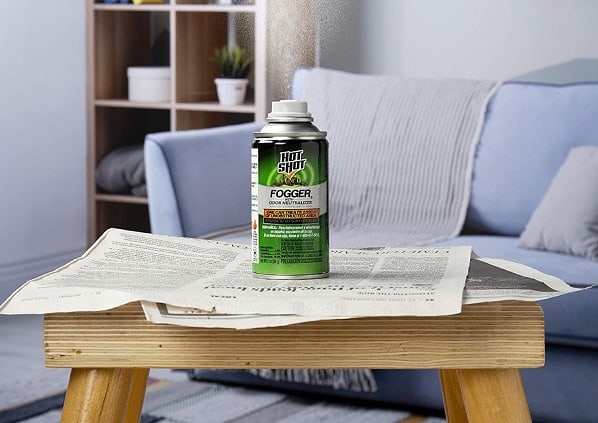 Fleas can infest your home at any time. Therefore, the moment you realize they are around, you should start taking measures to eradicate them. To completely get rid of these annoying creatures, you need to choose the best flea bombs for home usage.
Most professionals know how to make the best pick, but ordinary consumers need a little bit of guidance for them to choose the right bombs to kill fleas once and for all. Therefore, you should consider the following aspects when making your purchase.
Efficiency and Versatility
Most people think that all foggers available on the market have the same components to kill the fleas. But it's not true since most of these products have dissimilar compositions of different chemicals, and the ones with similar components differ in the concentration percentage. Moreover, some pests may be resistant to particular pesticides, and thus, it is best to purchase flea foggers that work on various types of pests.
Also, some foggers can only kill the adult fleas and not larvae or eggs. You should pay attention to what the pesticides deal with. It's better to choose a fogger that can kill fleas at all stages of their life cycles for complete eradication. The good idea is to read flea bomb reviews from customers to find out which pesticides have these qualities.
Related Post: 7 Best Flea Killers for Yard Reviewed
Re-Infestation Prevention
I strongly advise that you should buy a fogger that can prevent future infestation of fleas. Most foggers that have been reviewed above prevent re-infestation due to their long residual effect. That means they can still kill pests long after you have done the spraying.
Aside from checking whether the foggers have a residual effect, you should also find out whether they can regulate growth or kill the eggs. Since flea eggs can last for a long period before hatching, you need to kill them to avoid any infestations in the future.
Safety Levels of the Pesticides
Keep in mind that you will be using these chemicals in your home around your children and pets. That's why you should make sure that pesticides have very minimal health effects because it's impossible to find one with no negative effects. Try to look for an insecticide that is not poisonous or one that has no lingering smell because inhalation of these pesticides can also be dangerous. Make sure to follow safety precautions.
Size of the Area You Intend to Use It In
Foggers are available in packages that differ in the amount of the product. As such, you need to get more foggers if you have a big house or the infested area is large. Additionally, flea infestation happens rapidly. That's why you should purchase extra foggers so that you can spray your home frequently to prevent infestation.
The Vacating Time for the Different Foggers
Most flea bombs can be toxic to people, so you will need to leave your house after spraying them. The majority of them require you to stay away from the sprayed area for about 2-4 hours. Inhalation of these pesticides may cause health problems to your family and your pets and, therefore, it is a very important factor to consider.



Frequently Asked Questions
Most people who have never used flea bombs before may have various questions. This section will help you get the answers to common questions asked by consumers when they are planning to make a purchase.
How to use a flea bomb?
Setting up a flea bomb may take time and a little more input to achieve better results. If you don't know how to use a flea bomb, then you can seek professional guidance. Flea bombs mainly work best in areas without obstruction, and, therefore, you may need to take some household materials outside. It's better to take out kitchen appliances if possible so that you can spray the cabinets and other areas where fleas hide.
You should be very careful when using a flea bomb and follow the instructions to avoid health complications. After spraying the area, you should clean all garments and beddings properly. However, you should avoid washing the carpet to ensure the pesticide works on the pests for a few more days.
How do flea bombs work?
A big concern of many pet owners is "how do flea bombs work?" To use these foggers, you need to first put it in a can that has high pressure and activate it. Once activated, the aerosol will start releasing the pesticide. Leave the house immediately after activation for the time recommended by the manufacturer. When the mist settles down, it has a toxic effect on the pests it comes into contact with.
The mists can penetrate the small holes and cracks to the hidden fleas. One flea bomb may not be enough to achieve complete eradication, so you will need to do this frequently. So, if you have been asking "Do flea foggers work?", the answer is yes, but only if you follow the manufacturer's instructions.
How long does it take to flea bomb a house?
After setting up and activating the fogger, you should step out and wait for the mist to settle. It may take up to 8 hours, depending on the pesticides. So, how long does it take to flea bomb a house?" Most pesticides may take 2-4 hours. It's approximate time when flea bombing takes place.
How long to stay out of house after bug bombing?
Most manufacturers indicate the vacating period on packages to inform consumers of how long to stay out of house after bug bombing. Most of them require you to stay out for around 2-4 hours. This time is enough for the fog to settle down, and for most pesticides, the air will be clear of the smell in case it is not odorless.
If you are planning to go for a vacation, then it's the best time to set the flea bombs since you should always ensure your family is safe and that they can be out of the house during the stipulated time.
Are flea bombs/foggers safe for pets?
These pesticide sprays are made of aerosols, which may be harmful to both humans and pets. Mostly, these bug killers become dangerous if instructions are not followed. Besides, pesticides contain toxic components, and if not used properly, they can cause health problems.
There are cleaning shampoos for pets, for example, dogs or cats, and they can be used to get rid of the fleas from them. The shampoos are friendly to pets. But after cleaning the animal, you should also clean the pet's sleeping place to avoid the pests jumping on your pet again.
Where to buy flea bombs?
If you have decided to purchase these bug killers, it's important to find a store that offers high-quality products from reputable brands. Many online stores offer flea bombs, but it's better to make your purchase at a well-known place to avoid buying counterfeit products. I can recommend Amazon.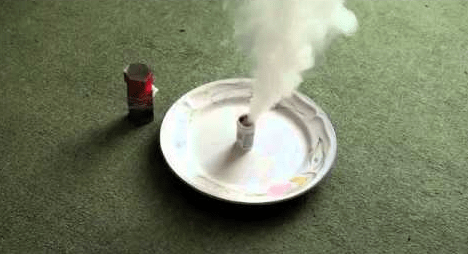 Can fleas cause diseases?
Yes, they do, although these diseases are rarely transmitted to humans. For example, cat fleas can transmit tapeworms. Flea borne typhus is also a disease transmitted to pets by fleas. They get this disease from biting infected rodents, and when the same flea bites your pet, it passes the disease to the animal.
Can flea bombing get rid of bed bugs?
It is rare to find foggers that can kill bed bugs because bed bugs are mostly resistant to these insecticides and may require stronger chemicals. The best insecticides for bed bugs contain pyrethrin and other botanical chemicals. However, some manufacturers are trying to combine these chemicals in flea foggers. So it is vital to learn about the components of the product to determine if it is capable of killing bed bugs.
Can flea foggers cause damage to electronics?
Most people think so, but it is not true. Your electronics will not be damaged by these insecticides, although you should remove them if they obstruct the penetration of the pesticide to the infested areas.
Can flea bombing kill plants?
If you have a flower or other plant in your house, you might be wondering whether your plant will be safe during flea bombing. There is no need to worry. Your plants will be safe, especially if you follow the manufacturer's instructions. Most pesticides on the market are not harmful to plants.
The Bottom Line
Using flea bombs to kill pests is considered as one of the best methods to control flea infestation. While most of the foggers deal with the flea adults, they differ in their strengths to kill larvae and flea eggs that have not been hatched. That's why the most effective flea bombs are the ones with the insect growth regulation molecules and those that kill eggs before they hatch.
The effectiveness of foggers is also determined by the long residual effect of the pesticides because it ensures perfect control of the future infestation. Also, you should purchase a pesticide that can handle a variety of pests. Eradicating fleas should not be much of hassle, especially if you get the right bug killer.
There is a variety of pesticides available on the market, so when making a choice, you should take into account such aspects as high quality, affordability, versatility, and safety. Make sure that the products are suitable for your home, taking into account the size of the area you want to use them on. Finally, if you feel like you cannot handle the problem alone, you can seek professional advice on how to get rid of the fleas.
Have you ever experienced flea infestation? Which flea fogger did you use to eliminate them? Was it effective? Share your experiences by leaving a comment!
References:
Flea-borne (murine) typhus (U.S. Department of Health & Human Services):
https://www.cdc.gov/typhus/murine/index.html
Safety Precautions for Total Release Foggers (United States Environmental Protection Agency):
https://www.epa.gov/safepestcontrol/safety-precautions-total-release-foggers
Fleas (Illinois Department of Public Health, Division of Environmental Health):
http://www.dph.illinois.gov/topics-services/environmental-health-protection/structural-pest-control/fleas
Why You Should Trust Pest Control Hacks?
We know that pests are nasty neighbors, and it can take months to eliminate them without the right approach. Our experts use their own experience to compile articles and guides that are introductory and informative. Our authors' opinions are independent and based on the results of practical testing of pest control tools. We do not notify manufacturers of testing of their products and do not receive payment from them for posting their items. Also, our texts are never submitted to company representatives for proofreading before placement. On the site, you will find exclusively objective ratings and reviews.