The summer season is coming. It's essential to be aware of the dangers that we can face during long walks in parks and forest hiking.
I am talking about biting insects that can not only annoy, but also transmit serious diseases. One of them are ticks. That is why you should use tick repellents to ensure a safe and pleasant time with nature.
Top 7 Best Tick Repellents
There are numerous options for protecting yourself, your family, and pets from tick invasion. But you have to find a solution that will suit your needs and conditions. I prepared a list of 7 best repellents I tried. Each review contains basic information you need to know about the product as well as its pros and cons. Check it out!
1. Sawyer Picaridin Insect Repellent: Perfect for Repelling Ticks
Sawyer company is known for the advanced technologies for developing its products for the whole family. Their Picaridin Insect Repellent is my top pick tick spray for humans.
It has a safe and effective formula that also repels flies, mosquitoes, and other insects. Its main component is Icaridin (aka Picaridin), which is recommended for protection from ticks by The World Health Organization.
This repellent comes in lotion and spray form, so you can pick the convenient application option. The spray is easier to apply and better for use for both skin and clothing protection and remains active for up to 12 hours.
Lotion evaporates slower, so it stays longer on the skin, ensuring the repelling effect for up to 14 hours. There are different bottle sizes so that you can get a small 4-oz bottle for short walks or a gallon lotion dispenser for family and public use.
They have the same amount of Picaridin (20%) that is known to be more effective than DEET. This repellent does not have any smell, which is a plus.
Pros:
Cons:

no smell;
no greasy feel;
active for up to 14 hours;
safe for clothes and other materials.
2. Natrapel Tick and Insect Repellent: Picaridin-Based Spray
Natrapel's Tick and Insect Repellent comes in spray form and allows good coverage for skin. But it comes only in a 3.4-oz bottle that is convenient for personal use, but you cannot buy a bigger bottle for company or family use.
This tick repellent for people should be applied to the skin, but it is also safe for cloth and synthetic materials. Notice that the formula is not resistant to sweat or water. So if you are going to swim, or it is a hot day, or it is going to rain, be prepared for repetitive spaying. It has a floral scent that can be pleasant for some people while irritating for others, so it is a matter of your personal preferences.
The repellent's active ingredient is Picaridin (20%) with dosage according to CDC recommendations. This component is proven as an effective repellent against ticks, mosquitos, and other biting pests who transmit dangerous diseases like Lyme Disease, Eastern Equine Encephalitis, and others.
Pros:
Cons:

picaridin based;
affordable;
works for up to 12 hours;
bottle size is convenient for personal use.

not resistant to sweat or water;
has a strong smell.
3. Wondercide Insect Repellent: Natural Tick Repellent for Families
Insect Repellent from Wondercide is a chemical-free, safe tick repellent. It comes in two forms: spray and wipes. The spray is better for a quick application, while with wipes, you can cover the skin more thoroughly. The product does not contain dangerous chemicals, comes in a selection of fragrances, and can be used for the kids' protection. It works not only against ticks but a wide range of other insects that are repelled by natural oils.
However, Wondercide spray is less effective compared to the chemicals used in other solutions. But if you are looking for an eco-friendly anti-tick solution, this product can meet your requirements.
According to some comments, it may cause minor skin irritation due to active ingredients that might be allergens to some people. So, check its content before use to make sure you are not allergic to its ingredients. Also, it may leave greasy stains on your clothes.
Pros:
Cons:

natural without pesticides;
safe for kids and pets;
works for different types of insects, including ticks;
selection of scents.

its scent may be irritating for allergic people;
leaves a greasy layer on the skin.
4. Nantucket Spider Tick Spray for Humans: Extra Strength Tick Repellent
Nantucket Spider is a US-based company that focuses on developing and producing DEET free tick repellent solutions. It may be important for some consumers to maintain local manufacturers. Their Extra Strength Tick Repellent consists mostly of the mixture of essential oils that mask the human scent that attracts insects.
The manufacturer claims it repels 92% of deer ticks according to independent laboratory tests. With vanilla scent, it differs from other sprays and lotions with lemon, cedar, and other aromas. For better effect, shake the bottle well before use to mix oils.
As most of the natural repellents, this spray can cause allergy, so checking the ingredient list before use is mandatory.
Pros:
Cons:

DEET-free;
affordable compared to other products;
convenient spray form;
made in the USA.

strong smell;
cannot be used for dogs.
5. Ben's 100% DEET Tick and Insect Repellent: Effective Protection
This DEET-based spray contains the maximum allowed concentration of this active ingredient, so the manufacturer claims that this ensures the decent protection against ticks, mosquitos, and other biting pests. It is recommended for cases when you walk in forest or tropical areas where there are a lot of insects to repel.
A convenient form of spray and the size of the bottle can be handy for long walks and hiking. As soon as you cover your skin with this repellent, you can count on up to 10 hours of protection. Some people complain it leaves greasy marks on clothes, so be careful until the spray is dry. Among its advantages, I can name the smell-free formula that allows enjoying natural forest fragrance instead of the spray.
This anti tick spray for humans is produced in the USA and is registered with the EPA.
Pros:
Cons:

long-lasting more than 10-hour effect;
effective against big groups of ticks in forests or tropics;
easy to apply;
convenient bottle size;
smell-free.

DEET-based solution;
may leave a greasy layer and stains on clothes.
6. Repel Insect Repellent Sportsmen: Tick Protection for Humans
Suitable for campers, golfers, bikers, and other outdoor lovers, Repel Insect Repellent Sportsmen comes in different forms: aerosol, pocket spray, wipes, or lotion. Aerosol and spray are handy on the go when you need to apply the protection quickly, while with wipes and lotion you get better coverage.
Its formula contains 40% DEET with Picaridin and lemon eucalyptus oil that ensure better effect against insects. Protection lasts up to 8-10 hours as other average sprays.
Due to chemicals in it, this product can damage some synthetic, leather, and plastic materials. But it is safe for natural cloth and nylon.
Pros:
Cons:

contains the mixture of DEET with Picaridin and oils;
affordable;
Comes in 4 forms: spray, lotion, wipes and aerosol.

not safe for delicate fabrics and materials;
its scent may seem too strong.
7. Sawyer Premium Insect Repellent: Alternative Tick Protection for Humans
Unlike other solutions above, this tick spray for clothes cannot be applied to your skin. But its formula with 0.5% Permethrin remains on fabric for 6 weeks, even after laundry (you can wash it up to 6 times). Repellent works against ticks, mosquitos, chiggers, mites, and other nasty insects.
It does not leave stains and has no aroma. This solution is recommended for the fans of outdoor activities, like hikers, hunters, and others. In some cases, it can be applied to dogs.
For better protection, Sawyer manufacturer advises combining this spray with Picaridin insect repellent for the skin.
Pros:
Cons:

remains active for up to 6 weeks;
stays on the fabric after washing;
does not leave stains;
no smell.

cannot be used on the skin.
How to Repel Ticks: Preventive Measures
It is important to take a set of measures to prevent tick bites. Taken separately, these actions are less effective for repelling ticks, but combined, they help to minimize the danger. Here's what you need to do:
Be aware of the places where you can get ticks
Educate yourself considering the tick danger. You should know the places where there are high chances to get ticks. Their favorite spots are long grass, dense bushes, and trees.
Also, they like to hang out in the wet wooden logs, autumn fallen leaves and cut grass piles. So if you like to hike, run, bike, or camp in parks or forests, you should remember about the risky areas.
Gardeners and people who work a lot near the grass and trees should be on alert too. In yards, the places attractive for ticks are leaf litter, porches, wall cracks, and sand.I do not encourage you to avoid these places at all. But this means you should be cautious and take additional measures to protect yourself from insects.
Maintain your yard clean
Everything starts with your yard. Keep ticks away by maintaining the safety of your garden and home. Mow your lawn regularly and take away the leaf-grass-wood litter. During the summer-autumn season, disinfest the yard with special sprays focusing on the shadowy and moist zones.
Repel not only insects but also wild animals like deer, mice, squirrels, etc. as they can bring ticks even to the clean yard.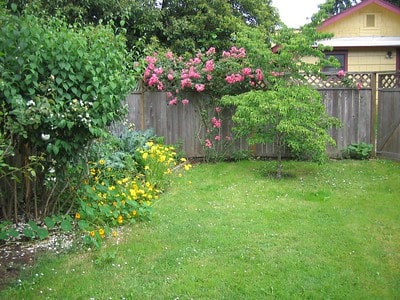 Apply suitable repellent
You cannot make the surrounding completely safe, that is why you should apply tick protection for humans on both your skin and clothing. Any time you garden, go for a walk or plan camping, make sure you use spray, lotion, or another tick repellent.
Natural methods, such as applying essential oils on your skin are not effective enough. CDC gives the list of components that should be in repellents from tick bites:
DEET;
Picaridin;
Oil of lemon eucalyptus;
IR353.
These chemicals and oils are aimed at distracting the sensory organs of ticks, as they usually sense the scent and feel the heat of their prey. But to work effectively, sprays and other repellents should contain at least 20-30% of active ingredients.
DEET can be harmful to children, so in kids, the product should not be more than 30% of this component. Choosing the repellent, check whether it is approved by the Environmental Protection Agency. Read the instructions before use.
Use clothes and gear protection
Ticks can attach not only to your skin and hair but also clothes. To protect them from the insect invasion, you can use special sprays with Permethrin that are applied to the fabric. This insecticide can be used for yard treating as well, but keep it away from your skin.
It works not as a repellent, but as a pest killer. It remains on surfaces for up to 6 weeks ensuring long term protection.
Check your body regularly
As soon as you are home, you still can be in danger. If you suspect that ticks could reach you, or you visited the risky areas, do the full-body check immediately. Examine carefully your scalp, ears, armpits, belly button, groin, and areas behind your knees as these are the most common places for ticks to attach.
Do not forget about your clothing and check it too. Then throw it in the dryer and heat for at least 10 minutes to kill stragglers according to CDC recommendations. Then take a shower to wash away any possible unattached ticks. Pay more attention to risky areas.
Protect your pets and check them after every walk
Ticks are very attracted to our pets, and animals, in their turn, are less cautious considering pests danger. You have to protect their skin as well for the benefit of both their and your health.
Because even if you are covered with repellent and stay away from trees and bushes, your curious dog still can get a tick and bring it to your house eventually. Learn more about how to repel ticks from your dog using protections for pets and check their skin after every walk during the warm seasons.
Common Ingredients for Repelling Ticks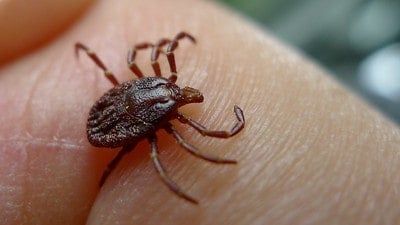 I already mentioned that there are basic components for every tick repellent. Every product aimed at fighting ticks contains at least one of them. I want to tell you more about the specifications and effect of the most common repelling ingredients:
Ways to Use Ticks Repellents for Humans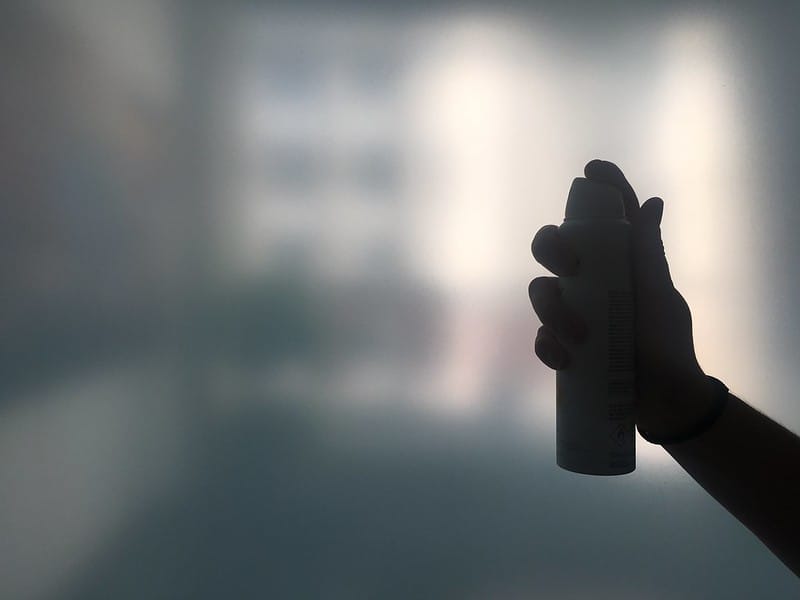 You might notice that I constantly highlight the importance of the comprehensive approach in tick prevention for humans. So it is never excessive to take different preventive measures. Here is a list of using repellents:
Skin applying
The most common and simple way to cover the unprotected areas of your body and not let ticks attach to your skin. I've already mentioned a few times that there are many forms of skin repellents. You can choose spray, lotion, wipes, or aerosol depending on the conditions you are in and the required level of protection. However, there are some important instructions considering this method:
cover only unprotected areas, do not apply it under your clothes;
apply the protection on the skin regularly according to the instruction;
do not use on cuts, wounds or irritations;
do not apply too much of the product;
sprays and aerosols should only be used outdoors;
after you return home, wash the covered skin with soup.
Clothing covering
Apply sprays with permethrin on the clothing items you are about to wear to get rid of insects that might stick to the fabric before getting on your body.
Also, there is special clothing for campers or gardeners where the fabric is already covered with or soaked in Permethrin. So you do not need to apply additional repellent on it. In both cases, the effect remains even after 60 washings.
Repelling bracelet
Just like pretreated clothing, you can wear this accessory for insect protection. There are some "wearable" repellents in the form of wristbands that contain natural oils that keep away ticks and other pests from your skin.
It seems like a very convenient option. However, there is no 100% guarantee as it cannot cover the entire body and every open skin area.
FAQ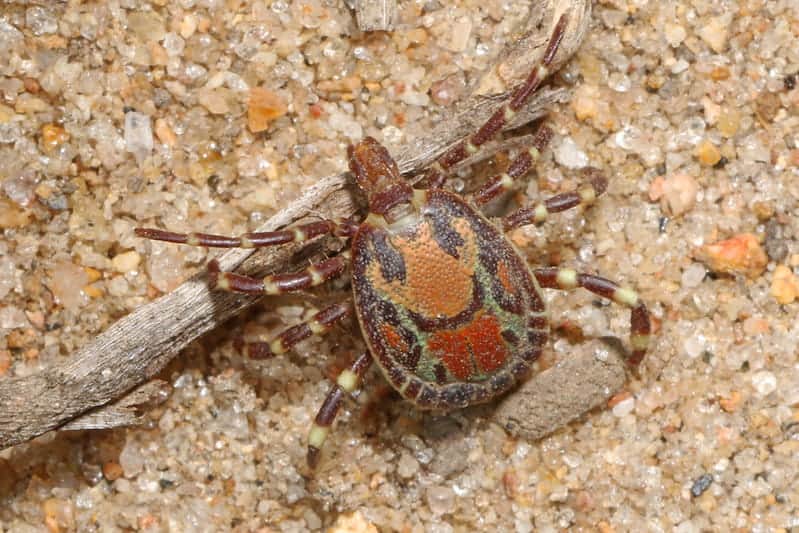 Does Bug Spray Work on Ticks?
You can use insect repellent for ticks if the product contains one of the active ingredients that keep these insects away from humans. Bug spray will work against ticks if there is DEET, Picaridin, or Permethrin in its formula. For DEET, it is at least 10%, while for other chemicals it should be no less than 20%.
Why Is Flea and Tick Repellent for Dogs Not Used on Humans?
Products developed for dogs and other pets cannot be applied to humans and vice versa. There are significant differences in behavior and skin sensitivity. For instance, human skin can be injured by some chemicals that work for dog skin covered with fur.
Moreover, products for dogs cannot be used for other animals too. Each product contains the number of active ingredients allowed for the targeted individual.
What to Eat to Repel Ticks?
Among the food that has repelling properties there is garlic. It contains allicin that is known for keeping off insects. This component can also be found in onions, chives, shallots, and leeks. One more natural tick repellent is lemongrass that is common for Thai and Asian cuisine.
What Is the More Effective: DEET or Picaridin?
They are both effective against ticks, so the choice depends on personal preferences. Some people choose DEET as it is proven to be effective since 1946 and can protect you for 10 hours. Others choose picaridin as it does not have a smell or greasy residue and is safe for synthetic materials.
When Should I Worry About a Tick Bite?
Go to the doctor after a tick bite if:
the injured area has signs of the infection like swelling, warmth, and pain;
you have other symptoms like headache and fever, tiredness and muscle pains;
you did not remove tick's jaws from the skin completely.
No Repellent – No Walks
The season of insect activity has always been dangerous. But we constantly discover new diseases and viruses that can be transmitted by animals or pests. That is why using tick repellent for humans is not a matter of comfort, but of health and life.
Share in comments how you are going to protect yourself during the tick season.
References:
Prevent Tick and Mosquito Bites (Centers for Disease Control and Prevention):
https://www.cdc.gov/ncezid/dvbd/about/prevent-bites.html
Find the Repellent that is Right for You (United States Environmental Protection Agency):
https://www.epa.gov/insect-repellents/find-repellent-right-you
DEET (National Pesticide Information Center, Oregon State University Extension Services):
http://npic.orst.edu/factsheets/DEETgen.html
Picaridin (Oregon State University and the U.S. Environmental Protection Agency):
http://npic.orst.edu/factsheets/PicaridinGen.html
Lyme Disease (State of Rhode Island Department of Health):https://health.ri.gov/diseases/ticks/?parm=68
Mosquitoes, Ticks & Other Arthropods (John-Paul Mutebi, John E. Gimnig USA.gov):
https://wwwnc.cdc.gov/travel/yellowbook/2020/noninfectious-health-risks/mosquitoes-ticks-and-other-arthropods
Permethrin (Oregon State University and the U.S. Environmental Protection Agency):
http://npic.orst.edu/factsheets/PermGen.html