When the spring season comes, the pests come with it. They annoy us, bite us and our animals and can transmit serious illnesses like Lyme disease. So with the first warm days, people start treating yard for ticks using special chemicals.
It is crucial to maintain your yard disinfested to protect your family and pets. The leading method against unwelcomed insects is outdoor tick spray. Let's check the top 5 substances and preventive methods to keep your territory safe.
Pros
Safe for pets and humans.
Remains active up to 6 weeks.
Best Natural Tick Spray
Pros
Safe for pets and humans.
Pros
Remains active up to 6 weeks.
Top 5: Choosing Best Tick Spray for Yard
Both a professional insect fighter and a regular homeowner do not doubt the efficiency of this approach spray treatment. But without at least basic knowledge about it, you may choose the product with the wrong formula or function.
Some sprays have chemicals dangerous for humans and pets, so it is allowed to use them only outside the house. Others are effective only for indoor disinfestation. I decided to review the most popular ones to help you find the most suitable solution for your yard.



1. Outdoor Tick Spray: Permethrin SFR
No products found.
Permethrin is a concentrated insecticide created for protecting yards with their plants, lawns, and outside building constructions. According to reviews, this is the best tick spray for yard as its effect lasts up to 30 days outside the house and up to 90 inside.
Its developer, Control Solution Inc., is a US mid-sized company that specializes in developing solutions for pests problems. The selection of their products is wide and is one of the most popular on the market.
The main component of Permethrin is a pyrethroid that has a similar effect to the natural insect repellent pyrethrum. It can be used not only against ticks but also ants, bagworms, caterpillars, termites, fleas, flies, mosquitoes, and other unwelcomed insects.
Permethrin is mostly used for gardens, lawns, and building exteriors, but indoor usage is also possible with some precautions. The spray can disinfest carpeting, wood, concrete, or other materials. Detailed recommendations can be found in the instruction. When the spray is dried, the treated area is safe for pets and humans.
Pros:
Cons:

up to 90 days lasting effect;
universal, kills different types of pests;
suitable for indoors.
2. Wondercide Natural Flea, Tick and Mosquito Spray: Natural Tick Repellent for Yard
Specifications:
Active Ingredient: Cedarwood Oil 12.63%
Item Weight: 2.35 pounds
Coverage area: up to 5000 sq.f.
Item Dimensions LxWxH: 9.21 x 5.24 x 2.52 inches
Target Species: Ants, Fleas, Ticks, Mosquitoes and Hundreds of other pests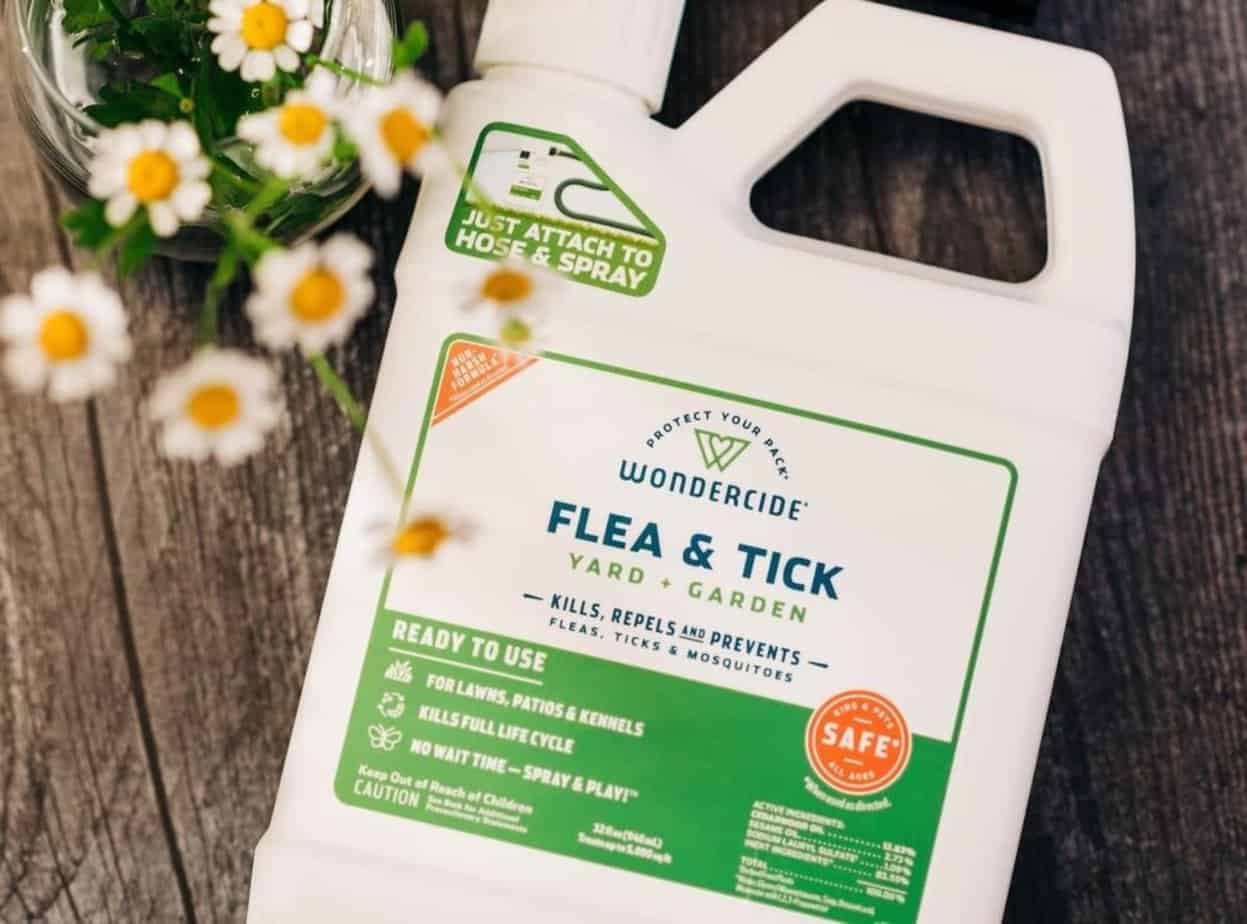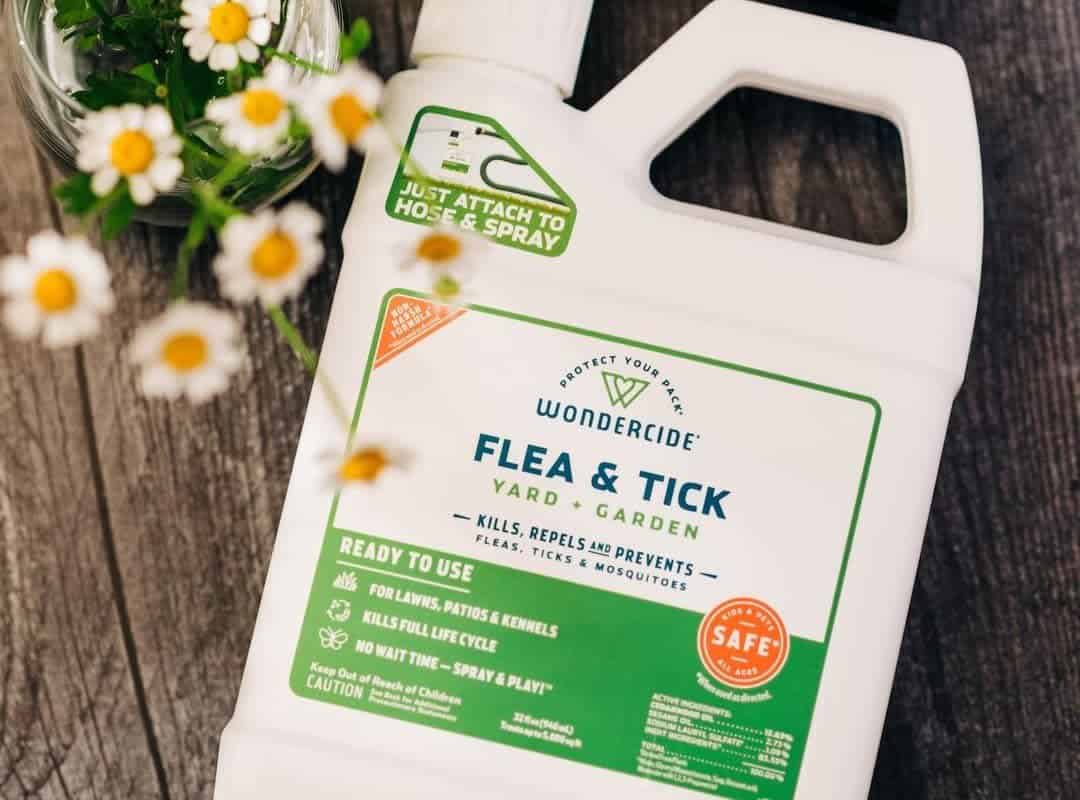 Wondercide brand focuses on producing natural pest solutions without harsh chemicals, that is why their Natural Flea, Tick and Mosquito Spray is the suitable option for tick fighting. Its main active component is cedarwood oil that is a natural tick and insect repellent. You can use Wondercide if you look for safe for pets tick spray for yard.
For spraying, you will need a garden hose to attach the bottle, and then treat the area up to 5000 sq. ft. There is no need to wait until it dries as the territory remains even right after spaying. To terminate tick infestation completely, it is recommended to spray the area twice within a week and repeat this procedure every 30-45 days to maintain the results.
Pros:
Cons:

natural components;
easy in use;
safe for pets and humans.

not water-resistant;
a bit overpriced.
3. SaverPak JT Eaton: Kills Bedbugs, Ticks & Mosquitoes
Specifications:
Active Ingredient: Permethrin
Item Form: Liquid
Item Weight: 10.23 pounds
Item Volume: 128 Fluid Ounces
Item Dimensions LxWxH: 7 x 3.5 x 12 inches
Target Species: Mosquitoes, Ticks, Chiggers, Mites, and More
The producer of the SaverPak Spay, Thunder Mountain International LLC, claims its mission to offer effective but safe solutions for its customers. So they produce a multifunctional spray that can be applied for treating yard for ticks and other insects on different surfaces, including clothes, gears, and pets.
This is a water-based mixture of 0.50% Permethrin, so you do not have to dilute it before use. It claims to be effective against over 16 types of pests and serves as a repellent for new colonies. The effect lasts for up to 6 weeks, or after 6 times you wash your clothes or the surface.
This product is suitable for indoor and outdoor yard tick control. It is a universal tool to disinfest your furniture, floors, carpets as well as clothes and gears to fence off insects. According to instruction, it is not safe for cats, so keep your whiskers away until the spray dries out.
Pros:
Cons:

multifunctional;
ready to use consistency;
remains active up to 6 weeks.

harmful for cats when wet.
4. Dominion: Lawn Spray for Ticks
No products found.
Another representative of Control Solutions Inc. is Dominion Insecticide. This termite and tick killer for yard is widely applied for fighting other insects. Its active component is imidacloprid that kills all kinds of pests, including ticks. Along with ticks, you can beat fleas. This spray stays on the surface up to 3 months before it biodegrades.
To apply the spray, you have to mix Dominion with water at a rate of 0.6 fluid oz. per gallon of water. Shake it before usage. Diluting one bottle of the product, you receive 50 gallons of spray. This amount is enough to cover the area up to 20 feet. You'll need a backpack sprayer to distribute the mixture evenly.
Pros:
Cons:

universal for killing different types of pests;
long-lasting effect;
one bottle of the product equals 50 gallons of spray.

requires diluting;
cannot be used indoors.
5. Yard Tick Control: Complete Insect Killer
Specifications:
Active Ingredient:
Item Form: Spray
Item Weight: 2 Pounds
Liquid Volume: 32 Fluid Ounces
Coverage area: Treats up to 5,334 square feet
Item Dimensions LxWxH: 5 x 2.55 x 11.25 inches
Target Species: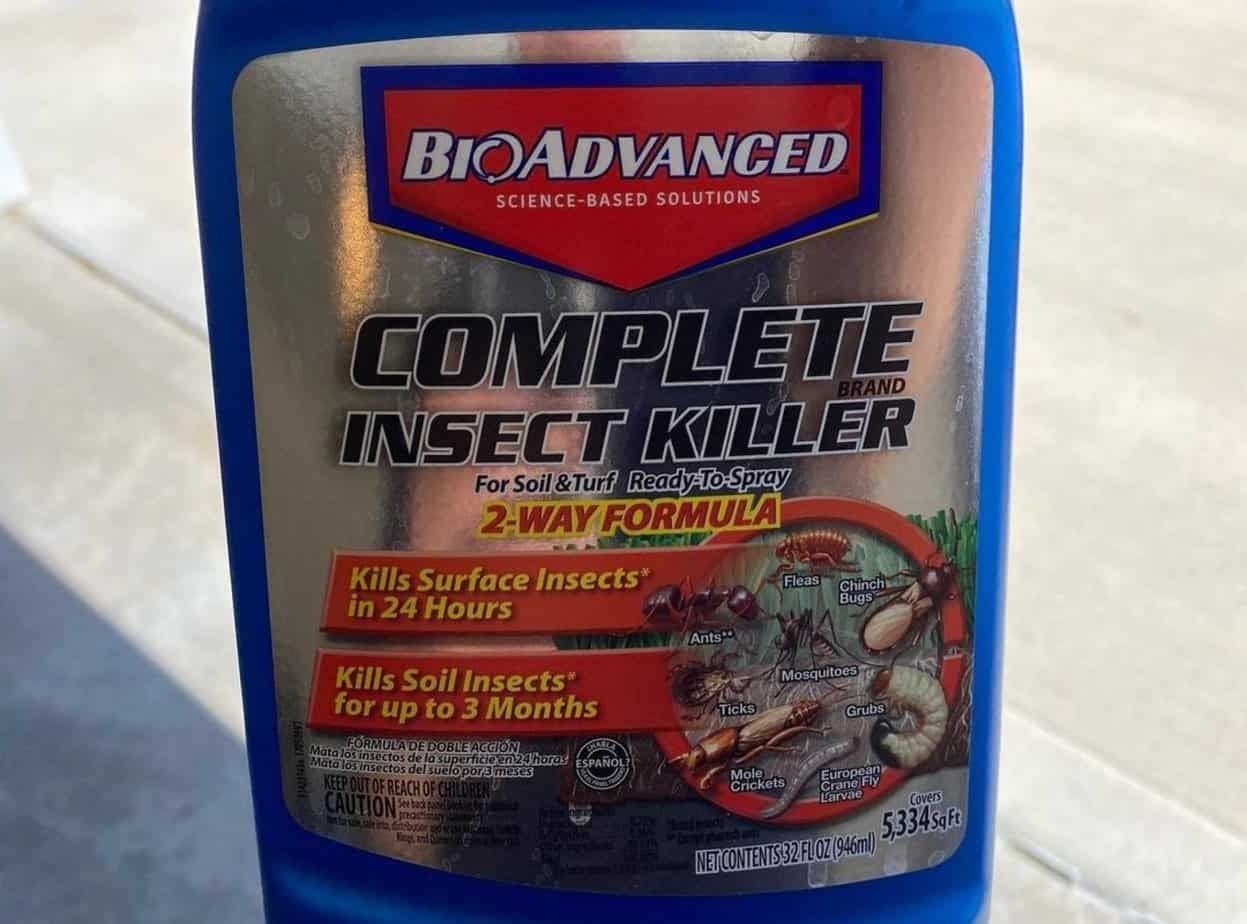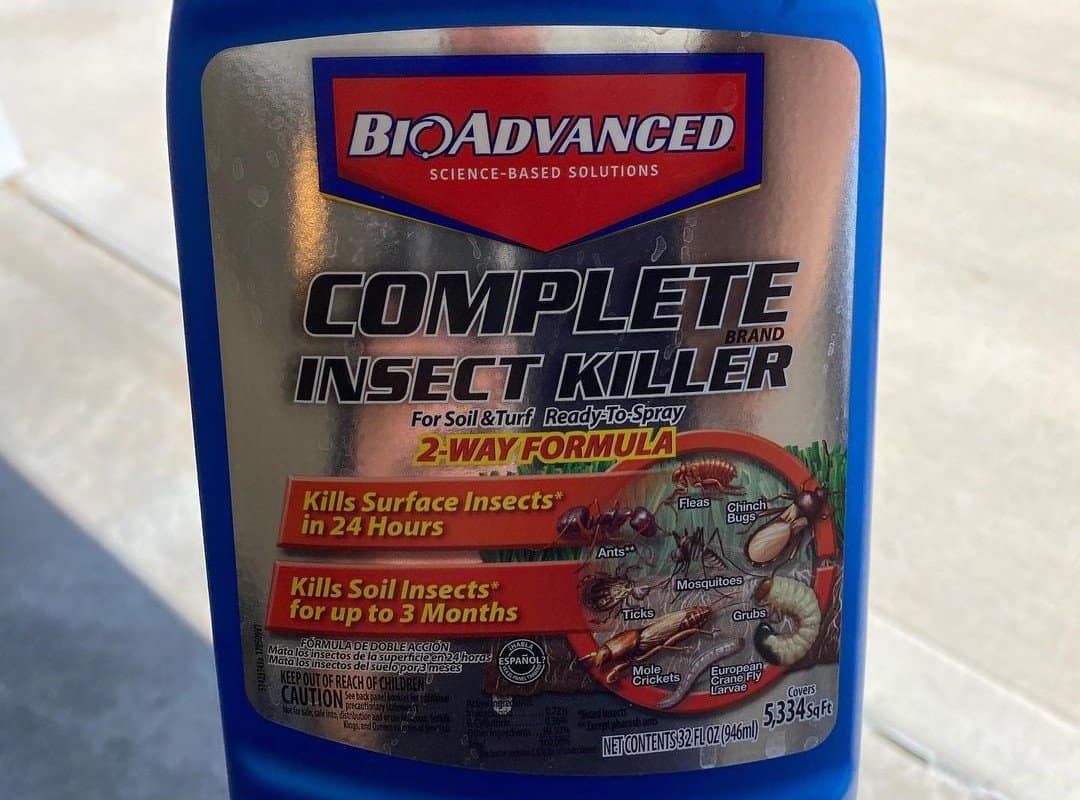 BioAdvanced brand promises users that a Complete Insect Killer can remove ticks from yard and outdoor surfaces. It becomes rainproof in 1 hour and remains so for up to 30 days. It fights not only ticks but cockroaches, crickets, spiders, wasps, and many more. Its active components are imidacloprid and beta-cyfluthrin that have a similar effect to Permethrin SFR.
It has a ready-to-use formula, and you need to attach the bottle to the garden hose. However, there are complaints that the attachment is not safe enough, so be careful and use a low water head. You can spray this pesticide on lawns, trees, sidewalks, porches, flower beds and other garden areas.
One bottle is enough to cover up territory less than 5000 square feet.
Pros:
Cons:

rainproof up to 30 days;
fights many types of pests;
ready-to-use formula.

no secure attachment to the hose;
only for outdoor use.
Treating Yard for Ticks With Spray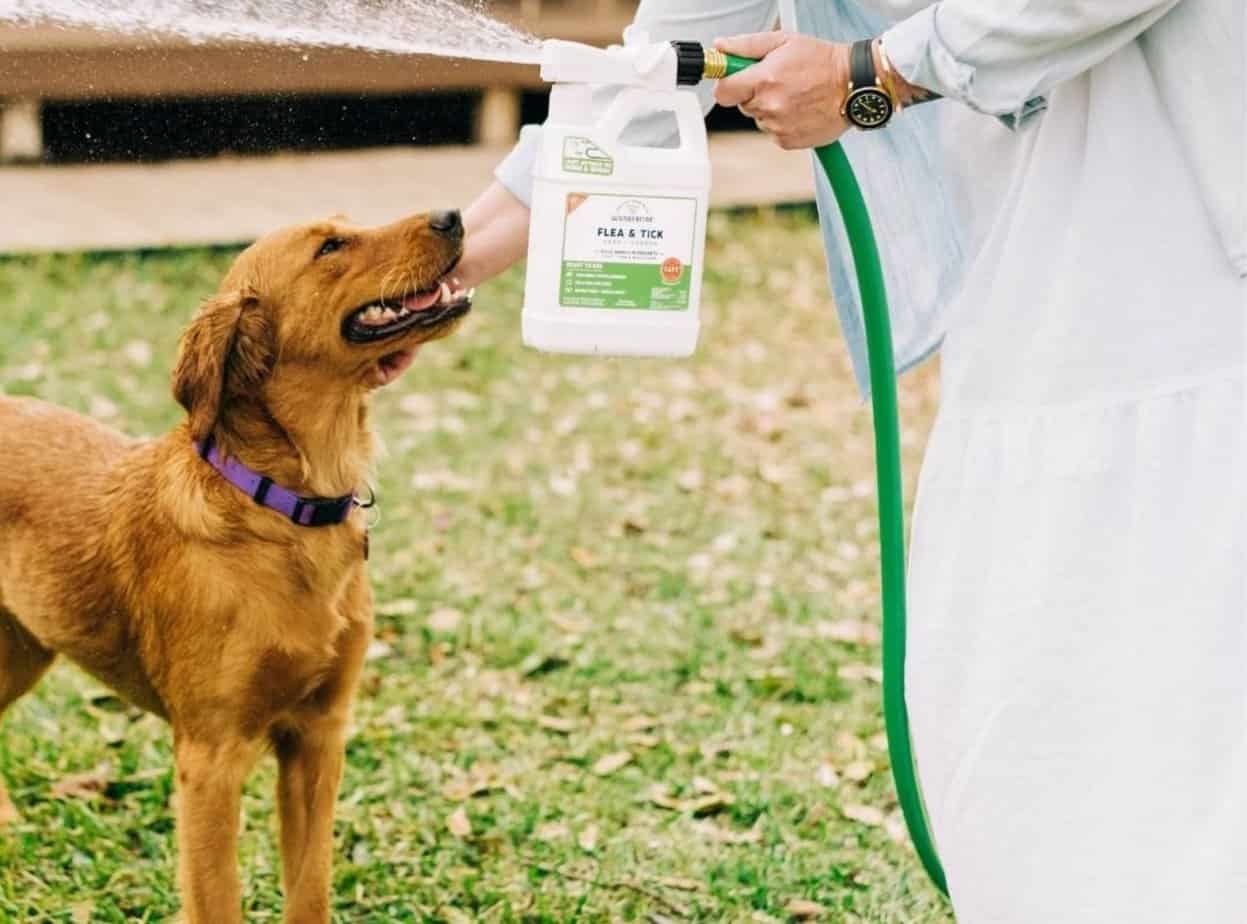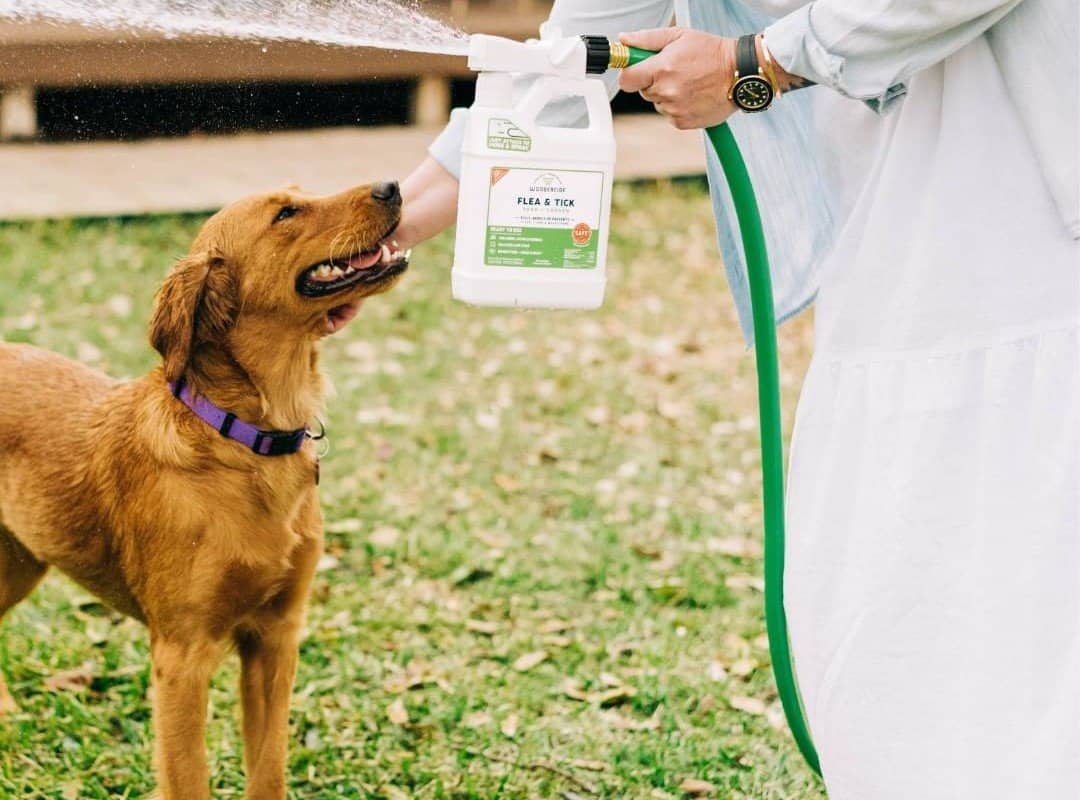 Want to know more about how to treat yard for ticks? It requires a comprehensive approach. There are several preparatory actions you have to do before spraying your lawn to terminate ticks in the yard.
Mow the Lawn
This can also be a preventive measure to keep ticks away from your yard. Most of these insects prefer to hide in the shadow and moist places. Mowing your lawn, you expose them and make the short grass unattractive to them. Try to cut the grass as short as possible with your mower. Do this regularly to keep ticks away from your yard.
Choose the Right Weather
Do not spay the tick treatments for yard during the rain, as well as right before or after it. The chemicals will be washed away before they do something for your tick battle. Make sure that there's very little to no chance of rain for at least 24 hours after the spaying session. Avoid windy days as well, especially if there are other houses in the neighborhood. The perfect timing for spraying is morning when there's no wind, mild temperature, and humidity over 45%.
Define Disinfestation Area
Calculate the size of your yard and figure the amount of the spray. You need to treat the entire yard and all places where ticks can hide, so you have to be sure that the prepared mixture is enough and it has the right proportion.
Apart from the conditions, choose a suitable way for yard treatment:
Killing ticks. This approach is understandable – you do everything to put ticks to death. The ingredients of the pesticides you use for this purpose are combined in the proportion that ensures the killing effect. No insects – no problems.
Repel insects. On the other hand, not letting ticks in is also a good strategy. Spray with the mixture of essential oils, that is a natural tick repellent for yard, and permethrin makes your lawn unpleasant for pests, so they leave the treated area. However, this approach can be ineffective for some species, so it is better to combine the approaches to clean the yard for sure.
Interrupt their life cycle. Another method of fighting insects is not letting them mature. For this cause, insect growth regulators are used. Without maturing, they cannot reproduce and their population gradually comes to an end. Keep in mind that it takes time to get rid of the ticks using this method.
You can achieve the best effect and get rid of ticks quicker if you combine the mentioned methods. Professionals in disinfesting do it all the time so you can follow their example in your fight.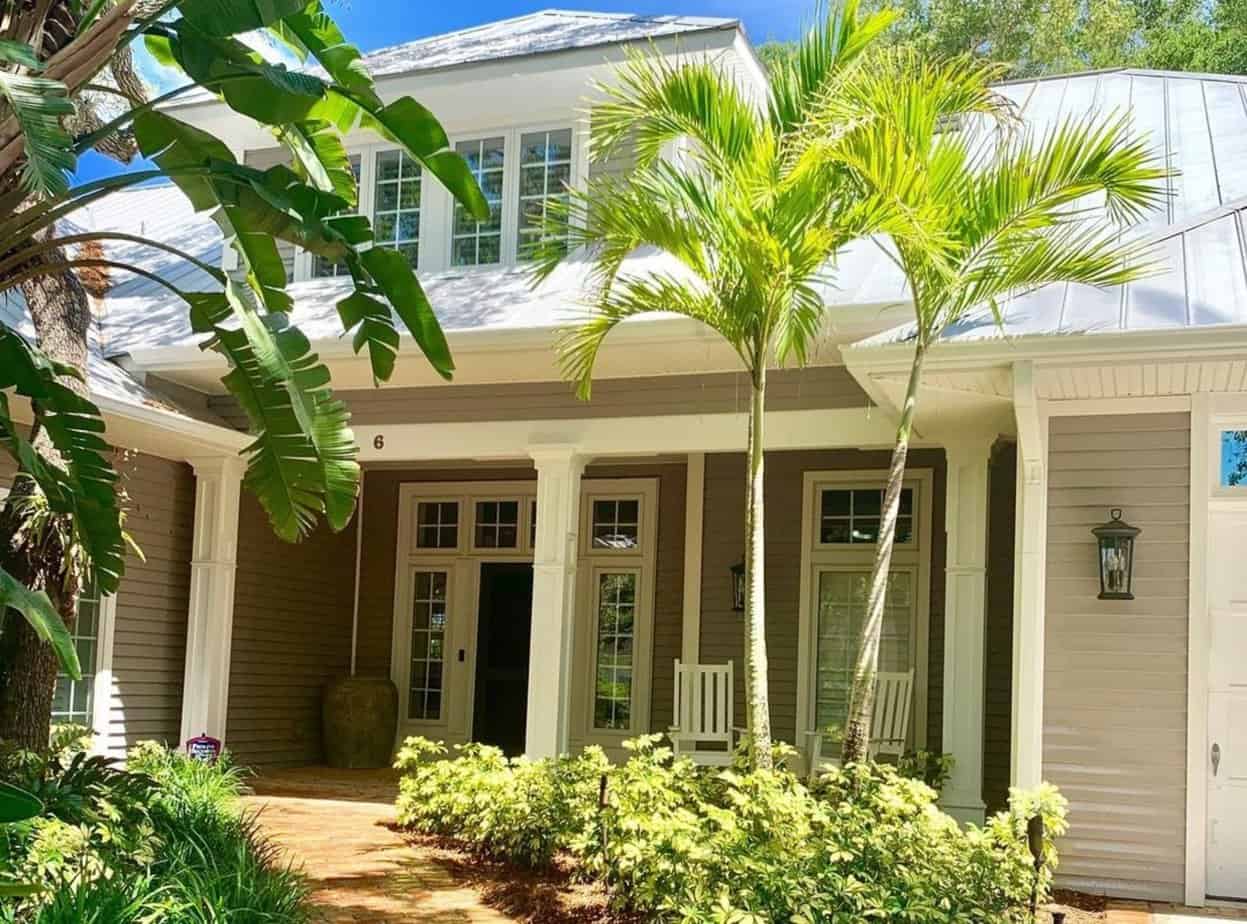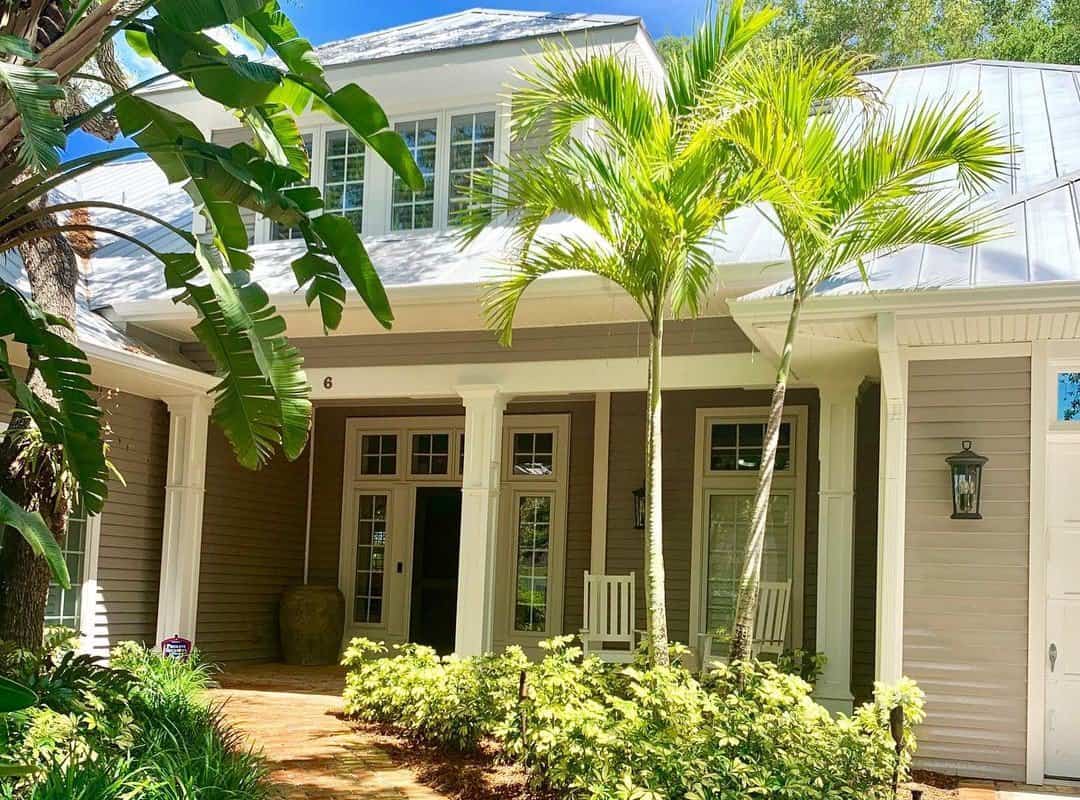 How to Use Tick Treatments for Yard?
There is no need to spread the lawn spray for ticks all over the yard. Ticks avoid direct sun or areas where there is a lot of movement. They hide in warm, moist, and quiet places, so you have to focus on those areas. This approach also helps not to waste the spray and not to pollute the entire lawn meaninglessly.
Territories with a warm and nice Mediterranean climate are perfect for tick population breeding, especially if your yard has many quiet, shadowy areas with trees and dense grass. Also, the perfect conditions for their population are in the pet zones, where your dog or other domestic animals live, like kennels or dog huts. Ticks can hide under the decks or sheds as well as along the house base.
Choosing chemicals for treating your yard, pay attention to their purposes and specifications. Spays made for indoor use do not work outside. Outdoor chemicals also can work differently and some of them lose their effectiveness under the direct sun. So study the selection of spays before you start using them for fighting ticks.
FAQ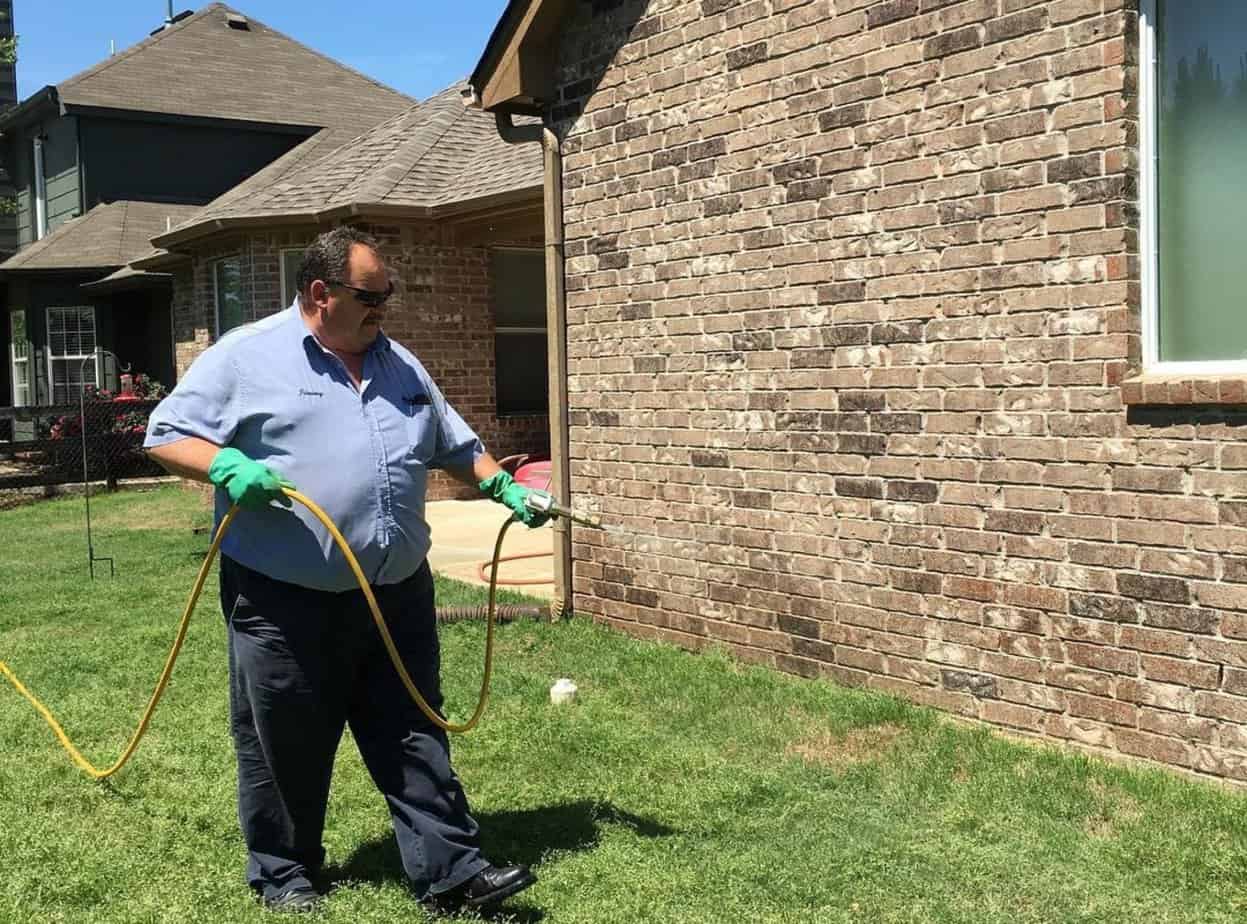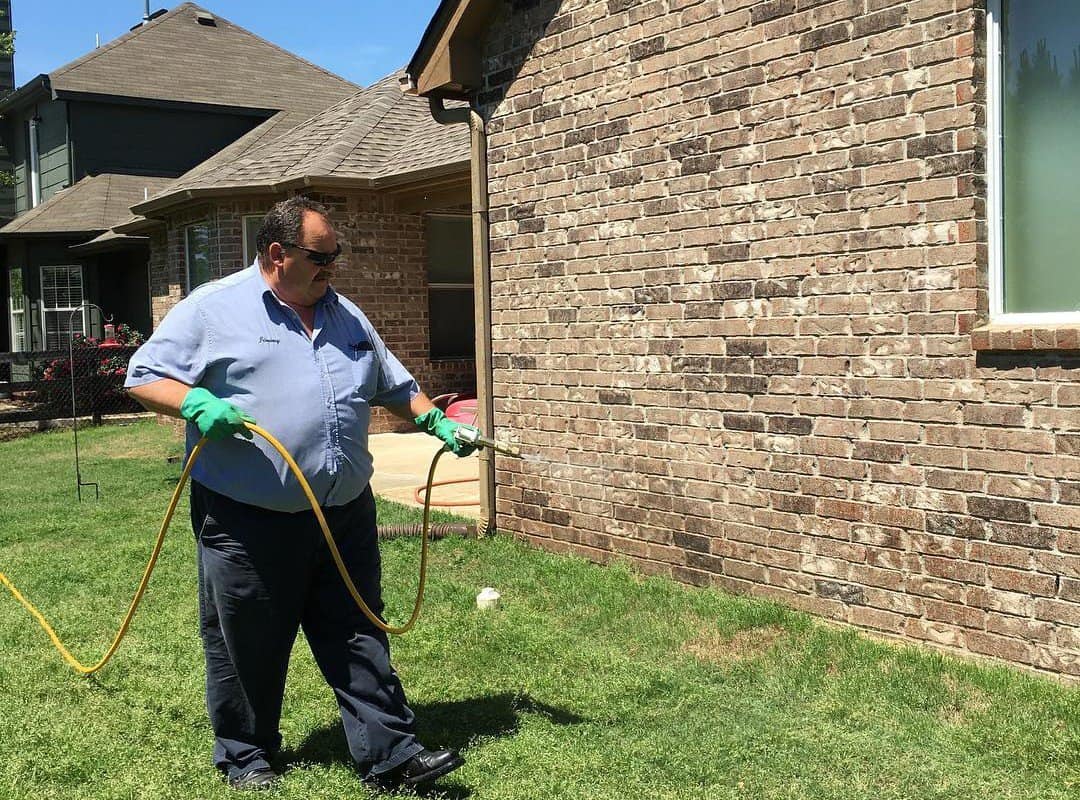 Here are the answers for the most common questions considering tick killer for lawn usage:
Where Do Ticks Live Outside?
Depending on the species, ticks can live in different conditions. For example, the black-legged ticks like moisture, so the forests with dense trees and grass are their favorite. The lone star ticks are less freakish and can survive even near pavements and sandy pathways. The same is with American dog ticks, which can live in dry conditions near roadsides and lawns.
Where in the Yard Are You Most Likely to Get Ticks?
As I said, ticks mostly live in shadowy warm and quiet areas. So the main places for them are long grass, and trees and bushes. In yards, they also can be found in stored cut wood and grass left from the spring cleaning, so it is better to throw them away as soon as you can. Playground structures and treehouses can be infested for the same reasons.
Why I Have Ticks in My Yard?
Ticks can get to your yard and live in it if you have tall trees, dense grass, and other convenient areas for their breading and maturing. Insects can appear even in your perfectly cleaned territory with mice and squirrels, which can come across your property.
When to Spray for Ticks in the Yard?
The spaying period starts in spring when the ground is dry and the temperature is mild. To prevent ticks in your yard, you should repeat this procedure every 6-8 weeks during summer and autumn seasons. Here are perfect conditions for spraying:
mild temperature;
dry ground and grass;
humidity over 45%;
not windy.


Final Thoughts
Keep in mind that ticks are tricky insects, and it takes persistence to keep them away. It is not enough just mow the lawn and use the tick pesticide for yard once. You have to repeat sessions according to the instruction and combine approaches killing and repelling insects from your house.
I hope my recommendations were useful. What pesticides did you try to kill pests in your yard? Do you have your proven method of fighting ticks? Share your experience in comments.
References:
Preventing Ticks in the Yard (U.S. Department of Health & Human Services):
https://www.cdc.gov/lyme/prev/in_the_yard.html
Two Year Life Cycle of a Tick (McHenry Country Illinois):
https://www.mchenrycountyil.gov/county-government/departments-a-i/health-department/environmental-health/nuisance-control/two-year-life-cycle-of-a-tick
Why You Should Trust Pest Control Hacks?
We know that pests are nasty neighbors, and it can take months to eliminate them without the right approach. Our experts use their own experience to compile articles and guides that are introductory and informative. Our authors' opinions are independent and based on the results of practical testing of pest control tools. We do not notify manufacturers of testing of their products and do not receive payment from them for posting their items. Also, our texts are never submitted to company representatives for proofreading before placement. On the site, you will find exclusively objective ratings and reviews.