The bitter truth when it comes to snakes is you don't have to be a survival aficionado to encounter one. Whenever you engage in an outdoor activity such as gardening, farming, or even construction, you run the risk of running into a snake. This also applies to runners and avid walkers.
While some of the slithering creatures are perfectly harmless and often every bit as terrified of you as you are scared of them, others tend to be aggressive whenever they sense a threat. More importantly, certain species have poisonous saliva, known as snake venom.
Their bites can be deadly and often leave you with little time to seek help, so snake protective clothing is a good idea if such encounters are likely.
Be sure to read my snake gaiters reviews below to make a choice that will keep you safe!
Top 6 Best Snake Gaiters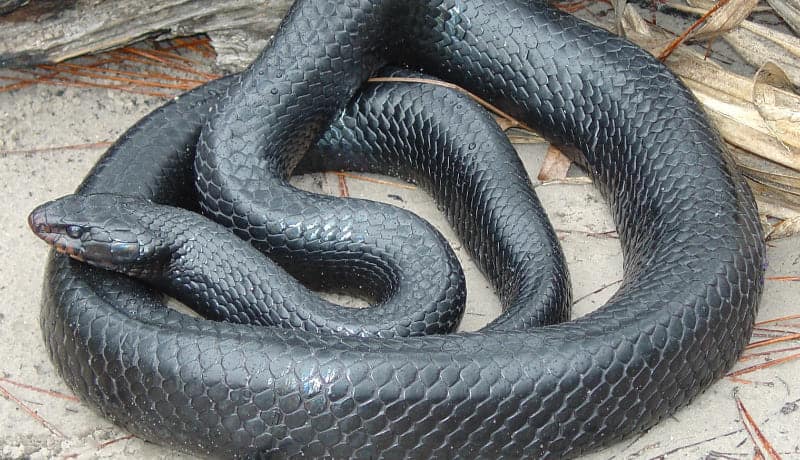 1. Crackshot Men's Snake Bite Proof Guardz Gaiters: My Personal Top Pick
CrackShot Corporation is a well-established US manufacturer of snake protection gear. The manufacturer's website emphasizes that their products comply with ASTM 1342-05, a standard that hasn't yet been satisfied by any other rival.
Unlike most protective equipment, which is usually described with caution as resistant to snake bites, this model is declared snake-proof gaiters. This is a fact supported by my experience — the material is something snake fangs can't deal with.
These gaiters are extremely well-tailored and don't feel hot inside. The model also features metatarsal protection, which is a piece protruding over the part of your feet where shoelaces normally are to keep the holes sealed against snake bites.
This model is lightweight (only about 300 g), which is a big plus for hikers. There are as many as six sizes to choose from based on calf circumference.
Pros:
Cons:

extremely effective;
very lightweight;
fit your foot and leg well if sized properly;
come in a number of sizes to fit any calf;
good metatarsal protection.
2. ForEverlast Snake Guard Gaiter Leggings: The Best Snake Gaiters for Hiking
ForEverlast Inc. is a US company that focuses primarily on fishing and hunting equipment with a special anti-snake line of affordable yet well-thought-out products.
These gaiter leggings were designed specifically for outdoor activities like hunting, camping, and hiking and provide additional protection from briar thorns.
What makes ForEverlast Snake Guard Gaiter Leggings ideal for hiking is how extremely lightweight they are. Each piece is only under 70 grams!
This model also features a protruding part for the shoelace area, although offering less coverage than the previous pick. You'll need good judgement to decide whether it's the right option for you if you're going to wear laced shoes.
These gaiters are a one-size-fits-all solution due to Velcro straps that you can use to adjust them around the calf. Although it certainly adds to the versatility of the product, I feel like the buckles might pop open if you have a wider leg.
Pros:
Cons:

very effective;
extremely lightweight;
affordable price;
extra brush protection for hikers.
3. TurtleSkin SnakeArmor Snake Gaiters: A Premium Solution for Hikers and Campers
TurtleSkin is one of America's leading companies in workplace safety equipment that runs a snake guard line using a patented fiber-weaving technology.
One thing you notice about SnakeArmor Snake Gaiters immediately is that they are foldable. This is, indeed, a rare feature as most designs are too stiff to save space. This collapses effectively to about 8 x 8 x 2 inches. You'll surely appreciate the space-saving solution if backpacking is on your hobby list.
This item boasts a reversible camo/plain khaki design. Unlike the above models, these gaiters don't have adjustable straps to hold them in place, relying instead on a zipper on the side plus two elastic bands that go around your leg.
The guards are made of a rugged fabric that's truly good at stopping snake bites while also protecting you against the wind. It's also lightweight (about 170 grams each gaiter) and not too hot to wear. Finally, the material is waterproof, so consider it if you're going somewhere wet.
These gaiters won't cover much of the shoelace area, so make sure you are wearing the right kind of boots with them!
TurtleSkin SnakeArmor Snake Gaiters come in two sizes, Regular and Husky. The latter measures 23" around the top part of the calf and 20 inches around the ankle.
Pros:
Cons:

foldable;
reversible design (get two styles for the price of one);
lightweight;
wind- and waterproof;
tested using real rattlesnakes.

high price;
the zipper might jam when dirty.
4. Tuff Shins Plastic Snake Leggings: Simple Yet Effective Snake Bite Leg Guards
Another US-made product, these leggings are produced by Tuff Shins, a company specializing exclusively in this kind of leg protection.
Tuff Shins have about the simplest design you can think of. Each piece is made of a sheet of flexible plastic which wraps around your leg. The manufacturer emphasizes that, unlike some similar products, the gaiters are 0.050" thick, which ensures sufficient protection. They are also higher at the front compared to other brands for extra security.
Since no buckle straps or Velcro ties are included, Tuff Shins are extremely quick and easy to put on and take off. It also increases durability, as it's the fastenings that tend to fail first. The model is extremely lightweight.
One disadvantage of these gaiters is that they offer no foot protection at all. In fact, they end around your ankle, so combining these snake guards for the legs with low-top footwear wouldn't be a good idea.
Pros:
Cons:

affordable price;
easy on and off design;
no frail details;
higher than regular for extra knee protection;
very lightweight.
5. Razer Gaiters Snake Gaiters with Storage Bag: Extra Safe Snake Proof Gaiters at a Reasonable Price
Razer Snake is another specialized brand with a focus on snake protection for hikers and other outdoor lovers.
Each piece weighs about 370 grams. The gaiters were designed with a view for maximum comfort, which is ensured by thirteen polycarbonate panels that make up their frame, adding to flexibility as they wrap smoothly around the lower leg. This is a one-size-fits-all model that will fit a calf of 13 to 20" due to adjustable straps.
The material is 1000-denier nylon fabric that has been lab-tested for puncture resistance according to ASTM F1342-05. The product is also impact-resistant, so the polycarbonate panels won't break easily.
What I appreciate most about this model, however, is enhanced foot protection. The foot piece is long enough to cover the shoelace area up to the toes.
There are a number of colors and styles to choose from, including khaki and camo.
Pros:
Cons:

affordable price;
highly resistant to piercing;
excellent foot protection;
travel bag included;
lightweight.

no extra-large calf option.
6. TurtleSkin SnakeArmor Total Protection Snake Chaps: Professional Choice
Another product by the US protective clothing brand Turtle Skin, these chaps ensure top level of protection without being too bulky.
The material is a patented ultra-tight weave that will withstand snake bites as well as thorns. It's wind- and waterproof as a bonus.
Unlike regular gaiters, snake proof chaps protect your whole leg up to the thigh while also covering part of the foot. The legs feature zippers for ease of use when wearing boots. My general impression is that these chaps are very comfortable to wear due to low weight and increased flexibility.
Two sizes are offered depending on your thigh circumference. The manufacturer emphasizes that the fit shouldn't be too tight around the hip.
Pros:
Cons:

whole-leg protection;
tested with live snakes;
lightweight;
wind- and waterproof;
flexible and comfortable to wear.
Buyer's Guide

What Are Snake Gaiters and How Do They Work
Snake gaiters are a form of snake protection that covers your lower leg and, sometimes, the knee. They are essentially anti-snake boot covers usually made of textile or, less commonly, plastic. Another term sometimes used to speak of snake gaiters is snake chaps, although this phrase denotes a form of thigh-to-ankle protection.
Gaiters, or, alternatively, leggings, are a simple, mechanical form of snake bite prevention. They are made of fabrics that are puncture-resistant so that snakes cannot bite through them. This is usually combined with protection against thorns and scratchy branches when in the woods.
When It's Essential to Use Snake Gaiters
My recommendation is that you should wear snake gaiters whenever you engage in outdoor activities in an area that's known to be inhabited by snakes, in particular venomous species. Rattlesnakes, cottonmouths, and copperheads are all very common and dangerous. Be sure to find relevant information regarding your area and use protection as needed.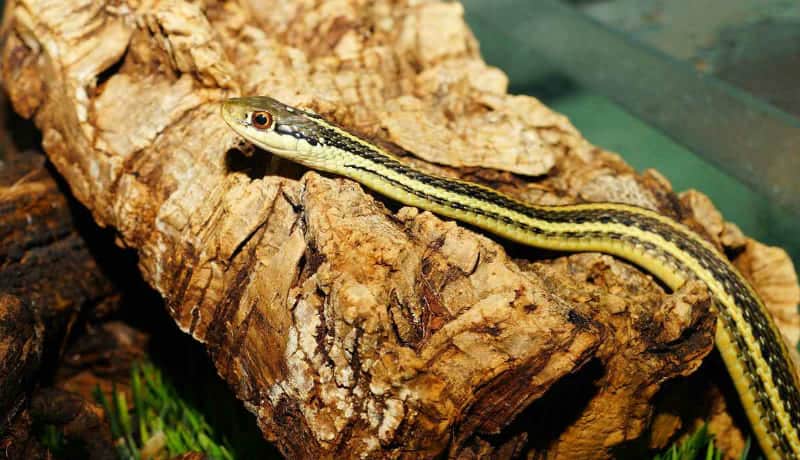 Remember that, although snakes are most common in wilder areas, you might also come across one in a place like your swimming pool. It's also advisable to wear snake gaiters every time you go hiking or camping as these reptiles like to hind in piles of wood.
Related Post: Best Snake Traps Reviewed
How to Choose the Right Snake Gaiters for Your Purpose
Material is key when it comes to snake bite prevention. The fabric/plastic should be firm enough so that the serpent's fangs don't penetrate it. This, however, often comes at a cost — snake leggings tend to be somewhat bulky.
If you're going to use them while hiking or generally move a lot, consider lightweight snake bite gaiters that offer good air circulation between the fabric and the leg.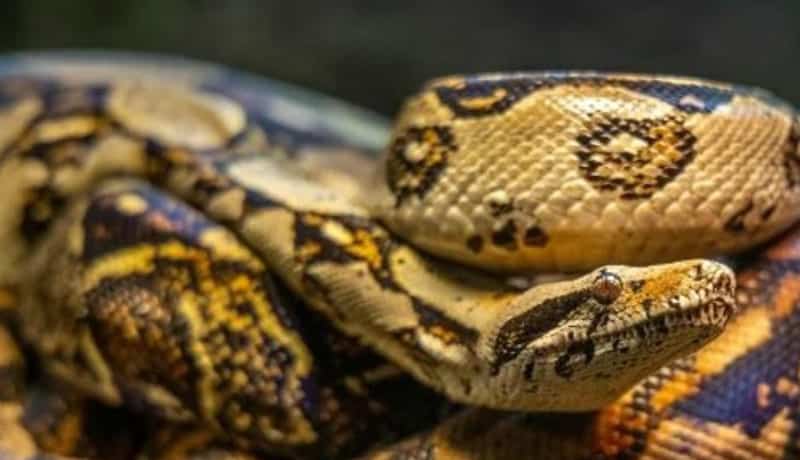 Note that some snakes can attack your feet as well as lower legs, so foot protection is always a welcome feature. Otherwise, you'll need to combine your gaiters with fitting boots. In general, no skin or non-puncture-resistant material should be left exposed below the knee.
Although this is not a common scenario, some snakes might try to bite you above the knee, so consider whole-leg chaps if you are going to a dangerous area.
Another aspect to take into account is the size. Most snake gaiters have adjustable designs that sometimes fail to accommodate larger-than-average legs. Make sure the model you're ordering will cover your leg well up to the knee without being to tight around the sheen.
FAQ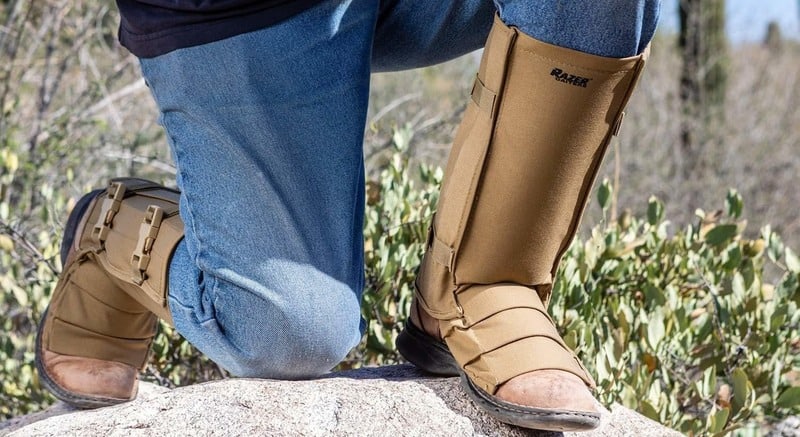 When to Wear Snake Gaiters?
Snake gaiters are a must whenever you're going to visit outdoor spaces inhabited by snakes. Depending on the species, these can include anything from the woods to the desert. And don't hesitate to use lower leg protection from snake bites while simply working in your garden! (unless you're 100% sure your neighborhood is snake-free).
How to Size Snake Gaiters?
With lower leg snake gaiters, the key measures are calf and ankle circumference. Most models have adjustable buckle straps for greater versatility but usually fail to accommodate larger legs. If this is the case, it's best to look for gaiters that come in a variety of sizes. The best snake gaiters will leave enough room for your pants. The fit shouldn't be too snug.
How Effective Are Snake Gaiters?
Snake gaiters do a good job of preventing snake bites provided that they are made of quality puncture-resistant material and provide sufficient coverage. Since lower legs are the most common targets for biting serpents, snake gaiters are really key to snake safety. However, few companies declare 100% prevention. What gaiters do is essentially minimize the risk.
Takeaways
Snakes are almost ubiquitous except in urban areas, which means you'll probably need to make precautions if you're planning a hiking trip or spend a lot of time gardening.
One reliable way to protect yourself from aggressive, potentially venomous snakes is to wear puncture-resistant snake gaiters around your sheens. Remember to choose the right size for your calf and keep your feet covered as well, since nothing will keep the snake from biting through a regular training shoe.
Do you have any experience with snakes? Please share it in the comment section down below, and don't forget to mention your area so that others are aware of the danger!
References:
Venomous Snakes (U.S. Department of Health & Human Services):
https://www.cdc.gov/niosh/topics/snakes/default.html
Snake Safety (U.S. Forest Service):
https://www.fs.usda.gov/Internet/FSE_DOCUMENTS/stelprdb5393596.pdf