Snake proof chaps are not reserved for people dealing with serpents on a regular basis. A decent pair of snake proof pants can save your life even if you just decided to take a stroll into the woods. Still, danger noodles are not known for showing remorse.
What you may not be aware of, though, is the fact that the best snake chaps aren't only safe. They are comfortable to wear. Yeah, gearing up for a walk doesn't have to be a chore if you decide to wear the snake protection pants listed below.
Top 5 Best Snake Chaps
This section of snake chaps reviews holds a fair share of insights that I have gathered over the years. I have owned these bad boys at some point in my life, and some of them even had the opportunity to save my ankle from a nasty bite. Without further ado, let's dive deeper into our review of snake proof clothing.
1. TurtleSkin SnakeArmor Total Protection – My #1 Choice
It's best if you were not to take chances when living in a snake country, and these snake guards for legs are just the tool for the job.
TurtleSkin did a great job of making a product for hikers and hunters. The gear is as flexible as simple cloth. It can breathe fine, which is great for long walks during the summer. The material is waterproof, so you don't have to fear moisture while holding still and waiting for the prey to show in your sights.
Lastly, these chaps are made from high-strength fabric and tested with live snakes so your personal security is guaranteed.
On the downside, you should be very careful when picking the size of these chaps. Make sure you leave a couple of inches of leeway; otherwise, the pants will be too tight to be worn comfortably.
Pros:
Cons:

highly durable material;
water and windproof;
tested on real snakes.

might feel too tight when worn.
2. ForEverlast Snake Guard Chaps – Good Value
These snake-proof hiking pants are made from high-quality, rugged nylon, which means that they will not only protect you from a bite but also age well even under heavy use.
The pants cover the entire leg, where the lower half is safe from snakes, and the hip area is nicely protected from thorns and heavy brush. Plus, the real tree APG camo really helps you blend in.
The pants are waterproof and offer full protection. That being said, the material isn't as durable as one might hope, and it can get hot under em' bad boys real quick. Also, these chaps are quite slim, which may not be the best fit for larger men.
Pros:
Cons:

great for forest areas;
offer full leg protection;
good value for a smaller price.

camo doesn't do much outside of woods;
too slim for larger men.
3. Youth Size Snake Chaps – Best Snake Chaps for Kids
Snake proof clothing isn't reserved for men. Children who happen to live in areas where there are snakes can use snake resistant pants as well. Sadly, most youngsters hate these kinds of things as they tend to limit mobility.
Not these Youth Size Snake Chaps, though.
Despite the sturdy materials, these US-made pants are as flexible as a pair of jeans, which makes them a solid choice for camping or playing active games outdoors. The chaps come in 8 different sizes, so picking a fit for your kids isn't an issue. Lastly, the camo looks pretty cool, offering the young ones a little bit of GI Joe flair to their playtime.
Pros:
Cons:

astm-1342-05 penetration tested;
come in 8 sizes;
great for outdoor activities.

girls might not enjoy the camo.
4. Dan's Snake Proof Hip Wader – Best Waterproof Snake Chaps
These chaps can definitely protect legs from snake bites, but they are much more of a pair of snake boots than pants. The upper part of your leg will not be as protected as with some other options I've listed.
That being said, I would consider their height as a disadvantage. The rubber sole and nylon are excellent for active hikers or hunters who do not wish to sacrifice mobility for unneeded protection.
Pros:
Cons:

flexible and great for hunting;
well-constructed and rugged;
made in the USA.

don't offer complete foot protection.
5. Gamehide Briar-Proof Upland Hunting Chap – Great Heavy Duty Reinforced Gear
These sturdy heavy-duty chaps are reinforced with an additional layer of fabric up to the mid-calf area offering extra protection against both serpents and heavy brush. The material is waterproof – good news for hunters.
The leather strips that fix the chaps to your belt are easily adjustable. This is great for taller people. Also, the leg opening is quite wide. I don't think anyone will be able to feel uncomfortably tight in these bad boys.
Pros:
Cons:

reinforced with waterproof material;
adjustable leather straps;
wide leg openings.

may fall uncomfortably low after an extended period of use.
Buyer's Guide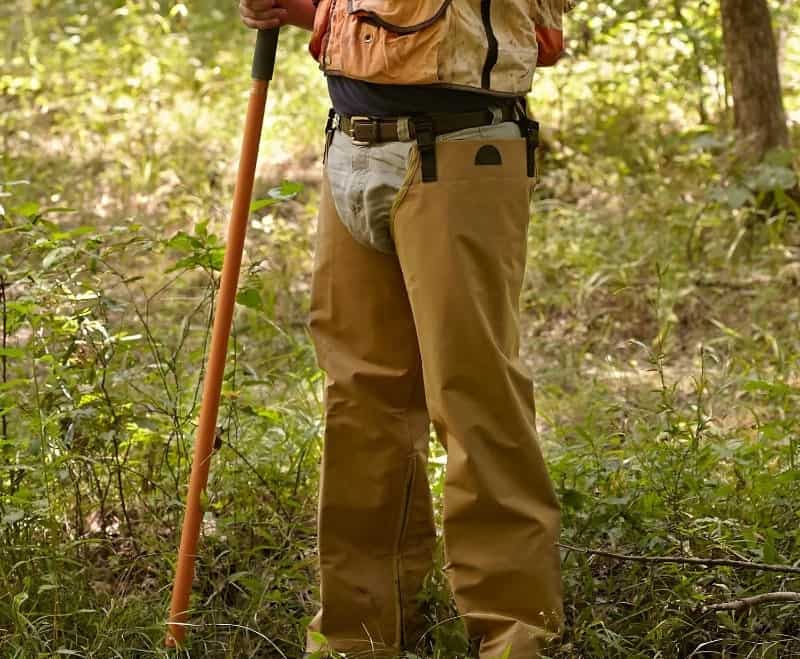 People who live in desert areas know too well why rattlesnake proof pants are an essential wardrobe element. That being said, a rattlesnake is not the only venomous snake in America. Leather snake chaps or even models made of reinforced cloth are an integral element of working outdoors, camping, and hiking in the snake country.
This leaves the question: how to pick the right chaps that will both offer protection and be comfortable to wear?
Pay attention to layers of cloth
Almost all chaps are made from layers of cloth. These should not be simple layers of fabric. A great item will have a firm, thick layer of material on the outside. It is used to prevent piercing. It is to be followed by several layers of padding that are designed in a way that catches the fang and the venom.
Then comes the waterproof membrane – an essential element of chaps for hunters and hikers. Lastly, there is a nice, thin layer of comfortable material, so your legs in jeans or pants can slide in effortlessly.
Comfort is key
As many layers of fabric, as we've mentioned above, can become a chore to wear. What's the point of heavy-duty protective gear if you can't perform well physically simply because your knee doesn't bend? A good manufacturer considers those materials that meet all industry standards and are quite lightweight and flexible at the same time.
How well do they fit?
Many people often overlook how well their chaps fit. Alas, wobbly pieces of cloth can barely offer any protection. This factor is much more important after a rain as the padding that's soaked in water will be heavier than usual, and the chaps will simply keep sliding down.
Where are the chaps made?
Look for snake chaps that are manufactured in the US. This way you will be sure that all of the materials were thoroughly tested. In simple words, they will save your life if the need arises.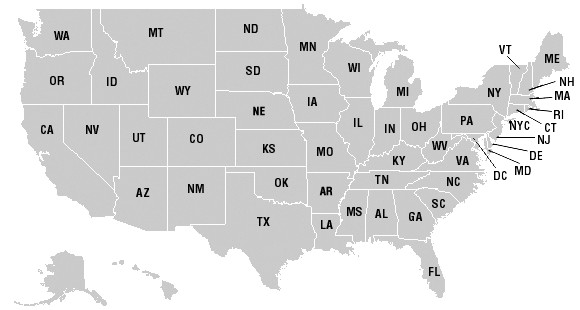 These are all the essential factors one should consider before investing their money in an expensive, yet an integral product. That being said, you are free to look for additional nuances such as camo-covered options or leather VS cloth models. I'd say that modern cloth-made chaps are better due to the many layers all serving separate functions, but the definitive choice is entirely up to you.
FAQ
Do you feel that something is still uncovered? Here are the most common questions about snake chaps I've had the pleasure of answering.
Do snake chaps work?
Yes, they do. Snake chaps will prevent the snake's fang from piercing your skin. Models with additional padding will also hold the venom.
What snake resistant fabric is the best fit for pants?
As I've mentioned before, the choice of fabric is entirely up to you. Still, you shouldn't forget that one single material doesn't offer viable protection from a snake bite. Look for pants that are made from several layers, including thick fabric, padding, and a waterproof membrane.
What size snake chaps should I get?
Consider the options that are an inch or two wider than your leg when wearing pants.
Endgame
I hope this guide has taught you about the different types of snake chaps, how they are made, and what to look for. Look for the best quality protection made of several layers of cloth. Keep an eye on the manufacturer and check if the fit feels comfortable. You will be spending a lot of time in these bad boys.
Feel free to ask if you have any remaining questions regarding the best size to fit, various types of fabric manufacturers use, or any other details that are of significant interest. I am more than willing to answer any questions, especially given my answers have the potential of saving someone's health and wellbeing.
References:
Identify a Florida Snake (University of Florida):
https://www.floridamuseum.ufl.edu/florida-snake-id/
Types of Venomous Snakes (U.S. Department of Health & Human Services):
https://www.cdc.gov/niosh/topics/snakes/types.html