Are you tired of seeing ants all over the place? Do you want to get rid of them instantly? Have you tried lots of ant elimination methods without any success? If the answer is yes, then make a point of reading about the 5 best ant sprays that will repel ants from your place.
My name is Nicholas Martin; I am a professional in the entomology field. I merge the insect analysis work with consultation for exclusive pest control organizations. Now I will guide you through the list of ant sprays for you to choose the best ant spray killer.
With that said, I will teach you how to fight these harmful crawling insects in a vigorous and effective way. Repellents remove all the trails, thus ensuring that not even the ants' trace will bring them back to your place.
You may ask: where these ants do come from? The common cause of ants' invading our homes is the fact that they also tend to get hungry! That's why they come to our places, starving and looking for food.
Once they spot areas with food, the working ants come out in large numbers known as the army of ants, steal food from us and bring it back to their anthills. In most cases, they come to the kitchen area as it stores plenty of sweets and food leftovers left behind without cleaning.
That is why you will need to be well-prepared and get the best ant spray to eliminate ants instantly, as they will continuously bother you in your home.
Top 5 Best Ant Killer Sprays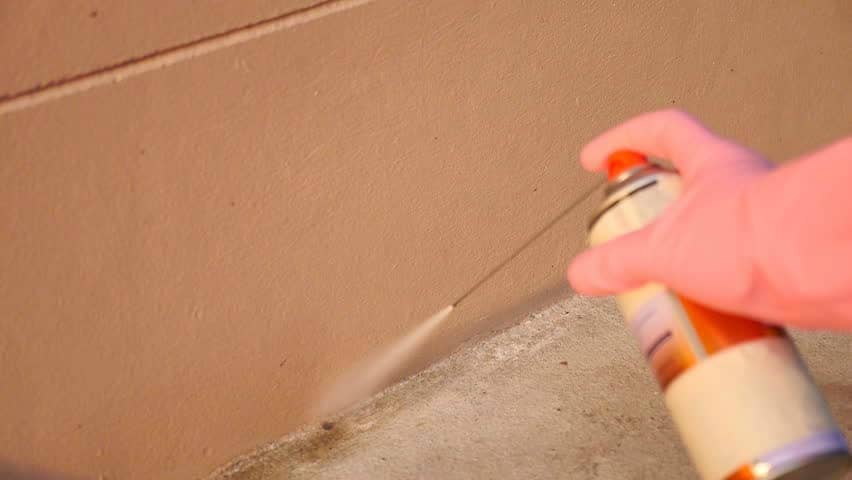 What is the best spray to get rid of ants? When is the safest time for using ants spray? If you are asking these questions, then you are in the right place.
I will help you to get rid of ants almost instantly, guaranteeing that no ants will find their way back to your house. Using the right kind of ant spray will allow you to kill the unwanted ants. I will discuss the most effective insecticides that will help you to solve your problem.



Have you used home remedies like a mixture of peppermint and lavender to repel troublesome ants to no avail? Or have you put water and vinegar to get rid of them, but ants always came back?
Then this review will help you to choose the best spray for ants based on its pros, cons, and how effective it is for solving your problems.
1. Terro Ant Killer Aerosol Spray – Top Pick
Specifications:
Item Form: Spray
Item Weight: 1.2 pounds
Duration of action: up to 1 month
Item Dimensions LxWxH: 2.7 x 8 x 9.4 inches
Target Species: Ants
When I talk about instant elimination and killer ant spray, Terro Ant Killer is the first to come to my mind. This spray is good for both indoors and outdoors usage. It works perfectly for killing ants and other nagging insects. It is proved to last up to six weeks.
Due to the aerosol spray, it kills ants on the spot and continues to work after being sprayed outdoors for up to a month. It is claimed to be one of the best outdoor ant killer spray repelling ants and other bugging insects like spiders and cockroaches. The volume of spray is big enough to last for a long period of time.
Spray the product outside on the ant trails, cracks and fissures to make sure you finally eliminated the whole colony and gave yourself the satisfaction of them not coming back for good.
Spray the product indoors along the path where you first spotted ants to destroy the pheromone that they use to attract more ants. Thus you will kill the insects that are already in your house.
Terro Ant Killer is very easy to use. You only need to twist the top of the can to open it. It also has a spray nozzle, which makes it easy to target and kill the ants. The can is of an extremely convenient shape, which allows you to reach your aim easily.
Pros:
Cons:

kills instantly on first contact;
acts as a repellent for a month or two;
easy to use;
kills not only ants, but spiders and scorpions as well.

it has a strong and chocking smell;
can be harmful for kids, pets and plants.
2. Hot Shot Ant and Roach Killer: Universal Ant Killer Spray
Specifications:
Item Form: Spray
Item Weight: 1.39 pounds
Duration of action: up to 3 month
Item Dimensions LxWxH: 2.62 x 2.62 x 10.06 inches
Target Species: Ants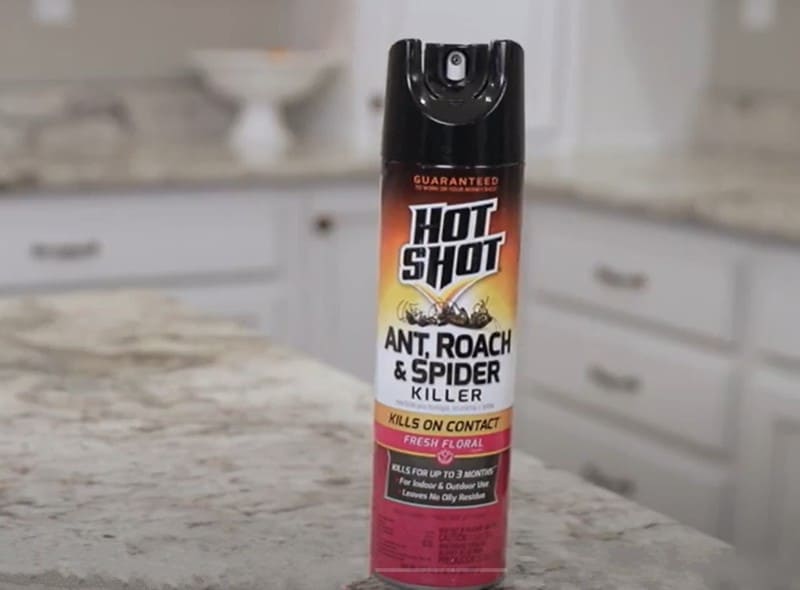 The best feature of this spray is that it has no fragrance and can be easily used inside the house without any blocking effects. It can be used even when kids are around in the house. It doesn't have any ozone-draining substances or any lasting chemical smell. It is eco-friendly and can be used both outdoors and indoors.
Hot Shot spray has been on our shelves for decades; it is most effective to be used on ants and cockroaches as it kills them during the first contact. It's effect works for a month. Make sure to spray between cracks and crevices, including the outdoor areas.
Hot Shot is very easy to use: shake it well, then hold the can upright pointing the spray where you have spotted ants, press the spray button targeting at the ants and spray directly. Spray generously and wait for the ants to die. For the best effect, repeat the same procedure outside your house and around the place to make sure no colony of ants goes unsprayed.
Pros:
Cons:

kills ants and cockroaches instantly;
repels ants for a month;
has no chocking smell and leaves no lingering chemical smell;
environment-friendly.

you keep on repeating the procedure every 4 weeks, so it's not a long term solution.
3. Ortho – Best Long Lasting Ant Killing Spray
Specifications:
Item Form: Spray
Item Weight: 11.7 ounces
Batteries: 2 AA batteries required
Item Dimensions LxWxH: 8.95 x 12 x 4.88 inches
Target Species: Ants, cockroaches, spiders, fleas, ticks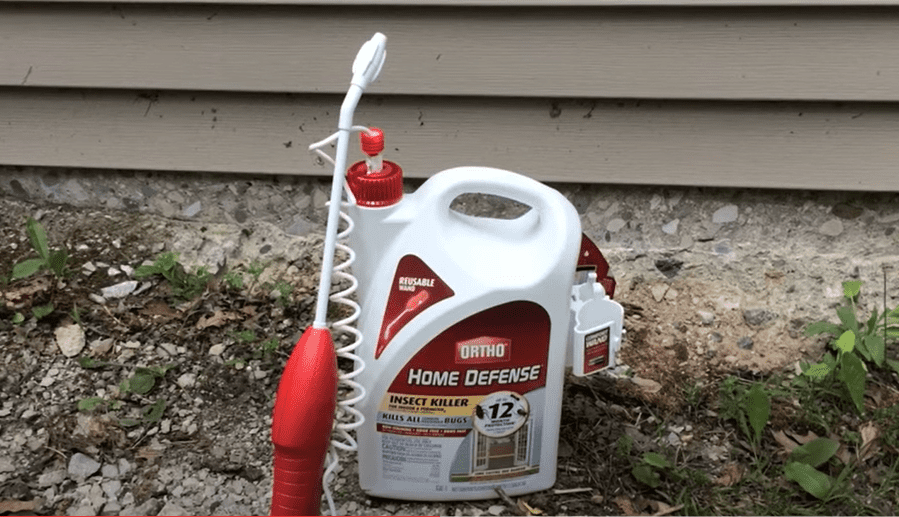 This is the best ant spray for indoor usage. It kills cockroaches and ants inside the house quickly and easily. This spray destroys ants' trails in the kitchens, cabinets, bathrooms, basements and around doors. It acts as a perimeter barrier for three months repelling ants and other crawling insects from getting into your home.
The spray does not leave a filtrate layer as it dries fast and does not stain along with the perimeter barriers. It is odorless and doesn't have a choking effect as you use it. The barrier is long-lasting offering protection against ants, bugs and other insects if you respray after every season.
The Ortho spray comes with a spray wand, which is easy to use and reduces hand fatigue. The wand helps in reaching out for all the hidden spots that are usually hard to reach. The wand is reusable and works effectively, even after numerous usages. Once it is dried, the product is safe for infants and pets around your household.
Pros:
Cons:

kills ants immediately;
provides a lasting barrier that keeps the ants and other listed insects from getting in the house;
easy to use and effective with quality value.

quite expensive;
has toxic chemicals that can cause allergic reaction.
Specifications:
Item Form: Spray
Item Weight: 1.8 pounds
Item Volume: 24 Fluid Ounces
Item Dimensions LxWxH: 2.5 x 4.52 x 10.95 inches
Target Species: Ants, silverfish, earwigs, stink bugs, spiders, bees, wasps, centipedes, millipedes, mosquitoes
With this organic home pest control, you can safely spray the repellent because it doesn't have any chemicals and hence is very safe to use around your family and pets. Mdxconcepts Organic Home Pest Control is environment-friendly and does not have any harmful effects.
It kills ants, spiders and bees immediately. It repels any kind of insects which can cause harm to your household. This organically made pest control is not harmful to humans and cannot cause any health issues hence being the best spray for ants in the house. It is made from organic products like peppermint, rosemary, and spearmint all in oil formula.
It is very favorable, especially if there is an invasion of ants. This product will stop them immediately during the first contact. It has a slight odor that repels ants away. It is easy to use.
The spray is good for both outdoor and indoor usage. Shake well, target at the ants' trail and spray it around. You will get quick and instant results that you are looking for. Make sure to spray all corners and cracks.
Pros:
Cons:

eco-friendly as it is made from organic extracts;
can be used both indoor and outdoor;
safe to use near children, plants and pets;
kills ants instantly.

leaves a small filtrate layer.
5. Talstar – Best Pro Outdoor Ant Repellent Spray
No products found.
This is a very strong and powerful insecticide that contains bifenthrin that is commonly used in most insecticides. Bifenthrin kills ants and insects as the chemical paralyzes the ants' nervous system and spreads out to the entire bodies, hence spreading further to other ants in a colony. The residual effect lasts for 3 months, repelling and acting as a barrier so no ants can get into your place.
Talstar is used both indoor and outdoor, but it should be mostly used outdoor as it acts as a barrier around the house perimeter. It is truly significant in reducing the population of ants around your house. The bifenthrin chemical is very harmful to pets and children; hence, it should not be used around them.
Talstar is not very easy to use, but you can follow the instructions, and you will be good to go. You need to dilute 1.0 oz of the Talstar insecticide in one gallon of water. Apply the solution from the dilution to cracks, crevices, and other areas where you have spotted the colony and trails of ants.
The best target should be the ants' nest to treat the ants' infestation completely. You should always re-apply Talstar insecticide every two months to make sure that you deter all ants and other insects from coming back.
Pros:
Cons:

kills ants and other nagging insects;
acts as a repellent and a barrier;
can be used both indoors and outdoors;
best used for commercial and noncommercial purposes.

Talstar insecticide is very harmful if swallowed, inhaled, or absorbed through the skin;
very expensive;
not easy to use.


FAQ Section
How Does Ant Spray Kill Ants?
All sprays for ants or other insects killing contain special chemicals, such as boric or borax acid, that are harmful to insects. Imagine, a spray for ants is like a nuclear bomb for humans.
Death occurs almost instantly. Moreover, the action from the bomb continues to last even after it is dropped. The same thing happens with the spray effect: it continues to be fatal for the ants for several more weeks.
How Long Does Ant Spray Smell Last?
It all depends on the manufacturer. Sometimes the smell can last for several days. My recommendation is to choose organic substances without a strong smell. They can cost a little more, but they do not provide such harm to human health.
How Safe Is Professional Ant Spray?
This is one of the most frequently asked questions. I can't say that all professional sprays are safe, however, most of them are absolutely harmless not only for adults and children but even for your pets ( not if they're ants, of course :)) Take a look at Mdxconcepts Organic Home Pest Control and Ortho remedies.
Enjoy an Ants-Free Environment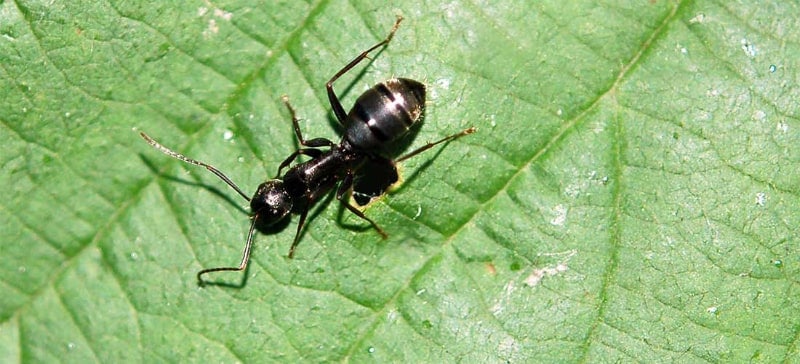 Finally, I have come to the end of my review, and I am sure you have learned a lot about the best ant sprays that will help you to eliminate and deter ants away from your house through creating barriers. All the information above is very important and reliable if you want to prevent ants and their colony from getting into your house.
Now you know about ant spray safe for pets and, hopefully, have already chosen the best spray for ants. You have also learned about the different insecticide included in ant sprays used inside the house and the best ants spray for outdoors.
Also, remember that you should avoid spilling and leaving food in your kitchen. Clean the counters and shelves by removing crumbs and spills. Always make sure that you did not leave dirty dishes in your sink. Never leave your trash indoors when the trash can is full; otherwise, ants will certainly come back.
Always put out barriers that will repel ants and other threatening insects. Spray well around the cracks, eliminating any signs of ants' trails and colonies with the best outdoor spray for ants. Feel free to leave your comments in the comment section below. Do you still feel unsure when the best time to spray the ants repellent is? Do not be dismayed, ask your questions, and I will gladly answer them with references to my personal experience.
Also read:
References:
Biology and Control of Carpenter Ants (NC State University):
https://content.ces.ncsu.edu/biology-and-control-of-carpenter-ants
Bifenthrin (Oregon State University / National Pesticide Information Center):
http://npic.orst.edu/factsheets/bifgen.html
Why You Should Trust Pest Control Hacks?
We know that pests are nasty neighbors, and it can take months to eliminate them without the right approach. Our experts use their own experience to compile articles and guides that are introductory and informative. Our authors' opinions are independent and based on the results of practical testing of pest control tools. We do not notify manufacturers of testing of their products and do not receive payment from them for posting their items. Also, our texts are never submitted to company representatives for proofreading before placement. On the site, you will find exclusively objective ratings and reviews.