Many people have come to me expressing their frustration regarding ants in their residential settings. Well, for many individuals, these little insects are very irritating, and getting a strategy to eliminate them is priceless. Prior to becoming an entomologist, I also had my own share of struggles with ants, and never knew of any 100% effective way to get rid of them. I received suggestions, but none had satisfying results.
I tried several poison products, and though some ants died, the products were not effective in eliminating entire colonies. The ants kept reappearing after a short period following treatment. Now I have the expertise needed, and I've helped numerous clients eradicate ants and other insects from their homes and places of work. Today I understand better why contact poison never worked, and I recommend using baits to kill ants.
Pros
The active ingredient can be easily passed throughout the colony by contamination.
The bait is weather-resistant.
Best Ant Bait for Indoors
Pros
The active ingredient can be easily passed throughout the colony by contamination.
Best Ant Bait for Outdoors
Pros
The bait is weather-resistant.
What makes baits effective in getting rid of ants is that they not only have the poison but also have luring ingredients which make ants leave their hiding. Basic contact poison will work only when ants happen to come across the poisoned food, and they leave chances for some ants to survive. In that case, if you're wondering, "do ant baits work?", the answer is yes. Still, there are numerous ant baits around, and some are substandard products that do not promise satisfying results.
You might be wondering how you can understand which ant bait is pleasingly effective and safe to use either indoors or in an outdoor setting. Well, it is the reason why I decided to do ant bait reviews of the most effective products on the market and to provide infested homes owners with an informative buyer's guide.



Top 7 Ant Baits – Detailed Expert Reviews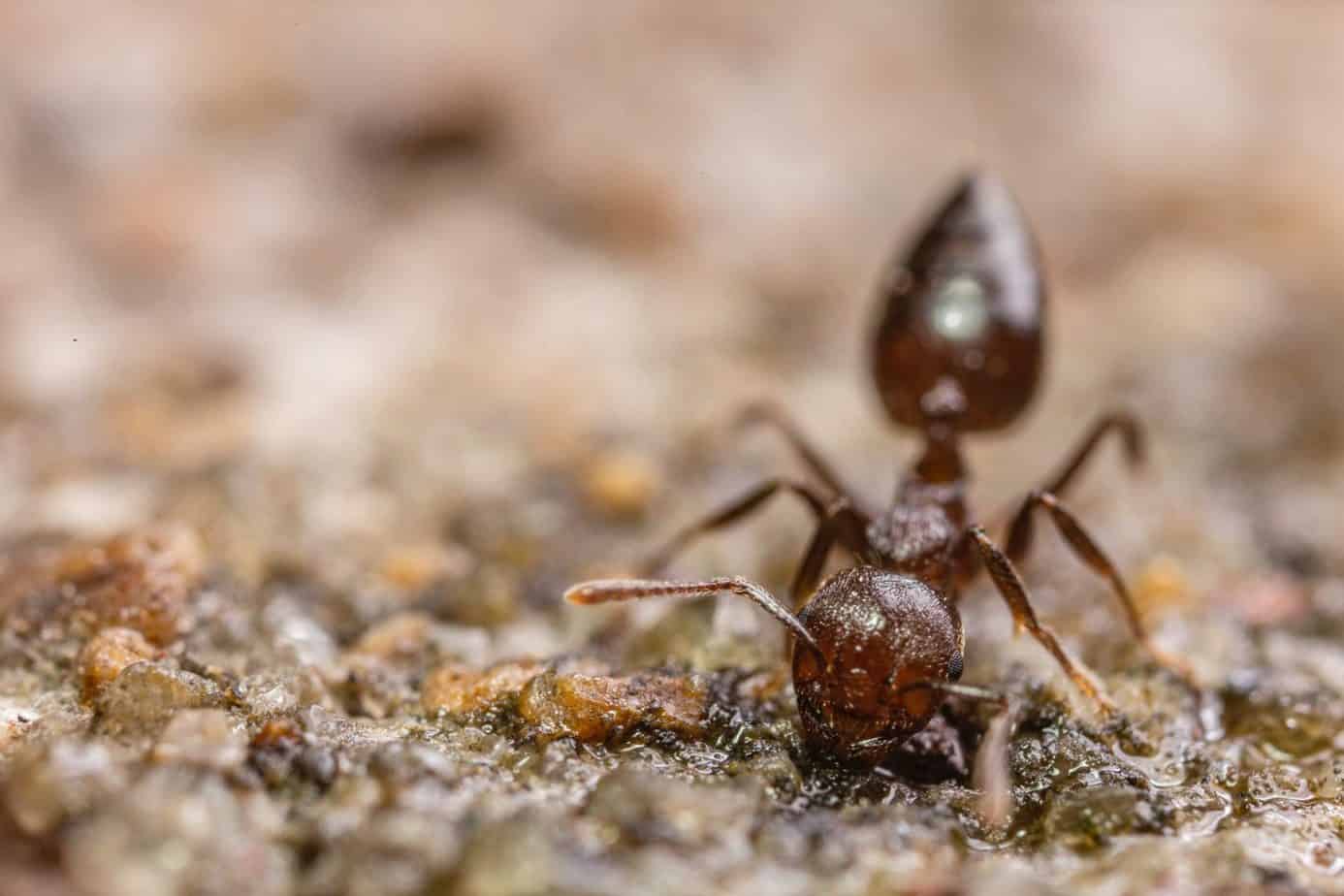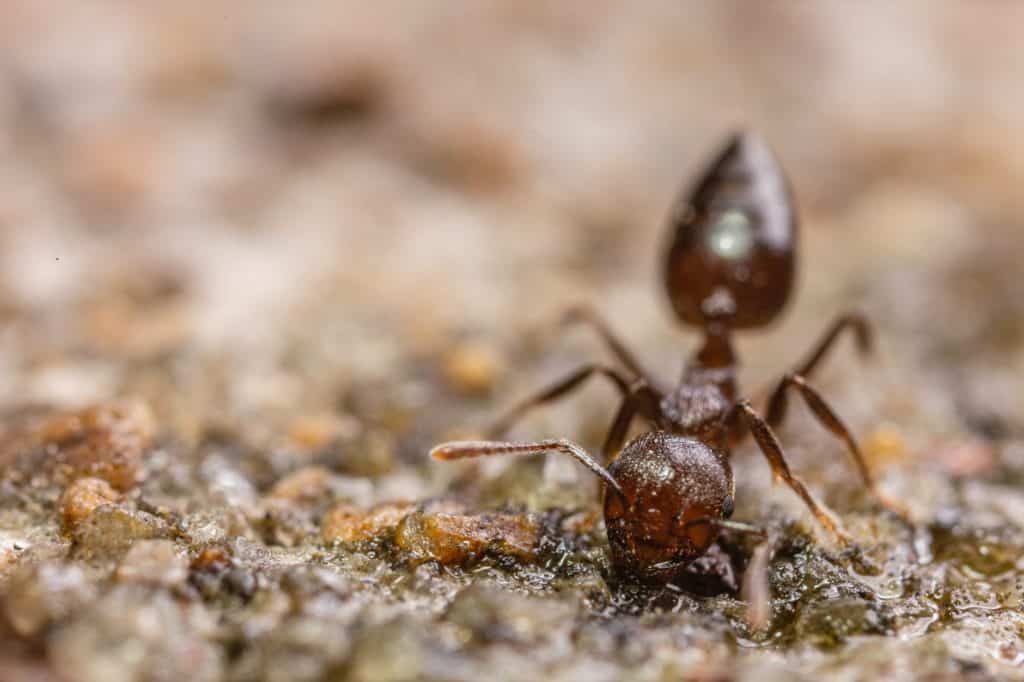 With the wide range of ant bait products available out there, there are ant baits whose effectiveness is short-lived, and there are others that last for months. Some are weather-tolerant, while others become ineffective under certain weather conditions. Some are environment friendly, and others are not. Everyone wants to get value for their money, and therefore these reviews highlight the best-selling and most effective baits and their features.
1. Syngenta TRTD11568 Optigard – Best Ant Bait Gel
Specifications:
Active Ingredient: Thiamethoxam
Item Weight: 7.8 ounces
Number of Pieces: 4
Item Dimensions LxWxH: 6.25 x 2 x 5.4 inches
Target Species: Ants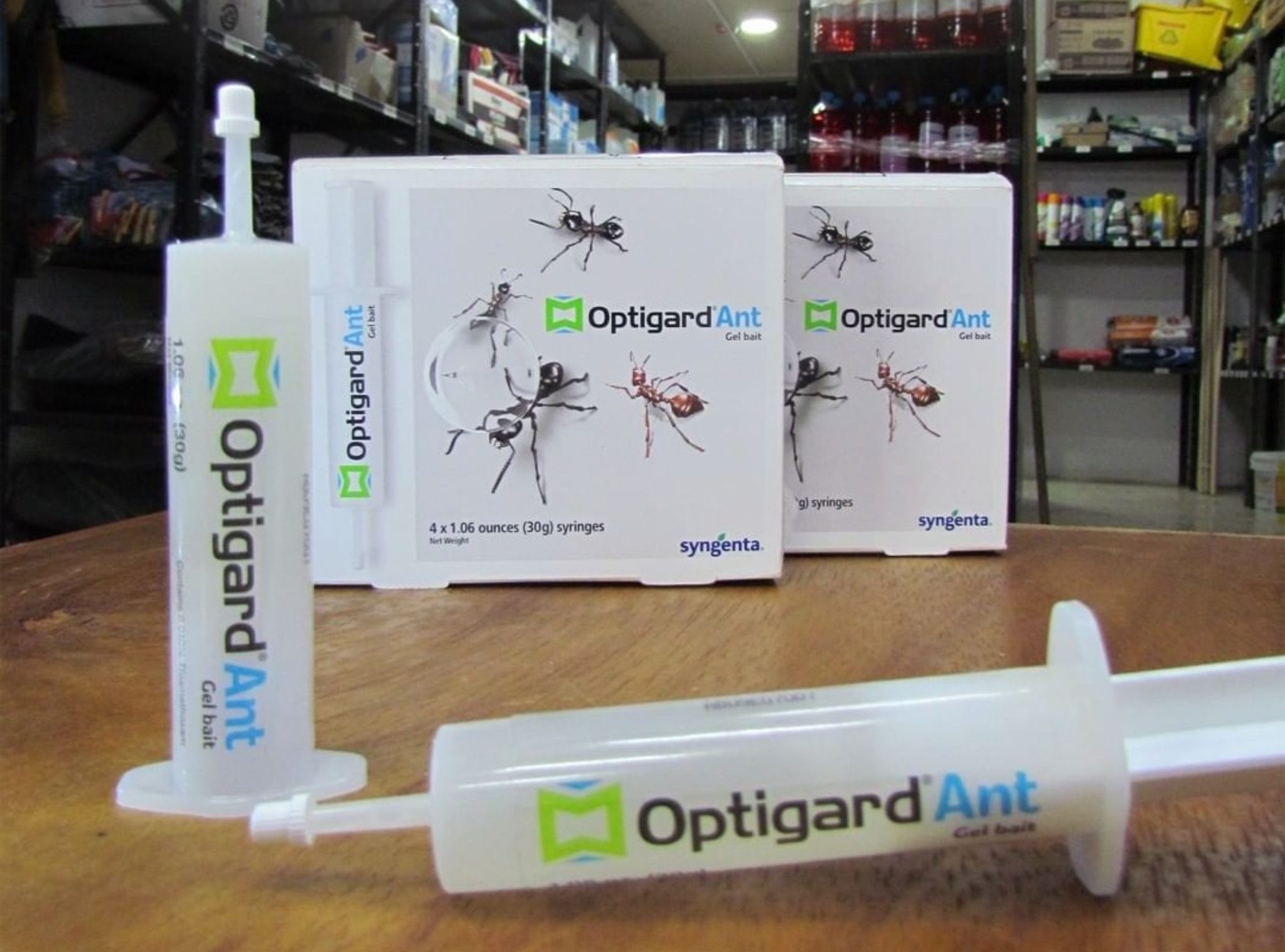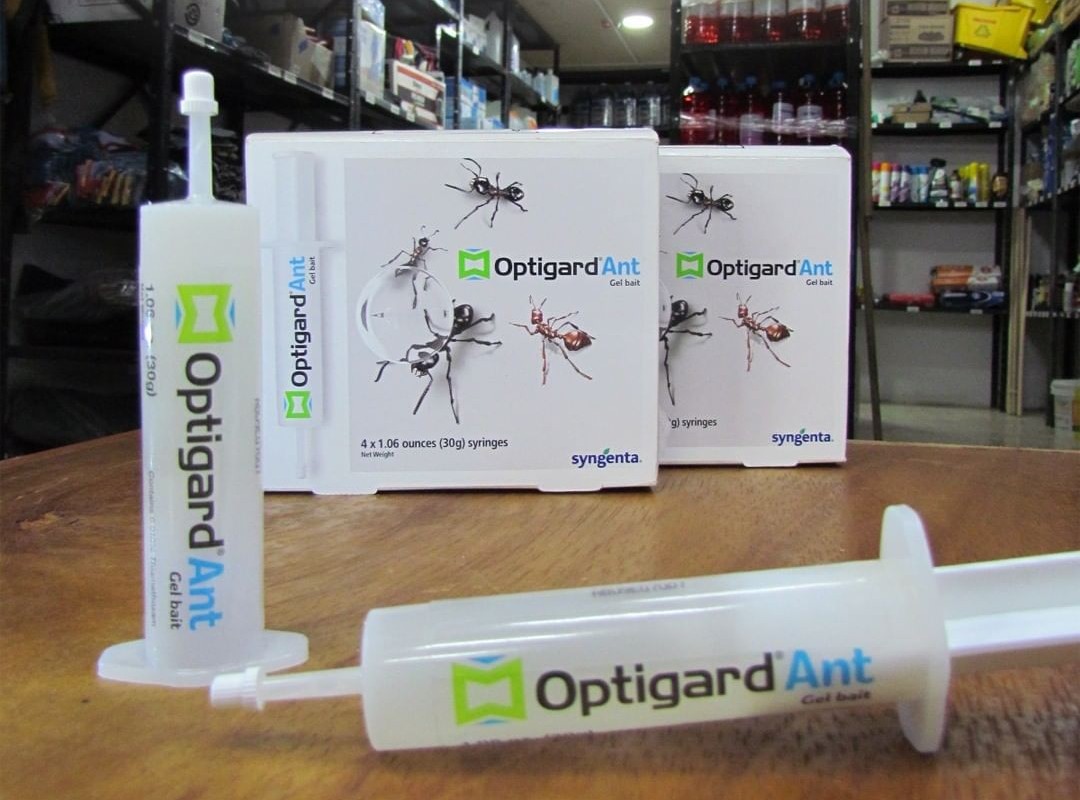 The Syngenta TRTD11568 is a versatile ant bait as it is suitable for both indoor and outdoor applications. It features a mix of the lethal active ingredient and a luring attractant, and this makes it a very effective bait for eradicating entire colonies. It has a unique syringe design with which the bait gel is administered. The thin nozzle makes it possible to get inside hard to reach areas such as cracks and holes, and this enhances the speed at which ants are wiped out.
It also has enticing elements that attract ants to their death. The ants do not die immediately after ingestion, and they have enough time to get back to their colonies where they contaminate others, and the entire colony is eliminated. Thiamethoxam, which is the active ingredient, interferes with the digestive system of the ants. The bait saves you months of ant frustration as it is powerful, and the effect lasts a couple of months. It is a product I've used on several occasions, perhaps the best ant bait gel I've used, and based on the satisfactory results, I would recommend it to anyone.
Pros:
Cons:

It is easy to target ants in hard-to-reach areas;
It has a highly alluring formula that attracts ants from their hiding;
The active ingredient can be easily passed throughout the colony by contamination;
Suits both indoor and outdoor use;
Its effectiveness lasts for long.
2. Terro T300-3 Ant Killer – Best Liquid Ant Bait
No products found.
Specifications:
Style: Liquid Bait
Item Weight: 14 ounces
Number of Pieces: 6
Item Dimensions LxWxH: 4.75 x 3.5 x 7 inches
Target Species: Ant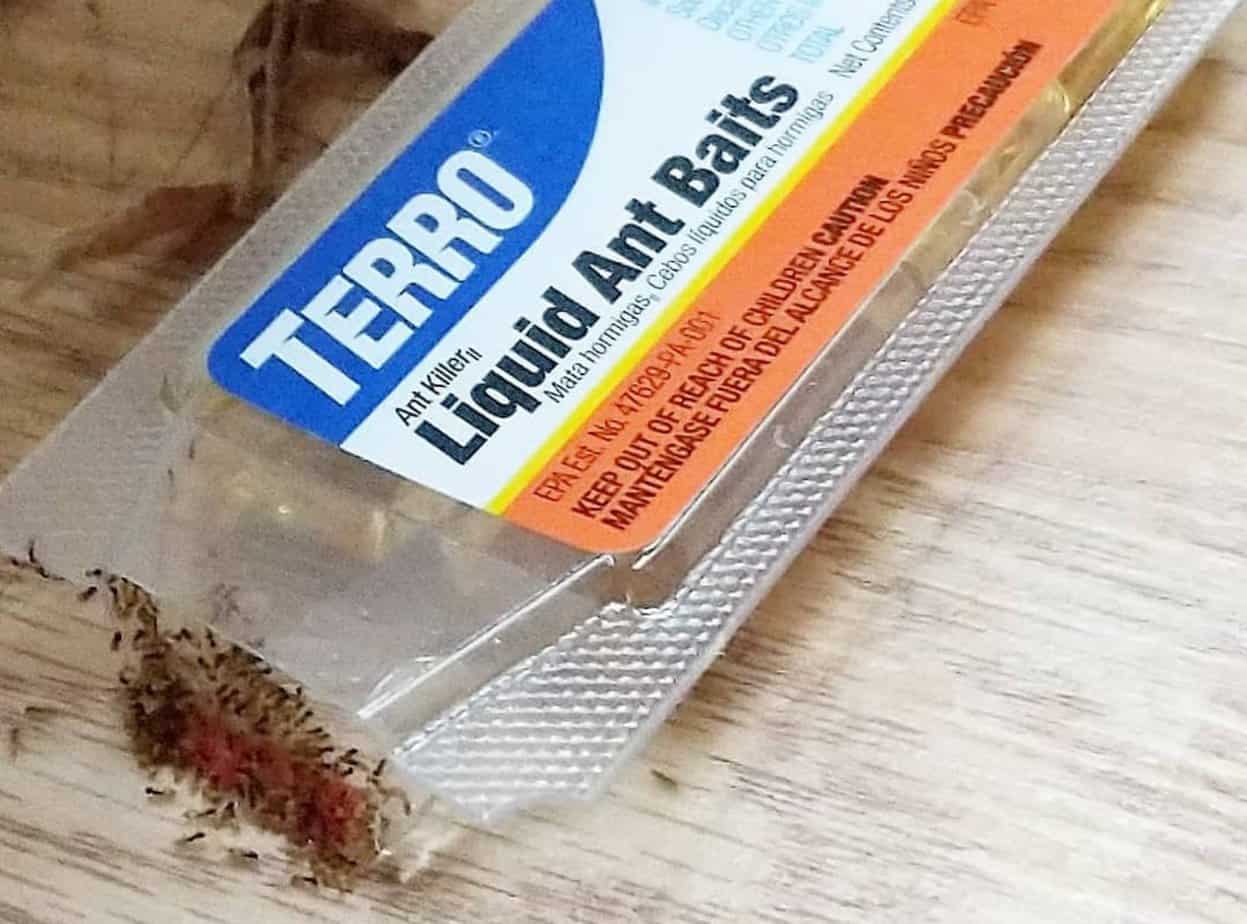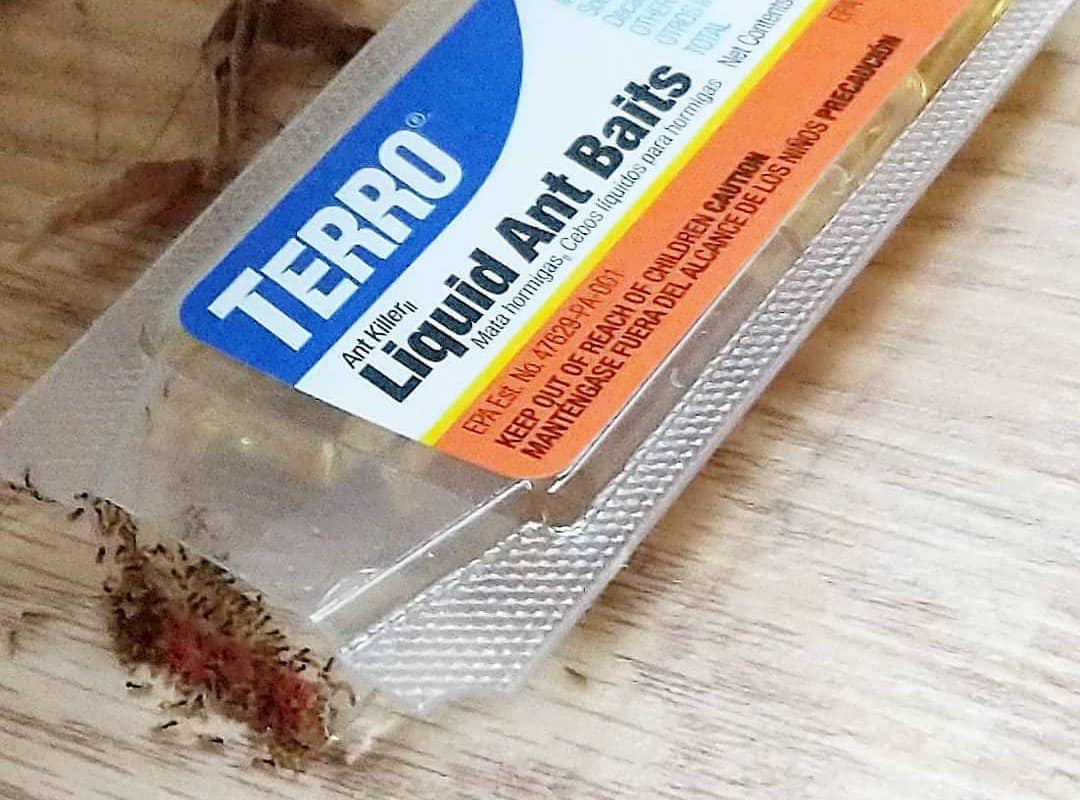 Terro T300-3 is a powerful liquid ant bait that contains borax as a poisonous element, and it affects the digestive system of the insects. I think it is one of the top efficient and easy to use indoor ant baits as it allows ample time for poisoned ants to contaminate all members of the colony. The attractant in the liquid draws ants from their nests and hideouts, such as cracks. Therefore it can wipe the entire ant population from your residence in a short while.
The bait can be placed under furniture, appliances, and even on top of surfaces, depending on where the ants are concentrated. The liquid bait lasts for several weeks, and it eradicates ants for up to a 3 months span. Over this period, the liquid remains fresh and active, thanks to the stay-fresh tab, which is designed to ensure that the liquid does not dry. Another notable feature that facilitates easy usability is snap-off design. It makes opening the bait effortless as one does not need scissors to do it. Ranking among the best liquid ant bait stations, I would recommend it mostly for use inside the house.
Pros:
Cons:

It has a luring formula that attracts ants from their nests;
It is great for indoor use, especially in places not easily accessible;
Its effectiveness spans up to 3 months;
It has a stay-fresh tab that keeps the bait liquid fresh and effective;
It has a snap-off design that makes it easy to open and apply.

Not very suitable for outdoor settings.
3. Advance 375a Select Granular Ant Bait – Protein Ant Bait
Specifications:
Item Form: Granular
Item Weight: 8 Ounces
Active Ingredient: Abamectin 0.01%
Item Dimensions LxWxH: 7 x 4.1 x 2.8 inches
Target Species: Ants
If you're looking for a bait suitable for application in yards where kids and pets play, the Advance 375a Select Granular bait is an excellent option. It's one of the best ant baits, and the first feature that makes it suitable for outdoor applications is weather tolerance. Its effect on ants is not affected by varying weather conditions.
It is also easy to apply as the granules can be broadcasted or placed as a mound depending on the location of the infestation. It is an easy-to-apply protein ant bait. Containing food-based attractants, this bait will lure ants from their nests, and its effect will last for several weeks after a single application. Again, it effectively eradicates a wide selection of ant species, and these include sugar ants, argentine ants, and carpenter ants, among others. The bait is odor-free and isn't easily noticeable after treatment. It is also my most recommended bait not only because of its efficiency but also because it does not pose a threat to humans and pets.
Pros:
Cons:

Its effectiveness lasts for weeks;
The bait is weather-resistant;
It is easy to apply;
It is effective for controlling a wide range of ant species;
Contains food-based attractants for luring ants.

The packaging is a little bulky.
4. Amdro Ant Block Granule – Best Outdoor Ant Bait
Specifications:
Item Form: Granules
Item Weight: 0.75 Pounds
Liquid Volume: 12 Fluid Ounces
Item Dimensions LxWxH: 4.2 x 3 x 8.2 inches
Target Species: Ant
The Amdro Ant Block Granule bait is one of the baits I highly endorse for outdoor use based on its superiority and ability to withstand different weather conditions. It is a powerful bait product for controlling ants in the compound before they invade the house and cause havoc. If you are interested in long-term effectiveness, then this bait should be among your top considerations as it eradicates ants for a duration of up to 3 months.
Being one of the most effective ant baits, this Amdro Ant Block Granule bait works on an extensive range of ant species. It is effective in destroying over 20 ant species. A single bottle of the bait is enough for multiple applications up to five times on an average home perimeter. It has a sweet ingredient that attracts the ants and a fatal active ingredient that kills them within a short while. It is easy to apply as the granules can be scattered in your yard or placed in mounds at strategic positions inside the house.
Pros:
Cons:

It is powerful for clearing entire colonies before they invade the house;
The treatment is effective for up to 3 months;
It is weather tolerant therefore great for outdoor use;
It is effective in eradicating over 20 ant species;
It is economical as the 24 Oz bottle can be used more than five times on an average home perimeter.

Some report packages not being completely full (haven't happened to me though).
5. Advion Bait Arena – Best Ant Bait Stations
Specifications:
Active Ingredient: Indoxacarb 0.1%
Item Weight: 2.1 Ounces
Number of Pieces: 30
Item Dimensions LxWxH: 8 x 0.4 x 0.4 inches
Target Species: Ants
The Advion bait station is a product of Syngenta, one of the top manufacturers of safe and high-quality insecticide products around. Their Advion ant bait arena contains bait stations that have indoxacarb as the active ingredient and is lethal to ants when ingested. Its effect is not immediate, so it provides some room for poisoned ants to infect other colony members, including the queen.
Shortly after treatment, ants will swarm to the bait stations from their hiding, thanks to the luring elements in the bait that ants can't resist. Looking at the usability aspect, its simple design makes it easy to use. Besides being safe to humans and pets, this bait is odorless and does not leave residues after application. Considering how powerful the active ingredient is, the effectiveness of this bait spans several months. It also destroys ant larvae. Considering that it is great for use both inside and outside the house, it is also among the most effective outdoor ant bait stations.
Pros:
Cons:

Has a slow-acting active ingredient that allows baited ants to contaminate other ants;
It does not have an unpleasant odor;
It has a long effectiveness span;
The bait is easy to apply;
No residues remain.
6. Syngenta A20380A Advion Fire Ant Granule Bait
Specifications:
Active Ingredient: Indoxacarb
Item Weight: 2 pounds
Duration of action: 24-72 hours
Item Dimensions LxWxH: 7.25 x 4.75 x 9.15 inches
Target Species: Ant
Another of Syngenta's competitive products is the Advion Fire Ant Bait. It is a powerful bait that contains fast-acting constituents, which are effective in killing a wide variety of ant species. It makes the best choice if you want to get rid of fire ants. It is intuitive to apply as you can broadcast the bait on your compound or place molds near nest entrances. Noteworthy, this bait also destroys larvae, therefore ensuring that the next generation of ants is eliminated from your compound.
The bait is safe to apply on lawns and other outdoor areas as it does not pose any threat to humans after application. The alluring formulation attracts swarms of ants, which are then killed by the active ingredient. Larvae are not spared even as the bait works on worker ants and the queen. The bait gets rid of these nuisance insects for a duration of up to three months.
Pros:
Cons:

Contains a powerful and fast-acting formula;
Offers flexibility as it can be applied through broadcast or mound treatment;
Effective on ants at all life stages;
It is odorless and safe to apply for lawns and gardens;
It has an alluring formulation that ants can't resist.

Not effective on all ant species.
7. Maxforce Carpenter Ant Bait – Gel Ant Bait
The Maxforce Carpenter Ant Bait is a bait specifically tailored for eliminating carpenter ants, though it is also effective in killing several other species. It contains a luring honeydew solution that ants cannot resist. It is one of the sweet ant baits, and ants are attracted from their nests to their demise.
It features a syringe design that has a narrow nozzle for accessing hard-to-reach places. Also, this design fosters easy usability as an application of the bait isn't strenuous. The bait is fatal in its effectiveness as it does not spare larvae. As to the duration of effectiveness, this Maxforce Carpenter ant bait keeps ants away for up to three months. It does not have an unpleasant odor, and, therefore, it can be conveniently used indoors. I would recommend it to homeowners.
Pros:
Cons:

Effective on all carpenter ant colonies;
Contains an alluring honeydew solution that attracts ants;
Contains powerful active ingredient for killing entire colonies;
Great for application in hard-to-reach areas;
Efficient for both indoor and outdoor use.

Not effective for all ant species.
Ant Baits Purchase Guide – What to Look For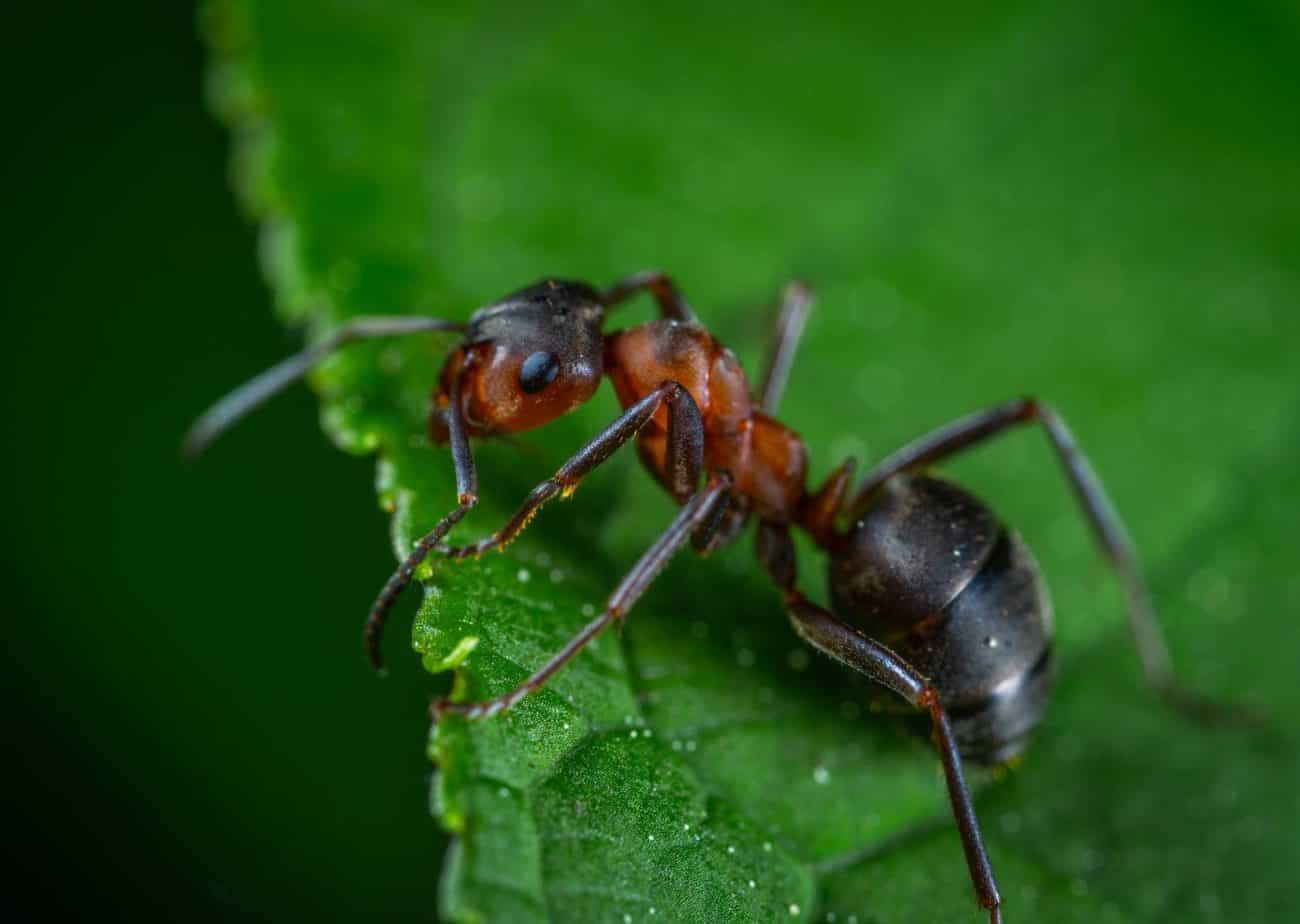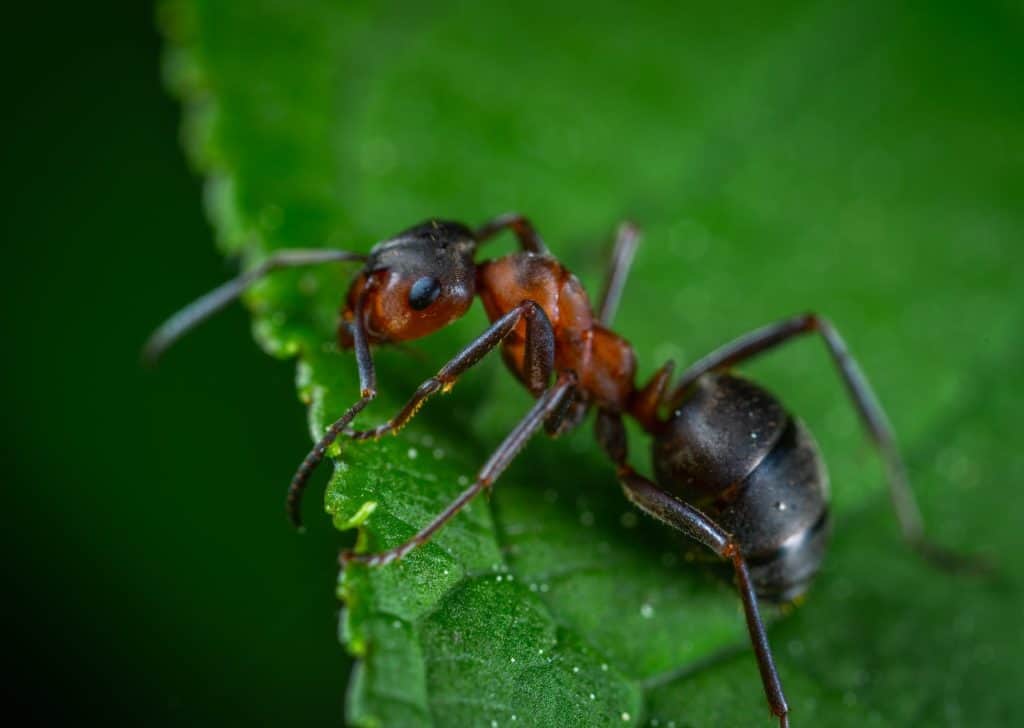 Considering the extensive variation in ant baits by different manufactures, here are important aspects to consider when purchasing for purposes of effectiveness and great results:
It is justifiable to say that there is no single best ant bait for all infestation situations, but it is vital to choose one that best fits your circumstances. The first thing to consider is the type of ants you are targeting. There are numerous ant species, and different baits have been manufactured to eradicate different species. However, there are baits that work on a wide range of species, some over 30 ant types. You can check the manufacturer's guide to see whether a bait is good for your target species.
Whether the ants are outside or inside the house is an important factor to keep in mind. There are baits that have been specifically designed for outdoor use, others for indoor use, and some can be used in either setting. Most outdoor baits can withstand different weather elements, and therefore if you use an indoor ant bait in your yard, it might not produce satisfying results due to fluctuating weather elements. For example, liquid indoor baits are susceptible to drying when exposed to sun and therefore are not ideal for outdoor use.
Depending on the nature of the infestation, this should help you determine which bait type to go for. There is a number of bait types, which include liquid, granule, gel, and powder baits. Infestations can range from intensive when you are dealing with a large swarm to light with just a few ants with several nests around.
Granule and powder baits are typically efficient when dealing with a large swarm as the bait can be easily broadcasted over a large area. Noteworthy, these two types are most efficient when dealing with ants in an outdoor setting, as the application is easier. Gel and liquid baits are great when you have identified the exact locations of the nests, more so in an indoor setting. It is easier to apply these types of baits at the nest entrances, in cracks, and under furniture. Most gel baits come packed in a syringe-like container, and the narrow nozzle enables one to place the bait as close as possible to the colony.
Different manufactures use different elements as active ingredients in their baits. Though not a major consideration, the active ingredient can be something you might want to reflect on when buying an ant bait.
How to Use an Ant Bait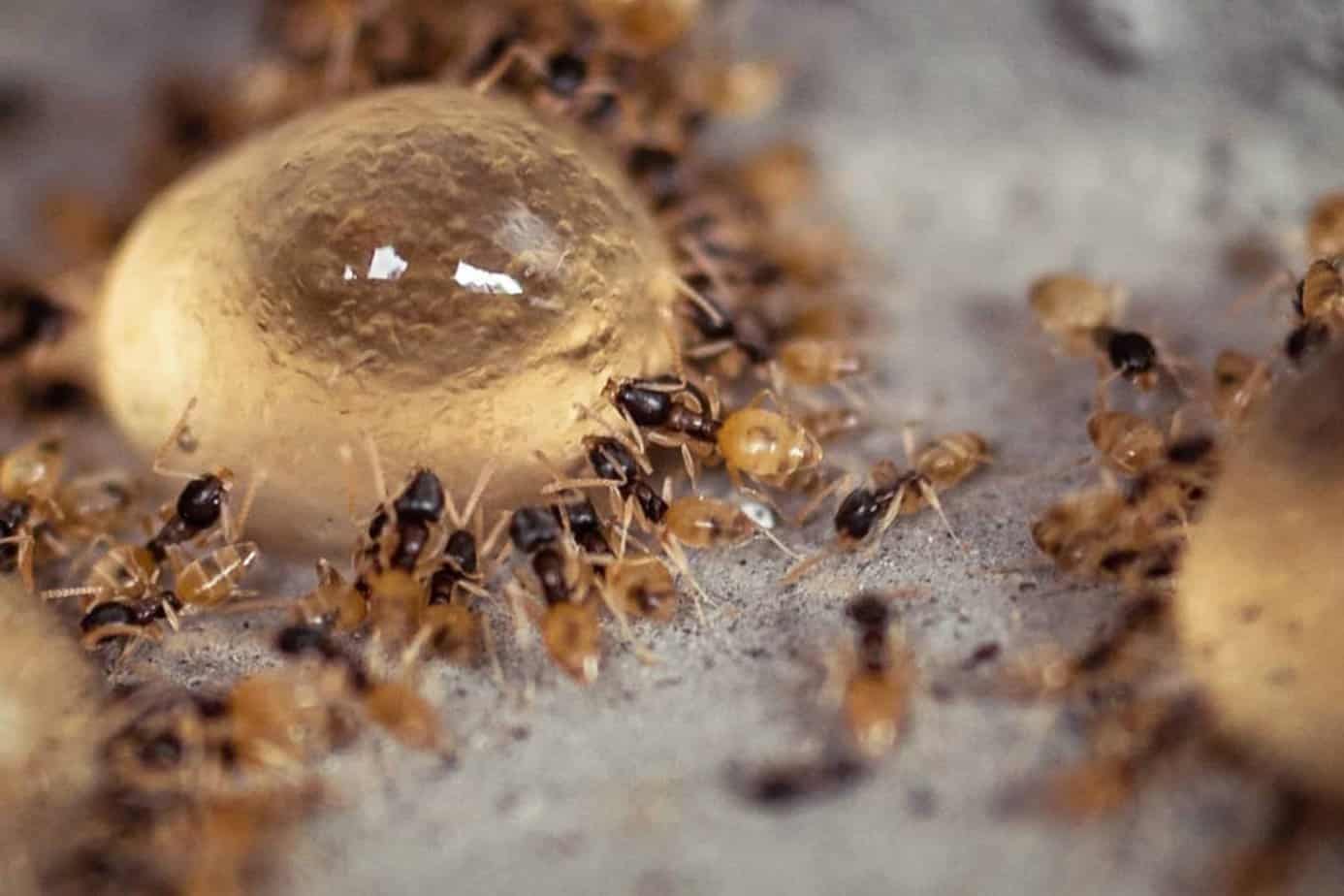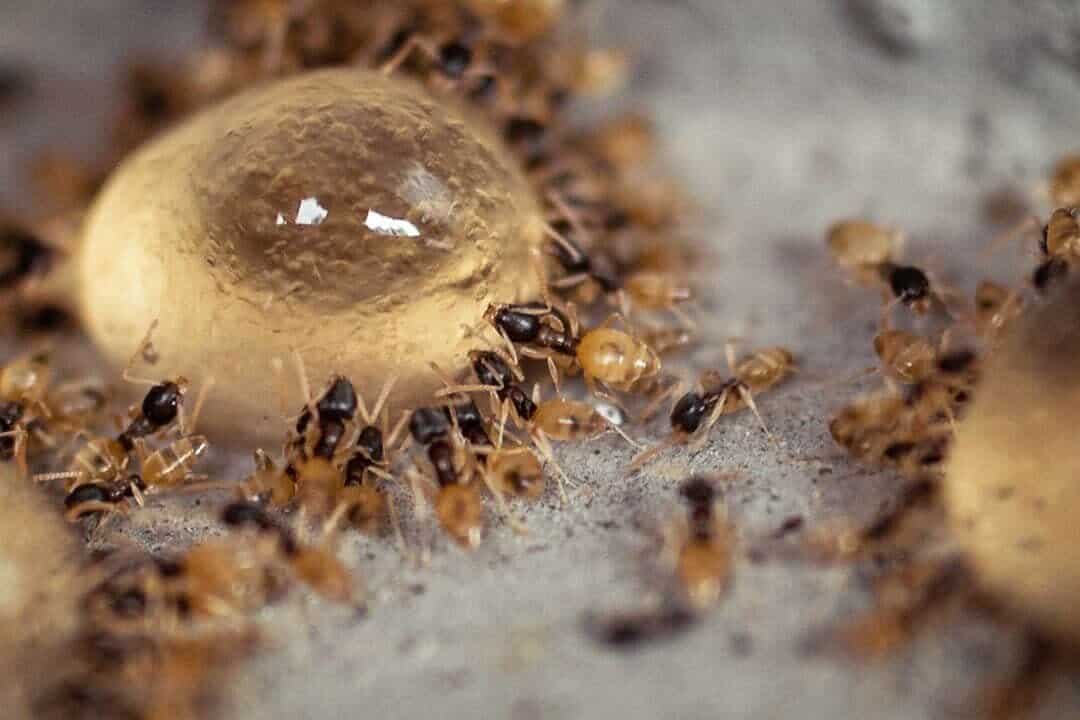 Many people are not sure of how to use ant baits to obtain the best results. If you want to properly apply a product, it is first important to understand "how does ant bait work?" Ant baits are created to get rid of entire colonies, and that's why most are slow-acting to allow exposed worker ants to contaminate other members of the colony.
The first thing to do is to observe the swarm's movement. You can look for their favorite scavenging ground to understand where they enter your house and where their nest is. Getting this information will help you place the bait strategically for efficiency and effectiveness.
Considering there are different bait types as regards the packaging, different manufacturers give a step-by-step guide on the bait placement procedure. Check out the recommended procedure and follow it accordingly. Nonetheless, a general strategy that applies in all settings is to place the bait closest to the nest entrance. Doing this, you'll press in the ants' scavenging radius, and therefore ants are likely to find the bait faster.
FAQ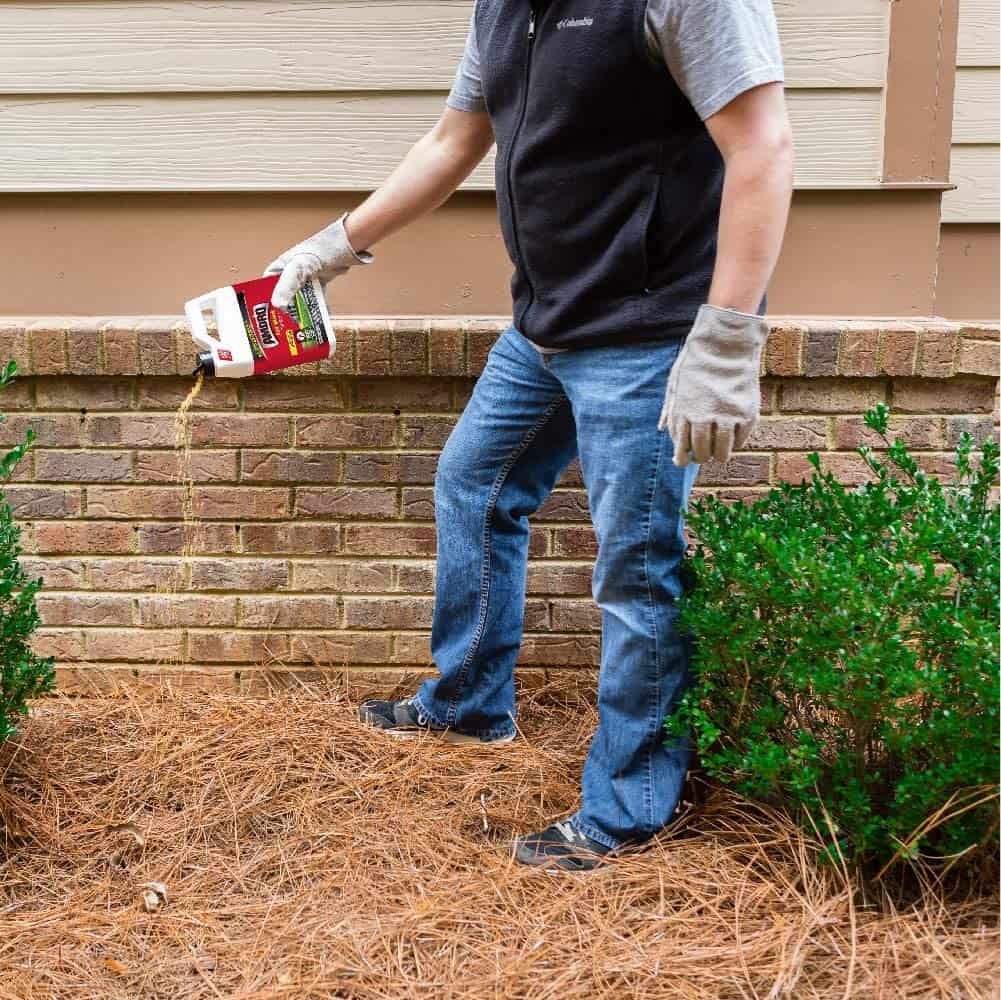 How long do ant baits take to work?
It takes approximately 48 hours for an ant to die after consuming the bait. Within this timeframe, the exposed ant goes back to the nest carrying the bait, and this way, it contaminates the entire colony, which eventually dies.
How do ants pass bait to each other?
Once a worker ant has ingested a bait, the effect is not instant, and therefore the ant goes back to the nest. Considering a worker ant's job is to look for food, they take contaminated food back to the colony where other ants, including the queen, feed on the contaminated food.
What happens to ants when they eat ant bait?
Ant baits typically affect the digestive system of the ants. The sweet lure attracts the ants, which then consume the poisonous bait. When the bait is ingested, the active ingredient contained interferes with the internal systems, and this eventually leads to death.
Are ant baits safe for pets?
Ant baits are generally safe to use around pets. However, it is important to remember that different baits have different substances as the active ingredient, and some of them, such as boric acid, are toxic to pets. An animal would need to consume large amounts of the bait for it to be affected. Despite the little risk, it is important to exercise some precaution regarding where to place the bait.
Looking at some of the widely used active ingredients in baits, borax comes as a white powder and is mostly used with food-based attractants in ant baits. Thiamethoxam is another active ingredient in many ant baits, and one of the safest, having shown minimal effects on humans and pets and approved by relevant authorities. Indoxacarb is another widely used pesticide constituent, and it is considered by the EPA as a 'reduced-risk' active ingredient, so it is suitable for use in domestic settings.
Related Post: Best Ant Killers for Indoors & Outdoors



The Bottom Line
Ants can be such a nuisance, more so in swarms. The use of baits is the most efficient strategy to eradicate them as it makes it possible to reach and kill the queen. Worker ants take the poison to the queen without the need of her coming out, therefore ending her colony and future generations. However, it is vital to purchase the right bait depending on the place and nature of the infestation.
Whether or not to go for an indoor bait or an outdoor bait depends on whether the swarm of ants is inside the house or in your compound outside. Also, consider your target ant species, as some baits have been specifically manufactured for killing specific species.
What ant baits have you used and seen satisfactory results? Can you recommend any effective products? Share your opinions in the section below.
Also read:
References:
Food preference and foraging activity of ants: Recommendations for field applications of low-toxicity baits (US National Library of Medicine National Institutes of Health):
https://www.ncbi.nlm.nih.gov/pmc/articles/PMC4206238/
Why You Should Trust Pest Control Hacks?
We know that pests are nasty neighbors, and it can take months to eliminate them without the right approach. Our experts use their own experience to compile articles and guides that are introductory and informative. Our authors' opinions are independent and based on the results of practical testing of pest control tools. We do not notify manufacturers of testing of their products and do not receive payment from them for posting their items. Also, our texts are never submitted to company representatives for proofreading before placement. On the site, you will find exclusively objective ratings and reviews.