Hi, everyone – I think it's time to get rid of woodpeckers. These pests have a large population, so most people have faced them at least once in their life. You can easily detect them. If you hear that something is trying to make a hole in your tree, it's a woodpecker.
On the first side, they don't look dangerous. However, these birds make wounds inside the trees, and different insects and diseases may enter. This can kill your tree, and the insects may get to your garden or house, so I'm sure it's better to stop woodpeckers on cedar siding if there is such an opportunity.
Pros
Works on many birds' types.
Doesn't contain chemicals.
Top Pick
Pros
Works on many birds' types.
Pros
Doesn't contain chemicals.
Top 5 Best Woodpecker Deterrents
No products found.

No products found.
When woodpeckers get close, you need to act fast. So, here you will find the top choice repellents on the market.
1. Bird B Gone Woodpecker Deterrent Kit – Best Woodpecker Repellent Kit
No products found.
There are two types of repellents: those that can harm you and birds, and non-chemical ones. Bird B Gone deterrent contains no harmful ingredients. This product has two essential parts – a balloon and flash tape. Their combination works more effectively than one of these repellents solely.
Talking about the items that don't include pesticides, they scary woodpeckers away in different ways. Bird B Gone scared balloon has a form and colors that are not pleasant for birds. It just looks too bright, large, and dangerous. Flash tape reflects the light when a woodpecker gets too close, so it usually just flies away.
To apply this bird deterrent, you should hang it on the branch. Luckily, the manufacturer offers easy-to-use mounting brackets. You should install one long balloon bracket to the area where woodpeckers like to appear. Then you need to blow up a balloon.
It easily attaches to the bracket. When you install two small brackets on both sides of the balloon, and the last step is to tie flash tape streams. If the woodpecker attacks stopped, you could hide the repellent for the next time.
Pros:
Cons:

Safe for you and birds;
Easy-to-install;
A kit contains two products that work perfectly together.
2. JT Eaton the Bird Repellent Gel – Best Natural Woodpecker Repellent
JT Eaton manufacturer has a mission – they want to help people get rid of pests. They believe this can make the world healthier and safer. High quality is the key to provide safety from woodpeckers successfully. JT Eaton works for more than ninety years and always tries something new to improve their products.
If woodpeckers don't find a place where they can nest, they won't come again to that tree. JT Eaton gel is what can scare them away. It has an active ingredient called polybutene. Completely safe for the birds, it's not a chemical that can harm or kill woodpeckers or be dangerous for humans.
The product has clammy consistency and is not comfortable for birds. They can't make a nest if there is polybutene. Those small branches that woodpeckers will bring to create a home won't keep a shape, so in some time, the birds will fly away. Making a nest is essential for this pest – it won't come back if it can't settle there.
Pros:
Cons:

Stop birds from nesting;
You need a little of the product to provide high-level protection;
Doesn't contain chemicals.
3. Control Solutions Permethrin SFR Termiticide/Insecticide – Best Chemical Repellent to Kill Woodpeckers
No products found.
One of the largest chemical manufacturers is a company called Control Solutions. It has a wide range of products and offers new ones all the time. They're popular because they contain diverse, active ingredients. This feature makes the repellent much more sufficient.
Sometimes, there are many woodpeckers in the area, and they have already built a nest, so non-chemical repellents won't work properly in this case. Control Solutions' insecticide will be a satisfying choice. You can use it wherever you need to: around the home, on trees, lawns, etc. It kills all insects and pests that try to attack your garden or house.
The repellent works fast and for a long time. After the first usage, you can be calm that woodpeckers won't come for more than three months. You may repeat the application when this time has passed to prevent pests' appearance. Or, you may use insecticide only when woodpeckers try to get to your garden again. Be careful and keep the repellent in a safe place from children.
Pros:
Cons:

Works fast;
Long-lasting;
Can be used to kill other pests.
4. CLEANRTH Advanced Sonic/Ultrasonic Bird Repeller – Best Ultrasonic Woodpecker Repeller
The best way for woodpecker control is to scare them when they are far away from your home and garden. Cleanrth repellent works using ultrasonic sound. It can detect warm bodies up to 82 ft away from the device – the deterrent uses three separate viewing points for the better effect.
Manufacturers use ultrasonic sound while providing the woodpecker repellents because birds react fast on it. When a pest hears this sound, it understands that it is dangerous in this area. In most cases, woodpeckers won't try to return to your house ever again.
The electronic woodpecker repeller has three modes. The first one is when it's completely off and can't detect birds – you may turn it on when there is no danger. If you choose a detection mode, the device will emit a sound when woodpeckers are near it.
And the last mode allows the repellent to be always on. I recommend you to use this one when many woodpeckers attack your garden or when they have already made a nest. Besides, you can place it on a tree with no worries – the device is waterproof.
Pros:
Cons:

Safe for humans and doesn't kill birds;
Covers big area;
Has three modes;
Waterproof.
5. Bird-X Standard Bird Netting – Best Woodpecker Netting Repeller
Bird-X produces unique products to control pests such as woodpeckers. They're tested by the experts several times, so the ready item has a 100% guarantee it will work. All the deterrents are safe for birds and humans. Every year this company provides new solutions using the last high-grade technologies.
The manufacturer offers a standard but effective and durable solution – netting. It works only when the material is high-quality. This net is lightweight and weatherproof, so it suits perfectly to protect your area from woodpeckers and care for trees. Also, it is UV-stabilized that prevents deterioration. The netting will save your food or garden from other pests. It works on pigeons, ducks, geese, crows, blackbirds, etc.
Birds can't damage the netting to get inside. Don't worry – they won't be stuck or get hurt because of this repellent; it would rather scare them away. But this will happen if you install the netting properly. The best way is to use mounting clips or other methods like nails, cable, and screws.
Pros:
Cons:

Protects your area in a humane way;
Durable and long-lasting;
Weatherproof;
Works on many birds' types.

Doesn't cover large areas.
How to Stop Woodpeckers from Destroying Your House?
There are several types of woodpecker deterrents. I can't say that some methods are better than others. They just need to be applied to certain conditions. If you haven't met woodpeckers in your garden, but want to make sure they won't come, you should use the ultrasonic repellent. It contains no chemicals and also effectively scares other pests.
In case the woodpeckers appear in your garden frequently, it's better to use netting, gel deterrent, or scared balloon with flash tape. All of these methods are safe.
However, when the woodpeckers have made a nest near your house, you may apply chemical repeller. It works fast and for long. But remember – it can harm the environment, and you should use it carefully.
How to repel woodpeckers?
With the best woodpecker deterrents, it takes a little effort to scare away these pests. The one thing I can advise you is to apply different repellent types at the same time. You can install the netting and set a woodpecker sound deterrent. Or, you may use a woodpecker deterrent paint together with the scared balloon.
Of course, the products are effective separately, but together they will protect your garden for sure. I think it's better to apply many deterrents than kill birds and harm the environment using anti woodpecker spray with chemicals.
Woodpecker Attack Preventing: Some Tips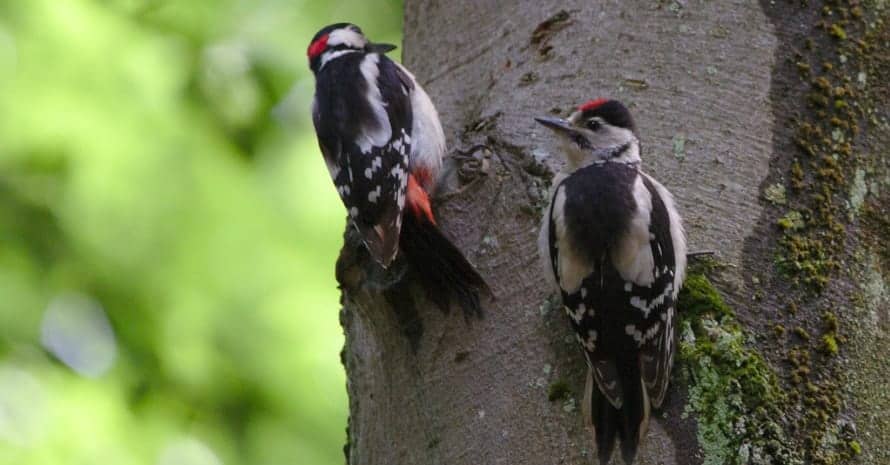 Here you will find some tips to keep your garden free from woodpeckers in a proper way.
Why do woodpeckers peck metal?
The woodpeckers don't peck metal because they think it's a tree. These pests are not that stupid. When a male woodpecker wants to show its strength, it finds the loudest thing to peck. With time, the birds have understood that metal makes a loud sound. Male woodpecker also calls for the mate in such a way.
What do woodpeckers hate?
Due to the woodpecker biology, they have sensitive smelling, so they don't like strong odors. In some woodpecker deterrent sprays, manufacturers use smells that repel woodpeckers to keep them out. Also, woodpeckers don't like gel repellent that doesn't allow them to make a nest. Ultrasonic sound will also scare them away. We don't hear it, but for birds, it's an unpleasant noise.
Are the woodpecker deterrents safe?
Not all woodpecker deterrents are safe. Such products as netting, ultrasonic repellents, non-chemical gels cause no damage. They don't kill birds but just force them to fly away. Some items contain chemicals and may be dangerous not only for woodpeckers but also for you and your pets. So, I recommend using such deterrents only when you need to get rid of birds fast.
Live Without Woodpeckers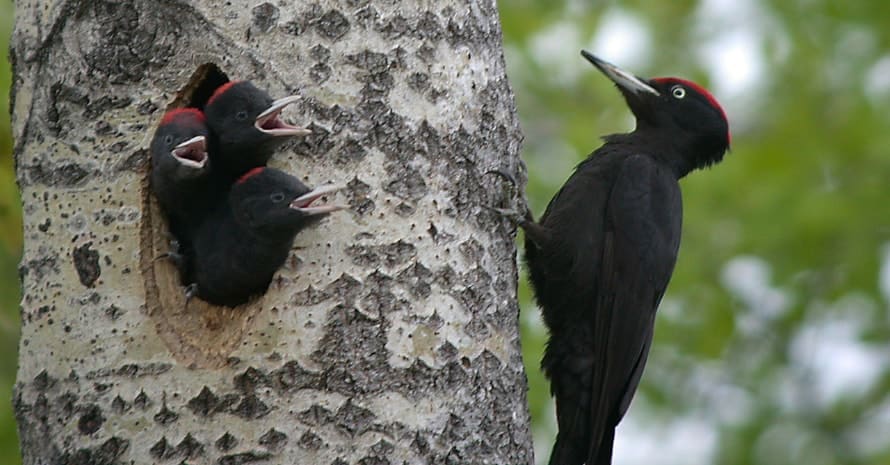 Sometimes, people can't imagine whether it is possible to live without pests or insects in their houses and gardens. I think it makes your life much easier—especially today when there are affordable repellents that work perfectly. I hope you will find the best woodpecker deterrent among those I have described.
They are high-quality products and will serve you for long. Don't forget to use my tips when you install the repeller. Have you ever faced a woodpecker problem? What did you do, and what methods did you use? It would be nice if you shared your experience in the comments below.
References:
Woodpeckers (PennState Extension):
https://extension.psu.edu/woodpeckers
Woodpeckers and tree care (Harvard University Digital Accessibility Policy):
https://harvardforest.fas.harvard.edu/blog/woodpeckers-and-tree-care
Woodpecker Biology and Behavior (Cornell Lab of Ornithology):
https://www.birds.cornell.edu/wp_about/biology.html