Have you had enough with the rats? If yes, then it's time to get an effective bait or station for trapping these mischievous creatures. It should be easy for you to identify the best products for this purpose after going through my reviews of them below.
Pros
Perfect size for big bait stations.
It comes with vertical & horizontal rods.
Mold-and -moisture resistant.
Best Rat Bait
Pros
Perfect size for big bait stations.
Safety Must Have
Pros
It comes with vertical & horizontal rods.
Pros
Mold-and -moisture resistant.
I understand that rats are a nightmare, and you want them out of your garden or home quickly. Nonetheless, before I offer you the solutions, it is only right that you first get acquainted with me. In that regard, my name is Nicholas Martin, and I am an entomologist.
In my profession, daily responsibilities include insect surveys and offering a private consultation to pest control agencies. Urban and agricultural pests are my fields of specialization, having studied their control over the past 25 years.
With that cleared out, below, I offer my honest and in-depth assessments of the best rat baits and bait stations available. This information is particularly useful if you, like me before, have trouble with rodents in your home or garden. Let's get started, shall we?
Pros
Peanut butter flavor that entices rodents to bite.
Accommodate T-Rex snap traps.
Pros
Peanut butter flavor that entices rodents to bite.
Pros
Accommodate T-Rex snap traps.
Top 6 Best Rat Baits and Bait Stations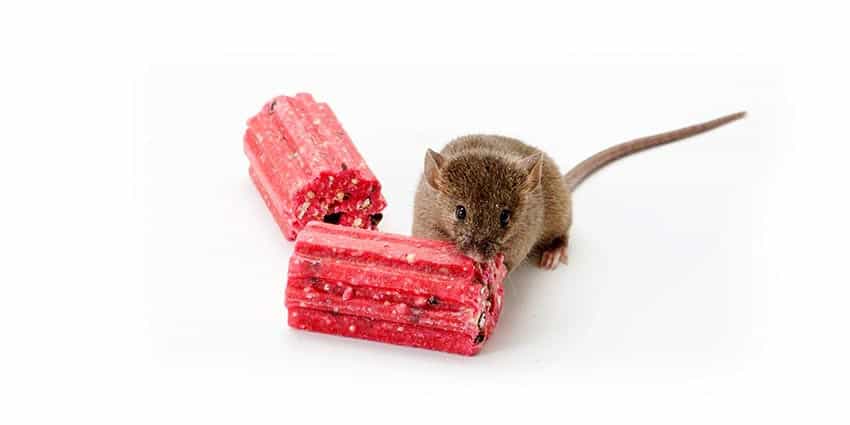 Before we get into the specific rodent traps and bait stations, note, the effectiveness of each product depends on the type of rat (is it a Norway rat, roof rat, etc.?). In line with that, today, the different types of rodent baits on the market are blocks and bars, pelletized baits, gel baits, and food baits.
That said, several rodent baits exist. You can acquire one that meets your needs from online stores, neighborhood retailers, and supermarkets. However, the real problem will arise when it comes to selecting the right product, given the numerous options or suggestions you will come across when shopping.
To help you out, I review the best products on the market below, arranging them from top-rated items to less effective ones. Each of my assessments consists of a brief description, information about the brand, and a list of pros and cons.



1. Just One Bite II: Best Rat Bait Poison
Specifications:
Active Ingredient: Bromadiolone 0.005%
Item Form: Bite, Chunks
Item Weight: 0.66 Pounds
Item Dimensions LxWxH: 19 x 16 x 9 inches
Target Species: Rats and Mice
These bait chunks deliver a killer dose to Norway rats, roof rats, house rodents, and warfarin-resistant Norway rats in just one night of feeding. When it comes to administering them, users are required to use the product either inside or outside of agricultural premises. This product should never be applied further than fifty feet from the before-mentioned establishments.
Regarding longevity, you can count on the bait lasting for long, given that it has traces of S-Methoprene that keeps insects from hurling around and eating chunks. From the day of administration, expect the first dead rats to appear anywhere after four or five days.
The active ingredient in this product is Bromadiolone, making it quite a potent poison. As such, children, pets, and other animals should never be exposed to this item. Store the product in a safe location, away from the reach of non-target beings. If it used outside and above the ground, then it should be put in the best rat bait station you can find to ensure that pets, children, and other animals do not come into contact with the poison.
This product is manufactured by Farnam, in Phoenix, Arizona. It is shipped in an eight-pound container that packs sixty-four, two-ounce chunks. The contents have pecked ridges, thus enticing the rodents to chew the poison. In order to make the chunks suitable for use in a rat bait box, there is a mounting hole in the middle.
All told, this is a lethal product. Therefore, it is essential to heed all the directions for use at the back of the container. I highly recommend it for use in agricultural establishments.
Pros:
Cons:

it delivers a killer dose in one feeding;
perfect size for big bait stations;
it stays intact during the wet months;
it has a pleasant odor;
rats can't carry the chunks away.
2. Redtop Rat & Rodent Bait: Best Outdoor Rat Bait Stations
Specifications:
2 Pack 4 keys Bait NOT included
Universal: For use of any type of rodent bait, including bait blocks
Item Weight: 2.87 pounds
Item Dimensions LxWxH: 13.23 x 8.27 x 7.91 inches
Target Species: Rats and Mice
These bait stations for rats come in a pack of two to help get rid of rats faster. Redtop, known for making all kinds of pest and vermin control traps, produces this tamper-resistant and double lock secured box to kill rats and other small rodents.
It's great for outdoor use as it is built from robust material and can be attached to most structures. And it's weatherproof – you don't have to worry about weather conditions messing up with the bait. You can place it along your walls if you are to trap rats in your house. Its compact design makes it ideal for use in a variety of baiting locations.
What makes this product the best pack rat bait holder is that it works well with any type of baits – from pellets to bait chunks. You can place your bait on either the wire prongs or the tray (for liquid poison) that is provided inside the box.
These stations are made of solid hard plastic that is not easy to break even when a lot of weight is placed on it. Once you screw it to a permanent structure, dogs or pets cannot tamper with it.
There are two holes on each side of the box. While the holes are large enough for roof and garden rats to fit, bigger animals cannot tamper with the box or at worse, eat from the bait. To add to its safety, this station comes with two locks that require two keys to open.
I found that you can use a screwdriver to open or order another key if you lose your original key. What makes this box the best bait to catch a rat is its overall ease to use, durability, excellent design, and its compatibility with different types of poison.
Pros:
Cons:

sturdy & long-lasting;
extra-secure latches;
it comes with vertical & horizontal rods;
it includes bait wires & tray;
relatively inexpensive.

it takes two keys to open.
3. Tomcat Bait Chunx: Best Anticoagulant Poison Bait for Rats
Specifications:
Active Ingredient: Bromethalin 0.01%
Form: All-Weather Bait Chunx
Item Weight: 4.25 Pounds
Item Dimensions LxWxH: 7.75 x 8.25 x 7.75 inches
Target Species: Rats and Mice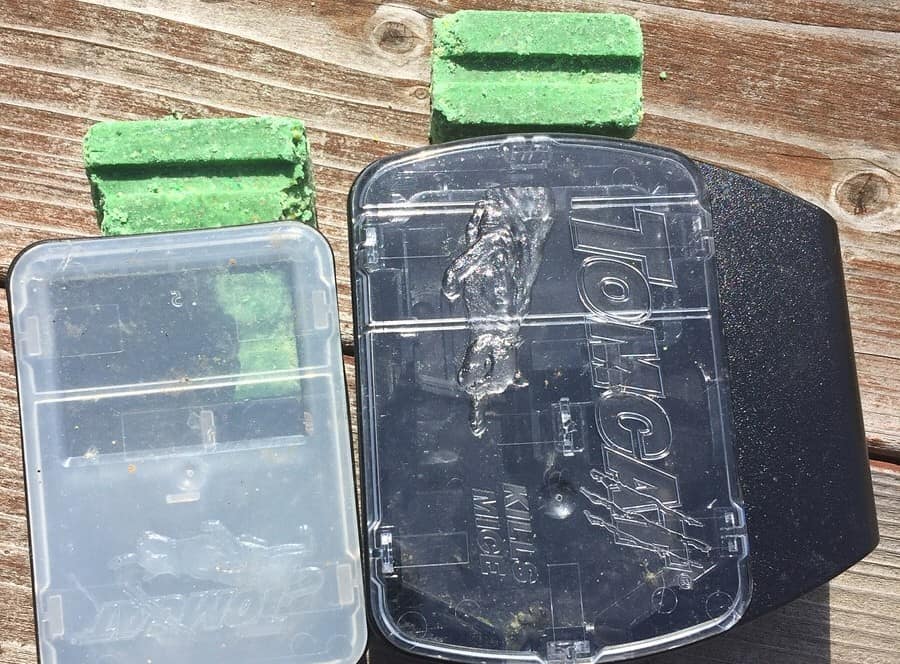 The Tomcat rat bait packs Bromethalin as the active ingredient, making it an effective product for managing severe rodent infestations. When it comes to the speed of kill, once applied, this poison wipes out rats and mice within two or more days.
For this reason, the Tomcat chunks have proven to be way faster at killing intrusive and destructive rodents compared to other anticoagulant baits. Also, due to the quick kill, this chunk makes it possible to manage more rats while applying way less product.
The design of the chunks is edgy, thus, making them quite appealing to rats as they like to peck at things. All contents are made out of food-grade ingredients and negligible paraffin to make chews that appeal to rodents. But perhaps, the thing I love the most about this product is that a single block can knock out an average of twelve rodents.
Tomcat rat bait chunks come in a four-pound container. It has an excellent sealing capability, thus making it a pet-safe rat bait when appropriately stored after use. After taking their bite, rodents are bound to stop eating further, thus enabling you to kill more rats without having to rush to the store to buy more chunks.
Monster Pets is manufactured only in the USA. As such, you can count rest assured that the item is produced within the specifications of American law. In case you are wondering how you will use it, then you can read the detailed instructions at the back of the container. The information will guide you on everything, from application areas to follow up procedures.
This product should be used in rural or agricultural environments.
Pros:
Cons:

a perfect balance of palatability and effectiveness;
less bait is used;
mold-and -moisture resistant.

some types of rats will not touch the bait.
4. Protecta LP Rat Bait Station
Specifications:
Pet safe: Tamper Resistant and Locks when Closed
Material/Construction: Heavy-Duty, injection-molded Plastic
Item Weight: 1.32 Pounds
Item Dimensions LxWxH: 9.1 x 13.6 x 3.35 inches
Target Species: Rats and Mice
At 13 inches long, 3 inches wide, and 9 inches deep, this Protecta LP rat and rodent station is one of the most popular bait stations for dealing with rodent infestations. It features a lockable design – locks when you press the lid down – to keep children as well as pets away from the bait.
There are two locks that you can open with a two-prong key that comes with the package. To unlock it, use the key provided to open each lock at a time.
The station comes in a triangular shape, which is great when you want something that fits in tight corners and spaces where rats like to live. It is also made from durable plastic material, which makes it a durable alternative for long time use. Inside the box are a bait tray and rod.
You can remove the rod and hook your bait on it before inserting it back to its original position. You can attach more than one bait block on the hook. Once the bait is in place, press the lid down until you hear a snap, which signifies that the box is now locked.
There are two large holes on either side of the box for easy entry and exit, which make it one of the best roof rat bait stations. It can be placed flat on the ground or in a vertical position along a wall or rodent path. Just ensure neither of the holes is blocked.
With the right bait, I found this station to be effective in baiting and killing the smallest rodents, including mice, voles, and rats. You can place it inside as well as outside – make sure you secure it in place when using outdoors so that larger animals such as raccoons don't drag it away.
Pros:
Cons:

child-proof;
strong and durable;
it works in a vertical or horizontal orientation;
large enough for roof rats.

it requires a key to open.
no window for monitoring.
5. JT Eaton Bait Block: Best Rat Bait Blocks
Specifications:
Active Ingredient: Diphacinone 0.005%
Number of Items: 144
Item Weight: 1 ounces
Item Dimensions LxWxH: 11 x 11 x 10 inches
Target Species: Rats and Mice
If you are considering rat bait blocks, then this is the product for you. It is the best bait for rats, given its peanut butter flavor that appeals to rodents in masses. As a result, with this irresistible rat bait, you will manage to kill many rodents by administering only a few blocks, thanks to a higher nibble-rate. This rat killer is an anticoagulant, making it an excellent choice for knocking down rodents during serious infestations.
Diphacinone, the active ingredient in the product, enables it to wipe out all small rodents within only a few days on ingesting. It is the best rat bait for your basement or garage and comes with a one-year warranty that covers you against material and quality issues.
JT Eaton, a family-owned and operated company, manufactures these effective rodent-killing blocks. When I ordered this product, I received it in a pail with a white lid. The sides had black and writings as well as an orange surface with white writings. It does not go without mentioning that the writings are quite legible, meaning you will understand how to use the blocks effectively; info given is mostly usage instructions.
The product comes in a nine-pound container that holds one hundred and forty-four one-ounce blocks. From my experience, I highly recommend this item for home use, especially the garage and basement.
Pros:
Cons:

peanut butter flavor that entices rodents to bite;
active Diphacinone for killing smaller rats.

it takes time to kill rodents.
6. 6 Protecta Sidekick Tamper Proof Rat Bait Stations
Specifications:
Color: Black
Material: Plastic
Item Weight: 12.6 Ounces
Item Dimensions LxWxH: 17 x 10 x 14 inches
Target Species: Rats and Mice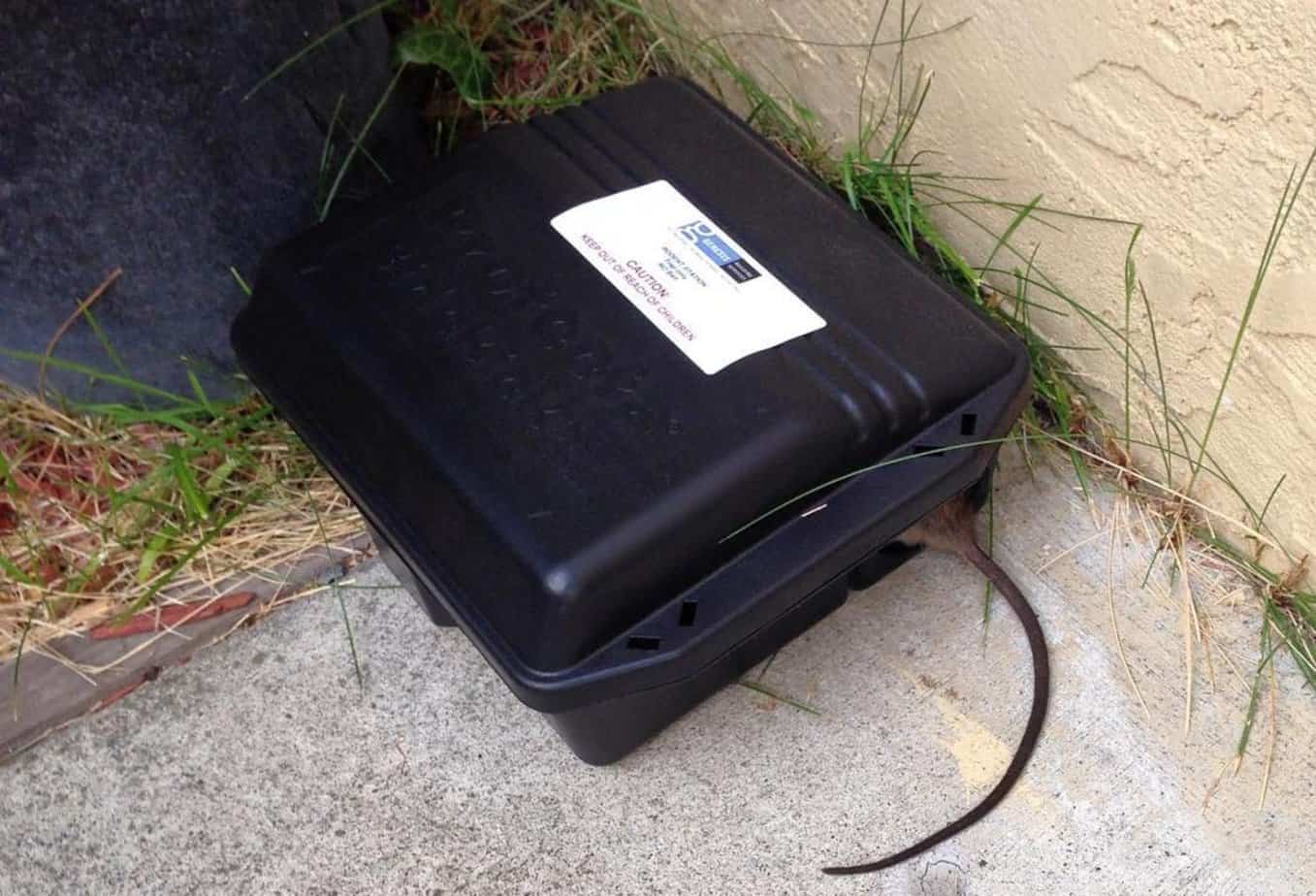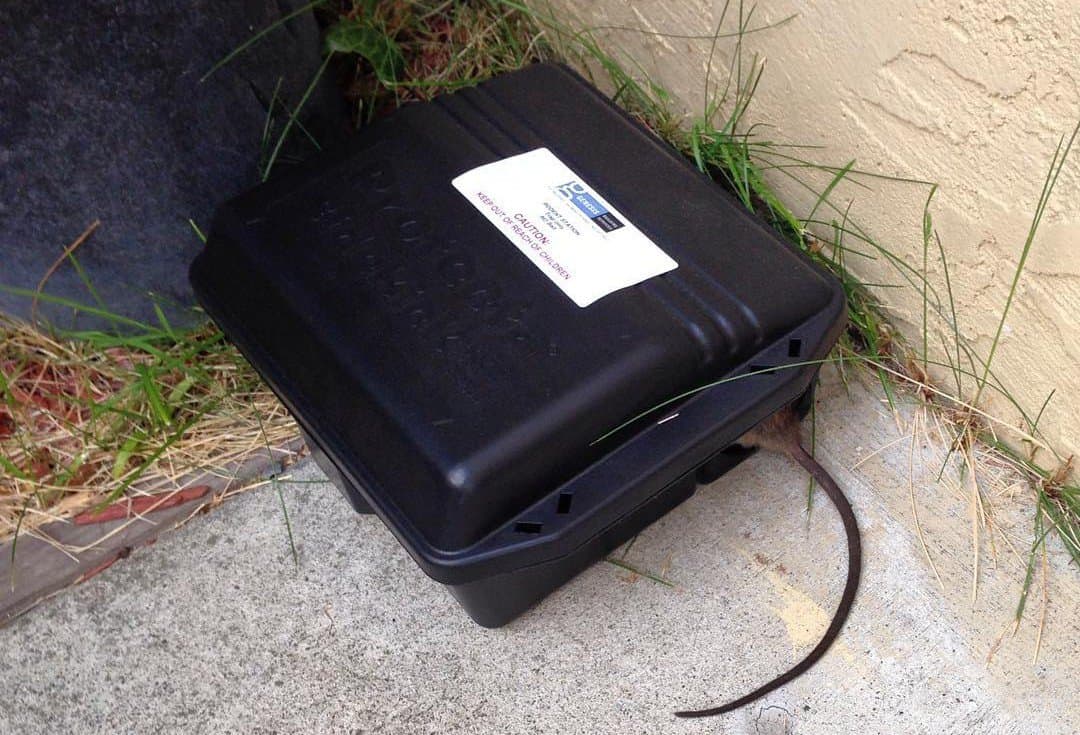 If you are looking for something that is durable that you can use for both monitoring and baiting annoying rodents, these Tamper-proof bait stations from Protecta are a good choice. ProTecta is well known on the market and produces a lot of bait stations in different designs and sizes.
These stations are quite similar to the Protecta LP. Both types are black, made from durable material, and lockable. However, the Protecta Sidekick has rounded edges- for easy cleaning- and rectangular shape as opposed to the triangular shape of the Protecta LP.
I also find it to be the most effective rat bait if you have a rat infestation, and you want to put in taller or more bait in the station. In this case, you can stack bait on top of each other. Each can hold up to about two pounds of bait. And you get six of these stations in one purchase.
The stations are very easy to use. Each comes with four vertical rods- you can put all of them at a time- which help to hold your bait blocks in place. And since these rods are quite firm, they minimize the risk of exposure to your pets or kids. Once the bait is inside, secure the lid and place your station wherever rats like to dwell: in corners, along walls, on your fence line, on the roof, etc. When it's locked, this station is resistant to all kinds of tampering. As such, it works well for both indoor and outdoor use.
Apart from bait, these stations are also designed to hold the Snapper T-Rex Snap Trap. They also have slots that are built to hold the manufacturer's service card. They also come with a key for easy opening. You can buy an extra key from Protecta if you want. The hinges that ensure easy locking and unlocking are also quite durable and can't easily be fractured. The station locks when you close it to ensure the safety of those around you.
Pros:
Cons:

it can hold a lot of poison;
accommodate T-Rex snap traps;
it made of sturdy tamper-resistant molded plastic;
child and pet-proof.

it come with only one key;
need to be a little elevated when used outside in the rain.


FAQ Section
How Do Rat Bait Stations Work?
Rat bait stations are small, completely inconspicuous boxes that can be placed in any part of the room. Inside them, there is poison, which, by smell and taste, is almost indistinguishable from real rodent food. Once inside, the mouse eats the bait and dies almost immediately. You can use such stations many times, just remember to constantly clean them.
What Is In Rat Bait?
Rat bait consists of some rodenticide mixed with substances that attract rats. Usually, it's a mix of phosphides and rodent yummies. Unlike mice traps, the bait stations are not adapted to catch mice. Their main task is to let the rodents eat poison, which will kill them almost immediately after they leave the station.
What If Your Pet Eats Rat Bait?
Most stations contain very strong poison inside, which will be deadly for your animal too. However, each rat station has certain protective measures. For example, entering holes with a width that is enough for mice to penetrate, but not enough for a cat or a dog.
Final Thoughts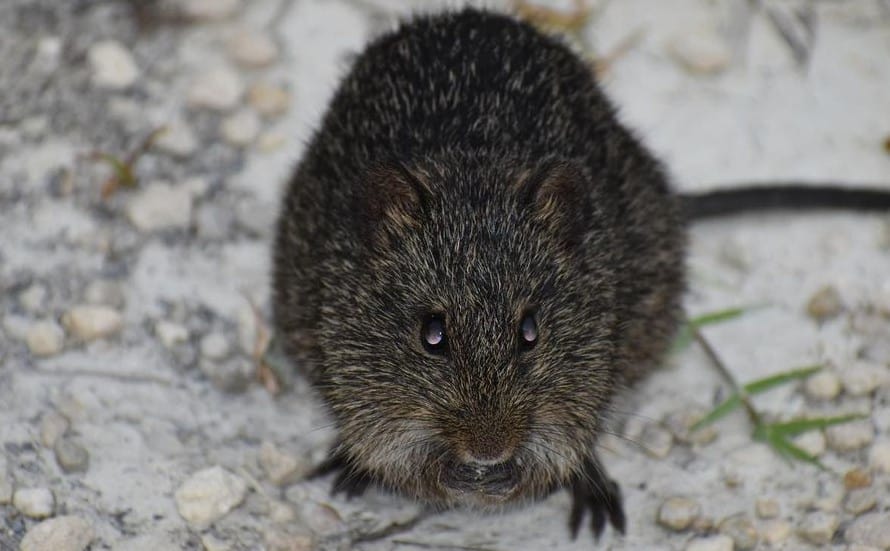 Did you notice rats running around your house or yard? Rats, mice, and other rodents can quickly make your life and that of your family unbearable. They will eat and destroy anything they can get their hands on. So, it's never too early to take measures to control the situation. A budget-friendly alternative to hiring an exterminator is to buy a rat or mice station and bait blocks/chunks.
Our top recommendation of best rat killer bait is Farnam Just One Bite chunks. For bait holders or stations, Redtop Stations are an ideal choice. The other products mentioned are also good alternatives depending on what your budget is, the features you are looking for, and your brand preferences.
While choosing a bait holder, make sure you check if it is durable, easy to use, and safe. No one else – including toddlers and pets – should be able to access it except the targeted animals. Have you used rat/ mice bait and stations? What is the best rat bait judging from your experience? Would you recommend any of the products I have reviewed? I would like to hear from you, so don't hesitate to leave a comment below.
References:
How to use rodent traps and bait stations (Environmental Health Services):
https://www.kingcounty.gov/depts/health/environmental-health/animals/~/media/depts/health/environmental-health/documents/rodents/rodent-traps-bait-stations-EN.ashx
Bromadiolone (Oregon State University and the U.S. Environmental Protection Agency):
http://npic.orst.edu/factsheets/bromadgen.html
Bromethalin (Paul Klausen, Class of 1997):
https://www.addl.purdue.edu/newsletters/1997/spring/bromoethalin.shtml
Options for Dealing With Rodent Infestations (United States Environmental Protection Agency):
https://www.epa.gov/rodenticides/options-dealing-rodent-infestations
Why You Should Trust Pest Control Hacks?
We know that pests are nasty neighbors, and it can take months to eliminate them without the right approach. Our experts use their own experience to compile articles and guides that are introductory and informative. Our authors' opinions are independent and based on the results of practical testing of pest control tools. We do not notify manufacturers of testing of their products and do not receive payment from them for posting their items. Also, our texts are never submitted to company representatives for proofreading before placement. On the site, you will find exclusively objective ratings and reviews.