Greetings, guys, my name is Nicholas and welcome to my pest control blog. Today I want to talk about mice, their habits, and what is more important, about the most effective way of mouse trapping. As you may know, mice can live almost everywhere: in homes, cafes, and shops all year round, but they become especially noticeable as cold weather approaches. These species live near humans migrating closer to the heat and the source of easily extracted food.
Mice do more damage to the human economy than rats. Although the latter are less acceptable to people, they rarely live directly in the residential area, preferring to be in the places of waste collection and disposal. In addition, mice can breed up to ten times a year. Most often, they interfere with people not by eating a lot, but by their omnivorous behavior.
Mice gnaw food but do not eat it, and after that the product has to be thrown out. They gnaw holes in clothes and furniture, build their burrows through partitions and walls, leave litter everywhere. Mice are carriers of salmonellosis and other intestinal and inflammatory infections.
Mouse traps are firmly established in the lives of people who have to coexist alongside elusive and annoying pests. Over the long clash history, more than a dozen sophisticated mouse traps have been invented. Some of them eliminate the rodent, while others simply immobilize animals, but do not kill them.
Now, let's ask, which mousetrap is better? Behind a large number of designs and manufacturers, there are only five types of mouse traps that work, and we will now sort them out.
Which Mouse Trap is Better?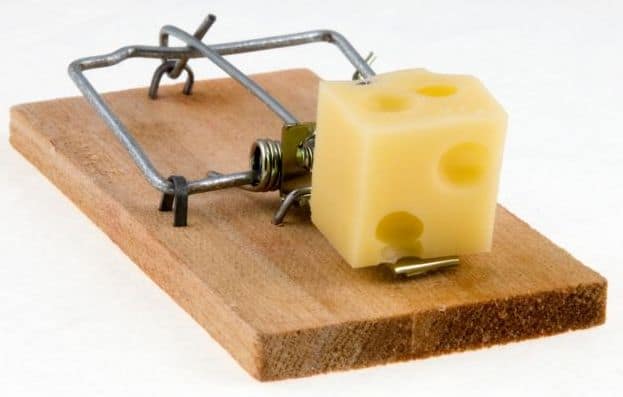 Conventionally, all devices can be classified into several categories:
traditional (used by a human for more than one hundred years, here are the most common mouse traps for mice with a spring mechanism);
modern (or the so-called "living traps", which leave the captive alive);
innovative electrical traps;
glue bait (make the victim firmly stick to a specially treated surface);
homemade traps for mice that can be made by our talented readers from scratch.
Traditional Mouse Traps
Traditional mouse traps are the easiest ones to use and maybe the most familiar from childhood and cartoons. The cheapest is the classic wooden mousetrap with an iron bracket. The mouse is lured with the bait. When it tries to take the food, the bracket rapidly closes and presses the mouse. The mechanism is quite strong and can kill an animal or cause injury to a person who has been careless with it. In addition to wooden, plastic and metal traps for mice are now being produced, which may differ substantially from the classical model, but retain the same principle. Traditional traps can also be used to build mouse trap car.
Features:
the most widespread type
cheap
easy to use
lethal for the animal.
Live trap does not kill the rodent, but only keeps it in a small aviary. The principle of operation is simple. The bait is tied on a special hook inside the small box. The hook, in turn, is a kind of fuse: as soon as the mouse decides to eat cheese, the lid closes. Suitable for those for whom killing an animal, even a pest, is unacceptable. When you catch a mouse, you just have to release it in some distant and wild location.
Features:
totally humane;
cost more than other traps;
you have to deal with the captive afterward.
Glue Mouse Traps
Glue traps are represented in a wide variety. The stores sell tubes of glue or ready-made adhesive platforms. Ready-made glue traps for mice are easy to use and do not require lengthy preparation. It is enough for a person to unpack and set the substrate in the right place, first putting bait in the center. Glue is cheaper, but this is a more fussing way. When applying the glue, you can plunge yourself into it, stain your clothes and floor.
It is hard to wash or clean such a mess afterwards, so you have to use gloves and protective clothing (such as an old robe) during work. The whole result will depend on the correctness of the application because the better part of glue traps are sold even without the ground basis. So be ready to make the whole construction manually, and apply glue on it.
Features:
very cheap;
the most simplistic way to beat rodents down;
the trap doesn't kill the mouse, so you have to deal with a squeaky animal by yourself.
Electronic Mouse Trap
If you are looking for the most effective trap, you have to know that it was invented relatively recently. The advantages of an electronic mouse trapping are obvious: a mouse or a rat runs into a trap in search of food and gets a discharge of current, dying quickly and painlessly. Such mechanisms perfectly solve the problem: how to catch a mouse in a house without blood and disorder. In addition, electronic traps are convenient and practical for large rooms and food warehouses, as they can be used without recharging for a long time.
The device itself is a small rectangular container with several entrances ("ladders"). It works on batteries and is established in places of the greatest congestion of mice. To attract the attention of rodents the bait is put inside. Hoping to profit by goodies, the mouse will surely penetrate into the container, but will not be able to get out of the trap. The fact is that inside the box there is a special indicator that is triggered in the presence of a stranger.
When an animal touches the floor, as it gets immediately killed by a lethal dose of electric current. Children's fingers and pets noses will not be able to penetrate the cone-shaped holes. And with the lid open, the circuit is opened and the container is de-energized.
Features:
the fastest and most humane way to kill the rodent;
quite easy to set up as for the electronic device;
safe for pets and kids when activated.
Related Post: 7 Best Mouse Poisons Reviewed
Homemade Mouse Traps
Homemade traps can be built from buckets, plastic bottles, boxes, and other common tools. In fact, there are so many varieties of homemade mouse traps that a separate article is needed to mention all of them. However, I think that the better part of them is not convenient in use, and they are not so solid as manufactured traps. We'll head back to the topic of homemade mouse traps later in this article.
Features:
you don't have to pay for a homemade trap;
not all of them are convenient to use.
Repellents
Finally, I have to say about the separate category: rodent repellents. These things are not technically traps, they are used to discourage animals and insects from trespassing your territory. Repellents can be presented in the form of liquids or sprays, and as electronic ultrasonic devices as well. They do not produce any harm to the environment and animals. However, domestic animals do not like their sound so you can't use them if you have cats and dogs or your own ranch, for example. Also, not all of them can actually scare mice, but I will mention some reliable models later in this article.
Features:
non-lethal to rodents;
can scare your beloved pet as well;
can cover a decent area.
Top 11 Best Mouse Traps
So, which mousetrap suits you better? Even after generally describing each type, the answer can't be given with full confidence. And for each reader, it will be different as well, because of a huge variety of housing options and personal preferences. Anyway, I'm here to help you with my own Top 11 best mouse traps which I found the most convenient, easy-to-use, harmless for the environment and so on.
1. Authenzo SX-5006 Mouse Trap – Best Classic Mouse Trap
No products found.
Authenzo is a good old brand whose production is mostly oriented towards pest control needs. They produce not only traps for mice, but for moles, rabbits, and other wild animals.
Authenzo Mouse Trap is easy-to-set, it is very effective and inexpensive. What is more important, it can be easily used by each novice. So don't be worried about the safety of your fingers because everything up is set up by pressing a single button, fast and easy. Nevertheless, you have to restrict access to the trap for children and house animals.
The mousetrap itself has the mechanism of a traditional type, with pushing plate and rapidly closing sharp gates. It instantly kills the mouse, bringing no painful setback in the process. Also, it's easy to dispose of the animal carcass after the execution, without any need to touch the animal while doing it. In some way, Authenzo Mouse Trap resembles antique metal mouse traps.
Pros:
Cons:

easy to set up;
quite cheap;
reusable;
solid frame.

lethal;
can be harmful to house animals and children.
2. Victor M154 Metal Pedal Mouse Trap
No products found.
Victor mouse trap is another old-fashioned device on our list. But unlike the Tomcat mouse trap, which uses the old scheme in a new way, Victor mice trap is nothing more than a classic traditional wooden mouse trap. It is lethal and what is more unpleasant, there is a big chance that the trap won't kill the mouse instantly, causing the animal suffering for a couple of hours or even more.
Despite this huge disadvantage, Victor M154 Metal Pedal Mouse Trap has some features on its side. It can be set up easily, it is very cheap (traps are actually distributed in 12X packs). But once the trap is set, you have to be very careful with the pedal mechanism. It can cost some fingers and paws for you and your beloved ones. If you aren't bothered with the look of dead animal carcass, you can reset the trap after washing. However, its mechanism is quite cheap, so it will break soon enough. Not a big problem when you have eleven traps left. Used traps can be used to create mouse trap car.
Pros:
Cons:

easy to set up;
very cheap;
safe when not installed.

lethal;
can be harmful to pets and children when activated.
3. Pestrax – Best Electronic Mouse Trap
No products found.
Electronic traps have to be good at one thing: instantly killing the rodent. Mice can't survive the instant 7000-voltage electric strike inside the small plastic box. Pestrax mouse trap uses this simple formula with brilliance: it has quite a simple construction and it works with a precise clock. It is hard for you to trigger the trap yourself because it has a sensor that detects a mouse or a rat when they fully enter the box. Nonetheless, it is still strongly recommended to restrict access to your pets and children while the trap is set up.
Pestrax Electronic Mouse Trap has an indicator that shows the system state. Red color means that the trap has caught the rodent, but you have to wait while it is doing its job. Do not touch the trap when you see red light. The green light means that the mouse is dead and you can dispose of its remains.
Pros:
Cons:

instantly kills the rodent;
reusable;
safe when not installed;
quite simple to set up.

can be harmful when it's used incorrectly.
4. JT Eaton 409BULK Jawz Plastic Mouse Trap, For Solid or Liquid Bait
JT Eaton is a family-owned business that operates on the market since 1932. This company is proud of the high quality of goods they manufacture and their Jawz traps are a good example of that statement.
This plastic mouse trap is similar to Tomcat Press 'N Set Mouse Trap: both use the idea of a traditional string mechanism. JT Eaton traps are distributed in 24X bundles only but their price is still cheap. They can be set up by hand or foot and easily renewed after the process is done. I have to say that JT Eaton mouse traps are not so robust as Tomcat traps with their metal carcasses. But JT Eaton product costs twice cheaper so it is a fair deal to me.
The mouse will be eliminated with a 100% guarantee due to the tight string and sharp teeth of the trap. When the rodent gets inside, it pushes the pedal which activates the deadly mechanism. Afterward, you can dispose of the corpse simply by pushing the button.
Pros:
Cons:

cheap;
reusable;
easy to set up;
insta-kills the rodent.

lethal;
can cause damage to non-rodents when activated.
5. Havahart 0745 One-Door Animal Trap for Chipmunk, Squirrel, Rat, and Weasel, X-Small
Havahart door traps are totally harmless for the caught animals. They can be used against small wild animals like squirrels, weasels, chipmunks, mice, rats, etc. Such door traps can be used both indoor and outdoor. Their working principle is simple: the small cage has a pedal inside. When an animal pushes it, the door closes and cages the target. This approach is totally harmless not only for pests but also for house animals, kids and so on.
Havahart door mouse traps can be used for a long period of time. The mechanism is simple and all the details are made of reliable materials. You can even repair it with time if you have a couple of tools and screws.
This is the first live trap on our list so let's talk about your actions after the animal is caught. The best way is to call your local pet control state services but if you have none in the nearby area, just release the rodent in some distant and humanless place.
Pros:
Cons:

totally non-lethal;
absolutely harmless for every person and animal;
great reusability;
simple in setting up.

quite expensive;
it takes time to deal with the caught rodent.
6. Snap-E Mouse Trap
Snap-E mouse trap is another cheap traditional string trap made with steel and durable polystyrene. When the rodent is caught, it stays caught until it's over. Instant death is not guaranteed in this case, and the mouse can bring itself to a continuous struggle to survive. The construction of this mouse trap is similar to Victor M154 analog besides the fact that Snap-E traps are made of more modern materials.
However, if you are interested in cheap rodent elimination, this option is certainly for you. Snap-E mouse traps are easy-to-set, reusable and deadly effective. The manufacturer actually guarantees that one trap can be used for years, so the 6-pack bundle can last a decade if you have a massive pest war in your home or warehouse.
Pros:
Cons:

easy to set;
very cheap;
one trap can be used for years;
there is no escape from this trap.

lethal, and sometimes pain can last long
you have to deal with dead carcasses
7. BRISON Ultrasonic Plug-in Device – Electronic Portable Pet Sаfe
Ultrasonic devices are great preventives of pests. There is a huge variety of ultrasonic repellents in the modern market but not all of them can provide you with the needed level of security. However, this is not the case of BRISON model which has great effectiveness for quite a cheap price. It is useful for rats, bats, mice, insects, and other pests.
The ultrasonic repeller can cover up to 1600 square feet. Produced waves pass the walls and other solid objects so you can put this device even in the center of your house. And I have to mention that there is absolutely no possible difficulty in the installation process. All you have to do is plug the device in the socket and push and hold the central button for three seconds. Simple as that!
Despite all of BRISON Ultrasonic mice repellent features, its clear flow lies in the fact that it can't be used if you have house animals. Pets can't carry out an ultrasonic sound. However, I think that this product can be named as the best sonic mouse trap.
Pros:
Cons:

very easy to use;
quite cheap;
harmless;
has a long period of use.

housepets are not welcomed as well.
8. D-Con Ultra Set Covered Snap Trap 1 Ct.
D-Con mouse trap is a well-known device. It is constructed in order to cover the trap itself with the box so you can prevent children and house pets to get inside. The basis of this set is a simple string trap made of plastic and metal. It is conveniently situated in the black box with the mouse-sized hole. Once the mouse is killer, you can easily carry it out without your kids seeing the whole mess. Also, you don't need to physically contact with the mouse corpse and dispose of it just holding the box and pressing the button.
The D-con mouse trap itself is similar to the Snap-E model, only it's inserted in the box tightly. You can't remove it, but you can widely open the box from the side where the hole is situated if you want to wash the trap. If you want to set up the trap, close the box and toggle the switch on the top of the box.
Pros:
Cons:

kills the rodent without you seeing it
easy to set up
inaccessible for children and average-sized pets
reusable

small pets, like hamsters, can get inside the box;
the trap can't be disassembled so it can't be conveniently washed.
9. Tomcat Mouse Glue Traps w/Eugenol for Enhanced Stickiness
In the first place, Tomcat is famous for its glue traps. #1 Brand Glue Traps in America, as it is stated by the company. Even if it is not, I still recommend Tomcat production to each pests struggler.
Speaking of the trap, its mechanism is quite simple. You have the surface where the mouse is captured with some sticky substance. The thing is only toxic-free elements can be used so you don't harm yourself and the environment. That is why Tomcat mouse traps are processed with eugenol which effectively performs without being toxic. Also, this material is weather resistant that is why you can use Tomcat traps even outside your house. Each glue trap can be used to kill up to twelve mice. After this, eugenol will lose its properties.
The problem with each glue trap is obvious: what you have to do with the rodent eventually? You can't set it free without damaging its limbs, so the only option is to kill the captive. If you don't want to deal with this unpleasant procedure, then glue mouse traps are certainly not for you.
Pros:
Cons:

easy to set up;
reusable;
for indoor and outdoor use;
cheap.

you have to kill the captured rodent by yourself.
10. Authenzo 2019 Upgrade Version Humane Mouse Trap Smart No Kill
No products found.
Another humane mouse trap device to stand against mice. This mouse trap is made of plastic materials and has the same operating scheme as cage models: the bait is placed over against the entrance. Once the rodent is inside, it pushes the plate which closes the door. All you have to do is to release your captive eventually without any harm to the creature.
Authenzo humane mouse traps can be easily cleaned and reused. Their construction allows you to dismantle parts in order to clean them separately. Also, it is totally safe for each person or animal even if it is activated. Authenzo humane mouse traps are quite cheap if you compare them with other live traps. The reason is they are completely made of plastic.
Pros:
Cons:

cheap trap;
can be set up in five seconds;
endless reusability;
humane way to defeat rodents.

you have to deal with the captured animals eventually.
11. Trapper T-Rex Rat Trap
T-Rex mouse traps bring the deadliest bites to the rodents. The trap construction is resembling of JT Eaton Jawz series mentioned earlier in this article. T-Rex trap has similar sharp teeth built-in gates, and once the plate is pushed, the mouse has no chance to escape. The trap is made of plastic materials and can be set both by hand and foot (like a pedal).
T-Rex mouse trap is designed for prolonged use. You can dispose of mice corpses, clean the device with cleanser and use it again and again.
Pros:
Cons:

cheap price;
quick setup;
prolonged use;
kills the mouse quite instantly.

lethal to rodent;
maybe dangerous for kids and pets.
Which Mousetrap Suits you Best?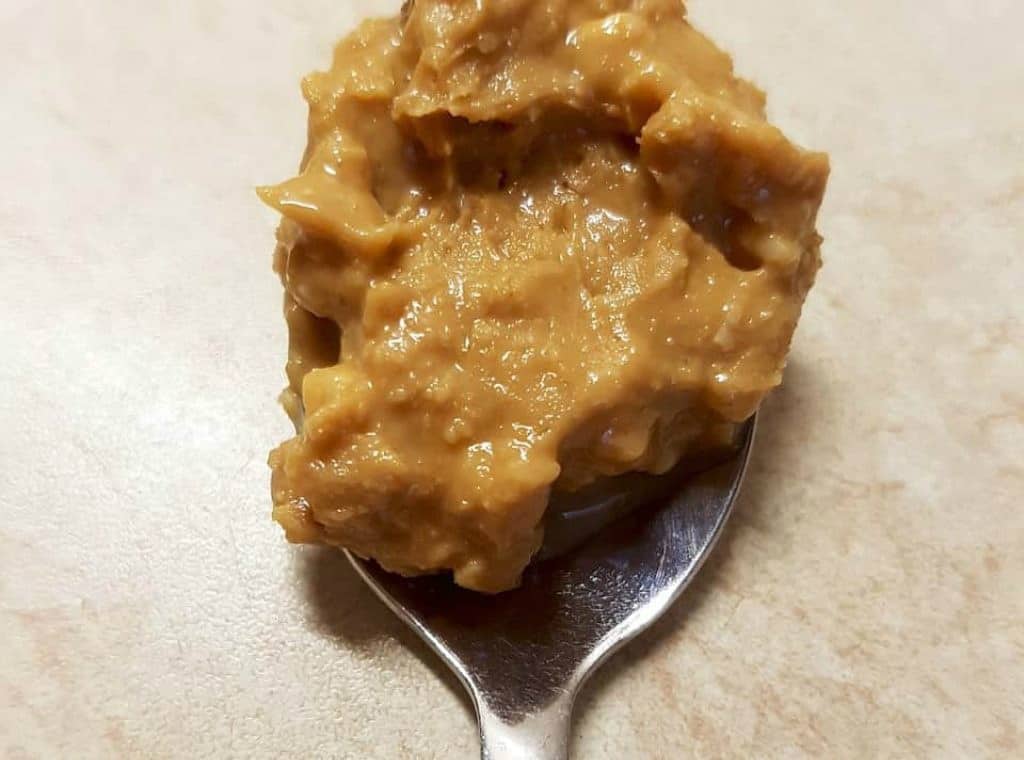 I believe that the main criteria for mice trap sorting is the ending state of the captive. If you don't want to kill animals then you will most likely prefer life traps or ultrasonic devices. I personally love animals, but I'm not a huge fan of this option. Mice are pests, so if you release them they'll find their way to disturb another human-being. They can even come back to your home if they're freed not as far as needed.
If you want to use serious measures against mice, you have to choose between electronic and mechanical traps. The difference lies in the setup process and maintenance. You have to buy batteries or recharge shock traps, while traditional mouse traps have to be cleaned quite frequently.
The Most Common Mistakes of New-Bee Mice Hunters
I won't include some obvious mistakes on this list (e.g., don't put your hand in the trap while setting it up). But I still have useful advice for novice mice strugglers:
Do not touch the trap with bare hands. Mice can detect the smell of the human body on the traps that you set, and will more likely prefer to stay away from them. In order to avoid this error, wear gloves when working with bait for a mouse and set traps for them.
Do not put too much food as bait. When you put a large amount of bait into the mouse trap, the pests can eat or carry away some of the food in their teeth without getting trapped. Pea-sized pieces are optimal enough to attract a mouse without providing a free meal.
Do not wait for instant results from traps. Mice are extremely careful, especially in a new place. You can make them accustomed to the trap by pulling the bait, but without activating the trap for several days. And this approach does not depend on whether you use classic mouse traps, electronic or plastic. As soon as you see that the mice are eating the bait left near the trap, be aware that the devices are in the right place and that the pests will certainly return to them.
You set traps in the wrong places. Rodents run through the rooms very carefully, so as not to attract attention. As a rule, they move along the walls. To catch pests, place traps near the wall. The lure and trigger must face the wall so that the animals can taste the food. If possible, place traps behind a cupboard or stove.
Do not set traps at a great distance from each other. Mice not only move very quickly, but they also breed actively: one couple can produce from six to ten whelps at one time. Consequently, you may not even realize how many of them are actually in your home. If you are sure that there are more than one, you will need more than a few traps to quickly fix the problem and cover the whole area effectively.
You act slowly. Studies show that on the first night when the user sets traps, more mice fall into them than on the next. Therefore, in order to quickly solve the problem, begin mouse trapping wherever you see signs of rodents. Use a large number of traps and different types of bait.
The Best Mouse Trap Baits
What about the best bait on mouse trap? Besides the above-mentioned tips and tricks, there is a very important topic which was not mentioned earlier in this article. I'm talking about the bait phenomenon. As you may know from the films and cartoons, mice are huge fans of cheese and all its variations. You can easily bait these rodents with a piece of cheddar, no matter how smart mice might be. But is it true? What do mice eat in real life?
In practice, things work absolutely different. You can be shocked by the fact that cheese is actually not among the best mouse trap baits. It is not even in the top 10! Yes, a mouse can eat cheese if it is hungry, but it is quite a weak tool for most effective mice traps.
So what attracts mice to a trap? Remember, mice prefer cereals and seeds, nuts, butter, and sweets. So, if you choose between peanut butter or cheese on mouse trap, the first option is totally preferable. Mice are nocturnal animals, and in the dark, they are able to search for food up to 30 times so you will have a lot of chances.
Unlike rats, mice look for food only at a distance of 10-25 meters from the habitat. Traps should be placed in this area. Mice prefer to travel along walls and other vertical structures. They are very curious and explore every new item placed on their feeding territory. If you failed to catch the mouse right away, you can move the device to another place near their habitat.
Related Post: How to Get Rid of Rats: Detailed Guide.
Homemade Mouse Traps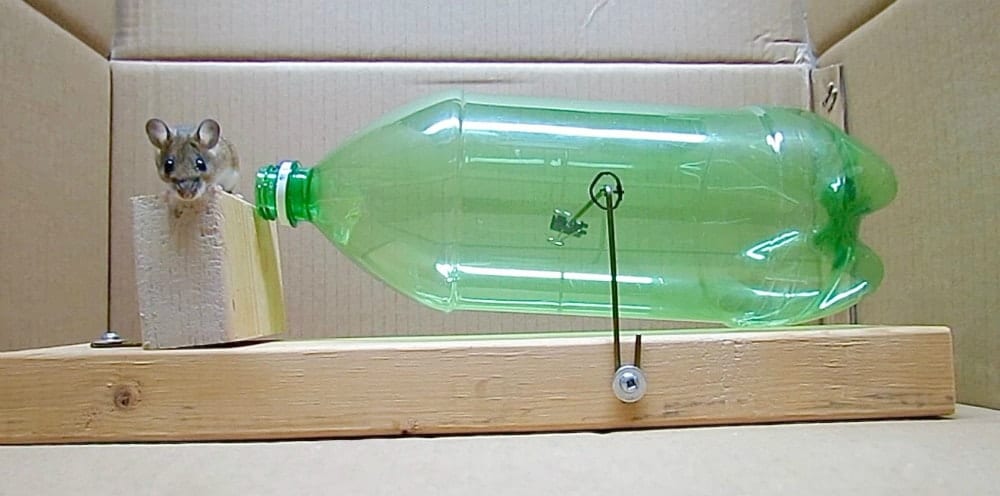 As I said at the very beginning of this article, there are tons of homemade mouse traps varieties, both lethal and non-lethal. They can be made of plastic bottles, cardboard boxes, flower pots, buckets, etc. The better part of homemade mouse traps works according to the same principle: to catch the rodent in some container or put this container on them. Actually, you can even make traditional string trap if you have a screwdriver and the string. But you have to be good at handiwork if you want to do everything right.
1. Mouse glue traps. Glue traps are even easier to create. All you need is a tube of sticky glue and some surface like a plank. Put a thin layer of glue on the surface, and the bait in the center of it. Despite the fact that common glue is quite toxic, this way is very cheap and do not rely on special skills. Just be sure not to inhale glue evaporation while preparing the trap (construction mask or gauze bandage should do the trick).
2. Bottle mouse traps. If you don't want to deal with sticky squeaky rodents, you can try to build a live mouse trap from an everyday plastic bottle. The bottle should be cut off the neck so that the mouse could get inside the trap. You have to make two holes near the cut point to which one end of the rope is tied.
The other end should be tied to any heavy object located on the table. Some bait, such as peanut butter, is placed in the bottle, and the bottle is placed on the edge of the table so that the part of the bottle where the bait is located will hang slightly.
The mouse, sensing the bait, will climb onto the table and climb into the bottle. The disbalance will appear while the mouse will try to get the bait and the whole structure will fall off the table. You have to choose the length of the rope, so the bottom of the bottle would be a bit short of the floor, so it will not let the mouse get out. Finally, you will get a perfect water bottle mouse trap.
3. Bucket mouse traps. Homemade mice trap bucket is also a great choice. You can put it bottom-up, with a bait inside. To finish the trap, mice trap bucket has to be raised from one side with some kind of stand. The bucket traps mouse from above when it tries to get the bait and kicks of the stand which holds the bucket.
There are also other brilliant ideas of mouse trap use on the Internet. I especially love the mouse trap car example, made from the wooden materials.
Feel free to provide your ideal homemade trap recipe. I believe that there are lots of brilliant ideas walking among you.
Conclusion
If you want to catch a mouse in your home or at some warehouse, it is necessary to understand where the rodent appears. The most popular joke among the pest workers is: "If you want to catch a mouse, you should think like a mouse." There is a lot of advice on the Internet which can be used to master your hunting skills. Someone says that the best mouse trap baits are smoked bacon and chicken. Others say that your success depends on the right choice of places for traps.
I personally think that you have to use various approaches in each circumstance. For example, if you are dealing with a single mouse, you just have to figure out its approximate living area and put a couple of traps there. But if you have to struggle against the whole mice bunch, you have to act smart: use different baits and change them regularly, as well as places for traps. In any case, I wish you luck in your fight against annoying rodents. Also, if you have your own successful mouse hunting story or other connected experiences, feel free to tell me about them in the comments below.
References:
3 Easy Ways to Make a Cheap Homemade Mouse Trap (wikiHow):
https://www.wikihow.com/Make-a-Cheap-Homemade-Mouse-Trap
House Mouse (R. M. Timm, UC Research and Extension Center, Hopland):
http://ipm.ucanr.edu/PMG/PESTNOTES/pn7483.html