Garden pest control is the constant work of a gardener. Ants are not only the most common but also one of the most harmful insects. Their families grow exceptionally quickly, populating the surroundings, and attempting to plant your garden. Where the ants are, there are always a lot of aphids. In symbiosis, the work of ants and aphids can not only harm plantings but also eventually leads to their death.
Ant food is not just caterpillars. Ants eat the grown vegetables, fruits and greenery, creating tunnels in them. These pests also spoil the decorativeness of the site. Like moles, ants destroy the earth, filling it with endless moves. Because of the large number of tunnels in the soil, the air and water permeability of the soil are disturbed.
Fighting ants is a challenging process, a lengthy task that often does not bring long-term results. How to get rid of ants? Here I have an Amdro ant bait review. It helps you to find the most effective means to save your garden.
The Best Amdro Ant Killer Reviews
Amdro is one of the most popular brands on the market. It has a trustworthy reputation because of the effectiveness of its products.
Amdro ant bait ingredients are toxic and contain the poisons that eliminate the whole ant colony. The brand claims that their products are effective against 15 ant species. In this review, I'll help you to find out everything about the baits and answer the main questions such as: is Amdro ant bait safe for pets? How to use the baits? What substances do these products contain?
Amdro Ant Block Granule — Amdro Ant Killer Granules For Outdoors
Specifications:
Item Form: Granules
Item Weight: 0.75 Pounds
Liquid Volume: 12 Fluid Ounces
Item Dimensions LxWxH: 4.2 x 3 x 8.2 inches
Target Species: Ant
For over 40 years, the Amdro brand has been creating products that help to eliminate pests. This brand produces items for outdoor and indoor use. Due to them, you can get rid of spiders, cockroaches, mosquitoes, and different kinds of ants.
Effectiveness
Amdro Ant Block Granule works against 15 kinds of ants, including carpenter ants. It's a granular bait, so you can combine it with other treatments and use it indoors. The treatment contains a poison of slow action. It eliminates the queen and the rest of the ant colony.
Hydramethylnon is an active ingredient of the whole line of the Amdro products. It confuses the energy generation of the cells in pests with the system of delayed toxicity.
The bait attracts the ants with its smell. The whole colony comes to taste it and shares it. That's why it eliminates the entire group. Amdro Ant Block Granule is effective for up to three months.
Price
The price is quite affordable. You can purchase a 24 Ounce pack starting from $14. For around $7, you can buy a 12 Ounce pack. One 24 Ounce bottle covers about five times the average house area. That's a real steal.



Ease of Use
It's not a big deal to use the given product. Just follow the instructions. The soil should be dry before and after the use of Amdro Ant Block Granule. Distribute the treatment around the area and leave on the ground—no additional work needed. Besides, you can purchase special stations and try them.
Sprinkle the granules where you see the traces of ants or directly next to the anthill itself. Do not moisten the soil after use, otherwise, the soil will absorb the product.
Safety
Amdro active ingredient is a poison. That's why it's not safe for pets and children. Wait for a few hours before letting kids and pets go outside after the use of baits. Watch out for your household, and don't let them touch or eat the granules.
Overall product score: 4.8
Pros:
Cons:

works against 15 kinds of ants;
affordable;
kills the entire colony.

dangerous for pets and kids;
ineffective on the wet ground.
Amdro Fire Ant Yard Treatment Bait — How to Use Amdro Ant Bait Against Fire Ants
Specifications:
Item Form: Granules
Item Weight: 5 Pounds
Cover: up to 10,000 square feet
Item Dimensions LxWxH: 4 x 11 x 15.5 inches
Target Species: Ant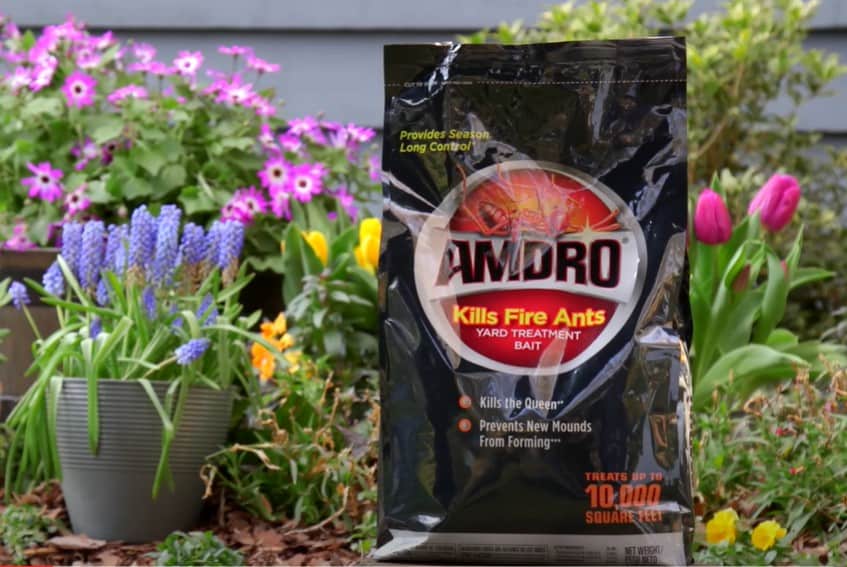 Fire ants can harm not only your garden and the plants that are there, but also you. They also can attack pets and bite them. The ant sting injects poison, which not only hurts but can also lead to death.
The Amdro brand also has a product that can help you to manage these dangerous pests. You can use it for your lawn protection, garden, and ornamental areas. However, the substance shouldn't be applied to the vegetables and other food crops that you grow.
Effectiveness
The treatment works due to the combination of the regulator of pests growth and the ant bait. The ants perceive the bait as treatment. That's why they carry it to the mound. They feed the entire colony and the queen that can't produce new ants after it ate the substance. So the colony starves without new ants and dies out.
As for the composition, this agent also contains hydramethylnon and methoprene. These toxic substances affect the nervous system of insects.
Price
You can purchase 2 pounds of Amdro Fire Ant Yard Treatment Bait for around $11. Five-pound pack is available for around $18. That's a fair price for something that works.
Ease of Use
As was noticed in the previous Amdro ant killing bait review, the soil should be dry before and after the use. If you expect the heavy rain, don't apply the substance. The best time for application is morning or late afternoon.
You need only 1 pound per 1000 square feet for a massive invasion. If the invasion is moderate, 1 pound per 2,000 square feet is enough.
Related Post: Most Effective Fire Ant Killers Reviewed.
Safety
The product contains a few types of poison. So, it's not safe for your pets, children, and you. After use, you have to wash your hands properly and don't let others touch or taste it. The poison is dangerous not only for fire ants but also for other types of living creatures after ingestion.
Pros:
Cons:

eliminates the ants in two weeks;
affordable price;
easy-to-use.

toxic;
effective on the wet ground.
Buyer's Guide
One package of the product can be used up to five times. If you have a more serious case, take a 24 ounces pack of Amdro Ant Block Granule or 5 pounds of Amdro Fire Ant Bait. Amdro Ant Block Granule eliminates 15 types of ants.
If you have a problem with fire ants, you can try Amdro Fire Ant Bait. Use bait stations for better results. Remember that the baits contain toxic substances that are dangerous for you and your household.
Amdro vs Terro Ant Bait
Specifications:
Style: Liquid Bait
Item Weight: 2.08 ounces
Number of Pieces: 6
Item Dimensions LxWxH: 4 x 4 x 3 inches
Target Species: Ant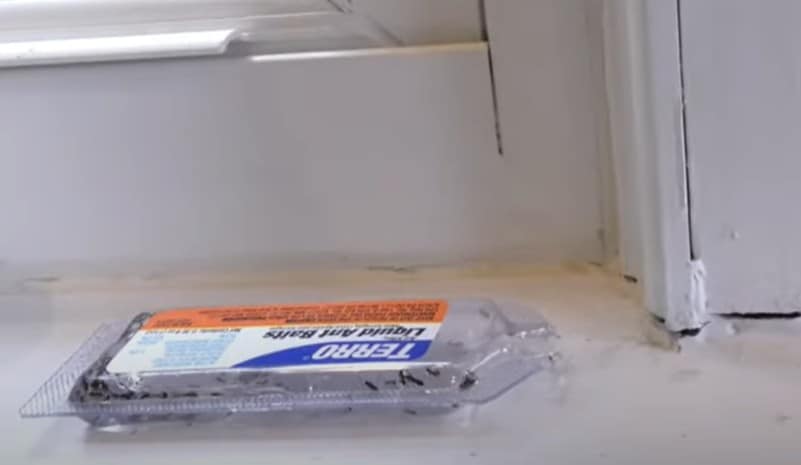 Terro is a liquid substance, but the principle of work is the same. The liquid inside the bait station also attracts the ants; they eat the treatment and share it with other members of the colony. It's based on the borax, unlike the Amdro with its hydramethylnon base.
Both baits are toxic and dangerous for humans and pets. This kind of bait also suits for indoors while Amdro can only be used outside.
Related Post: Terro Ant Bait Review: Does It Work?
Amdro Ant Bait vs Advance
Specifications:
Item Form: Granular
Item Weight: 10.5 ounces
Active Ingredient: Abamectin 0.01%
Item Dimensions LxWxH: 4 x 3 x 7 inches
Target Species: Ant
Advance granules have the same action as Amdro products. They also contain the slow-acting poison. These granules are safe enough for pets and children because they are almost invisible. Advance works against different kinds of ants; it's also easy-to-use. However, the main advantage of this substance is weather-resistance, so you can be sure that it works even after the rain.
One of the main differences between baits is that the Advance 375a needs to be placed on the bait station. Amdro can be spread around your lawn or garden area, so it provides better protection.



Spectracide vs Ambro Ant Bait
Specifications:
Item Form: Granules
Item Weight: 13.44 pounds
Active Ingredient: Lambda-Cyhalothrin – 0.04%
Item Dimensions LxWxH: 15.5 x 8.5 x 8.25 inches
Target Species: Crickets, Earwigs, Fleas, Roaches (German and American), Palmetto Bugs, Water Bugs, Millipedes, Mites, Silverfish, Sowbugs (Pillbugs) And Other Listed Insects
Amdro and Spectracide have the same form of granules and the same method of use. Spectracide is toxic and dangerous for pets and children. The price of the product is quite affordable. Unlike Amdro, the given product kills the ants immediately.
Sounds good, but there's an issue: the insects that ate the treatment die while the rest of the colony lives, including the queen.
FAQ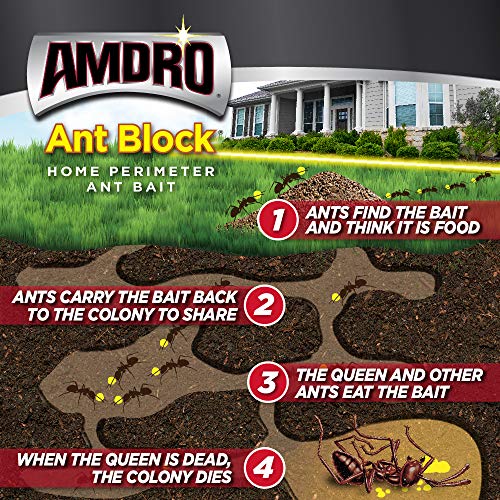 How Does Amdro Work?
Amdro contains a slow-acting poison that attracts ants. They eat granules and share them with the entire colony. Due to this fact, you can eliminate all insects even if you don't know where they live.
How Long Does Amdro Take to Kill Ants?
The substance starts to work in a few days. It takes about two weeks to eliminate the whole ants' colony.
Does Amdro Kill Carpenter Ants?
Amdro Ant Block Granule works against 15 different kinds of ants. The carpenter ants are included.
Related Post: Best Carpenter Ant Killers That Work.
Does Amdro Kill Fire Ants?
Amdro Ant Block Granule kills 15 different kinds of ants. However, if you want to have a narrowly targeted tool, try Amdro Fire Ant Yard Treatment Bait.
Choose a Bait and Follow the Instructions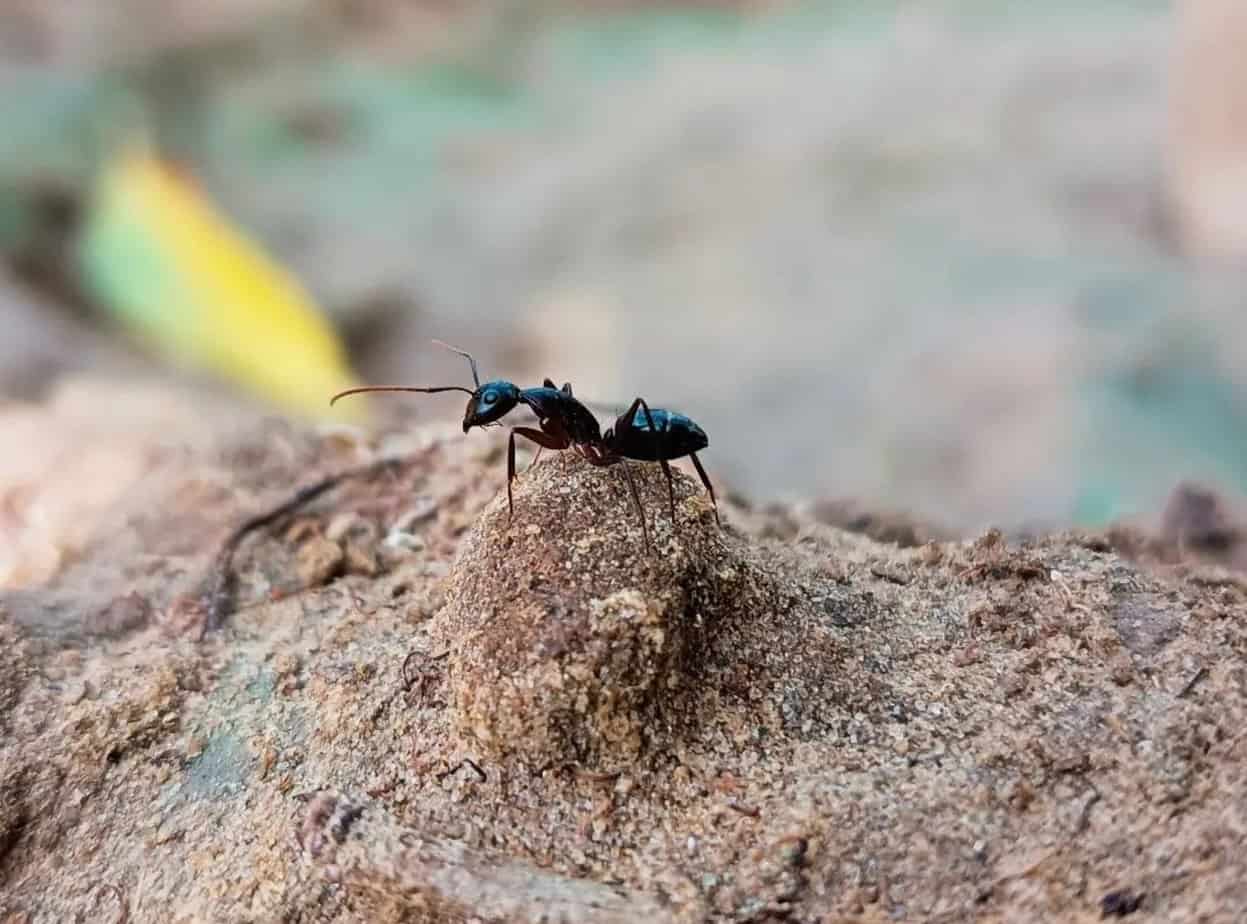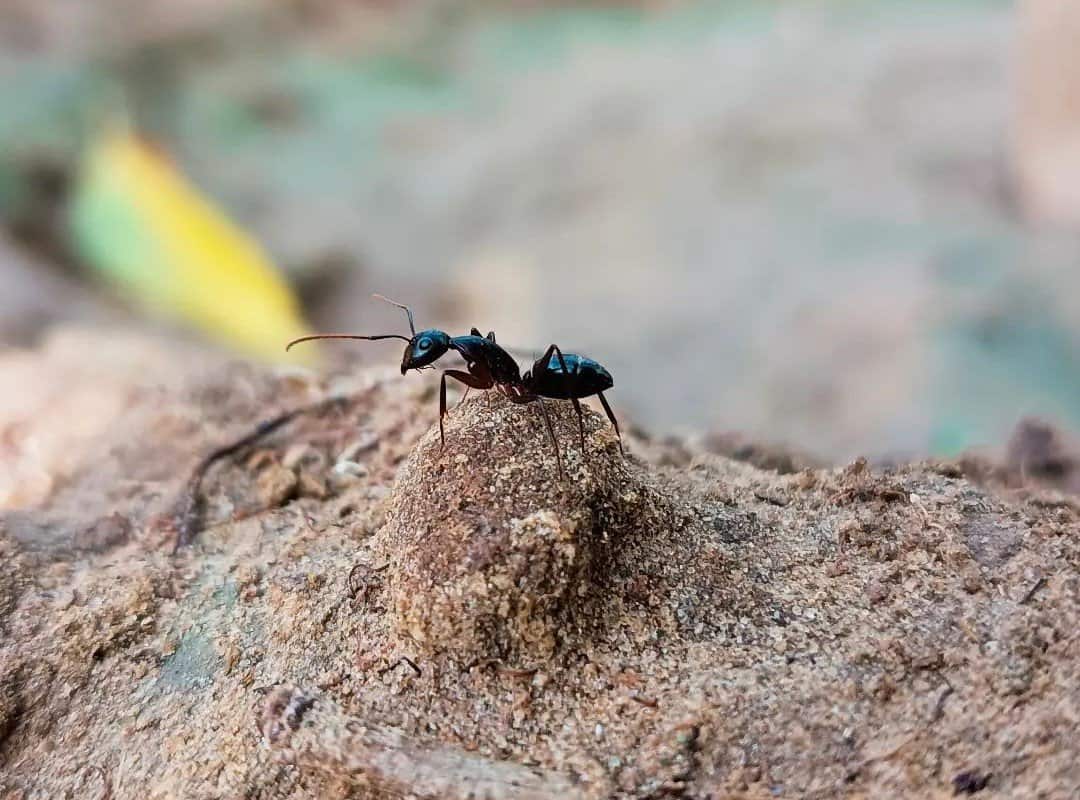 Whether you have a year-round ant problem or they only appear during the hot months or, think using Amdro Ant Baits. This brand produces insecticides for a long time, and it's trustworthy. With the help of the products in my Amdro ant bait reviews, you can eliminate the whole group of ants even if you don't know where the colony is.
However, there are some rules of use you shouldn't ignore. Wash your hands after applying. Don't let pets and kids play in the areas that were processed. The most important part is not to moisture the soil before and after the bait use. You're welcome to share your experience of exterminating ants in the section below.
Also read:
References:
Secrets of a Superorganism (Arizona State University):
https://askabiologist.asu.edu/explore/secrets-superorganism
Hydramethylnon (National Center for Biotechnology Information):
https://pubchem.ncbi.nlm.nih.gov/compound/Hydramethylnon
Why You Should Trust Pest Control Hacks?
We know that pests are nasty neighbors, and it can take months to eliminate them without the right approach. Our experts use their own experience to compile articles and guides that are introductory and informative. Our authors' opinions are independent and based on the results of practical testing of pest control tools. We do not notify manufacturers of testing of their products and do not receive payment from them for posting their items. Also, our texts are never submitted to company representatives for proofreading before placement. On the site, you will find exclusively objective ratings and reviews.