Are you struggling with carpenter ants in your house? I know how challenging it can be to deal with these insects. There are over seven hundred ant species in the world, and carpenter ants are among the highly difficult ones to remove in case of an infestation.
These insects don't feed with wood around, but only drill holes create nests. You must, therefore, get rid of these species until their colony grows bigger, and the damage caused to your furniture and surroundings gets stronger.
If you want to get rid of carpenter ants effectively, you must first find their nest. After locating it, use the best carpenter ant killer on pests, their nest, and traces.
I have studied the behavior of these pests and how to effectively control them for more than twenty-five years. So, I will use my expertise to provide you with tips on the best way to kill carpenter ants.
Below, I will provide descriptions of the best products to kill carpenter ants to assist you in keeping ants away from your house. Here, you will also find my suggestions for suitable treatments for outdoor and indoor applications. If you use these solutions, you are guaranteed to get rid of carpenter ants shortly.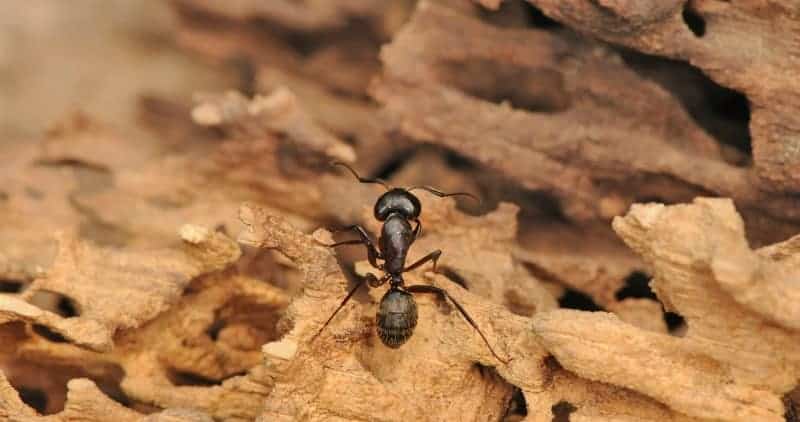 8 Effective Carpenter Ant Killers on the Market
Here is a list of the top eight carpenter ant treatment options that I recommend considering to get rid of these pests. The pros and cons of each item should help you select the best carpenter ant killer for your needs.
1. Basf Advance Granular Ant Bait – Best Product to Kill Carpenter Ants
Specifications:
Active Ingredient: Abamectin B1 0.011%
Item Weight: 0.7 Pounds
Liquid Volume: 8 Fluid Ounces
Item Dimensions LxWxH: 3.8 x 4 x 7 inches
Target Species: Ant
Basf Advanced Granular Carpenter Ant Bait is the best product among our recommendations. This German company was founded in 1865, and it is the largest producer of chemical products in the world. It has subsidiaries in over eighty countries worldwide.
This Basf carpenter ant bait is made with an active ingredient called abamectin B1. This is a slow-killing ingredient that allows the carpenter ants to carry the poison back to their colony. What kills carpenter ants best than this product, which can destroy the entire colony together with the queen? Indeed, there is no better way to keep your home protected from pests.
This solution is a combination of protein-based attractors and large granular-sized baits. The baits can be placed anywhere around, and in the house, so you can spread the treatment not only in the kitchen and rooms but around the foundations in cracks and crevices. You should also put baits in areas where you have noticed the signs of ants to get desired results.
Pros:
Cons:

a highly-efficient granular bait;
can kill the whole colony;
can be used both indoors and outdoors.
Specifications:
Material: Gel
Item Weight: 0.2 Pounds
Number of Pieces: 4
Item Dimensions LxWxH: 5.6 x 7.25 x 4.75 inches
Target Species: Ant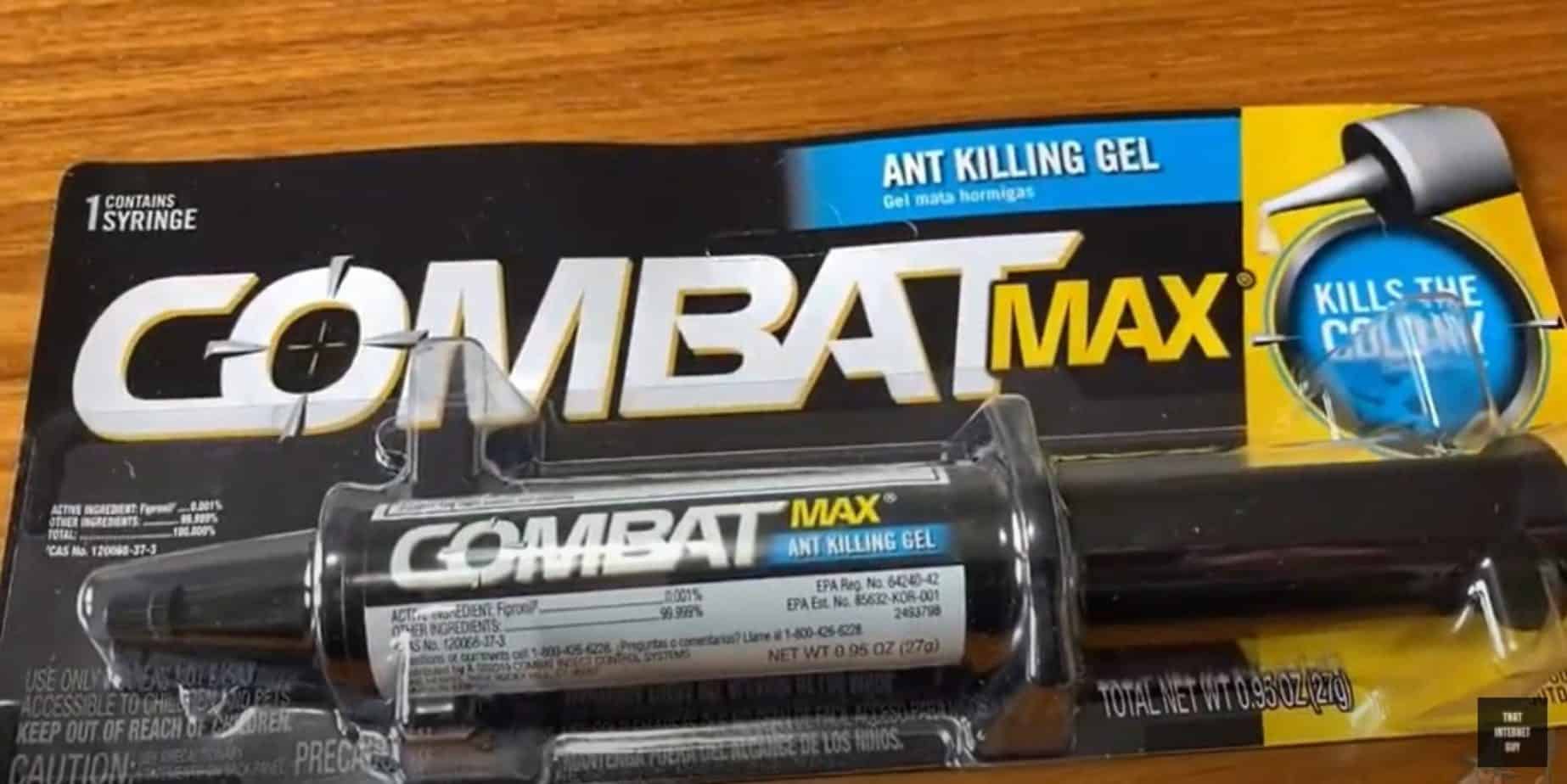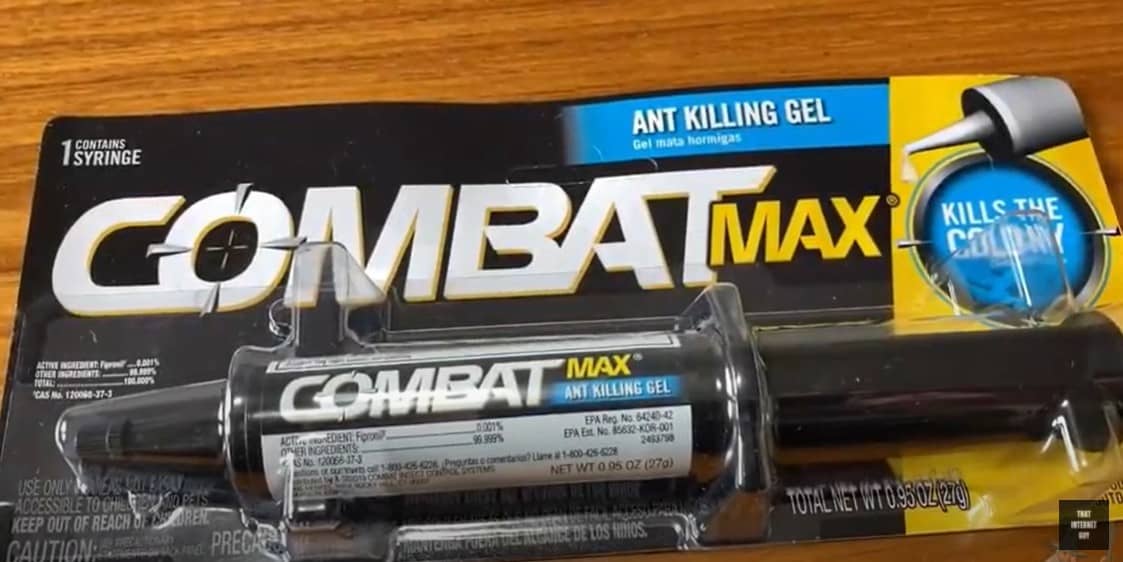 Bayer is the manufacturer of a highly helpful Maxforce carpenter ant bait gel. It is among the largest pharmaceutical companies in the world. Bayer produces some chemical products, such as agricultural chemicals, consumer healthcare products, and biotechnology products.
This advance carpenter ant bait is a sugar-based gel with a sweet smell to attract ants. It is also high in moisture to allow the ants to consume it easily. The gel can kill all the common species of ants, including carpenter ants, bullet ant, banded sugar ants, argentine ants, among others.



Maxforce gel contains fipronil. When an ant consumes this gel, the ingredient kills it slowly. This way, the ant carries the bait to its colony, which eventually results in killing the queen. This makes it an effective carpenter ant bait in getting rid of an entire colony because ants can't survive after the queen has died.
This Maxforce solution removes ants completely from three to five days after insects eat the baits. This is the reason why I find this item the best carpenter ant killer for homes infested with ants. Put this gel on the places where you have spotted ants the most for even quicker results. You can apply it in crevices, pipes, or cabinets.
The Maxforce gel should not be placed in areas that have been sprayed by insecticides. This is because the ants have a strong sense of smell, and they may smell the poison and avoid the gel. I advise using this gel alongside other protein-based baits to get the best results.
Pros:
Cons:

has a sweet smell to specifically attract carpenter ants;
the bait kills the whole colony;
can easily be applied in small spaces and crevices.

must be placed on the ant paths.
3. Talstar Pros Pest Control Insecticide – Professional Carpenter Ant Killer
No products found.
Specifications:
Active Ingredient: Bifenthrin 7.9%
Item Weight: 7.05 Pounds
Item Form: Spray
Item Dimensions LxWxH: 11.85 x 7.4 x 5.71 inches
Target Species: Cockroach, Bed Bug, Flea, Scorpion, Beetle, Mosquito, Ant, Spider, Millipede
Talstar Professional insecticide is a product of the FMC Agricultural Products company. This firm is renowned for producing some of the most effective insecticides for more than a century.
Talstar Professional comes in a 3/4-gallon bottle. In addition to effectively killing carpenter ants, this solution can be used to get rid of many other insects in your home, including mosquitoes, termites, centipedes, bees, bedbugs, spiders, etc.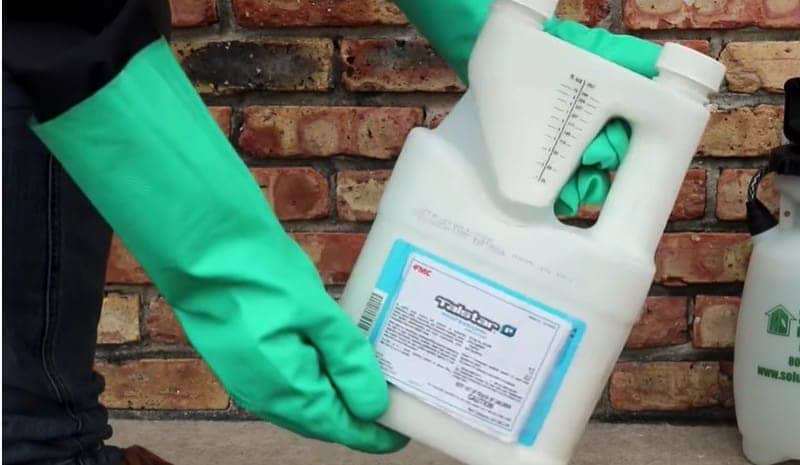 For this insecticide, FMC uses 7.9% bifenthrin as the main active ingredient. This makes Talstar Professional a fast and effective carpenter ant killer because bifenthrin is synthetic parathyroid, which affects the insect's nervous system and, therefore, weakens it before finally killing.
The high bifenthrin content means you can dilute the Talstar Professional solution with water, and it still remains effective in killing ants. The amount of water to add depends on the size of the infestation. For example, if you want to treat a mild infestation, 0.33 ounces of Talstar solution for every gallon of water should be enough. For indoor spaces, I recommend 0.5 ounces of this insecticide per gallon of water. And for the bad infestations, I advise using at least an ounce of the product for every gallon of water.
For Talstar Professional to work best, you should leave it to dry. I always leave the pesticide for at least thirty minutes to allow it to dry completely before letting people step on the treated area. When applying outside, I also make sure the area doesn't come into contact with water. So, it's best to use this solution during dry seasons, as rainfall can make it ineffective.
I recommend using a pump sprayer when to allow an even distribution of this carpenter ant spray. Also, you can use other ant treatment methods like baits alongside this product.
You can use Talstar Professional both indoors (only in cracks) and outdoors for treating your home, office, commercial areas, etc.
Pros:
Cons:

non-toxic to pets;
has no odor;
can be applied both indoors and outdoors;
leaves no stains.

must dry completely to become effective.
4. Terro Aerosol Spray – Among Top Effective Sprays for Carpenter Ants
Specifications:
Active Ingredient: Deltamethrin (0.03%)
Item Weight: 1.25 Pounds
Item Form: Spray
Item Dimensions LxWxH: 2.7 x 8 x 9.4 inches
Target Species: Ants, Termites, Carpenter bees, Wood wasps, and other insects
This Terro 16 oz. Carpenter Ant & Termite Killer aerosol spray is one of the most effective solutions, based on my experience. Terro insect control company is one of the global brands that has been helping property owners to fight pests since 1915.
If you are looking for the best way to kill carpenter ants in house, then this spray can do the magic. The solution won't stain your floors and walls, and it has no odor. The product kills insects on contact, so you can get rid of most pests in your home immediately. In addition to killing carpenter ants and termites, it can help keep your home free from carpenter bees, beetles, wood wasps, and wood borers.
You can also use it outside to kill pests. The reason why it's among the best outdoor carpenter ant killer options is that it gives your home a lasting protective barrier against pests for about four weeks. This means you won't have to worry about pests' infestation during this period.
This product comes with a two-way spray nozzle, which is easy to use. The canister allows dispersing the pesticide over a wide-angle. There is also a precision tube to help you spray the solution to crevices, wall voids, and holes.
For the best results, I recommend using this product together with carpenter ant baits, for example, Terro outdoor liquid ant killer baits to remove the outdoor ants as well.
Pros:
Cons:

lasting residual protection for up to four weeks;
for both indoor and outdoor applications;
quickly kills pests on contact;
has no odor;
the effect is stronger if used together with other Terro products.

will work if you spray on ants directly.
5. Bayer Advanced Concentrate – The Best Termite and Carpenter Ant Killer
Specifications:
Active Ingredient: β- Cyfluthrin (2.5%)
Item Weight: 2.5 Pounds
Liquid Volume: 40 Fluid Ounces
Item Dimensions LxWxH: 5 x 2.65 x 10.25 inches
Target Species: Ants, Yellow Jacket, Termites, Fleas, Ticks, Crickets, Spiders, Flies, and more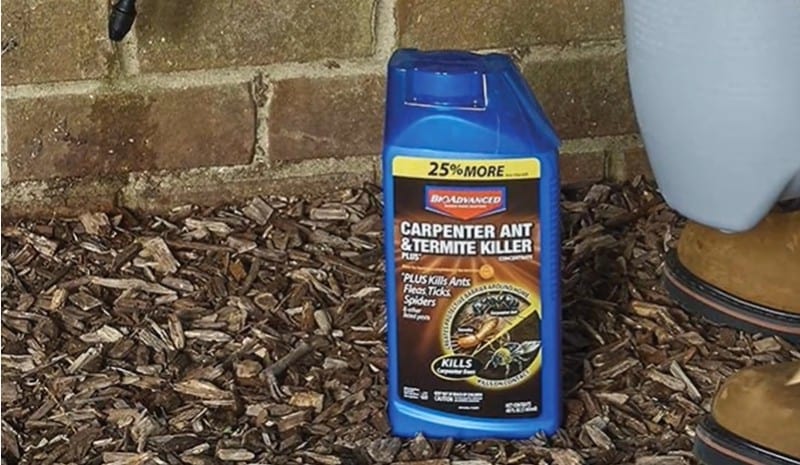 This insecticide is manufactured by BioAdvanced. The company provides innovative, science-based solutions for customers struggling with pests like carpenter ants. BioAdvanced has been a top manufacturer of one of the best carpenter ant killer products available in the market since 1994.
This item is a perfect carpenter ant poison that kills pests on contact. The downside is that it can't kill the ants that you haven't spotted. This product can also kill other insects that destroy wood like termites and other pests listed on its label.
Here, the active ingredient is cyfluthrin, which is also known as a pyrethroid. This makes it non-toxic to people and other mammals. However, you can only use it outdoors. I advise people to use this solution on outbuildings such as doorways, foundations, and eaves. Some other places you can apply the concentrate include lawns, garages, patios, stored lumber, tree stumps, and ground covers, to name a few.
The good thing about using Bayer advanced carpenter ant and termite killer plus concentrate for outdoor carpenter ants killing is that it leaves lasting residual protection. This protection can remain active for more than three months after application, which makes the product a perfect home barrier treatment.
This solution comes in three formulas. The first two are 40 Oz and 1-gallon Concentrate that you should mix with water before spraying with a tank sprayer. The other formula is a ready-to-use 1.3 gallon that comes with a sprayer on batteries.
Pros:
Cons:

kills insects on contact;
non-toxic to pets if used correctly;
protects from 75+ species;
has a lasting effect.

Can only be applied outdoors.
6. Diatomaceous Crawling Insect Killer – Natural Carpenter Ant Treatment
Specifications:
Active Ingredient: Silicon Dioxide (85%)
Item Weight: 4.5 ounces
Item Form: Powder
Item Dimensions LxWxH: 15.6 x 10.8 x 4.2 inches
Target Species: Ants, Bedbugs, Cockroaches, Earwigs, Grasshoppers, Crickets, Millipedes, Centipedes, Silverfish, Carpet beetles, Fleas, and more
This product is manufactured by a Safer company that produces organic insect control products using natural ingredients. The firm manufactures gardening products that help to conserve the environment.
Being organic, this is the best carpenter ant killer for home use. It is made with 85% Silicon Dioxide as the main ingredient. The powder works by dehydrating pests within forty-eight hours. As a result, the insects can't develop any form of resistance to this insecticide.
This carpenter ants pesticide is also easy to use. All you need to do is to place the powder on the path of insects or to their location. According to the University of Georgia Extension, the best way to eliminate carpenter ants is to locate their nest and apply an effective pesticide. The nest can be in furniture, window sills, and other far-fetching places. Apart from carpenter ants, this product can kill pests such as fleas, bed bugs, cockroaches, millipedes, and other insects.
You should ensure that the powder does not come into contact with water. If it does, you will need to reapply it again. Also, if you have a large infestation, you have to be patient and wait for all insects to come into contact with the powder. You may also need to reapply the solution to speed up the removing process.
Pros:
Cons:

pests can't develop resistance to it;
kills within just 48 hours of application;
for indoor and outdoor application;
no odors;
no stains.

should be reapplied after it comes into contact with water;
for larger infestation, it may take a longer time to affect all the pests.
7. Terro T1812 Bait Stakes – The Best Way to Kill Carpenter Ants Outside
Specifications:
Active Ingredient: Borax (5.4%)
Item Weight: 0.64 ounces
Pack Size: 8
Item Dimensions LxWxH: 4.5 x 7.75 x 2.75 inches
Target Species: Ant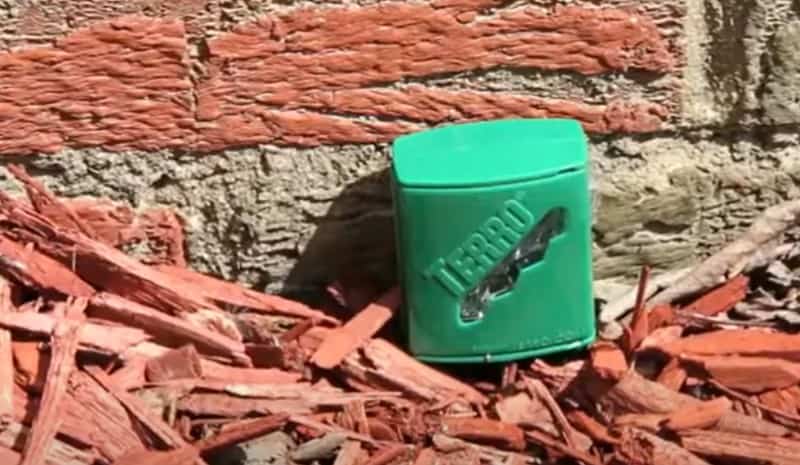 This is another great product made by Terro. If you are looking for a tip on how to kill carpenter ants before they get into your home, then this pesticide must be your choice. The bait is perfect for attracting ants.
But will Terro liquid ant baits kill carpenter ants? Well, the bait does not only attract the ants but kills them because of the borax, an active ingredient used in the pesticide. Borax kills pests slowly by affecting their digestive systems. This slow infestation allows ants to carry the poison back to their colony and, thereby, spreading the poison to the rest of the insects. As a result, you will get rid of the whole colony of carpenter ants.
This ant killer bait stake has a window that allows you to monitor the bait amount and know when it's time to replace it. The bait stake is also weatherproof, so you don't have to worry about rains. Besides, it has tiered stairs to enable the ants to access the bait with ease.
Pros:
Cons:

you can easily see the bait;
the product is ready to use;
kills pests slowly to allow spreading of the poison;
bait stake is weatherproof.
Read my complete Terro Ant Bait review.
8. Terro T1806 Ant Baits – Best Outdoor Carpenter Ant Killer for Ant Nests
Specifications:
Active Ingredient: Borax (5.4%)
Item Weight: 10.7 ounces
Pack Size: 6
Item Dimensions LxWxH: 5.18 x 5.18 x 8 inches
Target Species: Ant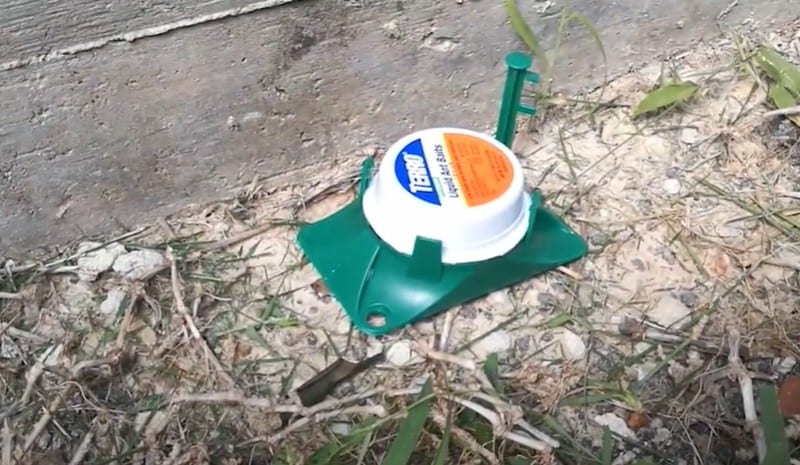 This is the third product on these best carpenter ant killer reviews that is manufactured by Terro. It shows that this company is synonymous with high-quality products.
Th1806 item is one of the most effective carpenter ant traps for outdoor insects. The trap should be put outside your home, and it has stakes to secure it in grass or gravel. This ant bait is meant to attract ants outdoors before they get into your home.
The liquid bait comes with a patented one to prevent the liquid from evaporating. There is also a see-through monitor to enable you to add more liquid to ensure the bait does not dry out.
To make this solution more effective, the manufacturer provided tiered stairs to enable ants to reach the liquid with ease. It is a slow-killing product so that ants that have consumed the poison can carry it to their colony before dying. This ensures all the ants take the poison, including the queen. Ultimately, this pesticide helps to get rid of the entire colony.
Pros:
Cons:

a ready to use bait;
kills slowly to allow ants to spread the poison to the colony;
you can easily monitor the bait placements to see the progress.
What Works Best to Kill Carpenter Ants?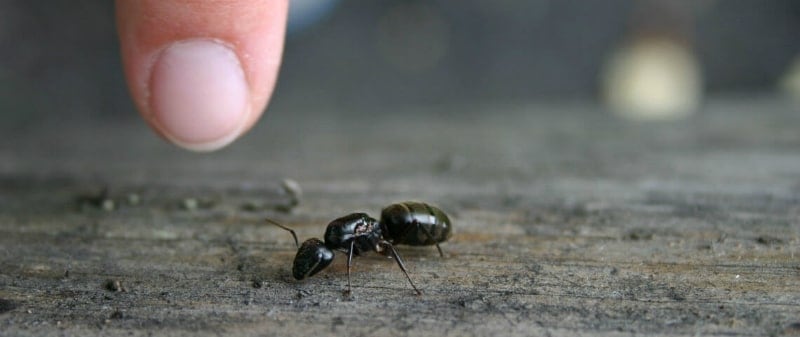 The pesticides mentioned above will provide you with perfect results if used properly. Make sure to follow all the instructions indicated on the label to the latter. You must know the correct amounts to apply based on the infestation of your place, as well as the right type of insecticide to use.
Also, pesticides labeled for outdoors should be strictly used only around the house. This is because some outdoor solutions are manufactured to break down into less toxic substances in the presence of sunlight, rain, and proper ventilation. Therefore, using them indoors without the needed conditions may result in poisonous causes that may harm people and pets.



FAQ Section
How Much Does Carpenter Ant Treatment Cost?
The answer to this question depends on many factors. First of all, it's the place of ant removal, for example, whether it's a house or street. The next is the remedy itself. There are different brands with various efficiency. On average, be prepared to spend about $50. For this money, you can buy a good and effective tool for removing carpenter ants.
What is the Best Carpenter Ant Bait?
My own recommendation for indoors is Bayer 4314807 Maxforce Carpenter Gel 27g Ant Insecticide. It can kill the whole colony of ants from three to five days after the insects eat the bait gel. Based on my own experience!
Are You Ready to Get Rid of Carpenter Ants from Your Home?
The best way to eliminate carpenter ants is to look out for their nests, where the queen lives, and then treating species with the right insecticide. If you notice carpenter ants in your house, you should use an indoor trap, bait, or spray to get rid of them. However, for removing pests outdoors, the water-based pesticides like the Talstar Professional Pest Control insecticide should help you on this matter.
It is also possible to prevent future infestations using home treatment barriers like the Basf advanced carpenter ant killer plus to keep your property protected for longer periods. The listed pesticides are very effective and should help you keep your home free from carpenter ants. I hope that my tips and insecticide recommendations will help you to remove these species from your house and forget about such a problem for a long time.
Have you ever experienced a carpenter ant infestation in your property? What carpenter ant killers did you use to get rid of them? Let me know in the comment section below.
Also read:
References:
Carpenter ants (University of Minnesota Extension):
https://extension.umn.edu/insects-infest-homes/carpenter-ants
Why Do Ants Die After The Queen Dies? (Forbes):
https://www.forbes.com/sites/quora/2018/08/08/why-do-ants-die-after-the-queen-dies/?sh=77616d03889b
Pyrethroid Insecticides (Illinois Department of Public Health):
http://www.idph.state.il.us/envhealth/factsheets/pyrethroid.htm
Biology and Management of Carpenter Ants(The University of Georgia):
https://extension.uga.edu/publications/detail.html?number=B1225&title=Biology%20and%20Management%20of%20Carpenter%20Ants
Pesticides: Safe and Effective Use in the Home and Landscape (Agriculture and Natural Resources, University of California):
http://ipm.ucanr.edu/PMG/PESTNOTES/pn74126.html
Why You Should Trust Pest Control Hacks?
We know that pests are nasty neighbors, and it can take months to eliminate them without the right approach. Our experts use their own experience to compile articles and guides that are introductory and informative. Our authors' opinions are independent and based on the results of practical testing of pest control tools. We do not notify manufacturers of testing of their products and do not receive payment from them for posting their items. Also, our texts are never submitted to company representatives for proofreading before placement. On the site, you will find exclusively objective ratings and reviews.