Amongst farmers, pests rank high in terms of the challenges they have to deal with. They are expensive to eliminate and can cause huge losses if not dealt with. But, unfortunately, pests are also a threat to everyone and can invade your home.
Fire ants are one of the most stubborn pests you will ever have to deal with. These tiny creatures can cause huge damages within a very short time, by devouring almost anything they encounter. Besides, their stings are very painful and can cause allergies.
Our #1 Pick Among Fire Ant Killers
But how can you get rid of these troublesome pests? In my many years of experience as an entomologist, I have been asked to offer recommendations on effective chemical products that offer fast solutions. This has eventually triggered me to write on the best pesticides that can help you completely kill fire ants and their mounds.
I will also tell you about important aspects to consider when buying fire ant poison that works and give you some advice on how to apply red ant killers.
Top 7 Best Fire Ant Mound Killers
Speaking about how to kill red ants, I must admit that the most effective way to do it is to eliminate their entire colony and mound. How many pesticides are capable of doing this? Let's have a look at the best products that can do the job.
1. Ortho Orthene Fire Ant Killer – Best Fire Ant Treatment Overall
Specifications:
Active Ingredient: Acephate (50%)
Item Weight: 2.09 pounds
Item Form: Granules
Item Dimensions LxWxH: 4.13 x 9.75 x 8.25 inches
Target Species: Ant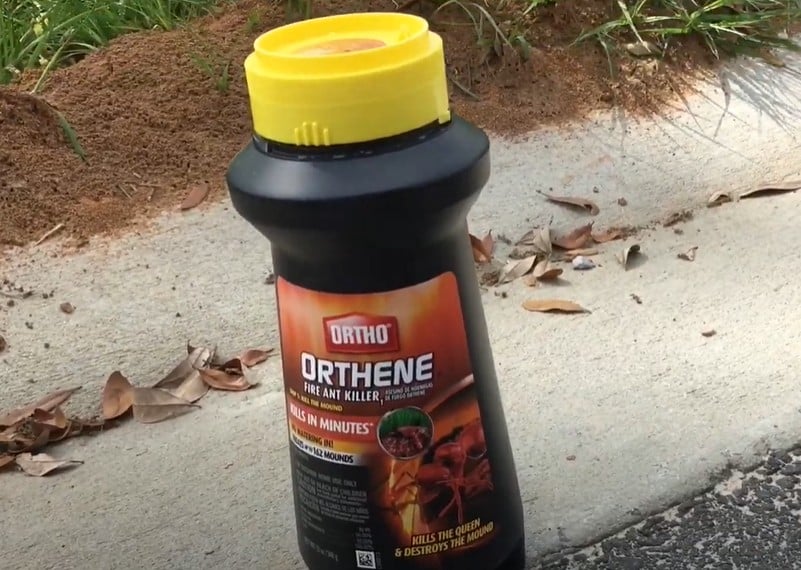 Fire ants are very resilient, and many people, trying to get rid of them, often complain that the pesticides in the market don't work. That's why it's crucial to understand how each pesticide is formulated to work and choose only products that have been scientifically tested.
In this respect, Ortho Orthene is the product that has proven its effectiveness in killing both fire ants and red harvester ants. The pesticide comes in a powder form so it can easily penetrate soil. When applying it, you will sprinkle enough of it on the ant's mound and give it time to be absorbed.




Its active ingredient is acephate, which effectively kills the ant queen, affecting its nervous system. If you want to achieve better results, you should apply this pesticide during periods when the ants are active.
The treatment will continue to remain effective in the soil for up to six months. It's a huge advantage because, during this period, it will thwart any efforts by the ants to reconstitute themselves and have a new queen.
Pros:
Cons:

Can be used for killing both fire ants and red harvester ants;
Remains effective six months after application;
It's in a powder form that allows it to penetrate the soil better;
It will start killing the ants within the first few hours after application.

Very strong and can be irritating to certain users and vegetation around.
2. Ortho Fire Ant Killer Broadcast Granules – Best Fire Ant Bait Lawn Protector
Specifications:
Coverage Area: Up to 5,000 sq. ft.
Item Weight: 11.5 pounds
Item Form: Granules
Item Dimensions LxWxH: 5 x 17 x 11.5 inches
Target Species: Ant
Here is one of the most effective Ortho pesticide products – the Ant Killer Broadcast Granules. This product is famous for its ability to help curb the spread of fire ants in your lawn or garden. The working mechanism is quite simple.
You'll need a broadcast spreader to help you effectively sprinkle it on the target surfaces. When applied according to the specified measurements, the pesticide can help you control ants in an area of about five thousand square feet.
Once applied into a mound, these fire ant yard treatment granules will effectively kill the ants and destroy their habitats. Moreover, the pesticide remains effective for six months after application. This added advantage makes it impossible for the ants to form new mounds or to infest other areas close by.
Pros:
Cons:

It helps control the formation of new mounds or infestation of ants in the neighboring areas;
You don't need to use water to make the pesticide effective;
It can help you control ants in a wide area.
3. Amdro 100099072 Fire Ant Bait Granules – Effective Fire Ant Granules for Outdoor Use
This is another of those pesticides that work through baiting the ants and luring them to consume the granules. Everything about them, including their shape, is made to deceive the ants that it's food. This is one of the characteristics that make this pesticide an appropriate choice for eliminating fire ants that have invaded your house.
You can sprinkle the granules on the pavements and leave them to attract the ants that have invaded your indoor space. The treatment will also remain effective when the worker ants take some of the granules to the queen. You can be sure that the whole colony will be wiped out.
Pros:
Cons:

It's effective in eliminating other species of ants too;
The granules will attract the ants, which makes them a good option for eliminating ants that have invaded your indoor space;
Once applied, it can remain effective for even up to three months.

It may be ineffective after rain or due to excess water such as through irrigation.
4. Advion Fire Ant Bait Insecticide – Best Fire Ant Control Granules
Specifications:
Active Ingredient: Indoxacarb
Item Weight: 2 pounds
Duration of action: 24-72 hours
Item Dimensions LxWxH: 7.25 x 4.75 x 9.15 inches
Target Species: Ant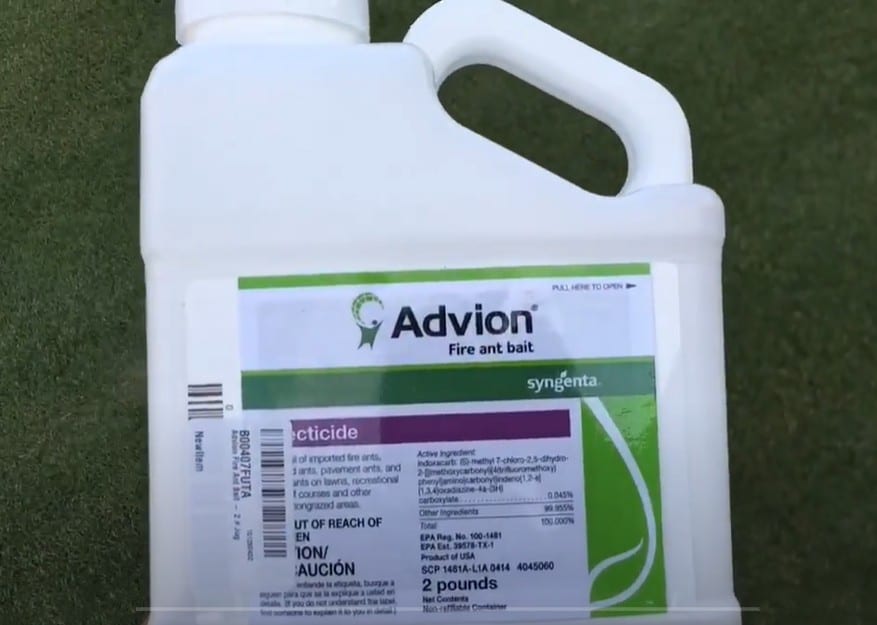 Those that are familiar with Syngenta as a brand will tell you that for years it has continued to serve them well. They are a renowned company when it comes to manufacturing reliable animal and plant care products. Therefore, if their track record is to go by, you have all the reasons to trust Advion Bait insecticides.
As its name suggests, this insecticide works through a bait and kill technique. It has been made with a chemical that attracts fire ants by imitating the smell of their favorite food, and they eat the poison. The insecticide has been made to be slow-acting so that there is enough time for the worker ants to carry the poison back to their colony.
The effectiveness of Advion Ant Bait is improved because it adapts to the behavioral patterns of these insects. This also offers you more guarantees that the pesticide will eventually wipe out the whole colony. It has been made to specifically target small insects and is not harmful to your pets.
Pros:
Cons:

Not harmful for your pets;
It will help you eliminate fire ants at any stage of their life-cycle;
Safe to use even on pasture lands that are grazed by your domestic animals;
Very effective because it works by baiting the fire ants.

Can be rendered ineffective if the land is irrigated/ watered within 24 hours after application.
5. Surrender Fire Ant Killer – Effective Fire Ant Killer for Lawns
Specifications:
Active Ingredient: Acephate (75%)
Item Weight: 1 pounds
Item Form: Spray
Item Dimensions LxWxH: 4.05 x 4 x 6.95 inches
Target Species: Ant
Humor aside, I don't think I would have come up with a better name for this product. Simply including the phrase, "Surrender" makes you think it will not have any problems when it comes to exterminating ants. From a user experience perspective, I can tell you that this pesticide works.
In most descriptions of this product, you'll notice that the manufacturer is keen to inform you that it contains acephate. People who have used pesticides with this chemical component can tell you it kills even those pests that hide under the soil surface. Its water solubility nature means that it can seep even below the soil. So you can use it to eliminate those fire ants that burrow deep tunnels to hide their queen.
How does it kill the ants? The acephate will systematically poison them, thereby weakening them to death. This process also explains why it can continue killing these pests and their mounds months after its application.
Pros:
Cons:

It has an acephate chemical component that works by systematically poisoning the pests;
Can be used to eliminate a variety of pests;
Once applied, it will remain active for long.

Its smell is not pleasing at all.
6. BioAdvanced 502832A Fire Ant Killer Dust – Pet Safe Fire Ant Killer
No products found.
A common challenge with most of these ant killers is that they tend to have irritating smells. This makes it harder for you to apply them in areas close to your pets or homestead. But BioAdvanced has a low-odor formula and kills fire ants fast.
This dust is also friendly to vegetation around. This means that you can apply it evenly around your flower beds without fear. The pesticide works by destroying all the mound and killing the queen together with her colony.
Pros:
Cons:

Doesn't have irritating smells;
Effective in destroying the mound;
Easy to apply because you just need to sprinkle it.

Certain customers have complained that it causes ants to migrate as opposed to killing them.
7. Advion Plungers Cockroach Insecticide – Multi-Purpose Fire Ant Poison For Inside
Specifications:
Active Ingredient: Indoxacarb (0.05%)
Item Weight: 9.6 ounces
Item Form: Gel
Item Dimensions LxWxH: 9.37 x 7.44 x 2.01 inches
Target Species: Ant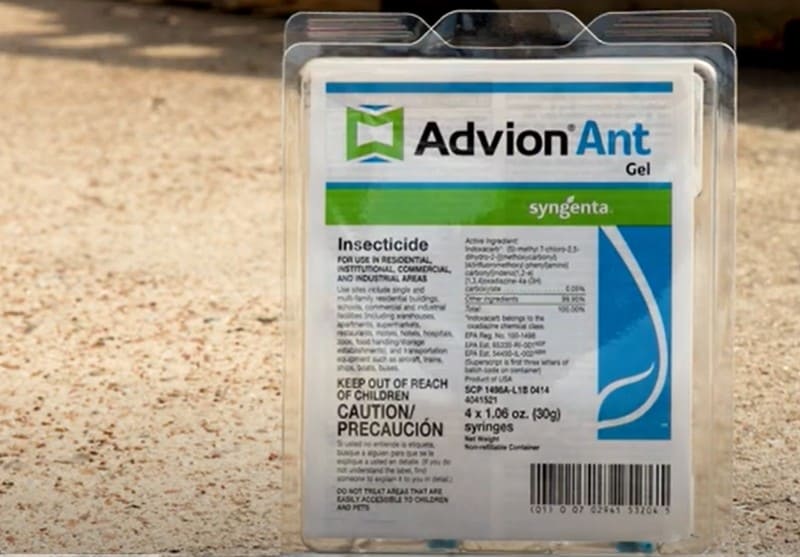 The Advion Ant gel has gained a good reputation among the professional exterminators for its effectiveness in the elimination of various ant species. It's a popular product and for a good reason. The gel contains a chemical ingredient known as indoxacarb that works well by baiting the target pest and killing it by damaging their nervous system.
There is a lot of research in the field of animal pharmacology about this fire ant killer. Some findings reveal that it is effective in killing many other pests. That's why I also recommend this product for roaches. The thing is that you can expect similar results even when using it to eliminate fire ants.
Pros:
Cons:

It works by first baiting the target then poisoning it;
It can be used to eliminate different kinds of pest infestations;
It's very cost-effective.

May be toxic to your pets.
How to Choose the Best Product to Kill Fire Ants?
When it comes to best fire ant killer reviews, you will always get mixed feelings about the different brands. Certain customers will be complaining that a product they used did not yield the expected results. On the same page, you will find others raving about the same product. Opinions can vary because some people failed to follow the recommended instructions. So how do you get to know which pesticides are guaranteed to yield you good results if used effectively? Below is a list of factors you should take into account.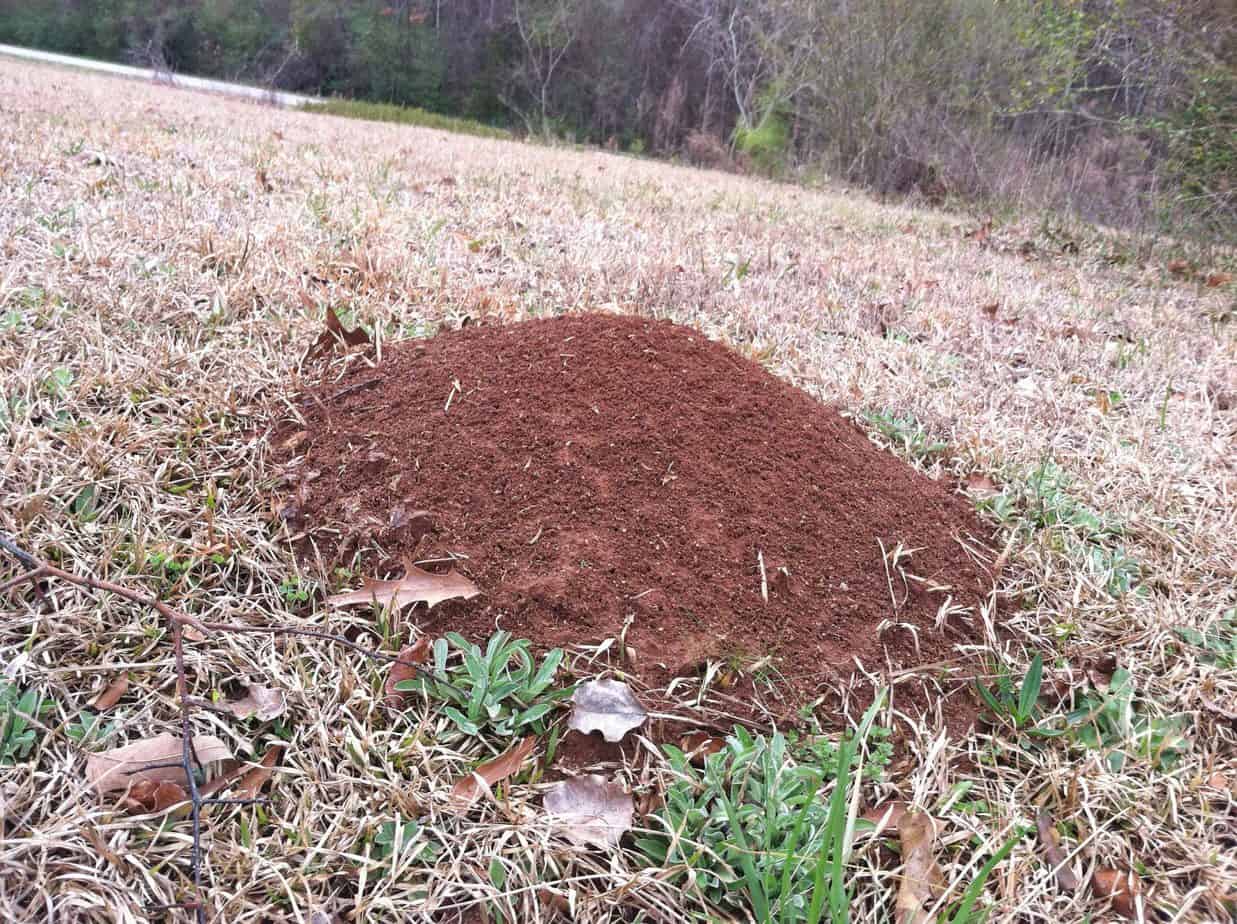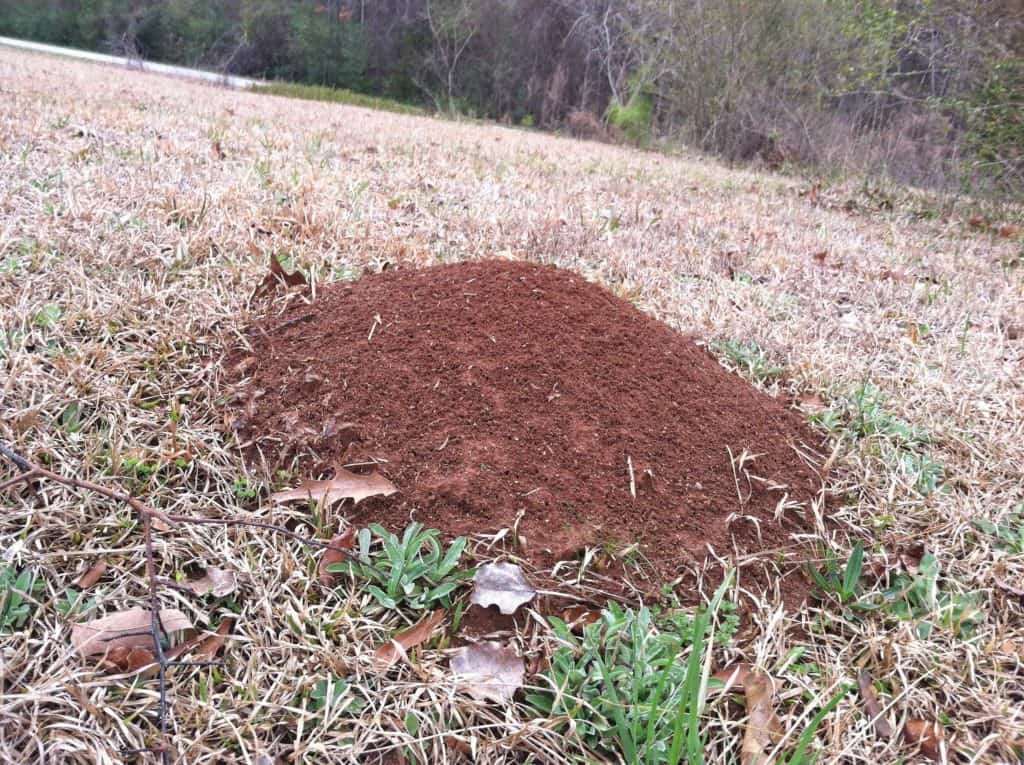 Types of Ant Killing Pesticides
Different brands use different methods when making their pesticides and manufacture them in different forms. But it doesn't mean that one form is inferior to others. The decision which form is suitable for you depends on where you are going to apply the pesticide and the tools available for application. So let's discuss types of fire ant insecticide in detail.
Ant granules
This form of pesticides utilizes the bait technique to trick the ants to consuming them, hence poisoning them. Due to the social nature of the ants, they will carry the granules back into the mound just like any other food. This works to your advantage because eventually, the queen and larvae will consume them, thereby ending the whole colony. This form of fire ant killer is generally suitable if you are looking for a pesticide to apply outdoors, for example, your lawn, fields, and yards. Granules can remain effective for a long time, even when they come in contact with water.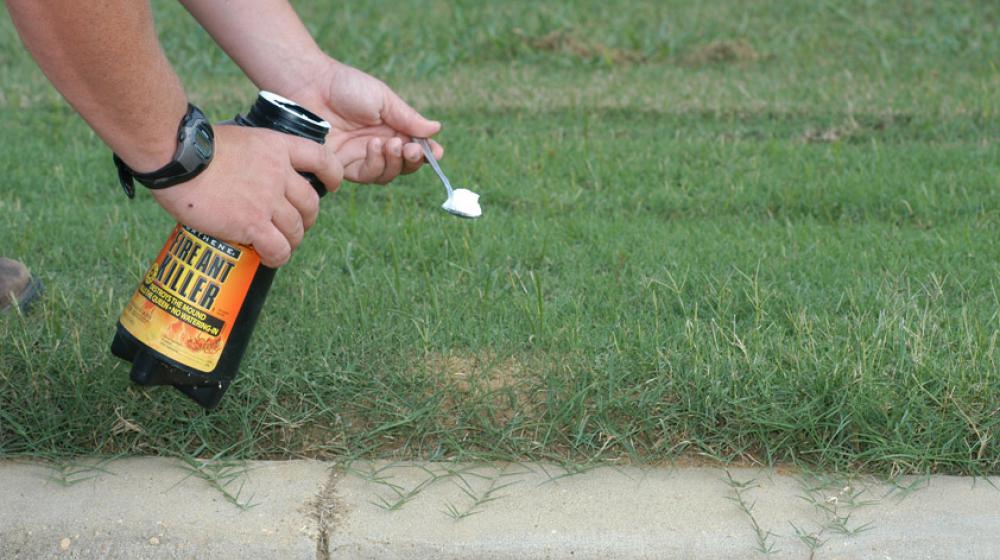 Ant Sprays
An ant spray is a liquid fire ant killer that usually kills the ant once it comes into contact with it. This makes sprays very effective. Based on how they work, this form of fire ant killer is best used when you want to eliminate ants that have camped in your house. It's also a good option if you are trying to find a fast solution to eliminate a high population of ants.
Ant gels
These are ant killers that come packed in tubes. The packages are shaped like syringes that make it easier for you to apply them on surfaces. Gels can be a good option for applying on cracks and holes that the ants use to get into your house. They attract ants as bait so you can apply them in areas around your pavements.
Safety Concerns
The process of eliminating ants should not cause more damage than intended. You do not want a situation when you may end up eliminating pets together with the fire ants. Therefore, always look for products that have a minimal negative impact, if any on pets.
Time the Red Ant Killer Needs to Start Working?
How bad is your ant problem, and how fast do you want it to solve? It will depend on the type of fire ant killer you choose to buy. You should read the manufacturer's instructions on the pesticide to understand how long it takes to experience tangible results.


Common Questions About Fire Ant Insecticide
I hope now you have a clue about how to purchase an effective pesticide. The next step is to understand how to use it to get the expected results. In this section, you'll find answers to questions that arise on the use of fire ant killers.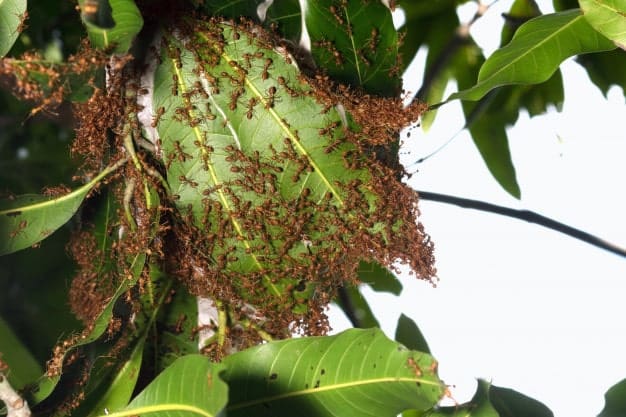 How Does Fire Ant Killer Work?
Most of these fire ant killers are poisons that affect the ant nervous system and eventually kill them. For example, granules work by gradually poisoning ants until they are dead.
Unlike sprays, most ant killers are not meant to have an immediate impact. The idea is that the worker ants will take granules and powder to their mound so that even the queen and larvae can consume it. Therefore, it may take hours or even days before you can see the results.
How to Apply Fire Ant Killer?
Begin by establishing where the ant mound is located and their trail. Find their home and determine which paths they use to get there. Once you have established this trail, you should apply the ant bait granules there and wait for the worker ants to take it back to their colony. If the ants have camped inside your house, you can apply the bait outside to attract the ants outdoors. Alternatively, you can directly apply the ant sprays on their mounds. The gel should also be applied near the mound and their paths to have a better impact.
Are Fire Ant Killers Safe Around Vegetables and Pets?
Most of the fire ant killers are poisons. They may have a negative impact on your pet and vegetation around which they are used. Therefore, always read the manufacturer's instructions to see any potential harm they may have on your pets and vegetables. Always keep the ant killer packages away from your pets.
Already Sure On the Most Effective Fire Ant Killer?
I have given you information and recommendations on how to choose an effective fire ant killer, which I hope will help you make an informed choice. If you ask me, I always give my preference to the Syngenta Advion Insecticide. But it's up to you to decide which product to buy, and you should take into account your specific circumstances. For example, if you have many pets, you should purchase a pesticide that will not harm them. Also, the situation may be quite different for you if the ants have set camp inside your house.
Also read:
Have you ever used any fire ant killer? Was it effective? Can you recommend any other methods that can help get rid of ants? Share your ideas in the comments!
Why You Should Trust Pest Control Hacks?
We know that pests are nasty neighbors, and it can take months to eliminate them without the right approach. Our experts use their own experience to compile articles and guides that are introductory and informative. Our authors' opinions are independent and based on the results of practical testing of pest control tools. We do not notify manufacturers of testing of their products and do not receive payment from them for posting their items. Also, our texts are never submitted to company representatives for proofreading before placement. On the site, you will find exclusively objective ratings and reviews.