Although voles are small rodents, they are a force to be reckoned with. These little creatures lead an underground lifestyle. But if they have ever invaded your territory, then you probably know the unpleasant signs of their presence in your garden.
A sure sign that voles got to your garden is clearly visible paths (1-2 inches wide) connecting the entrances to their burrows. Another sign is plants with faded or yellowed leaves. If a plant is removed from the earth almost effortlessly, then its root system was almost certainly destroyed by a vole.
When there's not enough grass, a vole starts to eat the bark of fruit trees or shrubs. It nibbles tree trunks both above and below the ground. This way, the animal eats up the entire bark from the trunk or undermines the roots, which causes a tree or a bush to die.
If you want to avoid such sad consequences for your lawn and garden and do not want to be a cruel killer of small animals by using traps, this article is for you. Here I will talk about easy and safe methods of eliminating voles from your yard.
Effective Vole Control Products
There are different recommendations on how to repel voles from your territory with the help of natural methods. But if you want to be sure of the effectiveness of your venture, it is better to use professional tools, namely granular repellents, sprays, and sound (ultrasound) devices.
In this section, I'll give you some vole repellent reviews and hope they will be helpful for your decision.
1. Top Pick: Nature's Mace — Best Castor Oil Vole Repellent
This product for professional exterminators can be easily used by any gardener. Apply it to the surface of your garden or lawn or any other outside area. Nature's Mace repellent was created according to the ground-penetrating technology.
Its active ingredient, castor oil, has the improved ability to mix with water after the application, which allows the product to penetrate deep into the soil.
Castor oil doesn't do any harm to plants but makes them bitter and unpleasant as a food source for voles and moles. It creates a bad smell environment for all burrowing animals, so they move to find better habitat within 2 weeks. Nature's Mace provides their repellent as 1 gallon concentrate, which makes it possible to treat more than 20,000 sq. ft. of territory.
Pros:
Cons:

fast-acting and long-lasting formula against moles and voles;
safe for family and pets;
treats more than 20,000 sq. ft. area.
2. Effective Vole Deterrent — Bonide Rodent Repellent Granules
This is a ready product that penetrates deep into the ground after the application to reach burrowing animals. You can apply it directly from a bag or with the help of a drop spreader. It's an effective repellent for moles, voles, armadillos, rabbits, gopher, skunks and other wild small pests.
The active ingredient of this product is castor oil, so when used as directed, it's safe for pets and humans, but at the same time irritating for voles.
It will surely make them stay away from your territory. One bag of this rodent repellent treats up to 5,000 square feet of garden or lawn, and the effect stays for 3 months after the application.
Pros:
Cons:

easy in use;
repels a wide range of rodents for 3 months;
safe for humans and children;
treats big territory.
3. Best Natural Vole Repellent by I Must Garden
This product doesn't contain any hazardous chemicals and provides effective pest control for your yard with only natural ingredients and botanical oils. While being safe for people, pets and soil, it is unpleasant and repelling for rodents, so it makes them leave your territory. The active ingredients consist of:
castor oil (makes the food for rodents taste bad and upsets digestion);
peppermint oil (irritates pests senses);
cedar oil (repels insects and other vole's food sources).
This granular repellent penetrates deep into the underground tunnels and burrows to keep away even those pests which only plan to get to your territory. The natural formula of vole & mole repellent doesn't interfere with fertilizers and doesn't do any harm to the grass and soil of your lawn. It keeps working in all weather conditions, even when it snows.
Pros:
Cons:

strong professional protection;
only natural ingredients;
safe for people, pets and soil;
works all year-round;
pleasant scent.
4. Thanos Solar Sonic Repellent — Best Electronic Vole Repellent
This small device emits sonic pulses every 30 seconds (with 3 second duration ). They penetrate deep into the soil and make all underground pests leave your territory.
It works in a circular pattern: for the acre of land, you'll have to use about 12 units of repellent. If you have a smaller lawn or garden, you need to place each repellent on a distance of 70 feet from each other.
Thanos repellent is easy to use since you just have to insert the device into the soil. The length of the plastic pipe outside of the soil must be about 2-3 inches.
You don't have to change the batteries to make it work because this repeller is charged by a solar panel. It takes about 3-4 hours for it to be fully charged and work for 5-7 days.
Thanos solar repellent protects your lawn with no vole poisons and chemicals and is safe even for your pets because the sonic impulses travel underground and can't be heard above the soil. The device is corrosion-resistant and waterproof, so you can use it in all weather conditions.
Pros:
Cons:

humane way to repel underground pests;
safe for human and pets;
solar powered;
waterproof;
60 days money back warranty.

takes 2-4 weeks to make pests leave your area completely.
5. Best Vole Repellent Spray by Natural Armor
This is a natural product with a peppermint scent that will help you to get rid of rodents both inside your house and outdoors.
It's ready to use, so you just need to shake the bottle and spray with the help of a heavy duty trigger sprayer that comes with this repellent. This spray doesn't stink, so you can use it indoors: in basements, cellars, attics, garages.
Repellent contains only natural ingredients and is safe to be used on plants, trees and shrubs. It's waterproof and protects the treated area for up to 3 months.
The Natural Armor product is effective against voles and moles, skunks, raccoons, rats, mice, deer, and other pests in your garden.
Pros:
Cons:

keeps a wide range of pests away;
stays effective for up to 3 months;
all natural ingredients;
can be used indoors and outdoors.

might leave stains on furniture.
How to Exterminate Voles Successfully: A Buyer's Guide
After reading vole repellent reviews, you probably wonder how to organize the process correctly for a successful result. So in this section, I will try to give general recommendations (buyer's guide) and answer frequently asked questions about vole repelling.
How to Repel Voles (Tips for Successful Repelling)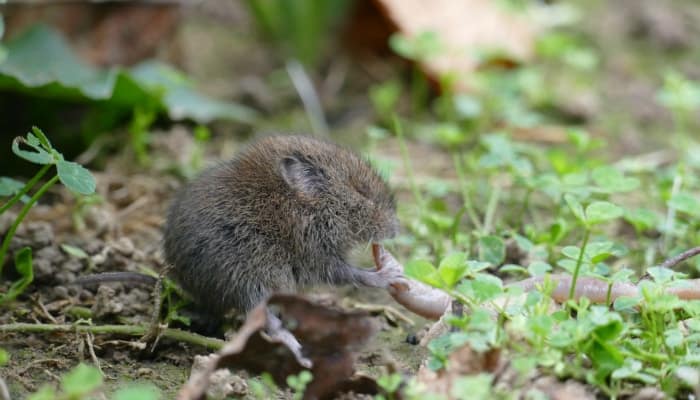 Once you notice signs of voles in your area, you need to take urgent measures to get rid of them. For a long-term victory, the fight must go simultaneously in three directions:
Rodent Habitat Change
Since voles prefer undergrowth and grassy areas, mow all tall grass and weed and remove fallen leaves. Also, remove branches and debris from the lawn because these are ideal places for rodents nests.
Exception
Eliminate the possibility of pests to move through tunnels, for this dig and periodically loosen the soil in your area. Also, remove sources of easy food, such as fallen fruits and leaves, from the garden.
Population Reduction
You can use vole traps or poisons for that, but I recommend choosing a more humane way for that from the products I reviewed in the section above.
Using Different Types of Repellents
As you've probably understood by now, there are different types of repellents that you can use to fight with voles in your area. These can be granules that you spread on the surface of the lawn; it can be castor oil repellents that make the area taste and smell bad to make voles leave.
You can also use sonic or ultrasonic vole repellent that irritates voles with noise and ultrasonic waves and makes them escape from your garden.
FAQ

What Attracts Voles?
The answer is simple — food. Although these little rodents sometimes can eat insects and snails, their favorite food are roots, bulbs, seeds and plants, including the green juicy grass in your garden.
Are There Plants That Repel Voles?
Yes. Although vole repellent plants won't help you to control the vole population completely, they will deter rodents by their smell and taste, in case voles decide to try it. Since voles are attracted by food, using these plants in your garden will create less attraction for burrowing animals.
Here I'll give you some examples of vole repellent plants:
salvia (salvia officinalis);
lenten rose (hellebore);
crown imperial (known as "skunk lily");
castor bean (ricinus communis).
Do Sonic Vole Repellents Work?
Yes, votes are afraid of harsh sounds, noise, rumble, soil vibration. Since sonic repellents provide soil vibrations and noise to the underground tunnels, they become an effective way to repel these little pests.
My Advice — Your Decision
Voles pose no danger for your life, and it is unlikely that anyone ever died from their presence in their yard. Still, the vole problem is obvious for those whose lawns have been spoiled by these invisible invaders. Voles are rapidly breeding animals, so once they invade your territory, they will spread all over it.
In this article, I've explained to you how to stop the spreading using an integrated approach and also suggested 5 best vole repellent products. Based on their description and my recommendations, I'm sure you'll find the best way to stop vole infestation.
Tell me what methods do you usually use to protect your area from voles and other pests? Do vole repellent plants in your garden help or do you prefer to choose more effective and proven resources? I'll be waiting for your feedback in the section below.
Reference:
Castor Oil: Properties, Uses, and Optimization of Processing Parameters in Commercial Production (US National Library of Medicine National Institutes of Health):
https://www.ncbi.nlm.nih.gov/pmc/articles/PMC5015816/
Moles, Voles, and Shrews – Do You Know the Differences? (By Bill Willis and Bill Steinmetz National Institute of Environmental Health Sciences):
https://kids.niehs.nih.gov/topics/natural-world/wildlife/animals/moles-voles-shrews/index.htm
Salvia Officinalis (Science.gov):
https://www.science.gov/topicpages/s/salvia+officinalis+salvia