I am an experienced entomologist and will gladly share my experience on how to trap moles with you. I've tried a huge number of traps for moles, and now I know which ones will be most effective for you.
I will review 5 mole traps, considering all their pros and cons. Based on the analysis, we will decide what is the best mole trap overall. What to do if you notice moles in your backyard someday? You will find an expert answer to this question in this article.
Moles love good fertile soil. Moles can cause serious damage to crops in the garden, flowers, and the entire landscape design of the summer cottage. This small animal quickly enough can destroy the lawn, dig holes, and tunnels, and make you nervous.
Does a mole really bring harm?
Moles destroy earthworms, which in turn provide the soil with humus. This is bad for the garden;
Moles also harm the garden when they plow the upper layers of the soil, thereby leaving the roots of plants in the air;
Individual parts of the root system are damaged, as a result of which the plant dries up;
Aesthetic inconveniences. Moles make little piles of soil on the surface of the lawns when they dig tunnels. From above, it looks unpleasant, and that's what annoys people a lot. Especially if they are scattered on an even and neat lawn.
Top 5 Best Mole Traps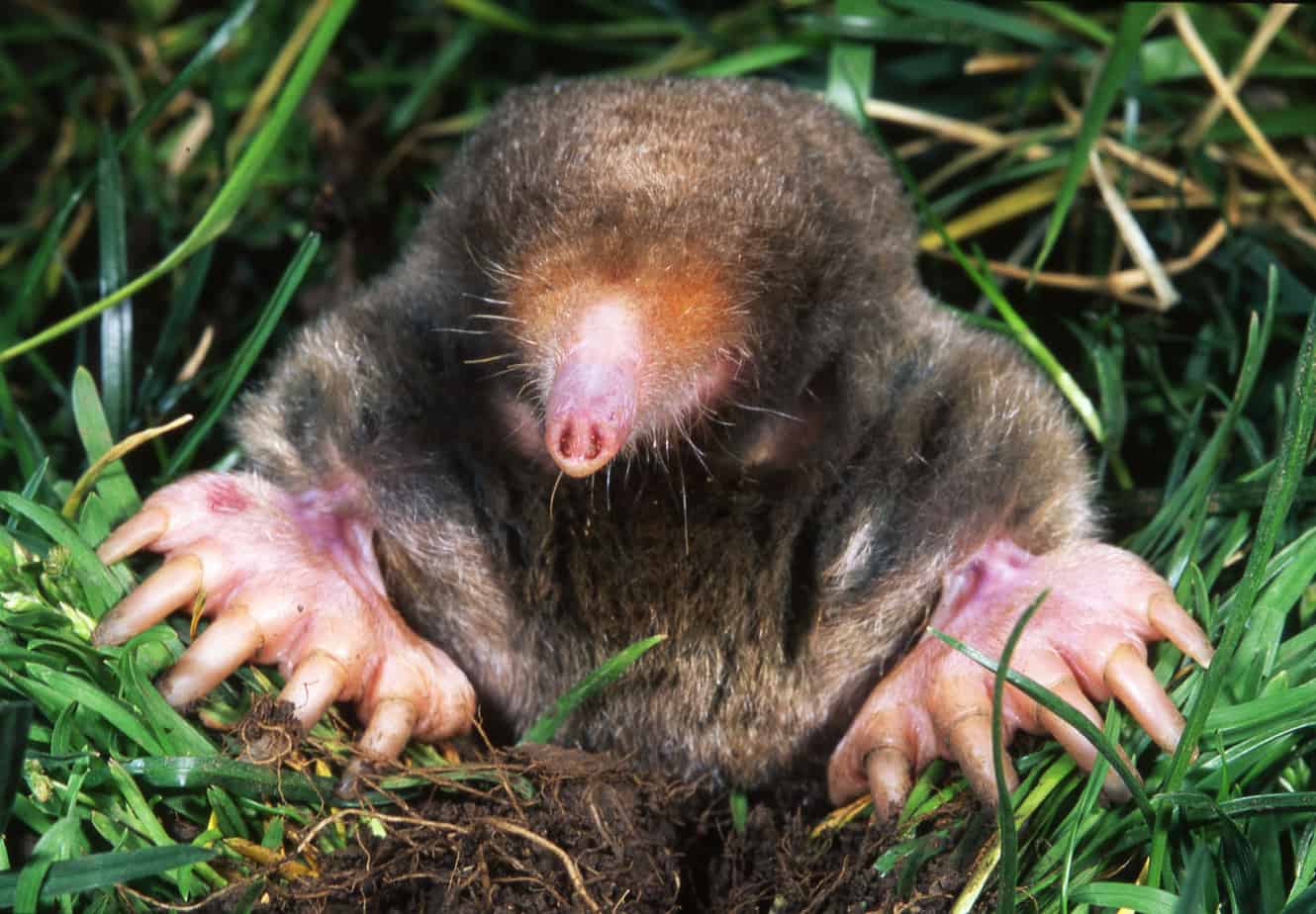 Mole can dig their passages everywhere making entire highways, mines, and even halls underground. They occupy hundreds of meters throughout the land and are located at a depth of only 5-20 cm, precisely in the fertile layer.
Vegetation is not what moles aim for, and therefore, they spoil the root system of plants only by their indirect activity.
Moreover, scientists determined that moles do not have abandoned tunnels, and they check out the working shafts almost every hour. Thus, even old tunnels can be restored very quickly.
Therefore, you should consider 5 different types of mole traps to choose one that will effectively eliminate these harmful animals.
1. Wire Tek 1001 EasySet — The Best Mole Trap (and Most Effective)
The EasySet mole trap effectively fights moles in your lawn, garden, and yard. This mole eliminator does not involve the use of poisons or chemicals. It is easy to set up and effective for moles of all sizes. The trap is designed for quick installation without injuring the person handling it, as well as your pets.
EasySet is the only device on the market that you can install in the mole tunnel without dealing with dangerous levers, cables, or clamps. Therefore, it is used on a ranch, in nurseries, and on farms.
All you need to do is insert hidden cams into the center of the tunnel until the base of the eliminator trap reaches ground level. EasySet Mole Eliminator Trap quickly kills the mole when the animal pushes up the tunnel where the trap is located.
Pros:
Cons:

safe for humans;
does not contain toxic substances;
catches moles during the first 24 hours;
easy to install;
easy to clean.

too narrow if installed incorrectly;
reach only with your gloves on.
2. Relaxdays Catch and Release Live —The Best Humane Mole Trap
This mole removal trap will pleasantly surprise you. If you, just like me, do not like to hurt animals and want to quickly but effectively get rid of pests in your area, Relaxdays Catch and Release Live Mole Trap is ideal in this situation.
Relaxdays trap does not kill the animal, only traps it inside. This is the coolest thing about this tool. Because a lot of people do not want to kill animals, but they also want to stop suffering from their harmful behavior. You can check this by stretching out the trap.
When a small fluffy mole will accidentally hit the trap at the same time the trap will open to catch the mole inside it. Later, open the small gates of the trap and release the animal in another safe place.
Pros:
Cons:

does not harm animals – humane trap;
you can clean it with just water;
adjustable length;
weatherproof material;
does not contain toxic substances;
easy to use.

needs to be checked every day;
needs to be washed after each caught mole.
3. Victor 0631 Out O'Sight Mole Trap — Metal Mole Trap for Any Type of Soil
This trap has been used for years and will surely help your yard to recover from harmful moles with unprecedented speed.
Trap OUT O'SIGHT Mole consists of two durable cast-iron levers. Therefore, it is suitable for any type of soil and even sandy land. I find this feature extremely significant because many people have big territories with hard soil and this trap is a perfect solution.
The tunnel mole trap is safe for the person who installs it, as well as for children and pets. It has a safety clip that prevents unpredictable cases.
The trap goes under the ground, and when the mole wants to climb into the tunnel, it will work at once, and the annoying creature will no longer be able to disturb you.
Pros:
Cons:

waterproof;
safe to use;
free of toxic substances;
excellent price/quality ratio.

little hard to install because of metal.
4. Tomcat Mole Trap — Ground Humane Mole Trap
Tomcat Mole Trap removes moles safely. It is as safe as possible for humans since it is installed without hands. You need to insert Tomcat Mole Trap into the ground and press it with your foot to activate the trigger.
The ground mole trap is suitable for any type of soil, even the toughest. It is recommended to set a trap in the middle between several dug tunnels, so it is more likely that a mole will be stuck inside.
In the box with TomCate Mole Trap, there are also 5 bags with 2 worms in each. To lure the mole faster to the trap, you need to take one worm, break it in half and shove it into the hole. This better be done with gloves in order not to leave a human smell. Moles can easily smell it and this "human" worm will scare them away.
Pros:
Cons:

suitable in any weather;
humane mole trap;
installation without hands;
safer than traditional traps;
innovative design;
bonus: Worms for the 24-hour result.

hard to install if you do not follow the instructions.
5. Cinch Mole Trap— Professional Underground Trap Tested by Farmers
To start a mole trapping with Cinch, you need to follow 4 simple steps to prepare it and set it up. They are described in detail in the attached instructions, so this process will not take much time.
The trigger on the top of the Cinch trap rises when the mole falls into it. This is very convenient because you do not need to get and set up a trap every time to check whether the mole is caught.
It is better to put markers near underground mole traps so you don't lose them and know ahead which area to check. So it will be easier to monitor the results of your mole trapping daily.
Pros:
Cons:

proven over the years;
approved by the US Forest Service;
easy to get out of the ground;
easy to follow the results with a bright marker.

takes a little bit more time to install than other traps.
Analyzing these mole trap reviews, my personal choice would be the Wire Tek 1001 EasySet. Because this mole trap is the easiest to use and pleasantly surprises farmers with its results. In the first 24 hours, you can catch up to 3 moles, which is an unbelievable result.
Buyer's Guide and FAQ

Types of Mole Traps
There are different types of mole traps. The most popular options are scissor mole, tunnel, plunger, humane, and ultrasound traps.
The scissor trap is used most often. It is simple, reliable, and easy to use. Before installation, you need to clean the tunnel from stones, peats, clods of earth. Tight handles will not allow hiding the trap in the aisle, which will create conditions for the smooth operation of the mechanism. When it is extremely cold outside, the system does not work.
The tunnel trap continues to work fully even when stones or clods are stuck in it. A trap has to be installed in the aisle to block the access of light. If you cover the trap with boards or peats, the functions are not affected by weather and rain. This trap is difficult to install. If it is used incorrectly, you can harm yourself, your children, or pets.
The plunger trap will turn on when the animal pushes through the ground to restore the dug tunnel. It is useful if moles circumvent the trap. Installation is very simple, but the tool should be installed clearly according to the instructions to avoid harm.
A humane trap is quite an effective device, which consists of a hollow pipe and movable doors on both sides. Besides, this device does not kill the animal, but simply traps it. The mole can then be taken out and released in another place. The experts in the field of the moles and mole control claim that it is significant to catch them as soon as possible because everything in your garden that stays in the zone of moles' moves is seriously affected.
Ultrasound trap, in its appearance, is similar to a tube. It is not designed for tough soil. Most gardeners believe that this one is useless. The basis of the ultrasonic repeller is ultrasound radiation. Vibrations unacceptable to moles scare them and bring discomfort.
The main feature of such devices is the presence of solar panels, which provide complete autonomy. The beneficial effects of individual models extend to more than 215 ft2. The repellers consist of a robust foundation, and the owner can easily replace the batteries without removing the device from the ground.
An electronic mole repeller, through an electronic circuit, generates signals that are amplified by the motor and reach a depth of 45 meters. The generation of signals from 400 to 1000 Hz lasts for several seconds and takes a break for 30 seconds.
On one battery it is able to work for 8 months.  When using such a device, it must be borne in mind that the created signals can be quenched by voids or tunnels. To increase efficiency, I recommend installing two repellers. Randomly generated signals cause moles to disorient and perceive them as a warning of danger.
Related Post: 5 Best Mole Poisons Reviewed
It's a rather cruel method, given that moles do not know where the human territory is and live according to their natural instincts. It's much more humane to just scare them away or kill with a tunnel trap, for example.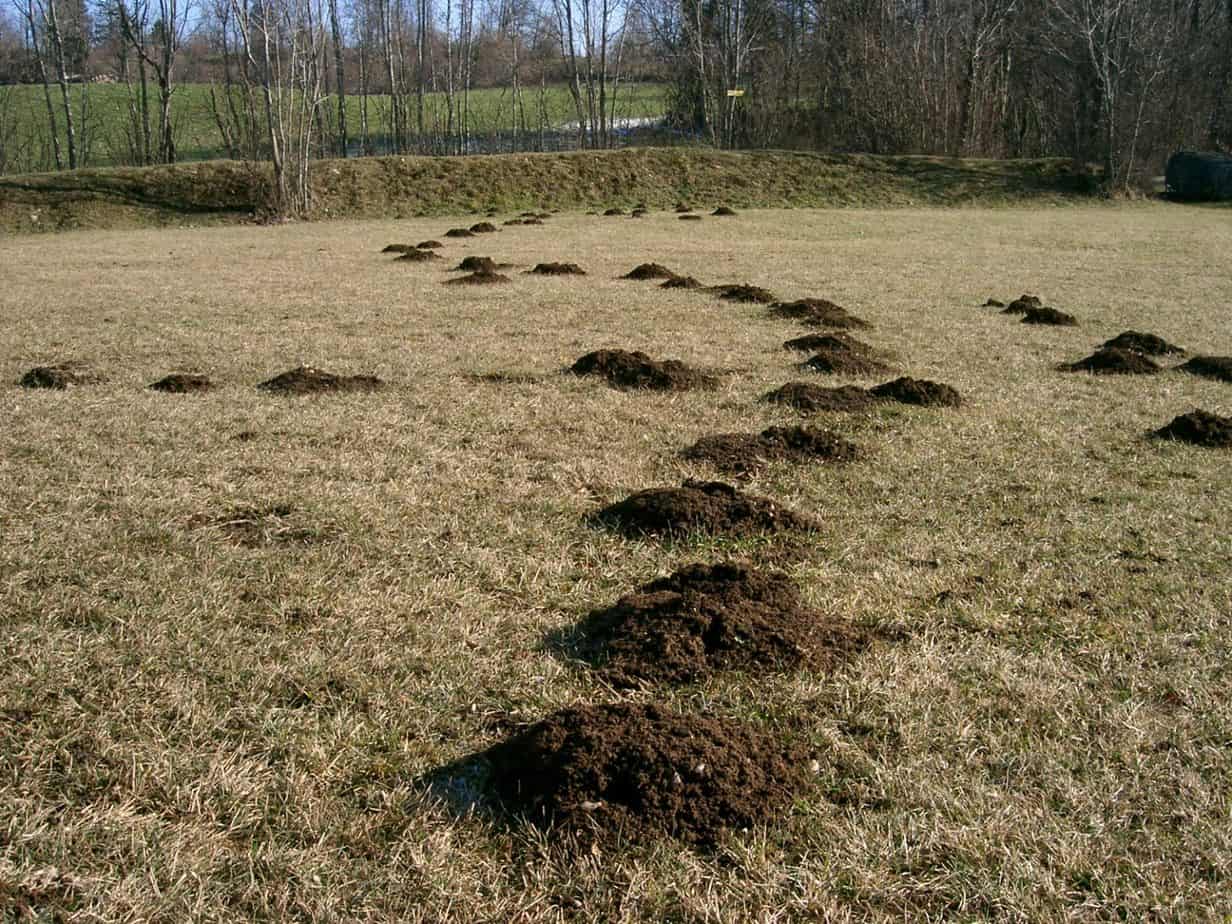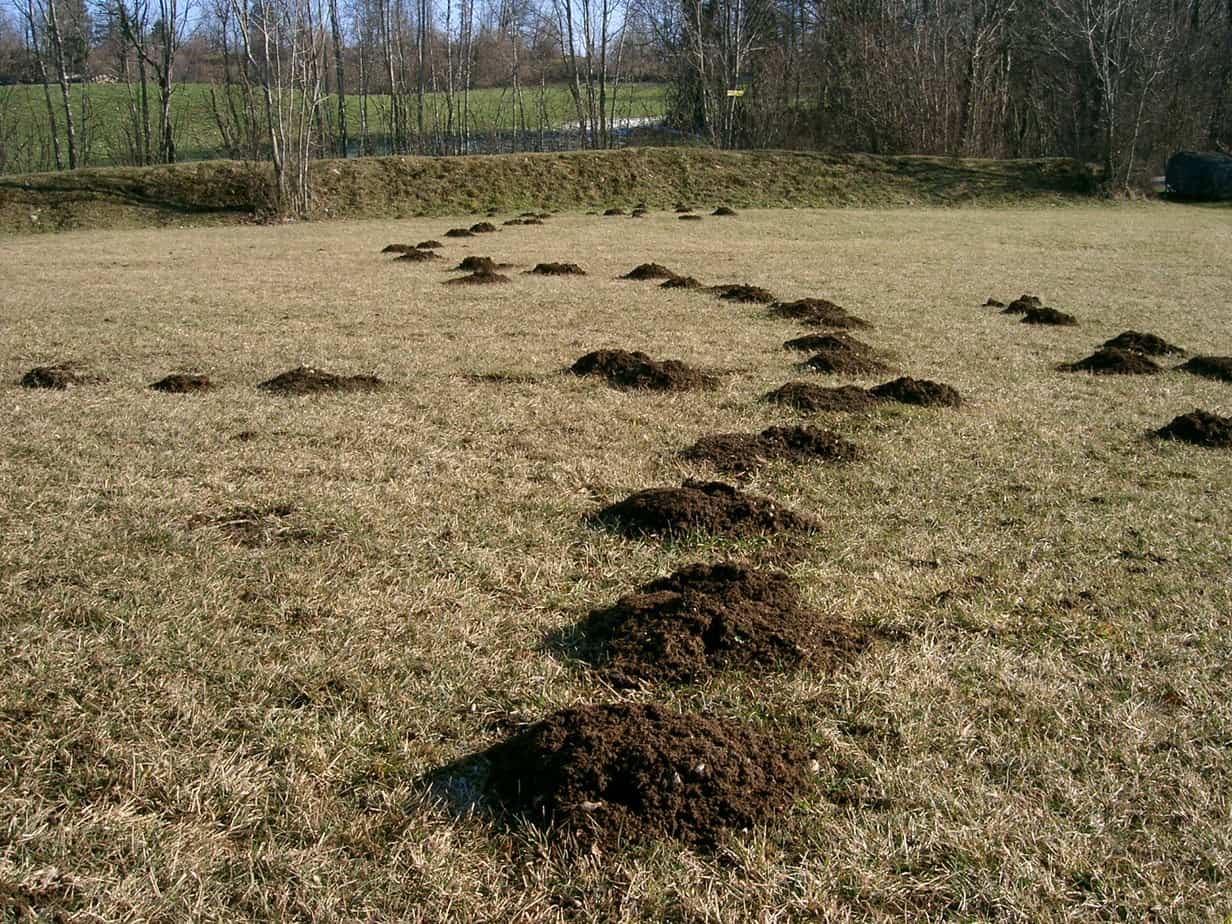 For a successful, effective, and fairly quick mole trapping, it is quite enough to use the most effective mole trap in the form of a pipe or pit.
It is also important to keep in mind that removing moles from a site once does not mean forgetting about them forever. If they entered the garden once, they can do this again in the future.
To exclude the possibility of the re-emergence of moles, the site should ideally be fenced around the entire perimeter with a grid or other fence dug in the ground. This will help prevent future conflicts between the gardener and the mole.
To efficiently get rid of the moles, you need to take into account:
Due to the nature of the soil, I strongly recommend choosing ground mole traps with a larger area of action than the area of your yard, etc;
The soil around the device should be well compacted;
Choose good alkaline batteries for maximum efficiency.
How to Trap Mole in 24 Hours?

To avoid wasting time and money on fighting moles in the garden, follow these instructions:
Find an active mole hole from which the rodent periodically rolls onto the surface;
Put heaps of earth with a shovel on all sides and wait a day or two;
If you see that the mole came to the surface from one or several holes — these are active tunnels where rodents move and mole-traps can be installed;
Setting ground mole traps in a constant or deeper hall is most effective since such tunnels are used several times a day;
To discover the active course of the mole – press down a dug hill with your foot or spatula, mark this place with something bright, so that it is easier to find them later, and observe. If the mole restores its course within 1-2 days, then the course is active;
Behave quietly and walk softly on the ground so that the mole does not detect your presence and does not run away in the opposite direction;
Do every step of this process with clean hands, do not smoke, do not use odorous substances. It is better to work with gloves or smear your hands in the soil.
How to Use Mole Traps?
To remember the place where you put the installed traps, mark them with different bright and sticks: bush branches, sticks with a flag, etc.
It is useless to set a trap in the heap of the earth that the mole dug. Go around your perimeter. You will find the main entrance through which the animal penetrates your territory (from a neighboring side or forest). It is better to install the tunnel mole traps in hard ground, for example, under the paths.
For the better result, you may want to install at least 2-3 mole traps that work in different places. Sometimes it is hard to determine the active paths of the mole, so the more traps you set up, the more chances of winning this battle you have.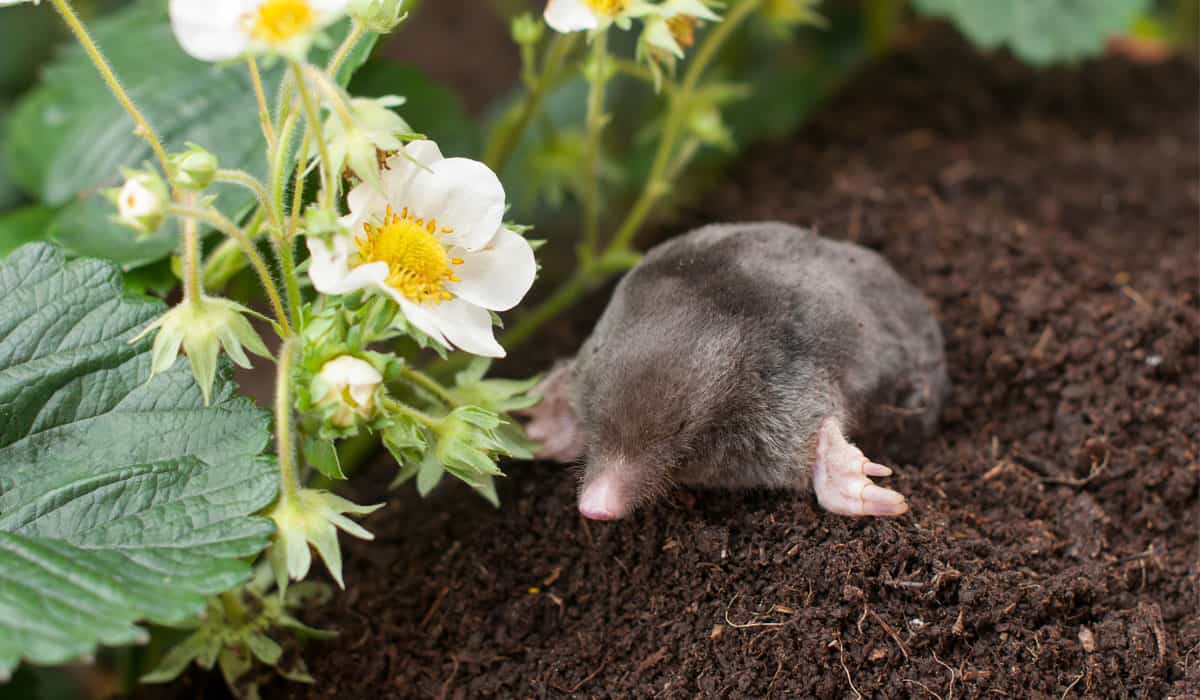 To increase the efficiency of the metal mole traps, grease the entrance ring with a mass of crushed worms or simply some smelly meat. Moles have bad eyesight, but they also have a great smell sensitivity. Those smells will attract their attention, and you will get rid of moles faster than you think.
It is significant to fully understand how to trap moles and do it right because then you'll have more chances to win the battle with them. A mole eats worms, young roots, and green plants. Moreover, the animal does not care what the barrier is between him and the tidbit. The powerful claws on its paws can easily tear the cable, thick tree roots, etc.
The mole falls into the trap when he accidentally hits it. These animals have poor eyesight and it is impossible for them to see the trap prematurely. If the fuse does not come down, then the mole returns or digs under the trap.
The sensitivity of the molehill fuse means a lot in the mole fishery. The length of the preventer should be so small that it could only touch the "shoulder" of the lever.
This not only increases the sensitivity of the preventer but also greatly facilitates the process of alertness. It is enough to touch the "shoulder" of the lever behind the hook of the cutout.
From many years of studying domestic pests, I know that:
a mole loves worms and beetle larvae;
a mole runs fast and is not so blind;
a mole will sooner or later return to bury molehills broken by man;
on a well-kept lawn, the probability of moles is lower;
the most effective way to fight moles is to kill them and prevent their comeback to your garden in the future.
How to Choose the Best Mole Trap
To choose easy set mole traps, you need to determine whether you are set to kill an animal or just to scare it. When talking about traps for moles, it usually means the lethal end in which the animal dies immediately, or receives serious injuries, leading to death subsequently.
Devices which the animal enters without harm to its life and health are more often called live traps or humane traps.
To choose the best trap for moles, you must carefully study all the properties of each species of traps, which I described above. And also, you need to determine what type of soil you have in the area where the moles settled.
For example, if your site has tough soil, tunnel mole traps are the best fit.
FAQ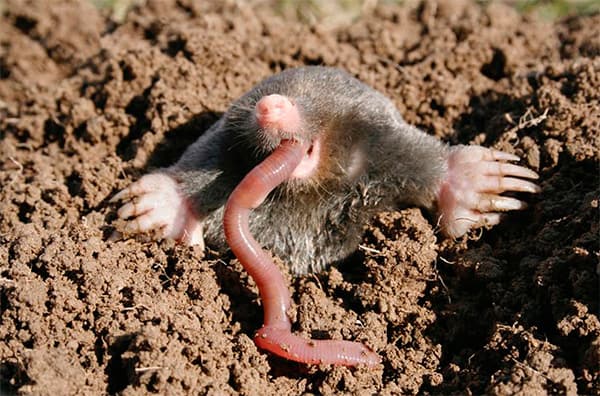 How to Set a Mole Trap for Better Results?
For efficient operation, it is recommended to install at least two metal mole traps in the same area. In this case, the mole will be killed regardless of which side it approaches.
Usually, mole hunters install 2 traps in one place of the mole course. With this method, you can catch two moles per day, including one inspection of the traps per day.
Observations showed that the mole, having met another mole entrapped, does not return, but, as a rule, bypasses it, continuing its path.
Find the main branch of the tunnel: moles use it for going two ways. Having destroyed the course, compact the earth, dig a hole under the tunnel. Using a scissor trap, place the grip on both sides of the ground ball. It should be laid at the bottom of the stroke and must be fastened according to the instructions.
When you learn how to set traps correctly, you can quickly catch a mole using any trap. And not a single mini-digger will violate the integrity of the land cover.
Where to Set Mole Traps?
You have to set traps in the mole's paths. Set it up on their active paths, and you will catch not only one mole but the whole family. In this way, you can prevent their reproduction on your land.
When controlling problem moles, you have to imagine the whole picture of how the mole's tunnels are located under the ground. It will help you to find the right place to set a trap and faster deal with moles.
How Do Mole Traps Work?
Each trap works according to a certain type, which is precisely described in the reviews of the best traps for moles above.
Almost all traps are aimed at killing the animal and preventing further reproduction in your area or nearby. Otherwise, the process of catching a mole may take longer than you expect.
Related Post: How to Get Rid of Voles
When Is a Good Time to Catch a Mole?
Unfortunately, most mole traps do not work in extreme frost. Therefore, it is best to catch moles in spring and summer, when they are more active and most often manifest themselves.
Traps set in early spring will help eliminate females that are ready to bring offspring, and this will reduce the problem in the future.
It is imperative to choose the right place for the trap; for this, it is necessary to determine which of the feed tunnels is actively used by the mole.
Closing Review
It seems that a blind animal cannot do any substantial harm. However, the damage from moles is estimated in millions of tons of crops. This underground animal almost never goes outside, breaking through multimeter passages in any soil.
If you want to get rid of moles for a long time, or maybe forever, I advise you to consider all options for mole traps and choose the one that suits you best.
Since there are so many, you can read my review of the top 5 traps. If moles ruined your entire beautiful and well-kept lawn, traps that kill the animal could be a great way of solving this problem.
What method to trap mole you find the most efficient? What is the best mole trap that you used and why did you choose it initially?If you already used any of the traps that I recommend in this review, tell about your experience.
References:
Moles and Mole Control on British Farms, Amenities and Gardens after Strychnine Withdrawal (US National Library of Medicine National Institutes of Health):
https://www.ncbi.nlm.nih.gov/pmc/articles/PMC4929419/
How to get rid of moles in your yard (University of Minnesota Extension):
https://extension.umn.edu/planting-and-growing-guides/how-trap-moles
Controlling Problem Pocket Gophers And Moles (F. Robert Henderson Wildlife Damage Control, Cooperative Extension Service, Kansas State University – Manhattan):
https://digitalcommons.unl.edu/cgi/viewcontent.cgi?article=1127&context=gpwdcwp