Voles are the rodents that resemble home mice. But they do much more harm as their habitat is the home garden. They can infiltrate homes and gnaw holes in walls or furniture if they don't find food. A special vole bait poison should be used for their elimination.
I have been comparing different substances for killing voles for a long time. And I want to share with you an overview of the best vole poisons I've ever encountered.
The best vole baits contain rodenticides that act as anticoagulants. When they enter the body, this substance stops clotting. And after a while, the rodent's body bleeds internally, and the pest dies eventually.
Top 6 Best Vole Poisons
Vole poisons have a pleasant smell of peanut butter, which attracts rodents. They must eat it in order to be destroyed. So the poison to kill voles is put in places where they can live and where there is their highest concentration. However, the poison can be dangerous for pets and children, so put the bait in remote areas.
1. Neogen Havoc Rodenticide — TOP Pick for Rodent Control
Specifications:
Active Ingredient: Brodifacoum 0.005%
Bait Color: Blue
Item Weight: 9.25 pounds
Item Dimensions LxWxH: 21.25 x 10 x 19.5 inches
Target Species: Rats and Mice
From my professional experience, the best vole killer is Neogen Havoc Rodenticide. It is a bait that is used not only for voles or mice but also for other rodents. The active ingredient is a second-generation anticoagulant, which is considered the most effective.
These vole poison pellets should be sprinkled in the garden or in the house in dark places where you have met voles. The practice has shown that one night is enough to kill all the rodents that will eat the bait. It has the smell of peanut paste, so mice can sense it from a distance. The pellets contain natural ingredients that rodents love.



I bought this vole control product in the largest 9.25-pound package. It's enough to use many times to keep your garden and home safe from pests. But ensure to protect pets and children from this poison, as it can be dangerous for them.
Pros:
Cons:

one of the most potent anticoagulants;
large and economical packaging;
pleasant smell for rodents.
2. JT Eaton 902R — the Best Poison Station
Specifications:
Color: Black
Item Weight: 1pounds
Material: Plastic
Includes: Trap only, Bait not included
Item Dimensions LxWxH: 15 x 4 x 12 inches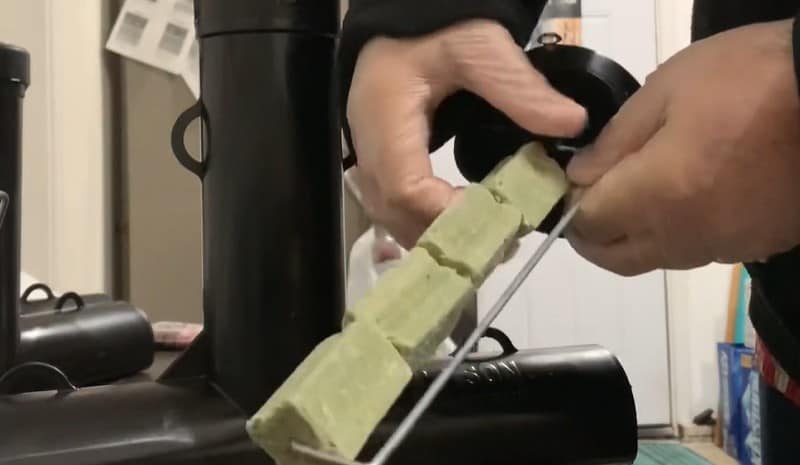 Still don't know how to kill voles? Try using the poisoning station. It was a real discovery for me. You won't get a proper result if you just put the bait in the garden or on the house floor. It will quickly lose its properties under the influence of moisture. You can protect the bait with a special poisoning station.
You may put any vole killer products inside. Mice and other rodents have a precise sense of smell and will find the poison station. They will climb in it from either side and consume poison, and then die after a few days.
This item protects the bait from moisture and negative environmental impacts. It is also safe as children and pets will not be able to reach the harmful substance. Only a field mouse can get inside. You can fasten this top-loaded bait station anywhere, not only on the floor but also the fence, in the garden, on trees, or in the basement. For convenient and secure fixation, the manufacturer has provided distinctive eyelets.
Pros:
Cons:

reusable;
safe for children and animals;
convenient to mount.
3. JT Eaton 709-PN Bait Block Rodenticide Anticoagulant Bait — Effective Against Small Rodents
Specifications:
Active Ingredient: Diphacinone 0. 005%
Color: Green
Capacity: 9 Pounds
Item Dimensions LxWxH: 11 x 11 x 10 inches
Target Species: Rats and Mice
I think small pellets are a more effective form of bait than big ones. The active ingredient of the poison for field mice is Diphacinone (0.005%). It is a proven and effective component that allows you to destroy entire families of rodents in your home or garden within a couple of days. The large package includes 144 units at an affordable price.
You can load them in 3-5 pieces at the JT Eaton 902R poison station. The rodents will find the scented bait and consume it, killing themselves gradually. But in case of the absence of the station, you can put the units in a basement, garage, dark corner, or garden. Make sure that pets and children do not have access to the poison.
This poison peanuts for voles have an expiration date of one year. So 144 blocks in a bucket will be enough for a lot of rats.
Pros:
Cons:

effective against all kinds of rodents;
economical packaging with 144 poison blocks.

dangerous for pets and children due to Diphacinone 0.005% of the composition.
4. Tomcat All-Weather Bait Chunx — Blocks of Poison to Kill Rodents and Pests
Specifications:
Active Ingredient: Diphacinone 0.005%
Item Form: Tablets
Item Weight: 5 pounds
Item Volume: 64 Fluid Ounces
Item Dimensions LxWxH: 8.75 x 8.25 x 6 inches
Target Species: Rats and Mice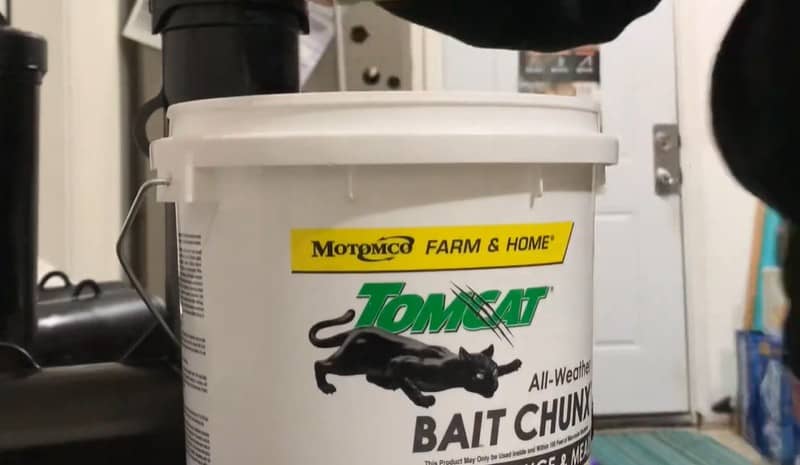 The time I got the poison Tomcat All-Weather Bait Chunx, I compared it with other baits for field mice. It is quite effective for chipmunks, gophers, dangerous raccoons, rodents, and field mice. The active ingredient is a first-generation anticoagulant. It means that voles won't die in one day. They will need to consume this poison continuously for days or weeks to die.
This makes Tomcat All-Weather Bait Chunx less effective. But you can use it as extra bait or lay down Tomcat Bait blocks in different places. The main advantage of this poison is all-weather suitability. If the bait is exposed to rain, it will not lose its properties. Therefore, it is more rational to use this poison for killing voles outdoors.
Pros:
Cons:

use in all weathers;
economical packaging.

it requires multiple uses for voles control.
5. MouseX EcoClear Products — Natural Poison for Rodents
Specifications:
100% naturally derived formulation
Item Form: Pellets
Item Weight: 8 Ounces
Item Dimensions LxWxH: 5.5 x 1.5 x 5 inches
Target Species: Mice
MouseX EcoClear Products are poisonous pellets designed to kill field mice and other rodents. This bait got into the top because of its biologically safe composition. The poison does not cause any harm to pets, livestock, or humans. So you can use it on your farm, in your garden or home.
However, because there is no strong chemical poison, voles need to eat a lot of MouseX EcoClear Products to die. So stock up with this product to fight rodents effectively. All you have to do is sprinkle some of the poison pellets in voles and where they accumulate. You can also use bait stations.
Pros:
Cons:

no unpleasant smells;
it's ready for use;
safe for children and pets.

less effective than other baits on the list.
6. JT Eaton 750 Top Gun — An All Weather Rodenticide Bait Block
Specifications:
Active Ingredient: Bromethalin 0.01%
Item Weight: 4 pounds
Includes: 128 packs of 0.5-ounce rodenticide blocks
Item Dimensions LxWxH: 15 x 11 x 7 inches
Target Species: Rats and Mice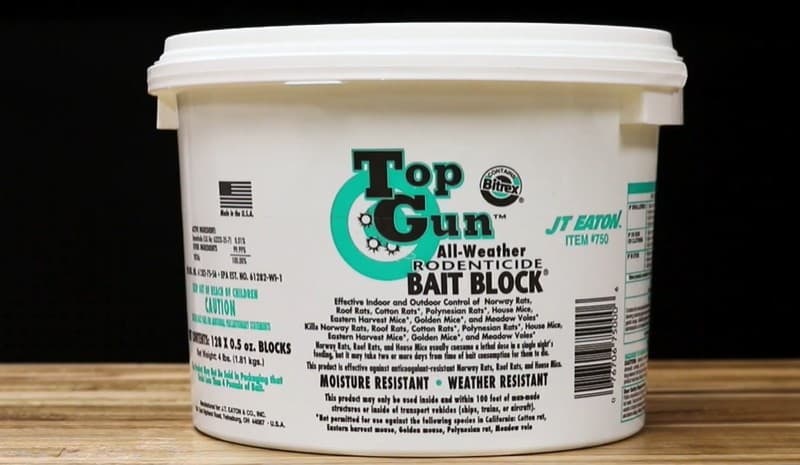 The next bait I would like to mention is JT Eaton 750 Top Gun All Weather Rodenticide Bait Block. It differs slightly from the poisons I have already mentioned in its neurological action. This makes it effective and capable of killing voles in just a couple of days.
Once the rodents consume the lethal dose, they will stop eating and die in their holes. But you have to be careful because the neurological poison is dangerous for humans and pets. So it's better not to use this bait on farms or in yards where livestock and other animals live.
The lethal substance for rodents is bromethalin 0.01%, which is part of JT Eaton 750. The large package contains 128 blocks, which will last for a long time. The reason is mice, and other pests won't take the bait after receiving a lethal dose.
JT Eaton has been operating on the market since 1932. Therefore, it is a reliable manufacturer providing high-quality products.
Pros:
Cons:

an effective solution;
the property of "stop food" (voles stop eating the bait after a lethal dose).

not safe for children, pets, and livestock.


How to Use Baits Against Voles Correctly
I've done thorough research to determine what is the best way to kill voles. In this section, I highlighted a few main rules regarding the use of baits. They will only be effective if the pests get access to them.
Therefore, familiarize yourself with several rules of correct use of poison against voles:
Place an abundant supply of bait in all potential rodent habitats (for a lethal dose of pests, a vole should eat poison for a few days).
Make sure that the bait does not get wet (do not put it in wet areas).
Rodents are most active at night, so put the poison in the evening.
Buy baits only with flavorings that lure pests (e.g., with the smell of peanut butter).
Do not wait for the effect the day after applying the poison. It may take from two days to one week for voles to die.
For safety and convenience of bait placement, use special stations.
Using Traps vs. Using Poison
Traps are effective in voles control. But I will always be a supporter of poison. It is even better to use poison in bait stations for convenience and efficiency. The reason is traps kill only a few pests. On the contrary, the poison kills them from the inside and can deal with the whole family in a couple of nights.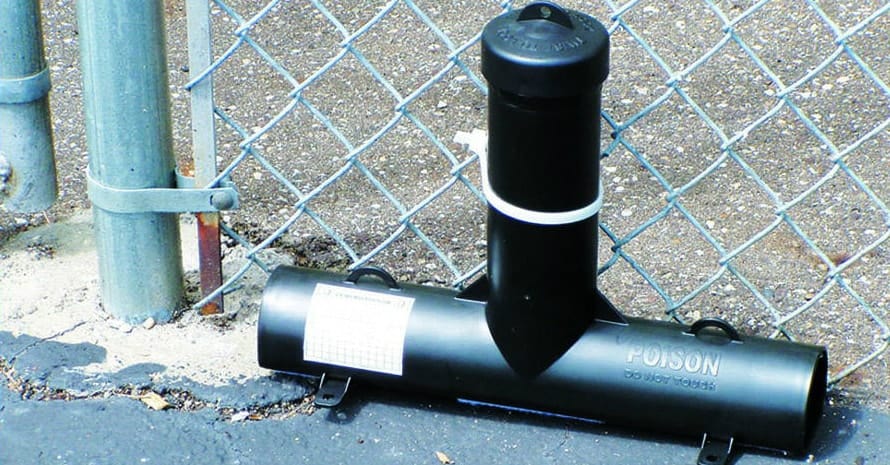 Be careful when working with poison. Be sure to wear gloves, a mask, and glasses. Follow all the manufacturer's dosing and safety recommendations. Ensure pets or small children don't have access to the bait.
FAQ

How Does Vole Poison Work?
The effectiveness of poisons for voles depends on the classification. Almost all types of baits have chemical elements in their composition that prevent blood clotting. For this purpose, first or second-generation rodenticides are added. The toxic component is diluted with aromatizer and natural grains.
As soon as rodents eat a portion of the poison, their blood stops clotting over time. This leads to internal bleeding.
How Deep to Put Vole Poison?
Apply poison against voles in their burrows or tunnels through which they move. This measure will eliminate the risk of pets or cattle eating the bait. You should also use bait stations elsewhere if you notice rodents not only in the ground of your garden. It may be the basement, the fence, or the attic.
Related Post: Best Vole Repellents Reviewed
What If a Cat Eats a Vole That Ate a Poison Peanut?
If your cat ate a poisoned vole completely, there would be a risk of chemical poisoning. For a fatal dose of vole poison, the cat will need to eat more than one rodent. If it does, you need to show your pet to the vet. Alternatively, give it a cat absorber and cause vomit (for example, by giving your pet plenty of warm water to drink).
Defeat Voles With Effective Baits
Voles can really become a big problem for your garden, farm, or home. But the current market offers an effective solution for this: flavored poison in the form of blocks or pellets. You need to choose an appropriate remedy and use it correctly. Do not expect the poison to kill all rodents in one day. You'll need to identify all the voles habitats to spread the killer bait there. After that, check daily for poison and expect the voles to die.
What kind of poison do you prefer to destroy voles? In your opinion, are anticoagulants effective against these rodents?
References:
Voles (Meadow Mice) (T. P. Salmon, UC Cooperative Extension, San Diego Co.; and W. P. Gorenzel, UC Cooperative Extension, San Diego Co. Produced by University of California Statewide IPM Program):
http://ipm.ucanr.edu/PMG/PESTNOTES/pn7439.html
Controlling Voles in Horticulture Plantings and Orchards in Missouri (Robert A. Pierce II Extension Fish and Wildlife Specialist Department of Fisheries and Wildlife Sciences):
https://extension.missouri.edu/publications/g9445
Why You Should Trust Pest Control Hacks?
We know that pests are nasty neighbors, and it can take months to eliminate them without the right approach. Our experts use their own experience to compile articles and guides that are introductory and informative. Our authors' opinions are independent and based on the results of practical testing of pest control tools. We do not notify manufacturers of testing of their products and do not receive payment from them for posting their items. Also, our texts are never submitted to company representatives for proofreading before placement. On the site, you will find exclusively objective ratings and reviews.