Most owners of the plots had a chance to encounter such a phenomenon as mole moves in their holes. And although moles have their good and place in the world, they bring a lot of harm to gardeners. The damage caused by this insectivore is quite considerable.
If you're curious and ask yourself are moles or voles ruining your lawn, experts insist that the risk of damage is real. They undermine the soil, causing significant damage to the root system of plants. It also spoils root crops, creates a mess in your garden or field.
At the same time, it is quite challenging to deal with pests. The use of gas-repellents also doesn't scare off the mole, because its hole is well ventilated, has several false entrances and exits. Also, due to the many possible paths to retreat, mechanical traps are not always effective against the mole.
Chemicals that contribute to the soil to exterminate moles do more harm to humans than to these creatures. As an entomologist, my role is to advise the methods that will be the most efficient but the least harmful to the environment. That is why this mole deterrent review will include only safe options.
Top 5 Best Mole Repellent to Use When You Get Sick of Moles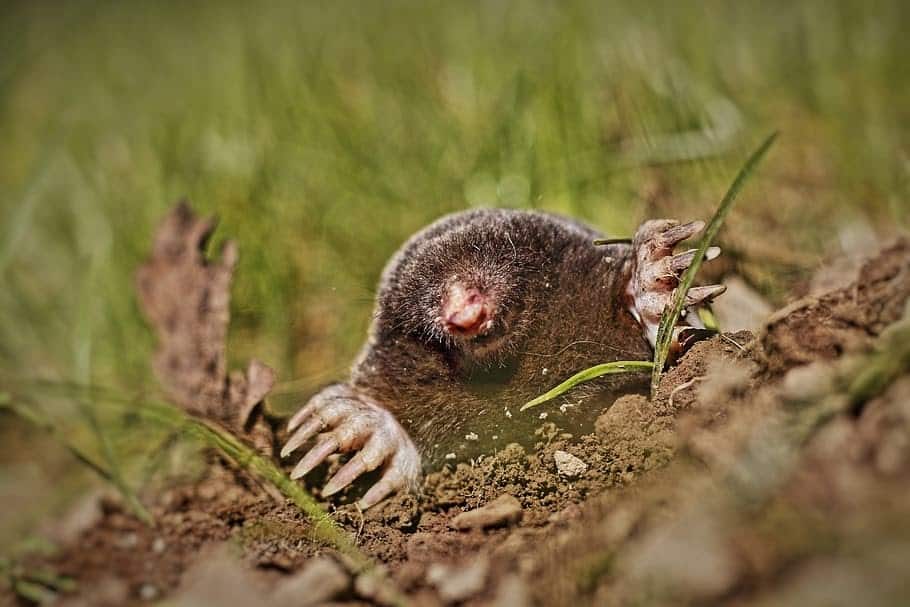 One of the methods of combating moles is special repellents. Its action does not include killing animals. However, the options mentioned below may scare away most of the moles.
1. Nature's Mace 5 Gallon Concentrate of Best Castor Oil Mole Repellent
If you doubt that natural remedies can scare off moles, but you don't want to apply chemicals and traps, this repeller can help you eliminate annoying voles and moles.
It is a non-toxic mole repellent, harmless to your soil penetrating deep into the ground and will bring a quick result. It is an organic mole repellent that is totally harmless for your pets or children.
At the same time, the manufacturer promises 100% effectiveness of the repellent, so if the device does not work for you, the manufacturer guarantees a refund of the money you've spent. It works effectively if you apply the product using a water hose over the entire territory that you want to protect.
Most and foremost, be sure that you follow the instructions and mix castor oil with water and detergent in the correct proportions to provide a full-effect of the product. It is the editorial choice among natural, organic products that remains effective without causing any harm to the environment.
Pros:
Cons:

100% natural mole repellent, no risk for soil or pets;
drives moles away for a long time;
harmless to your pets and soil.

not a long-term effect, it requires a quite frequent application for the result.
2. Toro Products 4 – Best Solar Powered Mole Repeller for Fast Results
If you are against any sprayers, it is one of the best solar powered mole repellers to use, which will ensure complete cleanliness and safety of your soil and save you from unnecessary work. Besides, the effect of this repeller is quite impressive. Within a week of use, it will protect up to 7 thousand square meters of your land.
They recharge quickly using sun energy in just a few hours and emit ultrasonic pulses that can deter moles, as well as mice, snakes and other pests from your lawn or garden for a long time. With this sonic mole repeller, you do not have to use poisons or chemicals that will kill the animal and will also be a risk to your animals and family.
At the same time, this is an economical choice, because the purchase of such repellers is a long-term investment. They will serve more than one season as the manufacturer uses high-quality materials, have water repellent properties, and are equipped with solar panels.
It's a multifunctional product since they repel various types of pests, and you will not need to use different means for different kinds of rodents.
Pros:
Cons:

useful in a fight against not only moles but voles, snakes, and rats;
quick recharge time;
the fast effect in 7 days on a vast territory;
defense from moles without using chemical-based products.

not 100% waterproof, you need to apply additional defense against water to avoid its quick breaking.
3. Repellex Mole, Vole & Gopher Granular– Best Granular Mole Repellent for Your Garden
Granular products are a useful tool for combating rodents and scaring them off the territory. This product does not contain any chemicals or pesticides, and therefore it is easy and safe to use in your garden. But if you grow edible plants, it's not recommended to apply the product on the field.
To effectively use this repellent against rodents, you should follow the instructions for using this repellent. It would help if you poured Repellex directly into the mole-dug holes. It is worth repeating the repellent application monthly for high efficiency.
The composition of this granular product has a rather specific smell that moles cannot tolerate, so they will quickly leave your yard and will not bother you for a long time.
Pros:
Cons:

don't have chemicals or pesticides in their list of contents;
effectively gets rid of moles and voles;
easy-to-apply treatment.

it's highly advised to avoid using it on the field where you grow edible things.
4. I Must Garden – Best Organic Mole Repellent Option for Pet Owners
Another granular anti-mole alternative, that effectively scares them away from your garden from the first use. It is guaranteed to drive away moles and is easily sprayed in the territory.
If your garden is often visited by voles that spoil your soil, then you need to scatter the product around your flower bed or garden. After that, you can simply forget about rodents.
Thus, you protect your plants and do not harm the flowerbed with hazardous chemicals. The composition of this product includes concentrated ingredients that are super fast but do not harm wild and domestic animals. Besides, it can be used on lawns, because it will not block the work of fertilizers and will not damage the garden or grass.
It is also useful in winter when shrews and moles can damage your lawn. At the same time, although its smell is disgusting and unpleasant for moles, you will not feel this pungent smell.
Pros:
Cons:

safe for your pets;
effective and quick action;
can be used even in the wintertime;
the smell is not unpleasant for you.
5. Chase Mole & Gopher Repellent 6 Lbs – Affordable Non Toxic Mole Repellent to Save Your Money
It is a cost-effective option, allowing you to get 6lbs of granular repellent for a low price. All you need is to wear gloves and scatter them in the holes made by the moles and water them a little. Ideally, use the product before the rain.
The scent effectively repels not only moles but also all types of burrowing animals. The composition of this product includes castor oil; the scent is not tolerated by moles.
Moreover, it includes no harmful or non-degradable elements, which means it is an environmentally friendly product. However, it should be avoided in the immediate vicinity of food crops. It provides up to two months of protection against mole attacks.
Pros:
Cons:

the cheap option of granular repellent;
sufficient for two months after using;
castor oil mole repellent that includes only natural ingredients.

can't be used near food crops.
Top Questions Gardeners Search Before Buying Repellers
A lot of gardeners have various questions regarding safety, effectiveness, and the usage of mole repellents. Below I'll try to answer the most common questions that arise while you're trying to find the most efficient option to apply.
How Does Mole Repellent Work?
To date, there are several means of combating moles: ultrasonic repellers, repellent mixes that include all kinds of granules and gels, tunnel traps, traps that kill moles.
Most repellents do not kill or harm moles; their effect lies in driving pests away from your sites. In most cases, spraying repellents of ​​non-chemical substances in your area help fight off moles, albeit not for long periods.
Most often, the repellent is aimed at some of the mole's sensors to convince the animal that this territory is dangerous for its activities. Repellents made of castor oil affect the scent of a mole, while electronic mole repeller respectively jeopardizes the hearing of moles.
And according to the well-explored species facts, moles are sensitive to low-frequency vibrations, so they leave the territory, considering it unsuitable for life. There are, of course, more effective methods like traps or poison, but they are cruel and harmful not only to animals but also to your territory.
How to Use a Mole Repellent?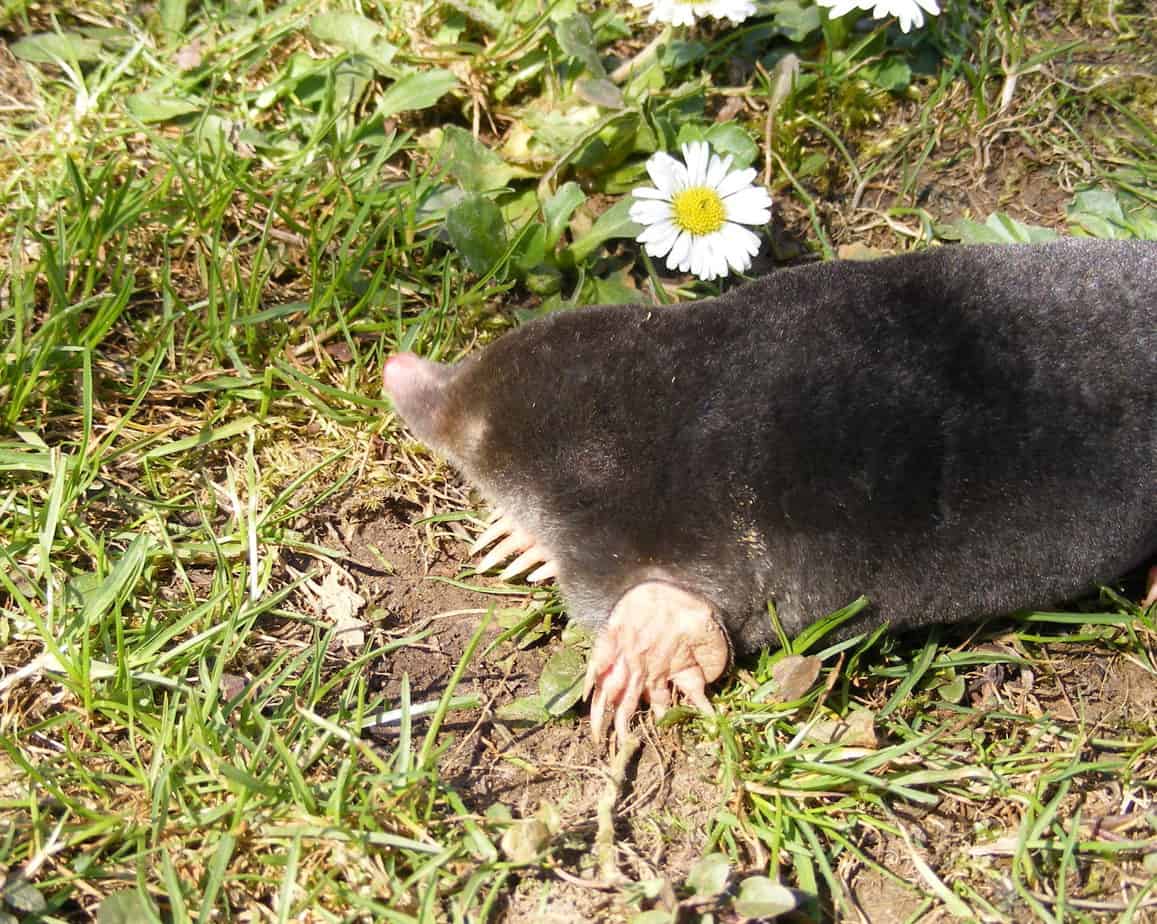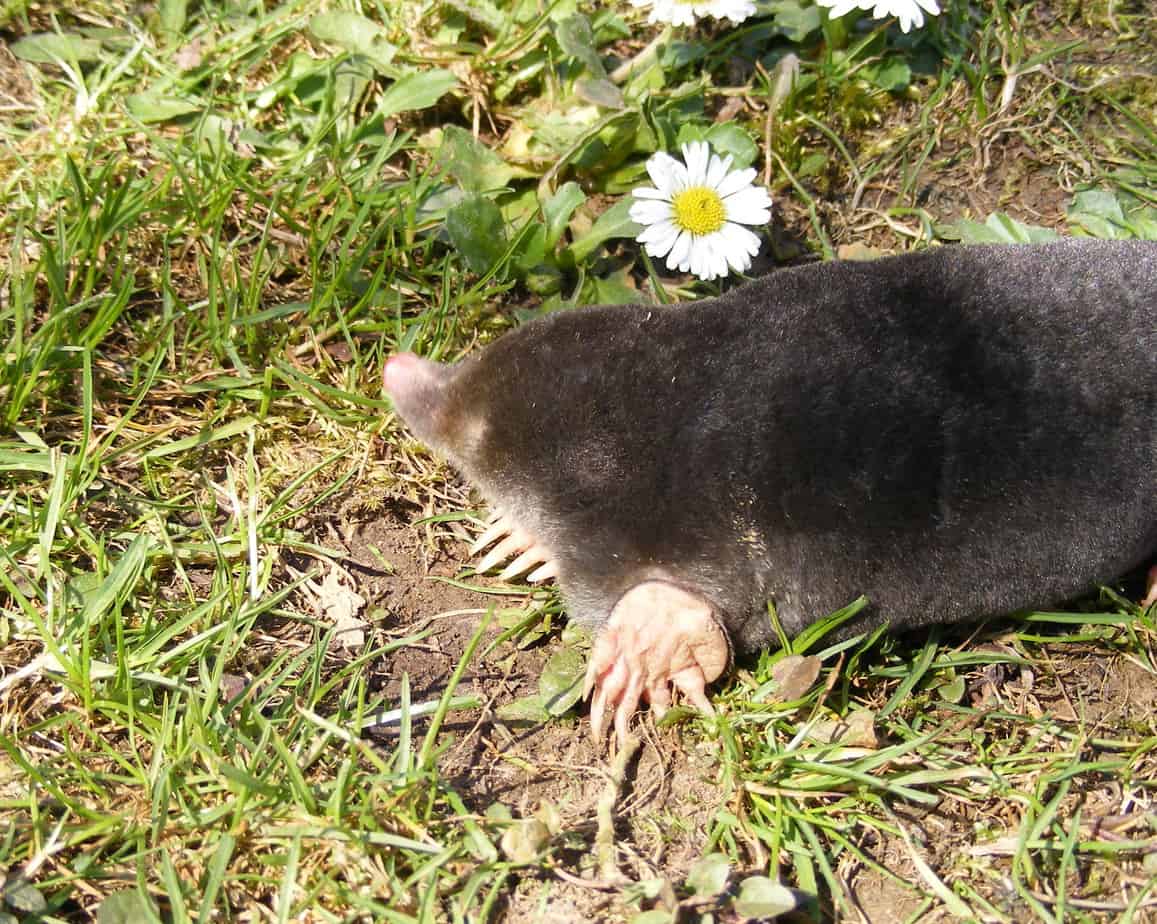 It depends on the type of ground mole repellent. You need to spray the product or arrange sound-frequency devices on the territory where moles can start digging the holes.
First, you need to find a molehill, which is a small mound of land as this is the place where the mole throws out the earth during the construction of tunnels. If they dig out the molehill, place the product inside and bury it. Some products are diluted in water and then sprayed.
Be sure to check the instructions for your repeller as the process can have slight differences. Some repellents should be spread on the surface of the soil. All manipulations are carried out in rubber gloves to avoid contact with the skin. It is crucial to buy control products in reliable stores, as such products lose their properties if stored improperly.
Castor oil granules or repellents can be active for a couple of months under the right conditions. Rains can wash granules off the ground completely or lower their effectiveness, so you should repeat the spraying if there were prolonged thunderstorms.
The most active period for moles is early spring, and they actively break through burrows until late autumn. Therefore, you need to use funds in this period actively.
How to Choose the Best Mole Repellent?
There are two main types of repellents to be aware of. The first option is chemicals or mole poisons of a high class of danger. Unfortunately, it's better to avoid this one as it poses a threat to other animals, insects and humans.
If it gets on the skin, mucous membranes, or in the respiratory tract, it causes burns; therefore, you need increased safety precautions when using them. It's usually sold in the form of powder, has a toxic effect, therefore, it is placed directly in holes. It's highly effective, but due to its hazardous properties, it's better to use the second option.
Substances of natural origin are concentrates of natural biological compounds that scare away uninvited guests. They are safe, can be used on a site where children and pets often walk. You can find them available in the form of granules or powder. All such substances have a pungent smell, which scares away moles.
If you don't want to use an oil-based or granulated repeller, you may also use special devices that scare moles off by low-frequency sounds which I've already mentioned. They are higher in price, but provide a 100% safe way of driving moles away.
FAQ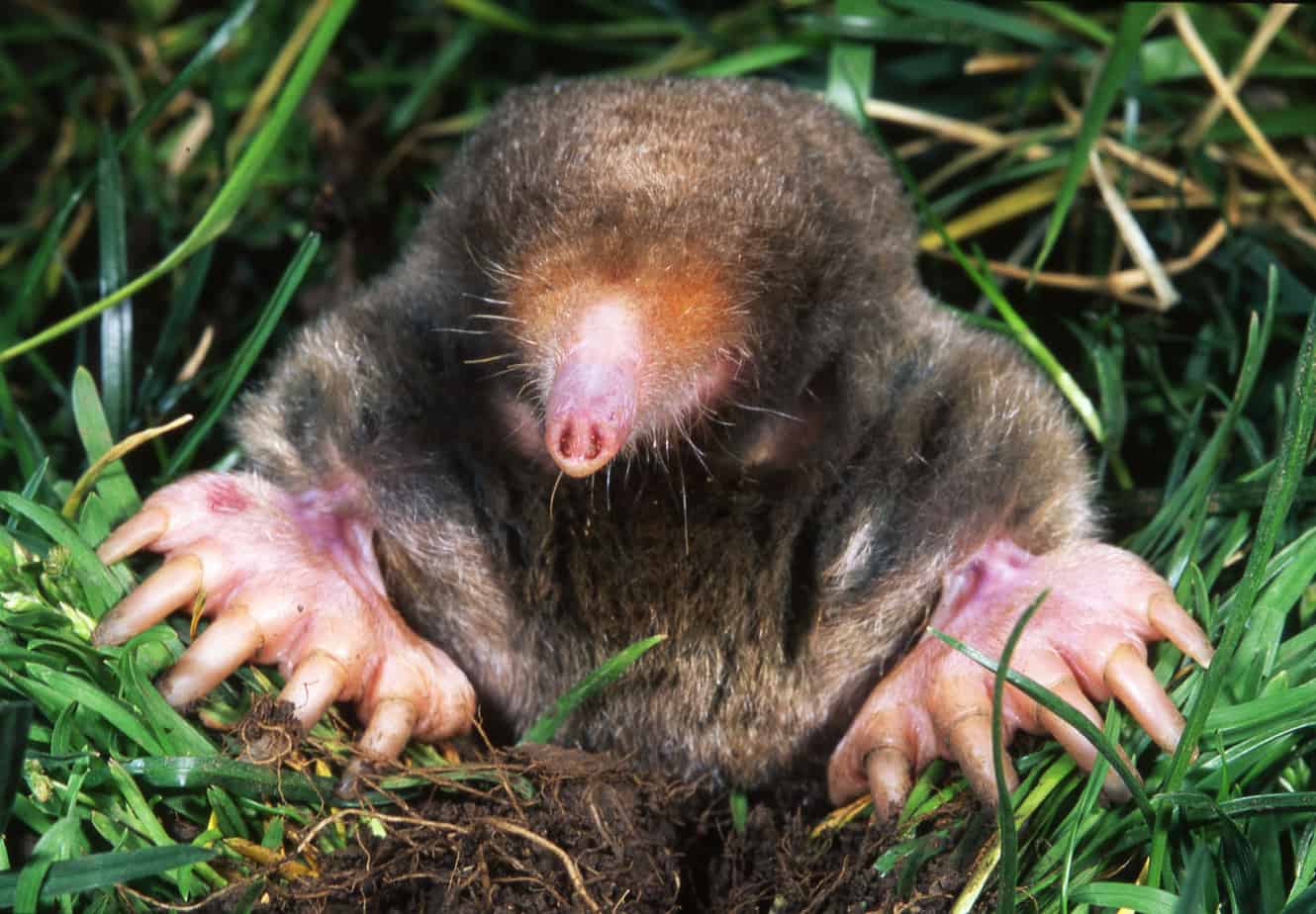 Where Do You Apply Mole Repellents?
Better use repellents directly on the area where you want to get rid of moles. Be careful not to use options with a chemical base where you plan to grow food, as this type of repelling moles can ruin soil or greens you're trying to protect.
Castor oil-based repellent against moles can be used in granular form. It should be decomposed in watered soil, near those places where mole holes are located. Then pour a little granule inside the hole so that it gets better absorbed into the soil.
You can also buy liquid oil. You'll need to prepare a mixture, which includes 200 ml of castor oil and three tablespoons of liquid soap. This mixture is diluted with water: 80 ml of product per 10-liter bucket of water.
Are Castor Oil-Based Repellents Effective Against Moles?
Castor oil-based repellents are an effective option. You will not be able to kill moles or permanently drive them away from the territory because the action of such products is short-term. But it's a type of repellent that proved to be the most environmentally friendly option.
How Do Pets React to Solar Mole Repellent?
With its vibration similar to the feeling of an upcoming earthquake, ultrasonic mole repeller always creates a "false alarm" for the mole.
Besides, the signals emitted by the mole vibration devices are not distinguishable to the human ear and are only captured by the more sensitive ears of animals living underground, causing them a sense of discomfort, which is why the animals leave the site.
However, it won't harm or affect your dogs or cats as the sensitivity levels of moles and your pets are different.
Does Solar-Powered Mole Repeller Work?
Solar-powered repellers are very useful as they repel sound-sensitive moles in a quick manner. However, their effect can be quite short-termed, since moles quickly get used to annoying sounds, which gradually reduces the effectiveness of repeller and increases the risk of moles returning to your site.
Also, this type of repeller isn't only self-charged but also protected from corrosion. So all you need to do is to place it in the ground during early spring. During the entire summer season, you won't need to check the device regularly and can forget about moles!
The advantages of this method are distinct: it is both high efficiency and complete harmlessness to humans. Besides moles, these devices scare away other burrowing pests such as mole rats, mice and gophers.
Can I Get Rid of Moles Forever?
According to the article, dedicated to research on mole control, popular repellents, and their effectiveness – despite the fact that many users consider kill-trapping as the most-effective alternative in fighting against moles, it can not be considered as a human way of tackling the issue.
I cannot say for sure which repellent will be the most effective for you, as many factors influence its effect. Sometimes moles in certain areas are less susceptible to specific measures, such as bonfire oil or sun-charged mole-carriers. But if you have not used repellents before, you should start with the least harmful ones
Usually, these are repellents that do not contain chemicals, and for the most part, they contain castor oil. If granular and castor products, which mainly drive moles away with their unpleasant odors, do not work, it is worth trying alternatives that repel moles with sound waves.
Have you tried some DIY methods of repelling moles? Did they work? Do you think that it's better to kill the moles or shoo away the pest is enough for you? Let's share our experience to find the best option!
References:
Excavation Experts: Are Moles or Voles Ruining your Lawn? (By Marcia Anderson University of Nebraska):
https://blog.epa.gov/2015/08/05/excavation-experts-are-moles-or-voles-ruining-your-lawn-part-2/
Living with wildlife: Moles (Washington Department of Fish and Wildlife):
https://wdfw.wa.gov/species-habitats/living/species-facts/moles
Moles and Mole Control on British Farms, Amenities and Gardens after Strychnine Withdrawal (Sandra E. Baker,* Stephen A. Ellwood, Paul J. Johnson, and David W. Macdonald US National Library of Medicine National Institutes of Health):
https://www.ncbi.nlm.nih.gov/pmc/articles/PMC4929419/