If a skunk has ever unloaded its deadly fumes on you (or your pet), then you probably know how disgusting and even gag-provoking this horrific odor can be. They even compare these 'fumes' to tear gas, for both these substances are quite dangerous.
They irritate your eyes and nose, provoking redness, tears, and even making you feel nauseous. Eradicating skunk smell requires quick action and quality products. The faster you react, the more successfully you will deal with the skunk gunk in your life.
Pros
Deals with various types of smells.
Can be safely utilized around kids and domestic animals.
Top-notch skunk odor eliminator for pets.
Skunk odor is terribly persistent. Each case differs from the other. What will help you in one situation won't necessarily help in another. That's why there are hundreds of solutions to keep skunks at bay. Are you currently on the hunt for the best skunk odor remover? You've come to the right place.
In this post, I'm going to share my experience on this topic, as well as the list of top skunk odor removers that will save you from the horrible smell. Read on and choose the most suitable de-skunking solution for your needs.



Top 5 Best Skunk Odor Removers: Choose the Right One for You
Below, I've rounded up five of the most effective skunk odor removers. I've tested them all, therefore, my reviews are 100% experience-based and reliable. Don't forget to read the instructions prior to using any skunk smell slayer.
Follow them religiously if you want the solution to work. In case your fluffy friend got sprayed by a little stinky beast in the face, consult your vet immediately.
1. Van Den Heuvel's R86 Industrial Odor Eliminator: My Top Pick
Specifications:
Item Weight: 2.93 Pounds
Item Dimensions LxWxH: 5.8 x 3.1 x 7.8 inches
Non-toxic
Biodegradable
Water Soluble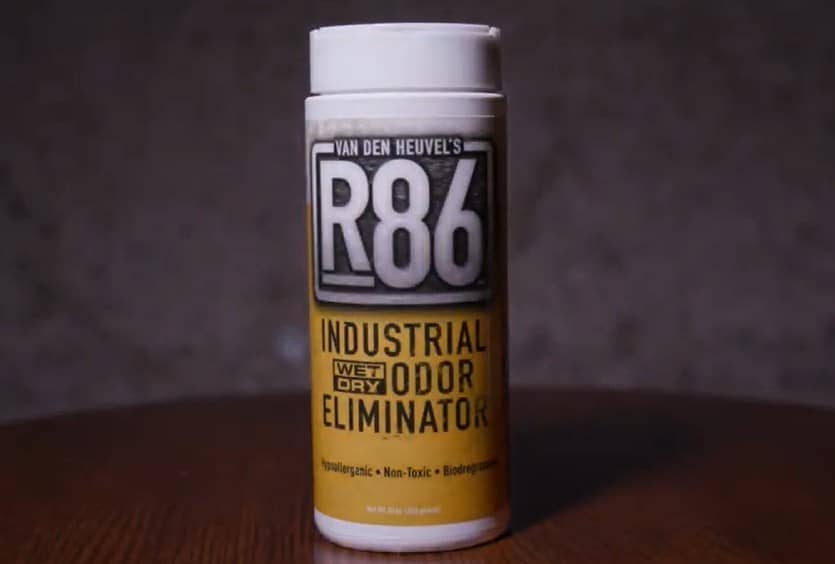 This is an environmentally-friendly skunk odor neutralizer created for industrial purposes. It's non-toxic, so it's absolutely safe for your family and domestic animals.
It contains salt and various oils to soak up and cover up smells instead of totally eradicating them. The product is proven highly effective in getting skunk smell out of house.
Furthermore, this odor eliminator is excellent at tackling other stubborn odors: stinky laundry, cat pee, oil-based paint, reeked eBay clothes you were unlucky to lay your hands on, and many others.
So if you've already tried vinegar, deodorizing sprays, sanitizing sprays (and nothing has worked), this awesome product might be exactly what you need. It's definitely worth trying!
Pros:
Cons:

deals with various types of smells;
exceptionally easy to use and really works;
smells like freshness;
acts faster than other skunk smell eradicators;
non-toxic, eco-friendly, and safe for your loved ones.

covers up the skunk smell and wears it off instead of totally removing it.
2. Nature's Miracle: Best Liquid Skunk Odor Eliminator
Specifications:
Safe To Use Around Children & Pets
Style: Original
Item Volume: 32 fl oz
Item Weight: 2.2 Pounds
Item Dimensions LxWxH: 3.38 x 3.38 x 9.19 inches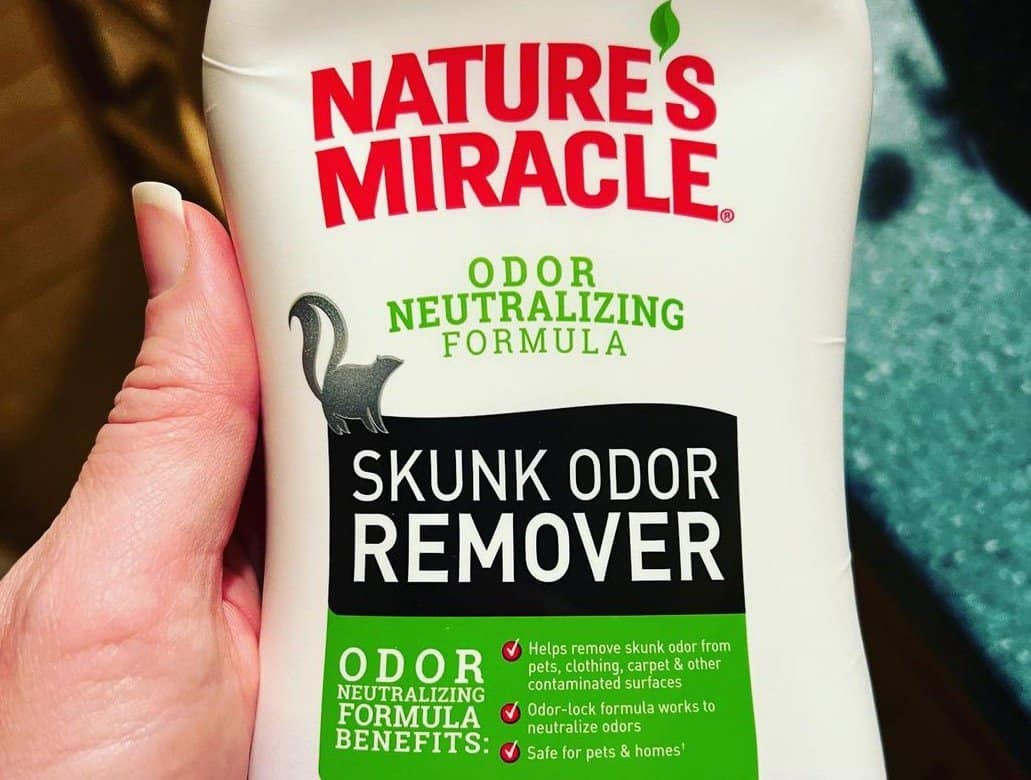 Has your fluffy family member been sprayed by a skunk? Try this awesome solution. This is the best skunk odor remover for dogs. This skunk odor eliminator stands out among many others because it is not a fragrance cover-up.
It will totally remove all skunk odor from your pet. In addition to this, it will help you get rid of skunk odor from clothing, various fabrics, as well as an array of other contaminated areas.
So if you've already tried a variety of homemade skunk smell eradicating solutions, but the smell still lingers, give this miracle of a skunk odor remover a try. It may not make your dog smell like roses and sunshine instantly, but it's very effective. Bear in mind that washing your pet with a top-level de-skunk shampoo is necessary prior to applying this product.
Pros:
Cons:

very effective, especially on pets with short hair;
a breeze to use;
excellent at removing skunk odor from various surfaces;
can be safely utilized around kids and domestic animals;
couldn't be easier to use.

you will have to use it in combination with a good de-skunk shampoo.
3. Skunk-Off Liquid Soaker: Excellent Skunk Spray Remover
Specifications:
Safe To Use Around Children & Pets
Item Form: Spray
Item Volume: 32 fl oz
Item Weight: 2 Pounds
Item Dimensions LxWxH: 10.3 x 3.5 x 3.5 inches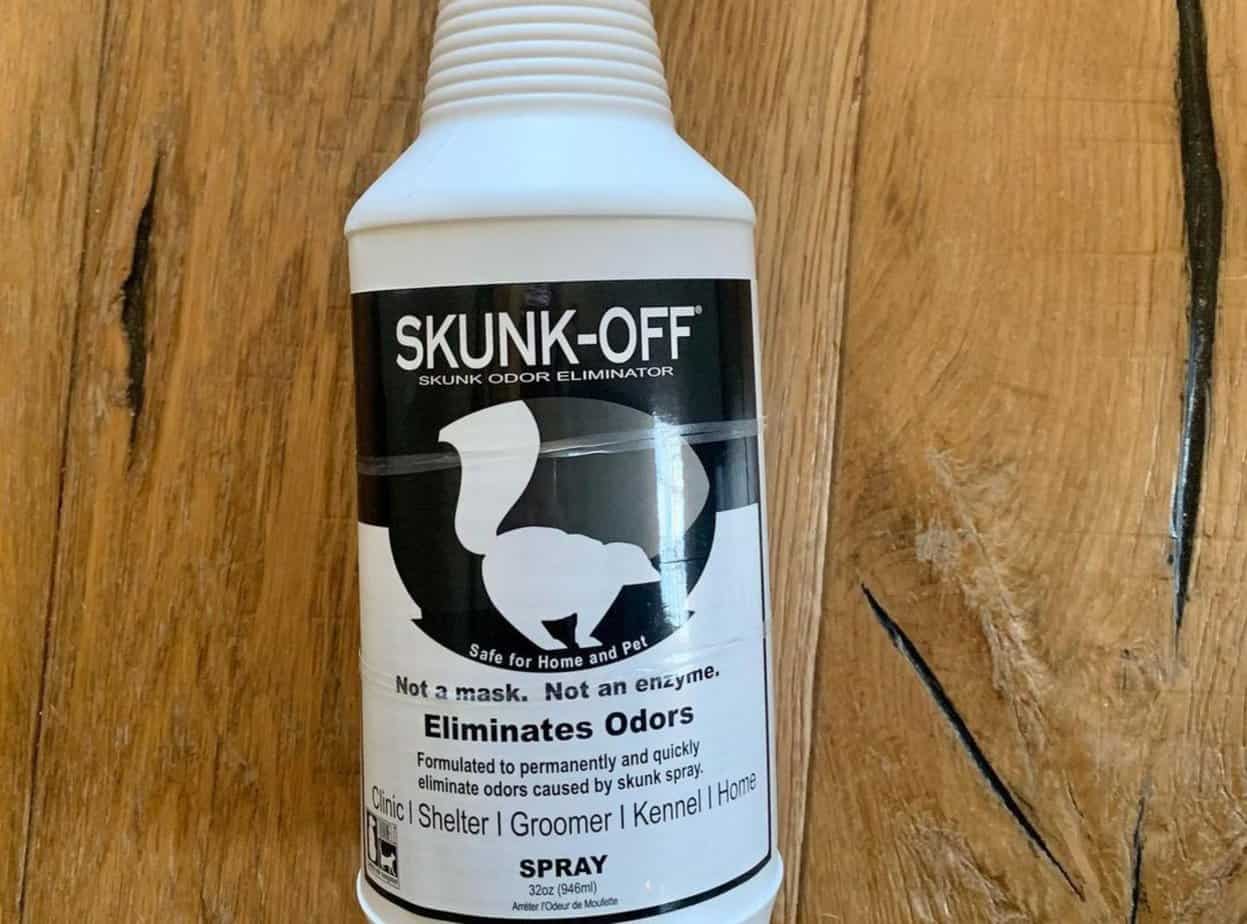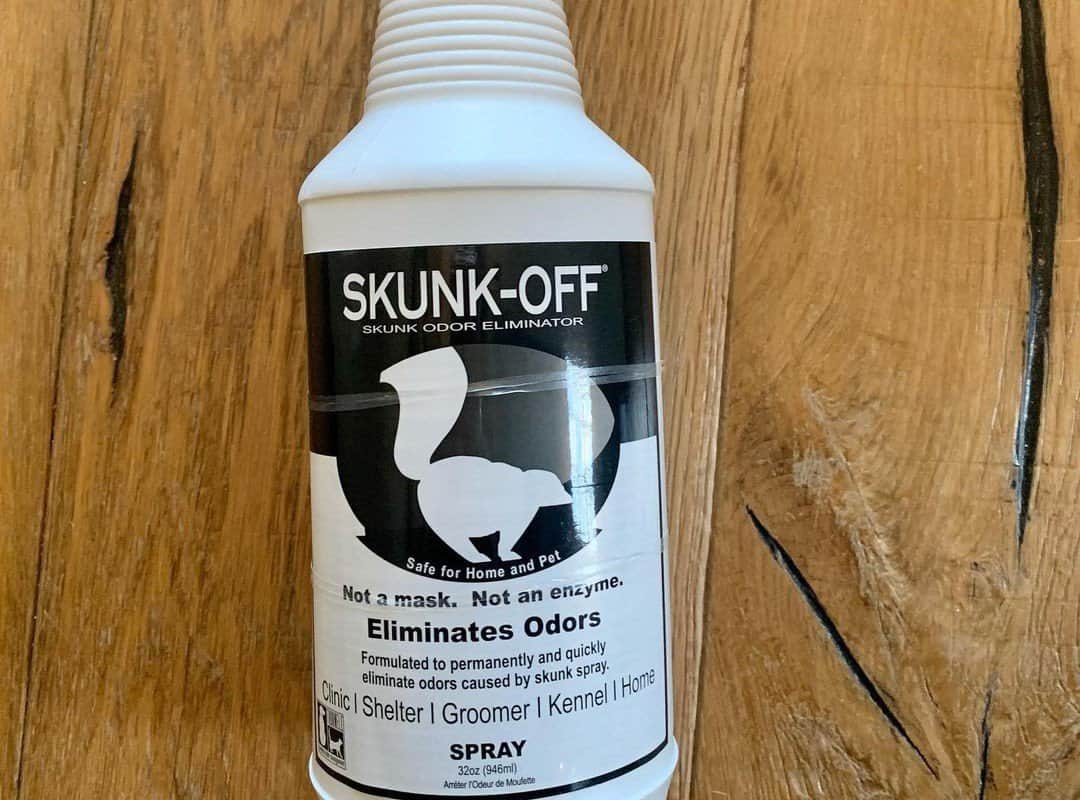 Are you on the prowl for a great skunk shampoo for dogs? Wondering how to get skunk smell out of the house? Get two of the 32Oz bottles of Skunk-Off Liquid Soaker.
This product is great at eliminating skunk funk in a short time. But don't forget to use it with a heavy application for maximum efficiency. Wet your pet's fur thoroughly and rub the stuff in for it to get down onto the skin and i.e. work at its best.
What's important is that the product removes both the smell and the pain related to being skunked. So if you live in an area with skunks, I recommend having a bottle of this skunk spray neutralizer on hand as a precaution. When you or your pet gets skunked, you want something immediately.
And this stuff really works! Keep in mind that if you're sensitive to strong fragrances, you may want to consider an alternative solution.
Pros:
Cons:

top-notch skunk odor eliminator for pets;
chemical-free and i.e. safe to utilize around pets and kids;
works almost instantly;
good at removing skunk smell from clothes;
works on multiple areas.

masks odor instead of removing it.
4. Zero Odor Multi-Purpose Household Odor Eliminator: Works Like a Charm
Specifications:
Safe To Use Around Children & Pets
Item Form: Spray
Item Volume: 16 oz
Item Weight: 1.09 Pounds
Item Dimensions LxWxH: 11 x 1.75 x 4 inches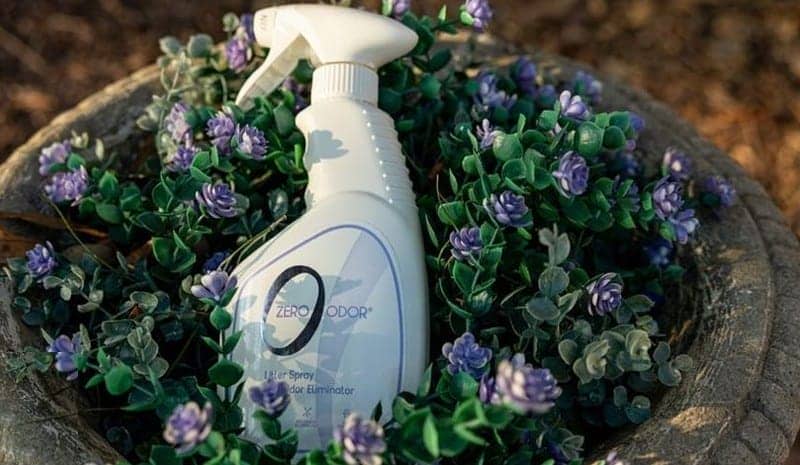 This spray removes odors of all kinds in your kitchen, bathroom, basement, etc. And if you're looking for the best way to get rid of skunk smell, this spray will offer a very reliable solution.
So if you live in the area where skunks are very common(or if your cats occasionally miss the litter box), give this product a try. This stuff is a godsend. And it's made in the USA.
Pros:
Cons:

this product is an excellent versatile odor slayer;
eradicates odors instead of covering them up;
chemical- and allergen-free;
a breeze to apply and use;
the spray has zero fragrance, it just gets rid of odors.

there's a faint lingering bleach smell if you use it on fabric. But it's not critical unless you're highly sensitive to smells.
5. Thornell Skunk-Off Pet Shampoo: Best Pet Shampoo That Works Fabulously
Specifications:
Safe To Use Around Children & Pets
Not an Enzyme
Not a Mask
Item Volume: 8 oz
Item Dimensions LxWxH: 6.8 x 2 x 2 inches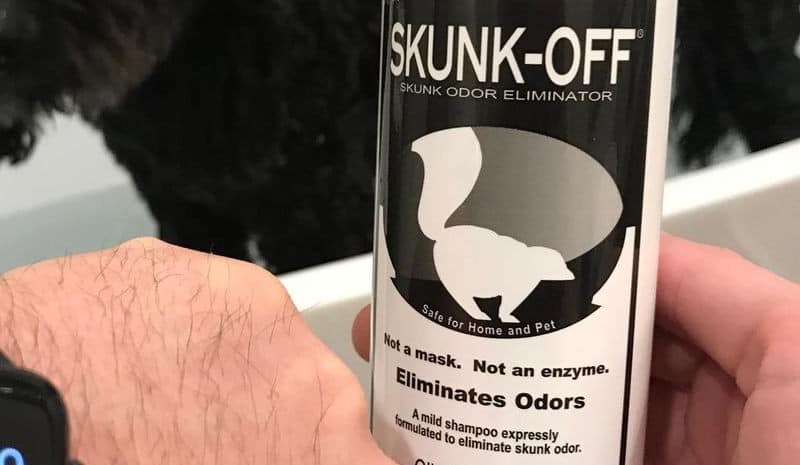 Tomato juice and all that homemade jazz may be effective to a certain extent, of course. But if you really want to get rid of the stinky skunk smell fast, I recommend purchasing one of the skunk odor removers reviewed in my post and a reliable de-skunk shampoo, such as Skunk-Off.
The thing is, if your fluffy friend gets skunked, they will rub the odor onto every expensive surface in your house. Therefore, buying the aforementioned products in advance will definitely save you thousands of dollars in carpet and furniture replacement.
With regard to the Skunk-Off shampoo, it works great, leaving a pleasant fragrance on your previously skunked fluffy family member. Make sure you apply it prior to getting your dog wet. On an additional plus side, the shampoo doesn't cost a fortune. So make sure you keep a bottle of the stuff on hand for when you suddenly (and desperately) need it.
Pros:
Cons:

helps you quickly banish tenacious odors;
smells fresh and minty;
doesn't irritate sensitive skin or damage coats;
non-toxic formula, which means it's absolutely safe to use;
removes stinkiness instead of masking it.

may cause minor eye irritation, so make sure you rinse it with water thoroughly.
Useful Tips on Removing Skunk Odor
Ever experienced a whiff of fresh skunk spray? That horribly overwhelming odor can linger for up to almost a month. So if you want to banish it in the most effective way, you're going to have to act as quickly as possible. A lot of people will recommend homemade remedies, tomato juice being among them.
However, it doesn't work as effectively as certain retail products created specifically to eradicate skunk smell.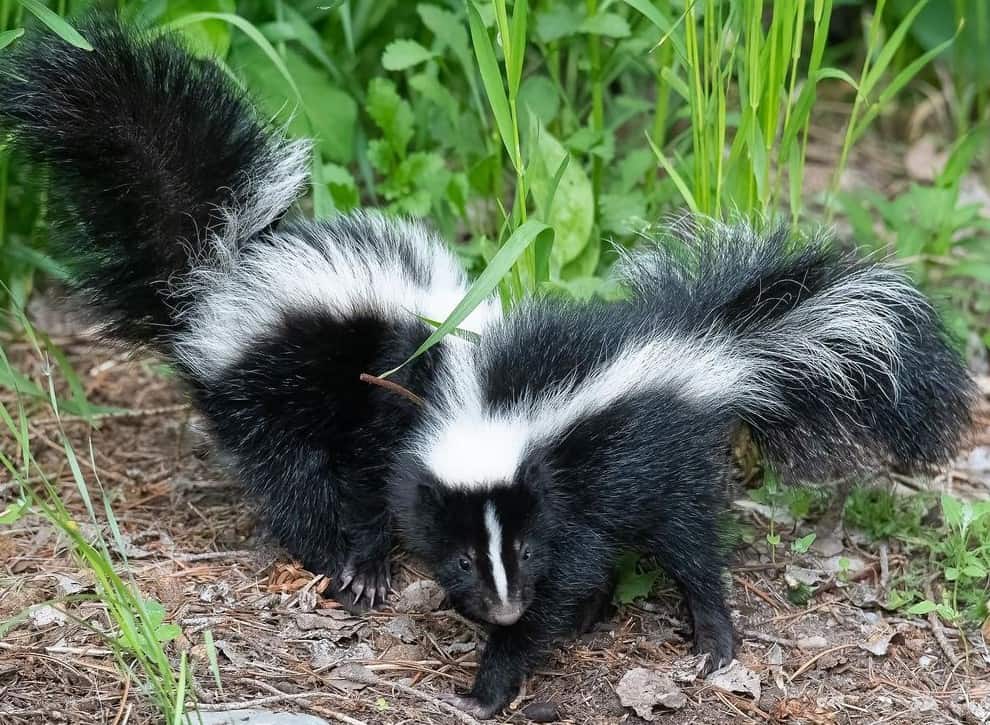 Here are a few of de-skunking recommendations for you:
Act as fast as you can when it comes to removing the skunk odor from yourself, your car, your pet, and other surfaces. The longer you wait, the harder the removal becomes.
Do everything in your power to prevent the smell from getting into the house: apply skunk odor remedies outside if possible – otherwise, you may end up living in a stinky home for weeks.
The fabric holds skunk smell for long periods of time, so if your clothes have been heavily skunked, discarding them may be the best solution.
Don't forget to wash properly with hot water after applying any skunk odor remover.
Related Post: Best Skunk Repellent Products Reviewed: Are They Effective?
Skunk Odor Remover: Spray or Shampoo?
Your best choice is to avoid the situation when your fluffy pal gets sprayed by a little stinky culprit. However, if you (or your fluffy friend) are already dealing with skunks and their stinkiness, you should take action without a moment of hesitation.
First, put on your old clothes and rubber gloves. Second, apply skunk spray on your dog's coat and rinse the affected areas a few times with a good de-skunk shampoo.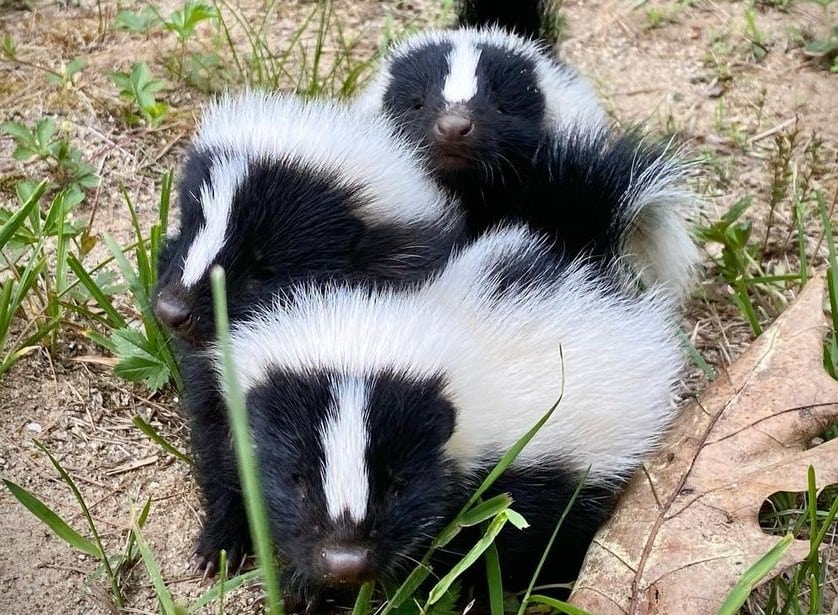 After that, bathe the whole dog to achieve the maximum de-skunking effect. So if you're asking yourself which solution is best – spray or shampoo – the answer is both. And don't forget to follow my de-skunking tips above.
There's a wide variety of anti-skunk products available on the market. In this post, I've reviewed some of the best solutions. Among them, you will definitely find the one that suits your needs.


Make the Right Choice & Be Persistent
Have you failed to avoid a skunk attack? Perhaps, your friendly pup has made a stinky attempt to hang out with a skunk? No worries. This isn't the end of the world. The odor can be eradicated.
Now that you've read my post, you know how to save yourself and your fluffy friends from that putrid, noxious, and stubborn skunk smell you're left to deal with.
Keep in mind that it's unlikely that any skunk odor remover will fully remove the smell the first time. You may have to use it several times for the lingering skunk smell to completely fade away.
Just make sure your reaction to the situation is as quick as possible. Needless to say that having a reliable skunk odor remover on hand is always the best strategy.
So, what about you? Have you ever experienced a skunk odor problem? What has caused it? What's your favorite skunk smell solution? Does it eliminate skunk odor immediately? If not, how many times do you have to apply it for the smell to go away completely? Share your experience in the comment section below to get the conversation going. Your two cents matter.
References:
Sprayed by a Skunk (Margaret C. Brittingham, PH.D. PennState Extension):
https://extension.psu.edu/sprayed-by-a-skunk
Removing Skunk Odor (University of Nebraska – Lincoln Extension, Institute of Agriculture and Natural Resources):
https://wildlife.unl.edu/pdfs/removing-skunk-odor.pdf
Dealing With Skunks and Odor Abatement (Rebecca McPeake Associate Professor University of Arkansas Division of Agriculture):
https://www.uaex.edu/publications/pdf/FSA-9101.pdf
Why You Should Trust Pest Control Hacks?
We know that pests are nasty neighbors, and it can take months to eliminate them without the right approach. Our experts use their own experience to compile articles and guides that are introductory and informative. Our authors' opinions are independent and based on the results of practical testing of pest control tools. We do not notify manufacturers of testing of their products and do not receive payment from them for posting their items. Also, our texts are never submitted to company representatives for proofreading before placement. On the site, you will find exclusively objective ratings and reviews.