Have you ever seen a skunk alive? It is a beautiful black and white fluffy animal. On the other hand, it is important to know how to deal with them and what is the best way to catch a skunk.
The animal leads a nightlife regime, so you may find a lot of surprising signs of their invasion all over your property. Everyone knows about the disgusting smell, but skunks also leave a set of holes around your yard that are 3 inches in diameter, 3 inches deep. In their search for food, skunks may cause extreme damage to your lawn or turn the green zone into a landfill.
These rodents are not only smelly destroyers but dangerous disease vectors as well. They are second (after bats) spreaders of rabies that might be fatal not only for animals, but also for humans. They are also the carriers of roundworms (Baylisascaris Columnaris) that could be easily transferred to your pets or children.
Moreover, the skunk spray may cause toxic shock syndrome in pets. Its symptoms are unstoppable fever, vomiting, and diarrhea.
Meanwhile, laboratory analysis has shown that skunks also carry Canine Hepatitis, Q Fever, Leptospirosis, Canine Distemper, Listeriosis, and Tularemia. So this pest is like a pandora's box of diseases.
For you to protect yourself, your pets, and property, I want to share my description of the best devices and checked tips for successful skunk trapping.
Top 5 Best Skunk Traps
If you were wondering how to trap a skunk without getting sprayed, these traps would be great options to protect you from the horrible smell and fatal diseases.
1. The Snare Shop # 6 Tuff Trap — the Best Skunk Trap
The Snare Shop product is multi-trapping. I mean it can catch not only skunks but also possums, cats, rabbits, etc. To attract your target, make a measured choice about a bait. Don't expect to trap a skunk with a nut. Firstly, check a suggested animal list that is on the manual leaflet.
It is a pipe, which is 24 inches long and 6 inches in diameter. The pipe is made from polyvinyl, but a guillotine-style door and other parts are steel. Due to its dimensions, the skunk can't lift the tail and spray the musk inside the trap. Thus, it simplifies transportation and prevents from the appearance of the extra odor.
The Tuff Trap is a variable kind of a trap: you can use it as a live or a fatal one. You can release the animal according to the Release Policy of your state. Or you may choose not a humane way like putting the whole trap under water.
Pros:
Cons:

the application takes few minutes;
suitable for small rodents;
easy to clean;
simple, but stylish design;
easily to transport the cached animal;
has a lifetime warranty.

may be too small for a big skunk.
2. JT Eaton 475N Catch/Release Skunk Trap — a Live Skunk Trap
It is a black rectangular tunnel with a window to check which animal you have trapped in.
JT Eaton 475N is designed as a humane trap to keep the rodents safe and unhurt. Meanwhile, polyethylene construction has many sharp angles. The pests might cut themselves and leave blood drops inside. Don't forget to clean the trap scrupulously before the next usage. The reason is the smell of another animal presence may scare away the one you want to catch.
This trap has two doors on the opposite walls. The main is a spring-loaded door with a delicate trigger and easy-to-set mechanism. The secondary door has holes in it to attract the animal with the bait's smell and a closing hook above.
Despite the problems with the material such as thin doors, the gaps between the doors and walls, sharp corners, you can easily update it. It could be a base for your ideal trap.
Pros:
Cons:

easy-to-set trap;
keeps the trapped animal calm;
provides simple access to the bait section;
has one year limited warranty.

the material is not so harmless and durable as described.
3. Ouell Traps 4-11 — a Deadly Trap for Killing Skunks
The Pièges Ouell is Canadian company. It has a certification of the international humane trapping standards, so its products are designed in accordance with no cruelty policy.
It is a high-performance environmental trap from skunks, weasels, marmots, minks, and ermines. It is made from thick galvanized metal, so the animal couldn't break it out or escape.
Speaking about the effectiveness, the triggered mechanism is planned to break the pest`s neck to kill the animal in less than 10 seconds. However, big rodents may be caught behind the head that won't cause immediate death. In such cases, be ready to release the animal from torments.
Pros:
Cons:

long-termed construction;
resistant to any weather conditions;
fatal effect;
has the animal remover lever, so you won't contact with a dead pest;
eco-friendly.

be careful during the application;
may be dangerous for children and pets.
4. No. 6 Skunk-n-More Live Trap — a Spray Proof Skunk Trap
This is another black polyvinyl pipe with two doors at each end. The entrance door is constructed as a guillotine for a faster closing. The other — bait installation door — is on a pivot.
Such construction helps to put the bait right near the back door, so the animal will walk through all the length of the pipe and push the 3-way trigger system that will provoke the guillotine mechanism. Both doors have the windows for you to check whom you have caught.
The skunk trapped in No. 6 Live wouldn't be able to move, straight the back, and spray because the pipe's dimensions are 6 inches for 24 inches. Therefore, it would keep the pest motionless.
It doesn't need extra effort in the setting process and use. But the trap's weak point is in PVC. Imagine that you found an excellent place for the No. 6 model under the apple tree in your garden. You caught 2 possums, 1 skunk, and 3 squirrels.
The results were fantastic, except one thing — the last-trapped squirrel chewed out the hole near the door. Thus, the rodents may open the door from inside and run away. Mind that you can update every part with steel layers.
Pros:
Cons:

live trap;
suits different rodent species;
made by a reliable brand Z traps;
spray-preventing design.

easy-to-chew-through material.
5. Havahart 1030 Live Animal Two-Door Trap — a Product for Humane Trapping Skunks
Havahart 1030 live trap is a steel cage with smooth inner edges that protects animals from injuries. It is a galvanized and rust-resistant device that is constructed for a long lifespan.
This 25 x 7 x 7 inches device has two spring-loaded doors that are triggered by a bait plate in the middle of the tunnel-like cage. Sometimes, a bait may fall the bait plate, so try to put the smelly food under the construction to make animals push the trigger.
The upper side is covered with a steel top that protects the handle. So, the item won't take extra effort in usage and transportation.
Pros:
Cons:

suits skunks, big squirrels, rabbits, and minks;
designed for a durable use;
easy to transport;
its small size prevents from skunk spraying

may not hold a big pest;
be careful with trapped animals.
A Buyer's Guide and FAQ
I hope you have paid attention to the fact there are various kinds of devices for trapping skunks as well as those intended for killing skunks.
Their main difference lies not only in their function but also in design. Traps that are supposed to keep the animal alive look like pipes or tunnels with movable doors.
At the same time, fatal traps are massive steel constructions that remind slightly a giant mousetrap. Use the different trap types in accordance with your state restrictions.
How to Trap Skunks (Tips for Successful Trapping)

If you decide to install the skunk trap on your property, I prepared these tips for successful trapping for you.
Identify where the skunk's hole is.
Put the trap in front of the hole or in the nearest area, so the animal will go out just into it.
If you don't know where the pest's nest is, try to predict where animals are used to walk often.
Put the trap on the flat stable ground. The stability is necessary for successful caching.
Push the bait as close to the back wall as possible, so the pest must walk into the tap to reach the delicacy.
Set the mechanism carefully and check the efficiency of the trigger.
Use gloves when applying the trap. It will protect your hands and keep the unwanted human scent from the trap.
Using Traps vs Using Poison
If you are thinking about more radical options like using poison., mind that skunks are protected in some states of the USA, so you need to check Skunk Control Rules. If you use the poison, it won't kill the rodent immediately. The animal may start to choke in a few hours or earlier.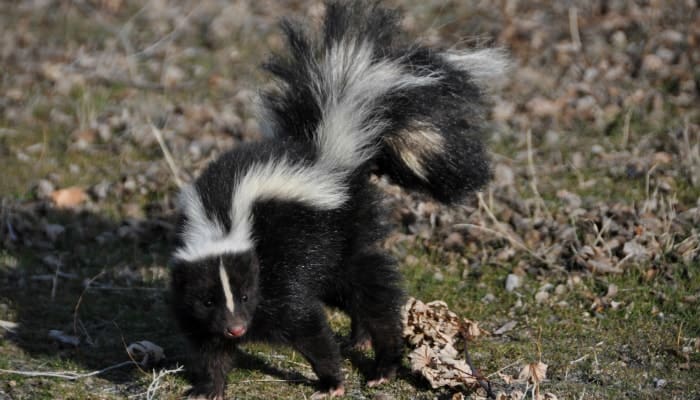 When skunks are ready to die, they choose silent, distant places somewhere between roots and pass away there. In such case, you will feel a decent smell in a few weeks. So, it may be quite challenging to find a body at first.
FAQ
What to Put in a Tap to Catch a Skunk?
The best bait for skunks is cat food, which is not convenient for cat owners. Also, any kind of fish products attracts the pest. Thus, you can put an empty tuna fish with the leftovers still in it inside the trap. If you are worried about your cats, try marshmallows or peanut butter.
How Long Can a Skunk Live in a Trap?
If you caught the animal in a live skunk trap, the pest would starve to death in 2-3 days. That is why you should check your traps regularly.
How to Remove a Skunk from a Trap?
If you use a killing trap, wear gloves to protect your skin and remove the body carefully.
If it is a catch-and-release trap, transport the animal carefully to a forest. Try to make the transportation as smooth as possible to keep the pest calm. Put the trap out on the grass and open the door.
Step back on the safe distance and wait up to 15 minutes so the animal will get used to the environment. If you want to get rid of the rodent faster, take a flashlight and shine the way out.
Will Rat Poison Kill a Skunk?
Yes, it might kill a skunk if you use the needed amount of chemicals. There is no special poisons for skunks, but DIY substances include Bromethalin, Antifreeze, Strychnine, or Cholecalciferol. But mind that chemicals may cause a long painful death.
Get Rid of the Danger Effectively
I think that skunks may delude themselves with their funny muzzles and fluffy tails. However, they carry so many infections that are especially dangerous for children and pets. That is why I have mentioned only effective, though easy in usage, traps.
I hope that now you know how to catch a skunk and will follow my tips. Have you ever caught a skunk? What baits have you tried for skunks? Share your experience in the comments, please.
References:
Skunks in Rhode Island (Rhode Island Department of Environmental Management):
https://rhodeislandwoods.uri.edu/files/skunks.pdf
Skunks – Solutions to Common Problems (Shannon N. Thurston and Margaret C. Brittingham College of Agricultural Sciences The Pennsylvania State University):
https://extension.psu.edu/skunks
Skunk Control (Missouri Department of Conservation):
https://mdc.mo.gov/wildlife/nuisance-problem-species/nuisance-native-species/skunk-control
Bromethalin (National Center for Biotechnology Information):
https://pubchem.ncbi.nlm.nih.gov/compound/Bromethalin#section=Information-Sources