Wasps and hornets are both a threat for humans, especially when they create their nests in your yard or attic. It is dangerous to have them indoors and outdoors. These insects have stings, and unlike bees are always ready to use them. Their venom may cause allergies. And as you may know, over 1 million people in the US have allergic reactions to wasps and hornets.
Each year people die from the stings of these insects. And while wasps are dangerous pests, hornets can be even more dangerous as their venom contains more acetylcholine. As an experienced entomologist, I am here to help you to get rid of both these insects with the best wasp trap.



Top 5 Best Wasp and Hornet Traps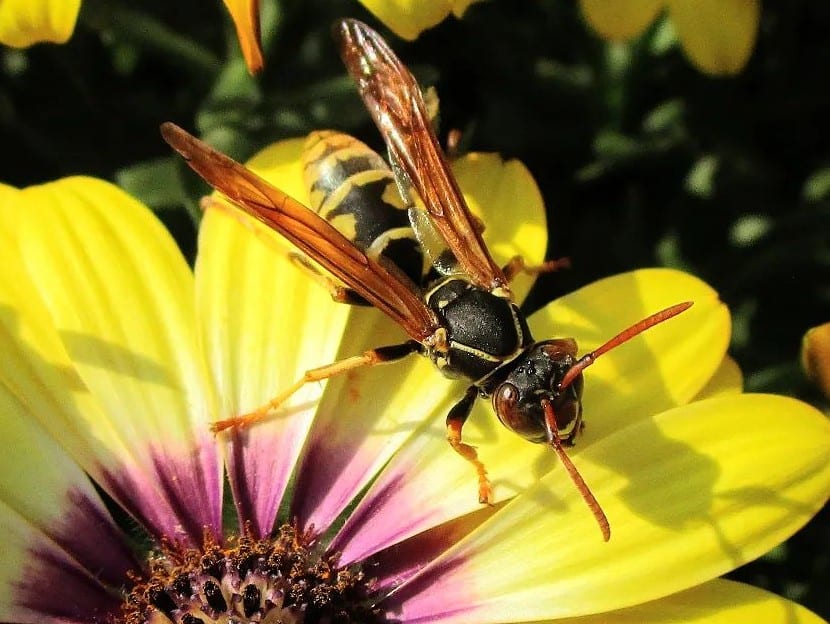 Here is the list of my favorite traps for getting rid of these annoying insects. Read my description carefully, and if you have checked them out, simply write your opinion in the comments. There are multiple options on the market, but I recommend these 5 items that I've checked out myself.
1. Rescue! TrapStick for Wasps, Mud Daubers, Carpenter Bees – the Leader Among Organic Wasp and Hornet Traps
Specifications:
Is Electric: No
Number of Pieces: 1
Item Weight: 7.8 ounces
Item Dimensions LxWxH: 4.75 x 4.13 x 11.3 inches
Target Species: Fly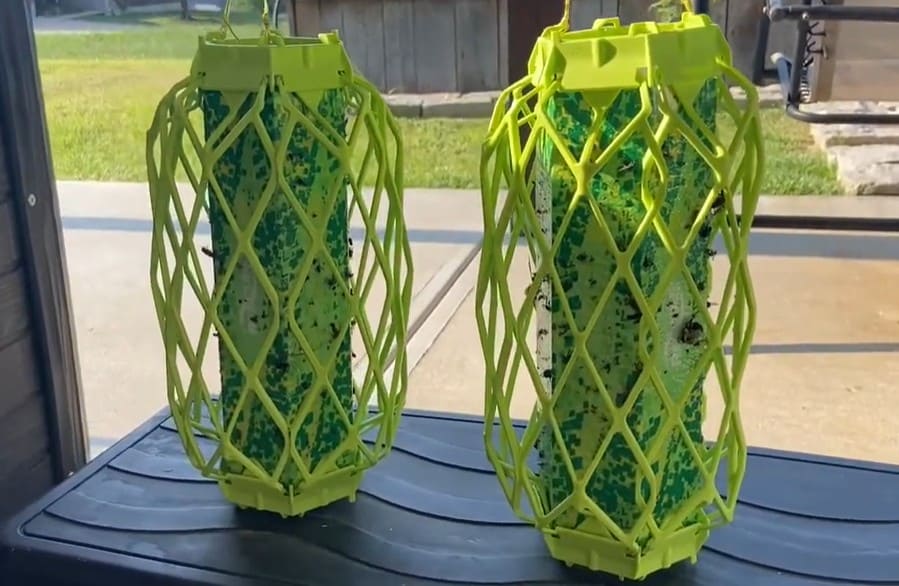 TrapStick for Wasps, Mud Daubers, Carpenter Bees from Rescue is a perfect way to get rid of all the wasps, bees, and hornets around your house. It is not toxic and not harmful to birds, so you can place it outdoors. This product attracts stinging insects with its vivid colors and creative pattern. When the insects fly closer, they get stuck.
There are no chemicals inside. The trap does not have any specific odor as well. Its surface is sticky; therefore, wasps and hornets simply can't get out. While the trap is designed with special protective guards for birds, I still recommend you to avoid putting it closer to the birds' nests.
Put the trap close to the concentration of insects. It can be easily placed at the roof, garage or shed. Rescue is a US company that specializes in natural remedies. This wasps and hornets trap is recommended to be placed close to a house from spring until the fall.
Pros:
Cons:

does not contain harmful chemicals;
can be easily adjusted to any surface;
kills numerous stinging insects;
affordable price;
prevents birds from getting stuck.

this is a disposable trap.
2. Rescue YJTD-W Disposable Yellowjacket Trap – the Most Effective Wasp Trap for Outdoors
Specifications:
Color: Yellow
Number of Pieces: 6
Item Weight: 0.13 Pounds
Item Dimensions LxWxH: 3.25 x 7.75 x 8.75 inches
Target Species: Wasp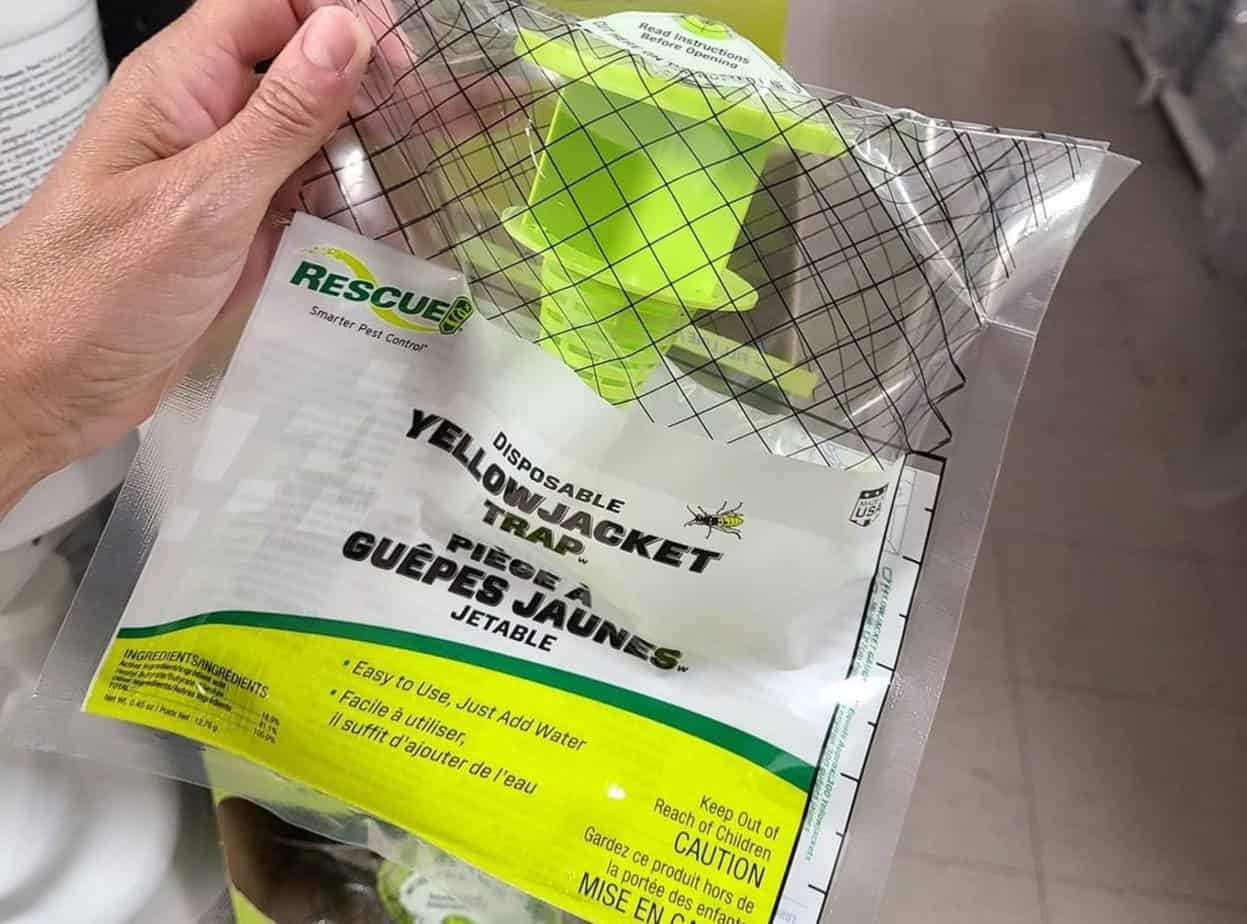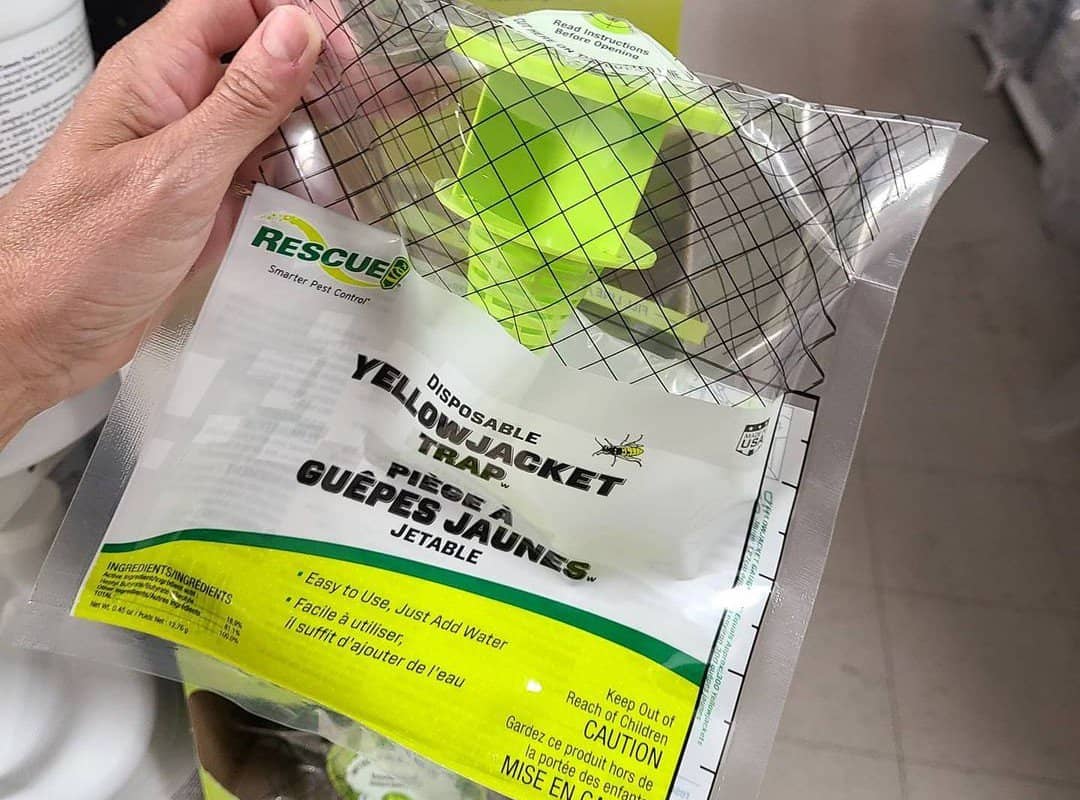 The YJTD-W Disposable Yellowjacket Trap by Rescue is an odorless and nontoxic way to catch wasps and hornets. The pack includes 6 disposable traps. They have a long-lasting effect and can be placed both outdoors and indoors.
The product is easy to use. All you need to do is to cut the dotted line and take out the tab. After that, just add water to the trap and hang it close to your house or inside it.
You will not have to touch a bait with your hands. The insects will fly inside the trap and will get stuck there forever. You can use this trap every day.
Rescue is an American top seller of natural traps and organic remedies. They don't use chemicals in their products, which is perfect for a house with children and pets. After the trap is full, you can throw it away with the garbage. I recommend using several of them in different places to get rid of all insects.
Pros:
Cons:

there are 6 items in the pack;
this is an affordable product;
it is completely organic;
the trap is easy to use;
safe for a family.

this item is not reusable.
3. Pic Wasp Yellow Jacket & Hornet Trap – Effective Reusable Wasp Hornet Trap
Specifications:
Material: Plastic
Number of Pieces: 1
Item Weight: 0.45 Pounds
Item Dimensions LxWxH: 5.25 x 5.25 x 6.5 inches
Target Species: Hornet, Wasp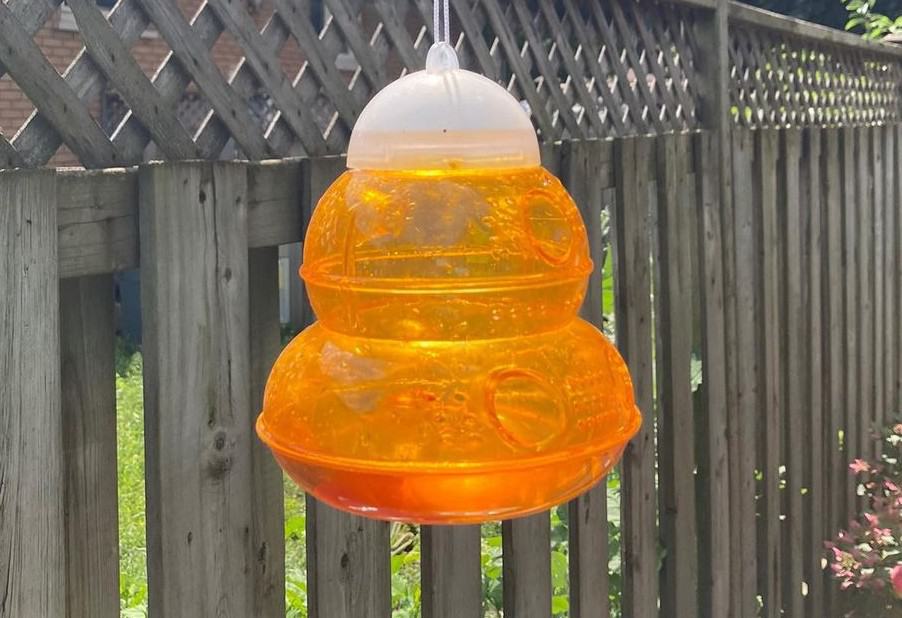 Wasp Yellow Jacket & Hornet Trap by PIC does not contain any poison. It has 6 bright entry funnels that lure wasps and hornets from the area around the house. Once they are trapped, the insects can't simply get out.
Unlike many similar traps, this one is reusable. When you get rid of dead insects inside, put it in another place or the same one if you want to make sure that there are no more pests.
PIC Company is a leader among outdoors' traps for bees, wasps, mosquitoes, and hornets. They offer organic products. While the trap does not contain chemicals, they warn clients to keep it out from the children or pets. The item weighs 10.6 inches and can be hanged near a house. I recommend placing it closer to the source of wasps and hornets.
Pros:
Cons:

organic components;
does not contain poison or chemicals;
the item is reusable;
easy to adjust;
affordable price.

does not kill all the insects in your yard.
4. Rescue! Reusable Yellowjacket Trap with Non-Toxic Attractant – Smart Wasp and Hornet Catcher from the USA
Specifications:
Material: Plastic
Number of Pieces: 1
Item Weight: 0.05 Pounds
Item Dimensions LxWxH: 10 x 3.5 x 3.75 inches
Target Species: Fly, Wasp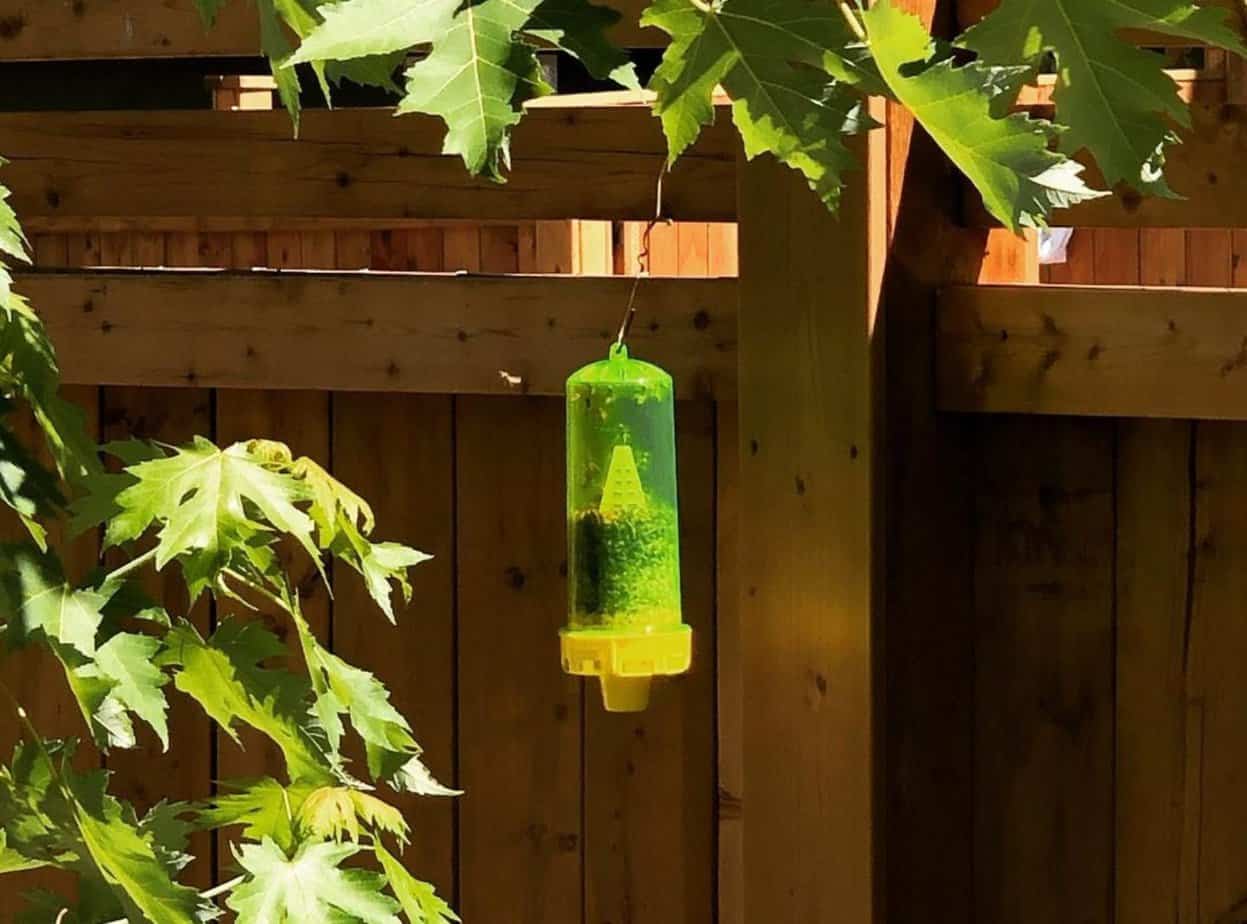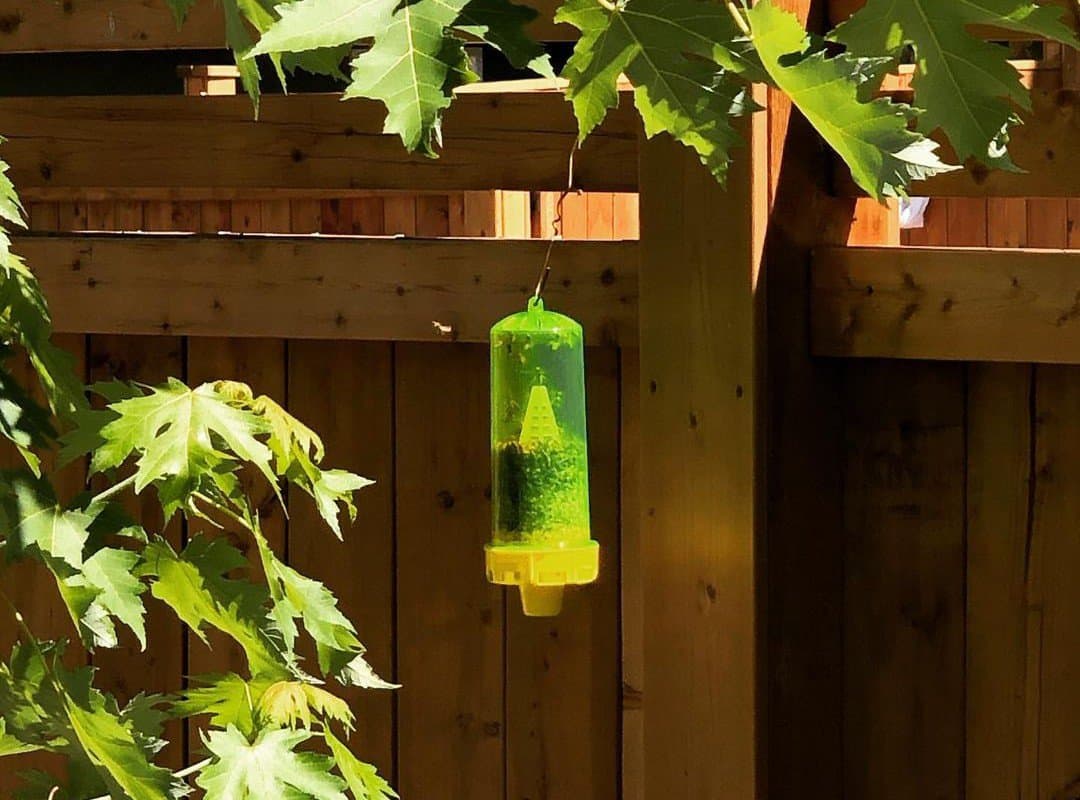 Reusable Yellowjacket Trap with Non-Toxic Attractant by Rescue lures wasps, hornets with its bright color and special bait. There are no chemicals inside. The product is totally safe to place even inside the house. Forget about yellow jackets with this reusable trap.
It works simply. The insect is attracted by the bait and vivid color of the trap, flies to it, crawls inside, and can't get out. Consequently, the pests die from dehydration.
The effect of the attractant is long-lasting. You can place a small amount of it for several weeks. After that, just change the bait. This product is safe even for honeybees, as they are not attracted to the item. Once the trap is full, and all the wasps and hornets are dead, you can remove them and hang the trap back.
Pros:
Cons:

family-friendly;
this trap is reusable;
it kills hornets, wasps, and yellow jackets;
it does not hurt honeybees;
there are no chemicals inside.

the trap is more expensive than similar products.
5. Fatal Funnel FFW-6P Wasp and Hornet Traps – Natural Hornet and Wasp Attractant for the Low Price
Specifications:
Color: Yellow
Number of Pieces: 6
Item Weight: 3.98 ounces
Item Dimensions LxWxH: 9.5 x 2 x 5.5 inches
Target Species: Hornet, Wasp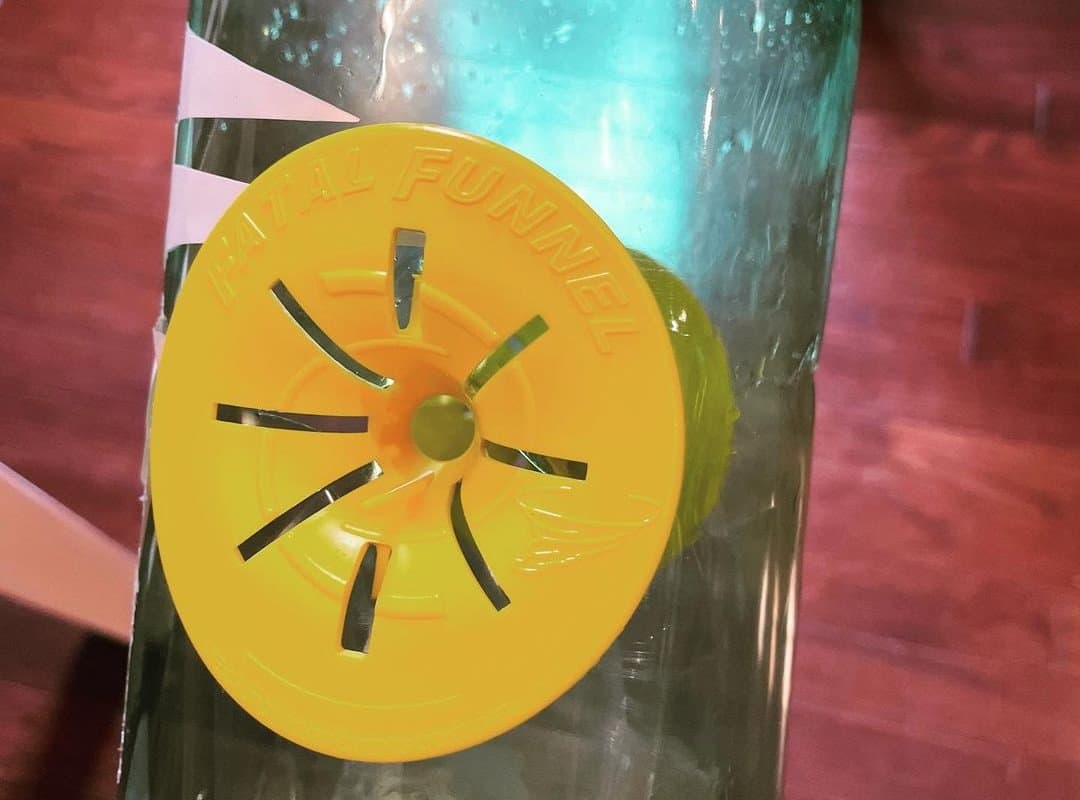 The FFW-6P Wasp and Hornet Traps from Fatal Funnel is a good savvy deal, as you receive 6 traps in one pack. They are an effective and non-chemical way to get rid of insects in your house. You will have to take 2-liter bottles and make an attractant yourself.
There is a recipe that comes along with the trap. You will need apple juice as well. When the bait is ready, pour it to the bottle, and attach the strap to it.
These traps are light-weight and reusable. All you need is to pour the attractant inside the bottle. Wasps and hornets will be able to get inside, lured by the sweet scent, and will be trapped there forever. The trap is organic and safe for your family.
Pros:
Cons:

family-friendly;
affordable price;
organic components;
there are 6 traps in the pack;
the trap is reusable.

you have to find the bottle and make a bait using the recipe.
Guide for Buyers and FAQ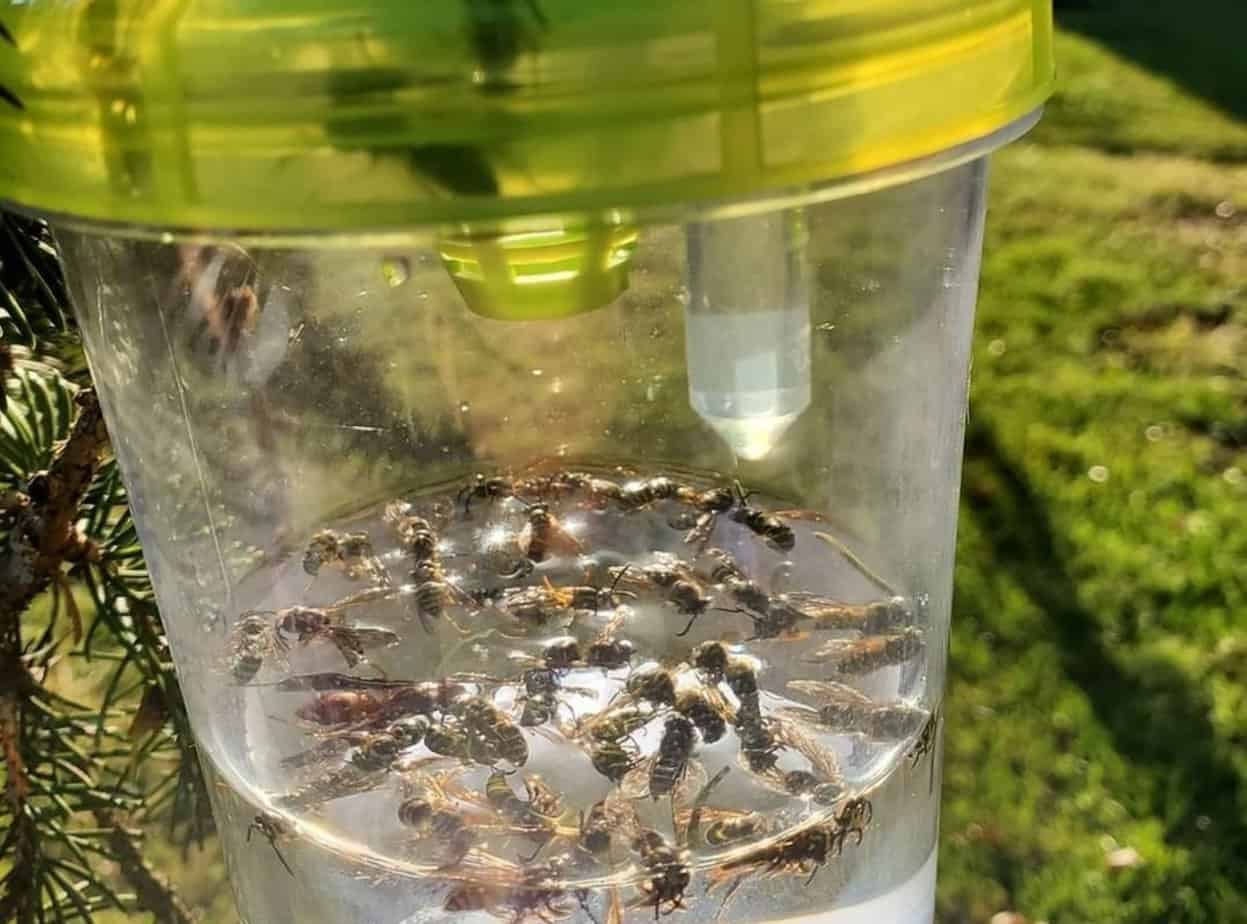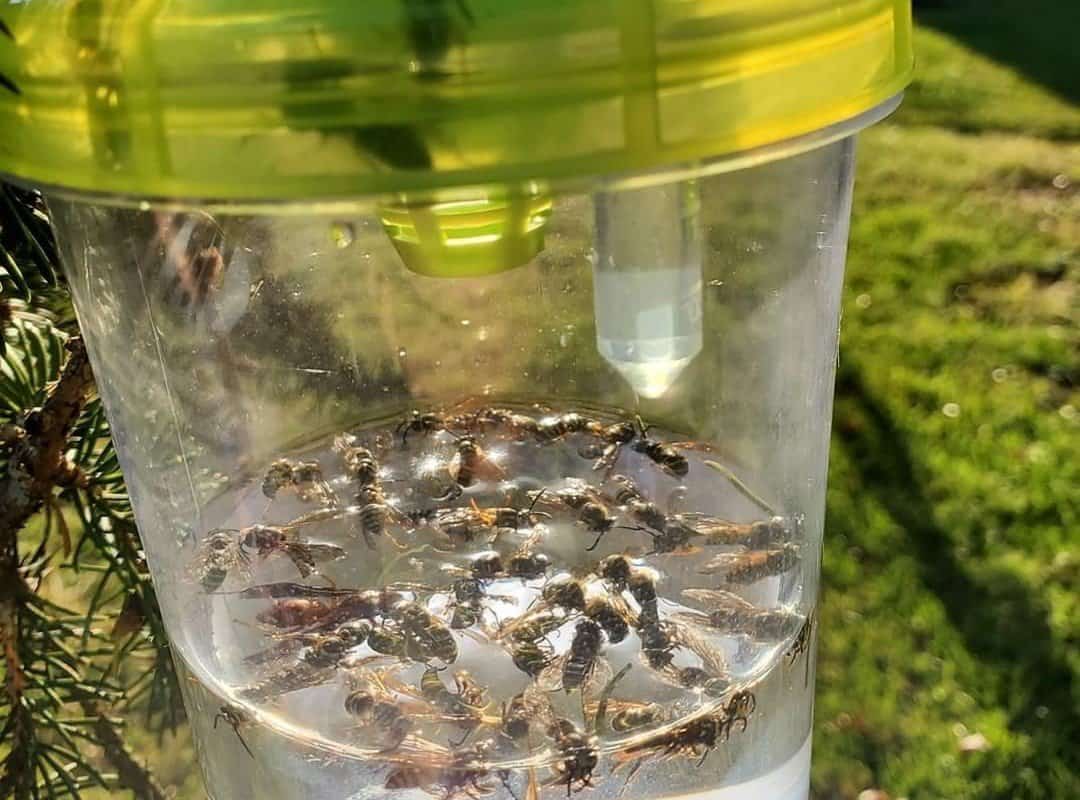 Best wasp and hornet traps can vary by their features, design, price, and compounds. While there are traps that you can do with your own hands, I strongly recommend choosing professionally made, so you won't have to deal with insecticides by yourself. All the traps can be separated only into 2 categories:
A container with a hole;
A paper wasps trap with glue on it.
However, you may find that they all are different as well. For starters, these traps feature various:
Level of toxins. In the table above, you will find only non-toxic traps. However, many developers prefer to use strong chemicals for the immediate effect;
The simplicity of use. While you simply need to attach some of them to your doors, others require more efforts;
Due date. They can be either disposable or reusable.
Trapping Wasps and Hornets
There is no difference in the way you can trap wasps and hornets. All you need is a good bait and enough patience. I recommend handing traps near your doors every warm season, even if you see neither wasps nor hornets right now.
This is a preventive measure to avoid being stung by them. This is when the sticky wasp trap will be a great helper. You don't need to do anything except for buying the trap and hanging it somewhere close to the doors or windows.
In severe cases, you may need special traps or attractants for these insects. You can put them inside traps and lure these pests inside so they will never get out. Traps are the most beneficial way to get rid of hornets and wasps if you don't live near the huge nest of these insects. But in case you do, you have to combine traps with other measures, like poisons or powders.
Related Post: Most Effective Wasp and Hornet Killer Sprays.
The Work of Wasp Traps
You have already checked out my wasp trap reviews and noticed that I clarify specifically the way these traps work. It is extremely important since some of the traps even do not require any baits. They attract social wasps and hornets by their extremely vivid colors.
Those traps that contain baits are also different. You can do a bait by yourself, attracting insects with its sweet odor. There are also chemical baits that may kill pests after they try it.
However, I strongly believe that there is no point in killing stinging insects by yourself. A trap works flawlessly. Once a wasp or hornet is inside it, it is impossible for the insect to fly or crawl out of it. The red wasp traps offer an easy way to get in, but no way out.
FAQ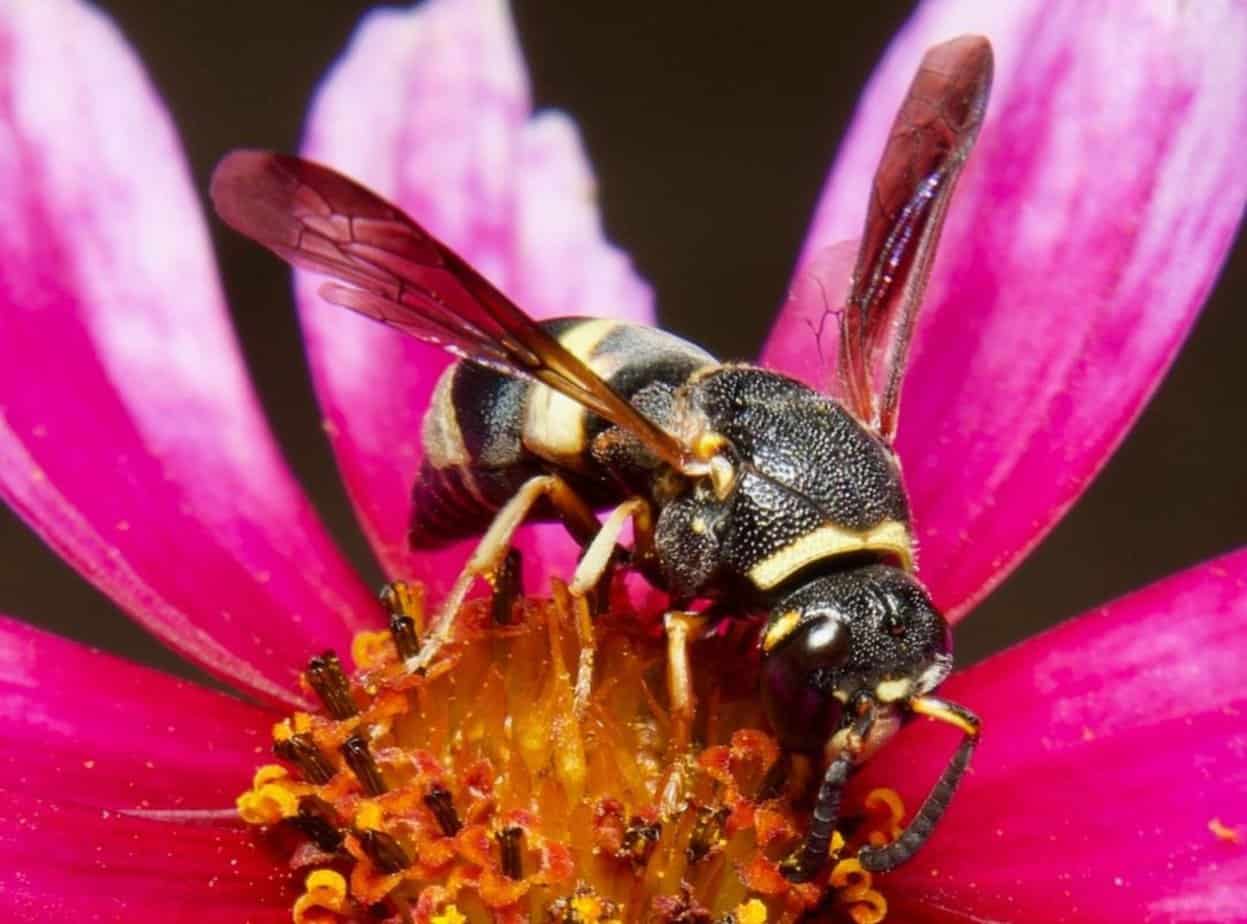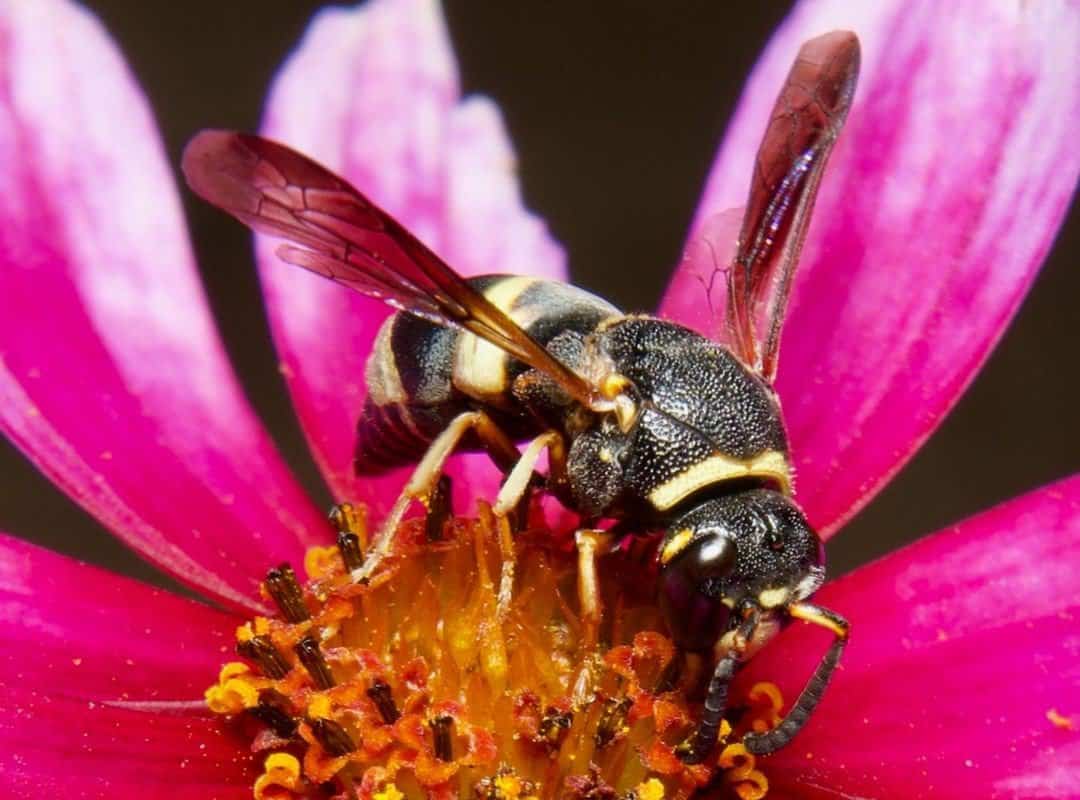 What to Put in a Wasp Trap?
Usually traps for wasps and hornets that you see on the market contain the bait already. However, if it is a reusable product, you may easily run out of baits. Don't worry, you can either buy them separately or do them by yourself. Bees, wasps, and hornets are attracted by the sweet smell. You may try next attractants:
Fruit punch, soda, apple cider;
Any fruit with a sweet smell. Hornets and wasps love apples, pears, peaches;
The mix of water and maple sugar;
Vinegar is an attractant for yellow jackets.
Do Wasp Traps Work?
I consider both outdoor and indoor wasp trap one of the most effective ways to prevent these insects from getting into your house or yard. Of course, if there is a severe infestation, you will have to mix several measures and use traps with insecticides. Plus, you should remember that if you are allergic to wasps or hornets, you can't be near them at all. In this case, I recommend you call the professionals immediately.
Where to Place Wasp Traps?
There are many places where you can hang the wasp trap. My advice is to hang them outdoors close to the windows and doors. Don't let them pass the threshold of your house. Here are my top places for traps:
The area with the trash bins. If you have trash bin collection once a week, you need to put at least one trap close to them, since both hornets and wasps can be attracted by the smell of the food;
Close to the standing water reservoirs. These insects are attracted to water. If you have a pond or a pool in your yard, don't forget to place the best hornet trap nearby;
Any entrance. I've already mentioned why you have to put these traps near windows and doors.
How to Clean a Reusable Trap?
There are different types of traps. If the item is reusable, it means that you can clean it from dead insects and start again. It is highly recommended to wash it, before using a trap the second time. So, if the trap contains the liquid that attracts insects, you have to get rid of it. Wash it after use, and replace the liquid. If there is no liquid, you still have to change the bait.
Related Post: Best Wasp Repellents Reviewed



Which Trap Is the Best?
All the traps on my list work efficiently. I have checked them numerous times. However, they all have their specifics. So, your choice depends on your demands. If you don't like the liquid attractants, pick dry ones, or traps without baits at all. The same goes for the way to use the item, its price, the company-developer, and the material. After you check out all pros and cons of each trap, pick one or few based on your choice.
Don't forget to write your impressions about the traps in the comments below. How do you like them? Did you get rid of all the wasps and hornets?
References:
Social Wasps (Iowa State University Extension and Outreach):
https://hortnews.extension.iastate.edu/social-wasps
Bees, Wasps and Hornets (Manitoba):
https://www.gov.mb.ca/housing/pubs/pests/bees.pdf
Bees, Hornets and Wasps (Maine Department of Agriculture, Conservation and Forestry Home):
https://www.maine.gov/dacf/php/gotpests/bugs/bees-wasps.htm
Why You Should Trust Pest Control Hacks?
We know that pests are nasty neighbors, and it can take months to eliminate them without the right approach. Our experts use their own experience to compile articles and guides that are introductory and informative. Our authors' opinions are independent and based on the results of practical testing of pest control tools. We do not notify manufacturers of testing of their products and do not receive payment from them for posting their items. Also, our texts are never submitted to company representatives for proofreading before placement. On the site, you will find exclusively objective ratings and reviews.